[Jimbaux has experienced the warmth and wants you, too, to experience the warmth before you go.]
Remember Why You Came And Why You're Alive
The above-linked Incubus song is what Jimbaux associates in his own mind with the Lockport Branch, the subject of today's post, which is a most soulful one as it documents not only something highly meaningful but that is now a part of the past.  All of these pictures were taken on Saturday 8 December 2007.
A Soulful Remembrance
Perhaps the most down-home type of railroading is that found on rural branchlines, where short trains pass slowly over decades-old rail with only the cars for the local customers near fields iconic of the land.  Such is true for the Lockport Branch, among the sugar cane fields and large oak trees on Bayou Lafourche, homeland to Jimbaux.
The End Of An Era
The Lockport Branch is a railroad branchline extending a little bit more than a dozen miles down the eastern bank of Bayou Lafourche (bot not right on the bank itself) from Raceland at milepost 40 of the Southern Pacific Railway's "Sunset Route" mainline across southern Louisiana.  The branch was built to Lockport in the late 1800s and later extended to Valentine in the early 1900s.
With the closure of the Georgia Sugar mill in the mid-1980s, Valentine Paper at the end of the line became the only customer of significance left on the branchline past the industries at Raceland itself, and there no longer was any sugar-related traffic being generated past Raceland Raw Sugars at milepost 1.
Valentine Paper
The Valentine Paper facility was not a full-blown paper mill in the sense that it did not take in wood chips and pulp, and it did not have that paper mill smell that is found in areas of different vegetation to the north.  Indeed, many would find it difficult to picture such a place among the alluvial 'land' and sugarcane fields and bayous of southern Louisiana.  It was built next to the Valentine Sugar mill to use the bagasse that the sugar mill produced and use the pulp to turn it into paper, though Valentine Sugars ceased operation decades ago.  Valentine Paper continued as what might best be described as a "paper finishing plant," and instead of shipping out boxcars loaded with paper as most paper mills do, it received boxcars loaded with rolls of paper that had been rejected by other mills across the continent.  So, boxcars that arrived at Valentine Paper were always loaded, and they almost always left empty.
The facility faced closure several times, and in 2005, after a threat of a shutdown, it was purchased by Dunn Paper, which at first made many of us hopeful that a new buyer would mean that the plant had a secure future.  Two years later, however, the Michigan-based company announced that it was closing the plant that it had purchased two years earlier.  I've heard from several people that Dunn bought Valentine so that it could learn the process done there and then implement the process at one or more of its mills up North, but I really don't know.  That fall, Dunn Paper announced that it would close Valentine a few days before Christmas.  This time, it seemed, the closure was permanent.
The Loss
You might know me today for my photography and for my knowledge of the history of and modern operations of railroads, and the long trains that pass through New Orleans or originate and terminate there, many with traffic coming from either coast of this country, but the genesis of my love for railroads comes from those times in childhood among the SP branchlines along Bayou Lafourche (and to a smaller extent, on Bayou Terrebonne, since that line was abandoned when I was so young.)  I like the modern stack train coming from California, but in my world, and in the photography of my mind, nothing will ever be finer than a half-century-old locomotive leading a few cars over jointed rail that itself is more than a half-century old at about 10mph to or from some local customer.  Therefore, this post that you have begun to read is a deeply personal one for me.  My experiences along the railroads of northern Mexico have been great, but I would put all of that aside for something like the Lockport Branch, and I did on Saturday 8 December 2007, the day that the last ever railroad delivery to the plant was made.
A Rare Accommodation For a Foamer-Photographer
I have said many times before that one of the appeals of observing and photographing trains is that, unlike with things like professional sporting events, JazzFest, Carnival, Mardi Gras, other festivals, and television, nobody is telling me to do it, saying that I should do it; most things that are designed to get mass attention I find to therefore be largely unworthy of that kind of attention.  I'm not the kind of person who needs other people or organizations to arrange for my fun.
More specifically, nobody at any railroad company is telling me or anyone else that we should pay any attention at all to their trains (except for at grade crossings for safety reasons); in fact, we have the occasional but persistent problem of railroads and their employees – and police – trying in less-than-acceptable ways to get you to not pay attention to railroad operations.  That's a subject that I have discussed at length before, as most of you know, but I don't want to get into it here except to say that you're obviously looking at the work of someone who does not follow the "shut up and consume" philosophy that so many people follow.
However, sensing the significance of the event, and knowing of my desire to document this historic event, an arrangement was made that the Louisiana & Delta Railroad crew in Schriever – who normally do not work on Saturdays – would make the last run to Valentine Paper on a Saturday!  I never mention it on this site because I want to keep different worlds from colliding, but like many of you, and like most of you who aren't "retired," Jimbaux is a member of the proletariat and, as such, has little or no choice in when his "off" time is, a big reason that my photography of the Lockport Branch over the years has been largely limited to holiday time, meaning my quantity of experiences and pictures on the Lockport Branch – which, ever since I was a teenager, has been generally served on a Monday-Wednesday-Friday schedule – are not nearly what they would be if I had more control over my schedule.
Another part of the appeal of watching trains is that the trains are not moving to get our attention, but I was honored and humbled that a decision was made to make the last run to Valentine Paper – which would have eventually happened anyway regardless of whether or not any foamers were paying attention, which, again, is part of the appeal – on a Saturday!  I extend my eternal thanks to the L&D for this, and I do so in the form of these pictures, which I 'pay forward' to anyone else viewing this.
A Foggy Start
Let's begin our services today for a train chase that indeed felt like a funeral, knowing that this would be the last time that I would ever witness this.  We're at the curve at what even though is technically milepost 1 of the branch,  I consider the beginning of the Lockport Branch because the branch is now turning away from Raceland and the industries there.  You can't see it in the below picture but the switch to the "post office track" is back there, and this area (and the Google map at that hyperlink is zoomed back far enough so that you can see the Sunset Route mainline to the north) is the farthest extent to the branch's operations five years after this image was made.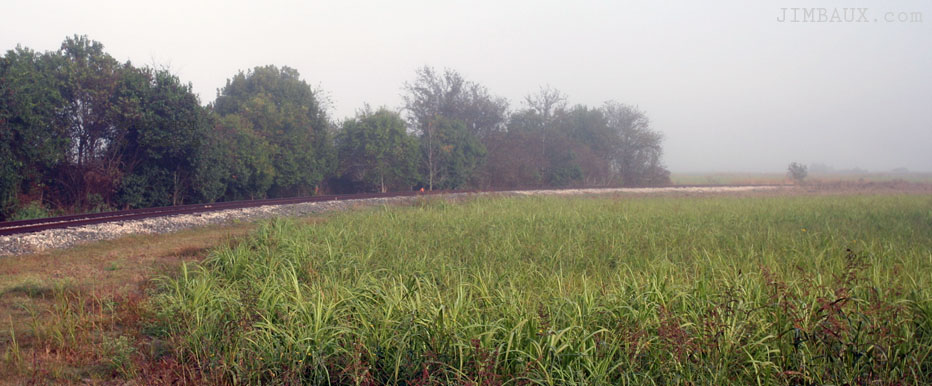 Yes, I'm on top of the truck here, and Doc was on the ground with me.  So, two of us got to chase this train, and, furthermore, the Mathews Foamer was the conductor for today's train, on a branchline where he watched trains as a child!  This was an unseasonably warm day (as is the day that I am typing this five years later), meaning that we will not have any issues with heat distortion with telephoto shots today, thankfully, as so often happens with prime Lockport Branch time in the winter.  I seem to remember the temperature being in the mid70sF on this day and that I probably broke a sweat a few times and was almost certainly wearing shorts.
Raceland Raw Sugars
Turning to the east, we see Raceland Raw Sugars, which is still a railroad customer today.

Yes, I'm using a 900-pixel-width here, not quite the new maximum of 934 limited by WordPress.  Anyway, off in the far distance at left in the above image is the BNSF's Lafayette Subdivision, the former SP Sunset Route mainline.  Here's a closer look at the sugar mill.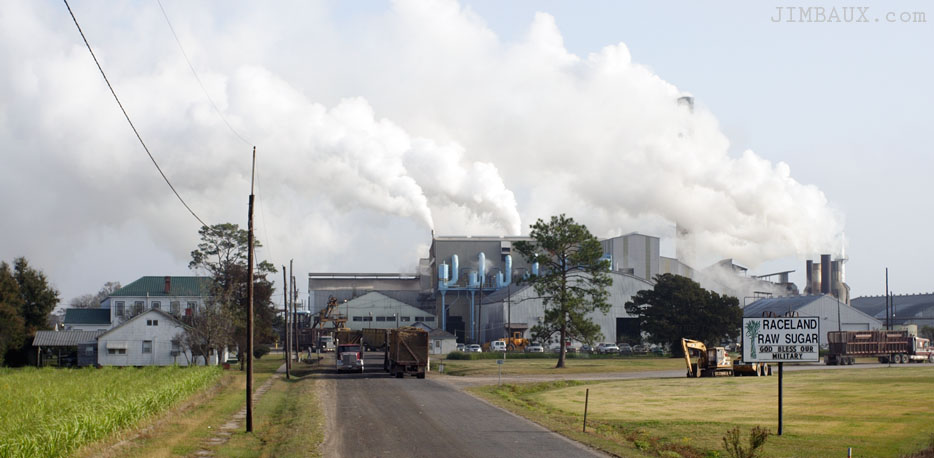 Raceland Raw Sugars is something of an icon of Raceland.  My grandmother called it "the Statue of Liberty of Raceland," since men, including her husband and my grandfather, could see it from miles away when coming home from war, though it is difficult in the above image to discern the big smoke stack with the exhaust in front of it.
And Now, Our Train
Here it is, L&D CF7 1508 leading three MDW boxcars loaded with paper, which Chip had delivered to Raceland probably a week before, the last ever railroad delivery to Valentine Paper, rounds the curve past at the switch to the post office track and begins going "down the branch."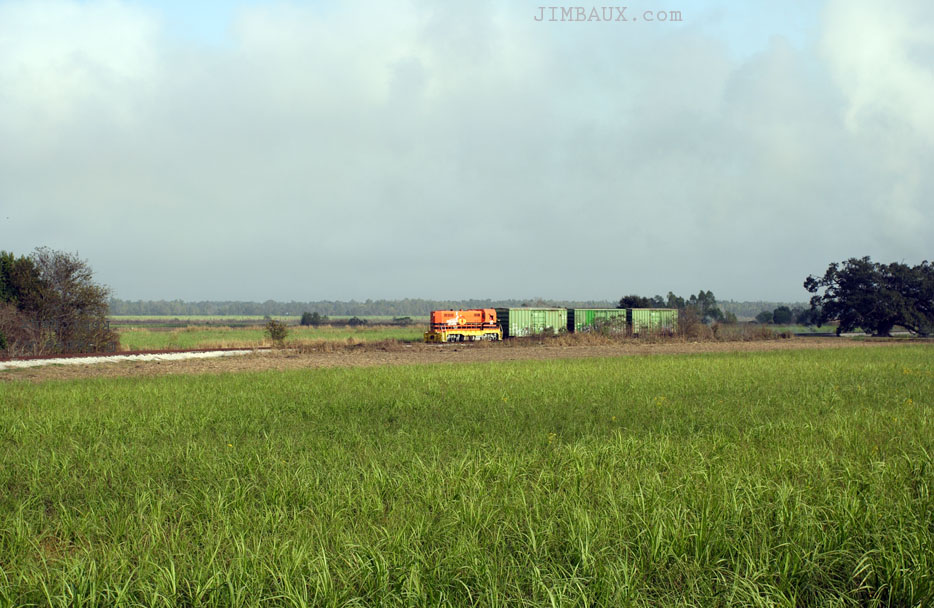 Yes, that's a nice big oak tree at right, and that's a sugar cane field in the foreground.  Off in the far distance where the trees are is the Sunset Route mainline and the long siding at Raceland.
Oh, Lockport Branch and deliveries to Valentine Paper, how I miss you so much; likely never again will I see this scene.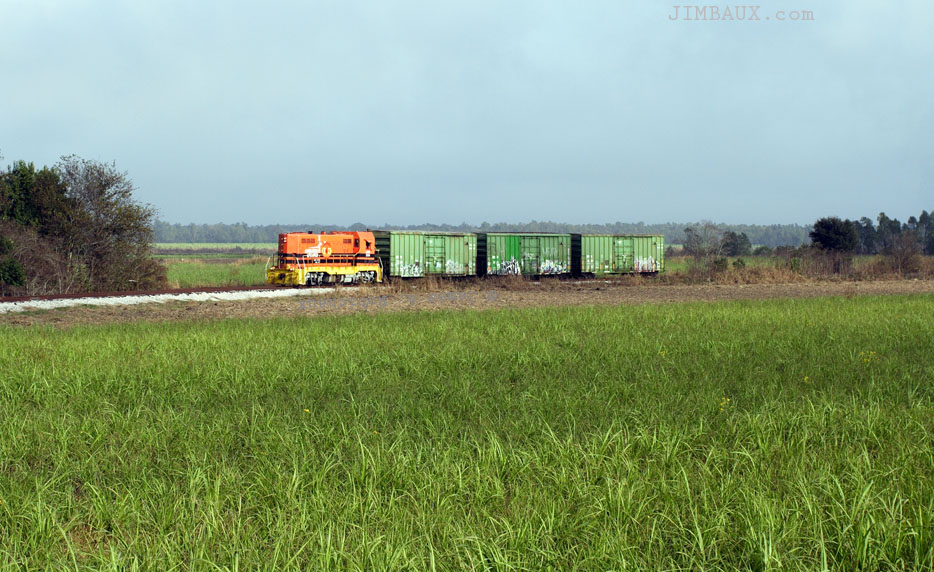 To be sure, the branch still exists, but no train has run on it since the spring of 2009.  Valentine Chemicals received a few tank cars per year, and did so for a year-and-a-half after these photos were taken (and, yes, I have pictures of that too), but that traffic was not enough to keep the branch open, much to the dismay of Valentine Chemicals.  Anyway, here's another shot of the train approaching La. Hwy. 182, the former US Hwy. 90: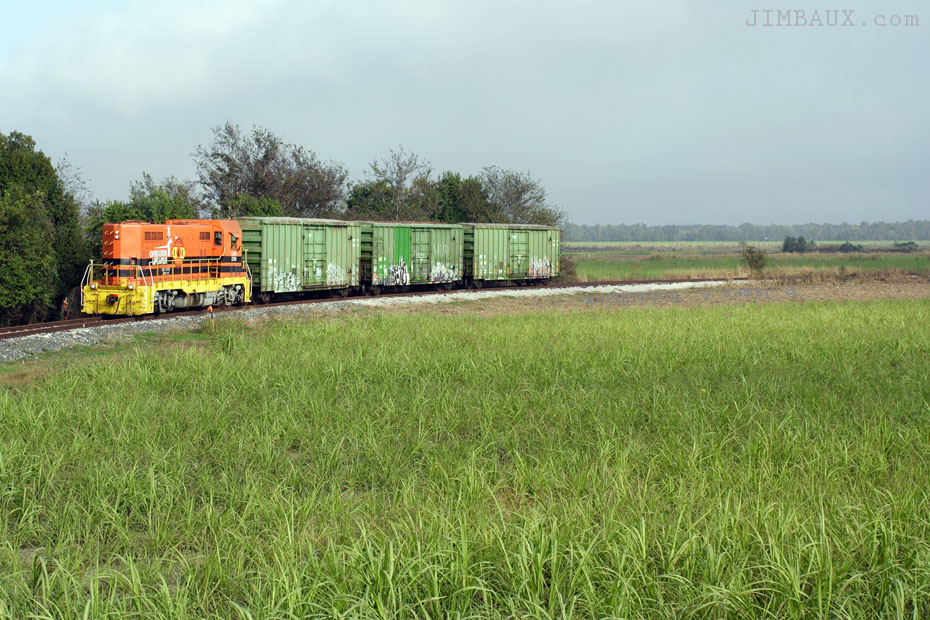 There is now a big red stop sign in the middle of the track just before the highway, meaning that this is now as far as rail movements (and basically only for storage cars, mostly from Monsanto) go, meaning scenes like the one seen below, taken from the same spot atop my truck as the previous five pictures, are no more:
Oh, how I miss you, boxcars on the Lockport Branch.
Don't You Love Beat-Up Old Jointed Rail Track?
Here we are a mile or so down the line, where The Mathews Foamer said that an SP crew stopped a train and helped rescue his stuck car from the mud in the 1980s.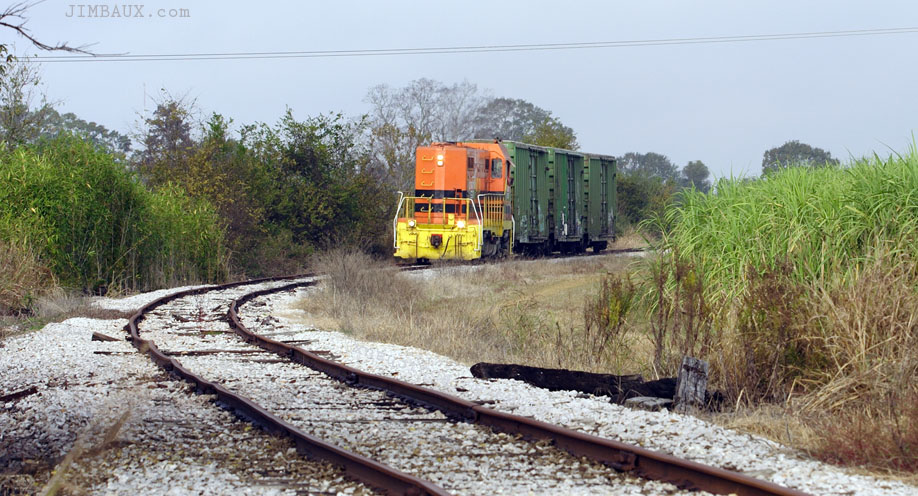 So far, so good, and Jimbaux made sure to not suffer the same fate!  Actually, at this point, as the train passed my position, The Mathews Foamer leaned out of the window to tell me that the lights on my truck were on.  Yes, I know, and so is my engine!  You should always have your headlights on!
Sugarcane, Sugar Mill, Highway 90, and Evidence of Field Burning
Here we see the train approaching Hess Road, and you can see Raceland Raw Sugars an US Highway 90 in the background.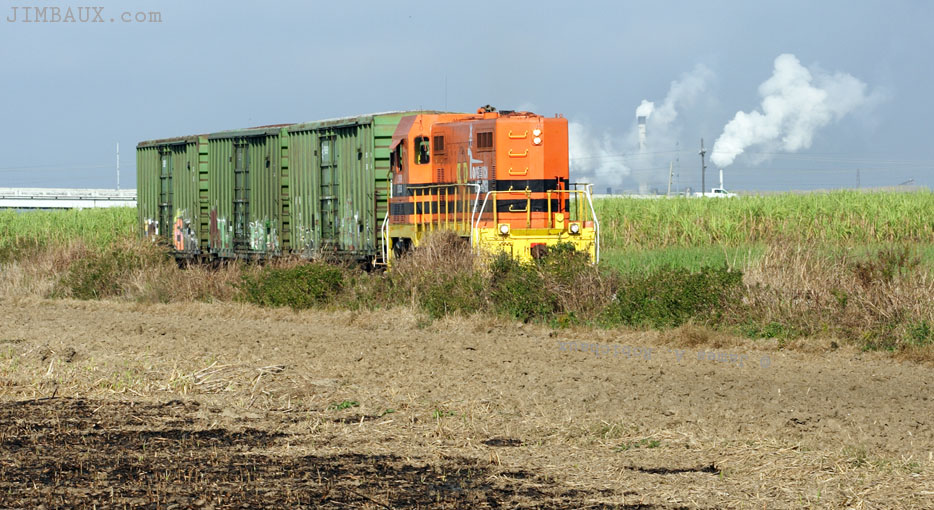 You can also see evidence of field burning in the left foreground with the charred landscape, indicating that it's a common practice and that it's easily photographed, meaning that people should not freak out and threaten you if you document it!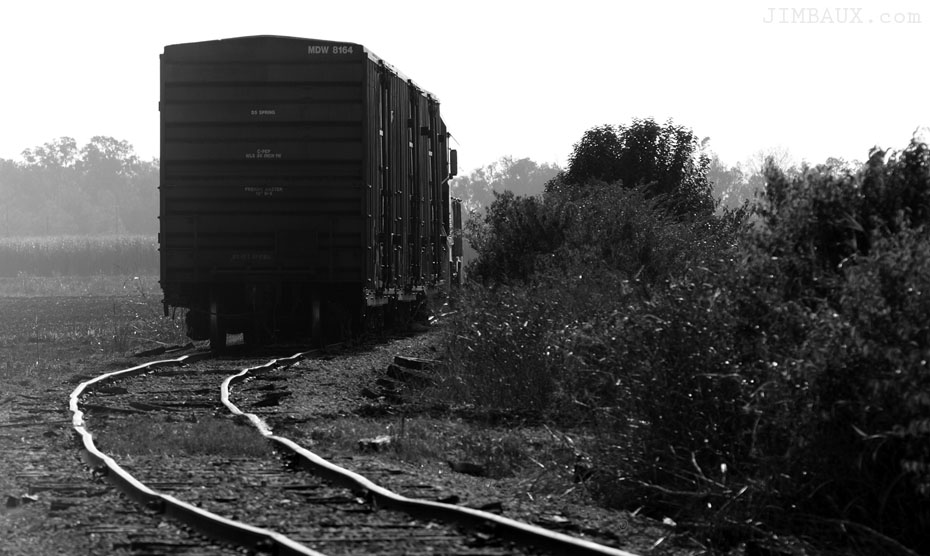 Down-home railroading indeed, isn't it?
A Scene Burned Into My Memory Long Before This Image
This shot is one of those left-hand-on-the-steering-wheel-and-right hand-with-camera-leaning-on-left-arm shots that I had to properly level in post-processing.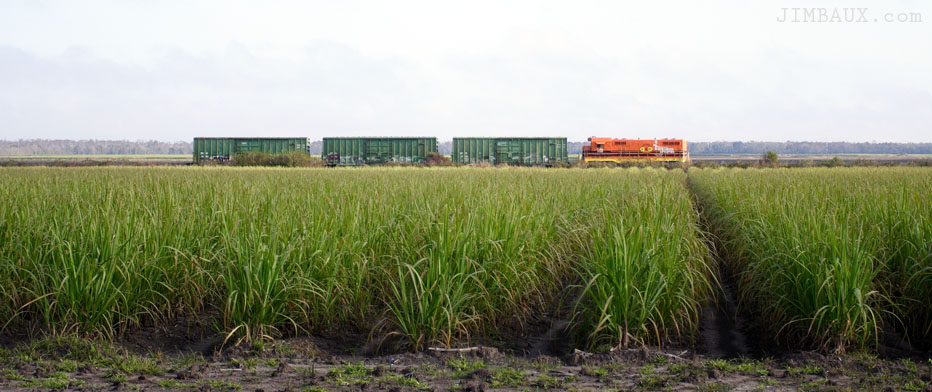 The reason for the subheadline above, though, is that this was the scene of the track and trains on it from La. Hwy. 308, which is between the bayou and the track, and that therefore, this scene, this view, is what I remember train-chasing from the highway to be like for many years before this image.
Sugarmill Road, Mathews
Now, we get to one of my favorite locations on the branch and a location that the Mathews Foamer knows well in his own life.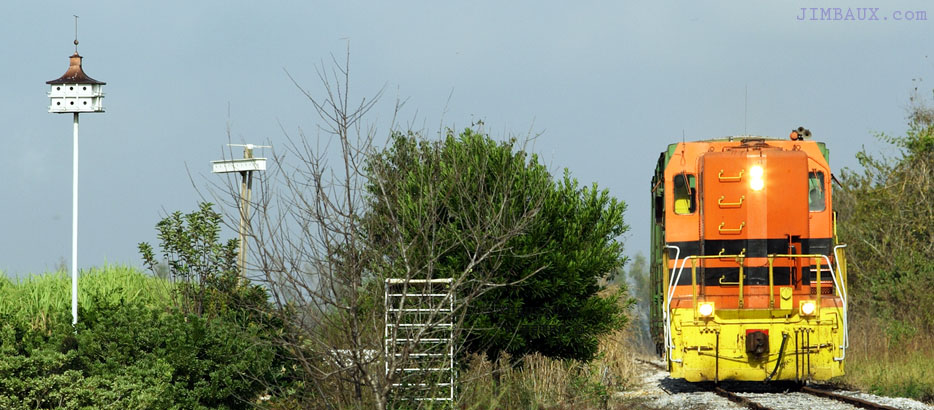 Just to the right of where the train is here once diverged a track leading to the Georgia Sugar refinery here in Mathews.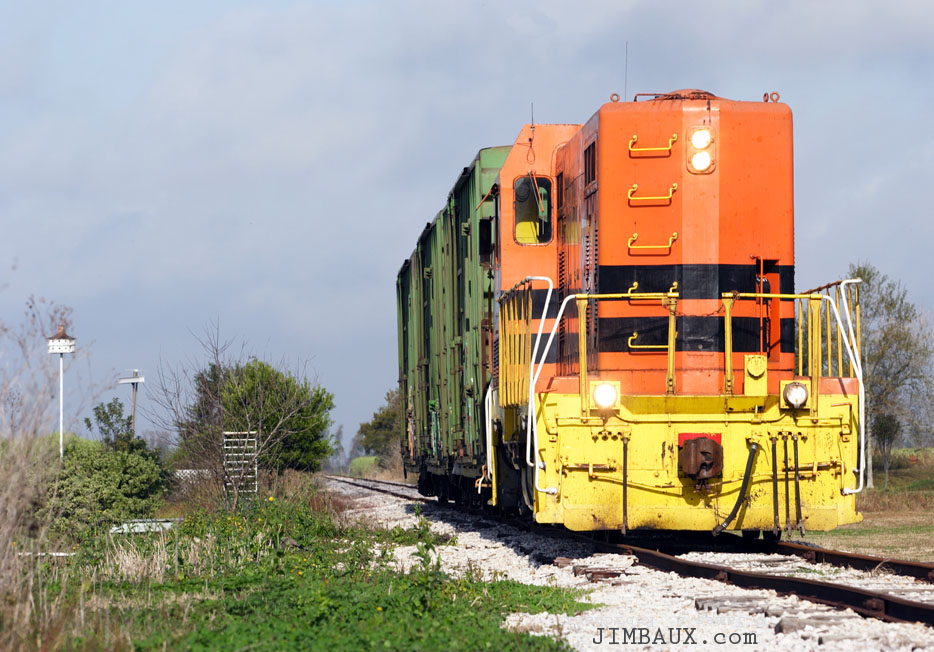 It's too bad that I missed out on that operation, having been a bit too young (or not born) at the time.  The mill closed in the mid-1980s, and I believe that The Mathews Foamer's father worked there.
Clotilda Plantation, and Other Curious Onlookers
We're at another one of my favorite locations on the branch, and we have some local citizens who are apparently aware of the significance of what they were witnessing (I talked to them afterward and confirmed this.)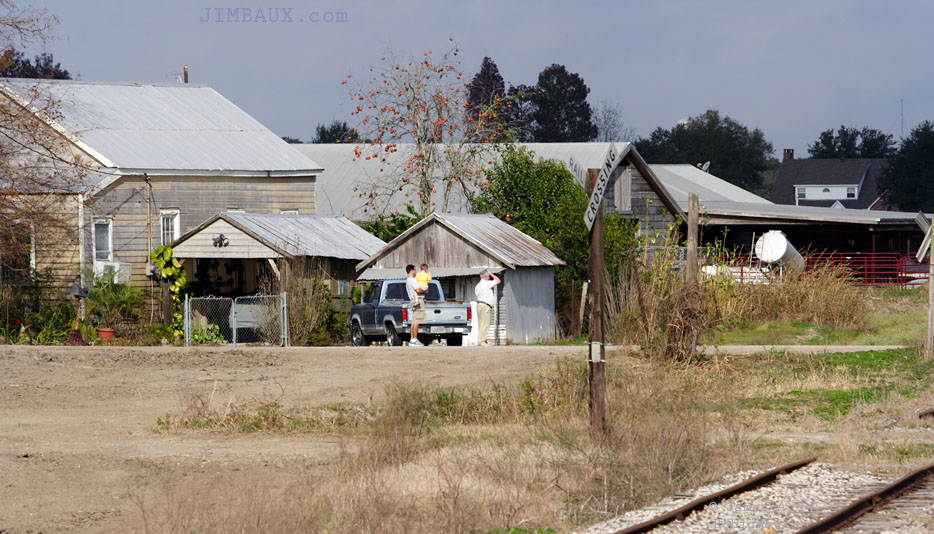 It looks like three generations watching what would be the last ever railroad delivery to Valentine Paper, passing behind Clotilda Plantation.

This is down-home railroading, with the track barely higher than the sugarcane fields surrounding it.  This is goodness indeed.

Perhaps the value in what I see here comes from the fact that it even appears to have something of a temporary nature.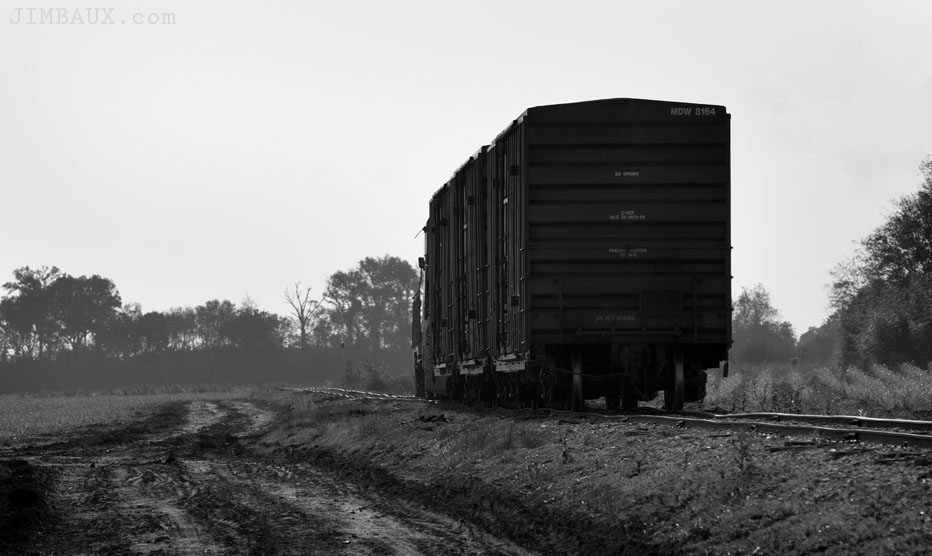 Everything in life is temporary, including life itself.
Myrtle Memories
I don't like to pick favorites, of course, but perhaps my favorite location on the branch was Myrtle Road.  I say "was" because there are now some new housing developments in the area that make this spot a little bit less cool.
I have old pictures of trains with cows in the fields around here taken at this location, and you can see how weed-choked the right-of-way is here.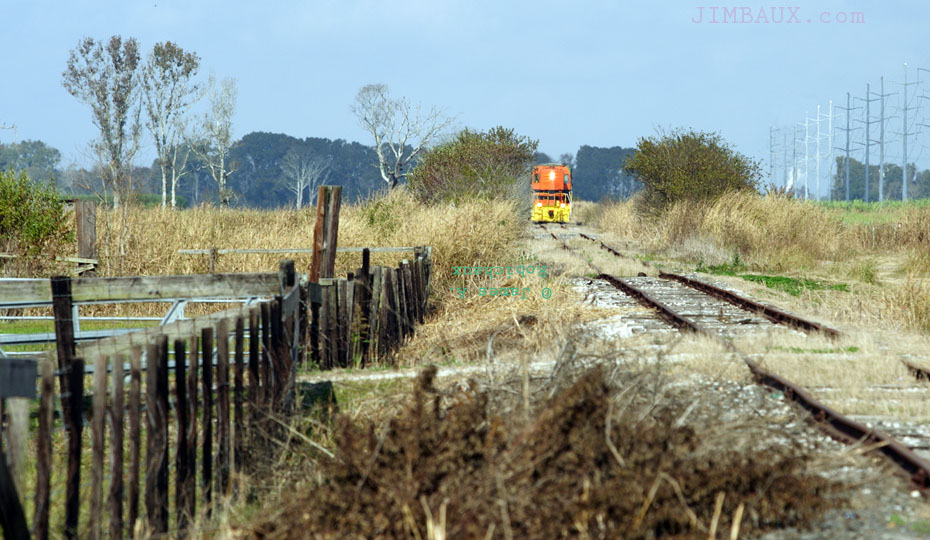 I do miss it.  I miss it greatly.  I am grateful for the memories here.
Shot Of The Day?
Look at this, this second scene at Myrtle Road, just three boxcars.  A branchline is so understandable, since you know where all of the cars are going or where they are originating.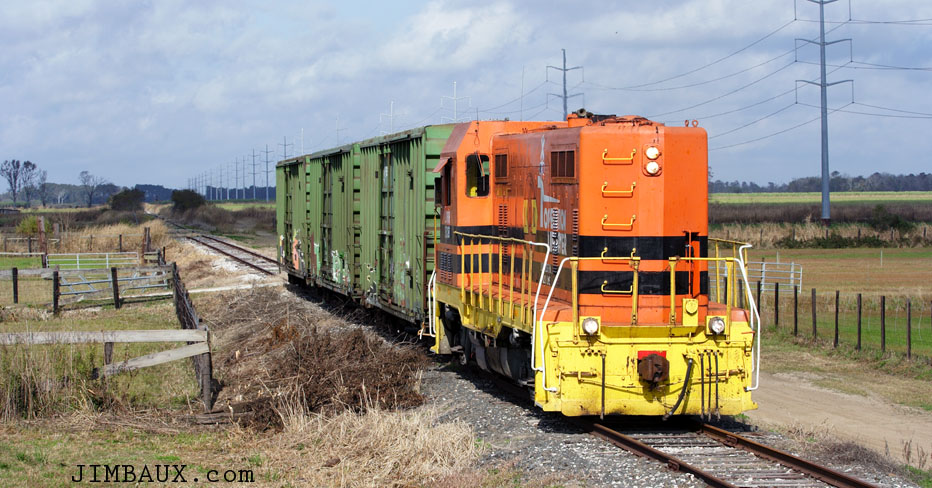 That is perhaps my shot of the day, since it speaks to so much of what the Lockport Branch means to me.  That is so much of what photography is too, not so much a literal interpretation of things as it is a means for the artist to reflect and portray his own meaning of the scene.  Doc recorded things his own way, and Jimbaux recorded things his own way.
Jay
Jay is basically Valentine, but, specifically, Jay is the name of the runaround track at the end of the line.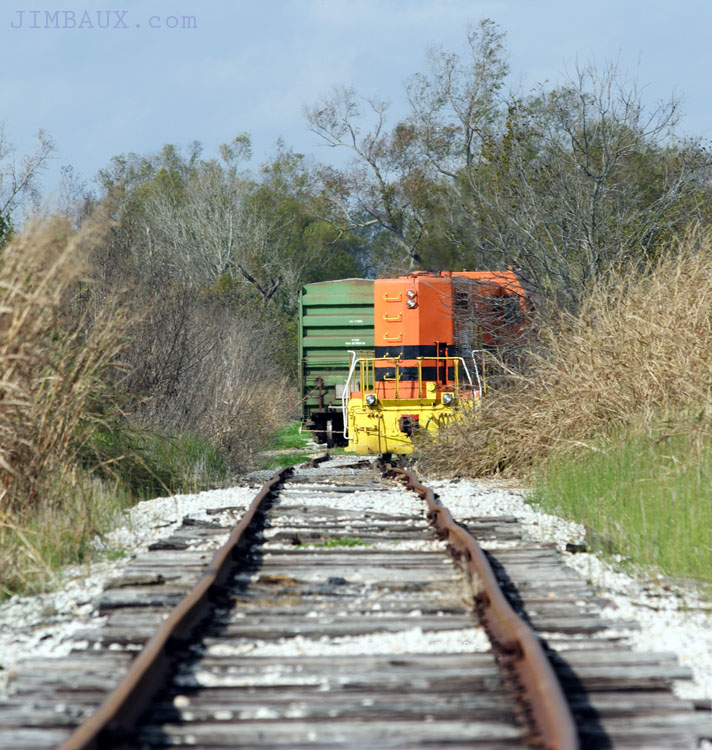 Above, you see the LDRR 1508 breaking off from the train and entering the run-around track so that it can shove the boxcars to the plant.
Valentine
Now, about a thousand feet further on, we're really in Valentine for sure.  The sugar mill here closed in 1979, but the facility continued – and continues – making some sort of chemical, as described in a The Daily Comet piece from earlier the same year that these images were made.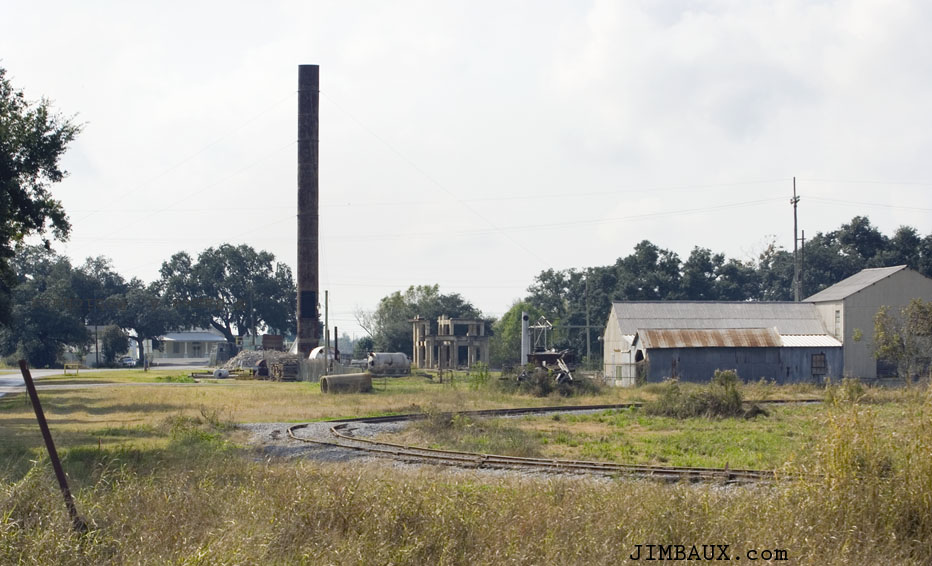 We see The Mathews Foamer protecting the shove as the boxcars with the final railroad delivery to Valentine Paper make their final few hundred feet to their destination.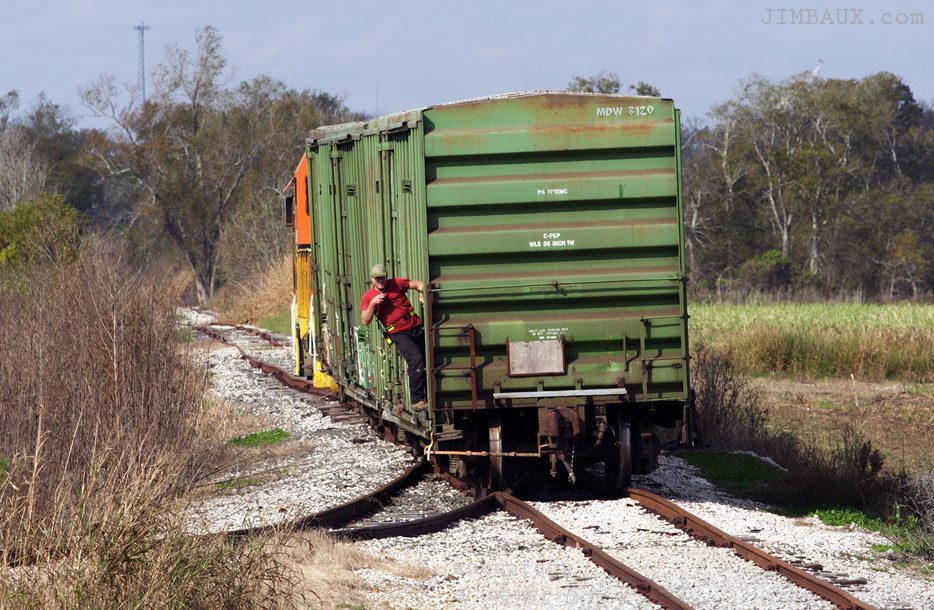 The track at left goes to the former Valentine Sugar mill and today to the Valentine Chemicals facility.  Sadly, the chemical facility had recently spent money to upgrade that track a few years before only to have L&D no longer serve the place due to the prohibitive costs of keeping the branch open after Valentine Paper closed.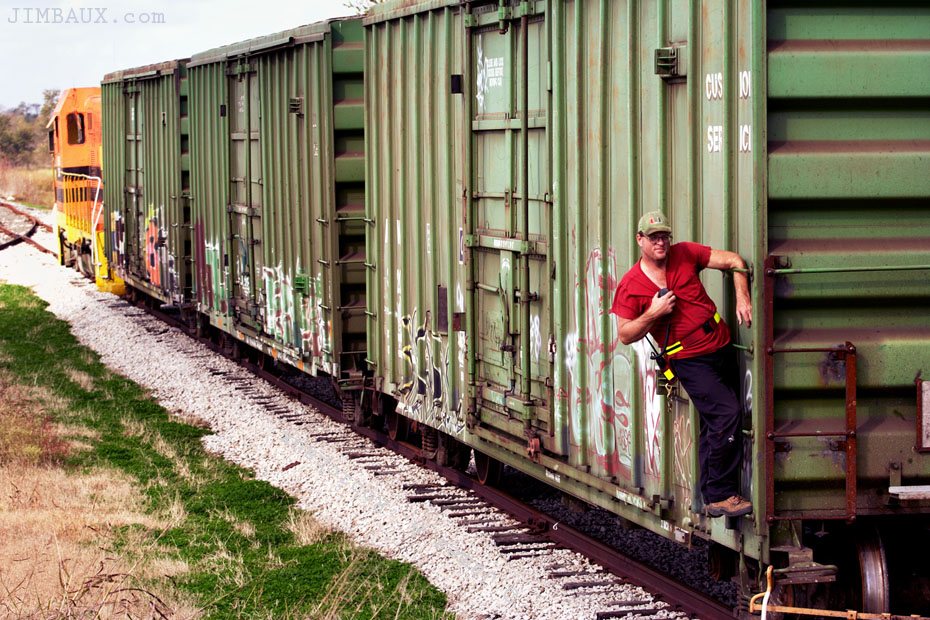 These boxcars were pulled in early January 2008 (yes, I have pictures), a run was made to Valentine Chemicals in April (yes, I have pictures), I believe another run was made there several weeks later (no, I wasn't there), a final delivery was made to Valentine Chemicals in February 2009 (yes, I have pictures, more than 1,200, the most I've ever taken in one day), and then a final run on the branch to pick up the last tank car from Valentine Chemicals was made sometime in May 2009 (no, I don't have pictures, because OMW didn't bother to tell me about the run.)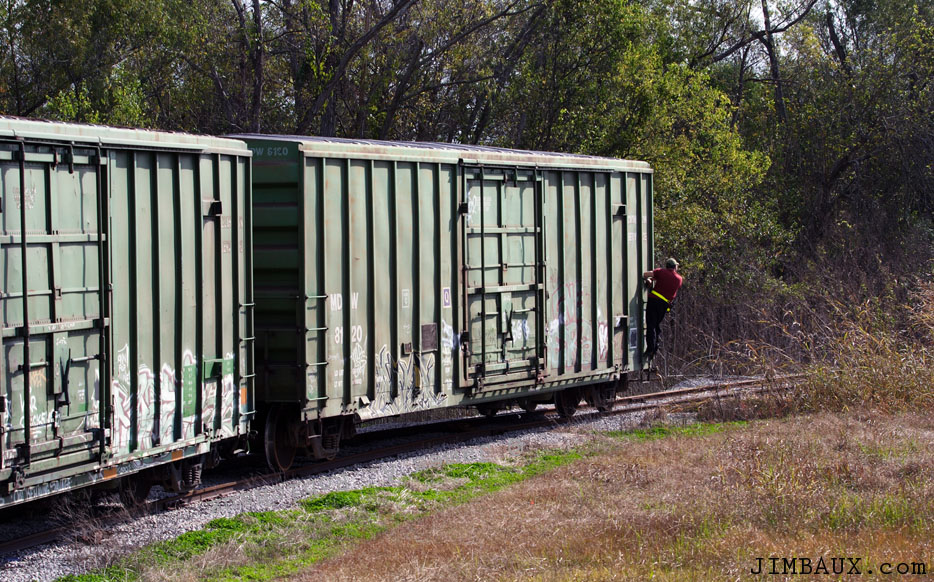 At least I got these shots, right?
Valentine Paper
Now, we are at the dying Valentine Paper facility still operational if only for two more weeks, as Doc and I peer through the fence on the southern side of the plant.
That's The Mathews Foamer on the ground while OMW sits in the engineer's seat in the cab.
A plant employee named Gray sees Doc and me by the fence as The Mathews Foamer is seen in the back uncoupling the locomotive from the cars.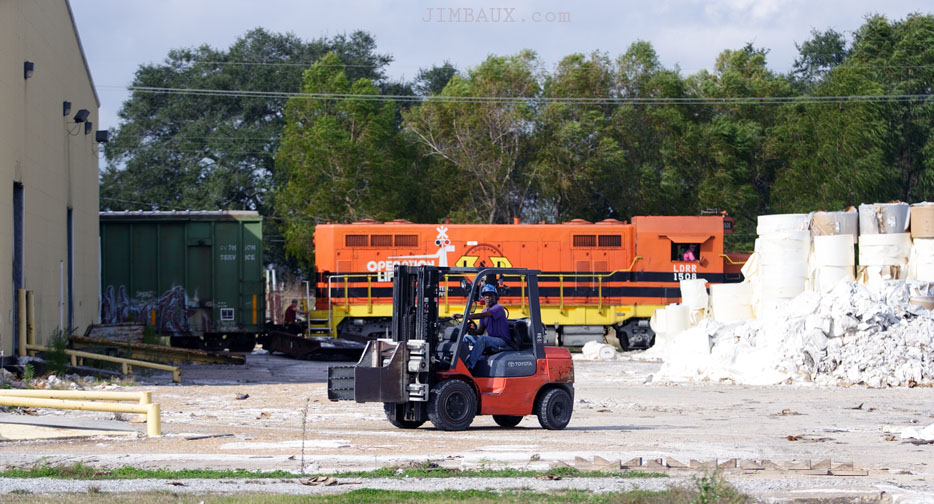 Mr. Gray came approach Doc and me.  "We have the right to be here and to photograph this operation," was about to come out of my mouth, but Gray had other reasons for approaching us.  He asked Doc and me if we were people who were thinking about buying the plant.  The sadness behind his request struck me, as here was a man obviously concerned and hoping about his future and having a job.  Unfortunately, no, Doc and I were not people interested in buying the plant.  I wish I could have helped him by doing that.  I wish that I could help at all.  All that I can do is take these pictures and tell this story, as such was a theme of a recent post about the day that a senior railroader talked to me the day that I read the death notice of a friend and former colleague.
Doc Departs
It was at this time that Doc broke off of chase and went home.  Now that he had seen the last railroad delivery to Valentine, he wasn't particularly interested in seeing the light power return to Raceland and to the mainline.  Doc reported that he thought the mere act of spotting the three boxcars as one cut, uncoupling, and leaving without any cars, was "anti-climactic," and I get what he means by that.  In the old days, it might take an hour or more to do all of the switching here.
Light Power Returning Home
As for myself, especially since I'm already here, even though I don't much like light power moves (for those of you not versed in railroad terminology, "light power" refers to the movement of a locomotive without any cars aside from moving around in a yard) I'm definitely going to get one almost-last chase of the branchline train northbound.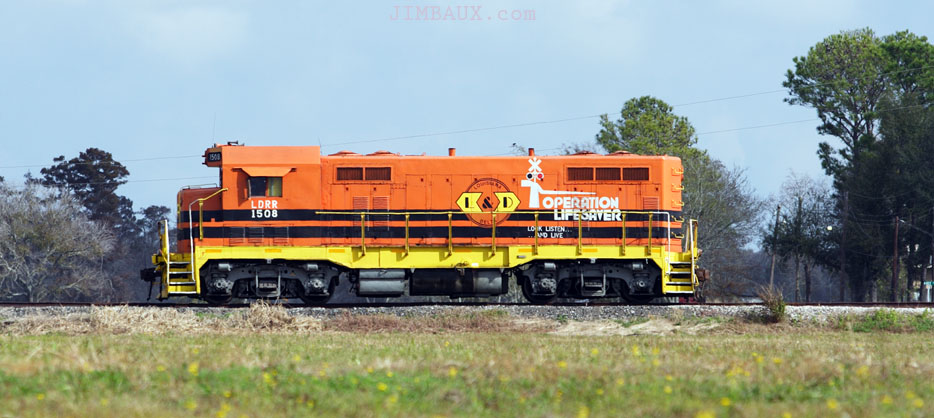 The above picture is taken at Myrtle Road, and the train is right at about the same spot where you saw my "Shot Of The Day" earlier.  This is actually a "new shot," as the construction of a small stub road for the housing that was soon to come made this shot possible, whereas it would have constituted trespassing before.  With the new houses coming, this shot would no longer be possible, meaning this is the one and only time that this shot could have ever been done from public property, and I was taking advantage of the soon-to-be-killed wildflowers in the foreground.  When I returned here in February 2009 to photograph the last ever railroad delivery to Valentine Chemicals, there were houses between where I am standing above and where the locomotive is.
Soul
As I've said before, this subject matter is very personal to me, and I'm almost hesitant to post it; indeed, when I started Jimbaux's Journal, I knew I'd post pictures I'd take on the mainline, but I really didn't intend to post Lockport Branch pictures.  It's almost like you're looking at me naked here, as I've publicized something that is deeply meaningful to me.  I'm apparently over the hesitation of posting this stuff, but it's like I'm giving you a glimpse into my soul with these pictures.  Now, you have me figured out.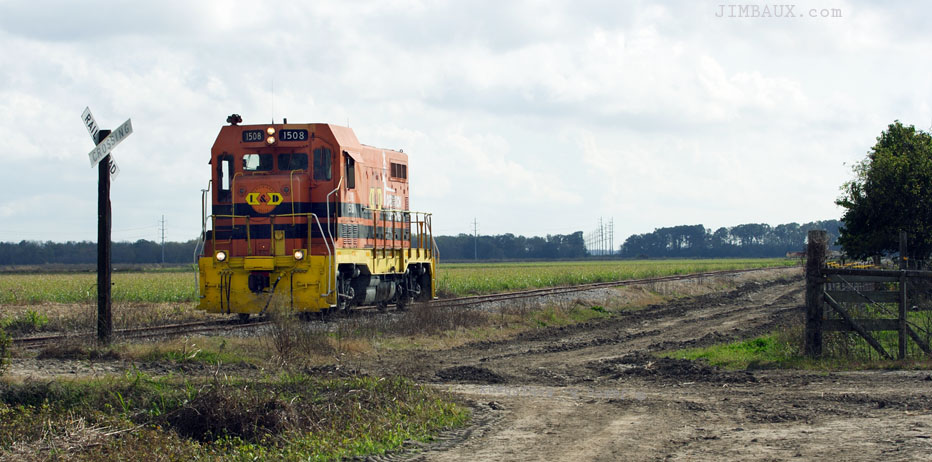 What does it all mean, anyway?  All of this "soul" stuff?
"Expose a child to a particular environment at his susceptible time and he will perceive in the shapes of that environment until he dies."
Wallace Stegner, Wolf Willow
Yes.  No person has control over the circumstances of his upbringing.  How could I have chosen to have been born in southern Louisiana and have grown up until the age of 11 with a bedroom in an old farmhouse overlooking via a gabled window an SP branchline?  And how could I have chosen the geometry through which my mind views the world and will until I take my final breaths?
"I feel how the world still reduces me to a point and then measures itself from me. Perhaps the meadowlark singing from a fence post – a meadowlark whose dialect I recognize – feels the same way. All points on the circumference are equidistant from him; in him all radii begin; all diameters run through him; if he moves, a new geometry creates itself around him."
Wallace Stegner, Wolf Willow
Yes, and Nietzsche apparently knew that, ultimately, knowledge was always influenced by perspective, that facts themselves were illusions.  Knowledge is essentially always "by someone of something," and so true is it with the Lockport Branch among the sugarcane fields along Bayou Lafourche, something I had photographed several times before and was now photographing for the almost-last time.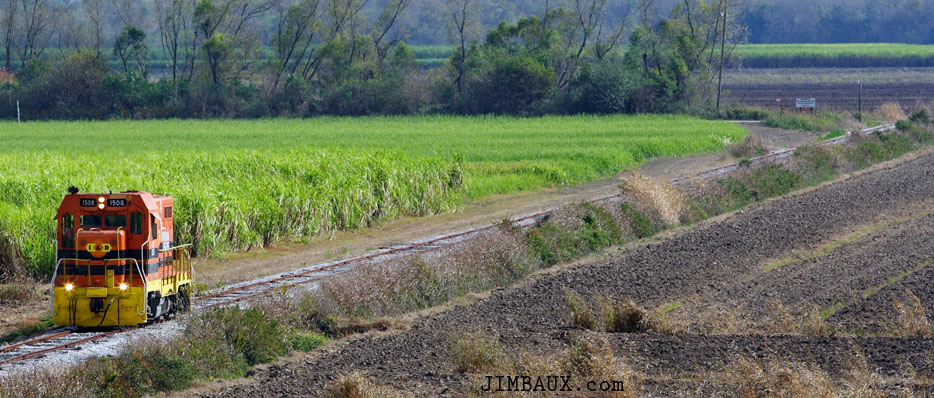 Thank you for taking this journey with me.  There has not been a train on the Lockport Branch since the spring of 2009.  While there is hope for some sort of renewal with a potential new customer (and there's been nothing new on that issue in about a year), it's also likely that there will only be one more train on this line: the one that pulls up the rails behind it.  Again, everything in life is temporary, including life itself.
An Anti-Climactic Encore
As the locomotive (I don't really want to say "train" here anymore since it's just light power) into Raceland, I made a quick stop by the post office track, hoping that the crew would stop to pick up this empty lumber car, but that was not to be.  Yet, here is a scene of something that, too, is no more, the process of Dufrene Lumber unloaded railroad cars in Raceland.  Apparently, the feed store did not like this process happening on what apparently is its property, and the operation now takes place at Schriever.  I sure do miss this little operation too, though not nearly as much as the branch to Valentine itself.

That's all that there is to this, my friends.  I'm grateful for having the opportunity to see and photograph the operation to Valentine Paper before it ended, and I am highly grateful to the Louisiana & Delta Railroad for intentionally arranging this run to be on a weekend so that I could photograph it.  We too quickly follow the pattern set by other human beings for life and work.  The birds and alligators know what a day is and know what a year is, but the week is an entirely human creation, and I try as I might to not be dictated by those artificial creations and dictates.
So long, Valentine Paper, and so long, operations on the Lockport Branch.  It's been real, and I'm grateful to have been able to document its realness for all to see.  Since the track still exists and could theoretically be activated with some maintenance and intention, I still consider it to be my favorite piece of existing railroad in the world.
What is real to you?  Do you have a branchline that you love?  For those of you that do not have much of an interest in trains, what do you have in your life that plays such a role as does the Lockport Branch in mine?  Thanks for any feedback.
Merci,
Jimbaux