[Jimbaux sees your ignorance and senses your fear and can't wait to burn it down.]
The Cycle Repeated
Another case of a threat to photography, and, therefore, a threat to freedom of information, something far more important that photography, this is really a case of not only ignorance and fear, but also threats to information in general and the disturbing idea that information should only be processed via the processes and prejudices of established news media outlets.
This event happened early in January, and I have meant since to publish the pictures and the story, but am finally doing so now after a more recent event reminded me that I really need to get this out.  What is shown here needs to be shown, and what is said here needs to be said.
Freedom Of The Press In The Information Age
Let's review a few things.  Some digression is in order.  Please bear with me here.
The idea of Freedom Of The Press, as outlined in the First Amendment to the US Constitution, is not solely reserved for professional journalists.  It exists for you, for your benefit.  If you'd say, "My neighbor Steve works for the local TV station, but I work as an operator at the paper mill, and Freedom Of The Press affects him but does not concern me," you'd be sorely mistaken.
Furthermore, in this modern world of the internet, blogging, online discussion forums, Facebook, Twitter, and YouTube, really, everyone is a journalist, all generally independent of one another (even if reliant on free platforms such as the social media sites.)  You can – and, really, you should – report on many things that happen that are visible from public property where there is not a reasonable expectation of privacy so long as your actions do not impede the work of others or constitute an obvious form of harassment.  The only thing different from what you can do (even if you don't do it) and what a professional journalist who works for an established media outlet can do is that he or she has the resources and often the training to dig deeper into things and the wisdom to know which questions to ask and generally understands the difference between fact and interpretation (to the degree that such a difference exists), hence the justification for the person receiving a salary, as there is indeed some skill involved in doing it and doing it properly. Remember, though, that despite lofty claims of the integrity of the press, most media outlets are businesses, and, often, fear of "offending" enough advertisers can and does limit the lengths to which a journalist will go to get information.
Do we really have a free press when this happens?  Actually, now, thanks to the internet, despite all of the garbage that is on it, we essentially do.  (The fact that it often is used in ways that it should not be is a separate matter.)  So, now, even if your local newspaper is scared to investigate claims of your local chemical plant dumping toxins into the river or your local sheriff's office embezzling money or the judge setting unfair bond rates for arrestees who have been incarcerated on shaky charges, once some YouTube video pops up about this, at least the local professional journalist can say, "hey, this is now out there; so, we have to ask you about it."
Just as the Media are supposed to serve as a check on government and corporations – hence the "Fourth Estate" moniker – thanks to the internet, social media and independent media now serve as both a check on and an augmentation of traditional media.
A Desire To Know Precedes A Desire To Persuade Or Even To Inform
Before any picture can be printed in a newspaper, magazine, or website, someone had to care enough to get the image in the first place.  Most people don't have the time or the resources – or, in the case of Jimbaux and some of the other photographers who visit this site, the burning desire – to go out and get information on their own.  That's why we have television, news, books, newspapers, and magazines.  Much of what's out there, though, stems from the curiosity of the photographer himself, as I said before.  That's why, if you see a photographer taking pictures somewhere of something, if you're inclined to assume a motive (a risky proposition itself, as will be discussed with the incident below), you should at least first assume that he's doing it for his own curiosity before jumping to the conclusion that larger forces might be at play.  To not do so would be condescending to both the photographer and anyone who might view his work.
What has prompted me to say much of what I've just said is the disturbing response I got from two professional journalist when I described the below incident to them, a response that suggested that the transference of information should pass through the filter of traditional media outlets.  For now, though, I've written enough about that; so, let's just get right to the pictures, shall we?
Being A Host To A Visitor
I had met VT JaWo and talked with him briefly at a couple of parties in Washington, DC, last year.  Like Jimbaux, VT JaWo is a photographer himself (and, you are one if you say you are one, like calling yourself a "Christian"), and when he just happened to mention on the all-important Twitter in late December that he'd be in New Orleans cheering on his Hokies for the Sugar Bowl, I offered to spend a few hours showing him around.  I love to show visitors around, to be an ambassador for what I know and love, and it's also a good excuse for me to get out and take some pictures.
These pictures were taken on the afternoon of 4 January 2012, five years to the day after I had a photographically glorious day in northern Mexico.  The plan was to head up the Mississippi River on the West Bank, cross at Luling-Destrehan, see the Bonnet Carré Spillway and some nearby communities, and then drop VT JaWo at MSY for his afternoon flight back home.
Our first catch, and this is not a great picture, is Amtrak's westbound Sunset Limited shortly after leaving Avondale on former Missouri Pacific (nee Texas & Pacific) trackage, and you can see VT JaWo down below.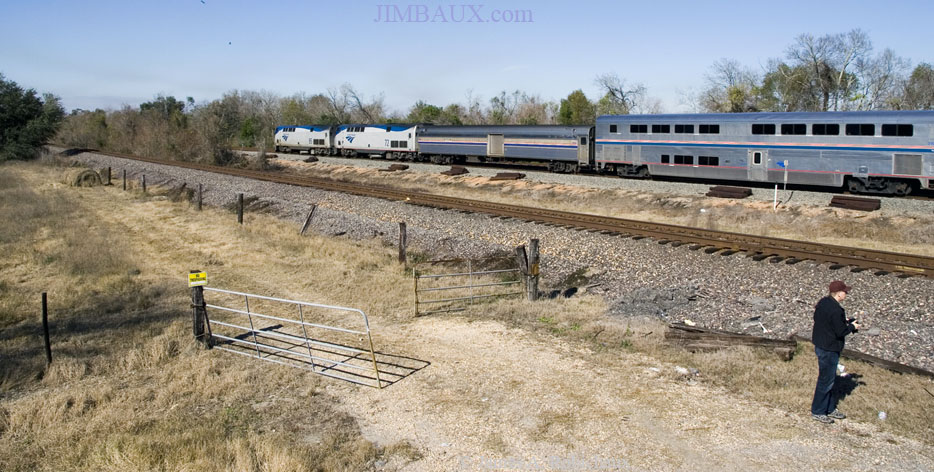 I wanted to see with my own eyes the #1 going over this non-ex-SP trackage, did that, and learned that it is indeed possible to beat him from this shot to CTC Live Oak where he'll cross over onto the former Southern Pacific line of its name, like so:
We crossed the river at Luling and did visited the spillway where VT JaWo took some pictures but I didn't, especially as I already had such pictures.
Reserve
That's the name of a little town where there is a small yard along the former Illinois Central Railway "Valley Line" between New Orleans and Memphis via Baton Rouge and Vicksburg and where a Canadian National Railway job is based.  The 'super local' train L516 stops and does work here on its way between Geismar and Metairie, and we stopped here and saw him doing some work.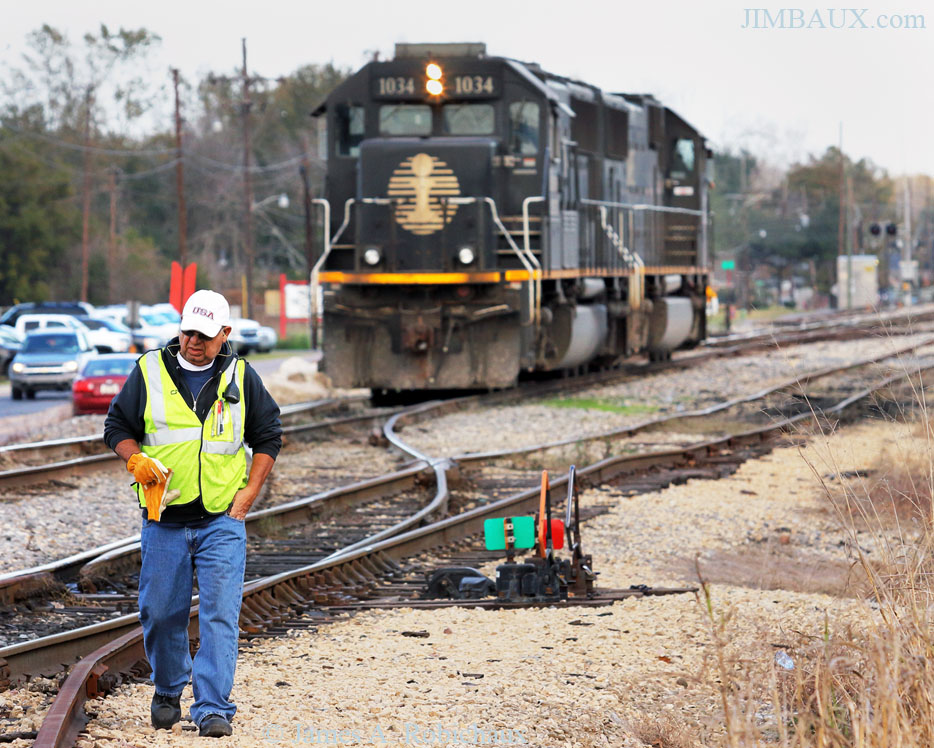 As I recall (it's been a few months), both a pickup and setout were made, with the below image showing the pickup being made.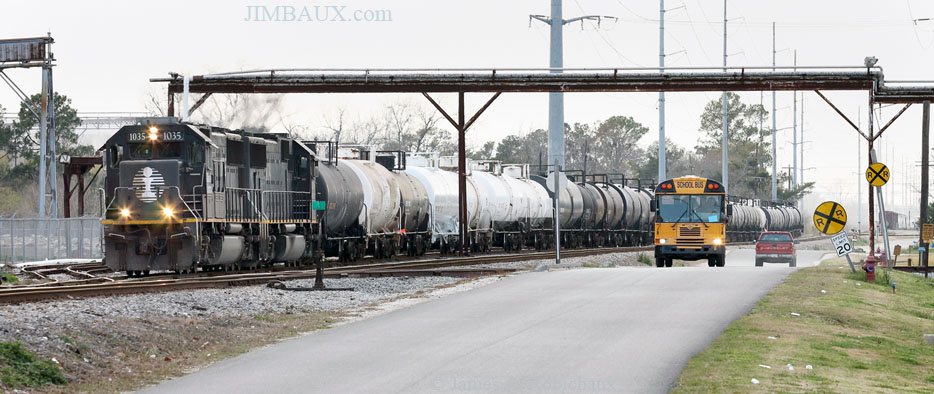 With the cut pulled from the storage track, the train prepares to back up, and the conductor closes switches and walks to the crossing to protect it.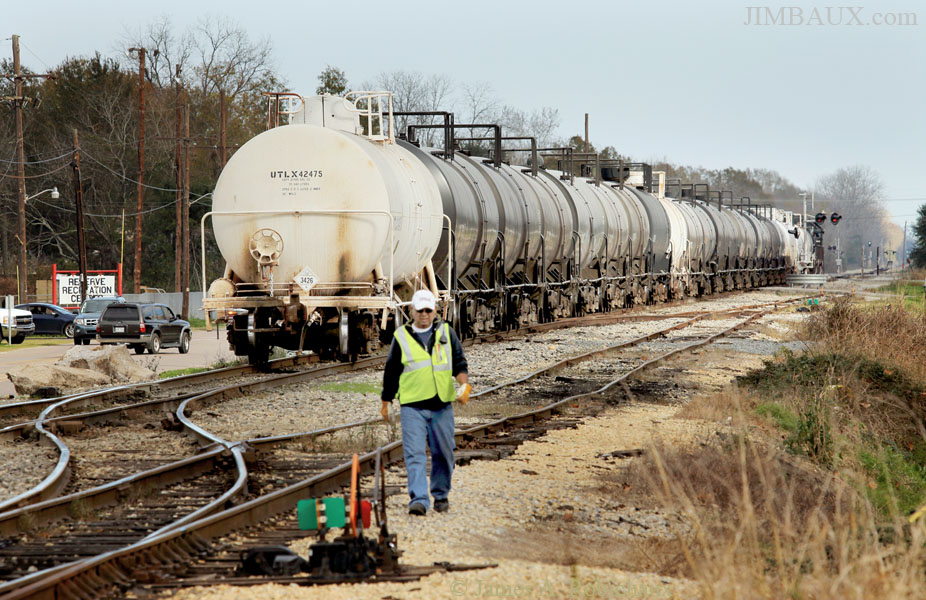 Below, the conductor protects the crossing while who appears to be the trainmaster watches.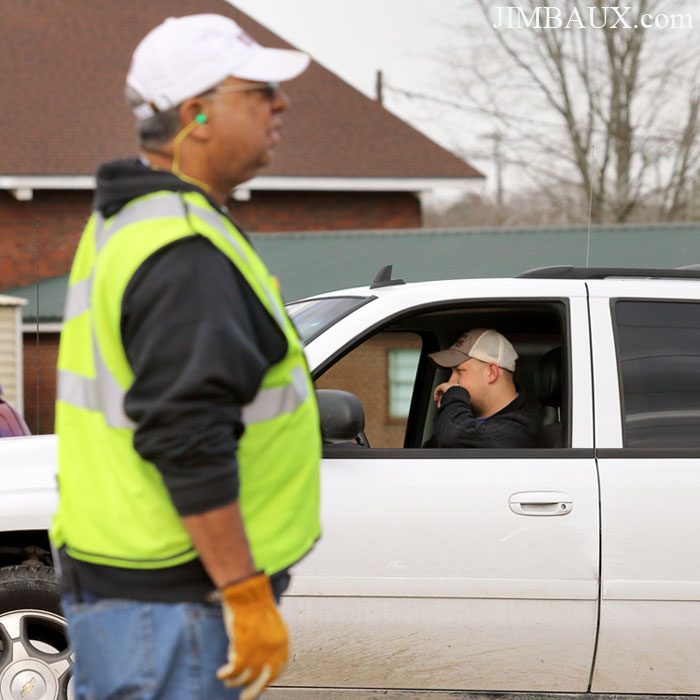 That yellow tape is really disgusting, but it's still great to see a solid set of black IC SD70s on the point of a train in 2012.
After this, VT JaWo said that it was time to get to the airport, and that's what we did.
A Fiery Diversion
That's not quite how it went.  As we were coming through LaPlace eastbound toward the airport, we saw smoke on the horizon.  That fact that we might be seeing the results of field-burning was not immediately obvious to me for two reasons.  First, we were in town, and I didn't really remember that there was indeed this one area of sugar cane field east of town and west of the spillway.  Second, it's January, and grinding of sugar cane usually is wrapped up around Christmas.  When we got east of town, we stopped to see what was happening, thinking we did indeed have time for a few pictures.
Here's Something You Don't See Every Day
That's especially true if you don't live in southern Louisiana, but it's a common enough practice that had I not had an out-of-town visitor with me who was keenly interested in this scene, I may not have stopped to photograph it; I usually don't photograph it when I see it, which is often enough.  VT JaWo had, like many of you, never seen this before, and he found this to be most interesting.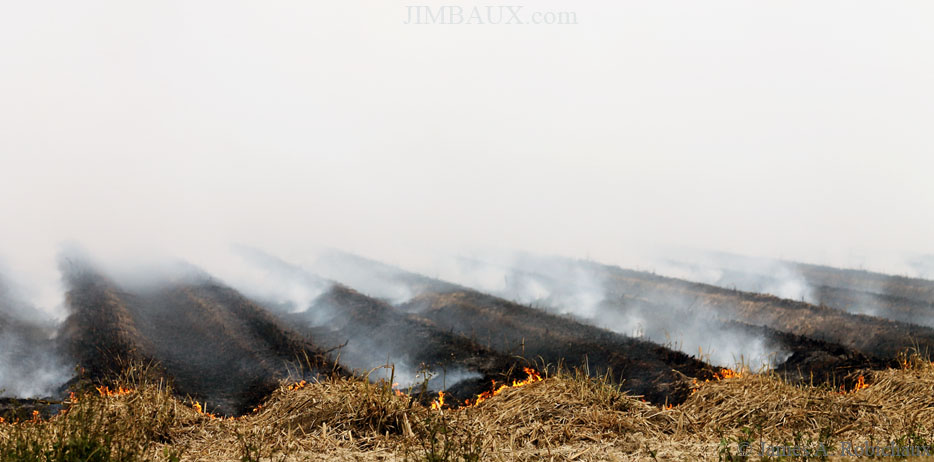 Until the last few decades, harvested sugarcane was stacked up upon the rows from which it had just been harvested so that the leaves could be burned right off of the stalks.  Now, however, machines remove the leaves, but the leaves are left in the fields, and the fields are now set ablaze to get rid of the leaves.
Despite the aforementioned relative apathy I claimed to have to the subject matter, documentation of the upcoming sugarcane harvest was a goal of mine last fall.  Unfortunately, I really didn't have time for it; so, the closest I got to it was a few shots I took while waiting for some trains one August afternoon.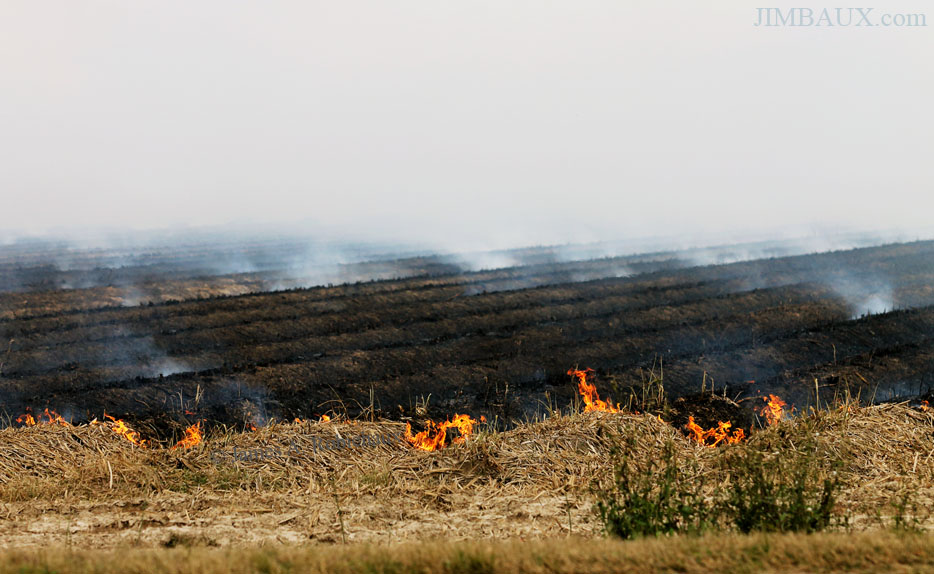 As you look at these photos, I'd like you to be thinking about something.  Please think about what value the information that you are imbibing by looking at these photos has to you, and please don't include any idea of money when you read that I'm asking you about "value."  (There are more reasons why I ask you the following questions than you probably yet realize, but we'll get to that after our 'terror' incident.)
What do you learn by seeing these images?  What new questions do you have now that you see these pictures?  Most likely, you are a sugar user, whether you put it in your coffee or tea, eat a candy bar, or even eat beef from a cow that fed on molasses.  In this modern world of comfort and convenience in which we in the industrialized world are so out-of-touch with where our food originates and how it gets to us, does looking at these pictures – does the information that you gain by looking at them – make you feel slightly more in-touch with your food and slightly more appreciative of the effort and means that it takes to get to you?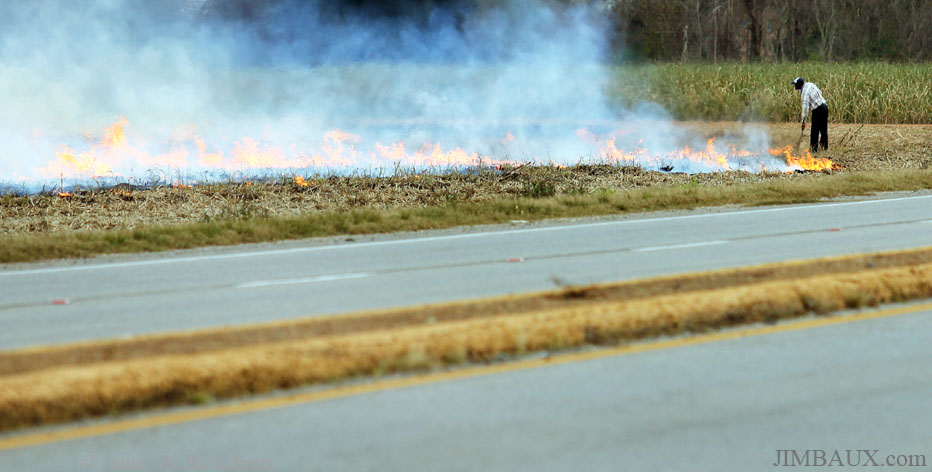 The inclusion of the highway lanes in the above image is deliberate (I'd normally crop them out if I showed the picture at all), as it shows that we started where we were parked, on the southbound lanes of the highway on our way to the airport.  The above image was made in one of the brief instances of no traffic in either direction on this busy four-lane federal highway, a mention of which is deliberate for reasons beyond the difficulty of obtaining photos from this side of the highway.  Yes, the greater point, not to get ahead of myself, is that not only are we photographing this spectacle, but hundreds if not thousands of people passing on Airline Highway can see it too.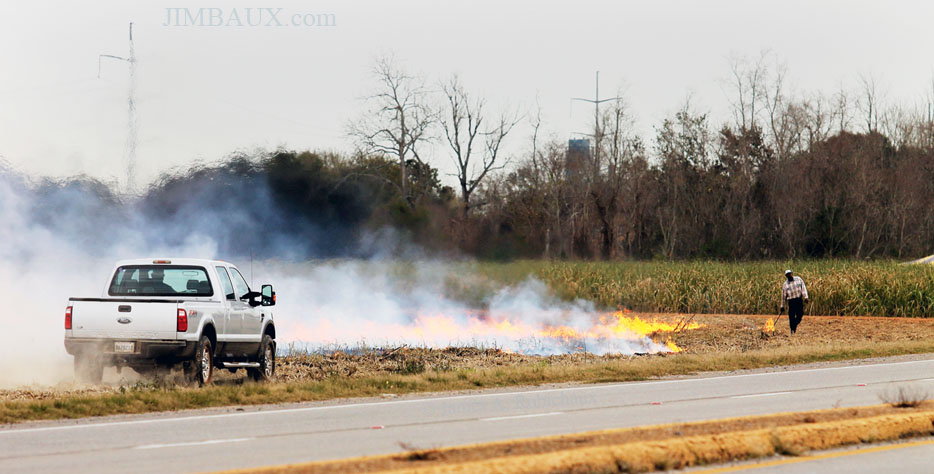 At the time, I could only guess that the farmer had the common courtesy to pick a day when the wind was coming away from the highway to light the field ablaze.
Let's Get A Better View
Realizing that we did have a few more minutes to spare, we waited for a break in traffic and crossed the highway to stand on the opposite shoulder to get a less obstructed view.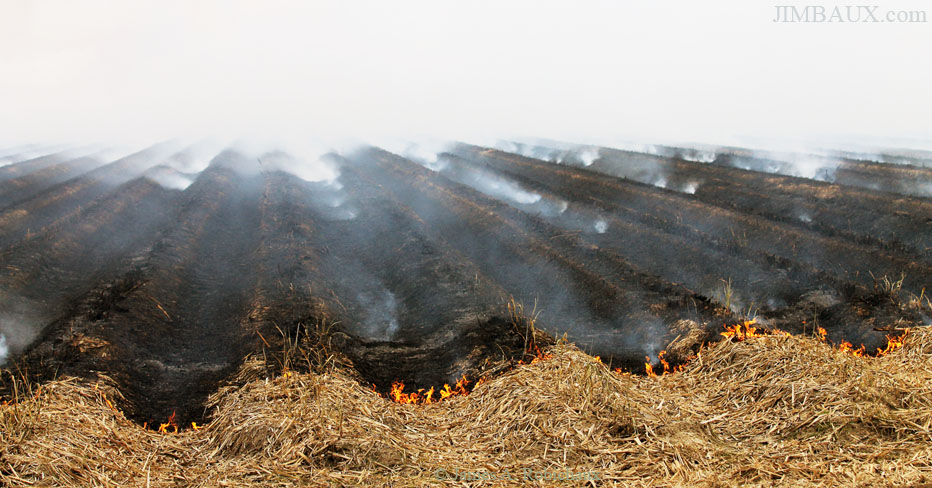 Normally, you'd be able to see trees off in the distance of this view.  As Forrest Becht, the former general manager of the Louisiana & Delta Railway once wrote in Trains magazine, a southern Louisiana sugarcane harvest is "something to behold."
Let's turn to the left and look in the other direction.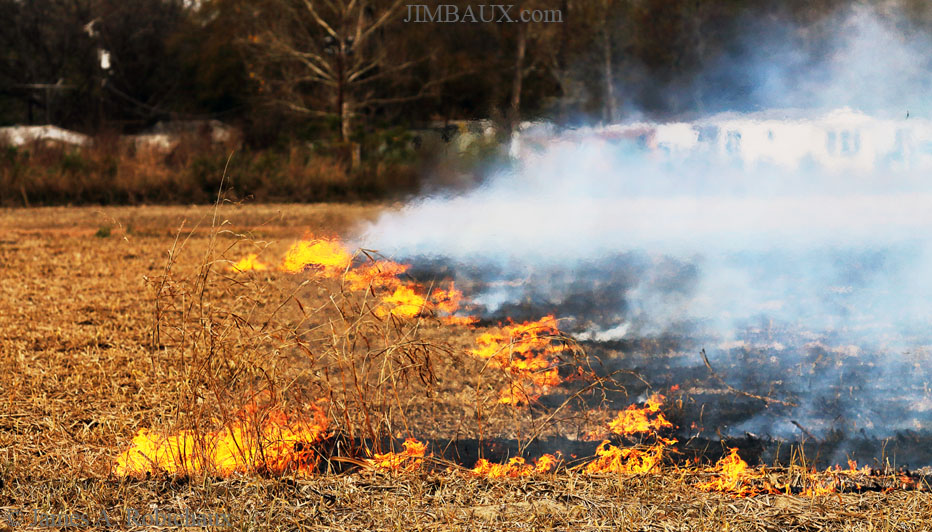 This is interesting, but we really have to leave.  We need to get to the airport.
Hey, look!  The farmer's truck is coming around the other side.  I guess he's just driven completely around the field from when you saw his truck earlier above.  Maybe he'll see us and wave at us?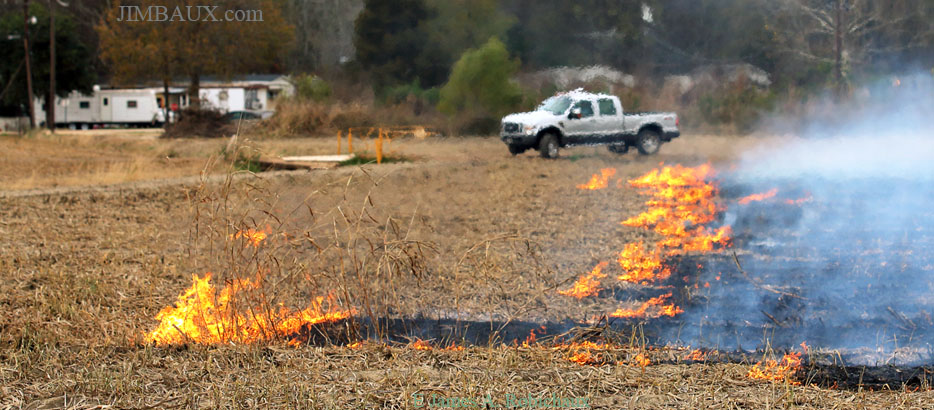 Well, that's interesting.
Unfortunately, I didn't have my camera still pointed toward him for what happened next.
Oh, He Doesn't Look Very Happy
Please keep in mind, again, that not only were we standing on public property on the shoulder of a highway, complete with a big ditch between the sugarcane field and the highway, an obvious way of being able to tell where we can stand and where we would be trespassing (if we crossed the ditch), but there are plenty of automobiles passing behind us who are seeing – and, for all we know, could be inconspicuously photographing – what we are photographing.
He pulls up even with us and starts yelling something at us.  There were the sounds of automobiles blazing along the highway right behind us, the engine is on in the farmer's truck, and he is yelling at us through the passenger-side window.  I can ascertain an occasional word from his tirade, but this isn't the way that I really like to communicate with people.  I'm not a yeller and don't respond to yelling, even when its only purpose is the practical matter of overcoming distractions like those I've just described.  There is so much that can go wrong when communicating like this.
So, I raise my hands up and nod my head side-to-side and turn my hands so that my palms are facing behind me (to show that it's the highway noise right behind us that's the problem) to show that although I acknowledged that he was talking to us that we were not receiving his message.  My expectation was that what would happen next was that he'd realize it was a lost cause trying to tell us anything, forget about us, and that he'd go about his farming business.  Well, that's not what happened.
Oh, Damn, He's Coming Here, And He Looks Mad!
Immediately after seeing my hand signals, the farmer quickly puts his truck into park, gets out, and starts angrily power-walking toward us, and I wondered how he'd get through that ditch.
Let Me Do The Talking
That's what I said to VT-JaWo as the farmer was making his way toward us.
The short and stocky farmer dressed in his jump suit managed to power-walk his way through that weed-choked ditch up to the shoulder of the highway where we were standing.  Out of VT-JaWo and me, I guess I appeared to be the one 'in charge,' since the farmer approached me, which is fine by me, since I wanted VT-JaWo to keep quiet for reasons I'll explain more later, but you can understand that it has plenty to do with my own experience with issues like this and how a lack of that experience can yield to not standing up for one's self.
Farmer St. Pierre extended his hand out to mine to shake it and tell me his name, and I reciprocated, of course.  Unfortunately, this was the best thing that he did in this encounter; it was all downhill from here, as evidenced by the next thing that came out of his mouth.
Who You Wit'?
What?  Is this Master P talking to me?
I had just told him my name, the only words I had ever spoken to him, and the only other thing that he knew about me was that I was taking pictures of his land, and he's asking me "who you wit'?"??? That is apparently what he had been saying to us from the truck.
I was confused by the supposed question, and I made sure that my body language indicated the confusion.
"Who you with?" Farmer St. Pierre again said.
I answered the only way I could, by pointing to VT JaWo and saying, "him," in a tone that indicated that this is an obvious answer to a question that need not be asked.  Since I pointed at VT JaWo, I was afraid that Farmer St. Pierre would now turn to him and ask him the same question, but I was confident that VT JaWo would give the farmer the same reply that I gave him.  Yes, he's with me, and I'm with him!
"Who you with?"
WTF?
I might have turned around and looked behind me at this point.  Let me slightly digress here.  What happened on this day was the rare circumstance that I'm shooting pictures with someone else.  I'm usually alone, and in those cases, I have been asked something like this; much like I do when train crewmen benignly ask me "what do y'all do with those pictures?," I look around behind me, because I'm suddenly confused by this "y'all" stuff and am started to be told that maybe I was not alone when I thought I was the only person around.  I mean, what do I know what other people do with train pictures, and how does what they do affect what I do anyway?  Aren't I the one who decides what I do with my own pictures?
So, when someone asks something like this, I occasionally look around behind me to try to figure out who this other person(s) that the inquisitor means.
"What do you mean, 'who you with?,'" I asked Farmer St. Pierre.
He started spouting off names of local newspapers and media outlets, specifically The Times-Picayune.
"Do I have to be with one of those organizations?," I asked him.  That was a stupid question to ask, but it resulted in a revealing response of "yes" from Farmer St. Pierre, but I also again pointed to VT JaWo and said that I was with him.
"I'm with myself," I think I also said.
"This is my property," Farmer St. Pierre said, as he pointed to the ground of the highway shoulder on which the three of us were standing.
He said that all of those news organizations get his permission before publishing pictures of his property, and that I didn't have permission to publish pictures of his property.
"This is my property," he again said, as he pointed to the ground beneath us.
"No, this is not your property.  This is public property," I said to him as I looked wide-eyed into his eyes.
"That's your property," I said to him as I pointed across the ditch to the burning sugarcane field.  (VT JaWo had a good laugh about that when we finally got out of there.)
I think maybe he went on again about how those news organizations get his permission first before publishing stuff.  First and foremost, I suspect that that's completely bogus.  Secondly, he may be confusing permission to enter – to set foot on – his property with permission to photograph it from somewhere not on it, a distinction that's very important since it makes the difference of whether or not the photographer goes to jail.  Thirdly, to whatever degree that what he said might be true, it shows how most of our media is controlled by advertising dollars, and the corporations fear offending advertisers, meaning that we really do not have true Freedom Of The Press.
Now, the other thing that's so hilarious about this is that this is right alongside Airline Highway.  In the amount of time he was out there burning that field (which doesn't take very long), probably more than 1,000 motorists passed and saw it.  Yeah, they can see it plainly!  Anyone of them could have photographed from the moving car.
Several people criticized my recent self-reference as a "journalist" in the "NOGC Terrorism" episode, which stemmed from me being told by a railroad crewman that taking photos of his train was "illegal," but those who make those criticisms – like asking me what journalism school I attended, etc. – are misinterpreting the use of the word, either reading too much into it or, perhaps simultaneously, not enough into it.  Although I have worked in different capacities for a few established media publications (that actually print things and send reporters out to ask questions), the truth is that in this modern world of Facebook, Twitter, and digital photography, everybody is a journalist.  Anyone could take a picture of that moving sugarcane field from a moving vehicle, post in on Twitter (with a note that it's a sugarcane field in LaPlace, Louisiana) immediately thereafter, and before the person has even rolled away from the cane field, people in India and Egypt and other places can see the picture.  I'm just more conspicuous about it because I care more about getting a good shot, and I have no reason to not seem conspicuous.
Anyway, I don't remember all the words that were exchanged, but I'm pretty sure that I did tell Farmer St. Pierre rather bluntly that neither I nor anyone else (i.e., you) needed his permission to photograph his field from public property, nor do any of us need his permission to publish the pictures.
While all of this is happening – and keep in mind that we had just stopped briefly since we had to get to the airport so that VT JaWo would not miss his flight – Farmer St. Pierre's cell phone rings.  He takes the call.  To his credit, it wasn't a needless call, as it seemed to be about the work that he was doing, but whatever the case, we stood there and listened for awhile, but, at some point after about a couple of minutes, with the impending flight in mind, I signaled to him (he had turned his eyes away from us) as he was talking on the phone that we had to get going.  I think I said, "We've got to go."
About the only thing that I should have done differently here was hand him my business card.  I did not do it.  That still doesn't excuse what happened next, which is what really warrants the length of this post, and what really makes me think that this is an issue that needs attention, and really made me think about filing harassment charges against Farmer St. Pierre who needs, at the very least, an education on these matters, on rights.  I won't do that, though, as it's old news now.
VT JaWo and I begin walking back across the highway to my truck, and, keep in mind, we're walking across four lanes of busy US highway, and Farmer St. Pierre is following us!  Actually, he's not following us so much as paralleling us.  Keep in mind that his truck is parked in the sugar cane field, and he's already walked out of his field, off of his property, through a weed-chocked ditch to confront us, and now he's walking across four lanes of US highway.  He went behind my truck and looked at the back of it!
Why?
I can think of only two reasons why he would do that.  The first is blatantly obvious.  The second is the reason that you've read this long post.
1.) He wanted to take down my license plate number.  (Duh!)
2.) He wanted me to know that he was taking down my license plate number.
If the answer is #1, then he's really merely very ignorant, and that needs to be addressed too.  However, I have difficulty thinking that he actually thinks that calling the police on me (using my license plate number) is going to solve anything for him. (Again, if he does think that, he's extremely ignorant.)  Actually, five months later, I've heard nothing about this.
Rather, I'm thinking answer #2 is the correct answer, which is really sinister, because it means that he's trying to scare me!  He's trying to intimidate me into not publishing the pictures that I took.  Obviously, that did not work, but part of the reason I'm making a big deal out of this is that for most people, unfortunately, that probably would have worked, or, more likely, they'd have backed down to the "this is my property" and "you need my permission" stuff coming from him

It makes me wonder several things.  As most people know, my faith in law enforcement has steadily decreased over the years, and for good reason.  It's entirely possible that Farmer St. Pierre personally knows some law enforcement officer whom he already had in mind to contact about this.  It is, unfortunately, entirely possible that said LEO is the type (the thug-with-a-badge type) that will do something – anything – less professional than tell St. Pierre that he has no leg on which to stand here and, furthermore, was wrong to tell me what he told me (and he may have indeed called the police on me to tell them that, but I doubt it.)  The fear that I might be contacted by the St. John The Baptist Parish Sheriff's Office made my drive home not nearly as pleasant as it should have been.
Oh, and speaking of license plates, when I checked my photos once I downloaded them, I noticed this, which is an additionally-cropped actual-pixel (or close to it) version of an image that you've already seen.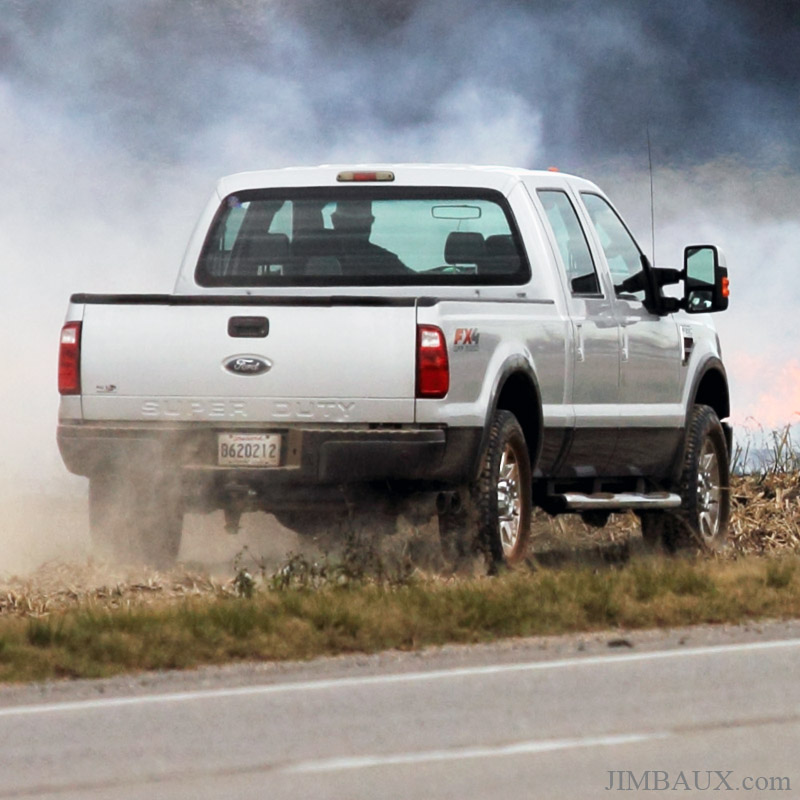 That information might come in handy for anyone with the law who reads on with some more information from what I found below.  First, though, there is one more dynamic to discuss.

Am I The First Person He Encounters Who Stands Up For Himself?

Why would Farmer St. Pierre think that that was an acceptable way to talk to anyone photographing his field from public property?  Could it be that his doing that in the past got him the response he wanted from photographers who were not aware of their rights? and now thinks I'm a huge troublemaker because I dare stand up for myself?
Not only does he need to know that that's unacceptable, but judging by what he did at the very end, assuming that this isn't the first time he confronts someone about this, I may be the first person to ever stand up for himself.  People accused me of making way too big of a deal out of the 'NOGC Terrorism' stuff, but there are plenty of people out there who would have cowed to this, who would have agreed to not publish this stuff, who would have bent to his intimidation.  That kind of response just makes things far more difficult on those of us who chose to stand our ground.
Why Does He Care?
Now, why would Farmer St. Pierre not want the burning cane field photographed?  (Hint: "this is my property" is not an acceptable answer, and had we not been in a hurry to get to the airport, I'd have asked that question and told him that "this is my property" is not an acceptable answer.)
Subsequent research that I did a few days later is hinting that Farmer St. Pierre may have been breaking the law even before I showed up on the scene, and I'll explain and show you my evidence shortly, but my point, though, is that both he and law enforcement in this area – as well as anyone else who might go about gathering information photographically like I do and who might be subject to lies and intimidation for the same thing – need to know that what he told me and what he did to me is completely unacceptable, and a far greater offense than the burning law he might have been breaking.
That's why I feel the need to "report" this situation, beyond the reporting I'm doing on Jimbaux's Journal, to authorities, who themselves need to be educated on this matter (though that, like making this post, requires time and effort.  So, if you know any powers-that-be in the LaPlace area, please pass this on to them.)  The factors that some of my friends mentioned right after this happened, that St. Pierre might be well-connected, that the "general tone of law enforcement in the area" might not be agreeable to my position, are all the more reasons to make a big stink out of it!
However, there's something else that someone wrote, in which he encapsulated a certain dynamic better than I could have done in words:
I'm guessing he's probably had run ins with media when he's burned — the media can turn what is a common, but slightly less than environmentally sound, practice into a circus. The environuts then make his life miserable for doing what he's been doing as long as he can remember. I can understand his apprehension.
Yes, that's exactly what I was thinking!  (I would not have used the "environuts" label, however.)
Furthermore, since farming is almost always a familial thing, his father, grandfather, and great-grandfather probably did it too!  A big theme of my photography and writing is to try to develop an understanding and appreciation among people about how our food and other things come to us.  In other words, I'm almost trying to do the guy a favor by photographing his field.  Throughout my work, I try to get past the "shut up and consume" mentality.
It's still not an excuse to act the way that he did, though.  However, this could be a chance to simultaneously criticize threats to Freedom Of The Press as well as criticize the sensationalism of the press itself, which may seem paradoxical, but, now that I think about it, Sensationalism of The Press is just as big of a problem and just as big of a threat to Freedom Of The Press, evidence of which is here in his actions.
I call myself a journalist but I, paradoxically, despise many journalists!  I could go on and on with examples of this.
Here's what I found.
Check this out, and see what it says for Louisiana:
http://www.eoearth.org/article/Crop_residue_burning_in_the_United_States#gen1
For Louisiana, it says:
"Farmers can burn during the daytime and are required to have certified Burn Managers at the burn (LSU Ag Center, 2000)."
Look at one picture again.  As far as I remember, the two men seen in these pictures were the only men on the scene.  The man in the distance setting the fires appears to be a farm employee, as best as I can tell, and I don't know anything more about him than that which can be gleaned from these pictures.  Yeah, I'm surely being judgmental, but judging by the way he's dressed, and the fact that he's doing the burning himself, he doesn't appear to be some college-trained regulator.  Here's a cropped version of the earlier picture: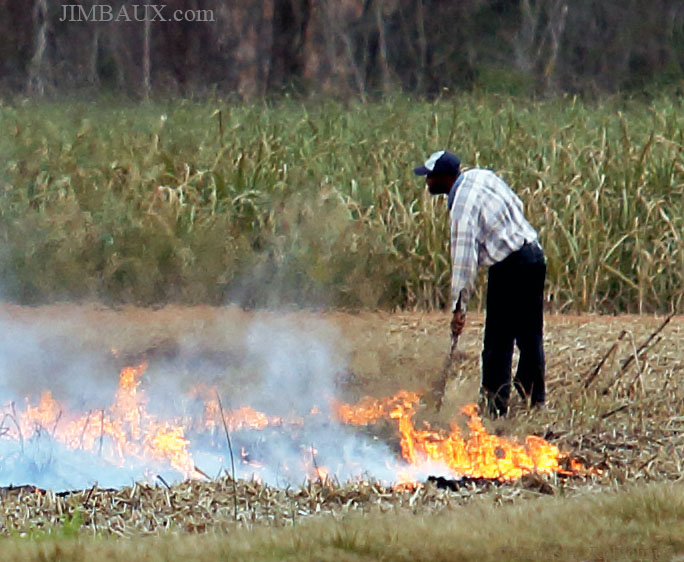 So, perhaps although the burning of the field was legal, maybe the fact that no "Burn Manager" was present on the scene makes it illegal.
According to the website for LSU's training program for Burn Managers, a Burn Manager must be on-site during the burn:
http://www.lsuagcenter.com/en/crops_livestock/crops/sugarcane/prescribed_burning/Certified+Prescribed+Burn+Manager+Program+for+Agriculture+Sugarcane.htm
Interestingly, the site above also gives some justifications for burning, the fact that our sugar industry can't compete worldwide without it.  This is the kind of reporting that I do!
We Can Understand His Concerns Even If His Actions Were Wrong
Farmer St. Pierre tried to intimidate us (and would have succeeded with many other photographers, and would have also succeeded with a much-younger Jimbaux), and he lied to us too.  Had he merely come up to us and, "look, guys, I'd appreciate you not publishing these pictures, or not showing the location or people in them," I'd have been inclined to comply (I'd have probably still published the pictures but kept their locations a mystery), but he not only lied to us but tried to intimidate us.
He never bothered to ask us why we were taking the pictures, just skipped past that and told me that we couldn't, and when I realized he was walking across the four lanes of highway, which you see in the pictures, to take down my plate number as we were leaving, I made sure to just sit and loaf-around for about a half-minute (enough time to record the plate number) with the door open and my foot hanging out of the door so as to show that we were not trying to escape and didn't have any guilt or fear.
So, now, I turn the tables, going from criticizing those who threaten photographers, rights to information, and Freedom Of The Press, to criticizing the mass media itself and all of its efforts to try to make us angry and fearful.  Afterall, when do people buy stuff?  When they're afraid or angry!  Advertisers know this, and traditional media cannot survive without advertising.  Remember that your local TV station and newspapers are businesses.
Given media sensationalism (I think that Napoleon Bonaparte said that "four hostile newspapers are more to be feared than a thousand bayonets"), I can understand his concern for having this activity photographed, and that's another issue I should probably address more (though it also has as much to do with the stupidity of the people who consume the sensationalism as those who purvey it), but that's still no excuse for lying and attempting to intimidate us as he did.  That's the "War On Information" part of this.  I honestly do not really care that he may have broken the burn law, especially as the quote above from one of you says, he's done this as long as he can remember; a far greater offense is what he did to us.  The Constitution and the rights in it are far more important than the laws they must not violate.
Now, turning the tables yet again, this time back onto the consumer, i.e., you, I remind you that traditional mass media only exploit your fear and anger with your permission.  They do what they do because you respond to it!  Just look at what they've done with the Trayvon Martin case.  None of us are in a position to make a judgment on what happened on the case, yet it dominates the airwaves because of the fear and anger that it generates.  Just read what my pal Grumpy wrote on the matter in April (below the picture.)
What Value Do The Images Have To You?
The "War On Information" that I mention here, the "shut up and consume" message from corporations and governments, and the dynamic of being out-of-touch with where our food originates and how it gets to us is part of the reason I asked you earlier as you were looking at the field-burning pictures what value they had.  What have you learned from looking at them?
This discovery of possible law violation just goes to show like with the NOGC Terrorism incident that, as I wrote in the follow-up piece to that incident, these threats to photography have essentially nothing to do with security – or even privacy – and everything to do with covering up what might be either wrongdoing or less-than-flattering activity, which is where the "hey, buddy, you know that's illegal" comment from the train crewman in October came.  That's the purpose of Freedom Of The Press, and it is always under assault.  It has plenty to do with limiting information about a company or business or organization.  Tom Beckett, a frequent commenter on my site wrote a comment on this page about an incident in which he and others were told by a local police officer that CSX didn't want anyone "near" the property!  That desire is not itself a sin, but the problem is when law-enforcement officers are enforcing the will of these corporations beyond their authority.
That's the problem here.
I publish these pictures and this story not to expose some violation of a burning law but, rather, to expose the far more pernicious threats to Freedom Of The Press and just natural harmless human curiosity.  The burn law just gives the background to his motive for his actions, but his actions – lying and attempted intimidation – are not justified.
See, I totally get that with the sensationalism in our media.  He had reason to be concerned, and I personally don't care if he broke the law by his burning of the cane field.  However, that doesn't change that fact that what he did was completely unacceptable.  I talked to two friends on the phone that night (Wednesday), and they both agreed that the only reason why he walked behind my truck was to make me think he was getting my plate numbers, not that he was actually getting them (though he probably was just in case), that he was trying to intimidate me.
This, furthermore, shows the true danger of corporations and governments using "terrorism" (the idea that you might be one, as opposed to the terrorism that I have received from others like Farmer St. Pierre and the New Orleans Police Department, among others) to try to prohibit and limit photography when it's really that they don't want something less-than-flattering to be photographed.
The Chip Local
Before I continue with discussion of what this event means, let me just show the last image of the day, and my favorite image of the day, this image of the Union Pacific local on the eastern part of Lafayette Subdivision just before dusk in front of, oh my goodness, a sugarcane field!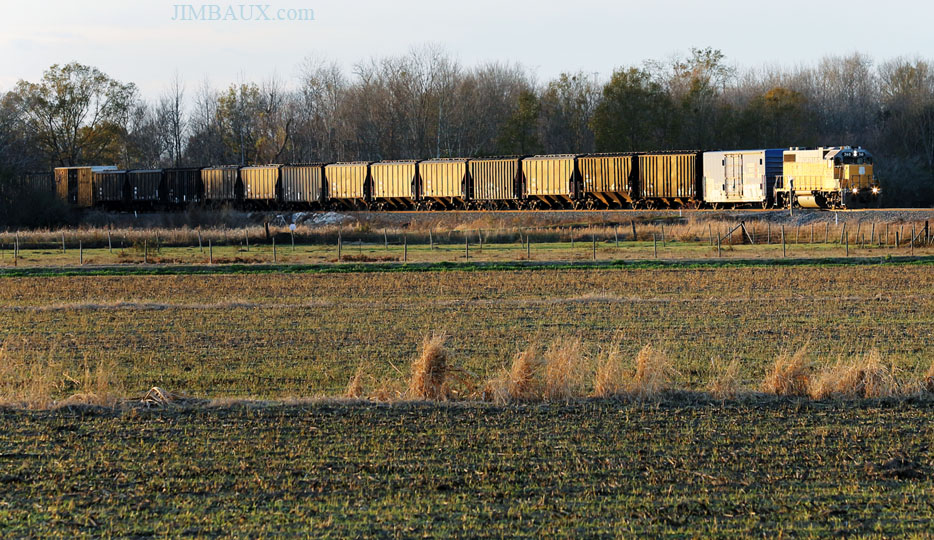 That's carbon black going eastbound, and buried back in the trees is a boxcar loaded with bagged rice coming from Abbeville.
The Proper Way To Respond?
To begin the conversation with a "who you wit'?" is kind of condescending because it suggests that nobody should or would have any interest in the subject matter beyond a job.  ("Work" and "a job" are often the same but can be two very different things.)  It's that "shut up and consume" mentality.
I say this because I was appalled to have two local professional journalists tell me that I was "being an ass" with the way that I talked to Farmer St. Pierre, particularly with the fact that I didn't respond to "who you wit'?" by telling him why I was there.  He didn't ask me that!
By the way that farmer St. Pierre was talking to me, particularly by virtue of the fact that his first and only question to me was "Who you wit'?", the "why" of my presence there and my interest in his sugarcane field was irrelevant to him.  This was evidenced further in his "you need my permission to photograph regardless of who you are or why you're here" attitude.  So, why should I even tell him why I'm there?  He doesn't seem to care, afterall.  If he'd have only asked, I'd have surely told him.  He did not ask.
The reason that anyone photographs anything is that he (or, at least, someone else) finds the subject matter to be interesting, but even for for-hire photographers, why do they go into that field of work anyway?
Therefore, to think that I was "being an ass" for not interpreting "who you wit'?" as "why are you photographing the field" is kind of condescending to both me and to Farmer St. Pierre.  I'll explain in the below to paragraphs.
First, it's condescending to me because neither my clothes nor my vehicle bear any kind of insignia for any news outlet, and it suggests that I wouldn't have any reason to gather this information just out of my own curiosity.  If you're going to make assumptions about the motive of a photographer who is performing his work in plain-clothes and in plain sight, why not first assume that he's doing it for his own purposes?  Better yet, instead of assuming, why not just simply ask him why he's taking pictures?  That's what those East Jefferson Levee District police did a few weeks ago to Jimbaux, and that's why they got the satisfactory response that they got.
Second, it's condescending to Farmer St. Pierre because it implies that I should assume that he's incapable of asking a simple question. I'm paying him a compliment, which is my general way of doing things in these situations.  It's also condescending to St. Pierre because it suggests that he's that ignorant to believe that I need to be "wit'" some organization.  He is, but my way of dealing with things like that – like dealing with racism, xenophobia, homophobia, etc. – is to let people reveal their prejudices rather than for me to assume that they exist, which would be my own form of unfair judgment to him.
Does this make sense?  I mean, do you agree or disagree that I was "being an ass" to the farmer, or do you understand that my response to his "who you wit'?" question was a way of telling him that that was a foolish and somewhat condescending question (meaning, really, that he was "being an ass," even as we were trying to not treat him as such) in the first place?  Remember, he never asked us why we were taking pictures.
Also, what do you think is the worse of the two evils?  That Farmer St. Pierre tried to threaten us?  Or that he assumed the worst in us?  Well, maybe that question isn't answerable, since the former is dependent on the latter.
Specialization Leads To Compartmentalization
A few days later, I realized that I shouldn't be all that terribly surprised that a couple of local professional journalists thought that I was "being an ass" for responding to Farmer St. Pierre the way that I did, a way that assumed the best in him.  In this modern world of comfort and convenience, not only have people become out of touch with where their food originates and how it gets to them, but people also often fail to see the world beyond the narrow confines of their routines and specialized professions.
So many people in this modern world get so entrenched in their jobs and professions that they are unable to see other things.  I spent plenty of time as a school teacher, and I'm proud of it and the work that I did there.  What grated me – and still grates me – for a long time, though, is the practice that so many of them have of publicizing to the point of bragging about their work schedules, particularly of the amount of time they have off.  How many of you have Facebook friends who are teachers?  and how many of you can't stand it in May when they post stuff like "10 days left!" and then "8 days left!" followed in June by "I love having summer off!" and other such stupidity?  and how many of those are the same people who complain (and rightly so) that educators are underappreciated, face hostile working conditions, etc.?  and does the bragging about the time off really help (them) when they try to get you to be more sympathetic about the problems that they do indeed face (I surely know) as school teachers?
Independent Media – The "Fifth Estate"
I have often said that one of the reasons that I became a school teacher is that I can't stand so many school teachers (I've worked with plenty of really good ones too), and the same is true for my being a journalist.  Those who have done it professionally for nearly their whole adult lives might rather wrongly think that the default assumption for seeing someone in plainclothes on public property with a telephoto lens is that he works for some publication larger than himself.  I think that that's silly, and I've already explained why, but it makes sense that people who get entrenched with their jobs – are owned by their jobs – might slip into that way of thinking.
You don't have to be associated with some organization to have a "legitimate reason" or interest to be out taking pictures of something.  That's just foolish.  Major news organizations do indeed play a vital role in a free society, but that doesn't mean that they should be the only information gatherers, information processors, and information dispensers.  One of the goals of a school-teacher is to create life-long-learners (indeed, to make himself unnecessary.)  Get out there and take your own pictures!  The world is a beautiful classroom indeed.
So, just as the established media provides a check on the government and corporations, independent media – which I've just dubbed the "Fifth Estate" – serves as an indirect check on established media by bucking the idea that they are the only ones who can gather, process, and publish stories.
I don't like that someone like VT JaWo has met only one sugarcane farmer in his life – and only seen one sugarcane field in his life – and has returned to the DC area with a pretty unfavorable impression of sugarcane farmers.  I'm actually kind of embarrassed that this happened with a visitor I was showing around.  This is totally unacceptable.
Since this post was incredibly long, I'll end it here and save more on this topic for later, but I'm curious to hear what you think, and please don't hold back in describing your assessment of my actions here.  You can post a comment, and please put your name, but please also put "who you wit'" as well!  🙂
Thanks.
James