[It's a beautiful morning; Jimbaux thinks he'll go outside for awhile, with a smile.]
Welcome to Part 2 of 5 of Jimbaux's 9/11 photo project.  In case you don't know about it, this project was inspired by the assaults on civil liberties that have happened in the wake of 9/11, particularly inspired by the deprivation of Constitutional rights and the bullying that Jimbaux received at the hands of the New Orleans Police Department in 2008, which, as others have noted, is not an isolated incident.
Previously, On Jimbaux's Journal
At the end of Part 1, Jimbaux had been stopped by Amtrak police, federal law enforcement agents, outside the depot in Slidell, Louisiana, after he was legally, harmlessly, and safely taking pictures of the northbound Crescent from public property.  After an encounter that did not remotely display any unprofessionalism, Special Agent Bell returned to his vehicle and let Jimbaux on his merry way, at which point Jimbaux decided to return the professionalism by letting Bell know that he'd be at Broad Street (the scene of the April 2008 incident with the NOPD) later that afternoon, so that if he got a call about someone taking pictures, he could expect that it was I.
As was written at the end of Part 1, this triggered a memory in Agent Bell's mind.  We discussed the 2008 incident for a good 15 minutes.  I was now starting to remember him that day and his role, how he had briefly arrived on the scene, sent one of his agents to talk more to me, and left the scene.  I also remember that he seemed to totally understand the harmless nature of what I was doing there.  I wrote last time that his use of the word "rescued" somewhat bothered me; I didn't quite know right away what he meant by that.
As it eventuated, Agent Bell not only thought that the undercover NOPD officers who harassed me were way out-of-line, but he also thought that had he not intervened, a worse fate, like being taken to jail and having my photography equipment and my pictures confiscated, would have befallen me!
He mentioned the "JTT" plenty in his discussions.  He and some members of the NOPD are members of the Joint Terrorism Taskforce, as I understood it, and that's why he was called on the scene that day after the NOPD detained me.
Racial Profiling Indeed
Remember how in the story in which I first wrote about this that I mentioned that a black friend from New Orleans with a background in law enforcement told me that had it been he who was on that bridge that the (white) undercover NOPD officers probably wouldn't have messed with him?  Well, as it eventuated, he may have been more right than I realized!  Agent Bell said that the NOPD officers thought to themselves "What's this white guy doing standing on this bridge with a camera?"
Maybe, He's Taking Pictures!
The lack of imagination – and, therefore, the presumption of guilt and of nefarious motives –  that maybe this is merely a case of "it is what it is" isn't unique to these officers.  See what a "Jason" posted in the comments section of this article in July.
So, yes, I was probably racially profiled, and as I wrote a few weeks ago, especially after talking to some black colleagues about this, I do now have a new appreciation for the whole "driving while black" phenomenon, how black people essentially go their whole lives as being suspects, which makes it unsurprising that many of them don't trust law enforcement and don't generally trust authority.
Soviet Union
Agent Bell laughed at my story about the Soviet Army buttons and agreed that there was indeed a good chance the undercover NOPD officer did not even know what the Soviet Union was.  I don't think that I'm betraying Agent Bell by publicizing any of this; nobody at Amtrak should criticize him for saying any of this.  It's the truth!  We are a people so scared of the truth that we've been incentivized en masse to lie to each other.  The New Orleans Police Department is known for corruption and denial of rights of people, but until it happened to me – and from what Agent Bell told me, had he not intervened, it would have been worse for me – it was a distant issue to me.
The Existence Of Other Railroad Enthusiast Photographers Does Not Validate Me (Nor You)
S. A. Bell told me that one of the things he told the NOPD officers is that, even though they did not seem to realize it or understand it, what I was doing on top of that bridge, and the love of trains and photography that inspired it, was actually a fairly common thing across the United States and Canada.  Bell is a railroad special agent, meaning that he's probably accustomed to foamers, unlike the NOPD guys.  It's actually for this reason that I, like many other foamers, carry with me in my vehicle evidence of railroad enthusiasm beyond myself as well as evidence that I have had my work published (usually, the Kansas City Southern Railway's company calendar.)
I know that Agent Bell had good intentions when he told that to the NOPD officers, and I am grateful to him for that, but there actually is a problem that I have with it.  The fact that other people take pictures of trains really should not matter.  That fact (like the fact that someone might do it for ill purposes, and the fact that these NOPD officers could not imagine a non-nefarious reason for taking pictures) has nothing to do with me taking pictures of trains.  I could be the first foamer on Earth, and I have a right to be up there taking those pictures.  Even if nobody else does it, it's safe, legal, and harmless.  I don't watch, chase, and photograph trains because other people do it too; I watch, chase, and photograph trains because I like to do that.  I've liked trains as long as I could remember, and it wasn't until I was transitioning into adulthood (if I ever even did that at all) that I met other people who liked trains too.
I know that many of you who are reading this are railroad enthusiasts yourselves.  The fact that you like trains too does not validate my activity any more than my liking of trains validates yours.
I Love John Adams
I've gained a new respect for the true patriot who was the Founding Father, John Adams.  Two decades before he was President of the United States, John Adams was a Massachusetts attorney who took up the unpopular task of defending the British soldiers who were put on trial for their role in the Boston Massacre.  Unfortunately, this great heroism didn't stop him from putting his signature on the very unconstitutional Alien & Sedition Acts later on, acts of which Magnolia wrote in her comment on my article on my harassment at the hands of the NOPD.
Anyway, Adams's actions were very patriotic.  It doesn't matter if it had been Mohammed Atta standing atop that bridge taking pictures.  Plotting a terrorist attack and executing a terrorist attack are both crimes, but I was doing neither of those that day (nor any day.)  Thanks, Mr. Adams.
After about 15 more minutes of bantering, Agent Bell finally bid me farewell a second time, and both of us departed the parking lot of the Slidell depot.
Starbucks?
That 20-minute diversion with the Amtrak special agents caused me to forget that I had planned the unpleasant task of returning to the Starbucks by the track in Slidell, meaning that I will have to face that some other time.  Stopping there was a tradition of mine when chasing the Crescent to Slidell, something I did this morning for the first time since May 2010.
By the time I remembered that I had planned to go to that Starbucks (for the first time since July 2010), I was already several blocks south of the depot, right as Agent Bell and his companion were turning into a convenience store parking lot, presumably to get fuel for their truck, but I didn't stick around to find out.  My momentum was already moving me southward; an object in motion should stay in motion, and I allowed this object to stay in motion.  As it eventuated, this was a very good decision, for if I had gone to the Starbucks, I'd have likely missed the subject of most of the photos today in part 2.
Barge Time!
As I drove south on the US 11 Bridge, something that I last did in late July 2010 in a very different frame of mind, I saw something that I had never seen in any of my times of driving across this bridge.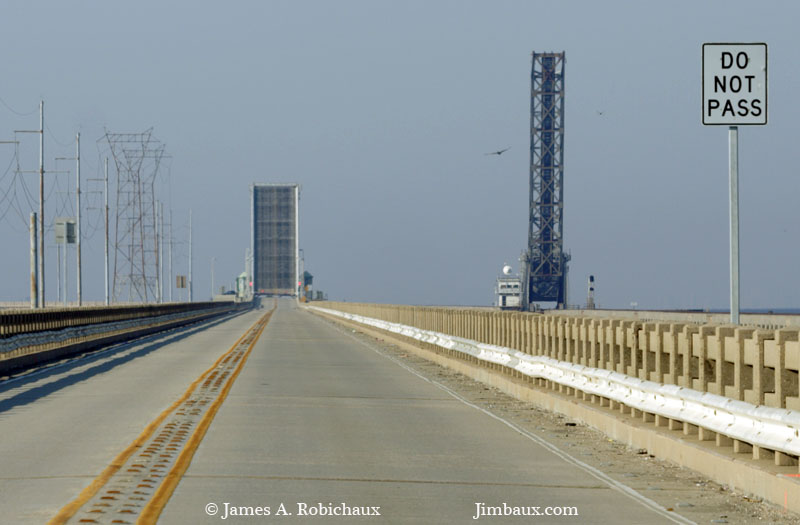 Well, check that out!  Apparently, there's some barge coming, and I am first in line to see it!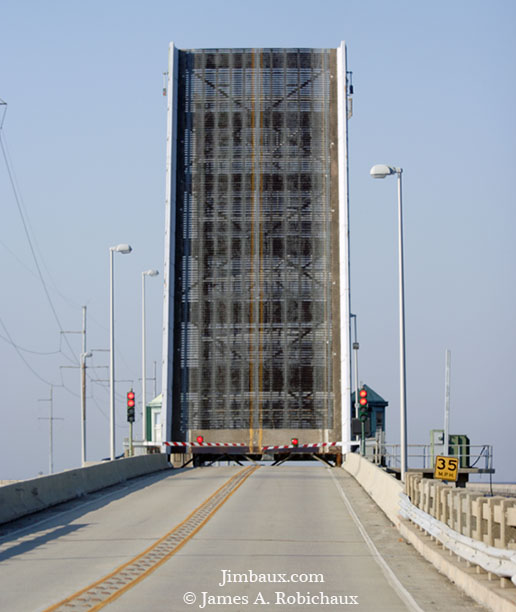 Remember that caption information for any picture is found in the filename, which can be read by placing your mouse over the picture.
New And Old
In the background of the below picture, the new, post-Katrina, elevated spans of the I-10 bridges over Lake Ponchartrain can be seen, as well as parts of the old bridge that still remain.

I was actually hesitant to get out and take these pictures because I feared unwanted attention, but then I realized why I got out this far this morning at all to take pictures, and I did my patriotic duty, got out of my truck, and took these pictures at risk of harassment.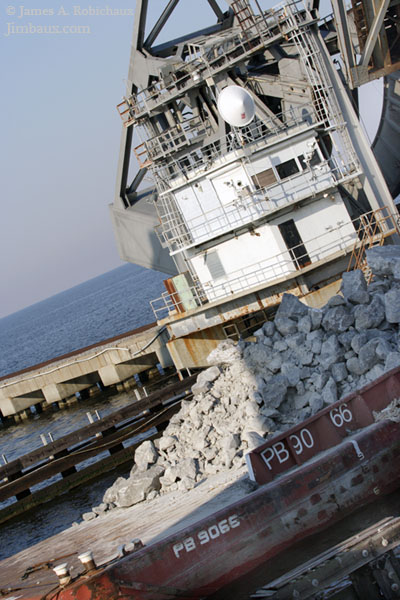 Afterall, I had already had an encounter with police a few minutes before for photographing a different mode of transportation, and I'm not a seasoned barge photographer.  Contrary to what some "Todd" wrote in the comments section of the last post, I wasn't seeking a confrontation.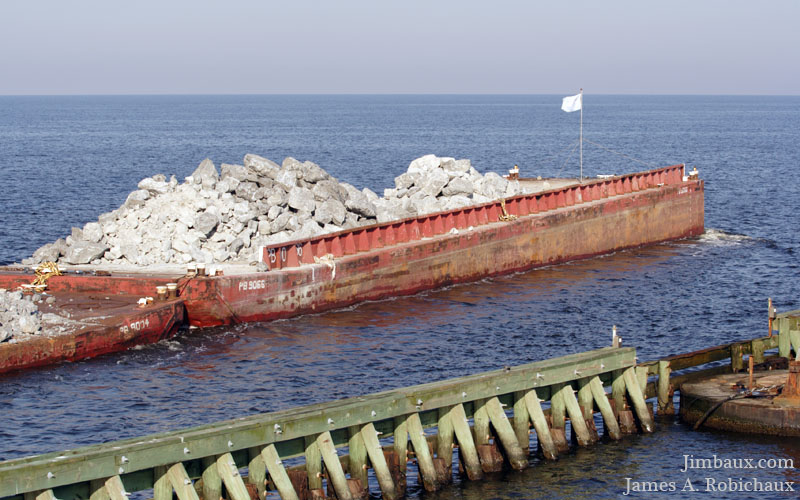 Alas, not only was I not seeking a confrontation for taking these photos, but I didn't get one either.  I hope that you are enjoying these pictures taken of transportation things on September 11, pictures I would not have taken had I been scared (for good reason) of harassment, bullying, and deprivation of rights.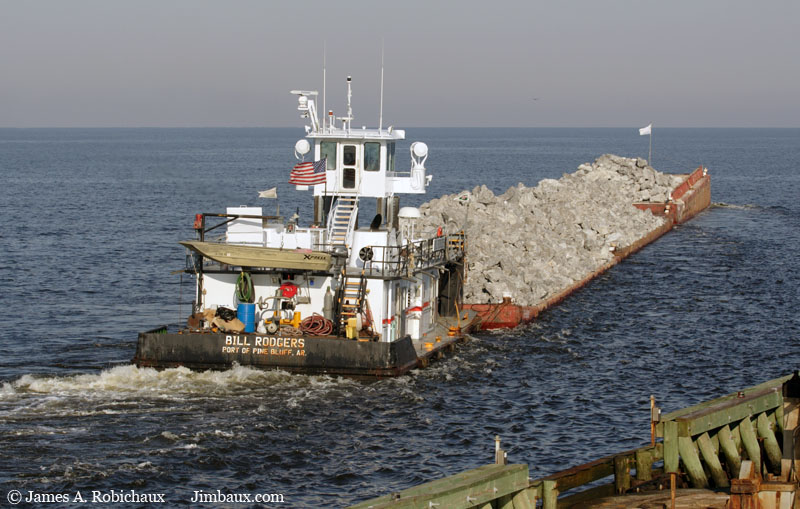 Other cars arrived behind me as we were stopped on this bridge with nowhere to go as the drawbridge was still opened.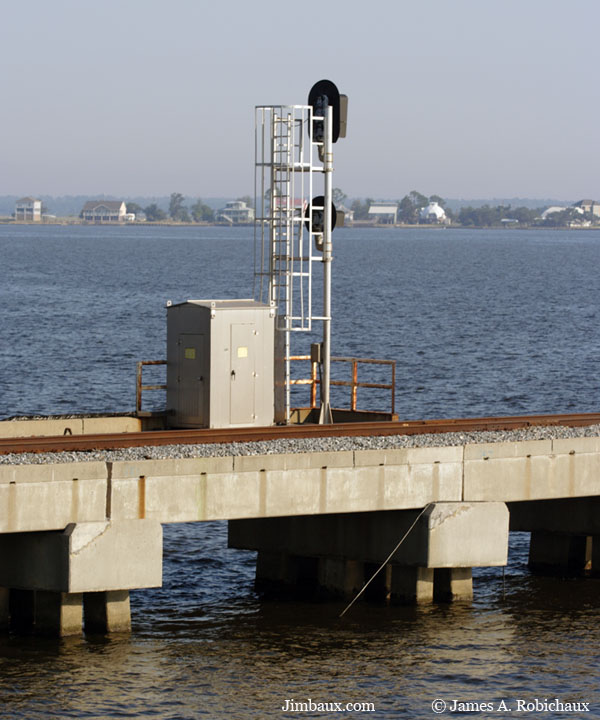 I think that I made the most of my time being stuck on that bridge, don't you?
On this day, I'd climb five different overpasses in the city of New Orleans to take pictures (you've only seen one so far) of trains, and here I was taking pictures of barge action on the lake from the US 11 bridge.
Seen below is the Norfolk Southern bridge, where Hurricane Katrina washed the track away in 2005.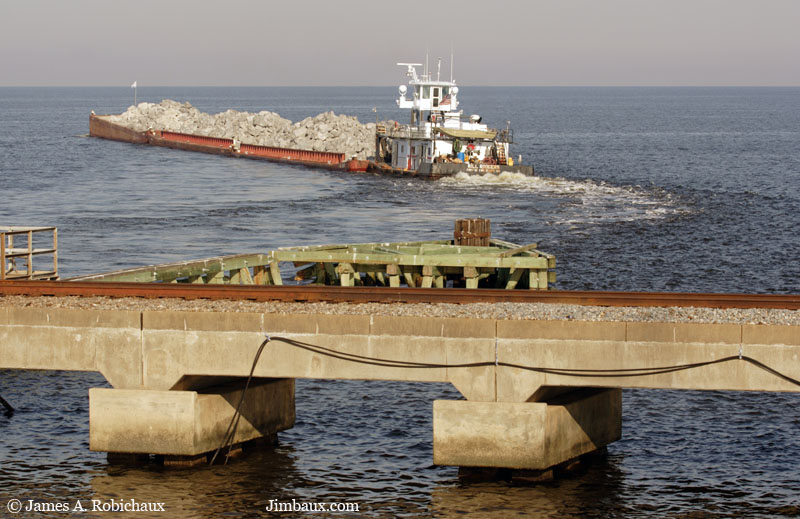 Let's have one more view of the barge before we get back in the truck now that the bridge is closing, this shot with a very low aspect ratio.

Well, did you enjoy that pleasant little diversion?  I enjoyed taking the pictures!
Danziger Bridge
Back in the city of New Orleans, here's a shot from the front seat as we are about to cross the US 90 bridge over the Industrial Canal.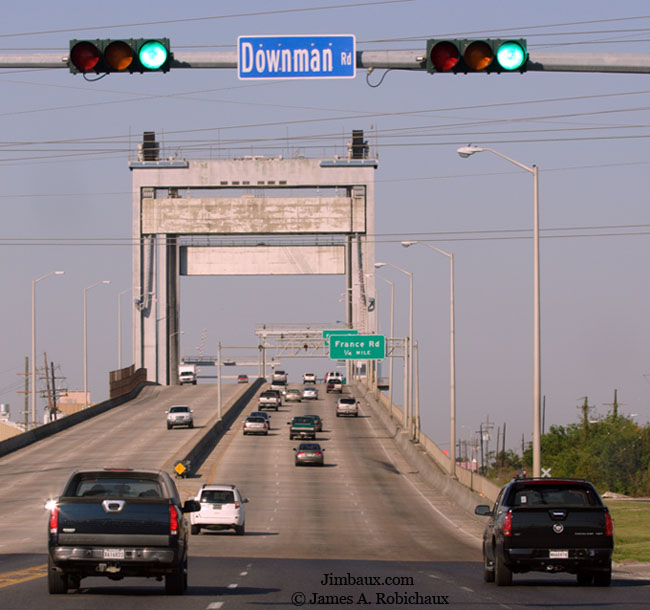 Bridges are cool, aren't they?  I think so.
Back To The Track And The Trains, Ya Hurd May?
I really wanted to get a shot of an eastbound train on the CSX at Alvar Street, but the railroads weren't cooperating.  So, the first thing that I could get was a shot of this NS yard job shoving into NS Oliver Yard from the north.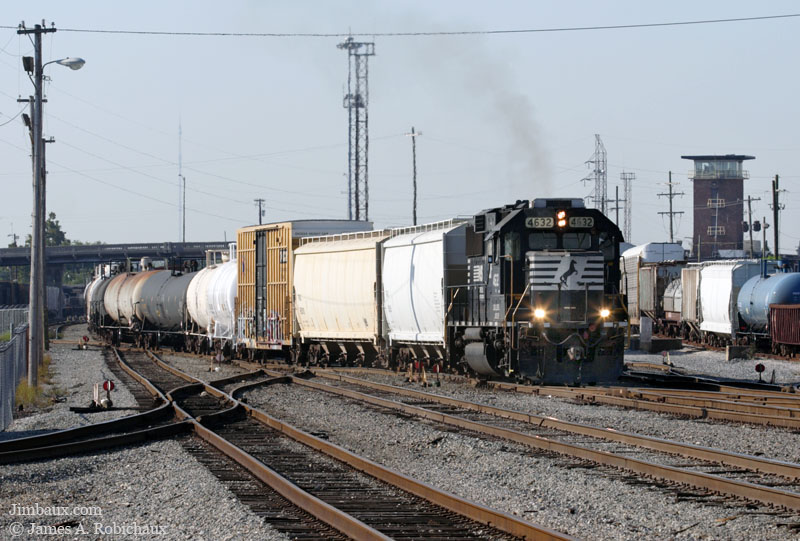 You see Oliver Tower in the background?
Bayou Saint John
Now it's time to head east to see what's happening on the NS Back Belt; not much, except something else to which I should have given more attention than the attention I gave to trains: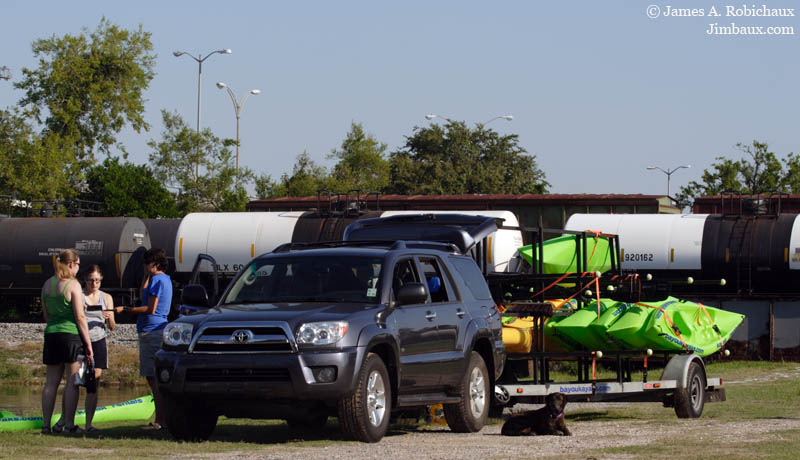 Yeah, there are two trains parked on the Back Belt in this picture.
Terminal Junction
Somehow, the QLINSB (a Union Pacific train from Livonia, La., to the NS with a Birmingham block, hence the "B" suffix) arrived at Terminal Junction where a yard crew was grabbing a cut from the Freight Lead next to it.
I can't remember if the van in the below picture was pulling the UP crew off or bringing the NS 314 crew, but it's probably the latter, as that crew was on this train soon enough.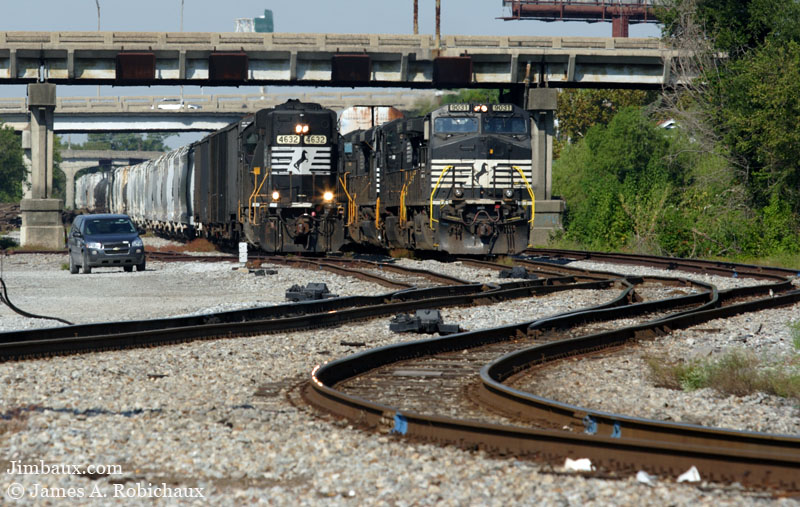 You can see the track arrangement for Terminal Junction in the above picture.  The track at right is the "horn" leading past Oliver Junction to the NO&NE (New Orleans & Northeastern) mainline out of town.  The track at left is the "horn" track leading to the yard from the Back Belt.  The track at the far right in the distance is the Southbound Mainline of the NS Back Belt.  The 314 (previously, the QLINSB) is on the Northbound Mainline of the NS Back Belt, which ends at this location, the 7.6.  The yard job is on the Freight Lead track.
CSX On The NS Back Belt
We will end Part 2 with a shot of the CSX transfer to CN on its way back to the CSX on NS trackage at the London Avenue Canal.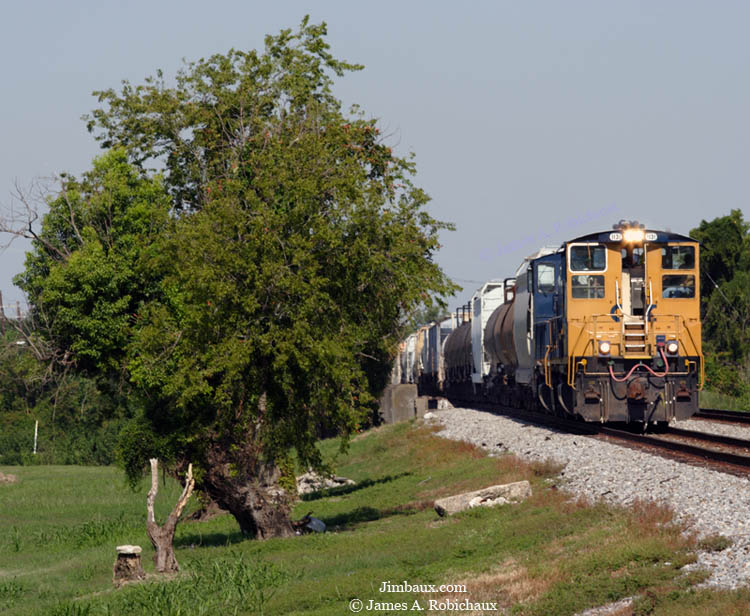 This train was stopped because the QLINSB was still ahead of him, blocking his path to CSX trackage.  I had never shot in the above location until this day.
That's enough pictures for this post.
Thanks
I'm eager to get this 9/11 project done, and I want to thank those of you who have read and participated.  I wrote a few days ago about site statistics and traffic.  Since then, we've set new traffic records, with one day of more than 800 page impressions and another day of more than 700; we've had 2,200 page impressions since Tuesday, meaning that we are, as I type this, 50 page impressions shy of setting a new monthly record, meaning that by the time all but a handful of you read this we'll have set a new monthly record with almost a whole week left of September.  It also means that at this rate, with four more 9/11 posts (including this one) to go, we might even surpass the 10,000 impression mark for one month!  This, like I said, probably won't last, because I plan on decreasing the amount of time I spend on the site once the 9/11 project is done.
Until this project gets done, my e-mail backlog may get ever bigger than it already is for you readers who have written to me about the site.  I don't want to discourage anyone from writing, but it may be October before I can reply to anything!
Until next time, and until I can address my e-mail backlog, think about what S. A. Bell told me, how had he not intervened, there was a good chance I'd have been hauled off to jail and had my stuff confiscated by the NOPD; think about what it means for you and the people you know and love.
Thanks for helping make Jimbaux's Journal a success.
Merci,
Jimbaux