[Jimbaux is begging for his life; it's hard to say that he will be complete before he dies.]
What's up, my dear Jimbauxlings?  How are you all?  Are y'all ready for some more of Jimbaux's train pictures and whacked out writings, eh?  Cool.
The Last 15 Pictures
. . . not of all time, but of my adventure up the Potomac to the Blue Ridge Mountains on Sunday 3 July.  Part 1 can be seen here, and Part 2 can be seen here.  Welcome to Part 3!  Enjoy, unpack, kick your seat back, grab your blunts, and grab your beers, 'cause Jimbaux's going to bring you some photographic cheers!
Hagerstown
We left off last time in the "Hub City" of Hagerstown, Maryland, and that is where we will resume our misadventure, which is about how this starts.  To refresh your memory, my efforts at finding decent views of the Norfolk Southern track in Hagerstown were vexed by these damned fences which seem to be all over the bridges in this part of the country, and I hate it!
Department of Foamland Stupidity
So, finally, I get to the northern throat of the yard, and there's an overpass over the track.  Also, unlike with the overpass over the southern throat of the yard, this one had no fence; sweet!  There's one problem: there isn't any place to park up here.  I made a second crossing of the over pass, and as I drove across it that second time, I noticed that nobody was behind me.  This was a small window of opportunity.  I stopped in the right lane, put the flashers on, grabbed the camera, and got out, only to discover that not only were there cars behind me, but that one of them was, you guessed it, the pooooleeeece!
Dammit!  What's a guy to do?  I know, pop off a shot before the office gets out of his vehicle, and that's what I did: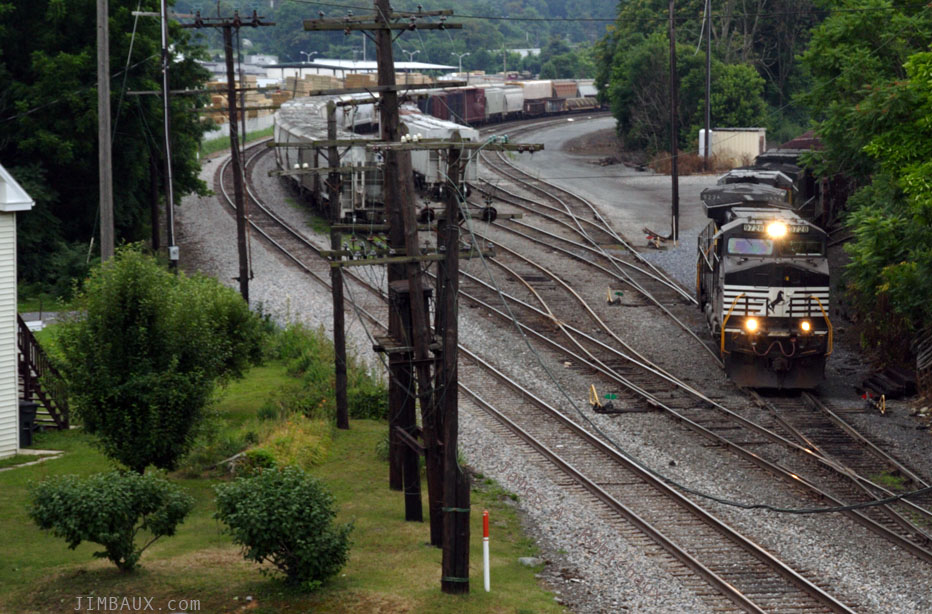 What?  You think it wasn't worth the bother?  I think you're right, actually.  If I'm going to get questioned by law enforcement, I at least should get a good shot out of it, eh?  The lame shot above does not qualify.
Anyway, as for the encounter with the law enforcement officer, let's just say that he was not a jerk about it (like the kind of power-tripping officers you'll often find in the District of Columbia, even though, having said that, they have a difficult and often thankless job in the first place), I apologized for my stupidity, and I went on my merry way.
A Turning Point, My Cue To Leave
That little encounter, after all the fence frustration before, along with the cloudy skies and setting sun, convinced me that this was as far as I should go on this day, and that I should start making my way back to the crib, ya herd may.  So that's what I did.
Hay!
Hay!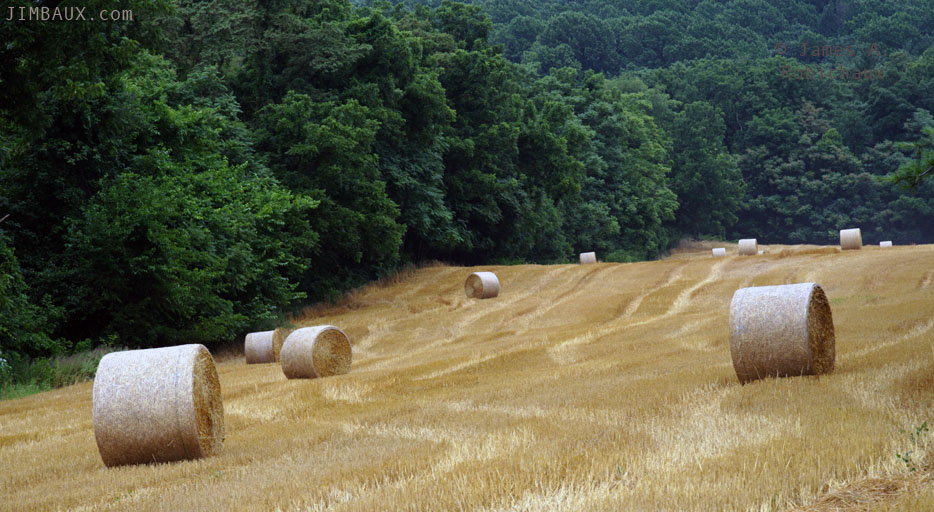 Yeah.  Cool.  All right.
Jesus Died So That We Could Drink Corn-Sweetened Food
How about you post your interpretation of the below picture in the comments section?
Although I went more than a year without drinking any sodas (late May 2009 until August 2010), I do drink my fair share today.
A Possible Tragedy on the Potomac
I got back to Brunswick as the sun was setting and decided that I'd settle for ending the day(light) there with whatever the CSX was gracious enough to throw me, but apparently something else had been thrown.
It's possible that I was just inside the state of Virginia as I took the picture immediately above and the picture immediately below.  I got the impression that these rescuers were seeking someone who was lost in the river.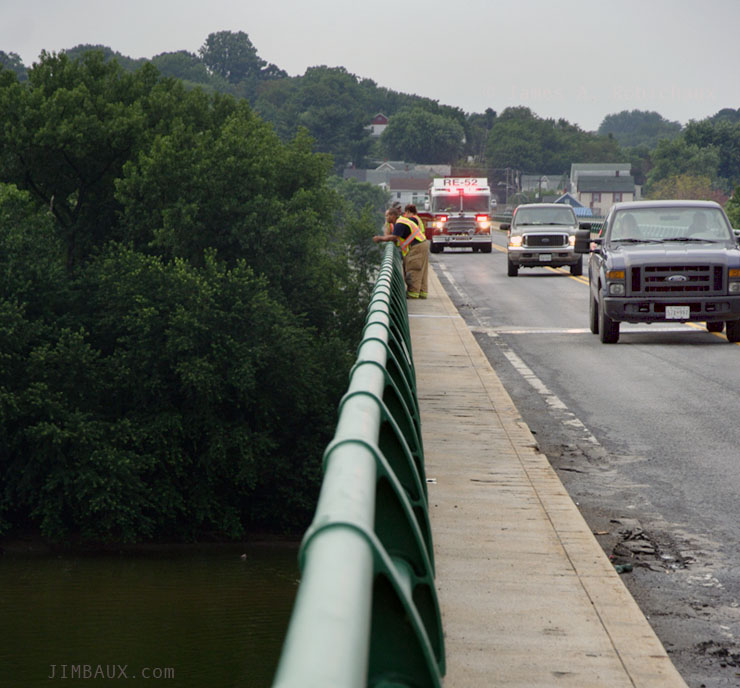 As if that wasn't enough, there were searchers overhead too.  Check this out: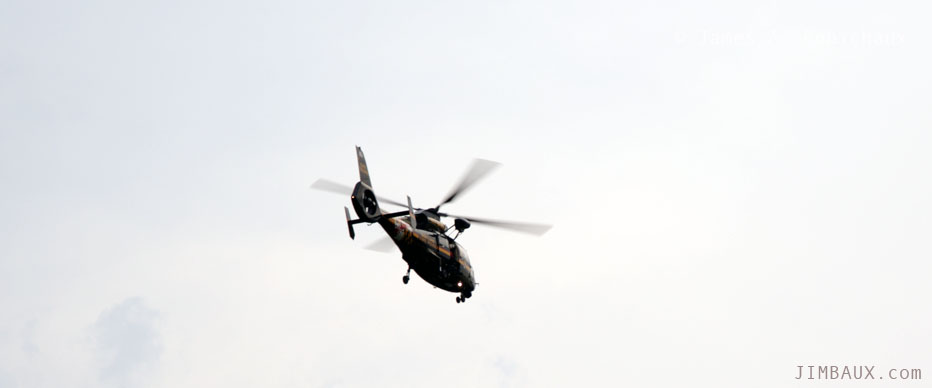 I have no idea what became of all of this, but that isn't the last you'll see of a helicopter today.
Back To Trains, Back to the CSX
Checked out the parked Geeps in this almost-dusk shot of the ex-B&O yard in Brunswick.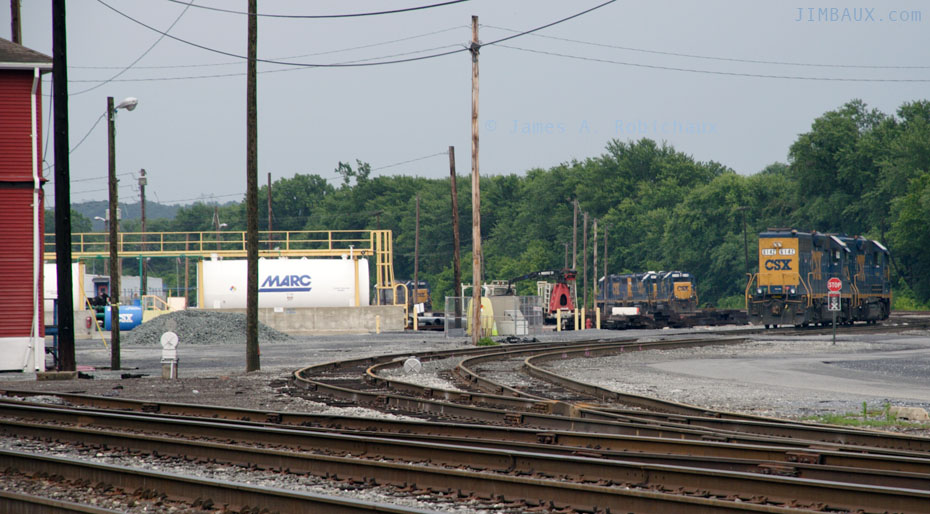 I sure wish the powers-that-be at CSX would just rename the railroad the "Chessie System" and just repaint all of the power in that cool Chessie scheme, since CSX uses yellow and blue colors anyway.
It's Time To Get High
It was time to climb the bridge again so that Jimbaux could make his last stand atop the bridge as the sun set.  Before that, though, let's look at a few pictures of how others were getting high on this Sunday evening.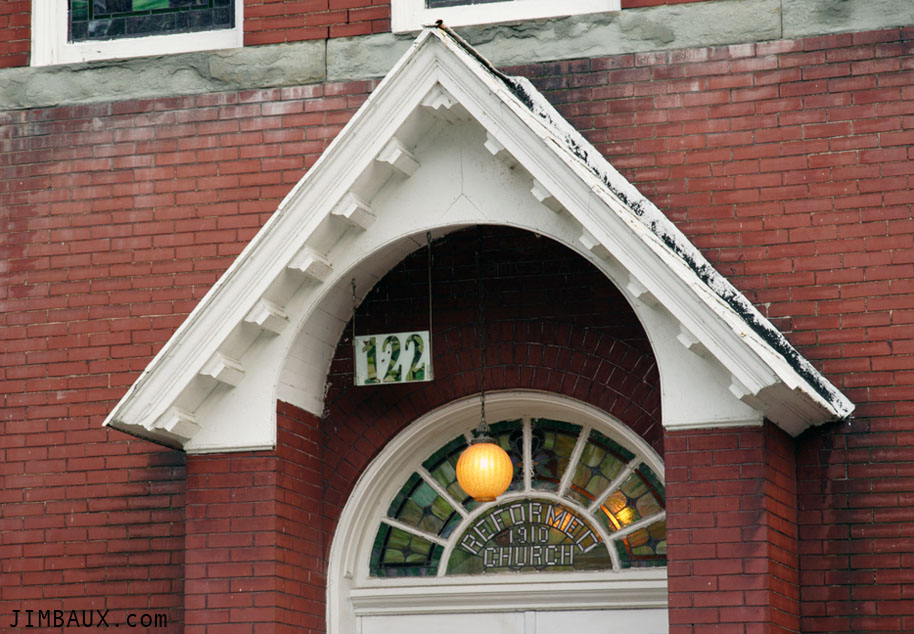 Oh, yeah!  Neat little old churches are cool, another of Jimbaux's favorite photo subjects.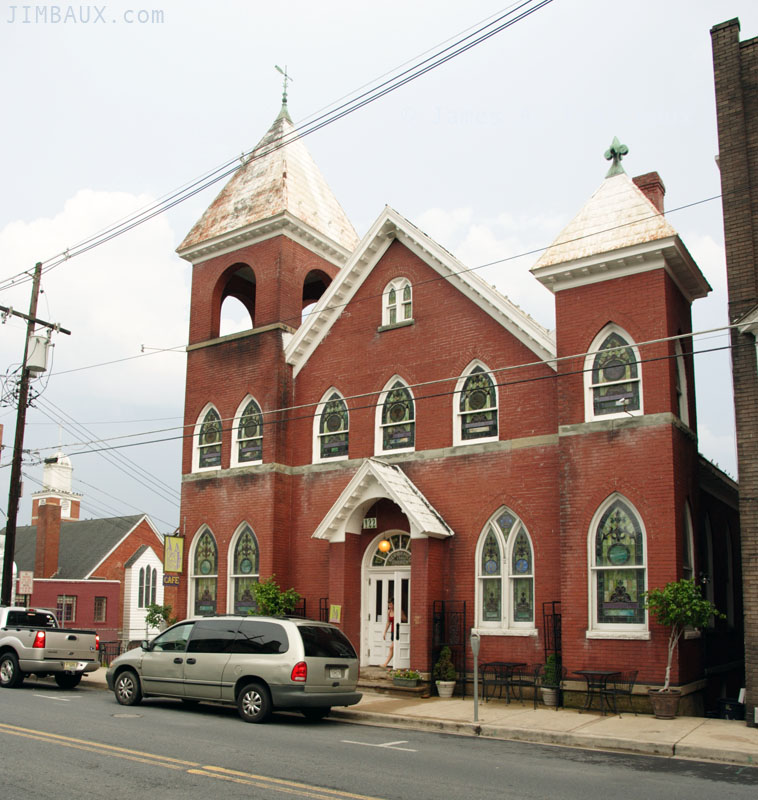 And while we're climbing, let's have a little lesson on how elevation affects perspective.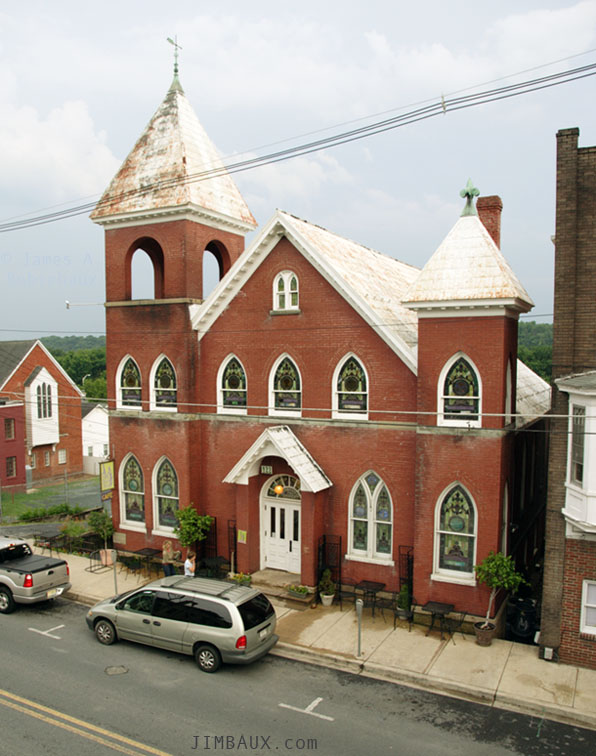 How's that?  Notice how the change in perspective also changes the interpretation you get of the subject.
Jimbaux's (Almost) Last Stand
And as the sun sets on this day, Jimbaux gets these four shots on the CSX in Brunswick, Maryland.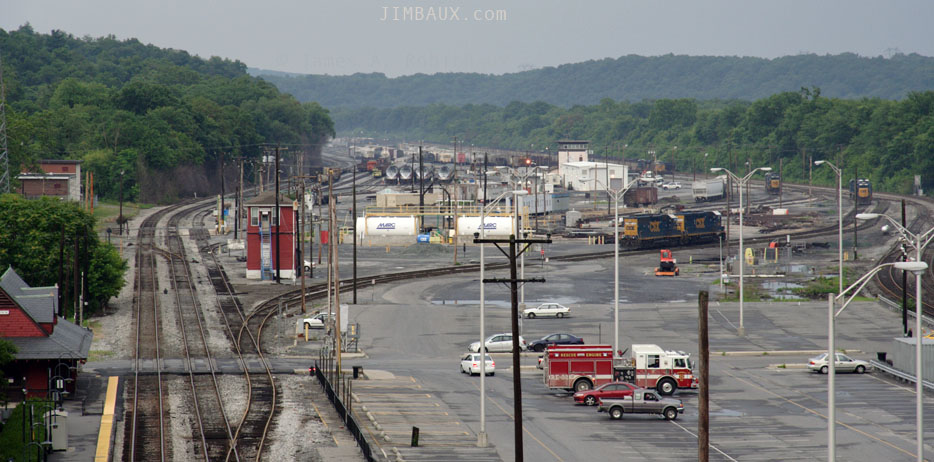 It seems as though that was the same fire truck that was on the bridge earlier with the rescuers.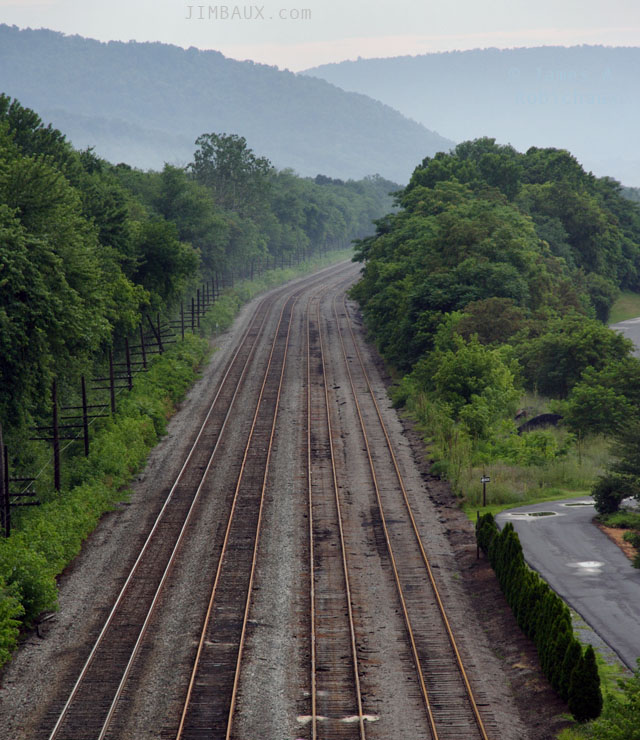 Loaded coal trains often park here, and as this article seems to indicate, they'll soon be carrying some new cars!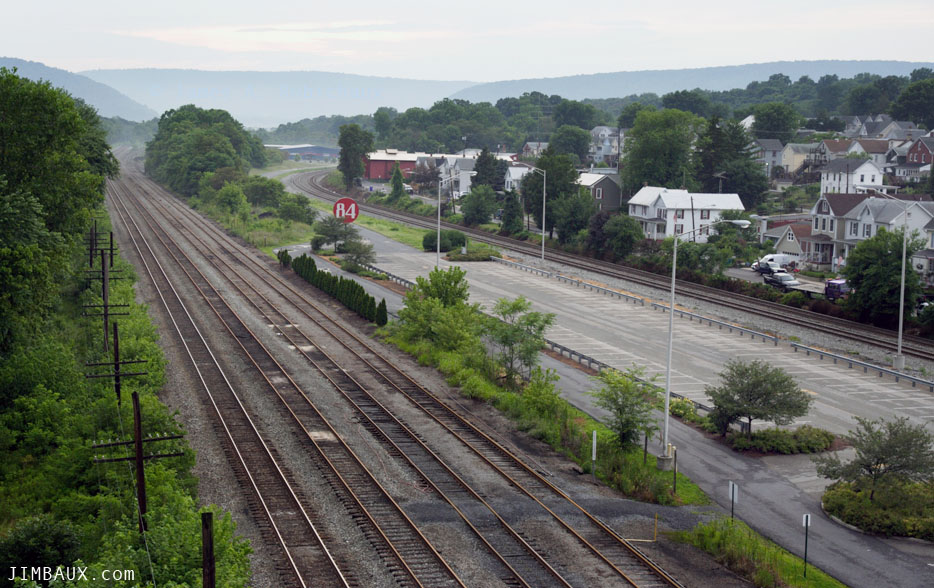 I told you not to forget about that helicopter, right?   Look closely at this picture.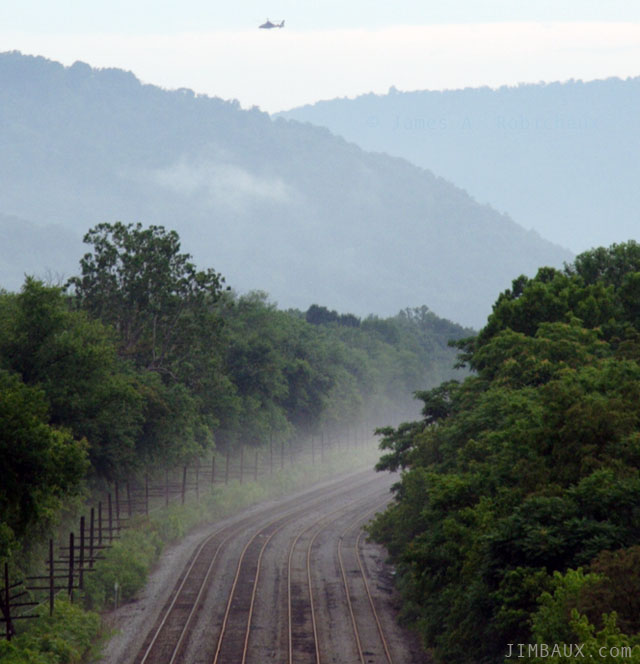 Well, as that was my last stand, the day is done, and I'm fresh out of pictures, or am I?
Encore!
Yes, kiddies.  I think I told you in Part 1 to remember that corn and water tower shot, didn't I?  Well, here I was again, hours later.  Enjoy.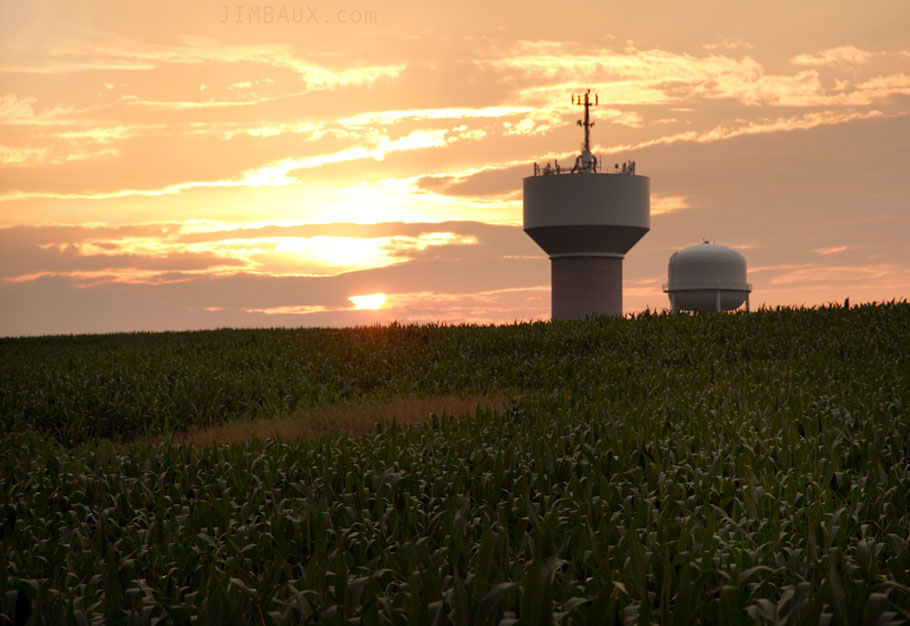 I guess all is well that ends well, or something like that.  I hope that you have been both entertained and educated by this foray.  Thanks for joining me.
Jimbaux