Hurricane Gustav and Hurricane Ike, August-September 2008
Within two weeks of each other, Hurricane Gustav and Hurricane Ike struck the northern coast of the Gulf of Mexico in the late summer of 2008.  The two storms not only caused plenty of destruction on the Louisiana and Texas coasts but also very far inland too.  This compilation is of Jimbaux's illustrated story of his personal experiences with Gustav and Ike, which include preparations in New Orleans, "evacuating" into the path of the storm to be with his parents in Cajun country, and then spending the aftermath of the storm in and around Memphis, Tennessee, including of Gustav-related scenes occurring in Memphis, followed by pictures a week later back in New Orleans and in Des Allemands of the effects of both Gustav and Ike.
August 28 – Waiting for Gustav – This post shows some train pictures taken in New Orleans as Gustav was approaching.
August 30 – Heading Into The Path of the Storm – This post shows images from a drive into an area about to be struck by a hurricane.
September 2 – Evacuation From the Aftermath – This post describes and illustrates a dusk drive out of the area where Gustav had just passed, and it describes a nighttime drive to Memphis, Tennessee.
September 3 – Welcome to Memphis! – This post includes scenes of Memphis, mostly railroad activity, and an encounter with an insulting and unimaginative fellow Gustav evacuee from Louisiana.
September 4 – Gustav in Memphis, A Rerouted Gustav Train, and President's Island – This post includes a visit to President's Island and the Canadian National Railway's activity there, the remnants of Hurricane Gustav arriving in Memphis, and a train that normally passes through southern Louisiana rerouted through Memphis.
September 5 – Lorraine Motel, Downtown Memphis, Memphis Streetcars, Central Station Sinkhole, Regular Trains, and FEMA Train – This post includes plenty!  It starts with a visit to the Lorraine Motel where Martin Luther King II was assassinated, shows other parts of downtown Memphis, includes a visit to Central Station and scenes of the sinkhole that occurred there that year, shows the parked FEMA Train that would depart for New Orleans that night, shows other trains in and east of Memphis, shows more scenes of downtown Memphis including the neat streetcars there, and shows Gustav evacuees from the New Orleans area boarding the FEMA train.
September 6 – Returning to New Orleans and Stopping at McComb – A brief visit to McComb, Mississippi, is made, and the location is appropriate considering the overall trip.
September 7 – New Orleans – This lone image shows a train in New Orleans as life returns to normal (the post-Katrina "normal") after Gustav.
September 14 – Ike – With southern Louisiana still reeling from Gustav and still vulnerable, Hurricane Ike came.  Ike was an enormous storm that struck near the Texas-Louisiana border, and its storm surge had water going up Bayou Des Allemands (and many other waterways) where the ground was still soaked from Gustav.  The comments section of this post includes a comment from an Ohio reader who lost his roof due to Gustav!
Below is seen one of the pictures taken in Des Allemands on September 14 as the community was suffering the effects of both Gustav and Ike simultaneously.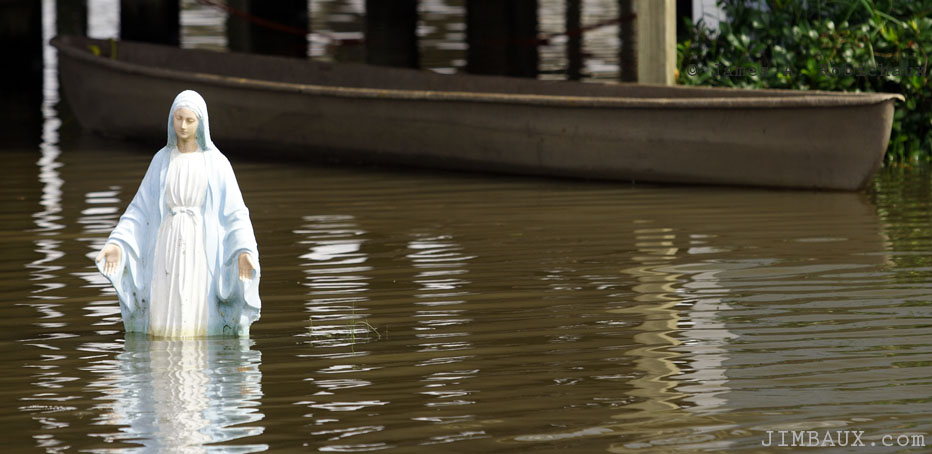 Thanks for reading.
This series, like all of the content on this publication, is a time-consuming, resource-consuming, one-man labor of love that came at a large personal cost to the correspondent who wouldn't know how to not do any of this, for this is how he was programmed from conception!
Therefore, if you have found any of what you have consumed here to be of value, if you are enriched by the content here and would like to enable the creation and distribution of more of it than is presented here, and if you have the means to help, please consider becoming a patron of Jimbaux's Journal, which you can do for as little as $1 per month by going to the Patreon page and making a pledge for a monthly contribution.
Merci beaucoup.
JBX