[Jimbaux is wondering if you are wondering where do we go now?]
Or, The Beginning of My Out-Of-State Gustav Hurrication
For the second consecutive post, the headline might be confusing to some.  A full reading of this piece should explain it, and subsequent posts should remove all doubt.
Where Were We?
Last time, you saw my 'evacuation' from New Orleans toward the path west of the city where Gustav was projected to travel.  That was on a Saturday.  Sunday was spent making additional preparations as clouds rolled in in the evening as Gustav's feeder bands started to arrive.
Gustav struck with real force on Monday morning; I think that the power went out at around 07:00, and the strongest part of the storm struck in the very late morning, with the eye passing a few miles west of us.  By late Monday afternoon, we were able to safely go outside again as the wind had died down, roads were not opened as they were still either unsafe due to downed power lines, unpassable due to being blocked by fallen trees and power poles, or both.
Tuesday, Clean Up
Gustav left large path of destruction over the Lafourche-Terrebonne region, and it damaged thousands of homes dozens of miles to the north in Baton Rouge.  Streets and roads were blocked with numerous fallen trees and utility poles, and even some pine trees snapped.
The sun comes back out, and it's hot; with the ground soaking wet and with the temperature high, the air gets oppressively humid very fast.  The electricity is out everywhere.  There is no air conditioning, no television, only battery-powered radios acting as our only connection with the rest of the world, much like it was for us in Katrina.
There is really no time to be in the air-conditioning anyway, since there is so much to clean up outside; the only problem is wondering how I'll be able to fall asleep with no ventilation at all in this heat, but the answer to that question is in the first part of this sentence!
When Katrina rolled through, there was a similar situation: no electricity, no cell phone service, and a yard full of tree branches, mostly oak trees, some of them nearly a foot thick, but most about a half-foot thick.  Once the winds died down and the sun came out, it was time for me to do the heavy grunt work of sawing (using muscle power, as the folks don't have a chainsaw) the numerous tree branches and then dragging them out to the road, work that would be physically exhausting.  My father told me that I didn't have to be in a rush to do it all.  I responded to him by saying that I needed to wear myself out doing this hard work so that I could fall asleep, as I'd never be able to get to sleep in a puddle of my own perspiration without electricity in the heat unless I was to the point of physical exhaustion!  Furthermore, once the electricity came back on and telephone and internet service were restored, I was going to immediately go from a diligent hardworking buck into being quite useless, as I'd just want to soak up the AC while catching up on news and personal communications, which is a big need after a hurricane, especially because people are calling you and e-mailing you to see if you are okay and see how it went.
So, as that was true for Katrina, it was also true for Gustav, but, this time, I had yet another reason to work hard and get all of the clean-up work done, as you'll understand by the end of this post.  So, starting early Tuesday morning, I got plenty of work done, doing most of the heavy lifting, with the remaining tasks being things that my folks could easily do on their own, which was good since it would keep them occupied until the electricity returned and things got back to normal.  By some miracle, I was able to place a telephone call in the late afternoon to a friend in a far-off place, a friend who had offered to let me ride the storm out at his place, and he said that I could still come.  I made sure that the folks didn't need any more help from me, and I proceeded to pack up to leave, though there were risks with this plan too.
What we were able to hear over the radio indicated that the highways were probably clear enough for me to escape out of the hundred-plus-mile-wide area of damage, but there was no guarantee of this.  I knew that if I left that there would be a chance that I'd have to come back due to highways being blocked with debris.
So, yes, I declined offers to ride the storm out in safety far away so that I could travel into the danger zone and help my parents and make sure that they were safe in the most dangerous part of the experience, but now that the most dangerous part had passed, the most miserable part would start, as there was no telling when electricity would return (and it would not return for nearly a week.)  Before you judge me for leaving at this time, remember that not only was I there, as I said, for the most dangerous part and for the parts that needed me the most for the heavy lifting and hauling, but, once that is done and you're left waiting without electricity and unable to do much for an indefinite time, you actually get in each other's way, get on each other's nerves, and it's best to be apart from each other; surviving a hurricane is the easy part, but surviving the aftermath is the real challenge.  Ask anyone who lived in Dade County, Florida, for Hurricane Andrew.  Ask anyone in the New Orleans area or coastal Mississippi who suffered from depression long after Katrina's winds died down and flood waters subsided.  Life can become hell after the winds, rains, and television cameras leave.
Departure
So, I left with maps and other supplies in hand, eager to once again see a good friend in a far-off land and enjoy some air-conditioning and other things powered by electricity, knowing that I'd have to zig-zag through various routes to avoid highways that were either closed or clogged with people.  I had plenty of driving to do, and I needed to be able to stay awake for several hours after spending the day doing so much heavy lifting.  Let's take a picture of pine tree that Gustav blew down.
Yes, wow!  And that is a road beneath the debris at the bottom of the picture.  I was fortunate to be smart enough to have had a full tank of gasoline minus what it had taken me to drive from New Orleans, because this is what I encountered as I made my way north.

Oh, well, I'll find another one, and I did, about 50 miles to the north as I got close to Baton Rouge.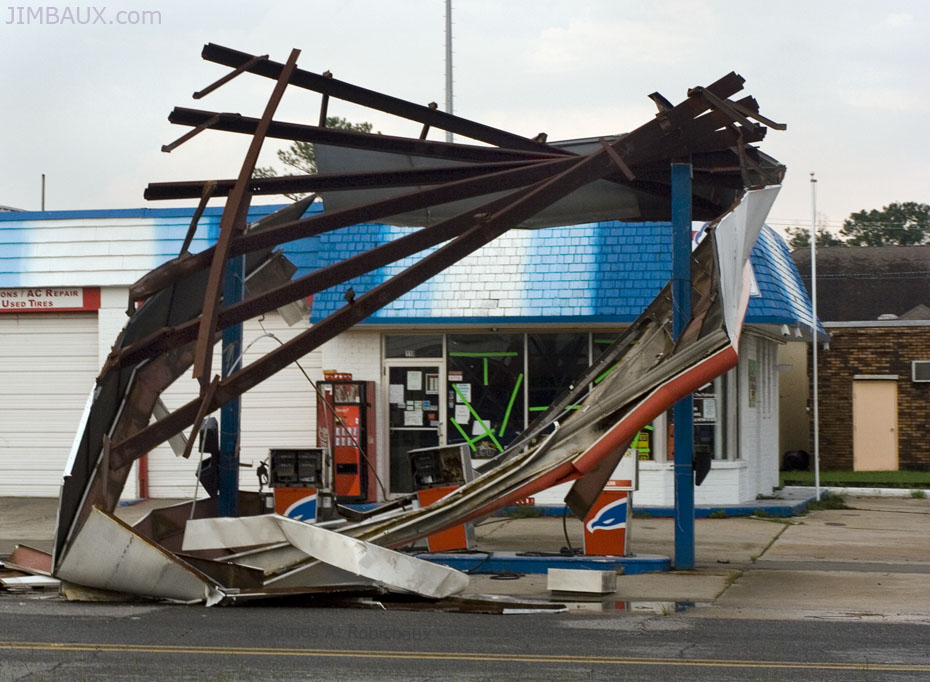 Oh, well.  I seem to recall that the I-10 bridge across the Mississippi River was closed, not that I minded taking the old bridge anyway.  I got to Lobdell and saw this.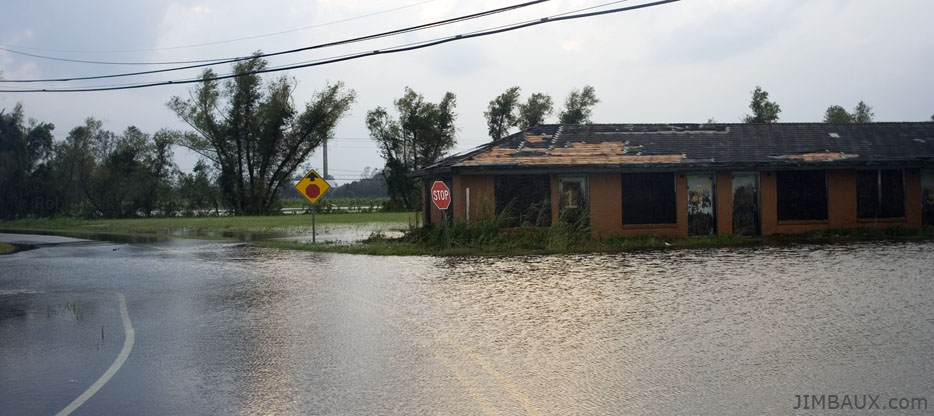 I made it across the river, and as dusk came, I got directed through a few detours somewhere around Zachary.  You hear horror stories of people being stuck in traffic for several hours without moving at all in situations like these, and in order to avoid that scenario I plotted out a course along secondary highways through sparsely-populated areas.  It was dark by the time that I got into Mississippi, and I don't remember much of it except that the few gasoline stations that were open had really long lines.
Satiation At Vicksburg
I suppose the I-20 corridor was the mark of civilization at this point, as I found gasoline, food, and electricity with no problem when I got to Vicksburg well after 22:00.  I felt so relieved.  I felt happy, too, to be visiting this wonderful and historic city, albeit briefly and in the dark, that I had only visited for the first time three months before.  I'm a bit predictable, at least I was back then, and I went into the Whataburger, which was open at this late hour, to get a hot meal and something cold to drink.  I took my time, too, as I brought in my phone charger to charge the dying battery in my phone, and I placed a couple of phone calls from the restaurant.
After eating and refueling, it was getting close to midnight, and it was time to proceed onward on my Hurricane Gustav Aftermath Hurrication.  We'll pick up that story in the next episode.  Stay tuned.
Merci,
Jimbaux