Day 2 of my Memphis Hurrication Gustav started with my friend HAFMO at work, me out on my own taking pictures, the remnants of the hurricane from which I escaped catching up with me, and a train that normally passes through New Orleans detouring through Memphis because of the storm.  Last time, we got some shots of trains on the BNSF and UP at Kentucky Street and of a UP local delivering a Budweiser car, and we heard some unimaginative evacuee woman from Louisiana proclaim out loud in a Memphis restaurant that "Memphis is boring."  Let's continue today to see how "boring" Memphis is.
President's Island And Clouds
The Canadian National Railway has a couple of jobs that serve an industrial area called President's Island, a little peninsula in the Mississippi River south of the main part of Memphis.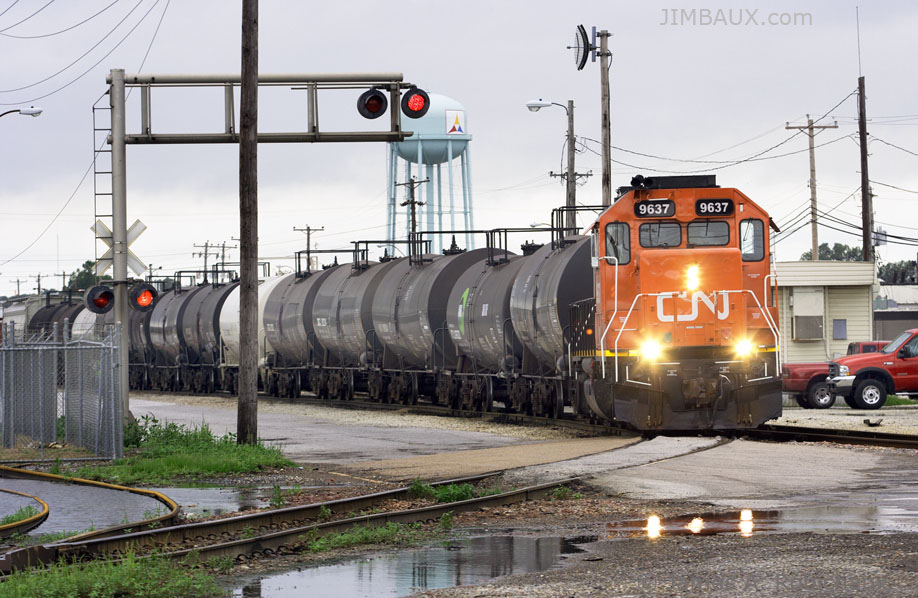 You can see the storm clouds approaching as this CN job works the Cargill facility, by far the biggest railroad customer on President's Island.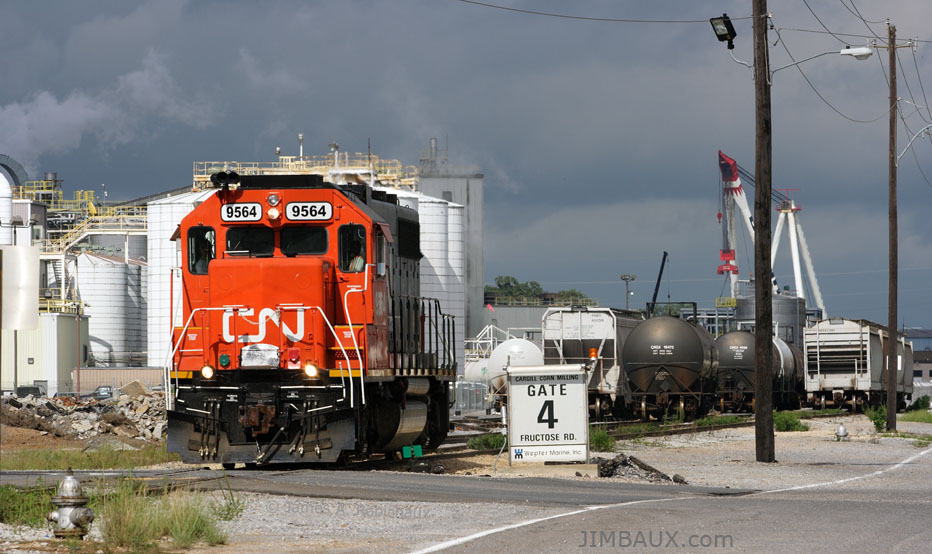 Since the time that these images were made, the switching of the Cargill facility has been contracted out to Rail Serve.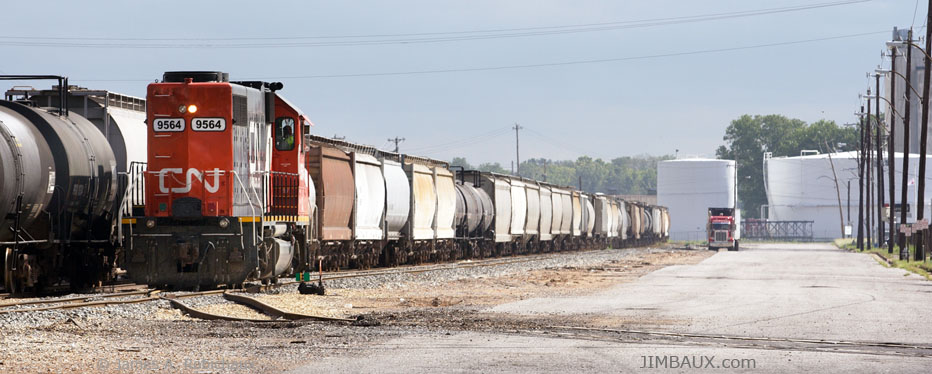 I love a "storm light" shot like the one below, with the dark clouds in the background with the foreground by contrast having sunlight.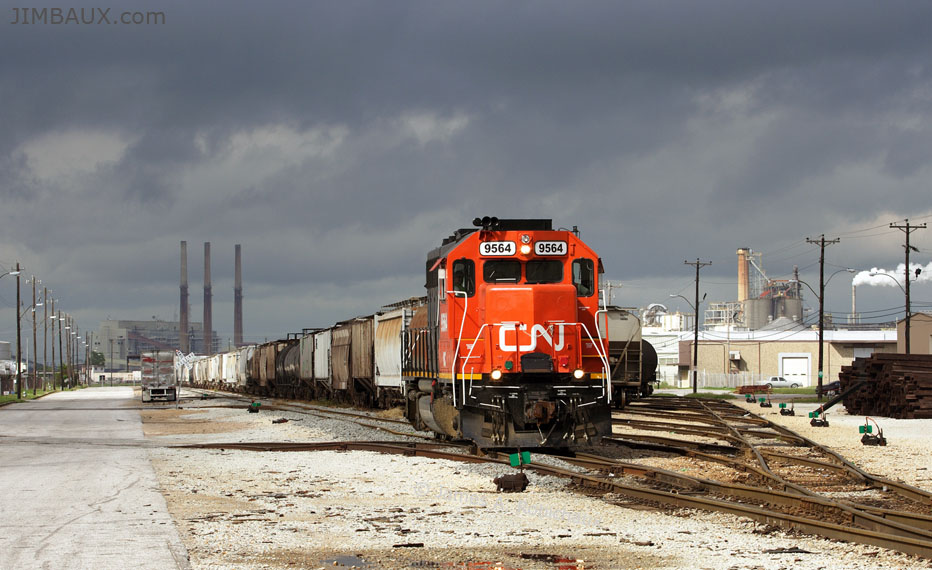 Isn't that neat?  It does feel a bit like the CN between Baton Rouge and New Orleans, which, like this area, is along the Mississippi River.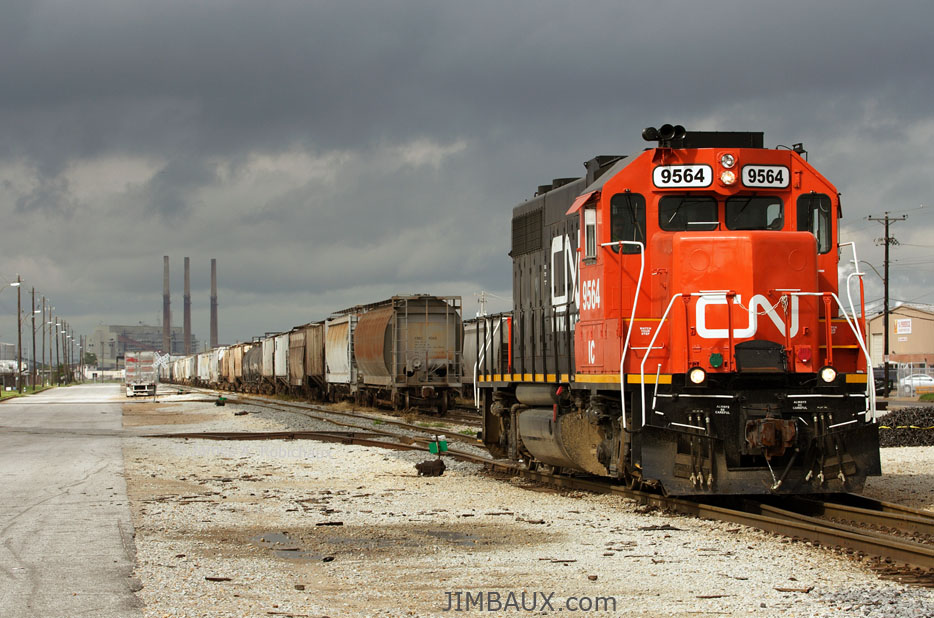 We are nearly 400 miles from somewhere here, but where?
I had long assumed that mileposts on the Illinois Central were measured from Chicago, but it seems like Memphis is considerbly more than 394 miles from Chicago.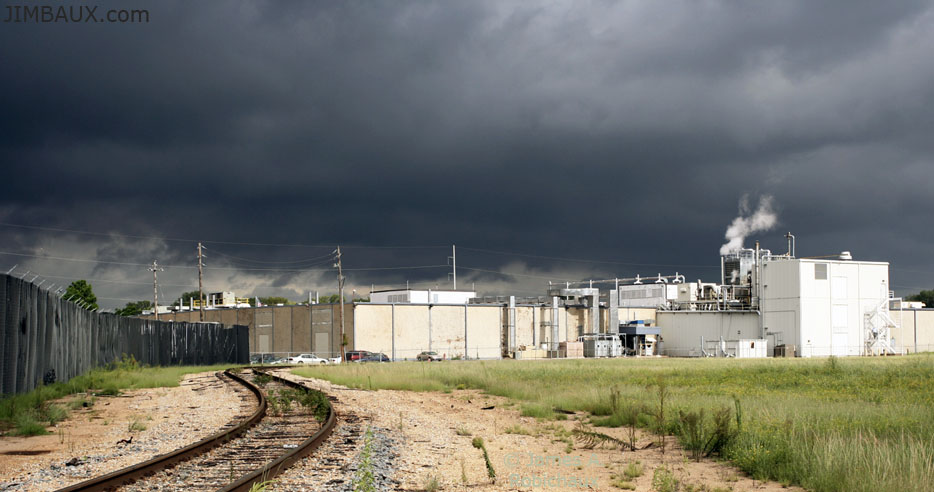 Well, this is fun, I guess.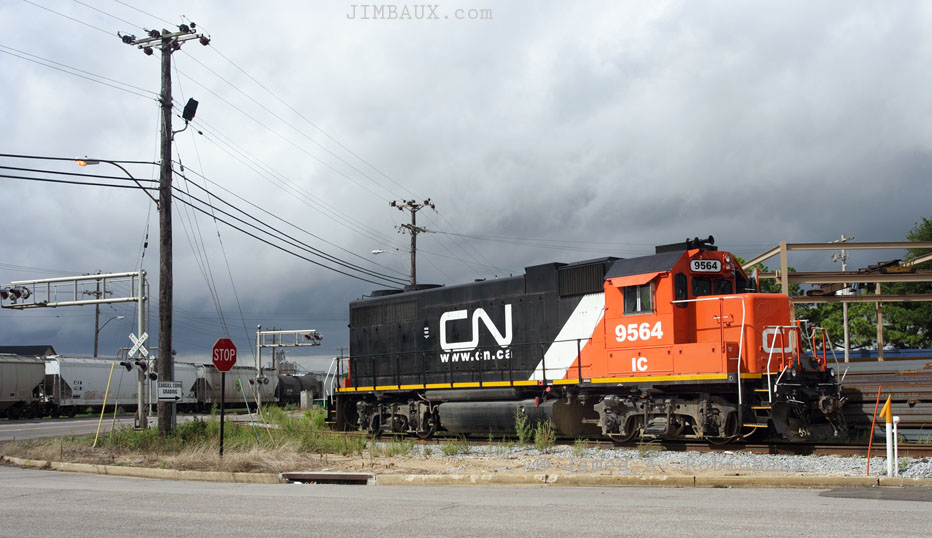 Are those centerbeam flat cars in this train?  If so, what customer do they serve on the island, and what product do they carry?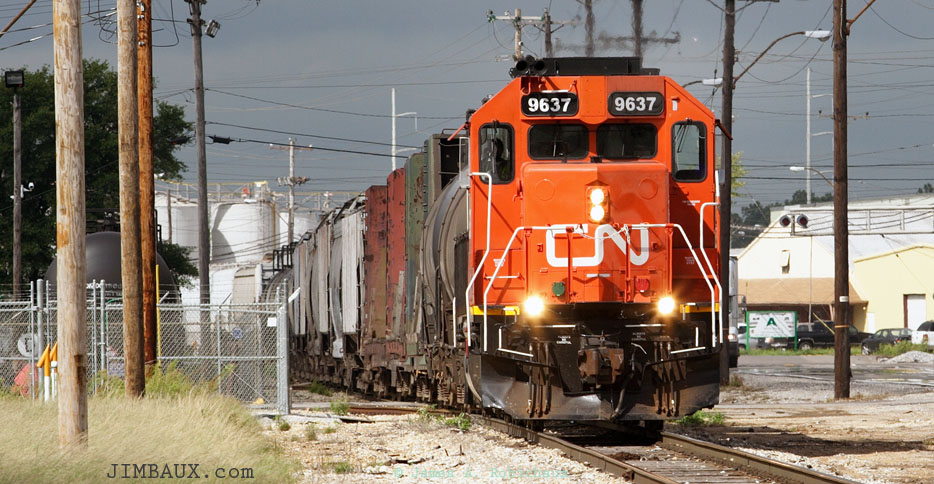 Okay, it's time to go home, well, back to my friend's crib, and he's at work.
"Media Suck"
This may not have been the time I read the specific e-mails I'm about to mention, but it's a good enough time to mention it.
In Memphis at my friend's place, I was able to check e-mail for the first time in nearly a week, and while I was happy and endeared to find e-mails from people who were checking to see if I was okay, I was a bit distraught to read e-mails from people who said that they were "glad everything went okay with Gustav."  WTF?  I'm in Memphis!  Why?  And how do they know that "everything went okay" with Gustav?  They certainly didn't hear it from me because I was incapable of telling them anything!  The last that any of them heard from me was before the storm.  This is what I sent from my friend's computer in Memphis to one far-away friend who wrote to me about how she was glad that "Gustav didn't do too much damage," which I wondered how she knew:
I'm in Memphis, Tennessee, right now, which is the only way I can send this to you.  My home area is a mess, the worst that I've ever seen it.  We had 100+mph winds and were fortunate that there was no structural damage to the house, but plenty of other houses were not so spared.  There were huge oak branches all over the yard.  I sliced most of them down with a handsaw before I escaped here to Memphis, dodging curfews and downed power poles and trees in the roads.  I watched part of the roof of a concrete-steel building get blown off before my eyes, and many houses have no roofs.  My parents are still without electricity and likely will be for awhile.
What would have given her the impression that Gustav was no big deal?  Here's what she wrote back to me:
I had no idea that Gustav was worse than the storms that you mentioned; the reporting makes it sound like a glorified rainstorm.  Media sucks; I suppose I shouldn't be surprised.
Yes, apparently, once it became clear that the levees in New Orleans would not be breached, the national media packed up and went home (or went to the Republican National Convention), as if Gustav had done no damage, but that's not a reason for people to assume that Gustav was no big deal.
Gustav was not a terrible, horrible thing for my family, but it was more than a "glorified rainstorm," and, while my family and its homes were basically okay once the electricity returned, many others in the area fared far worse.
There are several lessons to be learned from this, one of which I learned very well during the aftermath of Katrina, and that is that television is never a substitute for actually being there.  Another big lesson – or pair of lessons – is one that I preach here often, that being that just because major media don't decide that there is a story somewhere that there isn't a story there, but, on top of that, don't totally rely on the media, as Freedom Of The Press is for you, not just for professional journalists; don't assume that something is not happening somewhere just because you don't hear about it.  Just know that you don't know.  I'd have been far less frustrated if my out-of-area friends' post-Gustav e-mails would have simply asked me how the storm went rather than just assume that it was all okay by telling me that they were glad that it was all okay.
There is plenty more that I could say about this, but I am really tired right now.  Just don't assume so much.
Oh, yes, and the Republican National Convention was happening the week that I was in Memphis; the first time I heard the name Sarah Palin, I was in Memphis.  My friend and I watched that convention, and I've been generally sour on politics since then (well, especially after the Democratic convention a few weeks before), through the 2010 and 2012 elections.
Detoured Fly Ash Train
By late afternoon, HAFMO got off of work, and we were foaming on the BNSF line.  I guess we're 494 miles from Kansas City here.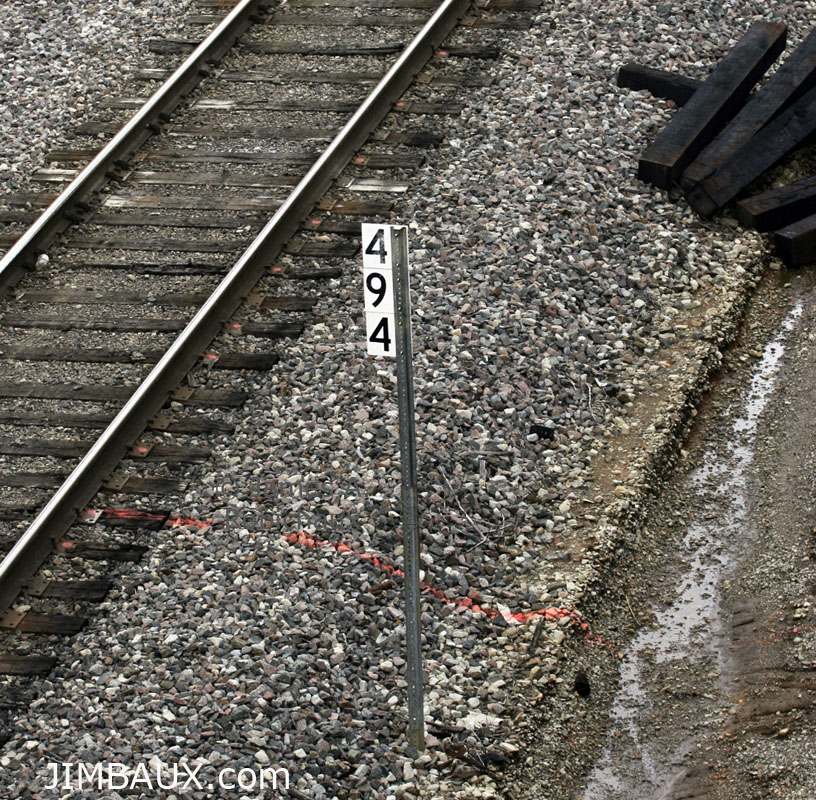 Prior to the Great Recession – and remember that these pictures were taken less than a month before the sudden credit crisis and economic crash of 2008 – the BNSF ran a few times a month a unit fly ash train from a coal-fired power plant at Martin Lake, Texas, to somewhere on the CSX in Florida.  That train normally passed through New Orleans, but Gustav had made New Orleans temporarily unpassable.  Here it is passing through Memphis, the long way to Florida, with, strangely enough, some KCS power.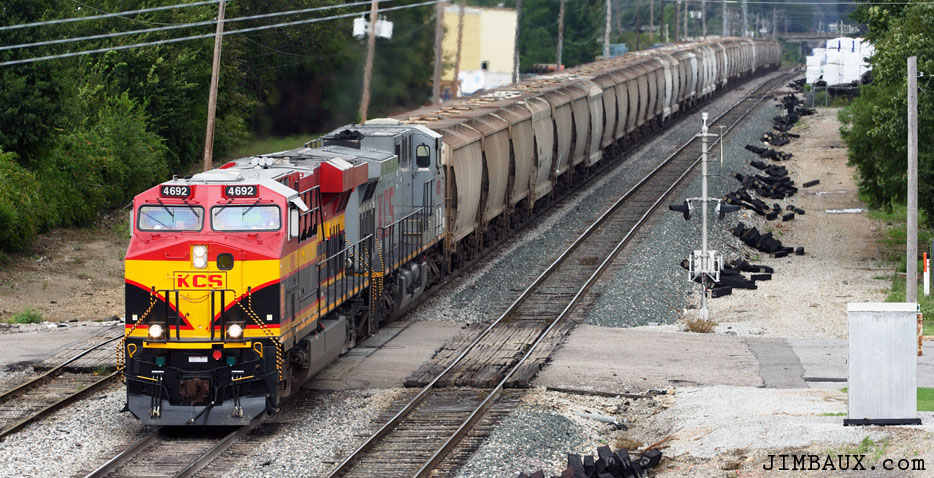 I was pleased to see this train detouring through Memphis, and my friend, who was off of work by this time and had joined me for the foaming, was pleased to see it too, since, living in Memphis, he never got to see it.
I don't recall ever having seen the fly ash train again after this point.  So, this may have been the last one that I saw, as the train was apparently abolished some months later.
FedEx
You know that FedEx is headquartered in Memphis, don't you?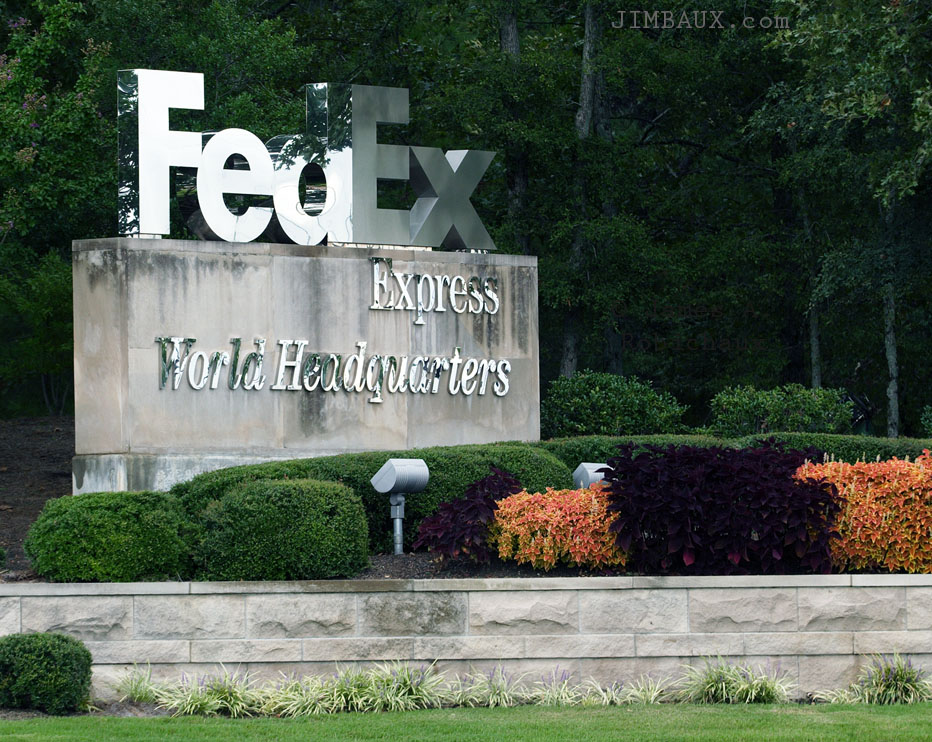 You do know that any FedEx package that you receive that moves via air moves via the Memphis Airport (the Bricks), don't you?
Germantown And A UP-Bound Train on the NS
We'll end the day in Germantown.  I guess this is a newspaper's office.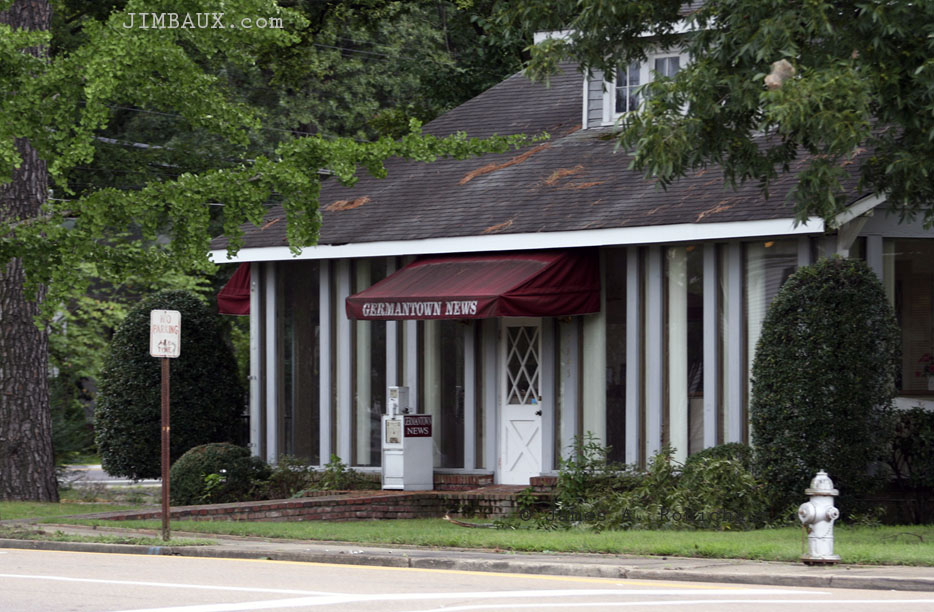 Then came Norfolk Southern train 391, a solid interchange train to Union Pacific that becomes UP train MMEPBB (Memphis to Pine Bluff.)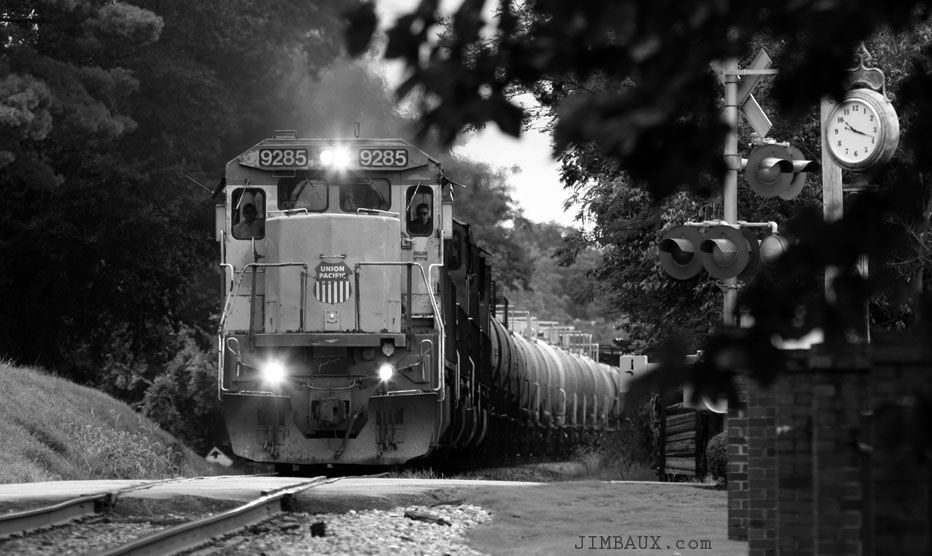 The 391 is built at Sheffiled Yard in northern Alabama.
That's all for this day.  "Memphis is boring," right?
Tomorrow, the last full day in Memphis, will be epic, and a major subject of images in tomorrow's post will be Gustav evacuees along with trains!
Thanks.
Jimbaux