The Start Of The Great Hurrication Gustav
Previously, On Jimbaux's Journal
Yesterday, we cleaned up big heavy tree branches blown down by Hurricane Gustav, cut them with saws, hauled them to the road, did other hurricane clean up stuff, made sure that the folks didn't need any more help, packed some clothes, maps, and camera gear, and then got the heck out of bayouland, zig-zagged through southwestern Mississippi, and arrived in Vicksburg to refuel shortly before midnight and enjoyed the air conditioning and electricity there.  Hurricane Gustav had passed, I did my part of its clean-up, and now Jimbaux's Great Hurrication Gustav was beginning.
A Bonvillain Start To The Day
A year prior to this, I had never been to northern Mississippi or Memphis, but, now, I was about to be there for the third time!  My first time there was when The Duke and I came in the previous December.  Then, a month and two days prior to when the pictures that you are about to see were taken, I stopped in Memphis and spent the night at my friend HAFMO's place and went foaming with him the next morning on my way back home to Louisiana from my summer in North Dakota.  Now, thanks to a natural disaster, I was returning barely a month later, and I hoped to actually see Memphis this time; I was in for a treat, and you are too!
Anyway, I left Vicksburg eastbound on I-20 and got on I-55 northbound at Jackson.  I seem to vaguely remember that the stroke of midnight to start the new day, Wednesday 3 September 2008, happened right as I was passing through Jackosn.  Keep in mind that I had spent the day sawing and hauling large tree branches, then driving for about three or so hours, and had not slept any.  This was where the problem arose, but I was perhaps saved by a force, as I was driving quite fast trying to get to my friend's place before I passed out.
Somewhere roughly midway between Jackson and Memphis – I didn't really know, and that was part of the problem – I was greeted by the sight of flashing blue lights in my rearview mirror.  I had been speeding.  The officer saw that I was from Louisiana, and I think that he asked me if Gustav had brought me here.  I told him why I was traveling here, and I asked him how far timewise I was from Memphis.  I don't really remember anything else about him, other than that he was male and black.  He let me go with no ticket, but that may not have been the best thing that he did for me, and, fortunately, we'll never know; he may have saved my life.  Thanks, officer.
Jolted by this event, although I was no less tired, I had fewer problems staying awake for the rest of the journey to Memphis.  I finally got to my friend's place at around 02:00ish.  The air-conditioning felt great!  I think that either he or we made a run to Taco Bell, ate the food at his crib, chatted for awhile, and then passed out.
Picture Time!
After sufficient sleep, it was time for HAFMO to take me around Memphis and give me his foam tour of the place; the next day, he'd have to work, and so it was good for me to have him help me get the feel of the place today.  We started with the obligatory stop at the Starbucks by the Norfolk Southern track; I had been here in my visit in August and would visit here again before the end of my Hurrication Gustav.  The woman working behind the counter remembered me from August, laughed at me plenty, saying that I reminded her of Mitch Hedberg, of whom I had only heard for the first time earlier that year when some women at my Endymion party said that I sounded like him.  (Yeah, I actually gave a crap enough one year to have a Carnival party; I know that that's hard to believe.  It's not likely to ever happen again.)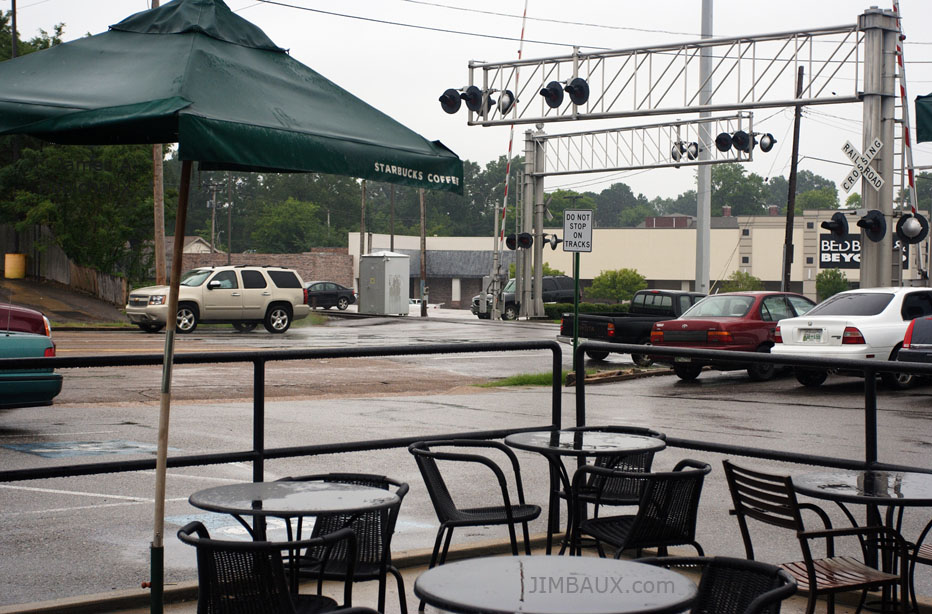 BNSF hands NS at least five loaded coal trains daily here, all bound for Georgia; at least that was the case in 2008.  Perhaps the recession and the fall in the demand for coal has changed that.  When we got further along the track, HAFMO spotted a coal train near the Taco Bell, and I ran out of my flip flops to take the picture.
Wait, that's not a train.  That's the damned Taco Bell, the same one where The Duke and I ate the previous December.  Okay, here's the train.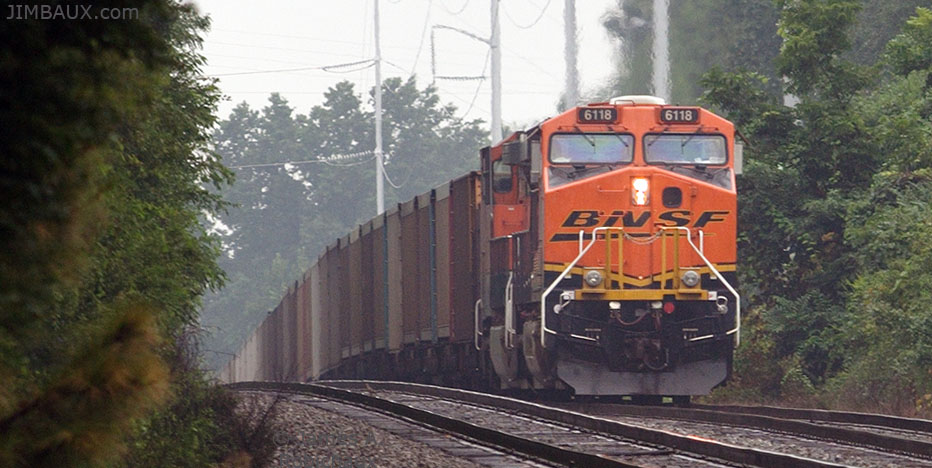 Yeah, I ran out of my flip flops for a train that wasn't even moving.  Oh, by the way, remember that you can see caption information in the filenames of the pictures, which can be read by holding the mouse arrow over the pictures.
I seem to recall that we either headed back to HAFMO's crib after this outing because we both needed naps or that we went into Arkansas, to West Memphis, the first time I had been to any part of Arkansas other than the far western part of it.
The Official Memphis Welcome Sign
I had yet to officially be in Memphis, but, as you will see below, that changed.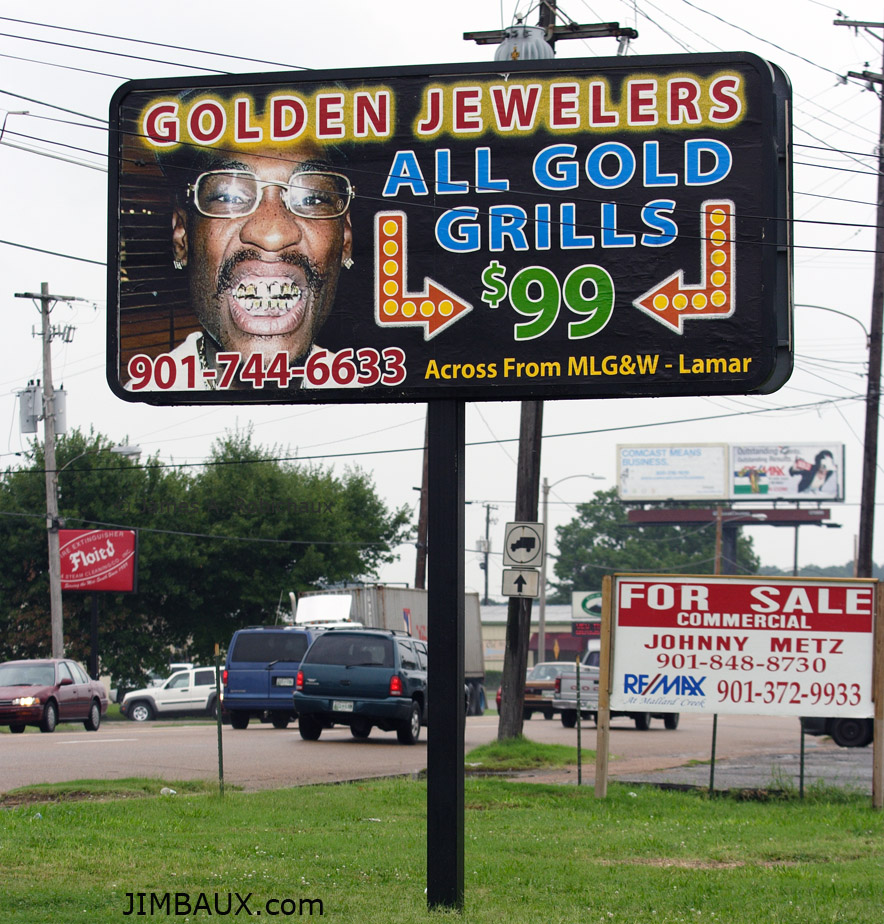 Oh, yes, indeed; now we're really in Memphis.  No, I'm not going home yet.  I didn't come all the way here just to see that stupid sign.  There is more that I want to do here, and the electricity is not yet back on at home.
Where Are The Trains?
They are at KC Junction on the NS, among other places, and it was at KC Junction that we saw a little bit of action as UP was delivering an interchange manifest train to the NS.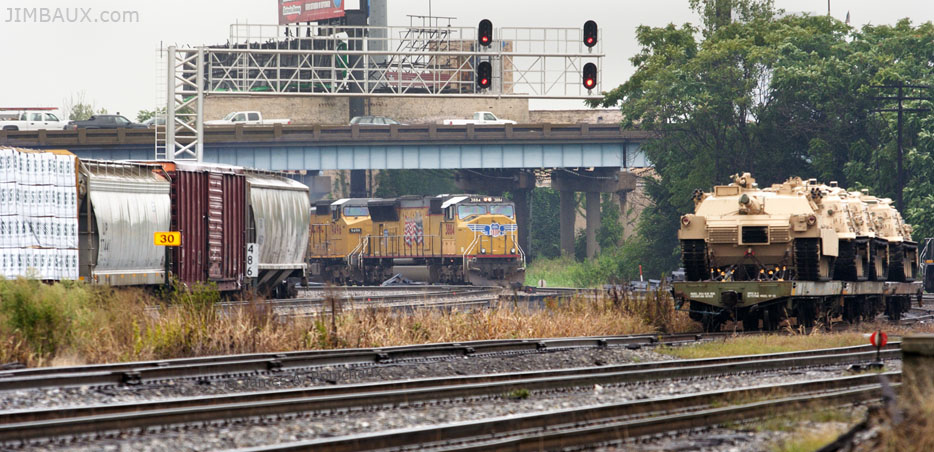 Not far away at Shelco, the NS was sending an empty BNSF coal train over the Mississippi River and back to the BNSF and ultimately for loading in the Powder River Basin.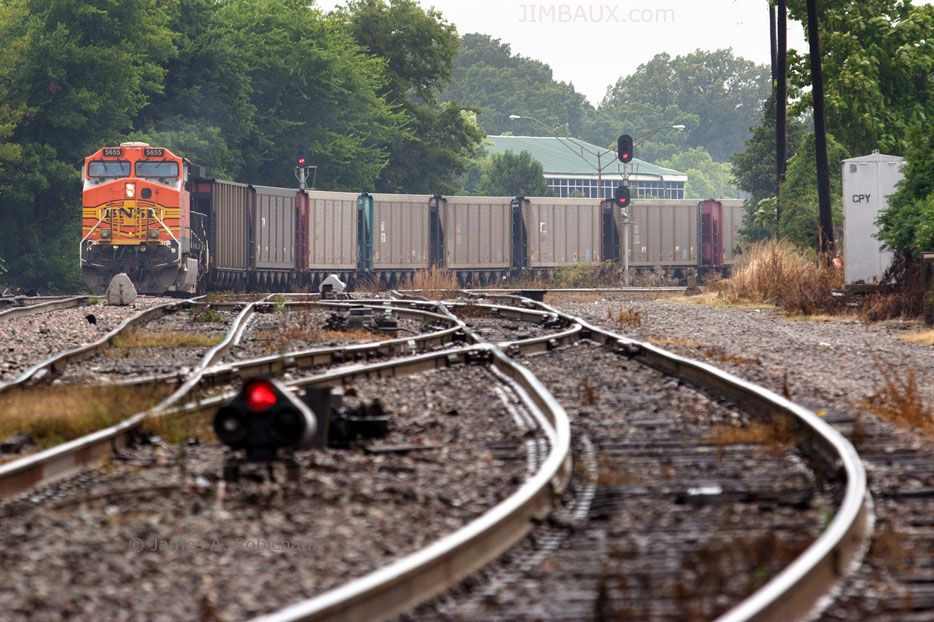 Yes, that is the DPU on the rear.
Kentucky Street
Kentucky Street is where the greatest quantity of railroad action in the Memphis area can be seen, as it is a funnel through which all through trains pass.  Here, we see a UP local, of which we'll see more shortly, passing a parked stack train before crossing the north-south CN mainline.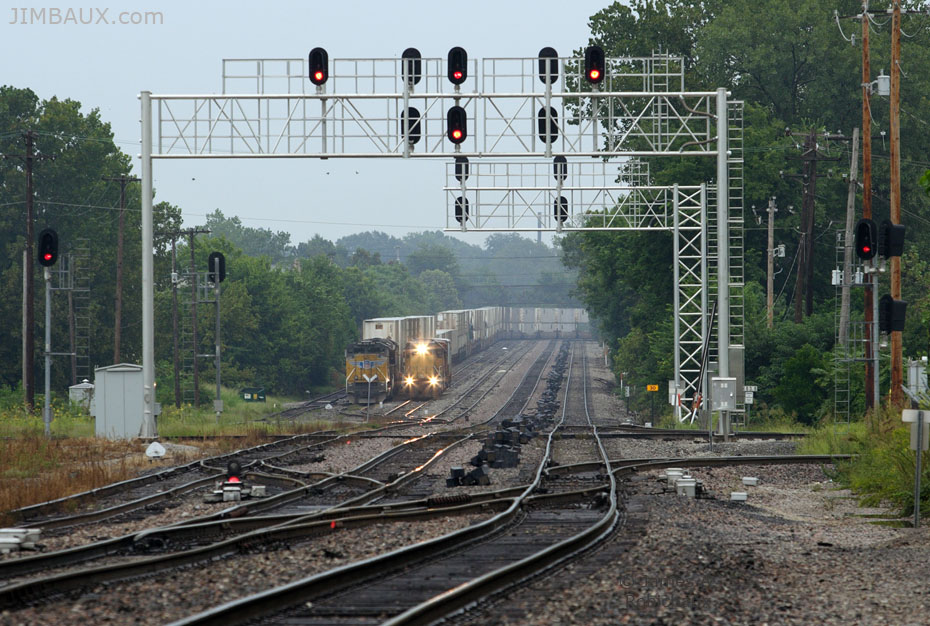 Twenty minutes later, the local and the stack train are still there, and a UP auto rack train has joined them as BNSF's H-MEMGAL (Memphis, Tenn., to Galesburg, Ill.) passes through the junction.
That, mes amis, is Memphis railroading for you, though you'll see more from other places over the next two days.
Union Pacific Delivers Beer
We'll photographically close this post with shots of the UP local that you already saw – the LWT45-03 – delivering a car of beer to the Budweiser distributor in an area of neat industrial trackage.  The conductor opens a switch.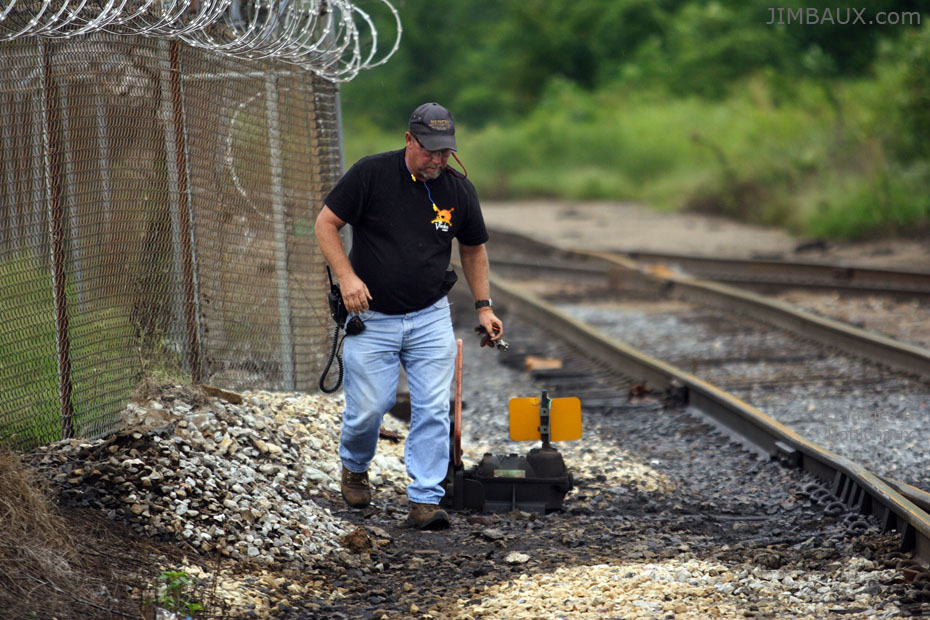 Check out the number boards on the UP 658.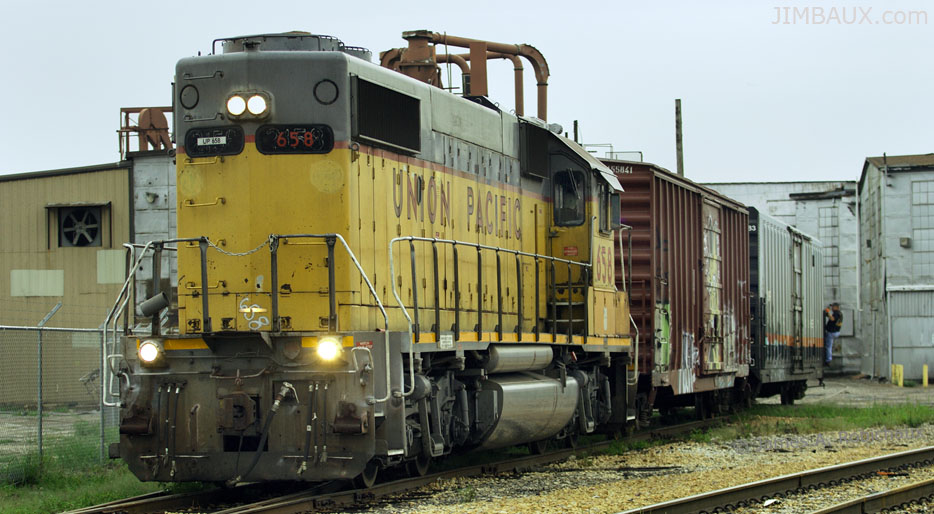 That boxcar looks to be the type that originates at the plant in St. Louis.  Here is the train spotting the car as we look back north to where we had been earlier.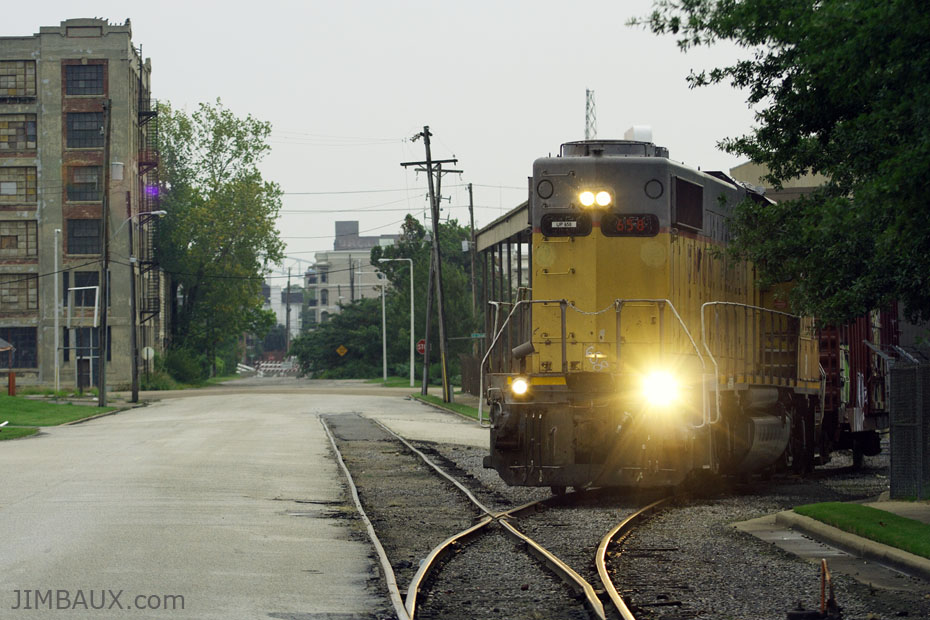 Isn't that a nice way to photographically end things?  Yes, although this is the end of photographs for the day, there is more to say.
No, You Are Boring!
Memphians Should Not Blame Louisianians For Her, And I Should Not Blame Her For Louisiana
My foam-boy took me to the CN yard and then took me to the Interstate Bar-B-Q on Third Street, which is US Highway 61, which made me feel somewhat at home.  The food was great, and I let the people working there know that I thought that it was great.  If I ever get back to Memphis, I want to go there!
Unfortunately, as great as the food was, it was not the most memorable experience from eating at the restaurant.  Seated a few tables from us was what appeared to be a family, I think of four people: man, woman, two children.  The woman was talking loud enough that I could clearly hear her a few tables away.  Although I hate it when people talk far louder than they need to talk to the point that I hear things that I don't want to hear, this really wasn't the problem; it just allowed me to hear the problematic thing that she would say.  It also helped me hear her voice, her accent, and the accent sounded very familiar.  It didn't sound Memphian, Tennessean, or even Southern.  It sounded very southern Louisiana, particularly New Orleans area, and, if I had to be more specific than that, it sounded very Metairie.
Hey, neat!  Maybe I should go over to her table and say hello to this family, see if they were here because of Gustav, see if we could strike up a conversation, have fun, meet new people, share experiences, tell stories, and make new friends!  Should I do it?
It was what happened next that precluded any voluntary interaction with her or her family on my part.
Her telephone rang.  She answered it.  That, like the loud talking before, wasn't a big deal, except that now we were not going to be able to help but clearly hear everything that she was going to say into a machine that was an inch from her mouth.  I hate when people do that.  It's really rude, but, again, that was not the big problem; the big problem was what she said.
"Memphis is boring," she told the person on the other end of the call (a confirmation that she was from out of town, and things she said later confirmed that she was from Louisiana.)
What?  Really?  Is that all that you could say?  Is that all that you can really think about your experience here?  You can't find something to do?  in Memphis, of all places?
I don't really get "boring."  I don't understand how people can be bored, ever, but especially in a place like this.  Just look at what I did in one day here!  Had there been no trains running, I'd have had an equally good time doing and-or photographing something else!
I was embarrassed.  As you know, I'm very much a proponent of individuality, individual rights, not putting people into groups, and I have very much grown to hate the "you represent the school" mantra, but I was still embarrassed to be from the same place as this woman, and to think that I almost went over and said hello.  Here she is, in a restaurant, in Memphis, and she said out loud for all to hear – and they could surely hear – that "Memphis is boring."  I'm also more of a follower of the "Amicus Plato, sed magis amica veritas" philosophy and not much of a follower of the "if you don't have anything nice to say, don't say anything" philosophy, but it's not like anyone in this restaurant asked her for her opinion, and, yes, I'm glad that people are honest, but it's her opinion that's just stupid, or, more specifically, based on ignorance.
I don't know how many people in the restaurant heard her or what they thought of her, but this Cajun with a camera wanted nothing to do with that woman; the fact that we – my friend, I, and this "boring" family – were the only white people (patrons or employees) in this place probably didn't help either.
What an idiot!  What "Memphis is boring" really means is "I'm far too ignorant and unimaginative to be occupied, do something, or have a sense of wonder about anything I see, and I need other people and large organizations to meet my entertainment needs because I'm incapable of meeting them myself even when I come to a big city with plenty of culture and history."
At one time, I thought that that mentality was relatively predominant in Louisiana (and maybe the greater South) as opposed to other places, perhaps the reason for what I now see as misplaced embarrassment, but, over the years that followed, I learned that such ignorance knows no geographic boundaries and that even the parts of the USA that I think to be more "enlightened" can have at least different types of ignorance.
Have any of you had to deal with unimaginative dolts like this woman?  Do you understand my frustration with her and people like her?  She didn't even say that a certain activity was boring; like, I could see if she thought that chasing trains, specifically, was boring, just like I, a train chaser, would not care for other specific activities (but am in no way limited to train-chasing to keep me occupied, entertained, and satisfied), but she just said an entire major city was boring!  Like I said in the title, it's not the city that is boring; it is she who is boring.  I got mad at the time, but I now see that her comment was simply revealing about her, and that hopefully anyone else in the Interstate Bar-B-Q place who heard it understands that too.
If you have not already seen just from this post that Memphis is indeed not boring, you will see that over the next two days; just remember that the same is true for any other place, even if evidence of such is not staring you in the face.
Stay tuned for more of Jimbaux's Hurrication Gustav in Memphis.  It gets better, especially on September 5.
Merci,
Jimbaux