I hope that you enjoyed the recent Hurricane Gustav and Memphis series, most of which can be found in the September 2013 archives (as my habit has become publicizing pictures five years to the date after they were taken.)  These pictures were taken only two weeks after Gustav struck, when another hurricane struck.
Ike
Hurricane Ike was an enormous storm, hundreds of miles wide, and, according to the Wikipedia entry on it, the third-costliest hurricane to ever make landfall in the United States.  The eye of Ike made landfall somewhere around the Louisiana-Texas border on Saturday 13 September 2008, wiping out many coastal villages in southeastern Texas, but the storm was big enough to affect us hundreds of miles to the east.  I had gone to Bayouland that weekend just because I wanted to see my folks and their home and get some of my stuff there, as I had left them without electricity when I escaped northward to Mississippi and Memphis and then returned to New Orleans (and not Bayouland) from Memphis eight days before we see these pictures.
Ike was still terrifying given what we had just experienced with Gustav.  Here's what I wrote to some friends shortly after taking the pictures that you are about to see:
On last Sunday morning, almost a week after Gustav's strike, FEMA was supposed to send 25 truckloads of MRE to Lafourche Parish, but only four arrived.  Parish officials were livid, and they had to scramble to figure out how to get some food to people who had run out.  My parents had wisely stockpiled food.  So, it didn't affect them.
Given all of that, you can imagine how terrified we were by the thought of Ike coming!  Neither my pocketbook nor my psyche could take another one just yet, and others around here felt the same way.  People called into local radio stations crying, saying that they couldn't take the rigor and expense of leaving again.
A week ago, we were right at the center of Ike's path.  A few days ago, we were relieved to see that Ike's center was projected to move west of us.
There was more in that message that is worth sharing, about Ike itself, but let's look at some pictures that I took on the way from Bayouland back to Woadieville on this Sunday right after Ike.
Des Allemands
We stop in the community of Des Allemands along Bayou Des Allemands, and we see the effects of both Gustav and Ike.  Des Allemands, which means "the Germans" in French, sits on the border between Lafourche Parish and St. Charles Parish; the photographs there are labeled based on in what parish they were taken.  Don't forget that caption information for each image is in the image's filename, which can be seen my holding the mouse arrow over the pictures.
Water and More Water
The ground was already saturated from Gustav two weeks before, and now Ike was pushing its storm surge northward, meaning that the water in Bayou Des Allemands was not only high but flowing backwards!  You can see the temporary earthen levee raised for protection from Ike.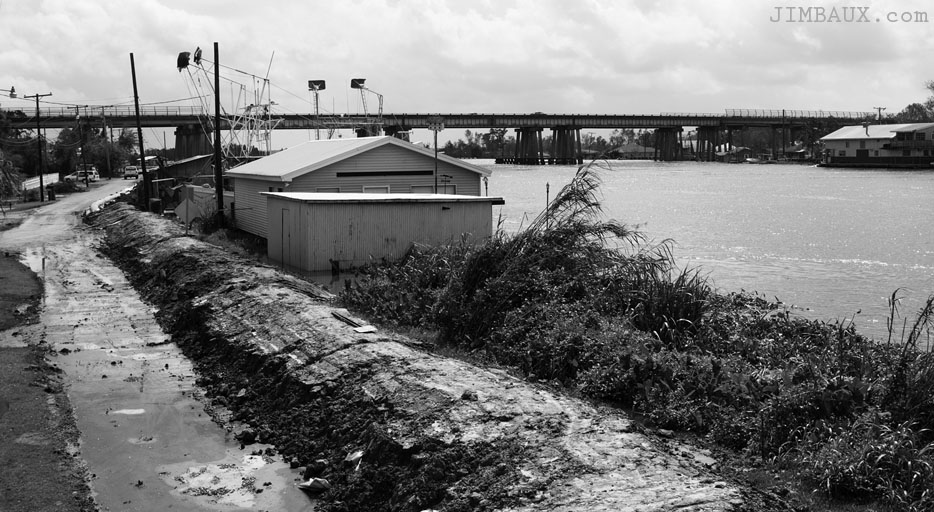 In the below picture, that is supposed to be a little street under the sandbags.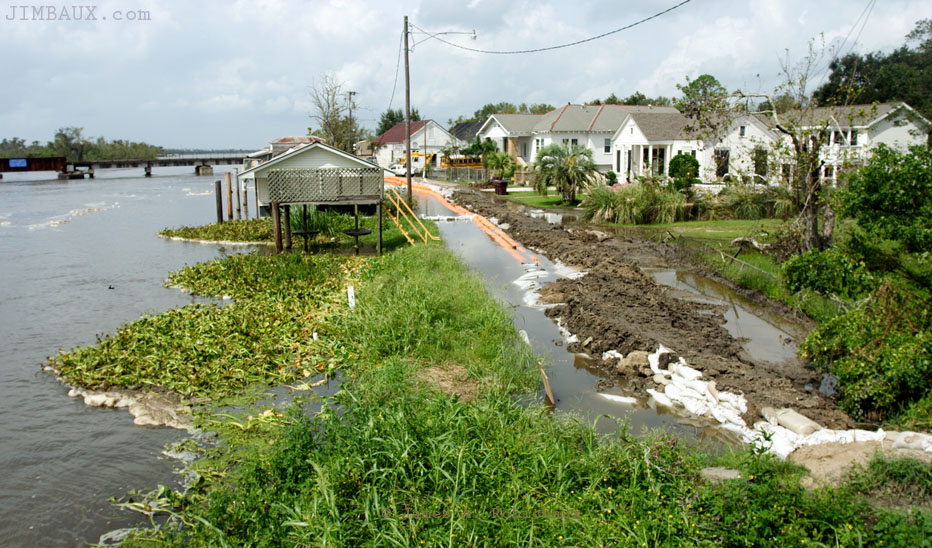 That's the highest that I can ever recall seeing the water here, and I have been here many times (and photographed it many times, as seen on this site.)
The Word "Foam" As It Is Meant To Be Used
Yes, we see foam moving northward here, in one of the rare normal uses of the word "foam" on Jimbaux's Journal.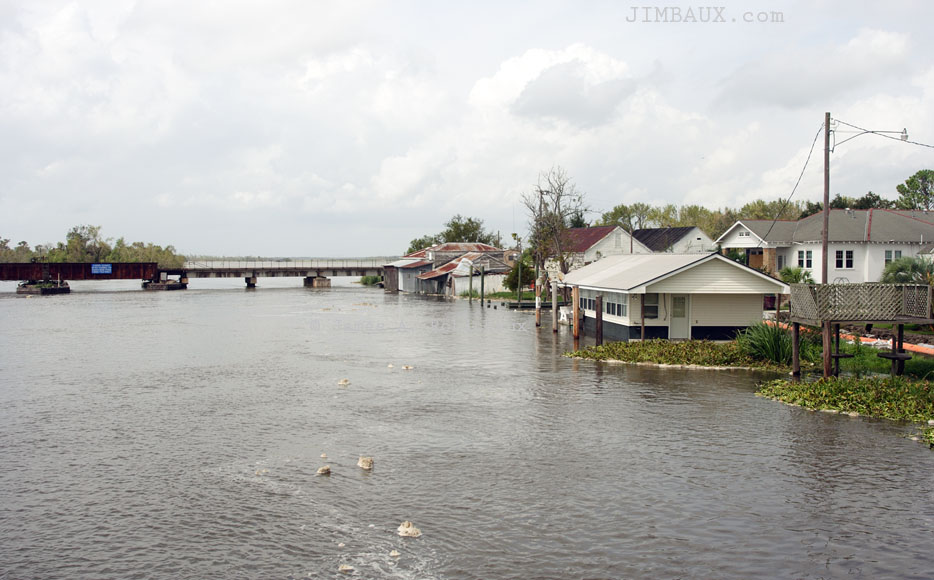 The water was moving northward, against the normal flow of the bayou, meaning that the level could only rise.
Back Briefly To Lafourche Parish
I doubled back because there were some things that I saw that I wanted to photograph, like this fallen billboard.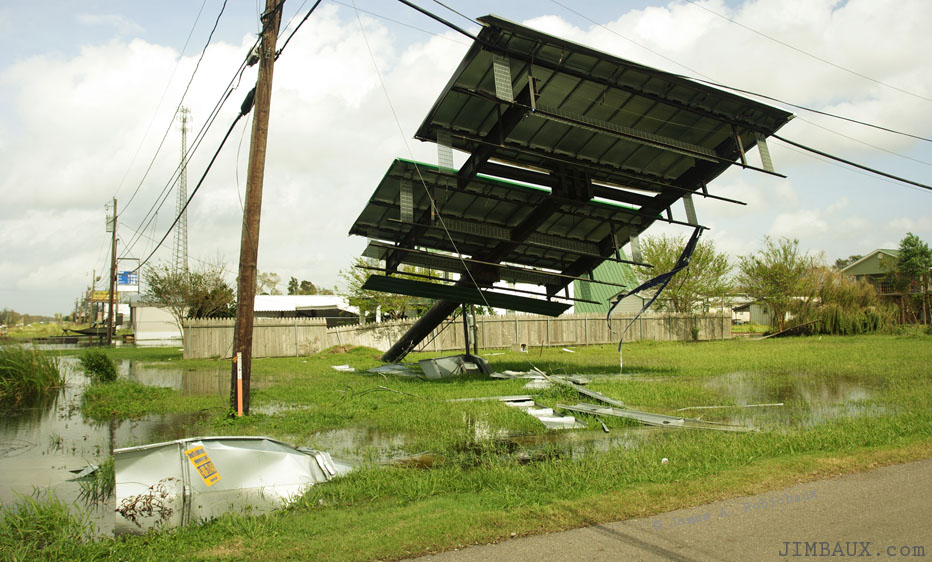 There were more fallen billboards.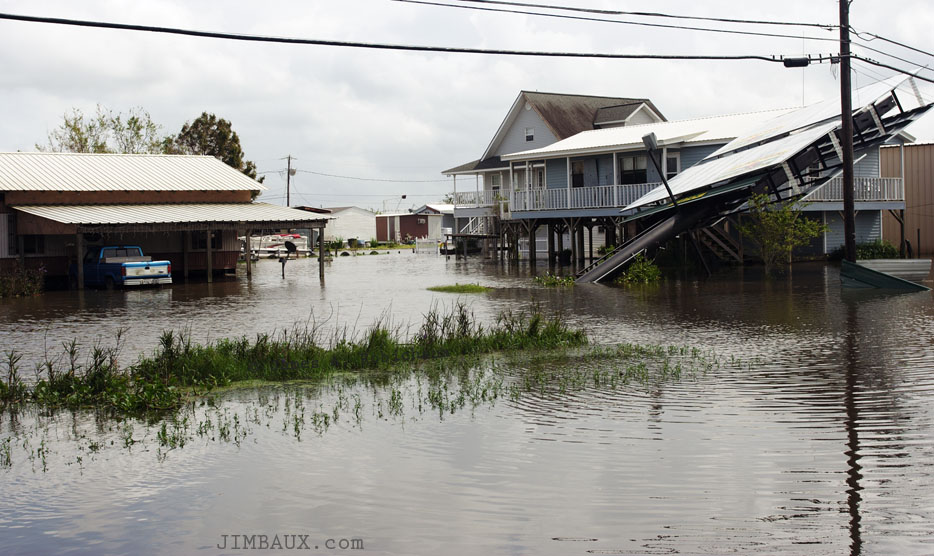 The wind damage here is from Gustav, but most of the water seen flooding here is from Ike.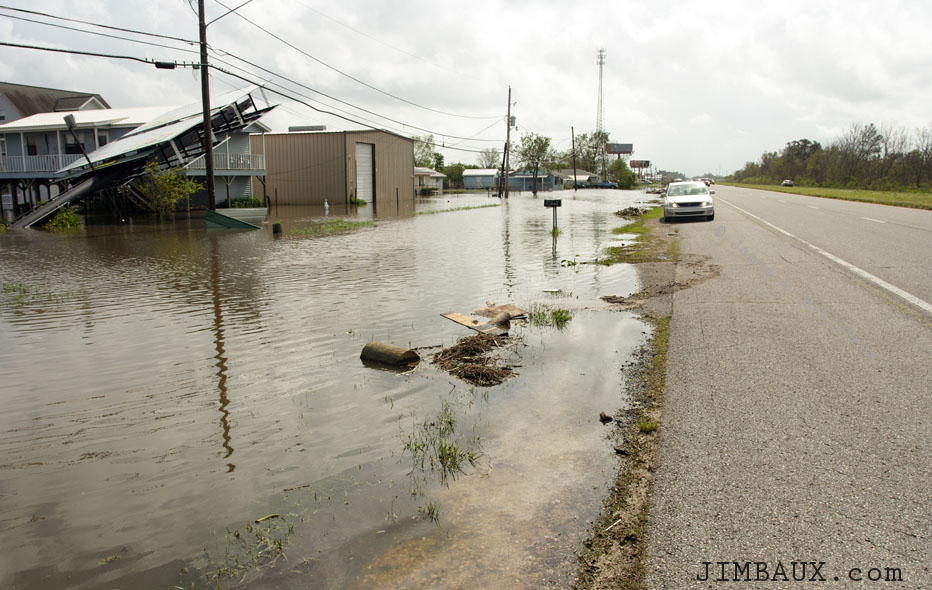 Below, we are setting the scene for an iconic scene, and we can see Lac des Allemands in the background.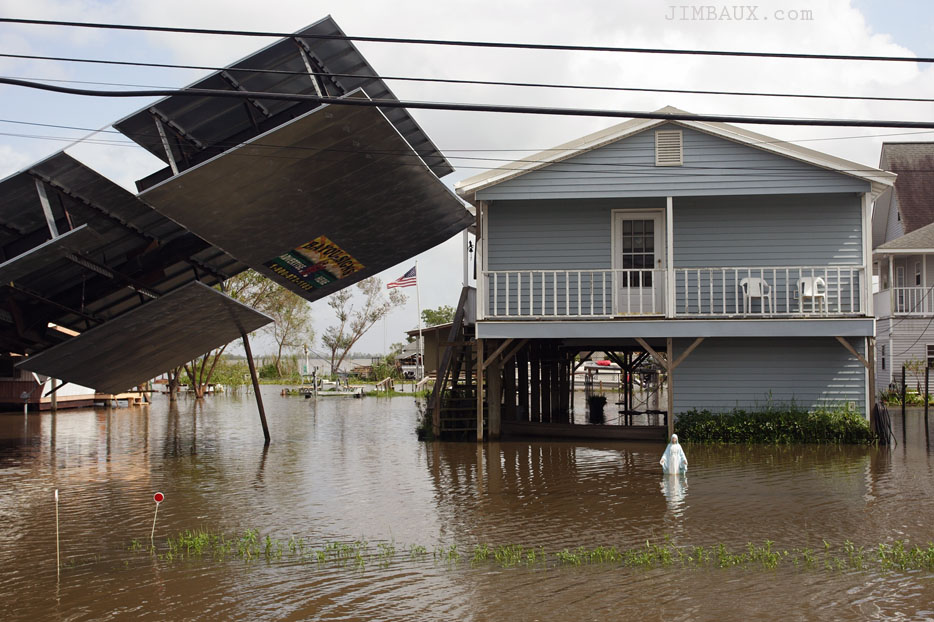 It was not an easy time for the people of Des Allemands.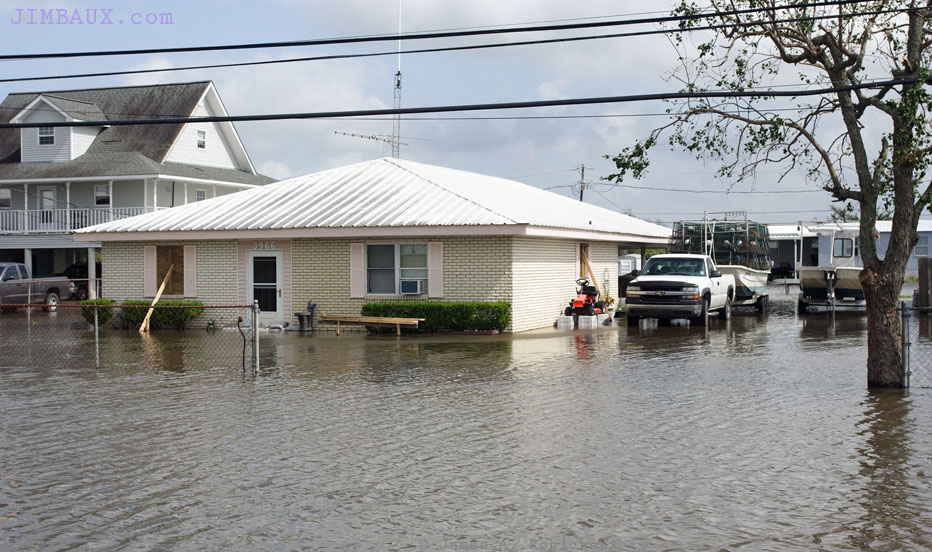 Some beer and citrus briefly caught my eye.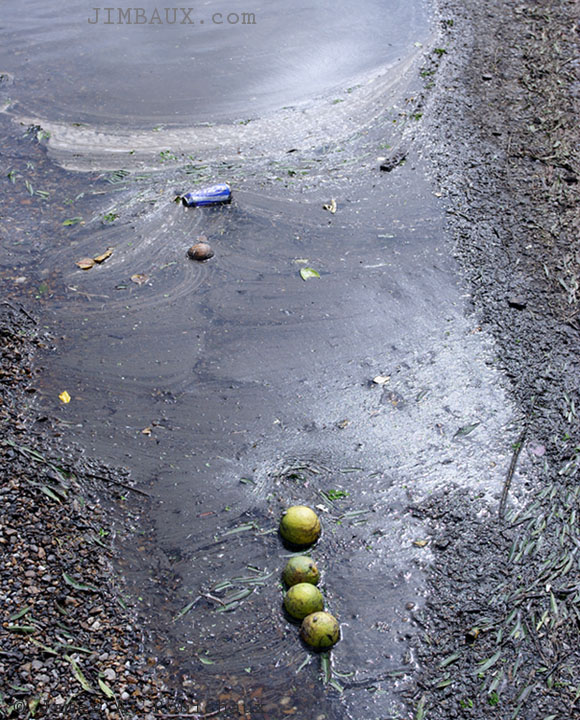 I don't know if the water got into this home.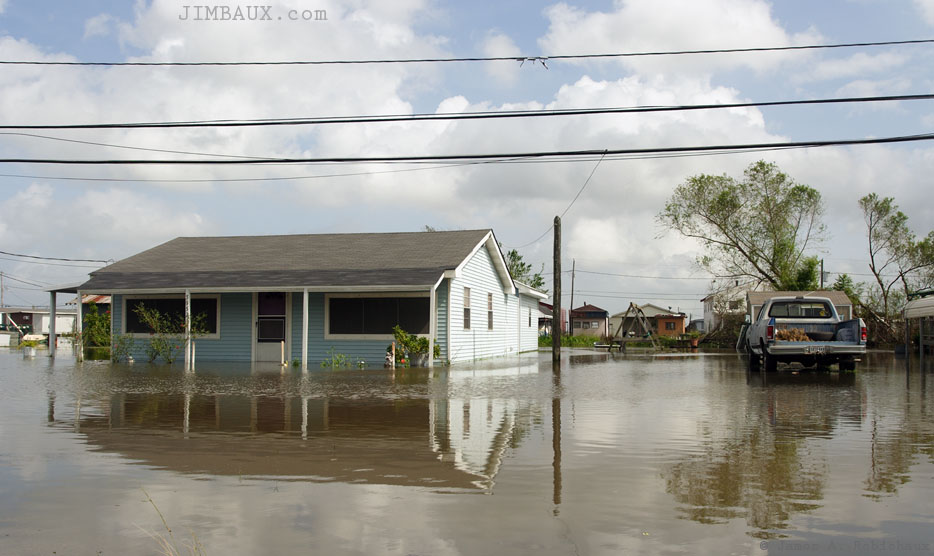 It seems the truck survived.
An Iconic Southern Louisiana Scene
Here was where I made one of my more memorable images, as a few elements converged for a scene so iconic of southern Louisiana.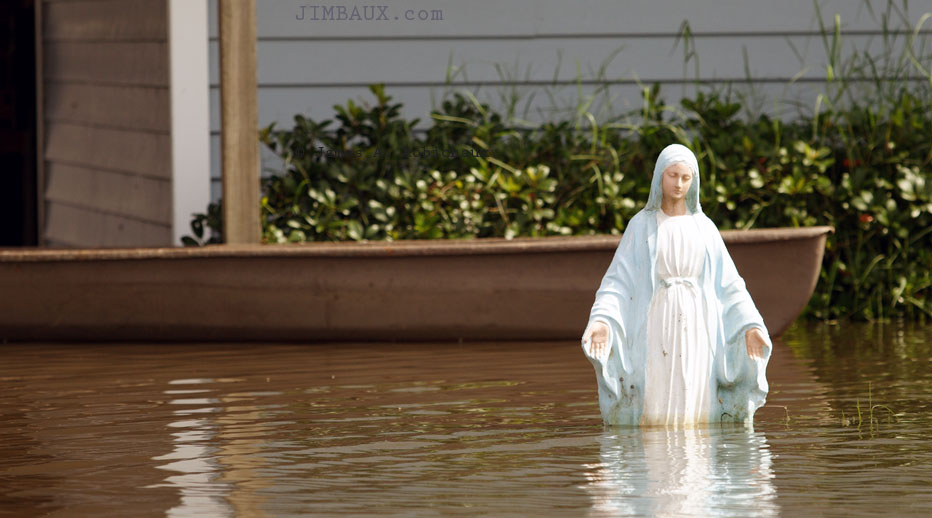 The Mother Mary of the Roman Catholic faith prevalent in southern Louisiana, a pirogue, and floodwaters surrounding Mary comprised a scene that I felt obligated to record for posterity.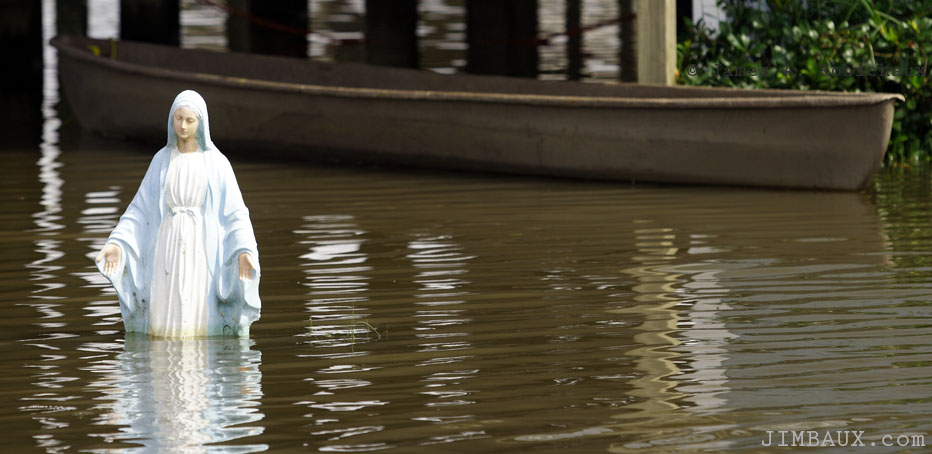 There are so many metaphors in this image!  What does it mean to you?  This image seems to explain to me why religion and spirituality exist at all.  Years later, I am still struck by this scene.  As I have said recently with Gustav and will say again below, this was a very intense and memorable time period, and natural disasters really make you feel alive.
I also have a bit of perverse pride that the spell checker said that "pirogue" is not a word!
New Orleans
A CSX Oddity, Courtesy of Gustav
I made it back to the city within an hour.  Apparently, the CSX east of New Orleans was still out-of-service because of Gustav, and here we see a CSX ballast train that apparently came off of the Norfolk Southern as a detour so that it could come to this spot on the NS Back Belt and then reverse direction and go to CSX's Gentilly Yard.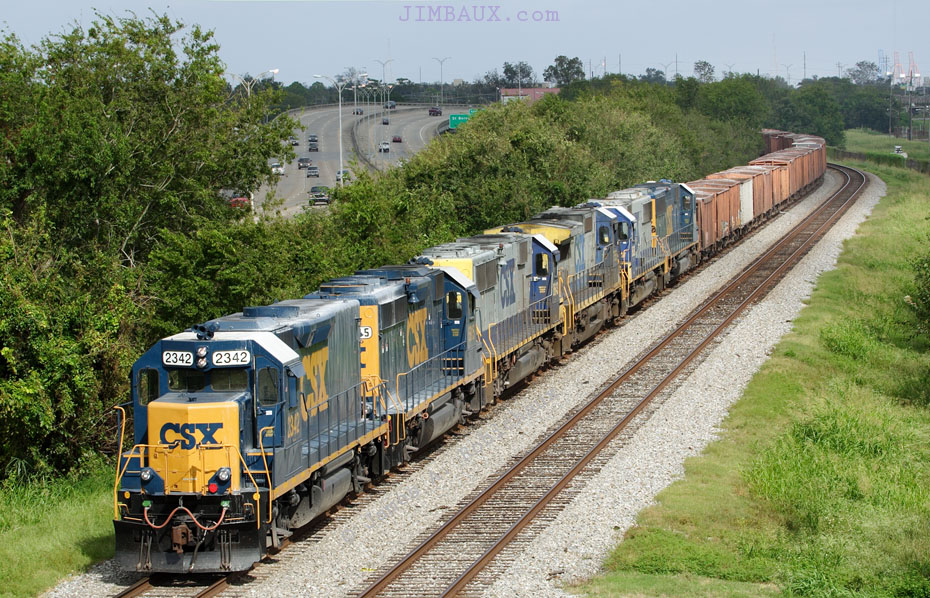 Seeing CSX GPs at this location is rare.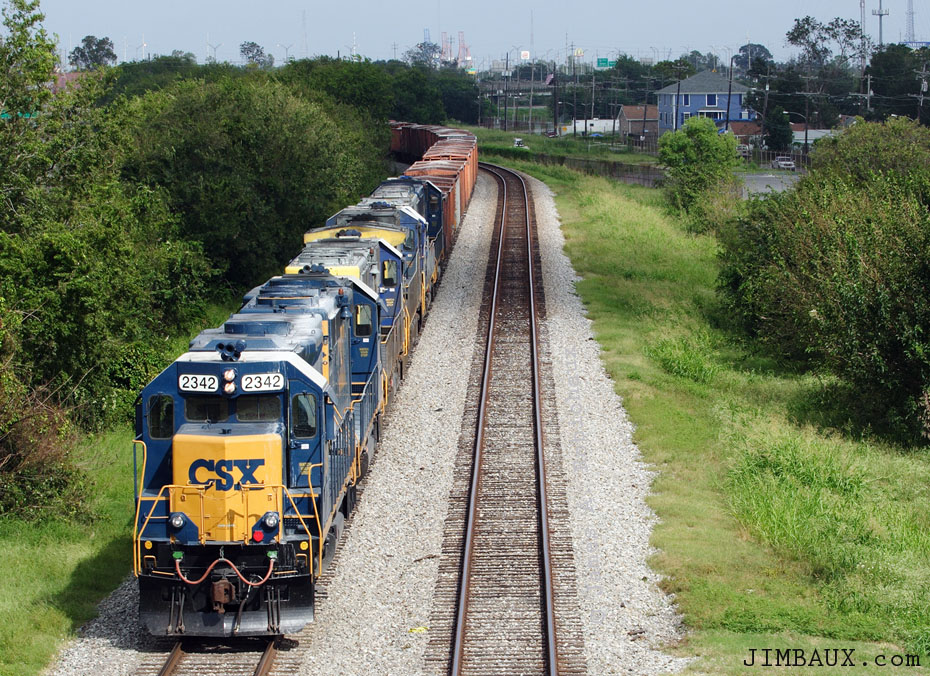 Judging by the looks of those Geeps with the dust on them, they may be permanently assigned to ballast train service.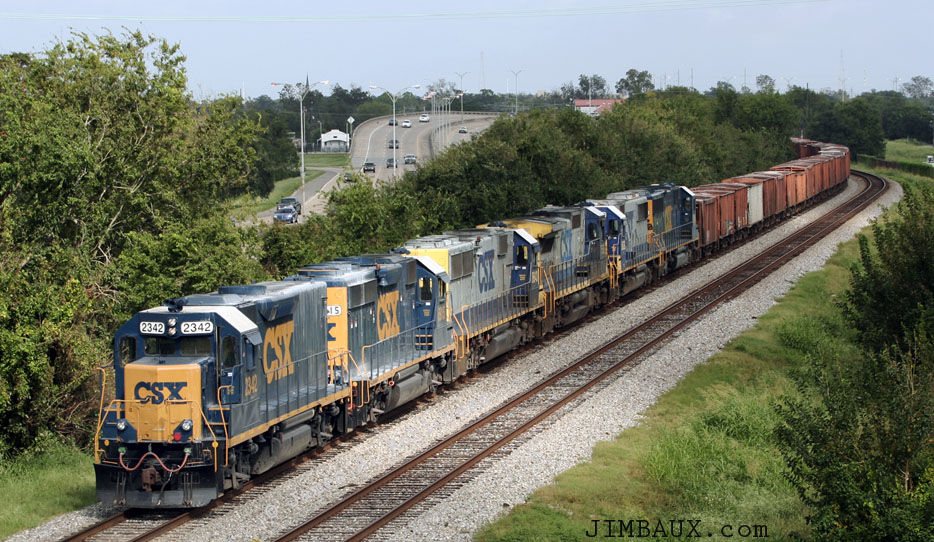 Repetition is good?  I don't know, but, in the below picture, look closely in the distance, and you will see some locomotives – a couple of switchers – on the other end of the train.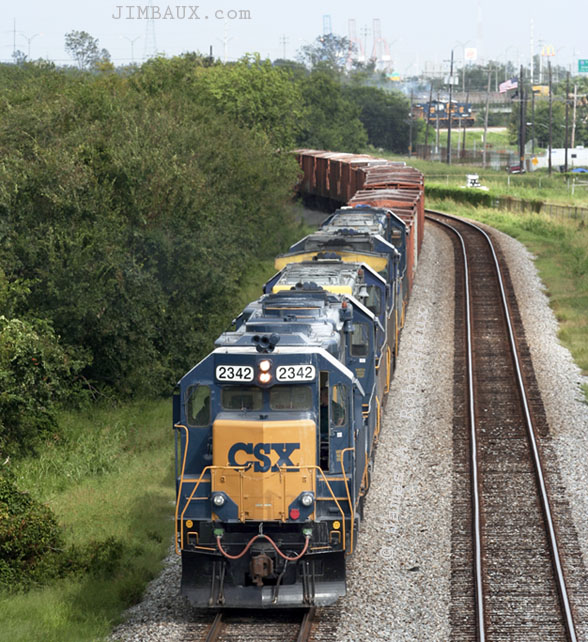 So, apparently, the hooded units brought the train to this point via the NS, and now the switchers were taking over to lead the train in the other direction.
That's all for pictures today.
Conclusions
What I Wrote Then
The one-two-punch of Gustav and Ike reminded me of the same with Katrina and Rita three years before.  Here is the rest of that message that I wrote to friends that night after taking these pictures:
As you may have seen, Ike was an enormous storm, and it caused us plenty of problems too, which were exacerbated by all of the damage from Gustav.  As our governor Bobby Jindal said, there was a "massive amount of destruction and damage on Louisiana's coast" that stretched "from one end of our state to the other.  Thousands of homes and business flooded."
School in the New Orleans area was canceled Friday.  We got some stiff winds and plenty of rain.  I went to Bayouland for the weekend to get some things that I had left there post-Gustav and to see the folks in a better condition, but Ike made that difficult too.  When I was taking a shower there at around 22:10 Friday night, the electricity went out.  That was a dark shower!  It didn't come back on until about midday Saturday.  Just kick us while we're down, eh?  The place is in noticeably better condition that it was when I left the week before, but it's still crippled, and the signs of Gustav are everywhere.  Some restaurants still aren't open, and many that are still have limited menus.  I went to try to get an oil change, but that place is badly damaged and was closed.
Ike did plenty of damage in Terrebonne Parish.  It's hard, though, to measure Ike's damage in Louisiana because we're still convalescing from Gustav.  Had it just been Ike alone, the damage wouldn't have been as bad.  Plenty of flooding occurred in Terrebonne Parish and lower Lafourche Parish as it has done all over the area.  The organized news that you guys are probably watching and reading probably isn't telling you this, but this thing still isn't over for Louisiana.  Just today – yes, September 14 – as I was driving back to New Orleans from Bayouland, I stopped in the community of Des Allemands and saw flooded house that I don't think were flooded by Gustav.  This sentiment was confirmed when I crossed Bayou Des Allemands and saw sand bags all along the banks with water seeping through.  Worse, the water was moving up the bayou very quickly, perhaps close to 10 knots.  So, again, the worst might still be ahead.  The town of Luling, which is up the bayou from Des Allemands, is reporting flooding in neighborhoods this afternoon.  Again, Ike was a huge storm, and the storm surge affects a large area.  Also, local media are reporting that there was water earlier this afternoon coming into the Conoco-Phillips refinery south of Belle Chase, which is southeast of New Orleans.  That's a major oil refinery and a major employer in the area.
Local meteorologists are reporting some dryer weather later this week; fall is approaching!  You can imagine how relieved I am to hear that.  It's ridiculously hot and humid today.
I want to acknowledge all of the kind messages that I've received from several of you.  I appreciate them.  I'm sorry that I couldn't yet reply to them all.  Also, again, thanks to those of you who offered to open your homes to me.
As I wrote with the Gustav series, this was a very intense and memorable time, at least for me.  The visit to northeastern Louisiana (seen in the June 2013 archives) followed by the spending of the rest of the summer in North Dakota and environs (as seen in both the June 2013 archives and the July 2013 archives) being shortly followed by Gustav and Ike, all while I had an intense professional life all while the Presidential election campaign of 2012 was happening just led to more intensity, as the day after I took these pictures, Lehman Brothers failed; within a few days, the world knew that we had entered some dark economic times.  I shall never forget the spring and summer of 2008.
Thanks.
Jimbaux