[Jimbaux wants all of your hopes to turn to wishes, and all of your wishes come true.]
These pictures were taken in June and July, but this post is being typed in late September; so, the pictures represent the time two and three months before the mood reflected in the writing does.  We are now right upon the time a year ago of the death of my beloved grandmother.
Hello
This is the first post of new (relatively) pictures since my post in late June of assorted pictures taken in that month.  This post that you are reading is therefore essentially a sequel to that post.
So, I guess some expression of news and thoughts is in order, though I'm not sure how much I feel like doing such.  We'll see as I type this.  There have been many new blog posts in the last few months, but they have all been of pictures taken on either the one-year-anniversary or, much more commonly, the five-year-anniversary of their being taken.  I hope that you liked the Hurricanes Gustav and Ike series, which can mostly be found at the end of the August 2013 archives and nearly all of the September 2013 archives; that series was certainly meaningful to me as it reflected an intense, meaningful, and memorable time in my life.
So, About That June 2013 Post . . .
I want to address a few reader comments made in to the aforelinked post of June pictures.  Both Dalton Adams and Christie Pepper made some comments about me not giving myself credit for the pictures I take.  I'm not entirely sure what those comments meant, but perhaps they were a response to what I wrote right above the first picture in that post:
I don't have much to say about the images here, even though there are some new shots here, like this one that was just a stroke of luck, the only skills used here being those acquired long ago.
Perhaps they misinterpreted my statement.  Dalton says that it does take skill to do what I did in those pictures, and I agree with him that it does, but that's not the point, as a careful reading of my excerpted statement above reveals.  Although it does indeed take skill to get good pictures, and although I think that I gained many of those skills over the last dozen years, those skills, as I wrote in June, were "acquired long ago."  So, it is the last three words of my statement that should be the most revealing.  Furthermore, it is the very fact that I possess those skills that has led to my decrease of passion for taking pictures.  Basically, I've gotten as good as I'm going to get at taking pictures of trains (and most other things) and am therefore now far less motivated to do it, preferring to direct my creative efforts and energies at other things, like music; I have an "I've done this, now what" attitude toward taking pictures.
Neither Dalton nor Christie know me personally.  Someone who does know me personally and who has watched my photography for years wrote this to me in response to that June pictures post:
None of those shots are bad, but they certainly don't catch me as impassioned as what you typically present.  I guess that's appropriate given your current level of interest.
Yes, indeed.  I do appreciate the recognition of talent from Dalton, Christie, and whomever else might note it, but that comment from my much-more-informed friend is highly accurate, though he had the 'advantage' then of being more privy to personal information about me, including that I could tell back then that I was losing interest in taking pictures.  The year 2013 has seen me finally lose interest in taking pictures after more than a decade, it seems, though I suspect that the desire to take pictures – and of trains – will return at some point.
Please note, though, my describing it as losing interest in "taking pictures," a deliberate characterization.  I am still very interested in photography itself, as evidenced both by the enthusiasm with which I process and post old pictures along with stories about them and my continued perusal of the works of others, often on railpictures.net, often posting ones that I like to the Facebook page.
Anyway, I actually erred in that June post by suggesting that I was showing all of my remaining train pictures from June.  That statement eventuated to be false, hence the title of today's post.  When I made that post around midday on the last day of June, I had forgotten about a few shots from a week before, and I also ended up taking a few train pictures before that day (that I made the post) – and therefore the month – ended!
Forgotten Photos
Here are three pictures – that I forgot to post in that June post – from the afternoon of Sunday 23 June, the first taken as I was on my way from Woadieville to Bayouland: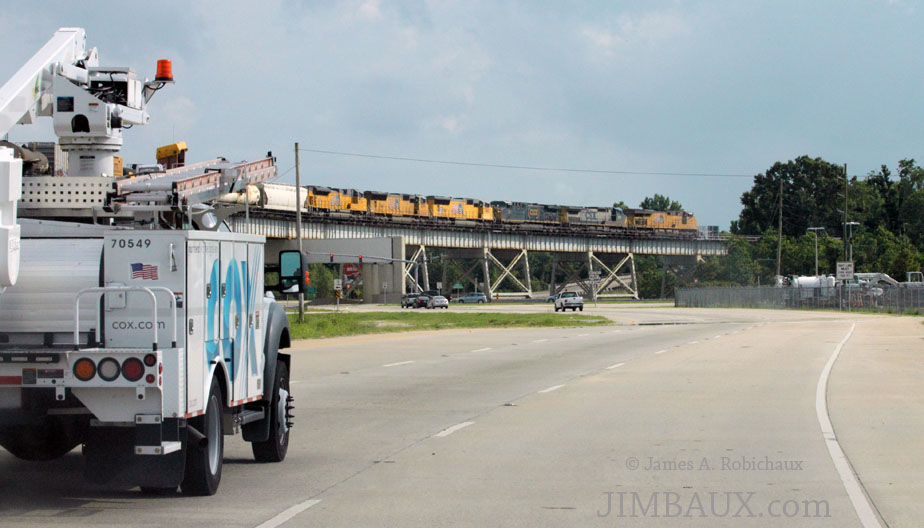 Yeah, okay.  Later on that evening, I was in Schriever, getting in position to get a shot of Amtrak's eastbound Sunset Limited, which usually runs through here around dark time, but since we are so close to the summer solstice, I wanted take advantage of the opportunity to get this rare eastbound shot in a place where I had never stood atop my truck before to get a shot: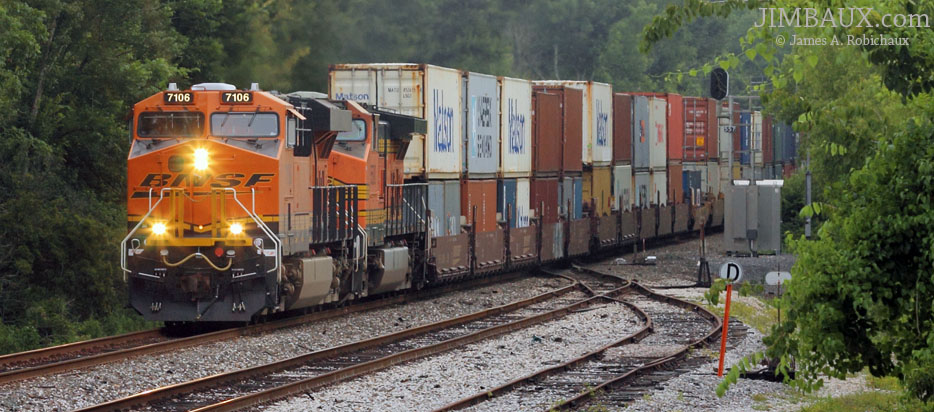 What?  Yes, that doesn't look like a passenger train, does it?  That's what I thought was coming, since that was what the timetable says and what Julie herself said, but I was surely fooled, as there were apparently some detour stack trains on the line prompting the dispatcher to run an eastbound train right ahead of Amtrak, which we see here 12 minutes later.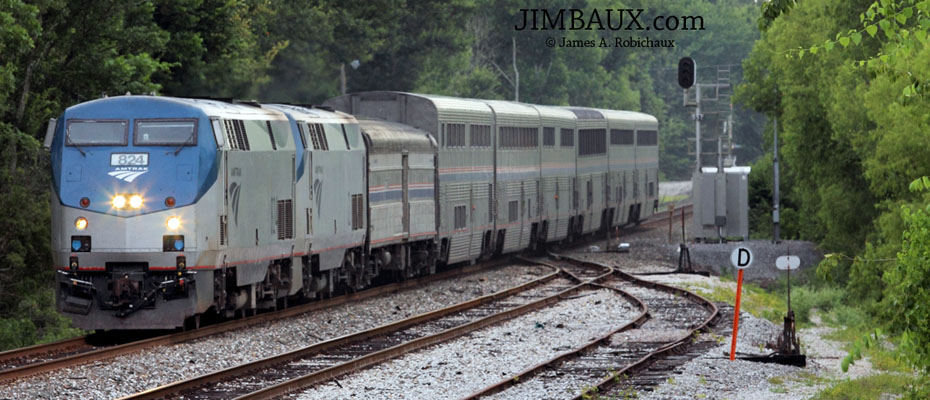 Yes, I posted a version of this picture to the Facebook page that night along with a lengthier explanation.  When this power set returned westbound later that week, it struck a vehicle in New Iberia and killed its driver in an ensuing fire.
Given the rarity of eastbound trains on this line and the unpredictability in catching them, I was really pleased with the stack train catch!  As the Facebook post said, I had thought seriously about going out to Amelia to try a relatively new shot there but decided to not invest in the time and effort to do so; that's the shot that I discovered and that I did for the first time last August.
I was about to say that the two above pictures were the last shots of trains that I took when I went to a location just to take pictures, and while that is essentially true, you will later in this post see a picture of a train that was the result of my efforts to go to the track to look around but not necessarily take pictures; it's also not much of an action shot, hence my failure to think of it at first as my last action shot in which I wasn't just driving by.
June Was Not Yet Finished . . .
. . . when I made that post of June pictures, meaning that these pictures that I took a few hours later didn't make it into that post.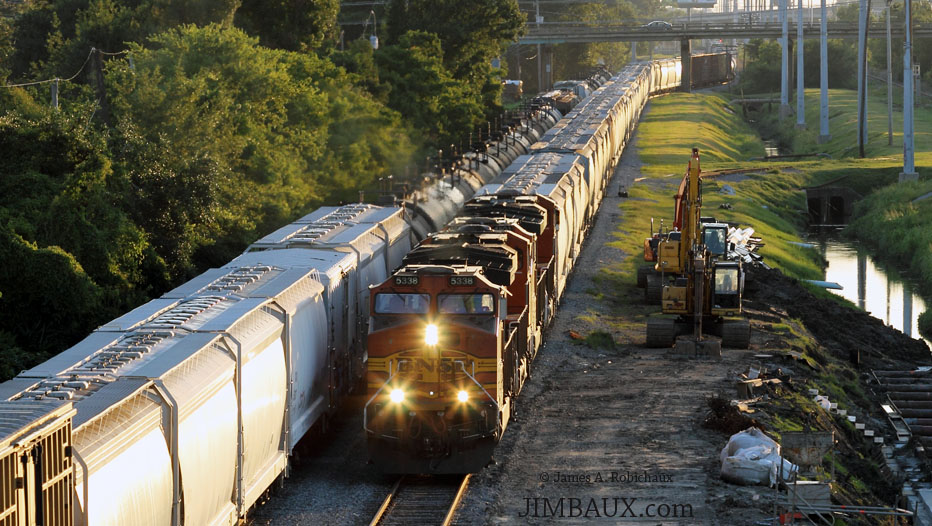 These shots were made very quickly out of the window of my truck as I was already driving past this location.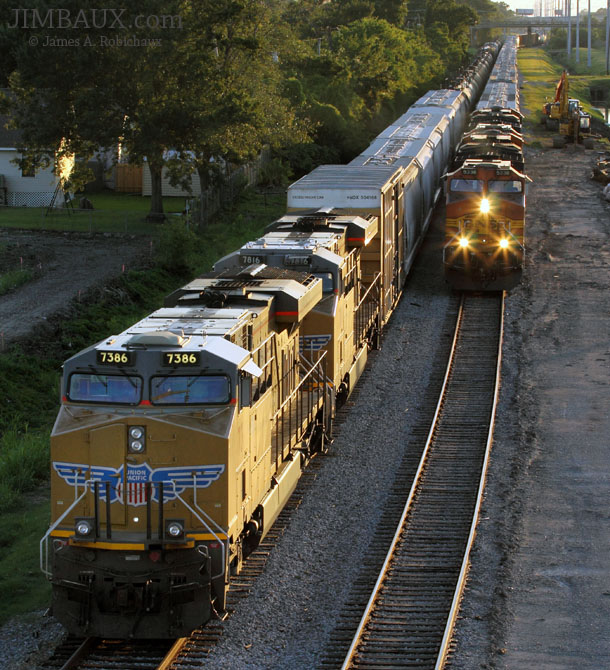 I have passed this location several times since then and seen trains but have had no inclination to take any pictures.
Let's Look At Some Cell-Phone Snaps from June
Well, after terrible back problems in the winter and spring, I returned to the weight room on the first of May, and I rejoined The 225 Club on the Ides of June.
I have to be the only guy in the New Orleans area with a "Rio Grande Southern" shirt (which it is, even though you can't really tell.)  Trips to the gym are usually immediately followed by trips to the grocery store.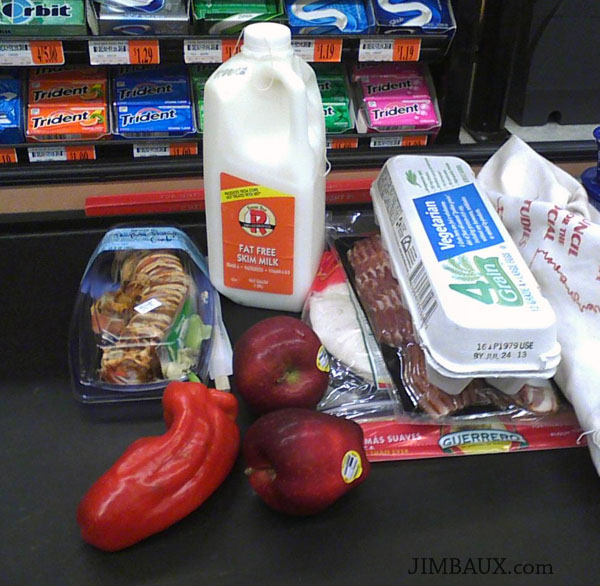 The Feather and RGN took me to Chickie Wah Wah to see Alexis & the Samurai, a really great act!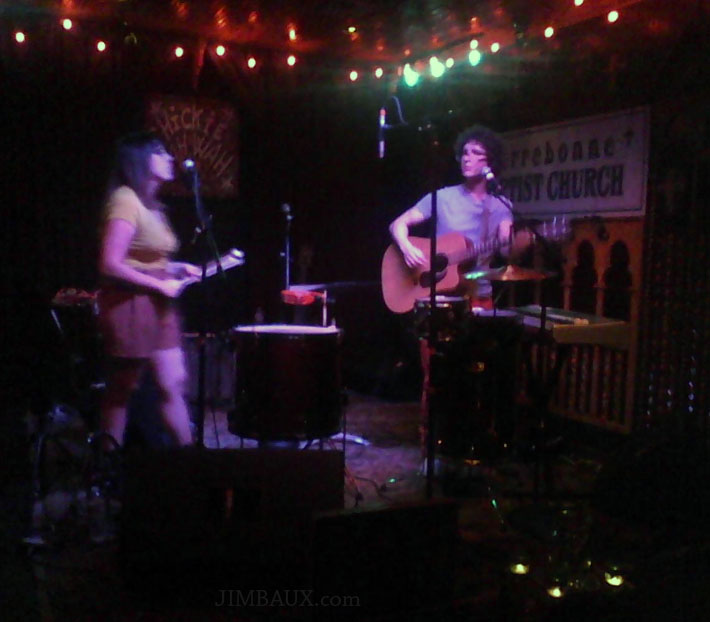 Two nights later, here is the great Ariel Elias performing on stage at Carrollton Station on a night that I also performed.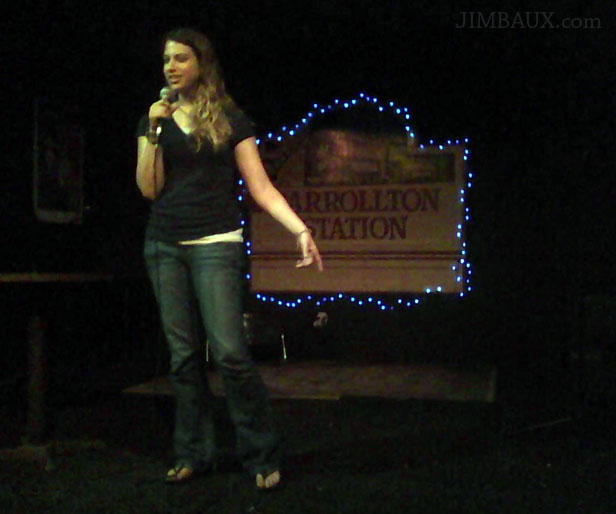 As for my performance, it was mostly a comedy of errors.  Two nights later at Buffa's, I met Los Angeles comedienne Jeannie Dean, as we performed on the same stage.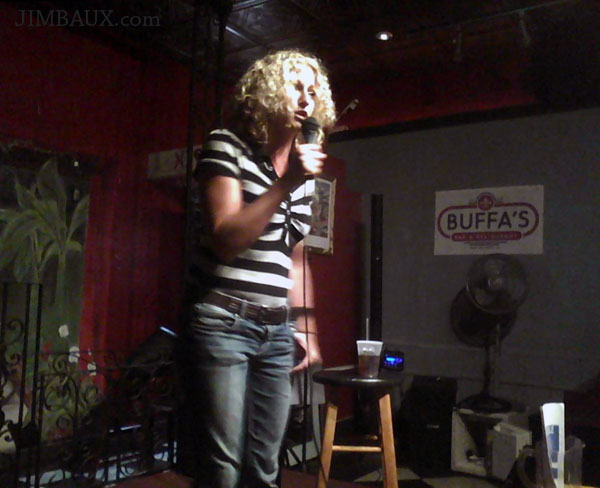 Jeannie and I became friends that night and have remained so since then.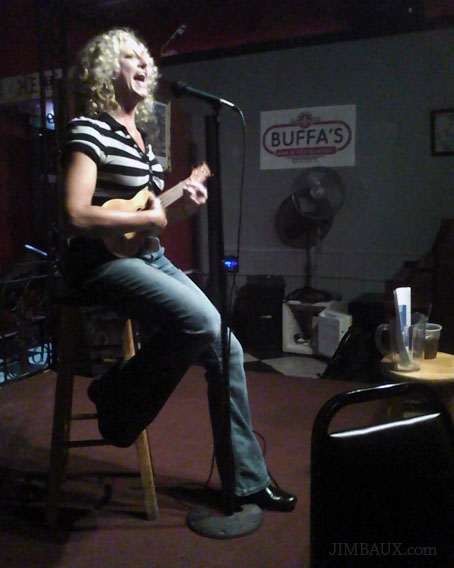 Heck, I need to get a ukelele, though the experience reinforced my faith in musical comedy, my own, which I can do with a guitar.
On that note, the recording of my Cajun parody song is mostly done.  Video production should start in mid-October.  I'm too tired to write more about it now.
Let's Look At Some Cell-Phone Snaps from July
Yes, we'll end the post with a few DSLR pictures from July, but let's see these cell-phone snaps first.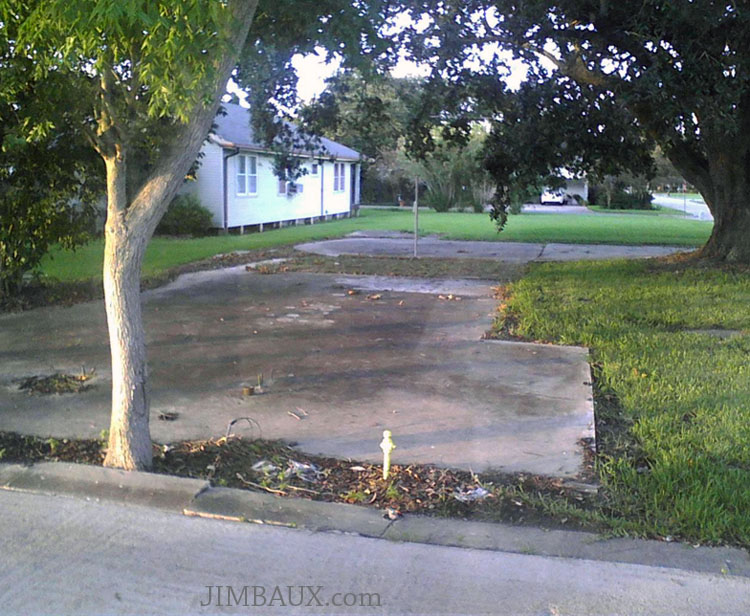 Sunrise Chicken in Lockport holds a special place in my heart because it holds a special place in my early history.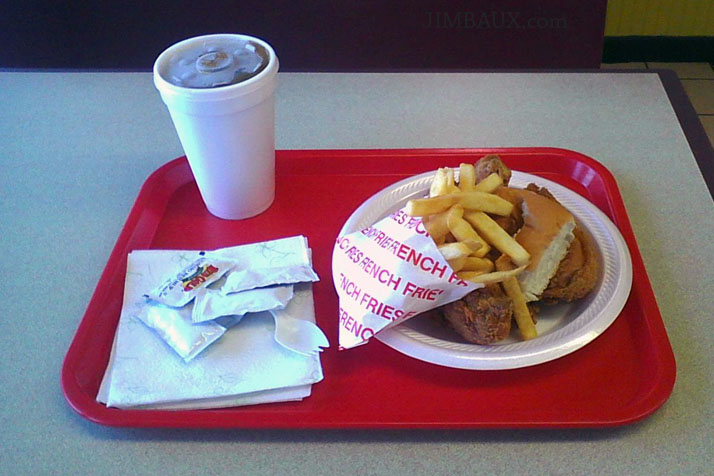 There is something about tomatoes; I don't know what it is, but maybe it's just that they are tomatoes.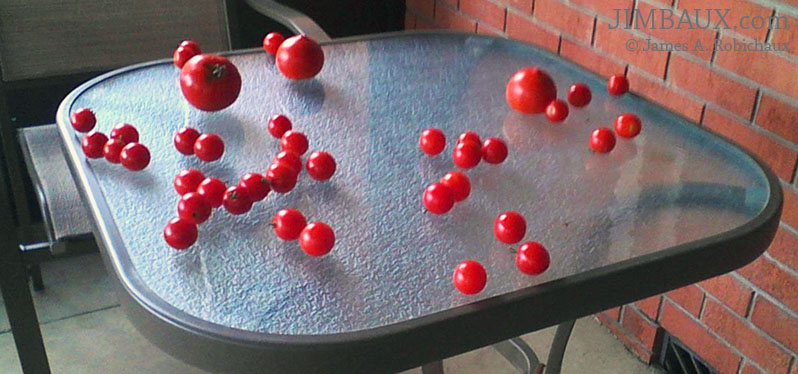 There is something about Sebastian too.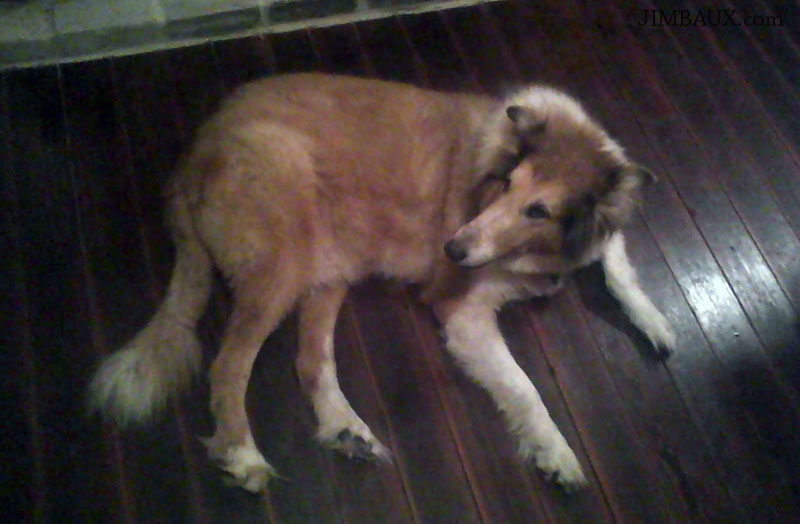 My aunt had a problem with a nutria tearing up her yard.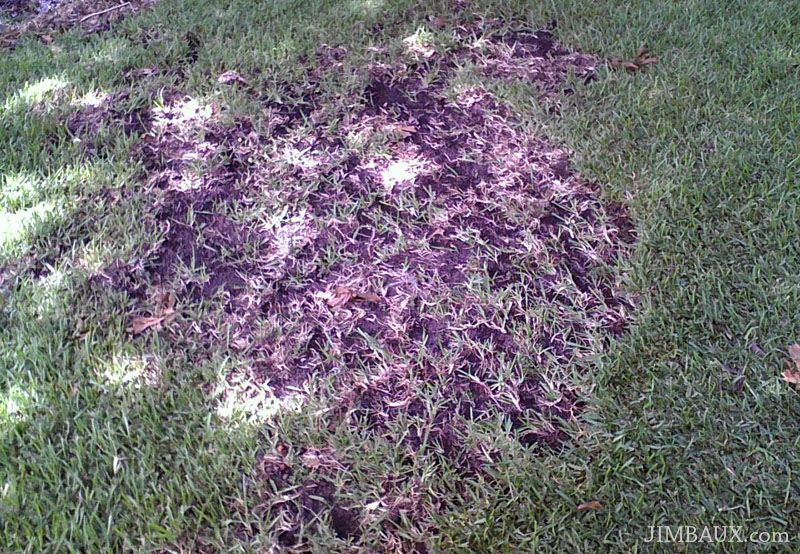 Ganz, who contributed to my Kickstarter campaign, had this neat shirt, as we chatted outside after the Accessible Comedy show.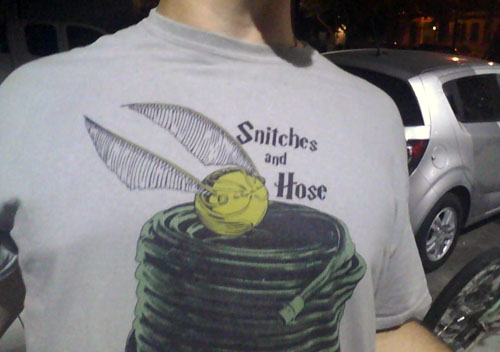 He played my guitar outside of Buffa's, and here he is seen handing it back to me.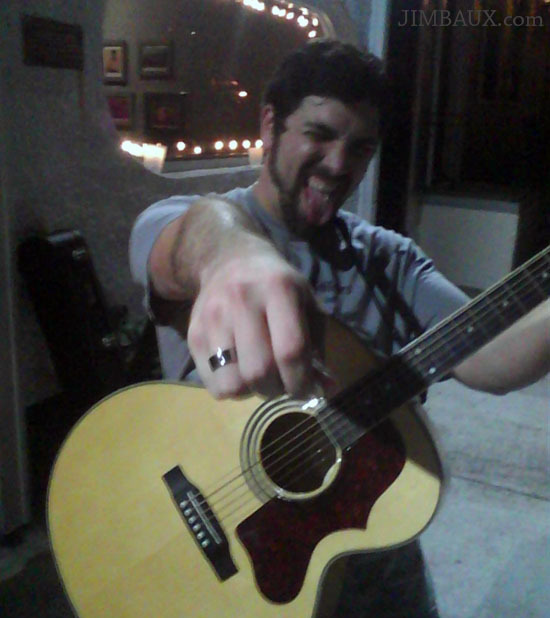 Those were fun times, and I hope to have more of them.
There Wasn't Much To July For Train Pictures
That is something that hasn't since changed, either.  Here are the DSLR train pictures that I took in July, all of them.
On the 5th, I went ride to Schriever to have a look around the place, not intending to take pictures, but The Chip Local – if we should still be calling it that – was leaving with one or two cars, rendered rather insipidly here.
Yeah, that's it; I'm not sure why it was stopped at the depot in the first place.
On the 20th, I was driving on Lake Palourde Bypass Road in Amelia when the gates went down at the crossing.  I was the first car there and popped off a shot of an eastbound train before getting some shots of Waylon Thibodeaux in action.
On the 23rd, I saw something interesting in Raceland, apparently some MofW on the "Post Office Track" or "Raceland Proper Track" that hasn't seen any freight in two years.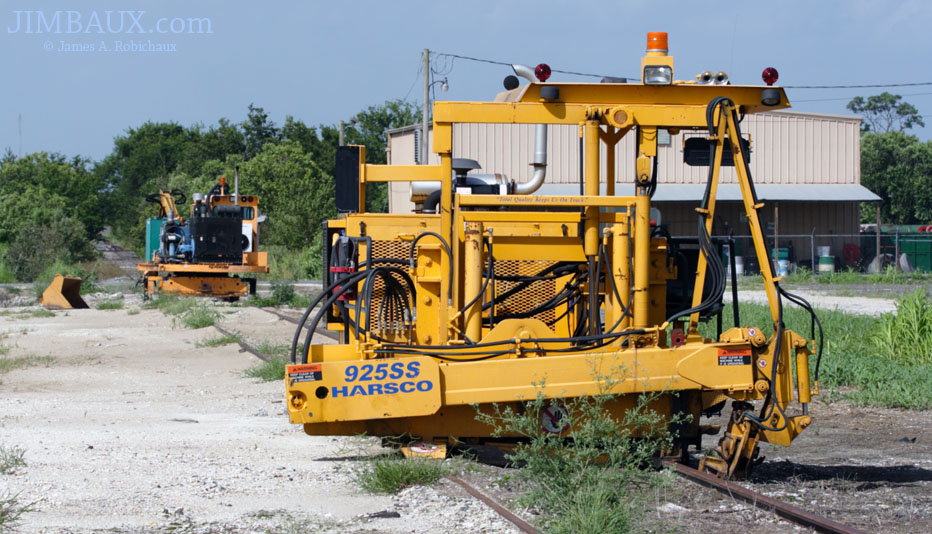 I wonder what is happening here.  Are these merely parked here to be used somewhere else?  Or did they fix the track, as subsequent inspections of the track seem to suggest?  There is a lot that has been cleared here, leading me to think that the long-discussed "team track" is finally being developed here.  That would be interesting, and a new operation here might at least somewhat renew my interest in taking pictures of trains, at least for this operation, at least for a while.
I guess this does not have anything to do with the crude oil terminal that will be built nearby.  Yes, the big news on Raceland – which is the big railroad news of southern Louisiana, or at least the ex-SP Lafayette Subdivision – is that a large crude oil terminal is to be built in Raceland and to be operable by the middle of 2014, and it is supposed to have a capacity of two trains per day!  I have mixed feelings about all of this, as it would erode much of the 'down home' character of the Lafayette Sub and, especially, the Raceland area, as the area where the terminal is to be built is now a sugarcane field.  I'm also not really a huge fan of crude oil trains, partly because I'm not a huge tank car fan, but problems with oil especially as exposed by the terrible Lac-Mégantic tragedy in July.
I guess, too, this is good and bad news for the Lockport Branch, as it likely means that we won't see crude oil trains on that rustic branch, which would require it to be rebuilt in a way that really takes away some of its character (like jointed rail), but it also decreases the likelihood that any trains will ever-again pass there.  One of the most soulful and photographic posts that I have on this site is that of my pictures of the last-ever railroad delivery to Valentine Paper on the Lockport Branch, a post that, better than any, explains this unexplainable obsession with trains.
Anyway, later, I was in Destrehan, and as I was a few minutes early for a meeting with a cousin who lives near the track, I stopped at the CN yard and popped off this uninspiring shot.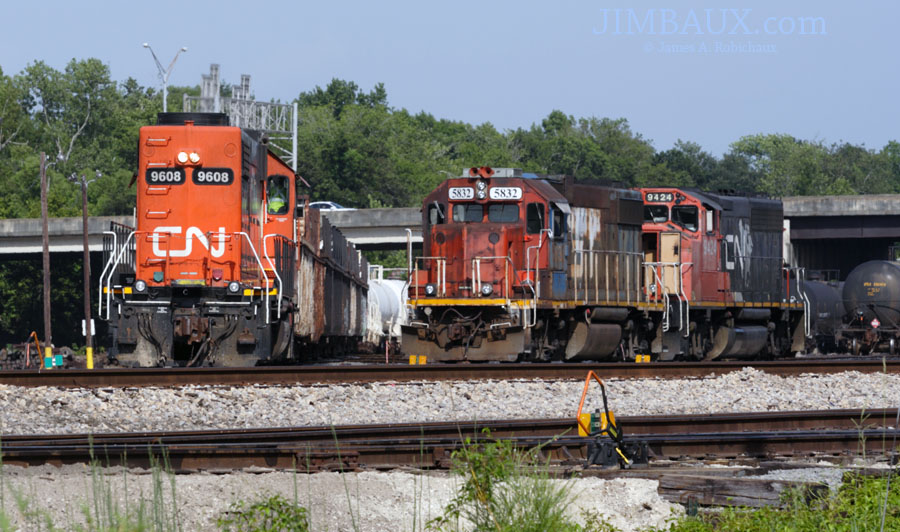 Yeah, that 5832 looks like it has surely seen better days.  Oh, well.
That's all that we have for pictures.
August?
While we're at it, there wasn't much for August train pictures either, though I got a few decent cell-phone snaps that might find their way into a future posting; the only train pictures that I got were on August 2 as I was driving past Avondale and stopped to get shots of the "original Norfolk Southern" heritage unit there.  Those were, as I type this on the second-to-last day of September, the last railroad pictures that I took; the pics that I took of trespassers – photographers posing people lying down in the middle of the mainline track – at the end of August to send to law enforcement don't count, and the only other DSLR pictures that I've taken in that time have been of the lettuce that I am growing.  If I don't take any train pictures in the next day-and-a-half, and I doubt that I will do so, September 2013 will be the first month since either early 2011 or late 2010 that I don't take train pictures.  October is not looking that great either.  Do any of you want to buy my camera gear?  I could certainly use the cash.
Fans of my railroad photography, fear not, as I have enough material from late 2008 and from 2009 to keep up the "five years ago today" stuff for at least a year-and-a-half and regularly put out good content.  As I said at the beginning of this post, I'm still almost as interested in photography as I once was, even if I'm no longer interested in taking pictures; I like looking at and publishing my old pictures, and I still check railpictures.net almost daily.
C'est La Vie
So, where are we?  Now, a day before the anniversary of my grandmother's death, I take no train pictures and I want to focus on music, comedy, philosophy, and agriculture.  So, what's up with the Andy Williams song for today?  Really, he's just in my Media Player because I ripped a bunch of CDs from my folks a few years ago, and he's right after some serene Christmas music to which I have been listening lately, something that I seem to do when back troubles worsen, which has happened, most unfortunately, since early August, eroding my ability to do a great many things, including work, take pictures, and play and even create music.  I hadn't realized that Williams died a year ago this week; I actually associate his music plenty with my grandmother, as we, her grandchildren, would hear it at the camp on Lake Fields when we were children.  So, there is some relevance there.
I had plenty more that I wanted to say here, but I've just forgotten most of it or don't quite know how to say it now.  Well, here's one thing; I made a comment on the Facebook page that people shouldn't be surprised that there were racist and xenophic reactions to the Miss America pageant winner, since the people making the comments were, in the first place, watching something as superficial and objectifying as the Miss America thing.
Well, I'll just end this now.  Even if I do get the inspiration and coherence to post more thoughts in the next day or two, I will not have the time to do so.  So, until next time, take care, my friends.
Merci,
Jimbaux