[Jimbaux is playing another game of putting things aside, as if we'll come back to them sometime.]
Hey!  How are you doing?  Let me know.
This is the first posting of new material in a long time, the last time being in September when I published some June and July leftovers; everything else that I have published lately has been 2008 stuff, and, mes amis, there is more goodness from that year yet to come!  I am sorry about many unanswered e-mails and comments, which is part of the reason for the selection of today's song; I may have more time after Christmas.
From A Death, a Rebirth
So, as many of you know, I lost my last grandparent in late October.  We laid her to rest on the last Monday of the month, and then I decided that that Saturday I should go out and take pictures of trains for the first time in three months to the very day, as a way of healing and moving forward while honoring the past, or something like that.  My last train pictures prior to those seen in this post had been taken on Friday 2 August.  Anyway, I just needed to get out, see some things, and get some pictures, evening if I am, as many of you know, not really into taking pictures much anymore.  Also, however, I became curious about railroad operations in the area after much discussion in local media about the possible removal of the part of the NS Back Belt in Metairie.  I invited my foamer whoadies to come along, especially as it would have helped me deal with the recent death my not being alone for all this time, and all of them wanted to come along, but 'Chop had professional obligations, and Kurt and Nitro had Dad duty.  So, here are plenty of pictures taken on Saturday 2 November 2013, taken by yours truly.
Warning: Too Many Pictures
Yes, there is not much more to say than that; I just didn't know how to stop, but I had some things that I wanted to cover, and I made some unexpected discoveries, which can be the best kind.
The Drought Is Broken
So, here we are at 08:11 out at Terminal Junction at the end of the Norfolk Southern Railroad's "Back Belt" line in New Orleans, and we are seeing a train that I have photographed many times before – NS's transfer to the Canadian National Railway on its return trip – coming off of the Back Belt and entering Oliver Yard.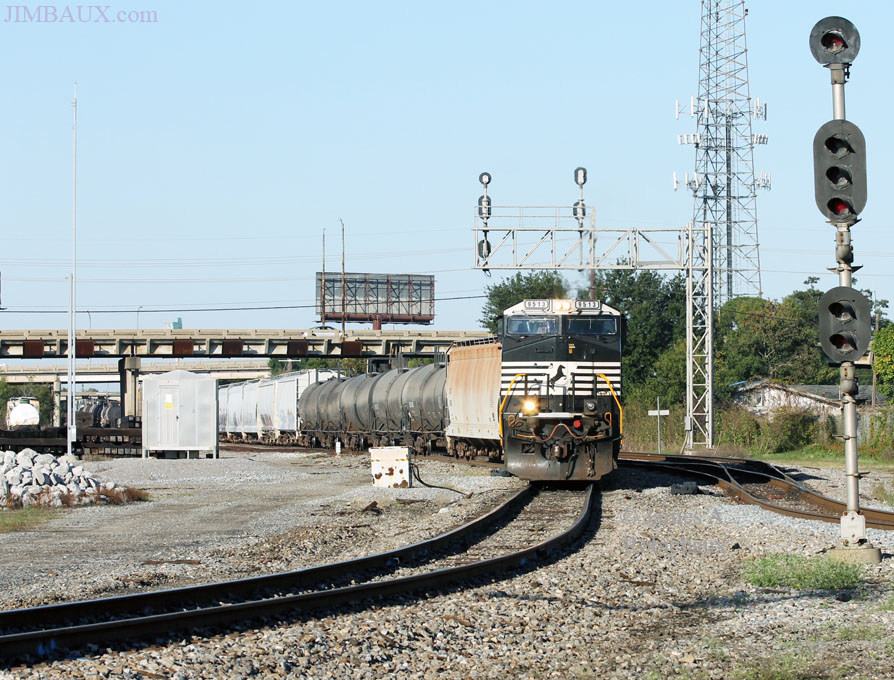 That is the Franklin Avenue overpass in the background with the I-10 overpass behind it.  The track going off to the right is the beginning of a curve towards NS's mainline out of town.
Most of the traffic in this train comes from the numerous chemical plants along the eastern bank of the Mississippi River upriver from New Orleans to and a little bit beyond Baton Rouge.  Here is a much better shot of the train as it gets closer to my position.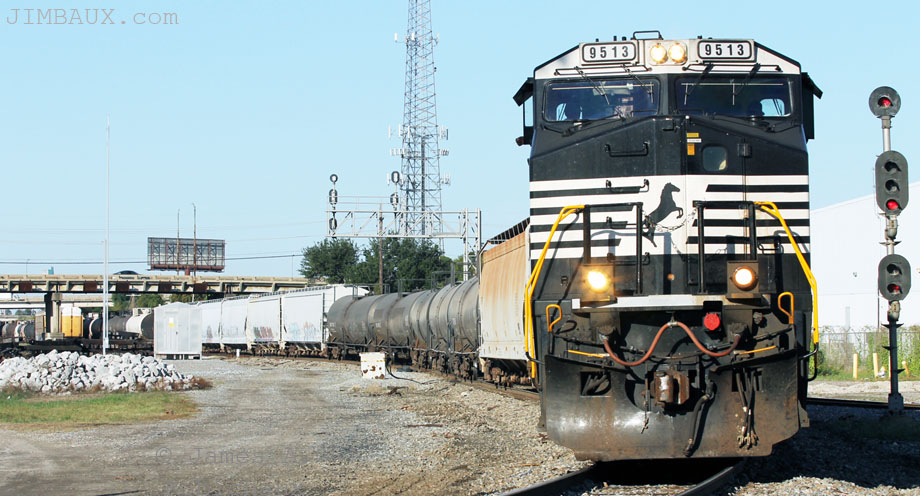 I was about to get trapped.  The transfer job had slowed down and then stopped to get into the yard, and the 198, which was doing work in and out of the yard and the Back Belt before leaving town, shoved "around the horn" to couple to its train.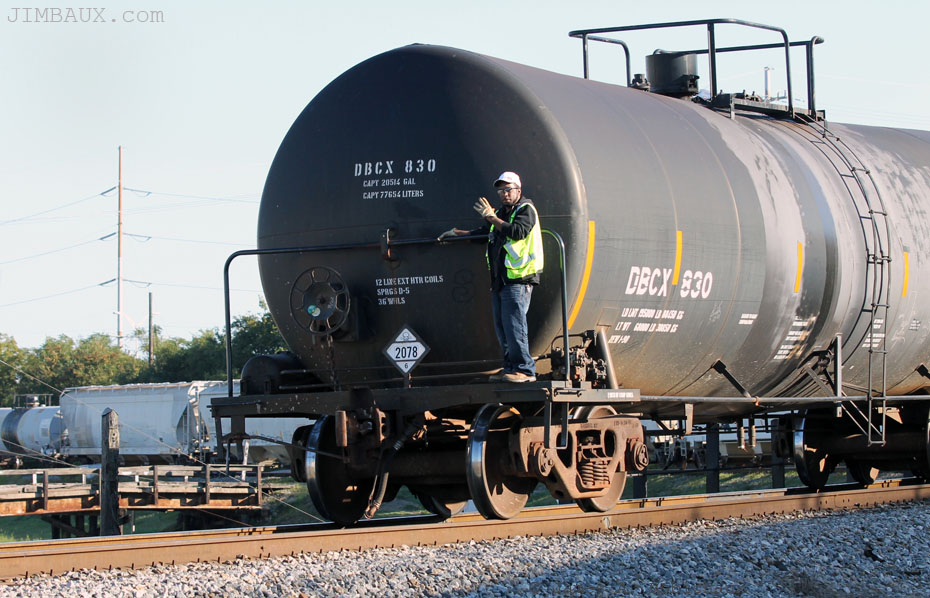 Some change has been made.  Until recently, the crew of the NS 314 got on Union Pacific's QLINSB, swapped blocks in Oliver Yard, and departed town, going home for Meridian; the same routine would happen with the crew of the NS 130 and the QLINSL.  Those are the only two trains that did such moves, the only eastbound trains interchanged between NS and UP; so, something has changed, and this train appeared to have been the QLINSL, but I really don't know.  Do any of you?
Stupidity Exposed
One thing that I have not yet told you is that despite the fact that the transfer job was stopped on the track getting into Oliver Yard, some motorist rather foolishly crossed the track to the mainline out-of-town and then became stuck when the 198 backed to the rest of its train and also stopped.  You've got no place to go now, woman!  Neither do I, of course, but I'm foaming.
This is the same dumb mentality that often leads people to start to cross a railroad track when there is no room on the other side, forcing them to stop on the track, which can and sometimes does have deadly consequences.
However, that is not the real reason why I am publishing this picture.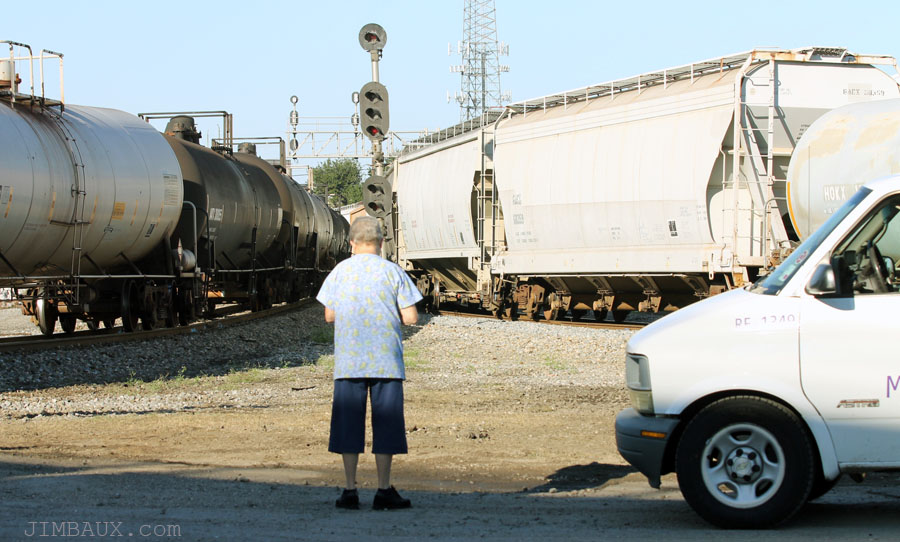 While I was hanging out by my truck minding my own business and looking in the other direction, a nasty smell and an accompanying revulsion to what I was breathing met me.  This woman had no place to go, but neither did I, and, upwind of me, she chose to light up a cigarette, forcing me to breathe and smell the stuff.
Do that crap at your own houses, people!  Yes, I know that you are addicted, and I am sorry about that, but that is neither my nor anyone else's problem!  Our national drug policy is so hypocritical.  Many people use marijuana, but most of them aren't addicted to the substance like cigarette smokers are addicted to their drug of choice, meaning that they don't really need to do it anywhere but the privacy of their own homes, but yet we consider them criminals?  Wake up, America!  There are harmless people who are in prison because of you!
Relocating To A Newly Refurbished Location
Moving on, there was a job working at the New Orleans Public Belt Railroad's France Yard, and he appeared to be headed to work the plastics place that I had never photographed being worked, just north of the diamond with NS's branch into St. Bernard Parish, a place that recently had plenty of construction that seems to have largely ended.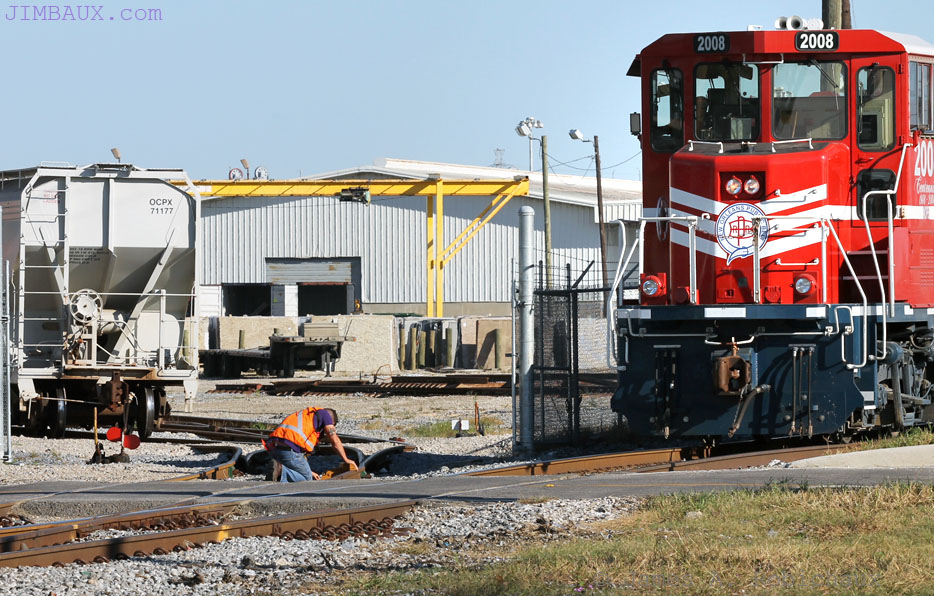 Unfortunately, my innocent quest for truth on my outing of taking my first train pictures in three months would cause a problem for someone else here.
Here We Go Again, Dammit
Although I have made a name for myself as a crusader for Freedom of the Press and Freedom of Information and Freedom of Speech rights, I, much like with my waning interest in taking pictures, no longer have much of a desire or even a willingness to continue to deal directly with these issues.  In 2011 and 2012, during the height of my advocacy about these issues, I was sometimes accused of "going out and looking for confrontations" with people and authorities over my picture-taking.  While that is quite silly since I obviously had those issues in the first place because I like to take pictures and also silly because I for years kept quiet about such incidents, it is true that by late 2011 I had steeled myself to be able to deal with such situations and was proud to be a crusader for such rights, especially as I had been personally a victim to the threat of such rights, and also how others have said that my writings on the issue have helped them deal with or at least be prepared for similar situations.
Still, now that I have done all of that, I basically don't quite care as much and was genuinely disappointed by the situation of being approached by this NOPB crew suspicious of my motives (even though I do not in any way hold any frustration toward them.)  They wanted to know what the heck I was doing and why I was doing it.  That is all good and understandable, though one of these guys was the same person who near this location a year before told me that all of this area was "private property."  I don't think so, even though some of it is port property, and the "private" part of it now seems to be especially moot now that the construction work is done and that France Road has basically become a through route for normal people.  The Harbor Police in the area have never approached me there (or at all.)
He went on about staying a certain distance from the track, and he asked me (and I have forgotten his wording, meaning that my following phrasing won't be accurate and therefore won't be totally fair) if they had any reason to worry about being watched with rule compliance and such, like as if I was investigating them or something.
"Not any more than you normally do," I replied, which is probably not the answer for which they were hoping, but it was as honest an answer as I could give them, since they are generally supposed to follow rules all of the time, and, though, I also don't want to unwittingly publish any pictures that unwittingly show them breaking the rules; although I totally have the right to do so, I don't think of it as my place to expose rule violations, especially knowingly and especially deliberately.  I very much understand their concerns, that they themselves, who may not want to be photographed, are the subject of my pictures, as opposed to the overall operations of the train.  So, I am definitely not mad at them in any way, and, other than totally abstaining from taking pictures, I wish that there was a way that I could ease or eliminate what is apparently some anxiety on their part.  I don't know what it is like to be in their position and face the pressures that they face.  I don't think that anyone was harmed in any way by my taking of these pictures, and I hope that the minds of the crewmen are at ease.
They peacefully walked back to the locomotive and resumed their work, and I peacefully resumed taking pictures.  Such encounters are really not what I want; they are just a sometimes inevitable, unintended, and unwanted result of getting the shots that you see here.  I was just disappointed, as it was November, and I had almost made it to the end of 2013 without such incidents.  I guess a three-month period of not taking train pictures (or hardly any SLR pictures at all) was not the only drought that ended today.  A railroader-foamer friend remarked, "they probably forgot that foamers exist in your absence," though that is more of a commentary about how I alone constitute the entirety of the active photographer-foamer population of New Orleans than it is about the encounter or such encounters.
An Encompassing View
Here is a view showing the TCI place that was constructed in 2010, the NOPB mainline, and the NS branchline.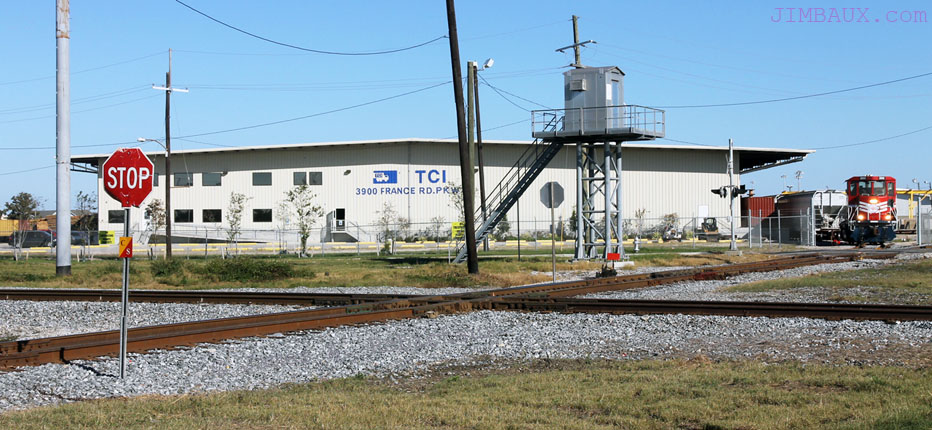 Notice the new elevated control box, no doubt put there after and because of the flooding of Katrina; when I was in the flood-ravaged valley of the Missouri River north of Kansas City along the BNSF's St. Joe Line in the spring of 2012, I noticed several of those things being installed.
Let's turn to the west a little bit to see along the length of the Florida Avenue Canal up the NS branchline.
Off in the distance is the northern end of NS Oliver Yard, where we were at the photographic start of our morning.
More NOPB Switching
Let's get back to this, and, now I felt the need to photograph the limousine.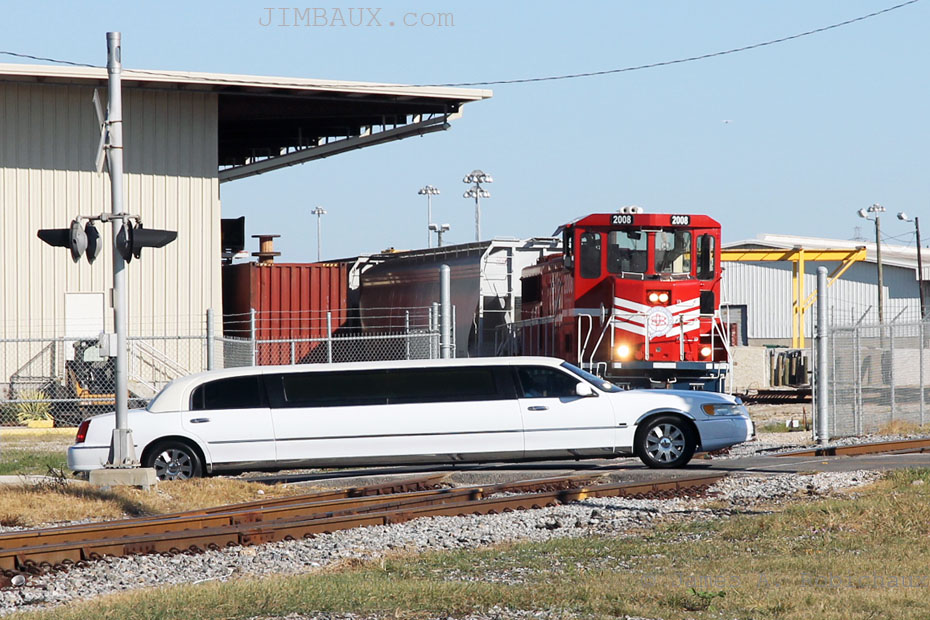 In the below picture, the NOPB 2008 pulls a few cars out of the facility across the diamond, and notice the "Centennial" markings on the cab.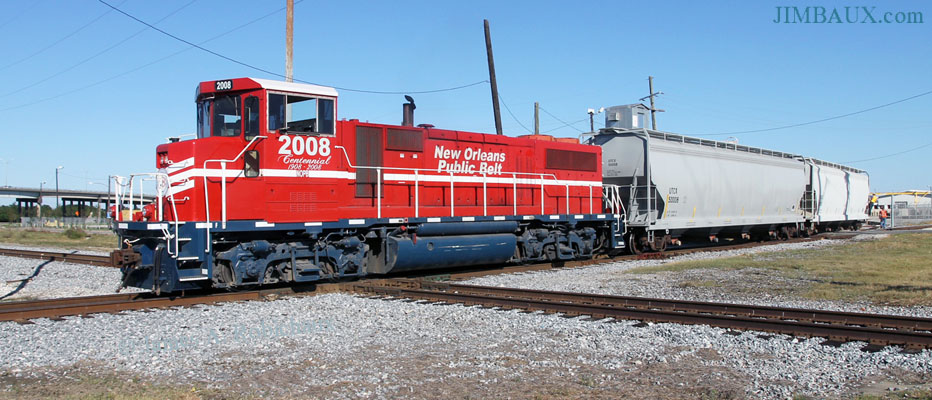 Moving back a bit, we see all the new grass in the area.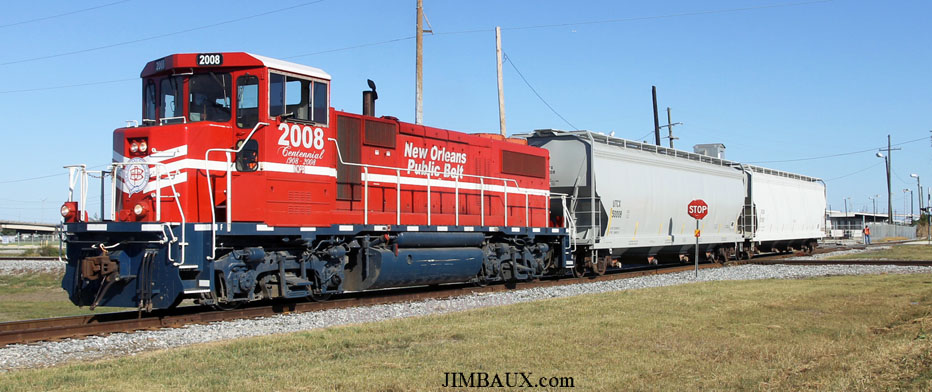 I had had enough of this, and I heard some noise over the radio about CSX's transfer to CN Mays Yard getting close on his return trip.  So, I left.
Alvar Street, and Didn't I Just See You?
I got set up at the Alvar Street for the CSX Y305 that had just stopped at Louisa Street, when I saw something very familiar heading north, shoving one hopper car.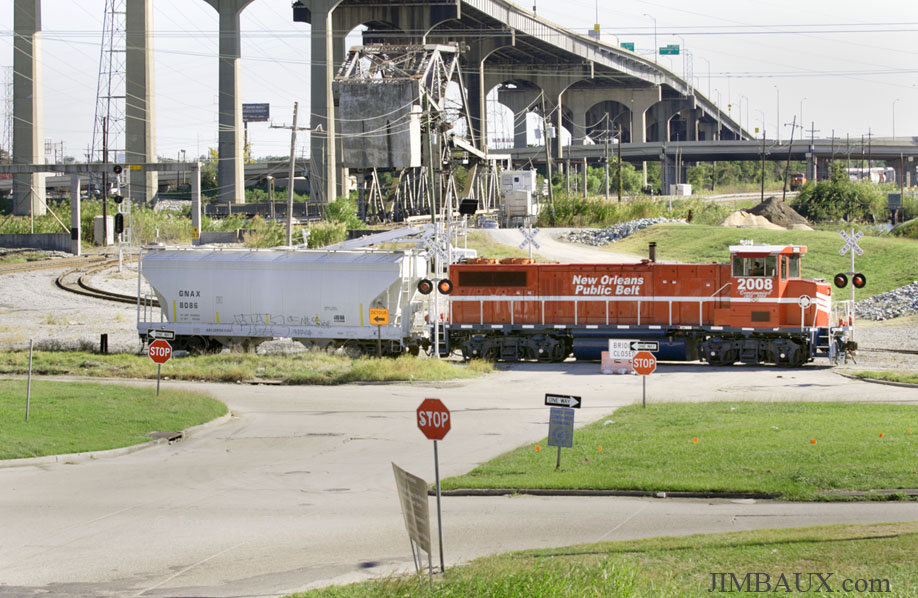 Notice just above the cab of the 2008 a UP locomotive in CSX Gentilly Yard; you'll see it again soon.
Hey, What Is This?
This thing was flying northbound toward the lake right over me.

I invite you pl'iggas to inform the rest of us of the make and model of this thing.
Get Out Of The Way
Before the Y305 can enter the yard, this CSX-to-UP job must emerge and go through the crossover to the southbound mainline.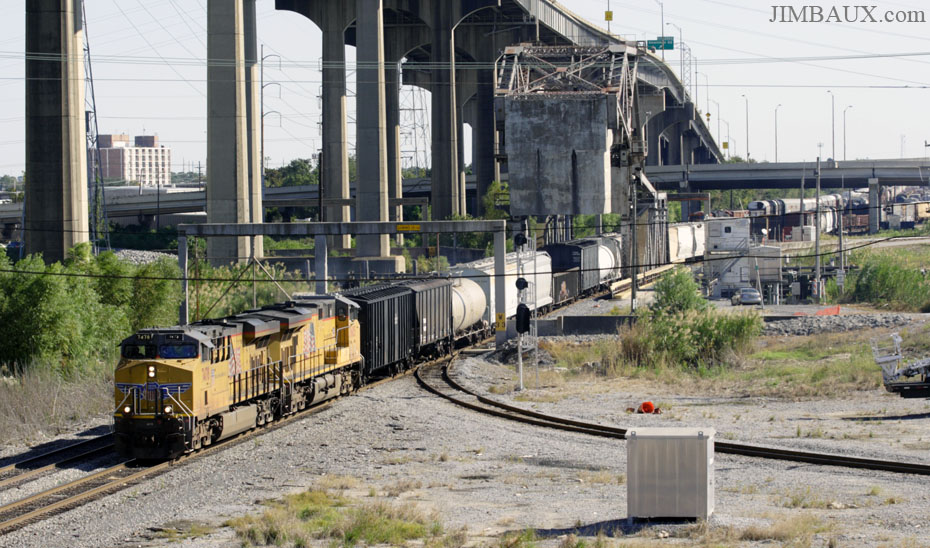 This is either the Q601 or the Q605.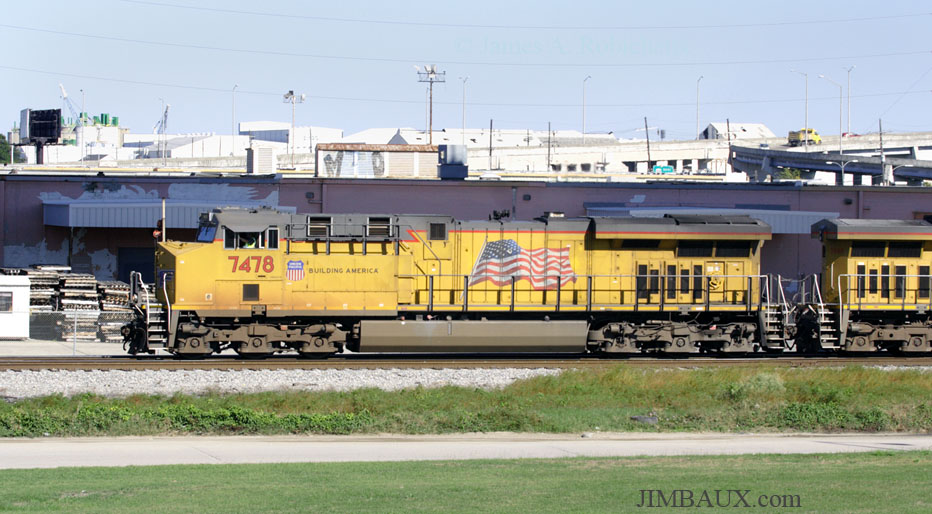 That is Interstate Highway 10 in the background and Almonaster Avenue in the foreground, as seen below.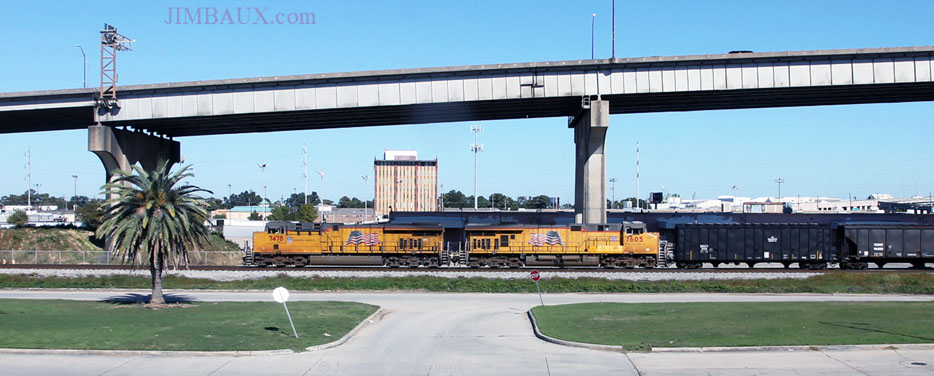 Let's look at some cars!  As the train had to go through the crossover, I popped off some car shots, including these plate steel loads.

I like plate steel loads on trains.  Check out the Missouri Pacific gondolas with the buzz-saw herald still there!

What really caught my eye were these former Boston & Maine two-bay hopper cars.
Trace data reveal that they were bound for some place in Mexico on the Ferromex, I believe somewhere around Torreón.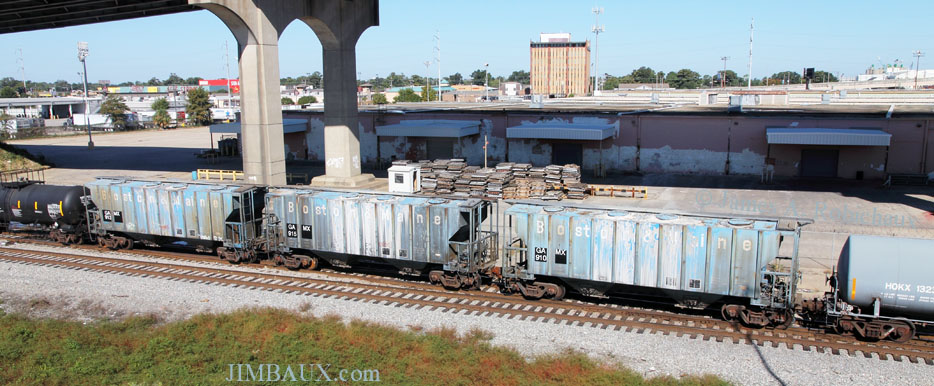 Aren't they neat?
Here Is Our CSX Yard Transfer Train
It was around this time that I publicized via Facebook what I was doing; there isn't much else to do on the bridge when you are alone!  Damn, I need to check the clocks in my cameras; these times don't match!
So, finally, we see a move that you have seen many times here already on Jimbaux's Journal, as the Y305 with the CN transfer.
Like with the NS transfer that you saw at the beginning of this post, most of the traffic in this train originates along the eastern bank of the Mississippi River upriver from New Orleans.

As you can see, my Facebook posting that the train had two SD40-2s turned out to be inaccurate, as I couldn't see very well through the foliage near the NS Auto Lot.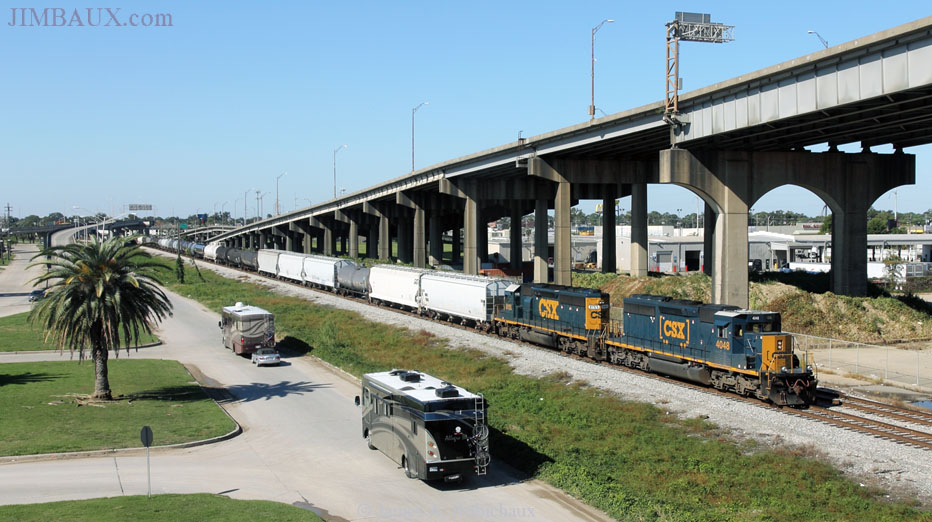 I suspect that the people in the motorhomes were lost.  Below, you can see the conductor getting out to realign the crossover switches.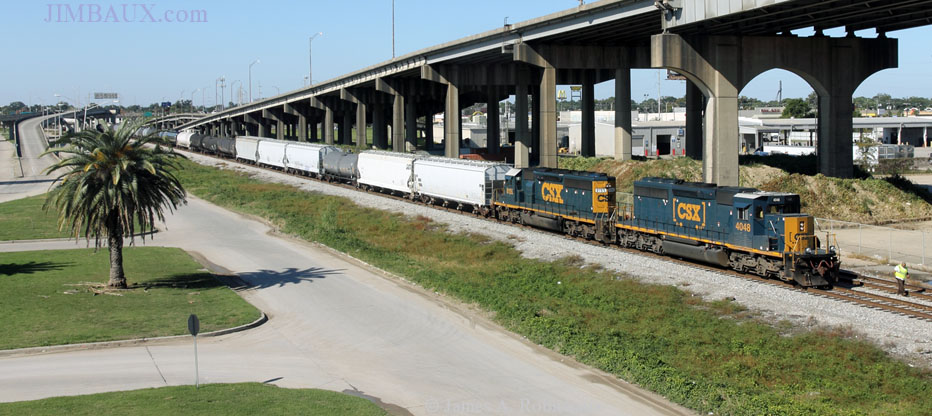 Damn, how many pictures of this job do we need?  Why do I keep doing this?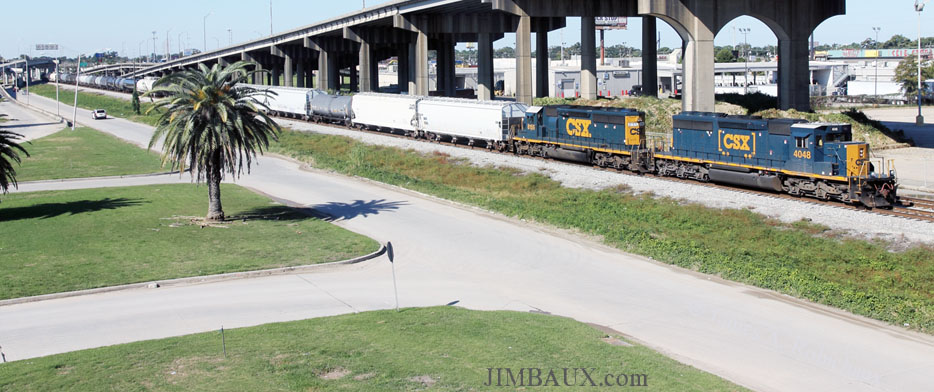 Well, do you have a favorite picture of the Y305?  If so, what is it?  It's not like there is a dearth of a selection.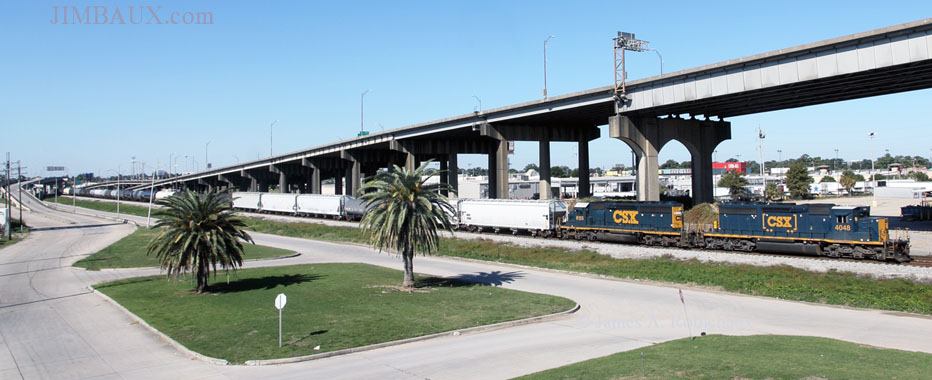 Now, with the crossover switches lined, he starts moving again.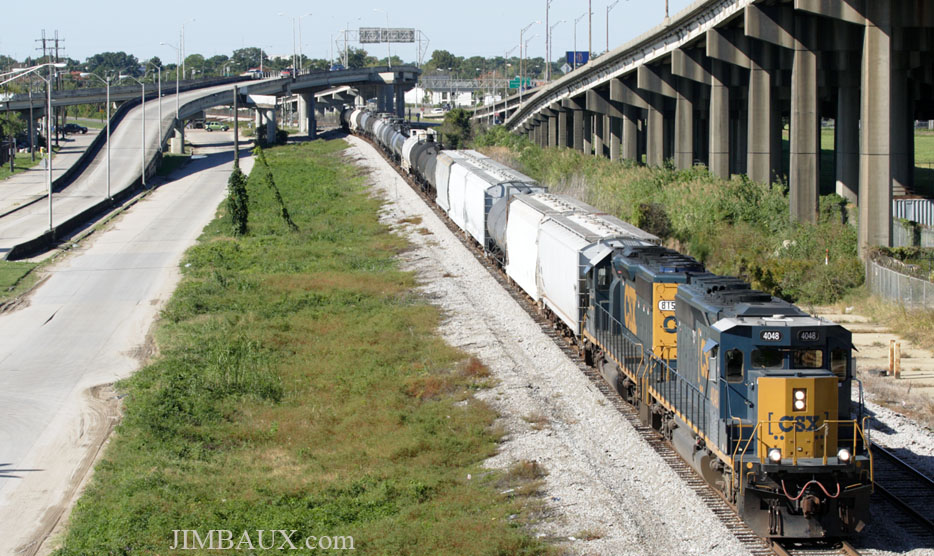 What's up with that stand on the back porch of the 4048?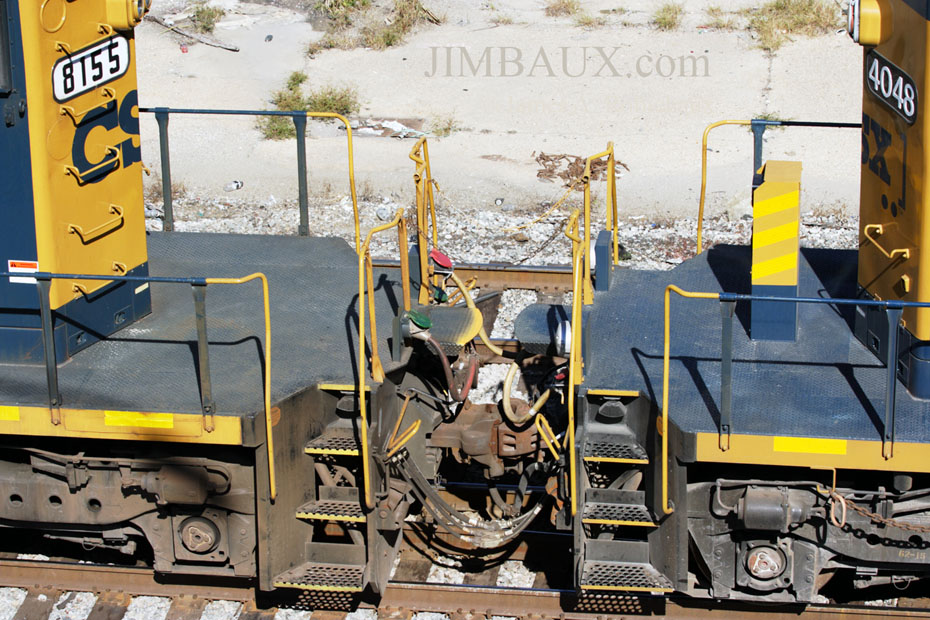 Let's get a broadside view of the power consist while we are here.

And, for those of you into this sort of thing, here is a different view of the 4048?

Okay, that definitely is enough of that!
An Unexpected Foray Into St. Bernard Parish
After the Y305 passed, I headed south back to where I had been before at the NS-NOPB diamond, having an ultimate goal of getting over to the West Bank after checking out what was running on the NS, but just as I approached the NS branchline, here comes a train headed to Arabi down the branch!  I was just as excited about seeing this train as I was upset about getting to the crossing too late to get across and get a shot, as I was on the dark side of the train and the track.  When I was taking the pictures that you saw earlier, I contemplated how neat it would be to see and photograph an NS train on the branch in that nice lighting.  Here I was, with a train, but a little too late to get there.
What do I do?  I pondered what to do while the train was passing the crossing, and I briefly considered just blowing it off and heading to the NS yard and mainlines and then to the West Bank, but then I decided to give chase.  The last time that I had been to the Lower 9th Ward or St. Bernard Parish was for this same purpose on the weekend after Hurricane Isaac one year and a few months before.
Here is the train at Caffin Avenue, after I had chased away some people with kids standing on the track.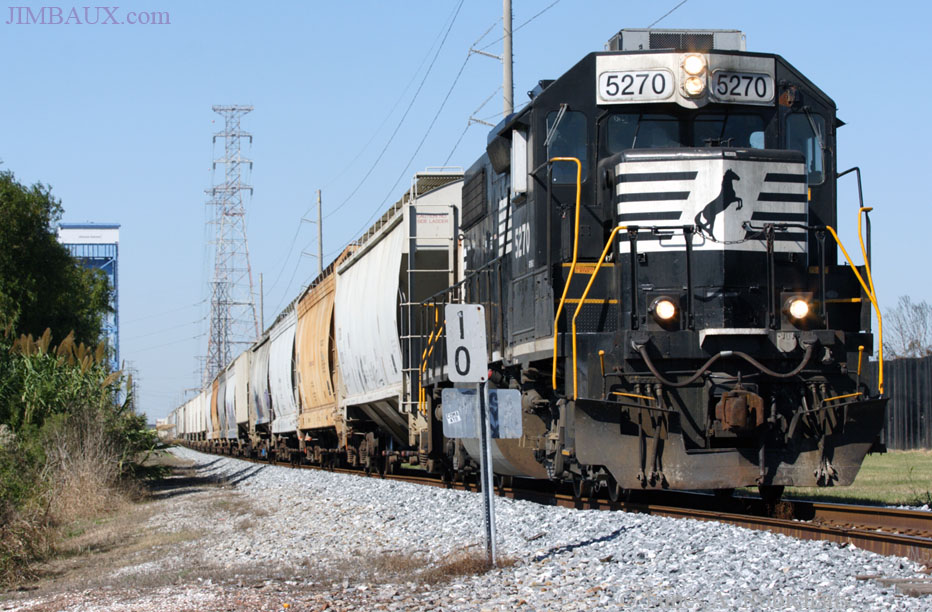 Notice the milepost 10.  We're not 10 miles from NS Oliver Yard here (nor are we yet in St. Bernard Parish.)  We are 10 miles from Shrewsbury Road by East Bridge Junction, where the NS Back Belt – the New Orleans Terminal Company – began.  The Back Belt today officially ends a the "Seven Dot Six" – milepost 7.6 at Terminal Junction, which is where the first few pictures taken in today's post were made, but it was part of "The Terminal" which went past the current NS mainline tracks and Oliver Yard and to the riverfront in Arabi and Chalmette.
Speaking of Arabi, here we are.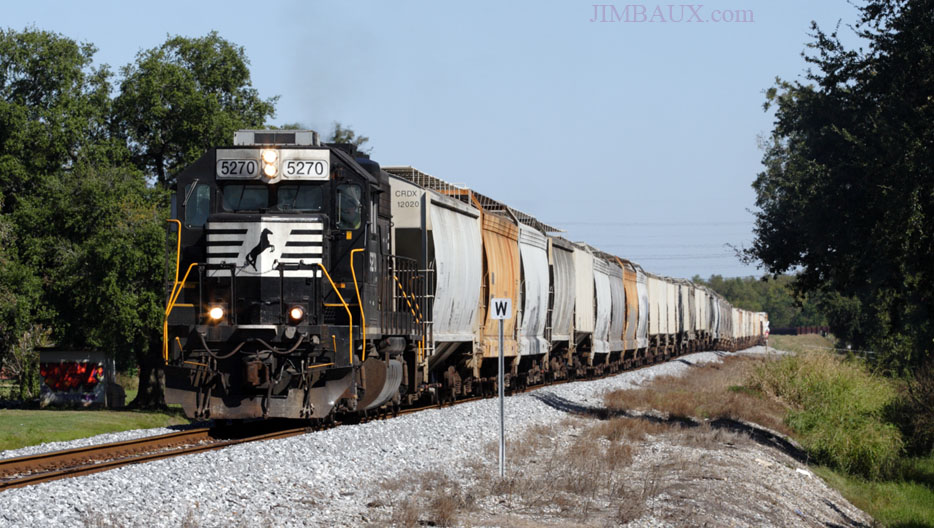 This train had 48 cars, mostly hoppers; at least some of the hoppers were bound for the the Domino Sugar refinery, and perhaps others were going to the port, I think as fertilizer.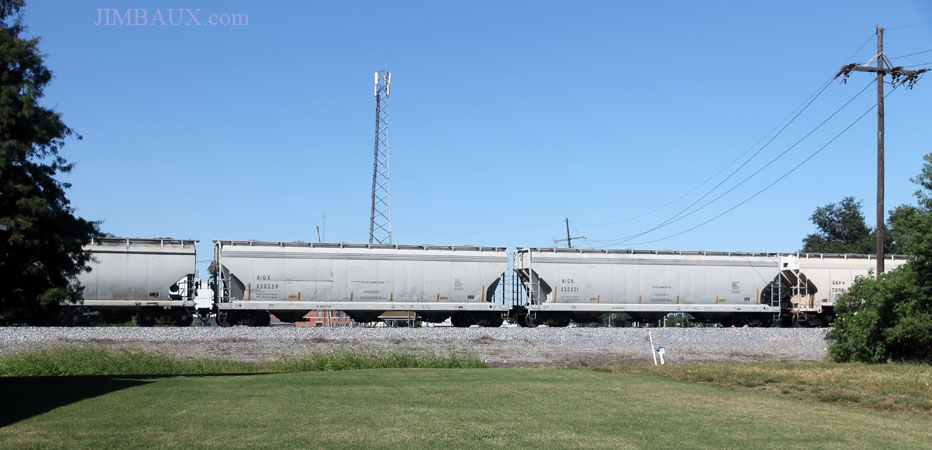 I don't know how to tell which hopper cars are going to which customers here, but these AIGX and CEFX hoppers are common here.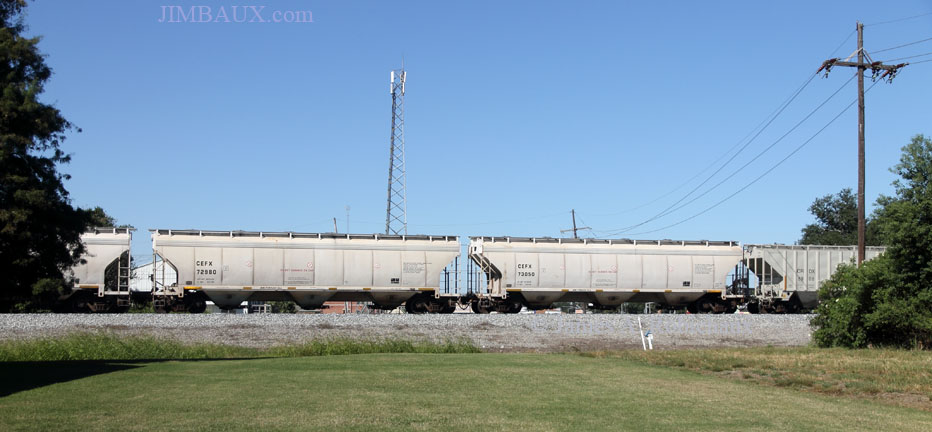 There are a few railroad-owned cars on this train, including some from the home road.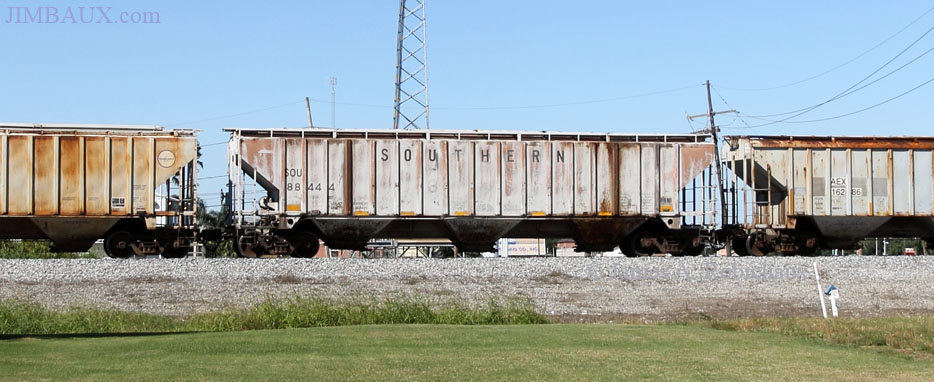 I don't know, but I'm guessing these CSX gondolas along with the two Railbox boxcars that we won't see here are bound for the Alabo Street Wharf trackage, which is actually back in New Orleans.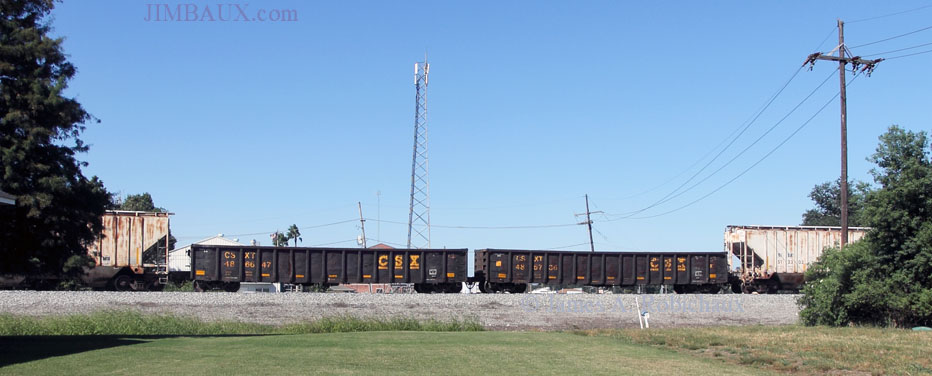 See below, the name of the street, recognizing part of the NOTCo's heritage.
Now, we are at the yard office in Arabi, and we see the caboose used for the Alabo Street movements and the movement down St. Claude Avenue to get to Alabo Street.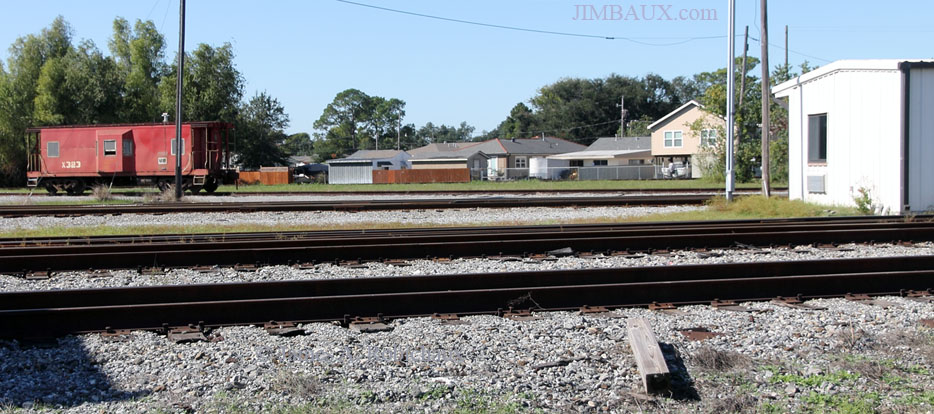 You might not be able to read it the caboose number; it is X383.
Two Railroads, One Battlefield
Further east now in the city of Chalmette, we are right at the entrance to the battlefield for the Battle of New Orleans – you know, War of 1812, when someone by the name of Andrew Jackson became a national hero – as we look west.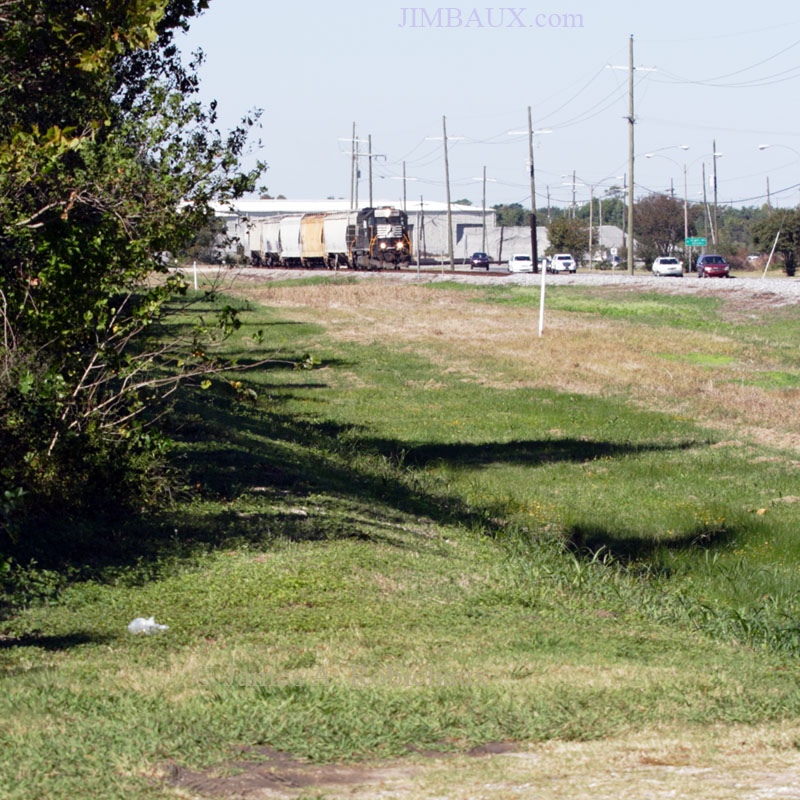 You can see the NS job off in the distance, and in the left foreground you can see the remains of an old roadbed.  That was the Louisiana Southern, which originated in New Orleans at the intersection of Elysian Fields Avenue and St. Claude Avenue and went down St. Claude Avenue to Arabi and Chalmette and down the eastern bank of the river to Bohemia.  At the right, you can see the existing track, which was the end of the New Orleans Terminal Company.  Not far east of here, there is a little 'dogleg' in the current branchline where it goes from being ex-NOTCO to being ex-LS, where the refinery that was the last customer on the NOTCO was and still is.  So, much of the Louisiana Southern still exists in two parts: the part along St. Claude Avenue in the Lower 9th Ward and in NS's Arabi Yard, and the part downriver from the dogleg shown in the aforelinked satellite image.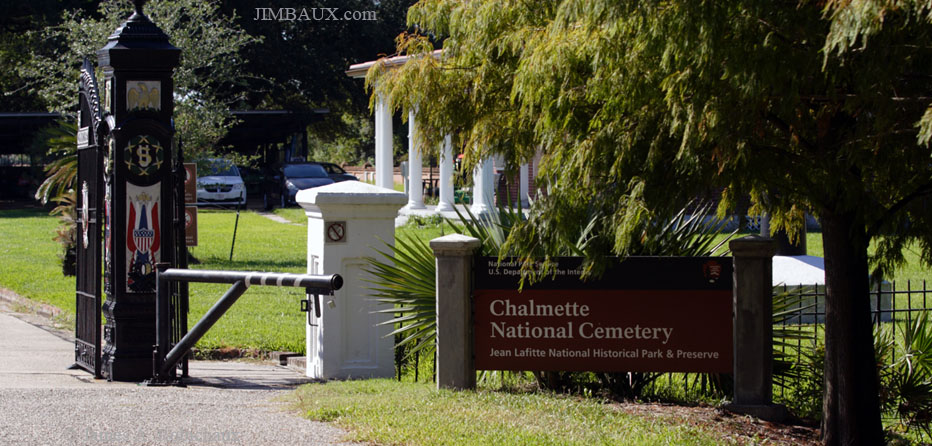 The fate of a nation changed at this location!
Chalmette
I seem to remember reading about a fire occurring at Rocky and Carlo's; I guess the place survived okay.

Let's turn around and take a picture of the refinery, which will really risk getting a visit from law enforcement, but, dammit, I've already had a confrontation (albeit not with law enforcement) today, already spoiling the innocence of my actions today.  So, what the heck?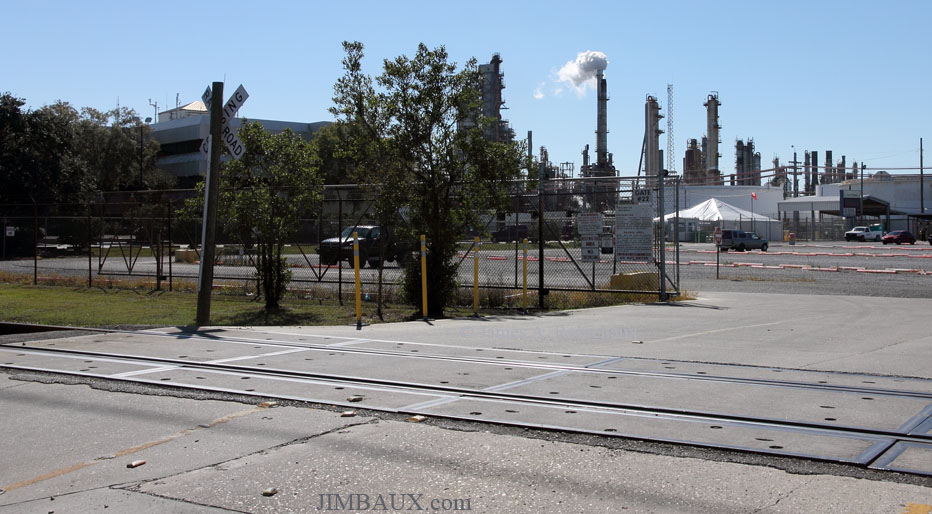 Here is a view of the St. Bernard Parish Courthouse.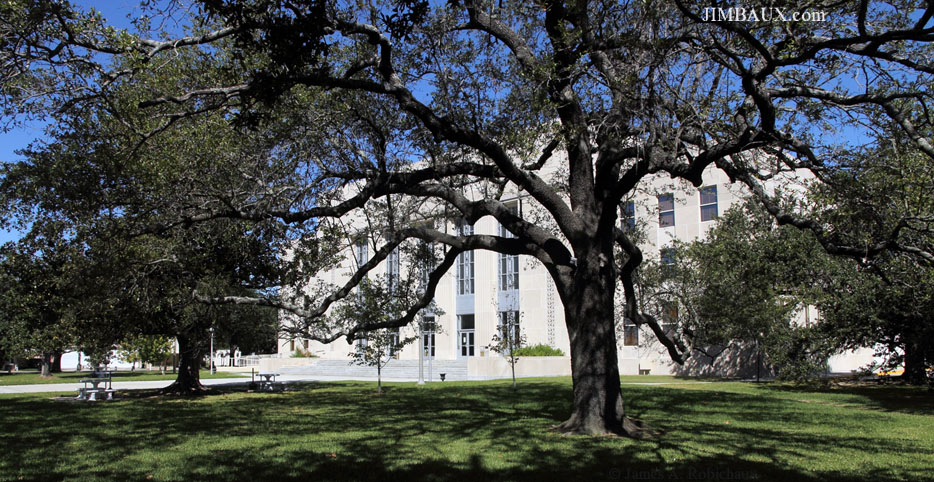 I wonder what the use is today of this port stack thing.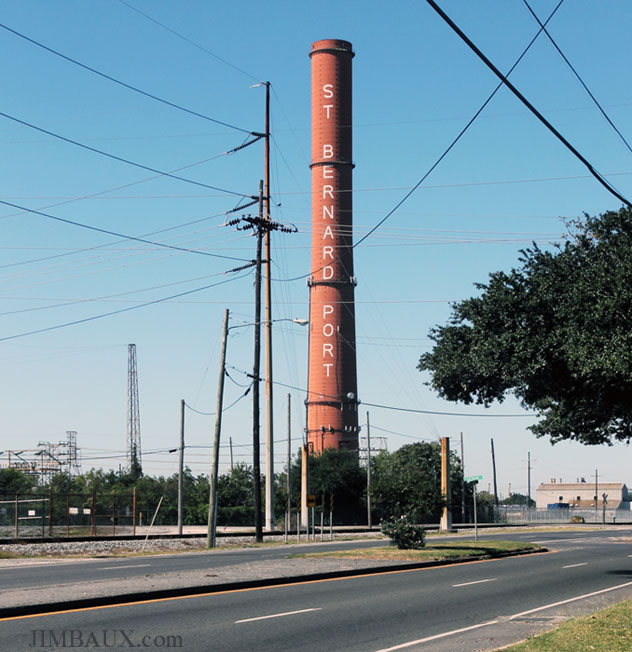 Here is another view of the courthouse.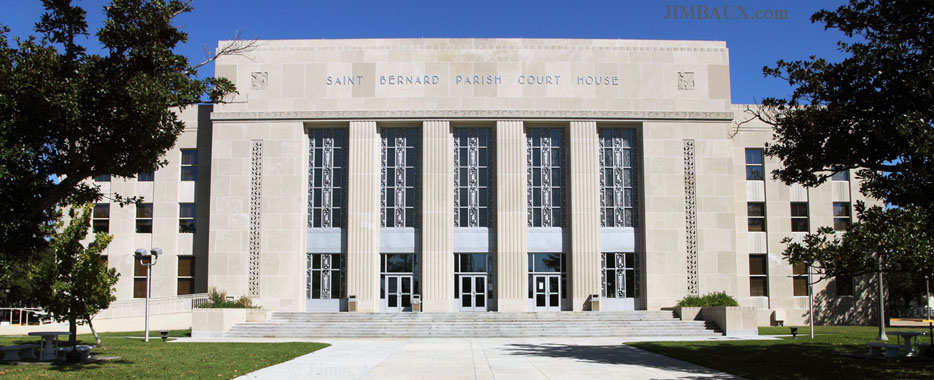 So long, Chalmette; maybe I'll be back in a year.
Back To Arabi, Briefly
Here we are back at the yard, and we see the locomotive of our train running around some of the cuts, since almost all work needs to be done from the other end.
So, the trackage at left is the former Louisiana Southern, and, on the other side of the ditch, the trackage at the right background is former New Orleans Terminal Company, both of which were consolidated into the Southern Railway before NS was formed.
Here we see the Domino Sugar refinery.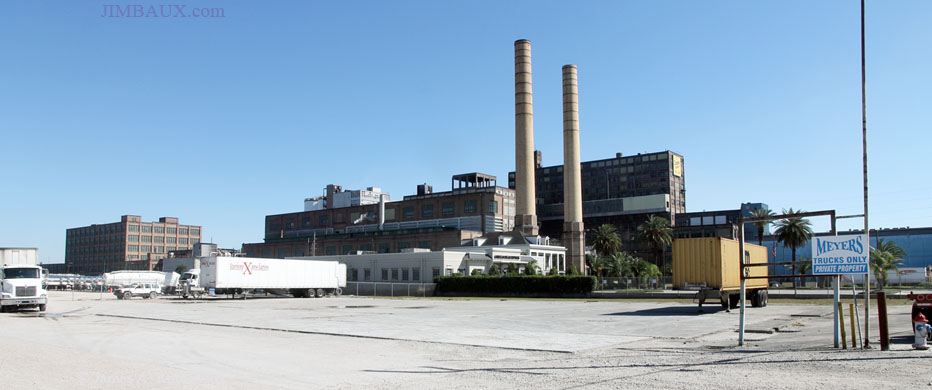 Here is a closer view with the logo.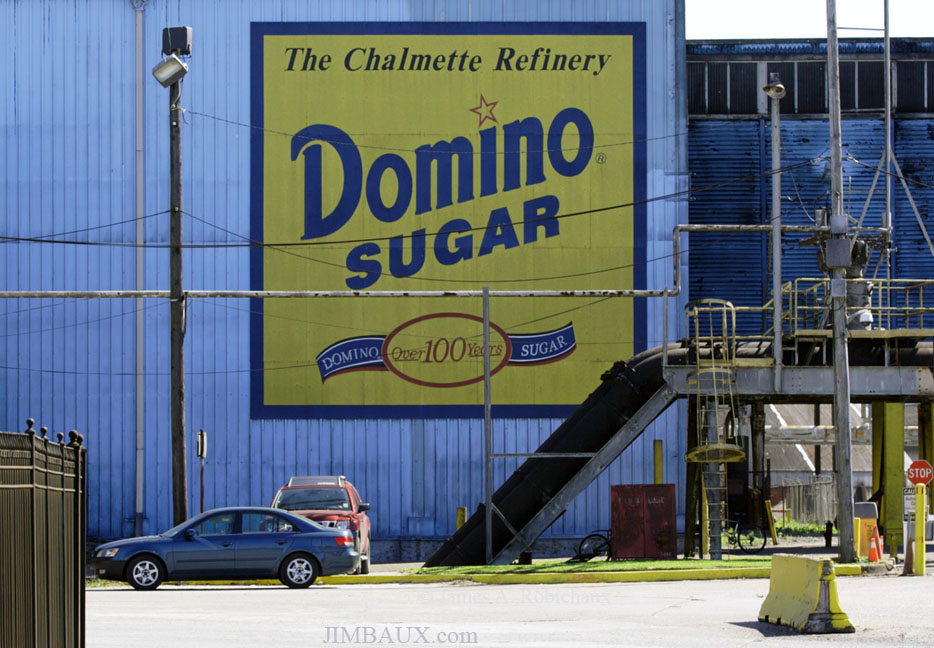 This was the first time that I had ever come to this part of Arabi, and while here I noticed a neat old plantation house.  Three weeks later, I learned the name of this plantation house because it burned down!
So long, Arabi; maybe I'll be back in a year.
Stopping On St. Claude Avenue For Boat Traffic
So, as I'm traveling westbound, with a goal of getting onto the freeway and getting across the river, this happened: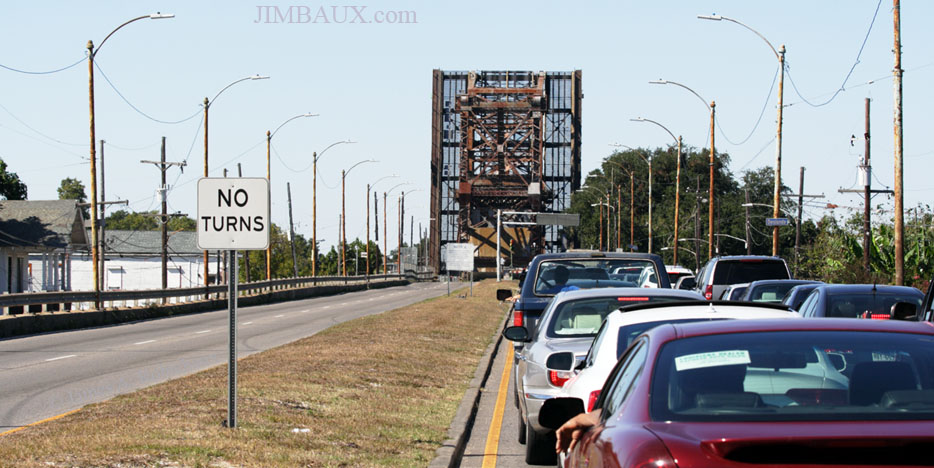 We are almost crossing the Inner-Harbor Navigational Canal – known colloquially as the "Industrial Canal" – here, and we have to stop for a boat.  The Louisiana Southern railroad passed through this bridge for the first few years of its existence, as did a streetcar line, both long-gone.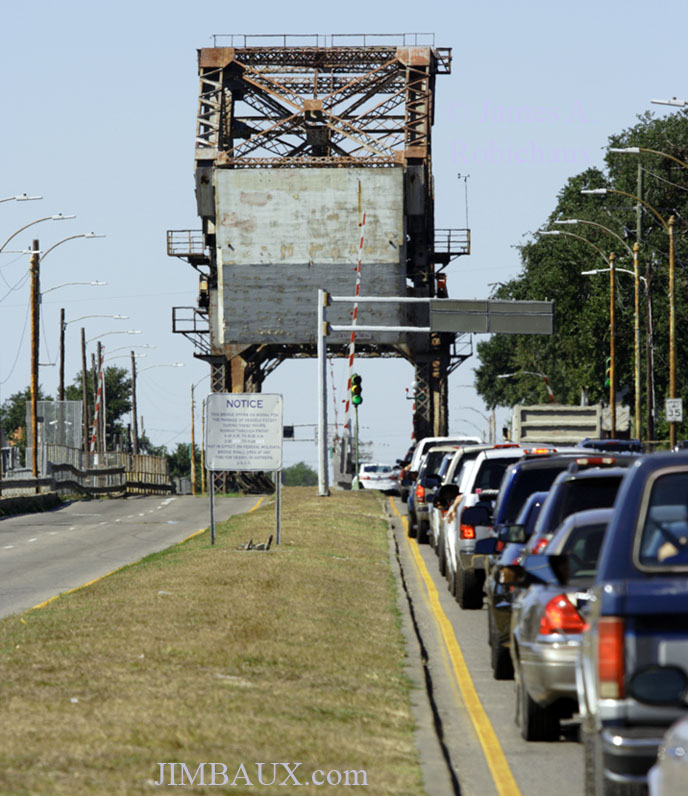 Well, we are moving now.
Stopping On St. Claude Avenue For Rail Traffic
And, about a mile later, now we are stopped again.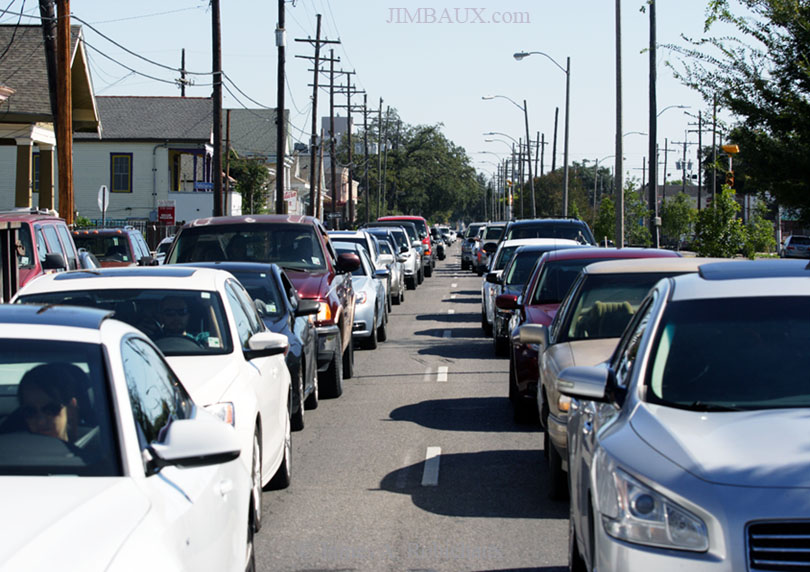 Yes, we are almost at the southern end of NS's Oliver Yard (remember that we started the day at the northern end of this yard), and we are stopped by some switching.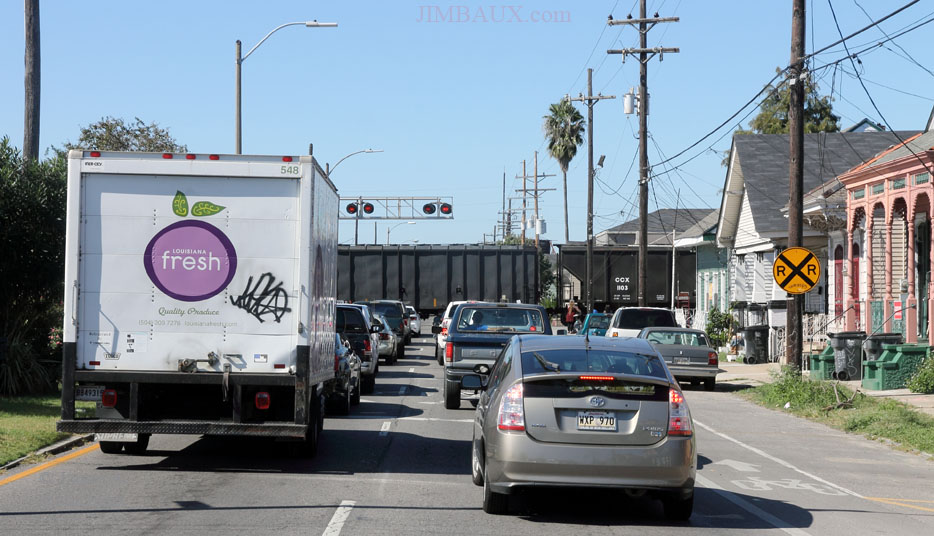 Damn trains!  Oh, well, it is time to just sit and chill for awhile.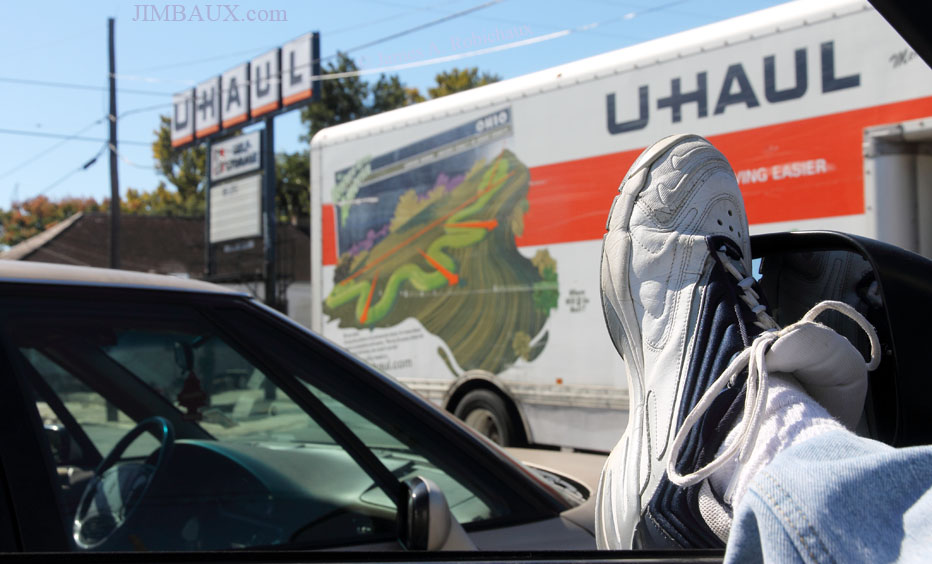 So, here we have a lesson in focus, as you should see from how the picture above is different than the picture immediately below.
We're also wearing Uncle Richard's old shoes here.  Anyway, once the train cleared, we get to the crossing and look north.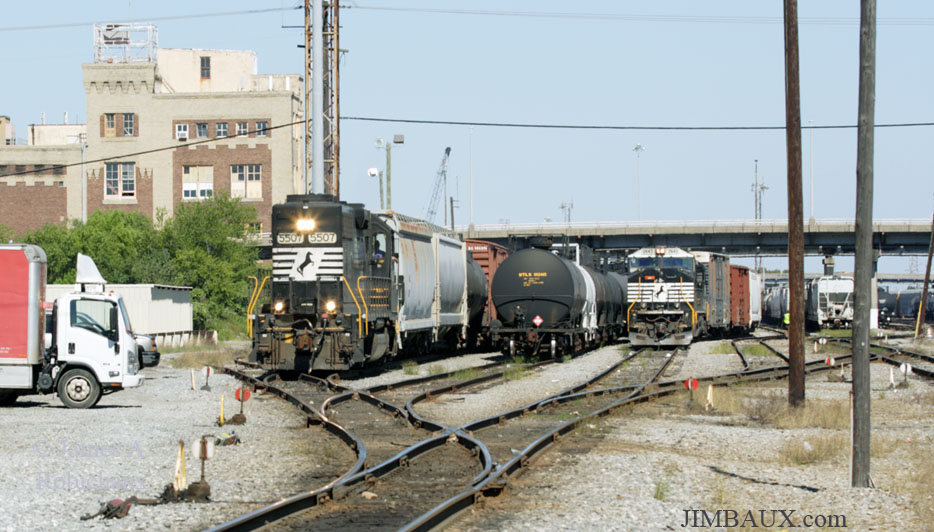 The train at right is the one that was blocking the crossing.
To The W'ank
Traffic was slow getting to the W'ank.

Yeah, okay.
Gretna
Once on the W'ank, though, I checked out Gouldsboro Yard, noted that nothing was happening there, and then I proceeded to one of the neat spots in Old Gretna, where can be found one of the best views of New Orleans.

Here is a narrower angle view.
Hey, look, some more industrial transportation happening before our eyes!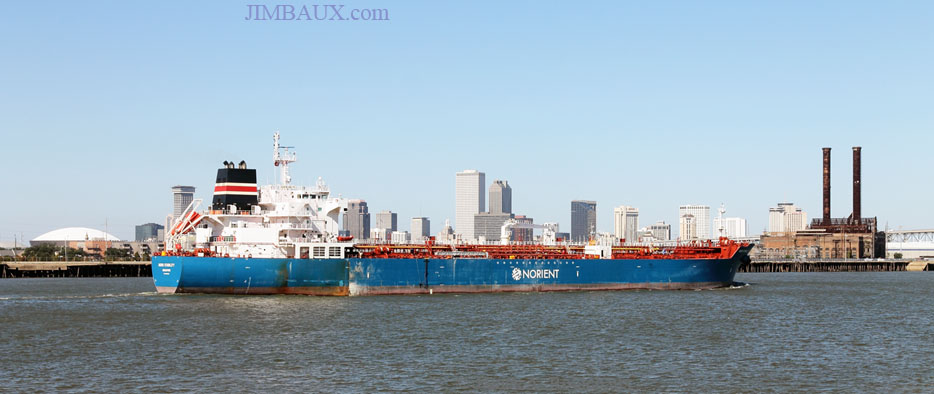 I was initially confused by all of the Gretna Heritage Festival signs here, since that event is in early October, but I eventually realized that this was some sort of pet adoption event.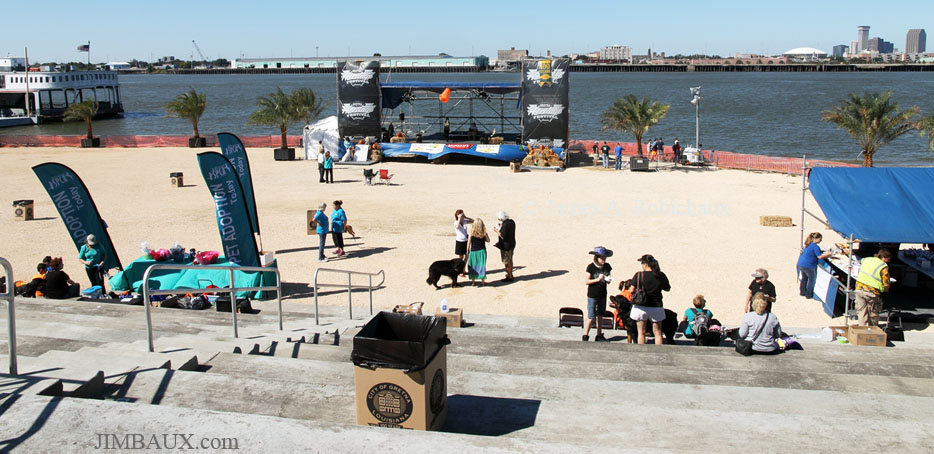 There was a band playing.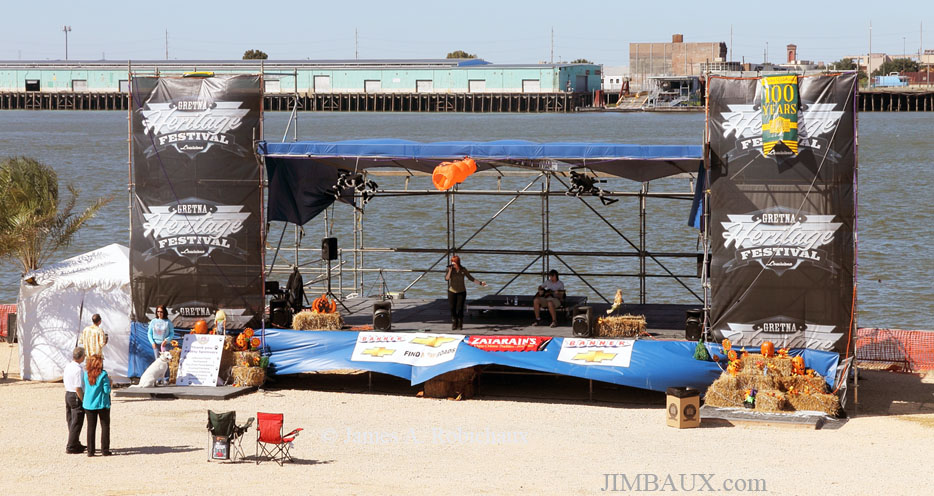 There were not many people here, at least not in the brief time that I was here.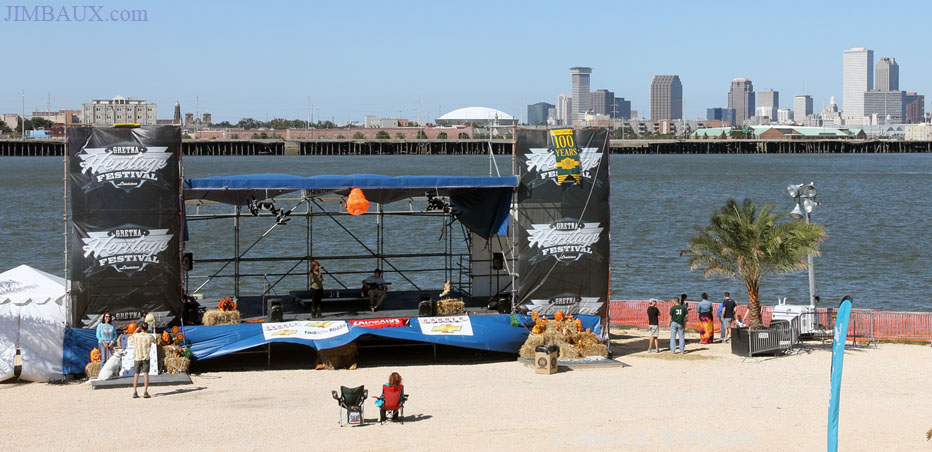 Well, let's get one more shot and get out of here.
Okay, I need to go home and see a few places along the way.  So long, Gretna.
Harvey
There was a set of NOGC power in East Harvey.

They are nice, but I miss the GP7s.
We are now looking across the river from the entrance to the Harvey Canal.

There are people enjoying life and relaxing at this overlook.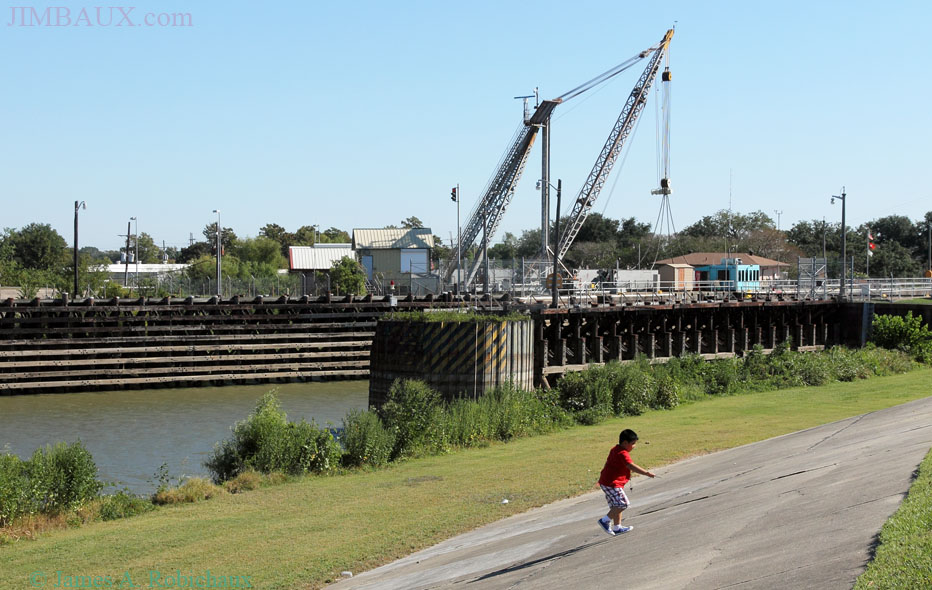 This little spot is a welcome oasis from the highly industrialized area that, along with the river, surrounds it.
Just to the south, we see the "new" local office of the NOGC, which has actually been there for about a year, right next to the big Kinder-Morgan tank farm.

Kinder-Morgan gives enough business to the NOGC that power and-or jobs are based here.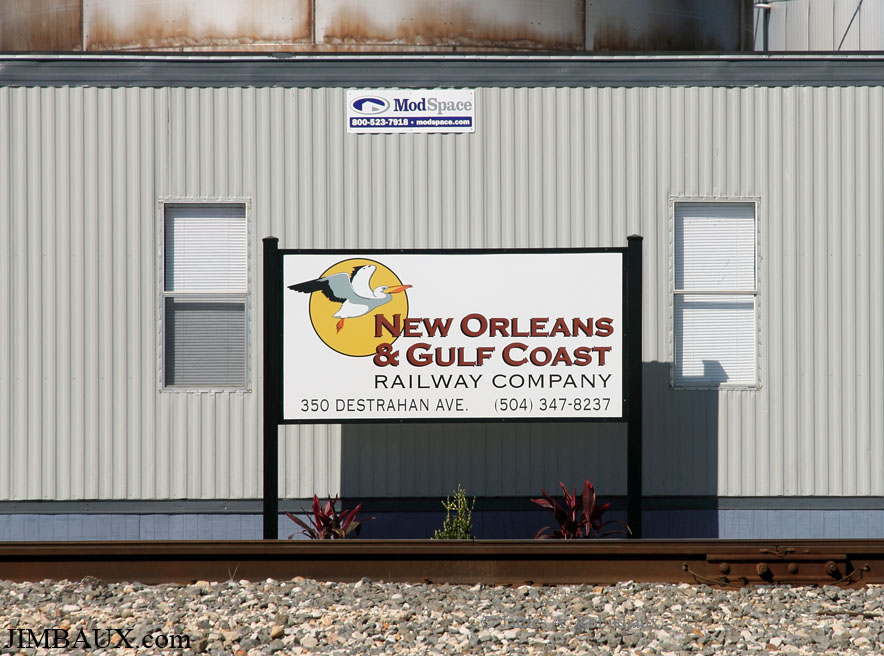 So long, Harvey.
Westwego And The New Yard
I really wanted to get pictures of the construction of the new yard at Westwego just east of Klein Street.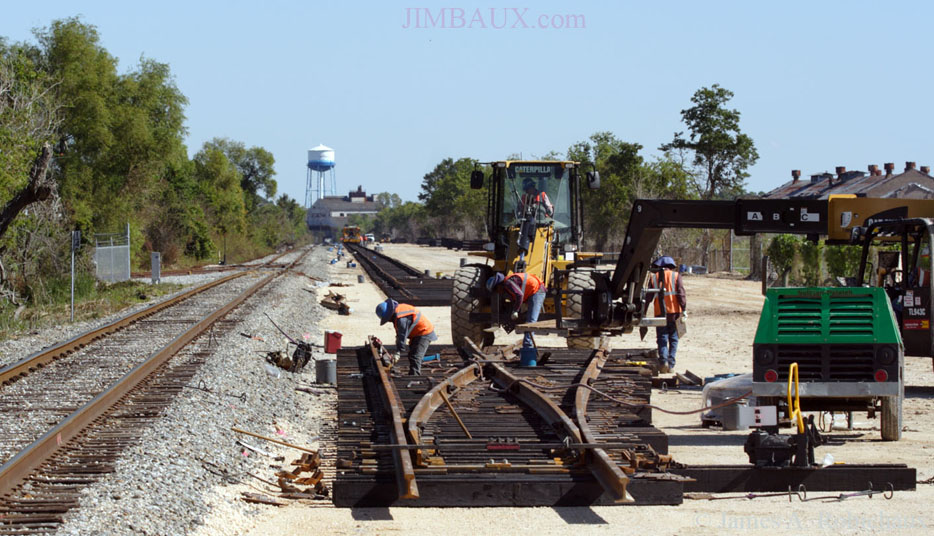 Since this picture has been taken, the three-track yard has been ballasted.  I'm not sure what its purpose will be, but I am told that it will be for storage, especially for Kinder-Morgan.
While we are here, let's look to the west to see something else that is new on the NOGC: boxcars!  That warehouse in the back is receiving some boxcars for what purpose I do not know.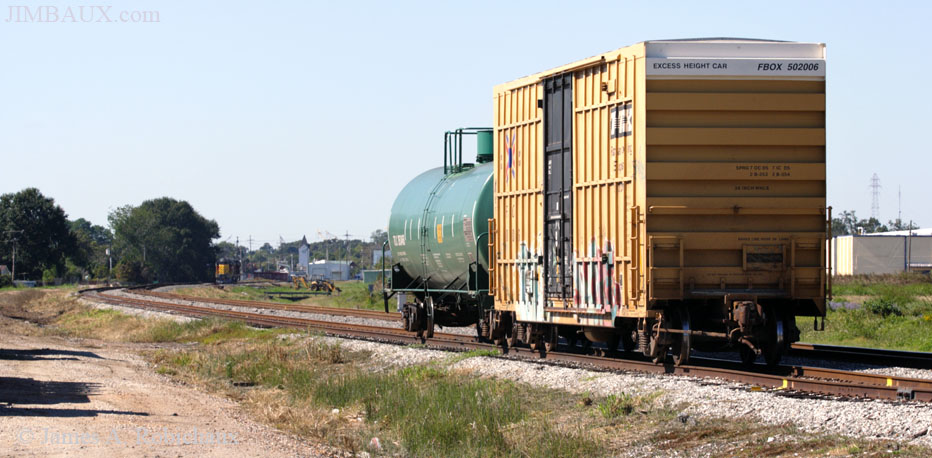 Note, too, the power off in the left distance.  Let's turn back around and have another look at the new yard.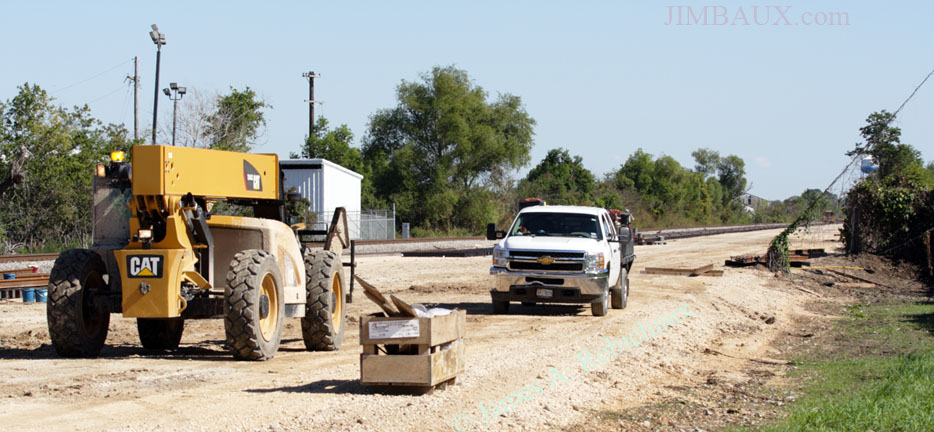 Where the truck is is the former SP mainline.  One possible purpose of this yard would be the elimination of the need to drag all the way to Gouldsboro Yard – and vex Gretna motorists – of the traffic that will only be sorted there and sent back west.
Well, that's good enough.  Let's get out of here and work our way home.  This has been a long-enough outing.  So long, Westwego.
Waggaman And The IAVLB
I checked out Avondale and saw and-or heard that the IAVLB – Intermodal, Avondale, La., to Long Beach, Ca. – was about to depart.  Well, this is a neat train, but there aren't many good options nearby.  So, we'll have to settle for something lame by scooting on over to Live Oak in Waggaman.

Yeah, that was a waste of resources, as I told you.  Let's put this train and this location in our rearview mirror.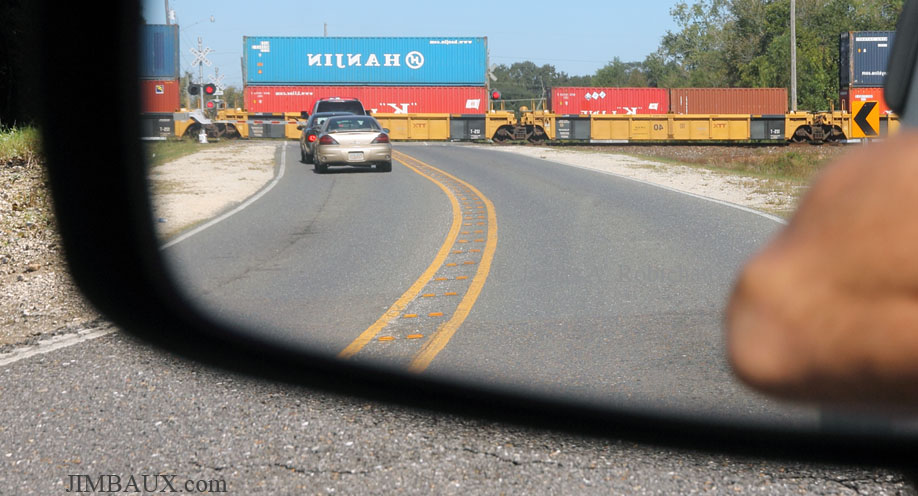 Whatever.
Avondale, the M-CSXLAL, and A Friendly Conductor
At Avondale, there is a westbound BNSF train departing town led by a Heritage 1 locomotive.

Oh, and look at that pathetic second locomotive!  Just give that thing an honorable death, okay?

Hey, what is this?  The conductor is signaling something to me!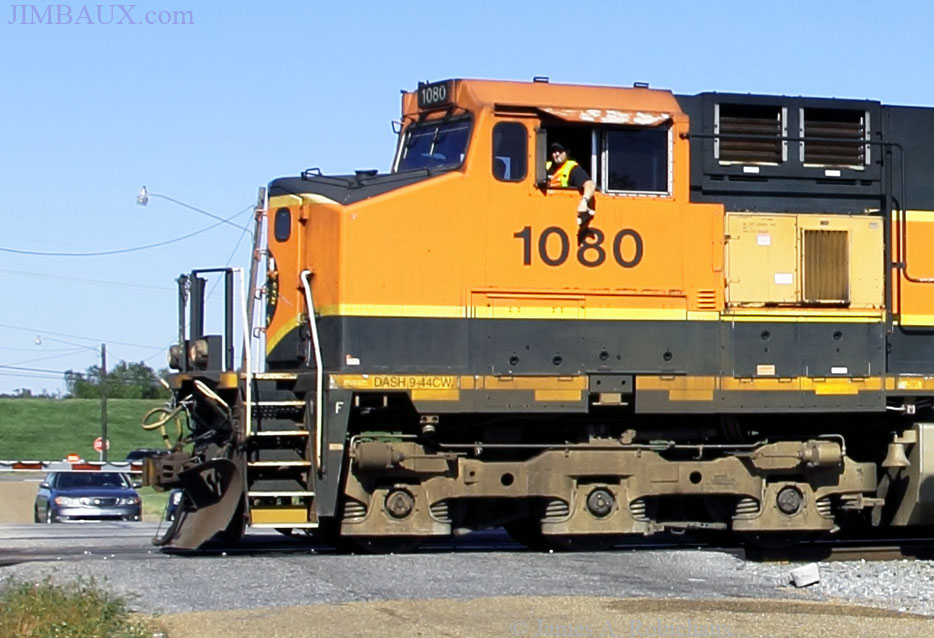 No, that's not a cigarette in his mouth; it is some thing reflecting, but I don't know what.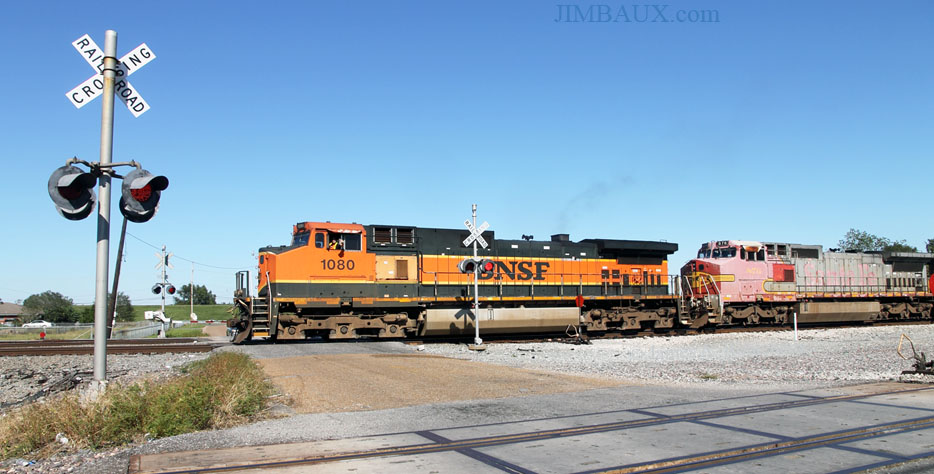 Wow, thank you, Conductor Cormier!!!!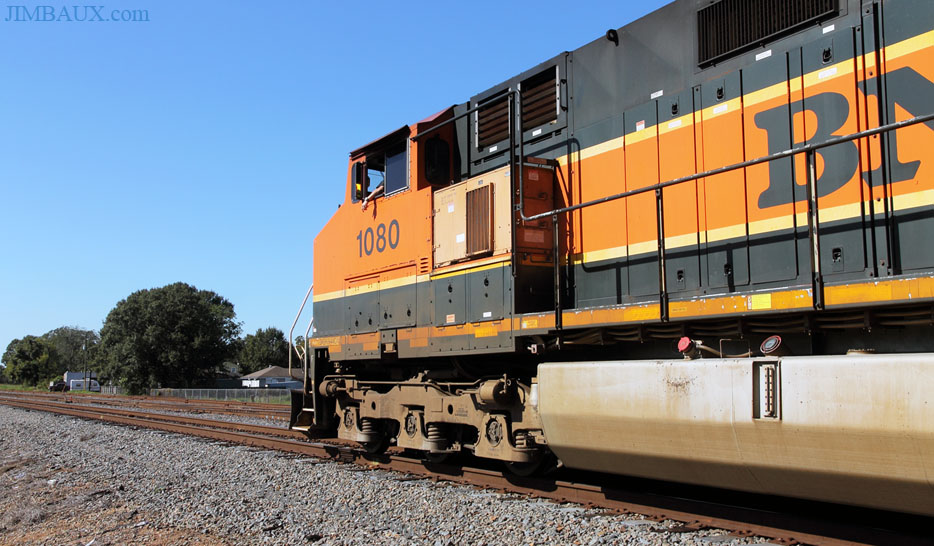 Look at what he tossed me, just like some Carnival parade.
Conductor Cormier is a really good guy, and he often tosses hats to people.  Thanks for the new hat, Conductor Cormier!
For a day that had an uneasy crew encounter in the morning, this was a really good way to wind down the day.
So, now do I not only have BNSF hats, I have one for the Gulf Division.
Dammit!  I'm sick of this problem with one of the terminals at my battery.  No matter how much I tighten the damned connections, I still have to pop the hood and cold boot the damned thing almost every time I start the truck.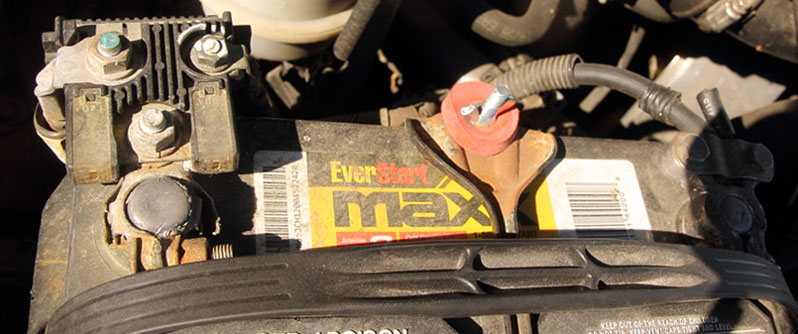 The connection is apparently bad, but I just don't quite know what to do.  Any advice?
An Ending Of Mistakes and Mistiming
The day doesn't end until I do something stupid, not that I haven't already done stupid stuff.  Somehow thinking that I could get the inbound City of New Orleans, I stopped at the Popeye's in Avondale to grab some grub before making my way to Little Farms.

I should have known that the padding time in the schedule means that the train almost always arrives in New Orleans well before the posted arrival time.  Oh, well, it was a thought.  It would have been my first shot at Little Farms since BobE and I shot there at the end of the day nearly six years before.
Anyway, that's the former Yazoo & Mississippi Valley line on the left, going up the Mississippi River to Baton Rouge, and the former New Orleans, Jackson & Great Northern mainline at right, still going via Hammond to Jackson, Memphis, and Chicago.
Time To Call It A Day And Get A Life
So, wisely, that is what I did.  Speaking of a life, after taking all of these pictures, I grabbed a shot of the lettuce that I have been growing.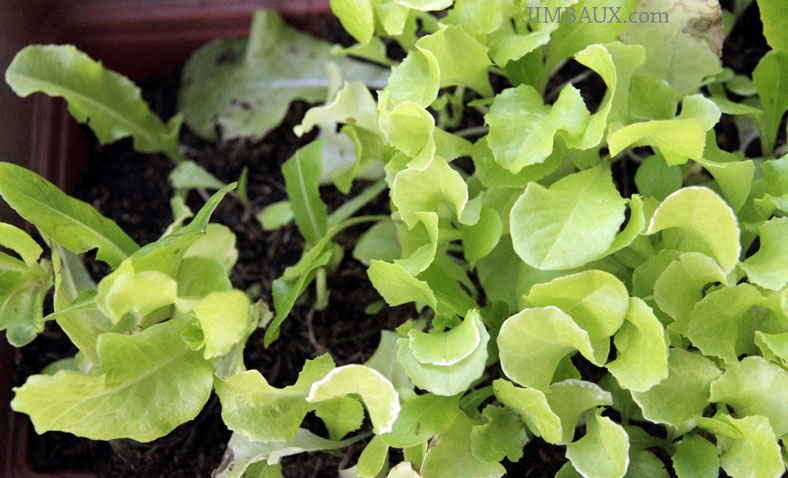 That might be something more worthy of cultivation than train pictures.  Whatever.
Damn!  How did I put 83 pictures in one post?  That is a record!!  How in the world did you get through reading all of this?
Following-Up
I have taken two train pictures since taking all of the pictures that you have just seen.  I shot the M-NWOLAL at Schriever on the misty cold Monday before Thanksgiving.  That Friday, we cleaned out my grandparents' house, an emotional experience.  Then, on December 14, I shot the eastbound UP Z-train on CSX trackage.
I'd write more, as I have plenty more to say, but this post is just damned long enough already!  Stay tuned for the rest of this month, as I have some epic "five years ago today" and one really epic "10 years ago today" post to make, the latter being on Monday.
Thanks.
Jimbaux