So, after he had wanted just KCS action when he was in New Orleans a year before, and after we chased the KCS Gulfport Sub Local in Mississippi the day before, now BobE had his southern reaches KCS fix, and it was time for me to just to show him general New Orleans area train action.  Bob joked that last year, he had made chase the one KCS train that was running in the New Orleans area that day (there were really two KCS trains that day, but they had the same crew); if I remember right, in late 2008, KCS wasn't even really running anything on Sundays and was using that day of the week to do MofW work.
Sunday 7 December 2008
A Date That Was Good But Anti-Climactic
We awoke a little too late to get the northbound Crescent making its way out of town, both of us being quite tired from the day before, an epic day indeed.  That date had also seen a bizarre political upset in the New Orleans area and the US House of Representatives.  I remember say, "I can't believe Cao won!"
So, I think that I may have chowed down some instant grits before we left that morning, with Bob electing to pass on food for now, and we just went to check out the NS Back Belt checking out the eastbound traffic that passes in the wake of the Crescent.
An Unsurprising Starting Location
Yes, we start the day at Alvar Street with Union Pacific train QLIWX on CSX trackage less than a half-mile from being delivered at CSX Gentilly Yard.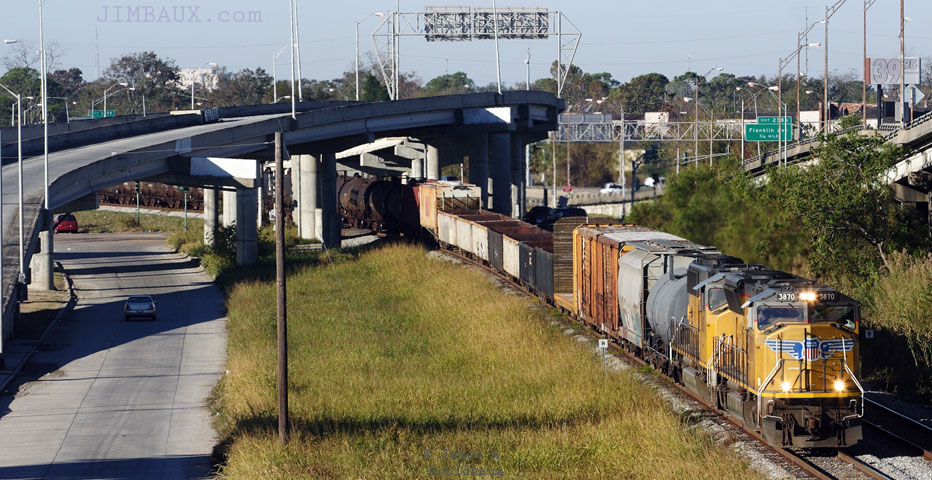 The QLIWX is a "Quality" train (high priority) originating at the UP yard at Livonia, La., and with a big block for Waycross, Georgia.
Windmill Parts
After the QLIWX, we checked out the New Orleans Public Belt Railroad's France Yard, which was mostly empty.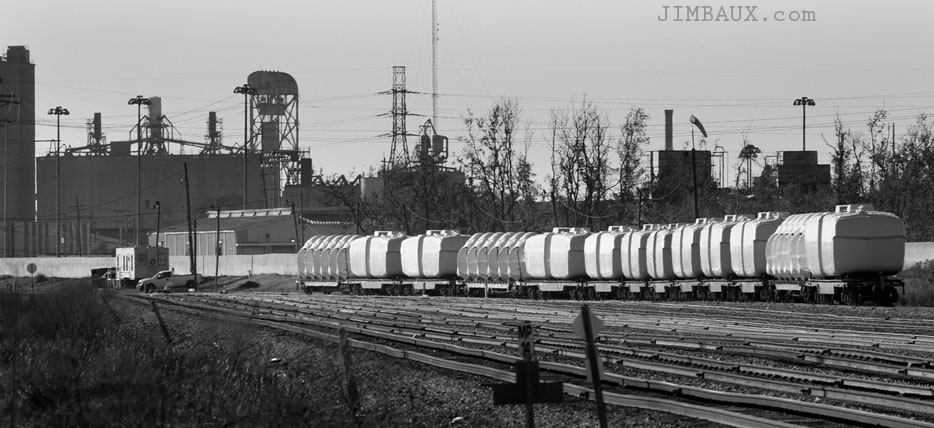 Those are windmill parts on flat cars.
Back To Alvar Street
Comint indicated that the IBLNO (Intermodal – Long Beach, Ca., to New Orleans) was on its way, and we returned to the Alvar Street Bridge, but were first occupied with the CSX-to-KCS transfer run.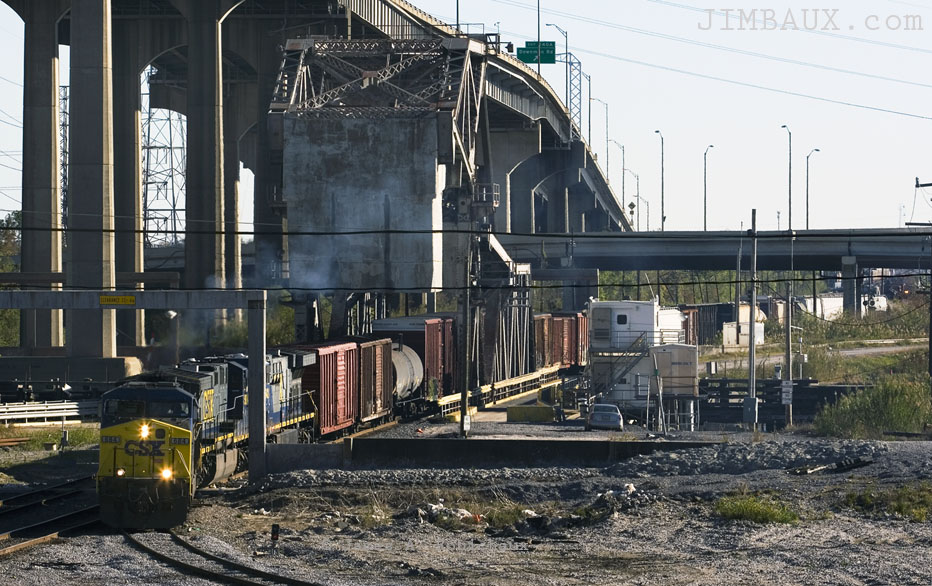 Back then, that job would normally have KCS power.  Almost all of this train will become KCS train M-CXSH, and NOPB will build blocks for Baton Rouge and Reserve.
A Long Wait For The ILBNO
Forty-one minutes later, the ILBNO, which had probably been sitting at Louisa Street for most of that time while a switch job occupied the track, approaches.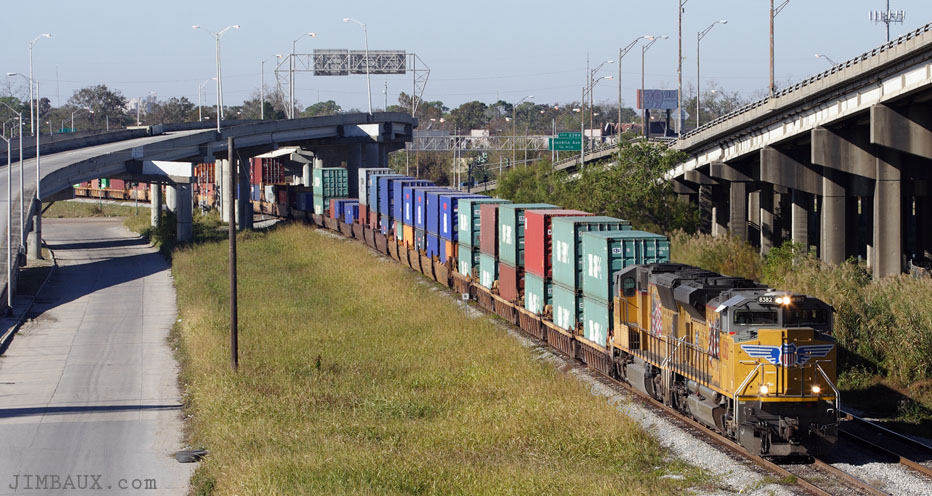 The ILBNO was one of my favorite trains in the New Orleans area, but the name of the train was a small part of the reason.  A few months after this picture was taken, the name of the train was changed to the KLBNO, as the "K" prefix in UP parlance means a higher-priority intermodal train.  It was the same train, but the new designation allowed UP to tell customers that their shipments were on a higher priority train.
Despite their names, the ILBNO and KLBNO did not terminate in New Orleans; UP wouldn't send containers for CSX to unload in the same metropolitan area where both railroads have intermodal facilities.  So, the containers that you see here are bound mostly for unloading at Atlanta with perhaps a few of them bound for unloading at Jacksonville and Charleston.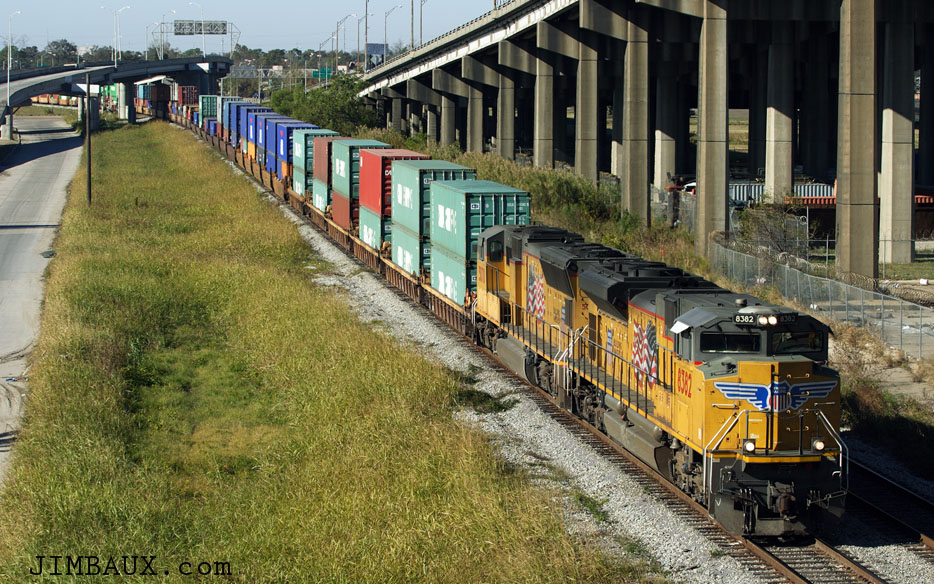 In early 2013, all of the Atlanta traffic on this train was routed through Memphis, and the KLBNO was abolished.  The few non-Atlanta containers originating in Long Beach that pass through New Orleans ride on the Z-trains.
Here is one last look – an unconventional look – at the ILBNO.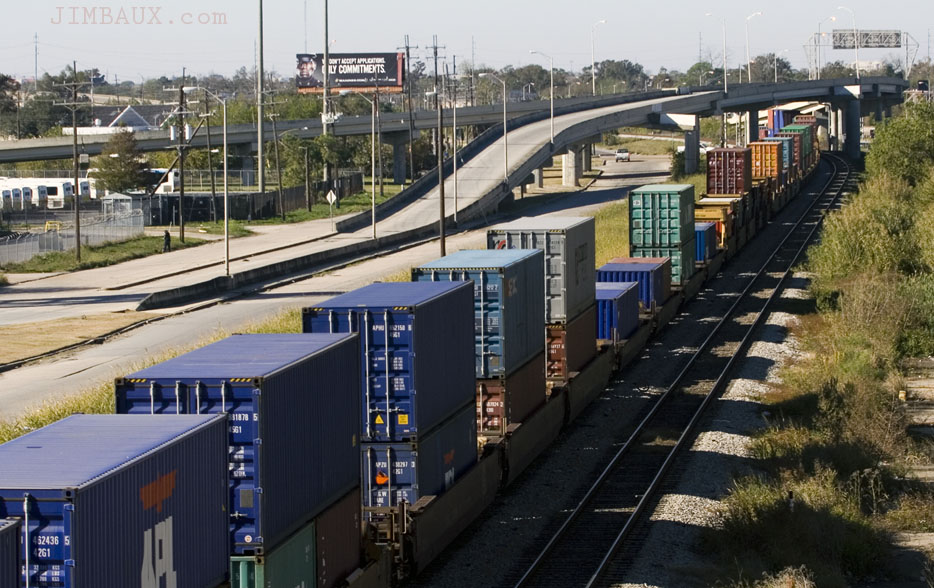 While we had been waiting for the KLBNO, Bob said that he knew where we were going after we got our train; he had spied "golden arches" off to the northwest!  After the KLBNO passed, we went to the golden arches to get a late breakfast, the last time that I ate at a McDonald's in Louisiana in more than two years.
Leaving The East Behind
We were now making our way west, as I had an ultimate goal of getting to the Bonnet Carré Spillway and showing Bob the CN traffic there.  On our way there, we stopped to see the QLINSL pass what was left of the old Plantation Coffee House.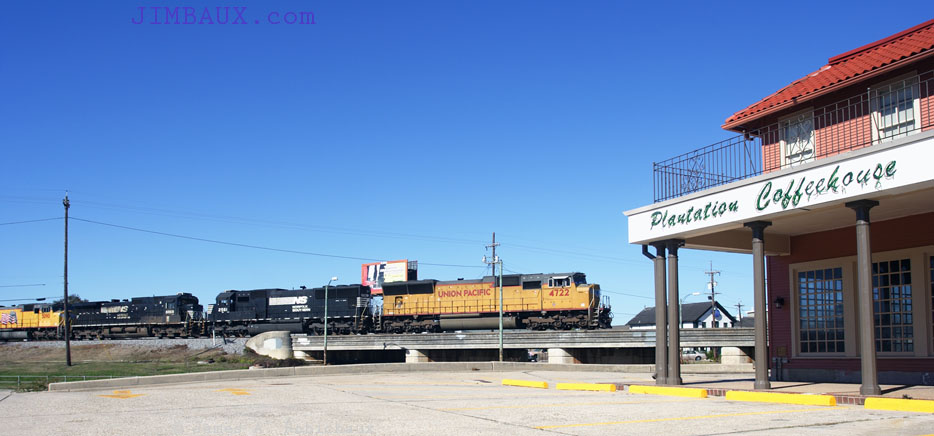 This place was a casualty of Hurricane Katrina.  I went there once in 2004, meeting up with The Mid-City Marine, The Shadow Warrior, Dr. Diesel, and some other foamers, and, after the floods, it sat unused until opening as a PJ's Coffee in late 2013.
Next, there was a westbound auto rack train with a Conrail-painted locomotive on front!  This excited me far more than it did Bob, and he humored me while I got this shot.
We're at East City Junction, and that's the Bernadotte Line going off to the right.  The long-dormant tower is to the left.
A Brief Diversion Across the River
The lighting was poor, but we went across the river just so that I could get this shot.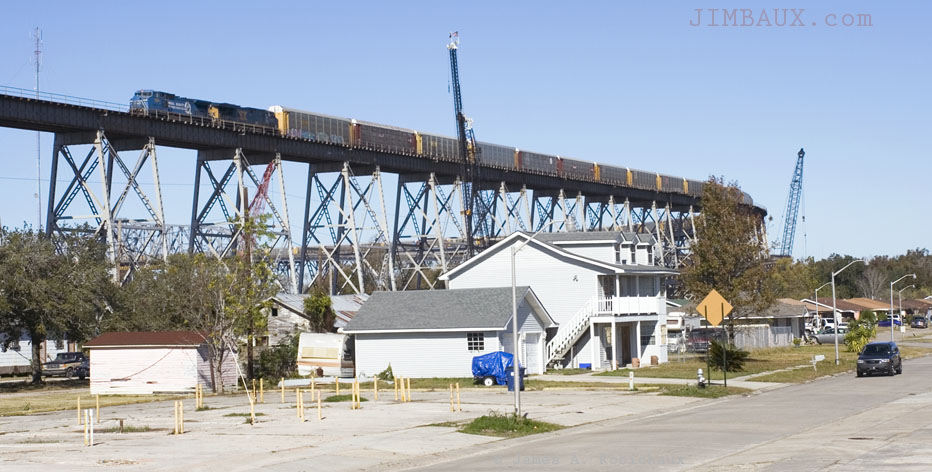 Well, Bob also got to experience riding on the Huey P. Long Bridge before the widening project was completed!
Now, Let's Really Go West
That's what we did.  We went the 20 or so miles that it took to get to the Bonnet Carré Spillway, and we camped out to wait for our Canadian National Railway train, which we shot here nearly two hours after the previous picture.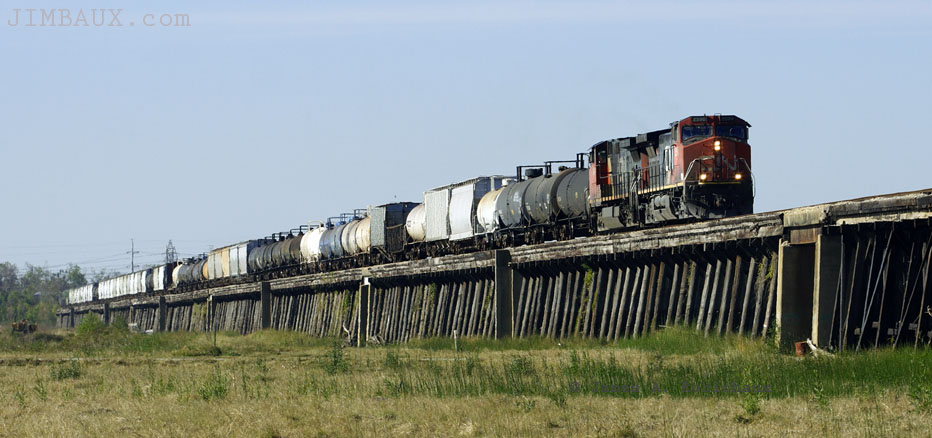 This quality of this picture is marginalized by heat distortion, which usually happens on these sunny and cool days, and this is why I really couldn't do the more compressed view that I wanted to do.
This is CN train M319, which has since been renamed A419.  Locally, both trains keep the same basic work schedule of originating in Geismar, making a pick up in Destrehan, and turning north at Kenner on its way toward Jackson and Memphis.
Bob is standing in the below picture toward the left frame about where the bridge fades to a point.  Do you see him?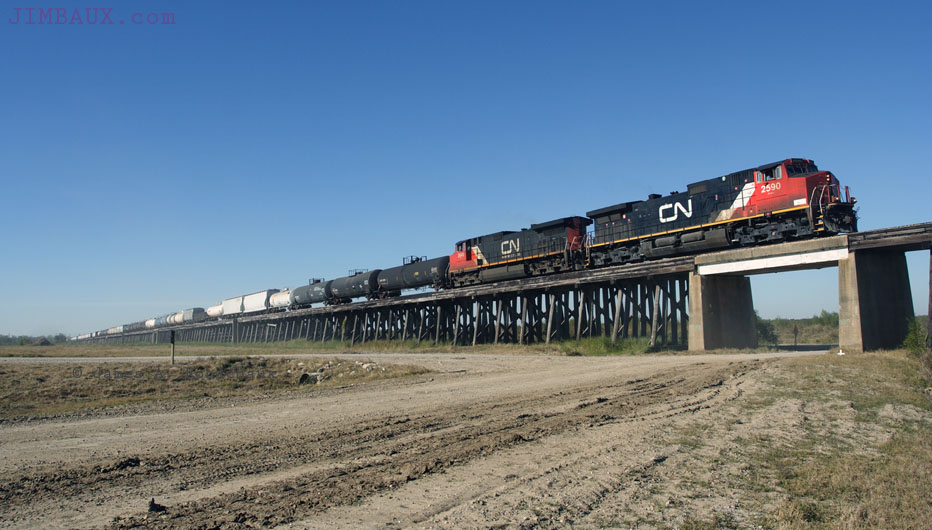 No, you don't!  That's because I removed him from the picture.  Hey, he was my guest, and I was going to let him get his shot!  Here is one more shot of the M319 as it passes our positions.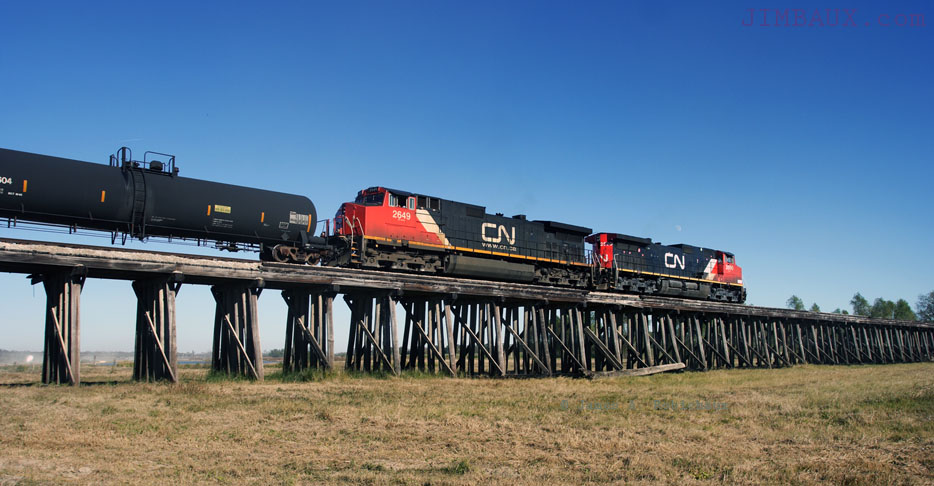 And so ended our trip to the spillway.
Back To Woadieville
So, more than an hour later, we are at Central Avenue in Jefferson, and we are waiting on something.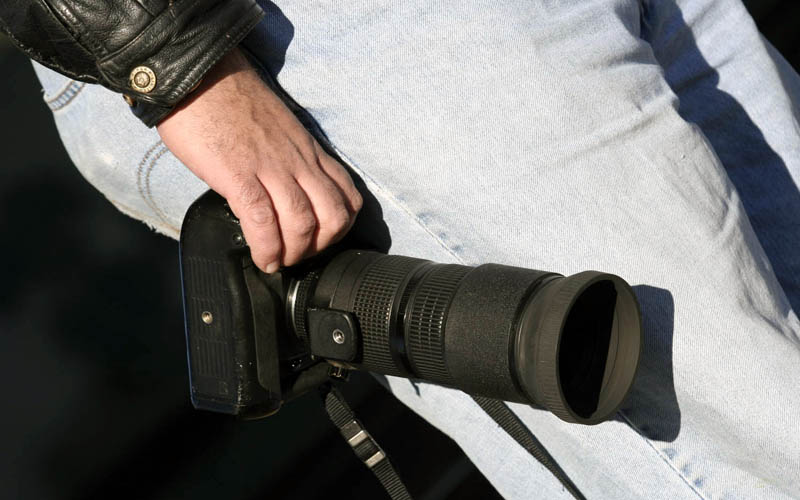 Apparently, we were only waiting on the eastbound Sunset Limited.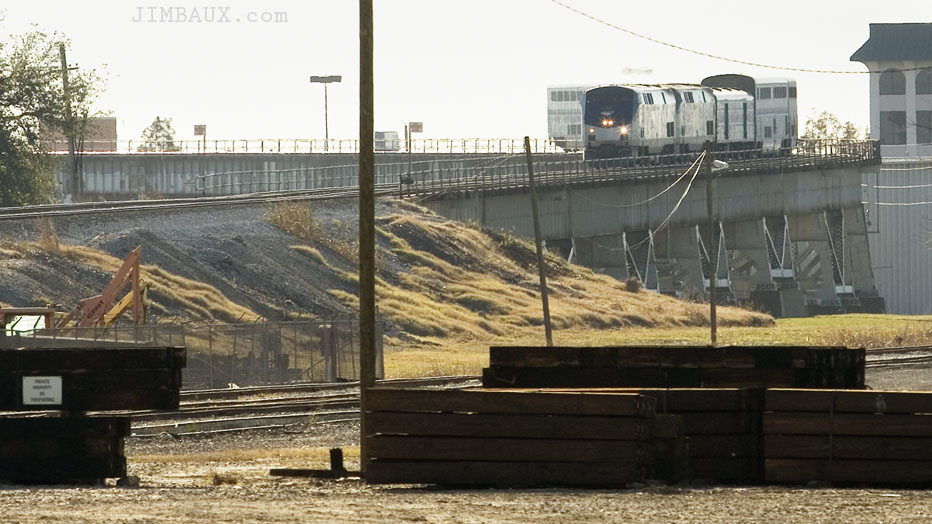 No, these shots aren't great, but I guess the story that they tell is worth being told.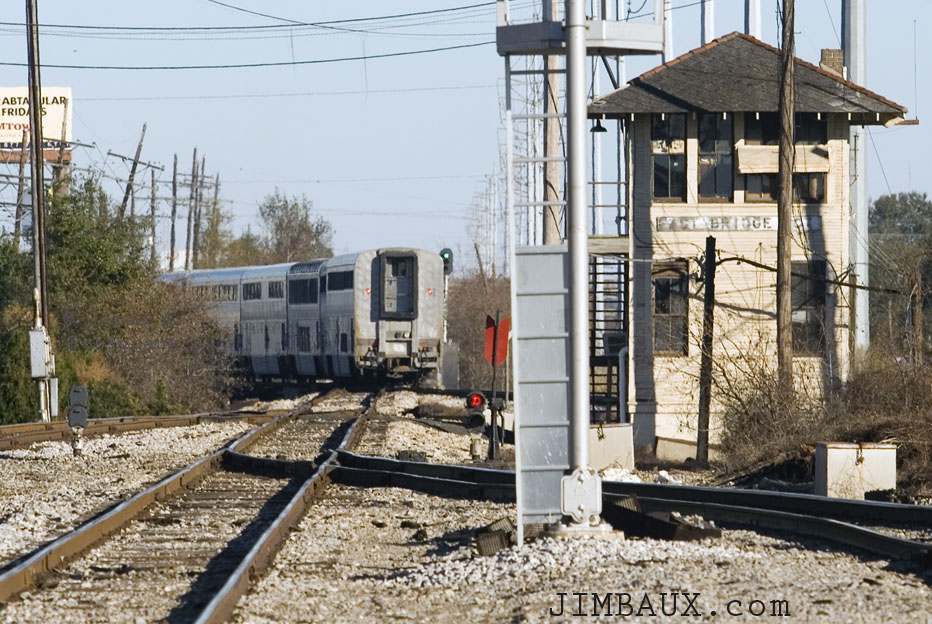 Yeah, okay.  Apparently, we were waiting on food too, as the trip to the golden arches was now more than five hours behind us.
Ending The Day With The Other UP-to-CSX Intermodal Train
At the Huey P. Long Bridge, we got the KCIAT, the other UP-to-CSX intermodal train that passes through New Orleans, this one carrying domestically-loaded containers.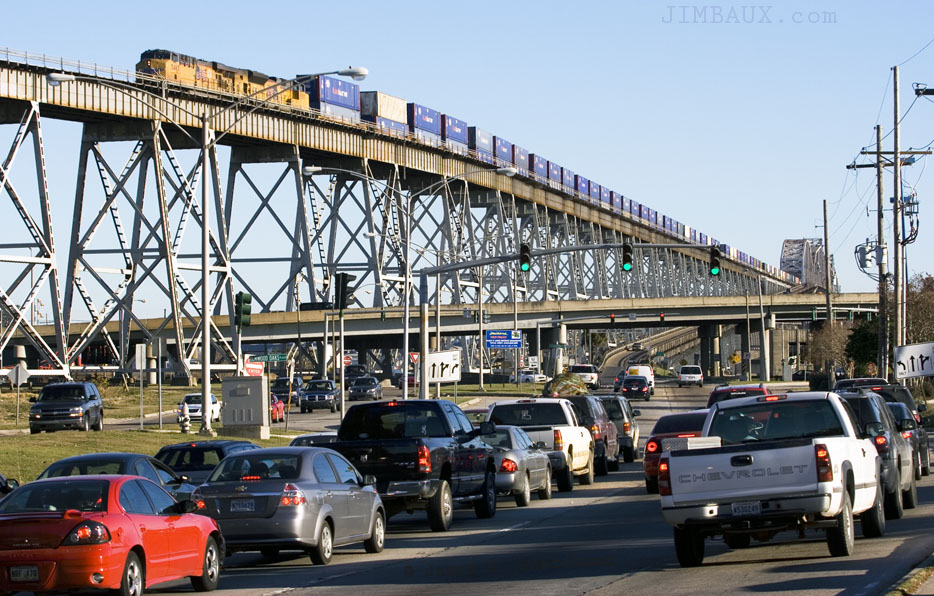 That scene would change soon.  That bridge going across the picture horizontally is no longer there, and the new approaches to the new lanes of the bridge are elevated to the left.
I seem to recall that we then went to eat at the nearby New Orleans Hamburger & Seafood Company, and Bob seems to remember eating étouffée.  The restaurant, which can be seen in my second to last photo from my set of photos of the Western Pacific heritage unit's visit to New Orleans in June 2013, is a place where I often take out-of-town guests.
That really is all, folks.  I hope that you have enjoyed it.
Merci,
Jimbaux