[Jimbaux thinks about you all the time.]
Feeling Miles Away
Actually, there are a few pictures from the last days of May here too.  These are all of the train pictures that I took from the end of May until the end of June except for the pictures of the Western Pacific heritage unit coming through New Orleans.
I don't have much to say about the images here, even though there are some new shots here, like this one that was just a stroke of luck, the only skills used here being those acquired long ago.
This is the most recent shot of this post; if you are paying close attention, you'll note that I am again dispensing with the custom of posting all of the images in the order in which they were taken.  Doing so is not my purpose here, though I hope that you did really enjoy and learn from the Great Northward Pilgrimage set: Day 1, Day 2, Day 3, the very different and inspiring Day 4, and the very memorable and thoughtful Day 5.  I hope, too, that you enjoyed the chasing of a Canadian Pacific Railway train in North Dakota, my first-ever shots of a CP train.
So, I Said This Once Before
On the second-to-last day of May, I caught the Union Pacific local train formerly known as "the Chip Local" for the first time since late February.

We are in Raceland here.  Chip retired in November, and I haven't given this train much attention since then, but I also haven't given trains much attention at all in the last two months.  Here is a closer view.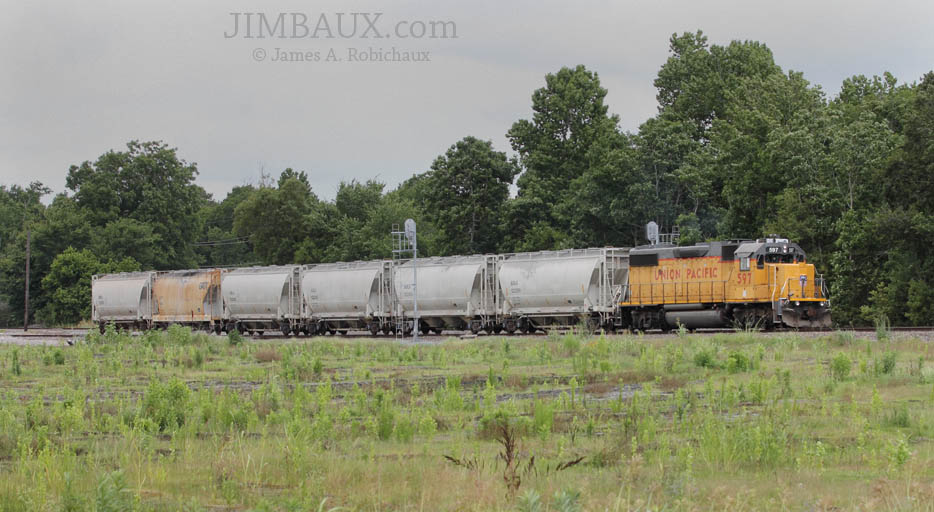 Engineer Boudreaux seemed to slow down as he recognized me.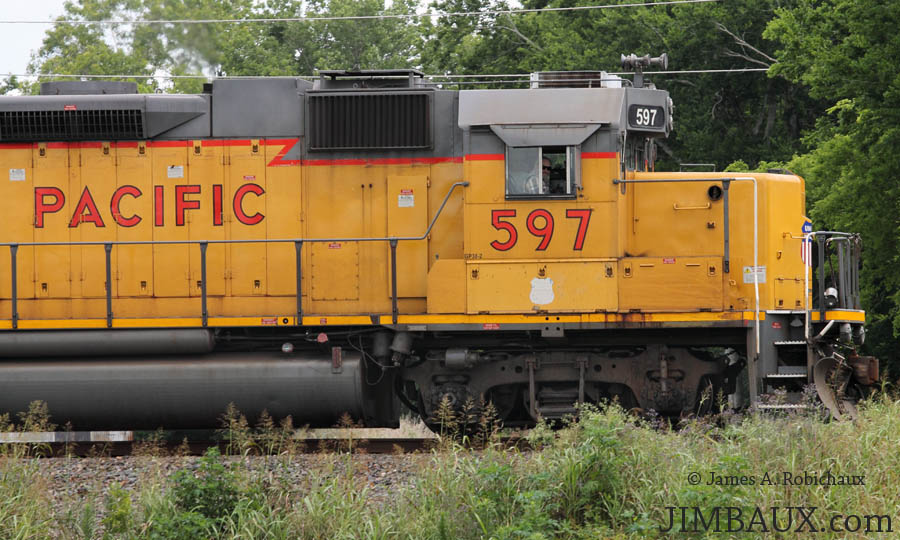 I miss Chip, but I have also moved on.  Are both possible?  I guess so.
'Cause What I Have I Have In Mind
(What, you're not listening to today's song?  It's a really good one.)  Here are some KCS switchers working KCS New Orleans Yard at dusk one evening.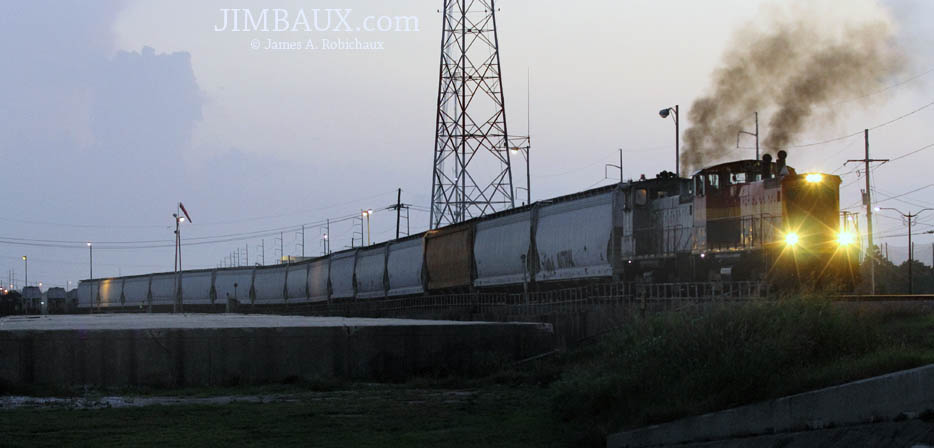 Again, if you really care, you can see caption information in the filenames, which can be read by holding the mouse arrow over the pictures.
We should all be doing this.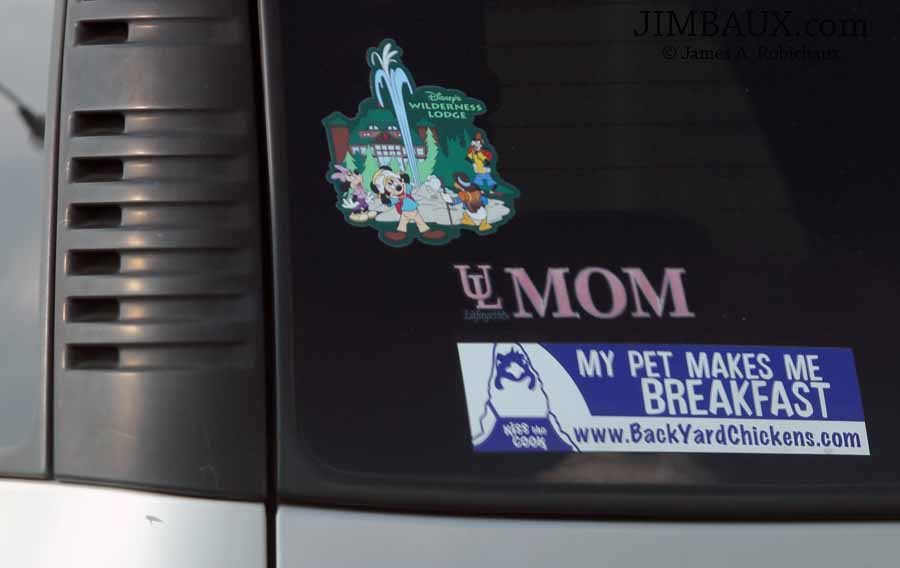 I would do it if I had the space.  My friend William, who just moved out of town to move to China, gave his chickens away.
You Think I've Got It Made
While on one of my recent habitual drives between Bayouland and Woadieville, I managed to get a new shot, this one of an eastbound BNSF train at Des Allemands.

Yes, that's a new shot, one that I've never done before.  It's okay, I guess.  Here's the same train again in Waggaman a little while later, since we were going in the same direction.

Meh.  It's hot.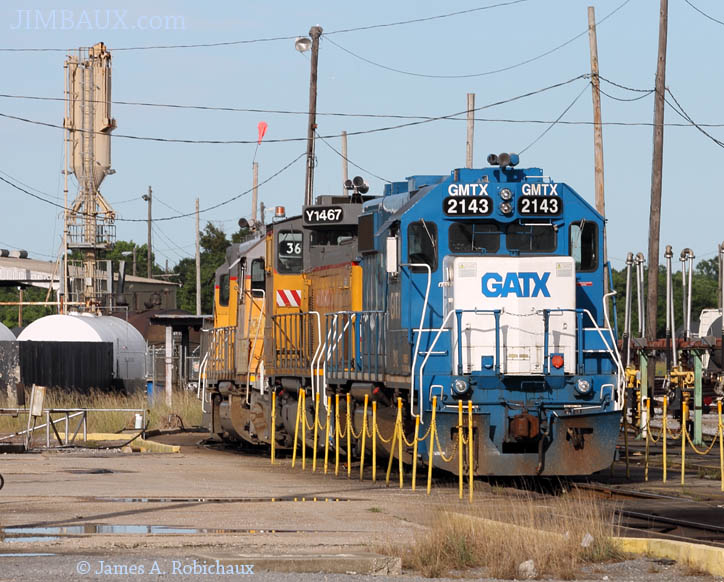 Here are the old MoPac fuel racks at Avondale.

Yeah, the redeeming quality of that image is the view deep into the yard at right.  Speaking of Avondale, here it is a few days before in darker, wetter times.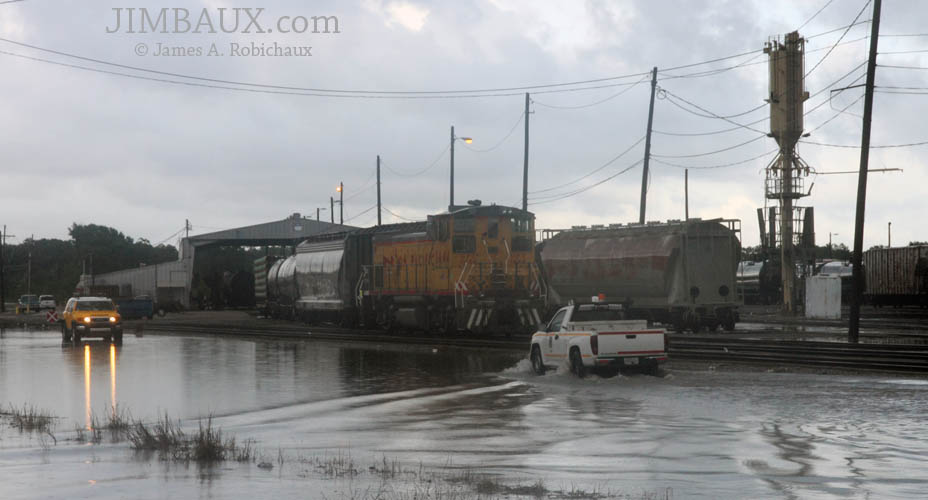 The significance to life is that which we give to life.  Floods will wipe us clean anyway.  Nothing that we do is really all that significant, but that should not be a reason to not persevere.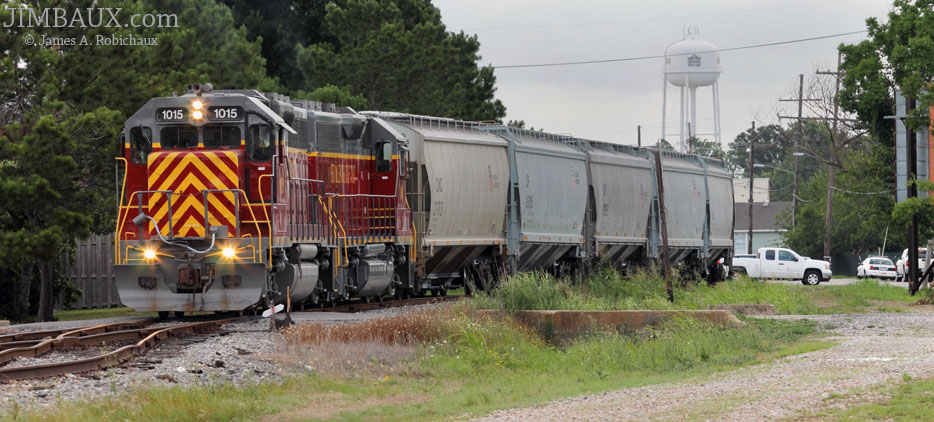 Yeah, no kidding; that's the NOGC!  Despite being in that area plenty and seeing trains, that's the first shot that I get there since January.  It's not that I don't care anymore; I just care more about other things, like stand-up comedy, which is going okay, and has apparently brought a few new readers to this site.
'Cause I've Wasted All I've Known
Seether really rocks.  Here's another new shot, though it is not special.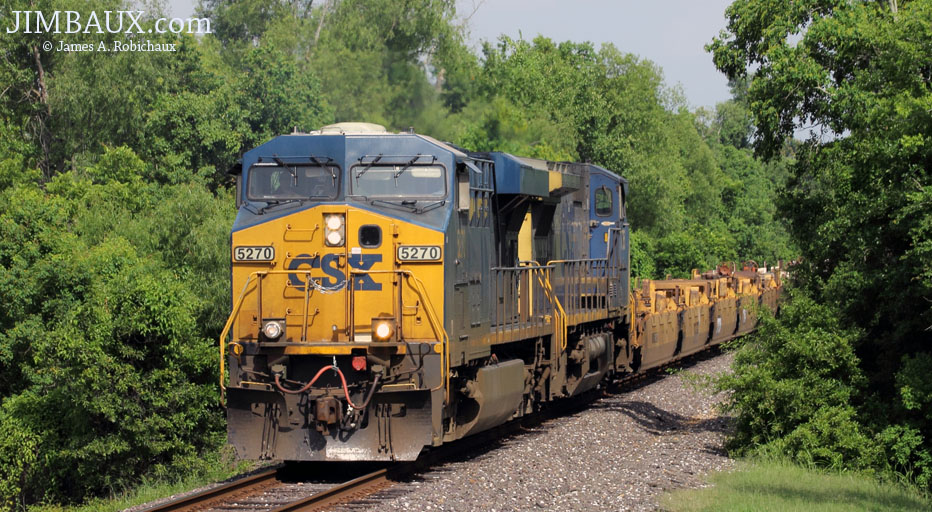 That's a UP baretable train rolling slowly through Waggaman on former SP trackage, now UP's Avondale Sub, which is in yard limits.
Never Run Away
As we close this post by looking at a sextet of pictures from the KCS New Orleans Yard at dusk a few weeks ago – and you've already seen one of the images from this shoot that is not shown here – I'll discuss more about the revelation that the recent death of a cousin-in-law was a suicide.  Unless you count the morning view I did here nearly two years ago, these late afternoon views are the first time that I ever do these shots.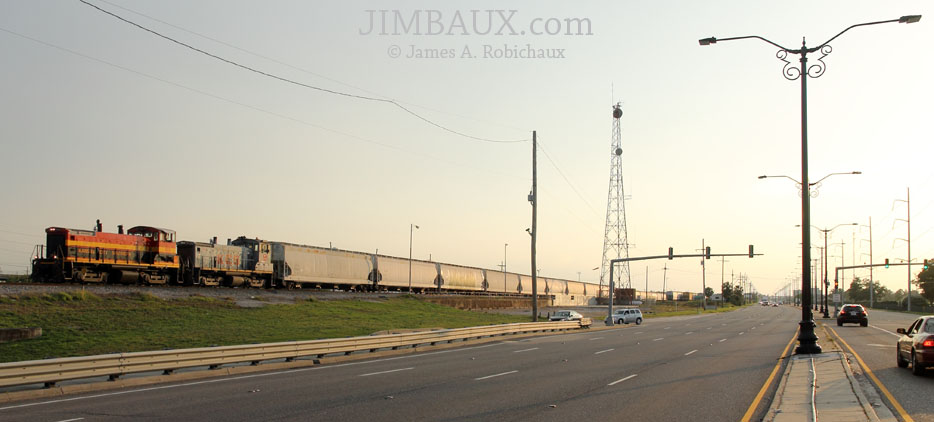 My cousin was inconsolable at her husband's funeral.  It was a terrible thing to witness, that he had chosen somehow to depart from life.  From the great discomfort and sadness that I felt from witnessing her deep grief and sorrow, I want to make something positive come from it, as there is plenty that we can learn from this.

As regular readers of this site know, I often preach about the rights and the empowerment of the individual, that an individual must not so willingly and blindly submit to the overpowering conformity of what we call "society," that individual liberty and freedom of thought are the only things that are sacred.  Jean-Jacques Rousseau and Denis Diderot are to be admired for their work in the promotion of the empowerment of the individual.

The possibility of suicide does indeed make us existential beings, and to commit such an act honors the autonomy of which Rousseau and Diderot wrote and that they promoted, though we must always be aware of the dark side to that empowerment.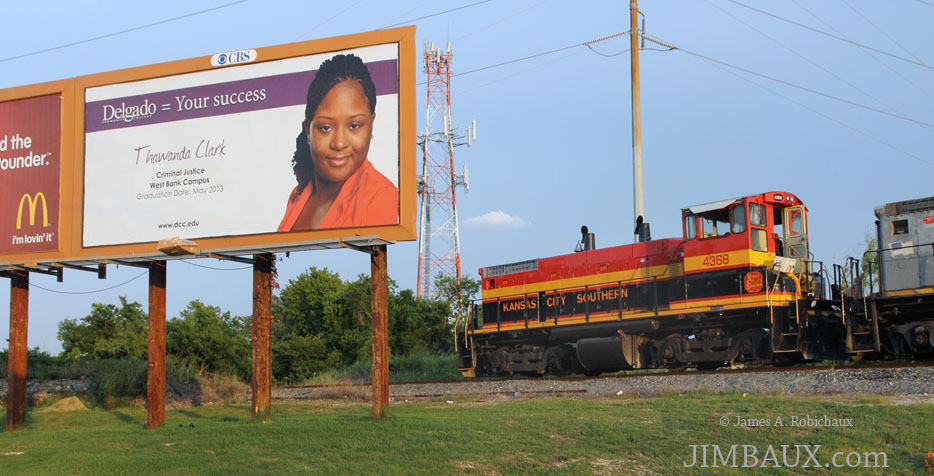 As the terrible grief that my cousin could not help but display showed me all too well, "people need people," as my recently-deceased grandmother would often tell me.  She was so right.  So was Donne.  No man is an island.  As much as our respective existences may marginalize those of others, we also are beneficial to each other in so many ways.  Seeing the grief caused by my cousin-in-law's suicide has helped me to temper my own fierce defense of individualism, not that individualism is bad at all, but it's not the only answer, not the only way.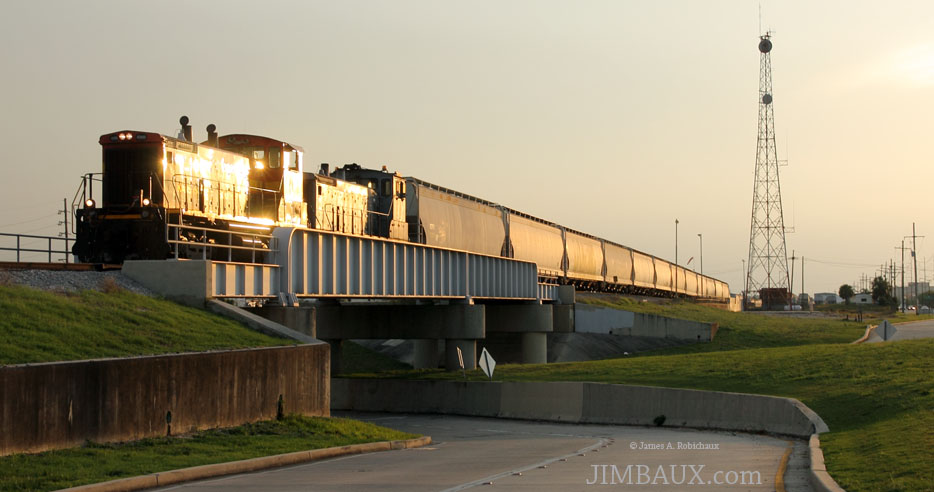 Perhaps Coleridge knew this as he wrote The Rime of The Ancient Mariner.  I really don't know, and nor does anyone else who tries to interpret that opaque work, but that's not really the point.  Maybe Nietzsche's inability to completely reject slave morality even as he lamented its triumph over master morality explains our dilemma.  Aren't we all selfish?  And isn't at least some of that selfishness not necessarily bad?  Don't you want to mean something to other people?  Are there not people whose existence is important to you?  Is hopelessness the opposite of narcissism?  Is being somewhere safely in the middle between those two extremes the most healthy way to live life?
It is my hope that there are some in this world who value my own existence and what I do, that my existence does something for them.  Is that not normal?  Don't you want to be – or aren't you already – "significant" to some of the people in your life?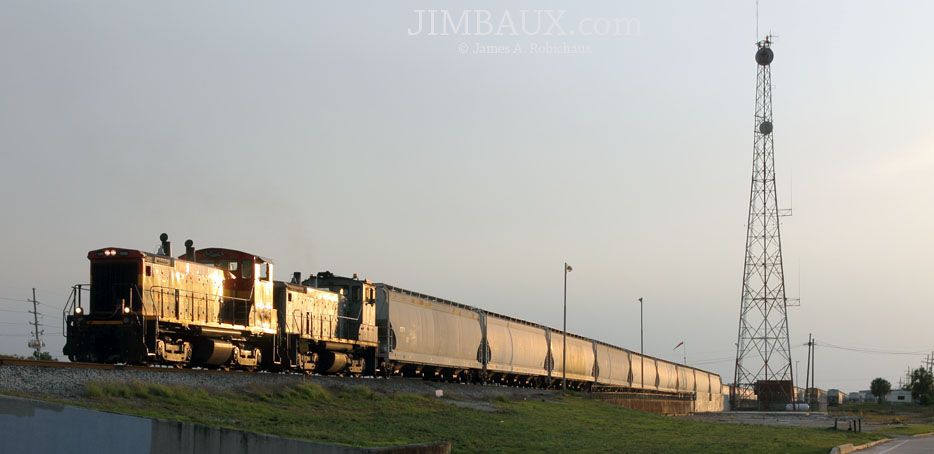 Find a way to live your own life to the fullest and pursuing your own dreams and still be important to other people, to serve and to inspire others, to give meanings to the lives of others by giving meaning to your own life.  That is probably the only way.
Jimbaux