[Jimbaux is deprived of his conscience . . . ]
Okay, so, it was Independence Day, and TI and Zzannie had us over to their house in West Fargo for a celebration.  So, that's where our pictures are.  Before we get to the train pictures, here's your correspondent pouring caramel on some ice cream in a photo taken by SonnaDue.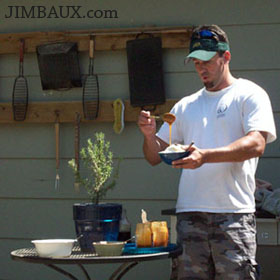 Yeah, I know that that's not why you're here, but don't worry; since TI and Zzannie don't live far from the track, the BNSF's KO Subdivision, to be specific, I was in position for some shots as soon as the festivities ended . . . and the other festivities began, if you will.
Here is our first of three trains, the E-DLHSCM0-20, an empty Dilworth, Minnesota, to Spring Creek Mine, Wyoming, coal train.

Well, that's different, I guess, right?  It is high-sun right now, which is part of why these pictures look a bit washed-out, but they'll slowly get better.  Oh, there's another train coming?  Ah, yes!  There is!  It's the Dilworth-Laurel Manifest with some classic SD40-2s leading.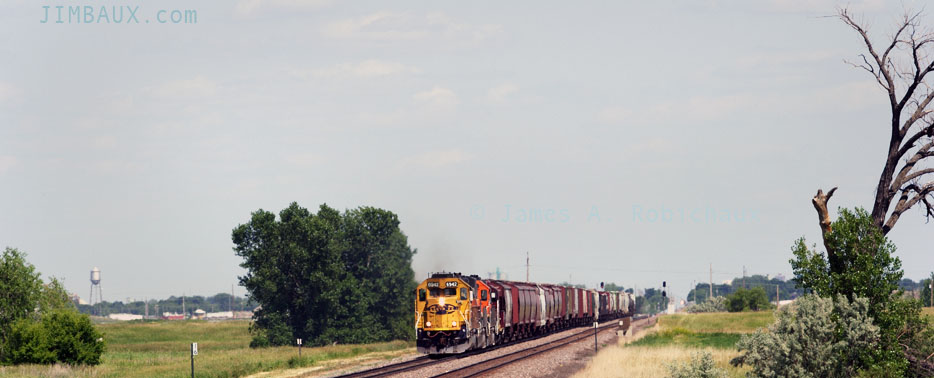 Yeah, that Yellowbonnet is a bit out-of-place in North Dakota, but it's still BNSF, and I was happy to see it; one of us is probably shaving with it now.  Also, yes, that is a GP60B in the consist.  Here's a closer view of the H-DILLAU1-03, which has just begun its journey to Montana.

Yes, it was a short train, and, yes, that was some sort of lease switcher – ILSX 1360 – tucked in behind the power.
There was actually a third train behind this one, but my female passenger insisted on not waiting any longer to return to Fargo; so, that's where we went, and several of us attended a Red-Hawks game, which was okay, I guess.
After the game, I was drawn back to West Fargo, back to the same location by the track as before at 38th Street NW, where all of these pictures are taken, and here we see a H-CSXPAS just before dusk.

The H-CSXPAS is bound for BNSF's big hump yard in Pasco, Washington, which is why it is not surprising that this train had several empty centerbeam flatcars, undoubtedly bound for lumber loading in the timber country of the Pacific Northwest.  The H-CSXPAS is normally interchanged from the CSX in Chicago, but this one apparently detoured over some other railroad and came online to BNSF at Northtown, which is BNSF's big hump yard north of Minneapolis.

Please note the empty centerbeam flatcars in the below image.

Well, that's about it; it's almost 21:00, and this has been a really good Independence Day in eastern North Dakota, in the valley of the Red River of the North, land that the US acquired from Britain in exchange for the area of the Louisiana Purchase north of the 49th Parallel, today's southern Saskatchewan, which we shall see later.  Anyway, here, the day comes to an end in West Fargo.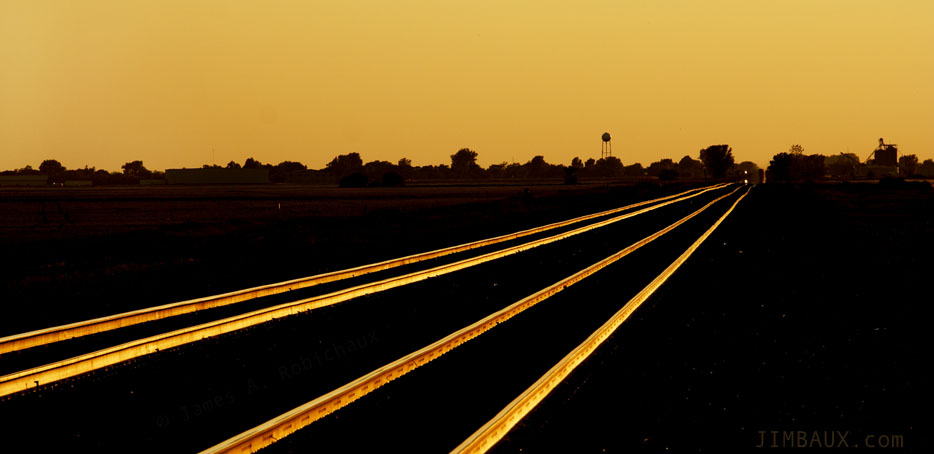 America is beautiful, and so are you.
Jimbaux