This is Day 5 of the five-day drive from New Orleans to North Dakota in June 2008.  Day 1 took me from New Orleans to Heavener, Oklahoma.  Day 2 took me from Heavener to Pittsburg, Kansas.  Day 3 took me around eastern Kansas and had me in and around Pitsburg for most of the morning.  Day 4 took me across Nebraska and into South Dakota.  In the photo essay that you are about to read, I take a deep plunge into what we see in images, bringing together various disciplines of study.  Nearly all of what is written below was written to accompany an e-mail with pictures mailed to friends and colleagues in late October 2008, a couple of months after I returned to Louisiana, and, as stated before, these photo essays and the encouragement from the feedback from them are what led to the creation of Jimbaux's Journal.  Enjoy.
Intense Early-Morning Perceiving On The High Plains
Yes, kiddies, it's finally here: Great Northward Pilgrimage – Day 5, the final installment.  I'm sorry that is has taken me so damned long to send this, but a multitude of forces including seminar obligations in North Dakota, a pile of work that greeted me when I returned to Louisiana, five or six pretty women, work obligations, two hurricanes, attention devoted to national election campaigns and economic crises, and a protracted illness from which I am now emerging have all conspired to far delay the 'publication' of Day 5 of Jimbo's Great Northward Pilgrimage.
I wrote and sent all of the previous Great Northward Pilgrimage photo essays from the campus of North Dakota State University in Fargo, North Dakota, and I hoped to send this last one from there, but the last week of my time there was intense and didn't allow for much of this.  Not long after I returned to Louisiana in August, some of you wrote to me that you never did get the photo essay from Day 5.  That's because I hadn't sent it!  Sadly, it has taken me until October, but for the amount of money that I'm getting paid to do this, I guess it isn't a surprise, eh?
Anyway, the passage of time has diminished my memory of some of the details of that morning, which is probably a good thing since this essay will be ridiculously long even without those useless details.  If you've started reading this and don't have a good while to seat and read, you may want to wait until you are more relaxed with a bowl of ice cream or something, since this is a damned long read.
Day 5 (June 22) started where Day 4 ended: Huron, South Dakota.  Since it's been a long time, and since reviews are helpful in lessons anyway, let's have a reread of what I wrote in July in the essay for Day 4:
Anyone studying a map will note that Huron, South Dakota, is a good way west of the direct path between Lincoln, Nebraska, and Fargo, but there's a really good reason why it was where I spent that night.  Huron is a terminal on the Dakota, Minnesota & Eastern Railroad, an obscure but extensive regional railroad that operates trackage formerly of the Chicago & Northwestern Railway from Chicago out toward Wyoming.  It's the largest railroad on the continent after the "Big 7" Class I Railroads.  Its obscurity, especially in these parts, is part of why I wanted to witness and photograph action on it so badly.  Furthermore, it's a true granger railroad, much in the sense that the C&NW and the Milwaukee Road were.
There is yet another reason why any serious railroad photographer would want to target the DM&E right now.  The railroad is not long for this world, at least not in its independent form.  Before the close of 2008, the DM&E will likely be absorbed into the Canadian Pacific Railway, which announced late last summer its intention to purchase the DM&E and its sister railroad the Iowa, Chicago & Eastern.  So, before long, this will be the domain of the beaver and the candy-apple red locomotives.  Until then, I want to take advantage of the brief opportunity that I have to photograph it as it still is.
Also, to help us segue into the beginning of Day 5, here's what I wrote at the end of the Day 4 essay:
I was tired as hell.  The town of Huron is really interesting.  There are some old buildings and a nice old downtown area.  I was really hungry too in addition to being tired.  Normally, I'd try to find some non-chain local restaurant and experience some local charm while filling my stomach.  However, I was damned tired; all of this ass hauling and picture-taking plus a lack of sleep from the night before makes a young fella tired.  Therefore, as much as it shames me, I sought some familiar fast food.  There wasn't a Taco Hell or a Suckway nearby.  All that this town seemed to have was a Murder King and a McDumbass.  Do I want to get punched in the face or punched in the stomach?  I went to the Murder King for my 21:30 supper.  I got the loaded steakhouse burger combo and slowly chewed it down.  I then made my way to the hotel and got a badly needed shower and some cool sleep.
What would day 5 — the final day of the northward pilgrimage to Fargo — bring?  Stay tuned to learn.
Well, thanks for "stay[ing] tuned" for so damned long!
As I recall (again, relying on only my memory from four months ago), I was awakened by some radio chatter at around 06:15ish or so.  Before I passed out the night before, I had dialed the DM&E Huron Subdivision frequency (160.395) in on the HAM and left it on full blast all night.  Of course, listening to the radio chatter of a railroad that runs as few trains as the DM&E meant that the comint that I received at 06:15ish was the first noise that I heard the radio make all night.  I heard a train get a track warrant from DeSmet to Huron.  Dammit!  A quick check of the map (which I didn't need by this point) would show you that this was a westbound train coming straight out of the soon-to-be-rising sun.  (For those of you uninitiated to the bizarre religion of railroad photography, ideally, I'd want a train to be going into the sun.  Oh, well.)  My frustration, though, was tempered by the fact that I at least had a train – my first ever DM&E train – and that it was coming my way!  It looks like I have my assignment handed to me; it's a call to glass.  If I can't get a frontally lit shot, I could at least try some side-lit or glint shots, and that's what I did.
Hold on!  We have another problem to address before I can cowboy up and get out of bed.  Before I had even abosrbed all of the train information from the radio, I noticed that there was something physiologically wrong with me.  Perhaps, at long last, the traveling had finally made me ill.  Perhaps something blew through the dry South Dakota prairie air and had gotten into my system.  Perhaps the intensity of the campaign was catching up with me.  There seemed to be a traffic jam inside of my head – specifically right behind my mouth.  I got up and found a sink or a toilet to get whatever it was out of me, but whatever it was wouldn't leave.  I was literally all hawk and no spit.  A quick inspection of the oral orifice suggested that I was suffering from an enlarged rear palate.  Well, gag as I might, I can't spit that out, I suppose.  I never did quite learn why it happened.  I just knew that whatever it was needed to go away quickly since I'd be ending the day in Fargo, North Dakota, meeting people with whom I'd spend the next several weeks.  Besides, there's no time to worry about this; I need to get my ass in gear and get out of the door quickly since my first-ever DM&E train is on the way, and I need to get out and intercept it before it closes too much of the distance.
I quickly went outside to judge the temperature, using my body in place of a thermometor.  I quickly decided that, for the first time on this expedition, I'd do well to not wear shorts.  Ah, what a pleasure it is for this Louisiana boy to be able to comfortably wear jeans in late June!  I dug out that bluish shirt that Nicolas Cage's interior designer gave me from his collection when I was working on his house, slipped into some light blue jeans,  slipped some socks and shoes on, gathered the rest of my gear, went down to the lobby to check out, grabbed a few munchies from the complementary breakfast, and I scurried out of town.  I knew I'd be back because I was going to intercept a train that was coming to Huron anyway.
Enlarged palate be damned, I headed east straight into the precipice of the day.  The sun was rising, and I needed to find my damned train.  I knew that finding it would be easy since the highway – US Highway 14 – parallels the track without trees obstructing the view (this being the Great Plains, afterall.)  I got past Cavour and was almost within sight of the town of Iroquois when, at about 07:07, before my eyes off in the distance was a triangle of light at the head of a long steel snake.  Sweet!  Here is my train, the first time I lay eyes on a DM&E train after years of waiting.  Three SD40-2s were leading this train elephant style, and, fortunately, all three were wearing the DM&E-IC&E blue-and-yellow paint scheme.  Yes!

Here we see two tele-smash images of the train.  You can see the town of Iroquois in the distance a few miles away.  This is train M-CCHU.  That means that it is a "manifest" train (the "M") from Chicago (the "CC") to Huron, South Dakota (the "HU".)

Note that the train was mostly hopper cars.  The first block were soybean hoppers.  Farther back, there were some bentonite empties.  I think that some of the tank cars might have been in ethanol service.  Note about midway through the train the block of bulkhead flatcars.  They were carrying plate steel, but I'm unsure of the destination.  Does anyone know?
This next shot is my favorite image from the morning.  Please take a step back and a moment to view it, and you might see why.

Now, if you would, peradventure, allow me to do so, I'd like to delve into a deeper critical analysis of this image.  The questions that we shall explore here include those that I asked when I used some of these images in a presentation I gave on photography of the Great Plains at North Dakota State University at the seminar I attended.
Again, look at the above image.  What do you see?  When I first posed this question, the answers that I received were physical objects or descriptions thereof – literal answers to my question.  Yes, there are trains and skies and fields in the picture, but that's not quite what I had in mind.  What I should have asked was what was happening in the image?  By that, I don't mean that a train is moving.  There are bigger forces at work here.
To be sure, this is one of the underlying questions of photography that a photographer must constantly (though not necessarily consciously) ask himself.  Specifically, what does photography meant to you?  An artist of any medium or genre must ask this of himself.  To be sure, there are plenty of other questions to ask, like where being a journalist meets being an artist, which strongly resists an easy answer anyway, but those questions can be explored some other time.
So, back to the earlier question of what is happening here, there is, perhaps, something for everyone in this picture.  For a boy who has been infected for a lifetime by an un inexplicable love of trains, that love of trains has led knowledge and understanding of them, which has led to an understanding the greater world.  Silly though it may sound, my love of trains has been one medium through which I have learned about a great many other things, and this includes (but definitely isn't limited to) all of the people whom I have met through this bizarre obsession.  I have learned so much about the rest of the world – and met so many interesting people – via my love for trains.
For the viewer – you – who doesn't share the love of trains, there's still something in this image for everyone: the clash of philosophical and professional disciplines where my love of trains leads me to your worldview using the medium of the image that I created – willed to existence – on that cool dry June morning in South Dakota (and later in my digital darkroom.)  But, what does this mean?
Again, there is something for everyone (not merely the train nerd) in this picture.  The historian, the economist, the political scientist, the agribusinessman, the geographer, the civil engineer, the investor, the trader, the producer, the consumer, and the literarian all can find something worthy.  We must realize that there is something of each of those in all of us.  We are all geographers, we are all investors, etc.
At first glance after that which is tangible, we see commerce.  We see bulk commodities being moved westward, and we see empty cars being brought to traffic sources to be loaded so that other commodities – mostly raw materials – can be moved eastward.  For the historian and the economist (in all of us), there are several things we can see, but before we delve into pre-2008 history, I must discuss a peculiarity of changing interpretation caused by the four-month delay in publicizing these pictures.
When I took these pictures, we were very near the peak of the commodities run up, though I obviously didn't know it at the time.  Simultaneously aided by a weakening US dollar and aiding the dollar's fall, crude oil futures were trading just under $140/barrel, and the prices of corn, soybeans, copper, steel and just about every other commodity were likewise quickly rising.  The economies of South Dakota, North Dakota, and Saskatchewan, as well as much of the rest of the Great Plains and Interior West of the United States and Canada were doing very well.  Professor Plains at North Dakota State University, ever so proud of his Great Plains heritage and a historian of the region, called it "the revenge of the resource economy."  The railroad companies were all raking in plenty of cash too.  They were hurt by the rising price of diesel fuel, but they gained business from truckers who were hurting moreso, and the haulage of bulk commodities was brisk.
My how things change!  Railroads are still hauling plenty of goods, but as we all know, the commodities market has crashed just as dramatically as it rose, partly exacerbated by the credit crunch as financial institutions have had to liquidate commodity investments to meet debt requirements.  As I type this in late October, crude oil prices are almost exactly half of what they were when I took these pictures.  Though it means that it is cheaper to run their equipment, the decreasing price of fuel isn't much solace to farmers who have seen prices for their products drop so suddenly.  Also, the credit crunch and the problems associated with fractional-reserve banking may make it more difficult for farmers and the ethanol plants to do business.  Some farmers in Kansas have already reported trouble getting seed; specifically, even "good" customers of some suppliers now must pay within 15 days instead of 30.
Yes, I see all of that in the picture.  More importantly, how I view the picture has changed over the course of four months.
Again, there is something for the political junkie too.
First, ethanol and the corn used to make it is one of the major traffic sources of the railroad, and it seems that every other town of any size has a new ethanol plant.  We have a presidential candidate who has called for an end to ethanol subsidies.
Second, as we read above, the Canadian Pacific Railway was in the process of buying the DME and the ICE as I was taking pictures.  (Note: At the time these pictures were taken, your author was a holder of equity shares of common stock of the Canadian Pacific Railway, a good investment indeed!)  One of several reasons why CP wants the DME and ICE is the burgeoning ethanol trade.
Again, we have the imposition of history.  Those of you who are students of history – even if you're not a train nerd as am I – would probably know that the Canadian Pacific Railway is today an icon of Canadian nationalism because its construction – specifically the completion of the transcontinental link in 1885 – led to the unification of Canada as a nation.  In that role, one could argue that it was even more significant to Canada's development than the completion of the Union Pacific's transcontinental railroad across the United States in 1869 was.  Afterall, California had become a state more than a decade before that.
But, wait!  What does this have to do with the political junkie?  Because railroads don't have the "easy entry" aspect of free-market capitalism, they are highly-regulated in all parts of the world, even here.  In fact, if the Democrats have control of both the White House and the Congress next year, some degree of reregulation in the railroad industry is likely.  The pendulum was already beginning to show signs of swinging that way long before the credit crisis of the last two months.
The Canadian Pacific announced its intention to purchase the DME-ICE in September 2007, but any railroad merger proposal is subject to regulatory approval.  In October 2007, CP announced that it had completed the financial transactions to acquire DME-ICE.  Ergo, I knew as I took the pictures that the DME would soon not exist as I was seeing it.  On September 30 of this year, the Surface Transportation Board – the successor to the Interstate Commerce Commission, which had become insignificant due to deregulation – announced its approval of the purchase.  The last day of existence for the Dakota Minnesota & Eastern Railway will be October 30, just a few days from now!  I have no idea when I'll ever return to South Dakota, but by then, the DM&E won't be the DM&E anymore.  Instead of blue-and-yellow locomotives pulling trains on old jointed rail, I'll see the red locomotives of the Calgary-based company moving trains over welded rail.  Please note the jointed rail in the picture, which has since been replaced with welded rail due to the impending CP takeover.  CP has effectively controlled the DM&E for the last few months anyway.
I have laid eyes on the DM&E for the last time, and anybody with any chance to get out there in this transition time, do so!
So long, DM&E; it's been real!  We'll miss you.
Let's look at the picture again.  (Awww, do we have to???  Yes, but not for long.  Well, let's look at the train again a few seconds later.

Do you see mankind's imposition on nature?  The historian Walter P. Webb argues that the Great Plains significantly altered the way the white man had to think about settlement as he emerged from the timbered region in his slow but progressive westward expansion.  The rules changed once he left the timbered country.  This land was harsh, by comparison, and was only conquerable by horse, since the Plains Indians had already mastered horsemanship, most significantly in the endeavor of warfare.  So, again, do we see mankind's imposition on nature in this image?  Do we also see an interplay – a balance – between man and nature in this picture?
I don't see any horses in the picture… or do I?  Horses helped the white man lay a claim to the Great Plains (Webb says it would have otherwise been impossible), but it was a horse of another kind that allowed him to maintain that claim.  The Indians called it the "Iron Horse" and we see one in the picture, don't we?  Actually, we see three, with several heavy carts.
Getting somewhat back to politics here, could it be, too, that the cultural and political geographer sees regionalism here in the context of what Professor Plains calls the "revenge of the resource economy?"  After all, the word "revenge" is a loaded term indeed.  It implies taking an action on spite.  Spite about what?  Often, some of the inhabitants of the Great Plains say that they are out of touch with the residents of the coastal urban areas, and vice-versa.  Isn't it just "flyover country" to use the politically charged term?  It would make sense, then, that Professor Plains would use the word "revenge" for an economic shift that helped the producers of the interior while indirectly harming the consumers of the coastal urban areas with inflation.  Is the land of the Great Plains merely something to be conquered?  Is it, rather, something to be merely crossed – as this train is doing?  Is there no value to it to those not residing there?  Or, is it our breadbasket?  Isn't there a symbiosis?  Have we asked enough questions?  Or, has the picture asked you enough questions?  I really hope that my pictures both ask questions and answer questions.
Okay, let's move on now.  (Yeah, it's about damned time!)  You can ask me questions about that or make comments later.  Here's a wider shot from the same location.

How's that?
Now, we see the train is entering the community of Cavour.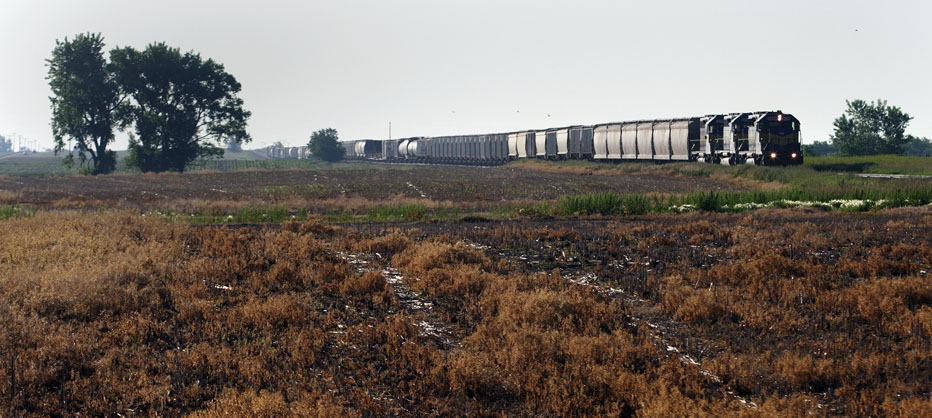 I turned around from the previous shot to get this image of the front of the train passing the elevator at Cavour.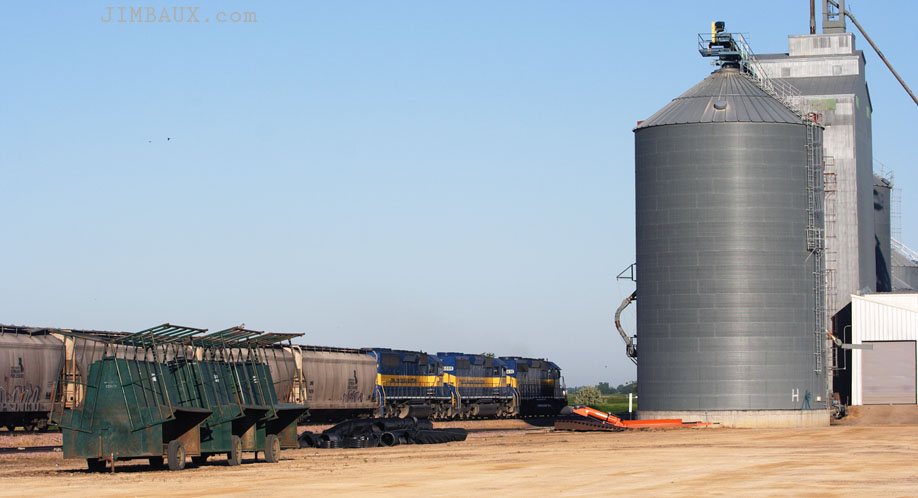 I rather like these next two shots of the train taken from the other side of Cavour.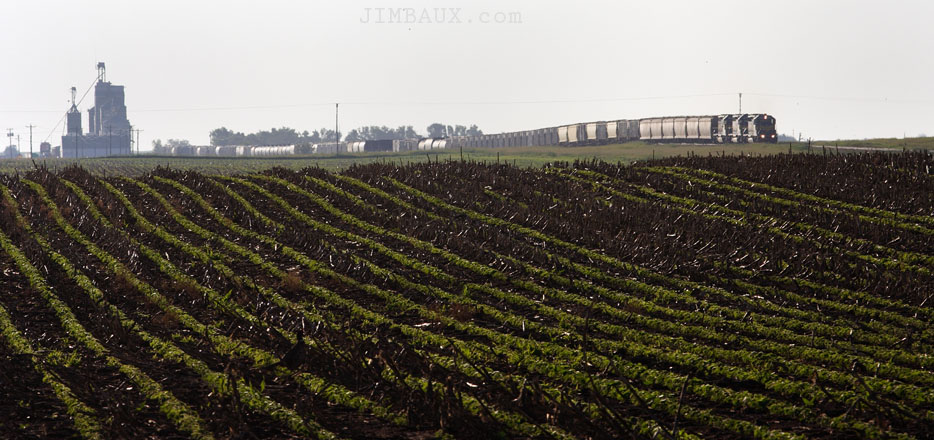 The train was only doing about 30mph (at best), which made for an easy chase, but that won't be true once welded rail gets laid here.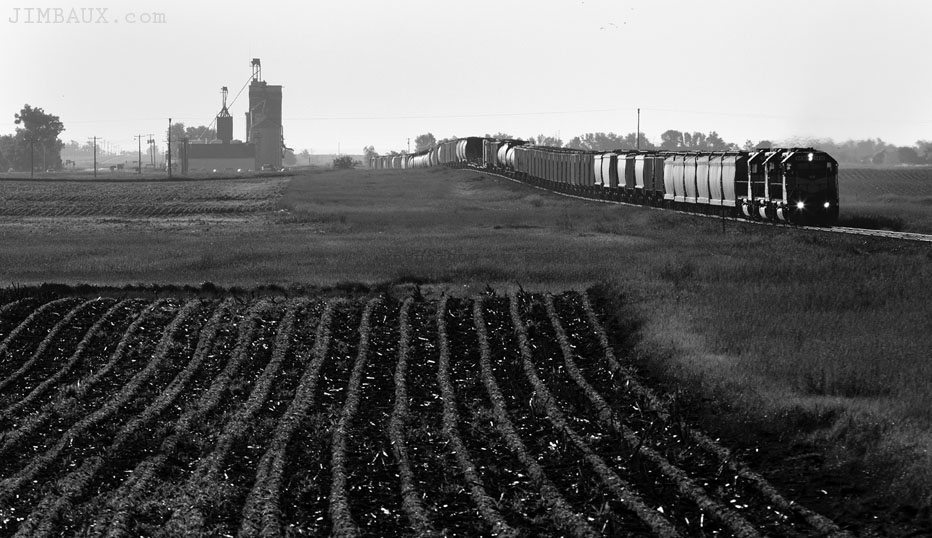 Now, we're back in Huron, I am at the yard waiting for the train.  Let's take a quick shot of the mailbox for the terminal.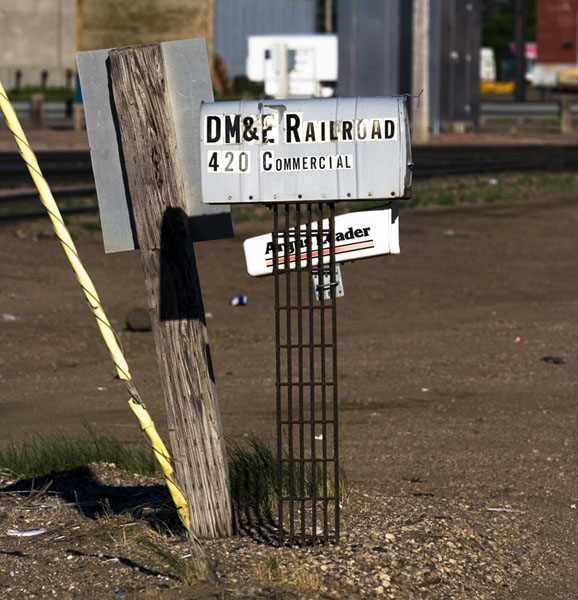 Looking west across state highway 37, we see a building with a banner supporting the DM&E project.  What is that?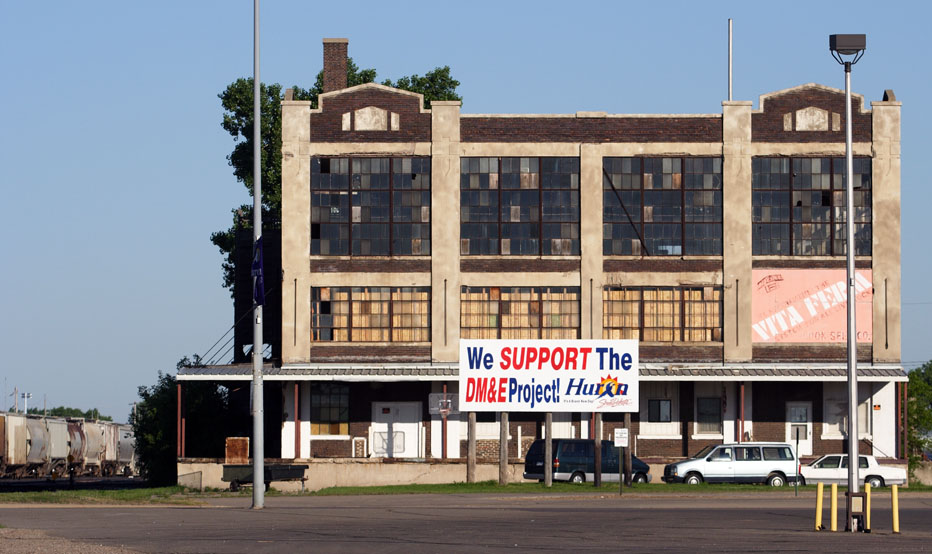 In order to make that narrative above not any longer than it already was, I didn't yet mention one of the reasons for Canadian Pacific's takeover of the DME and ICE.  I have already mentioned the ethanol trade, but there is another equally important if not more important reasons for the takeover.  For several years now, perhaps more than a decade, the DM&E has proposed what would be the largest railroad construction project in the United States in 100 years.  The DM&E has been proposing an extension into the coal-rich Powder River Basin in northeastern Wyoming.  Together, the coal mines in the Powder River Basin constitute the single largest railroad revenue source in the Western Hemisphere.  (That was true a few years ago, but I'm not certain that that statistic is up-to-date; if anyone has an update, please pass it along.)  As it is now and as it has been for the past few decades, the Union Pacific Railway and the BNSF Railway (and their predecessor railroads) have an effective duopoly on the Powder River coal traffic (yet another reason for government regulation.)  Naturally, they are against the DM&E project.  Naturally, the utility companies are in favor of it.
Not only would this project require laying new trackage and all the property acquisition problems therein, but the existing east-west trackage from western South Dakota into Minnesota would need significant upgrades to support the additional weights and speeds of these trains.  However, given their small sizes, DME and ICE couldn't secure the necessary loans.  Enter the Canadian Pacific Railway.  The owners of DM&E and ICE actually sought out a buyer.  Naturally, BNSF and Union Pacific were out of the question.  I'm not exactly sure how CP eventuated as the buyer, but I believe the Canadian National Railway also considered purchasing the DME-ICE, if not those railroads seeking CN as a buyer.
The Canadian Pacific states that it plans to go forward with the project, which will take at least one, if not two, decades to complete.  As we discussed before, the commodities market is in a bit of a slump, but CP won't reach the Powder River Basin anytime soon, and it's anyone's guess as to what aggregate demand for low-sulfur coal will be in 10 or 20 years, but I'm nearly positive it will be worth the investment.  Apparently, CP management thinks the same.
I've written that the DM&E out here is not a very busy railroad.  It isn't, but with the CP takeover, if the Powder River Basin extension is achieved, the amount of trains will dramatically increase, hence the need for track upgrades.  Here's an article from the Pierre, South Dakota, Capital Journal about the prospects for significant increases in rail traffic in the city.
[NOTE: The expansion project has not happened a few years later and now likely will not take place.  Falling demand for coal due to falling natural gas prices and a national government increasingly unfriendly to coal has led CP to shelve the project, and now CP is trying to sell the western portion of the DM&E.  Some welded rail was laid on the DM&E in the late summer of 2008, and I witness and photographed some of this on my way southward a month-and-a-half after these pictures were taken, but that's all that was ever done on the project.]
Now to the next pictures…….
There are some neat murals in Huron just like in other parts of the Northern Great Plains.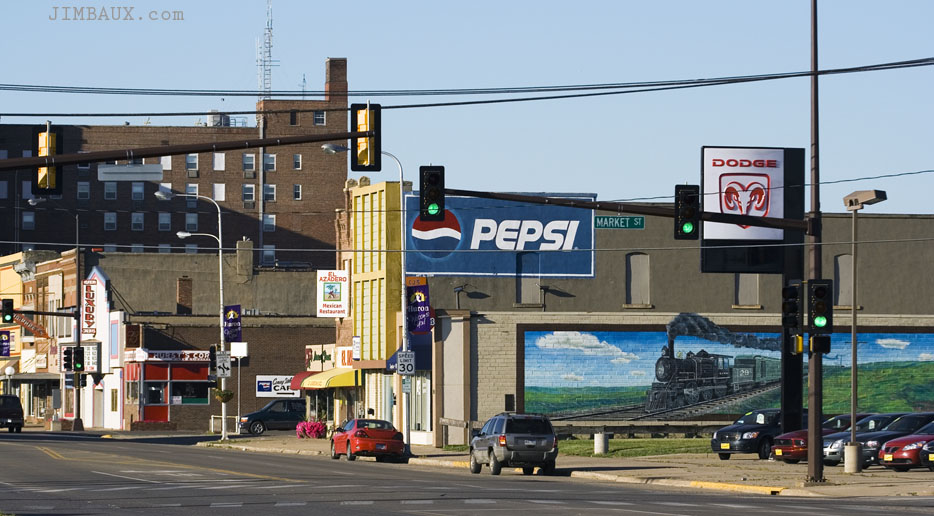 Now, let's go to the western side of town, and the western most extent of my adulthood explorations of South Dakota (I went to Mount Rushmore and the Black Hills as a child on family trips.)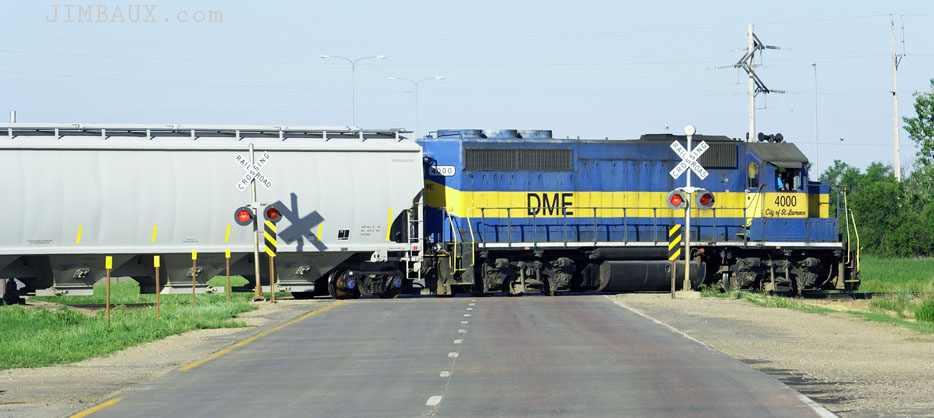 I went west of town where I got these shots of a switch job working the west throat of the yard where Highway 14 crosses the tracks.

After that, it was time for some nourishment.  I went to the McDumbass to gorge on some sausage biscuits.
Now, it's time to get out of town because I needed to get to Fargo by early afternoon, and I had expired about all of my foaming time.  Still, my route from Huron, SD, to Fargo, ND, was back out on Highway 14 (where I had started the day with the first picture) until I got to Arlington, about 50 miles to the east.  So, there was a chance that I'd see something on the track, but I wasn't expecting it on this not-so-busy railroad.  Furthermore, it would allow me to explore at a much more gingerly pace than can be done when chasing a train.
I did indeed find something, though not a real train.  When I was at the yard earlier, I saw a hi-rail truck heading east once the M-CCHU arrived.  That makes sense.  I got this shot of it at Cavour, but I did this just as much so I could know what a shot of eastbound train might look like here in summer morning lighting.
(I often take pictures of empty track in places I don't often visit so that I can plan the shots in my next visit.)  These are the last railroad-related images of the day, and thus the last railroad-related images of the Great Northward Pilgrimage.
At Arlington, I told the DM&E goodbye until July (when I came back southward) and turned north onto US Highway 81.
Hay!

Just off of Highway 81, I shot some hay pictures.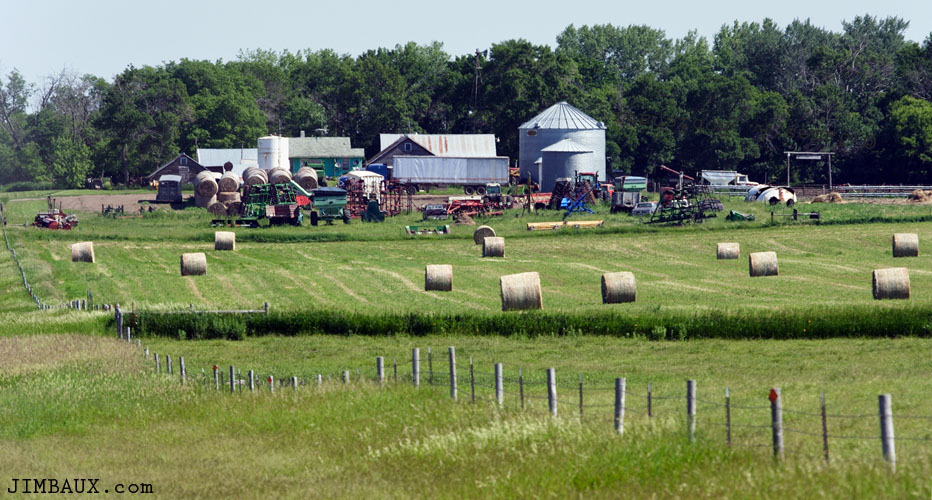 I crossed into North Dakota sometime between 11:00 and 12:00.  I arrived in Fargo sometime around 13:00ish, and my first meal in the state of North Dakota was at the Subway right across from the Fargodome.  I'd eat there several more times over that summer.
That's it folks, and it's about damned time.  Questions and commentary are welcome as always, but after reading all of this crap, I'm not sure you want anymore.  Well, I'm glad that I at least finally got this out, but, again, for the money I get paid to do this, it's a wonder I got this out at all!
Take care, everyone.
Jimbaux