[Jimbaux is looking for something, something to be . . . ]
The Walhalla Trip, Preceded By Morning Foam
Yeah, it's the day of the epic Walhalla trip, and I think that was the day that we played …Something To Be on the way back from there, which really got me to liking that album.  You didn't think that I was only a metalhead, did you?  We've definitely got plenty to do today, and plenty to do tonight.  Saturday 5 July 2008 was a truly memorable day, and it would start shortly after dawn with Jimbaux getting his first-ever train pictures in the state of Minnesota, 11 days after getting his first-ever train action pictures in North Dakota and 13 days after getting his first-ever action train pictures in South Dakota.
Early Morning Foamed Pimp
What, you don't like Kid Rock?  Actually, I'm not that impressed by him either, though he's okay, but that was a killer album title, wasn't it?  Anyway, immediately east of Fargo, the most populous city in North Dakota, is its sister city of Moorehead, Minnesota.  Just east of Moorehead is the community of Dilworth, where BNSF has a sizeable yard where six lines meet.
Almost immediately upon arriving in Dilworth, we have our first train, a loaded coal train C-DKMCOB0-31 seen easing into the yard at 07:07.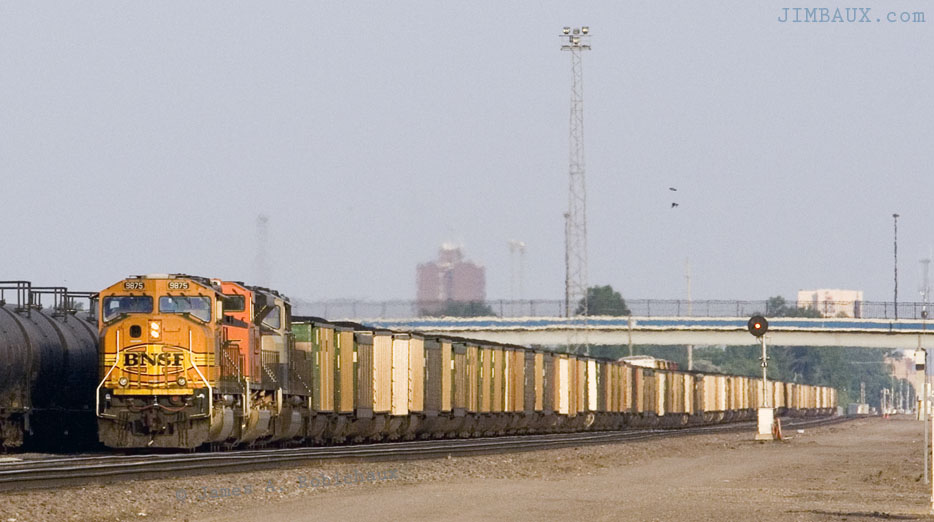 The C-DKMCOB originates at the Decker Mine in Wyoming and is bound for Cohasset, Minnesota.  This train usually enters Minnesota once and only once at East Grand Forks, but some blockage in Fargo on the connector track to the Hillsboro Sub required this train to come into Minnesota and into Dilworth Yard, where its power would swap ends and lead the train back into North Dakota and down the Hillsboro Sub to Grand Forks, where it would turn right and re-enter Minnesota.

Here, then, came a westbound manifest train.
I then, still new to this area, scoped out some more shots and probably got something to eat (even though I probably ate something at the apartments that morning.)  More than an hour later, we have another eastbound train, this one actually going through the yard out to the mainline to the east, and it was a real treat of a train that I set up to photograph at the overhead shot at the eastern throat of the yard.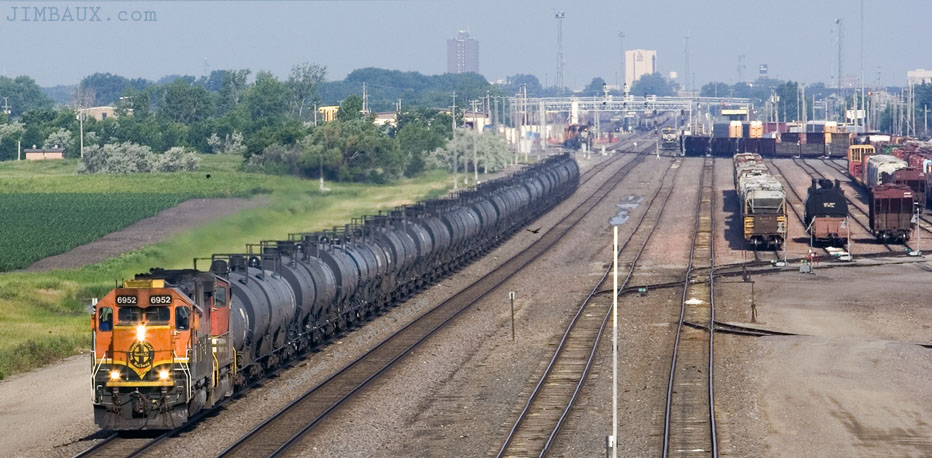 This neat unit tank car train of railroad-owned cars and with the neat old locomotives has a neat story.  This is the U-HVRCHC1-03, a train that BNSF runs for itself.  Yes, BNSF both provides the service and is the customer for this train.  This is an empty eastbound diesel train from BNSF's big facility at Havre, Montana, on the Northern Transcon, and the diesel (when it went westbound loaded) was for BNSF locomotives based there.  The train is heading to the BP plant at Rochelle, Illinois, and the "CHC" destination station code is for Cicero Yard in Chicago.  Many of the tank cars in this train were railroad-owned, a real rarity.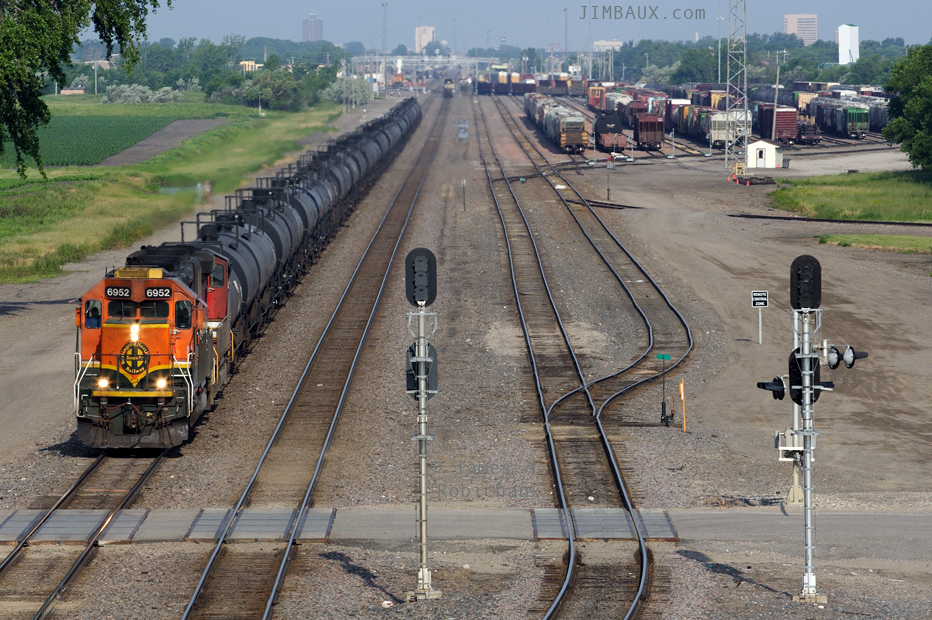 How's that?  I think it's neat.  Take a quick look at the skyline above the yard.  That tall greyish building above the train is in Moorehead, but that tall light building with the visible windows off in the distance at right is the Radisson hotel in Fargo.
Shot(s) Of The Day
Now was a chance to go deeper into Minnesota into rural areas to chase this neat train as it makes its way eastward.  I got ahead of him for this neat pair of views east of Hawley.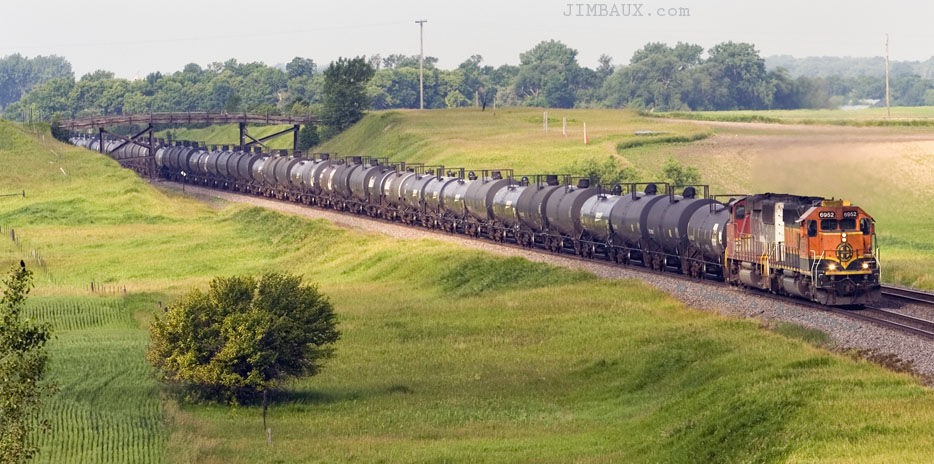 I can't decide which of these views I like better.  Which do you like better?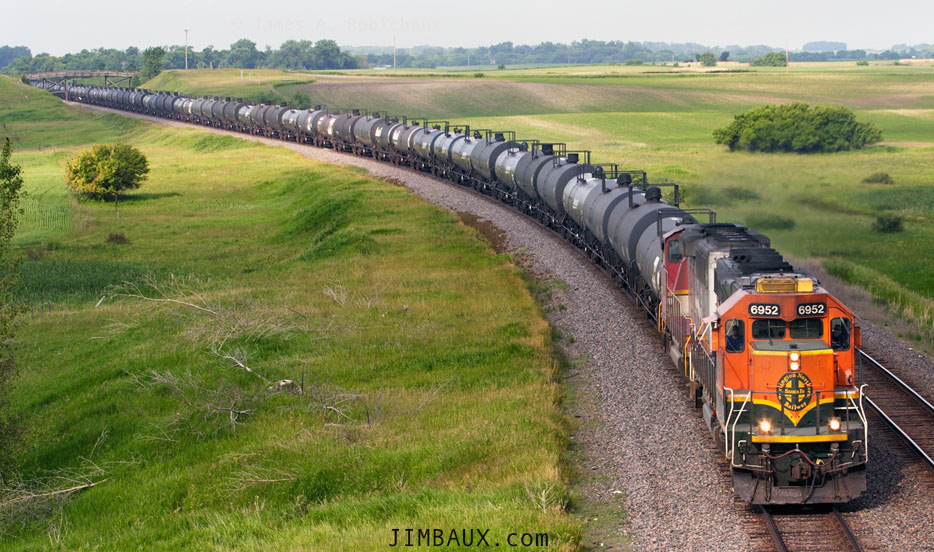 Well, that was fun, but now I have to abort any further chasing of this train and get myself back to Fargo for our group trip to Walhalla and points along the way.  On the way back to Fargo, however, I make a quick stop at the yard in Dilworth once again, just to see what I can quickly grab while passing through town.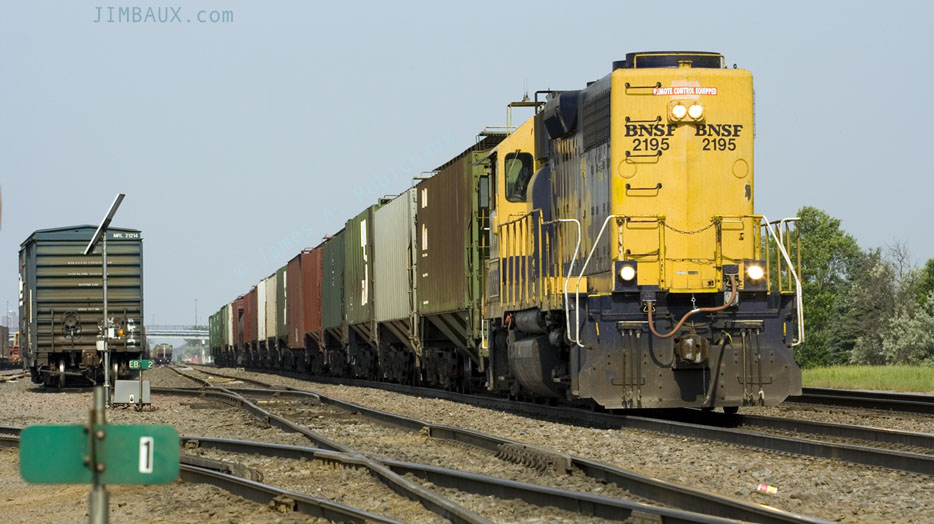 Well, I like that.  The lighting is good, I love Yellowbonnets, and this one looks great.

I like how we can see a string of cars with plenty of lumber loads at left and a neat-looking boxcar at right.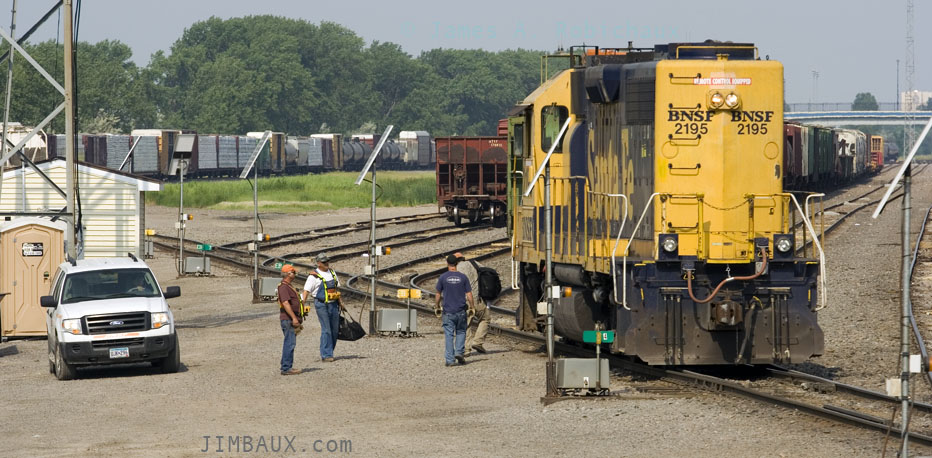 Okay, I really need to get myself back to Fargo.
Northbound Caravan To Small Towns
So, several of us gathered in a few vehicles and went north to Walhalla via Pisek.  We were going to the Rendezvous Arts & Heritage Festival in Walhalla because TI was performing there, but on the way there he showed us something interesting in the town of Pisek.
Pisek, Bohemia in North Dakota
No, this is not the only place in the Northern Plains where Bohemians settled, but this small town of Pisek is made mostly of the descendants Czech immigrants from the late 1800s.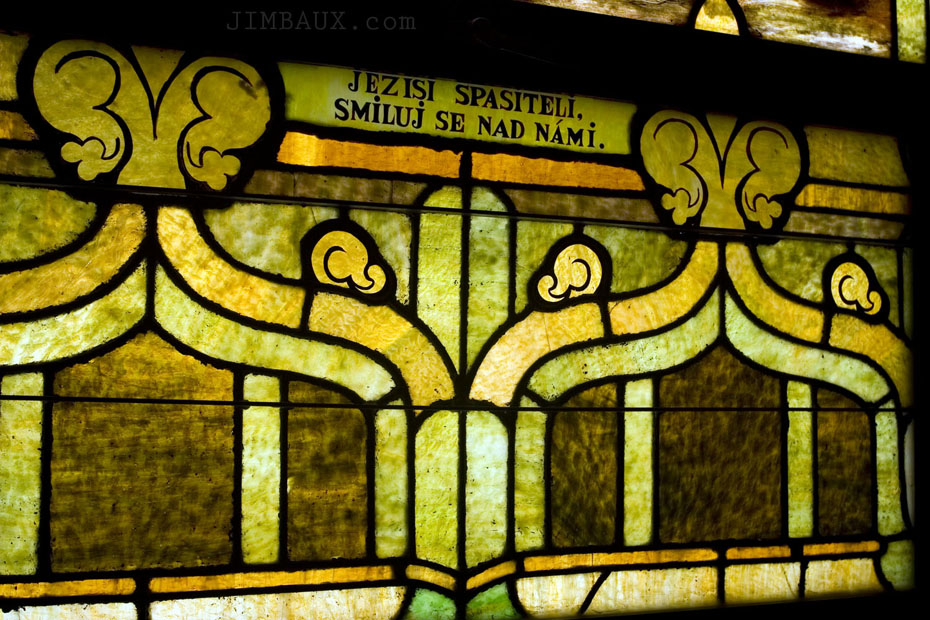 We went inside St. John Nepomucene Catholic Church.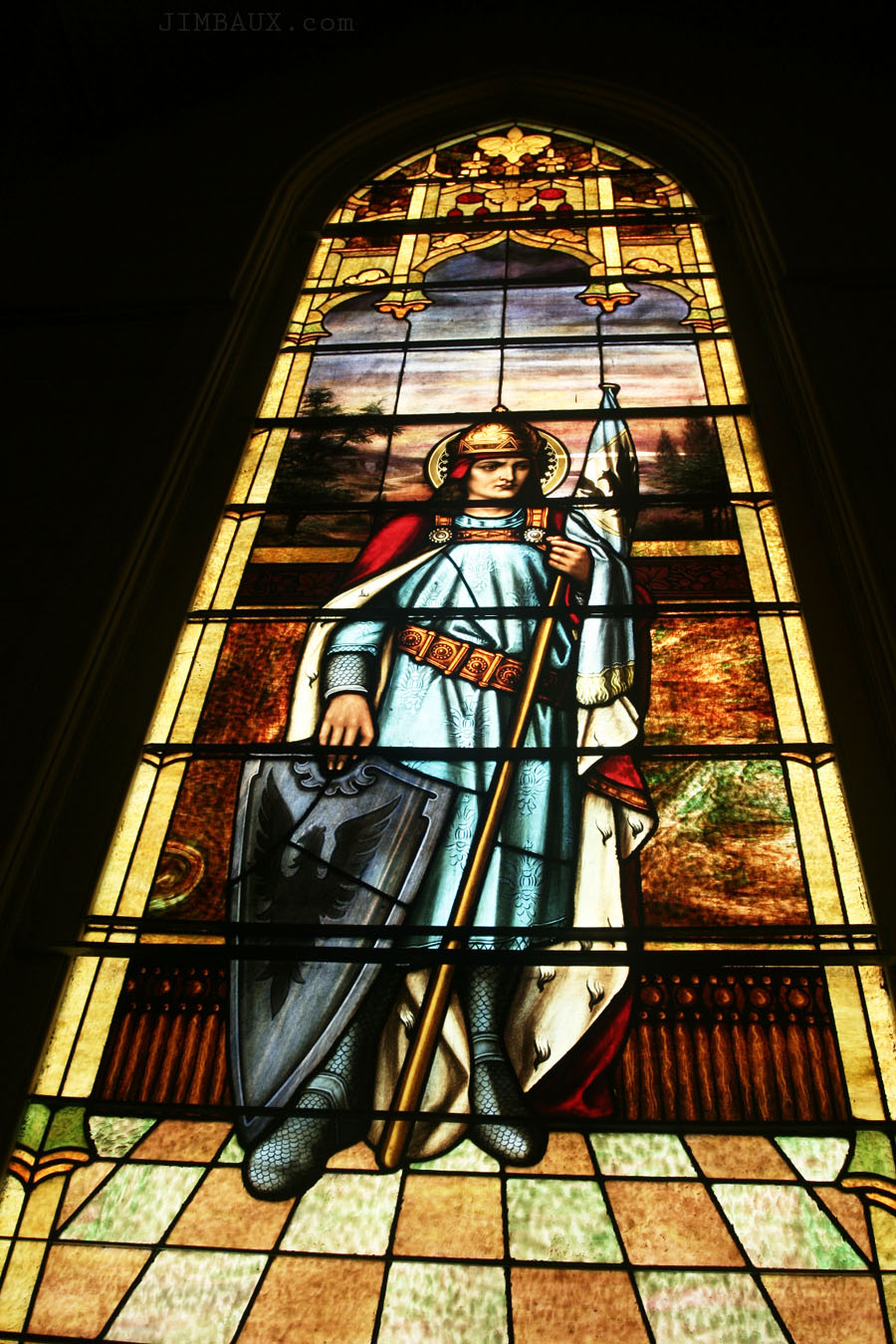 Here is the altar.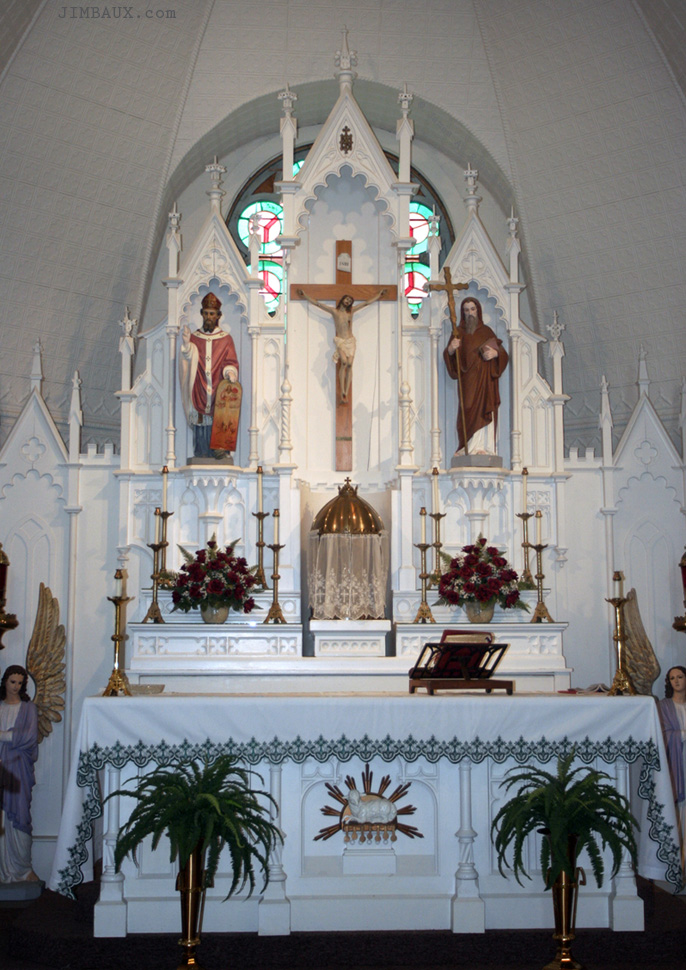 Let's get a closer look of the same image.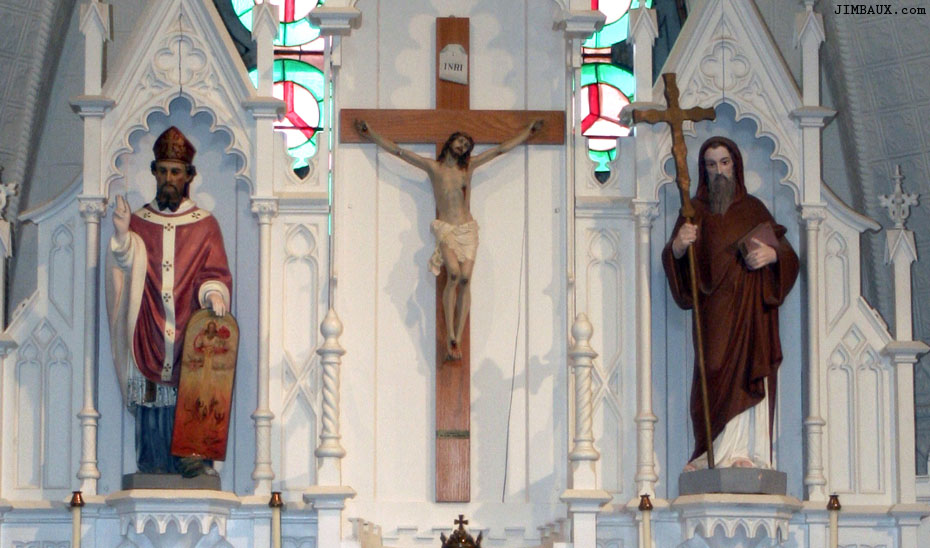 I don't remember the significance of the people shown in the stained-glass windows, but maybe TI can tell us.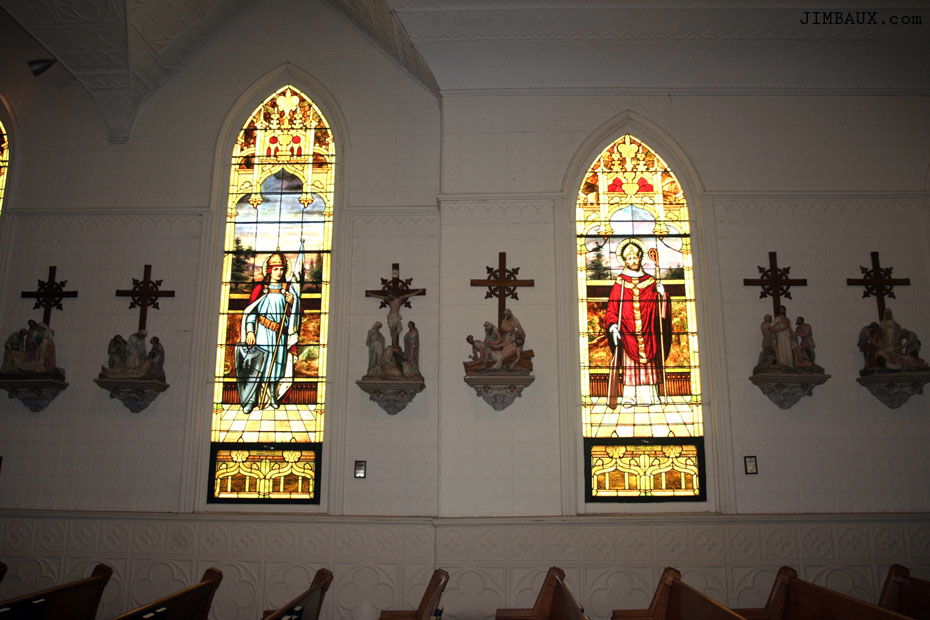 I think of the passion that went into creating all of this.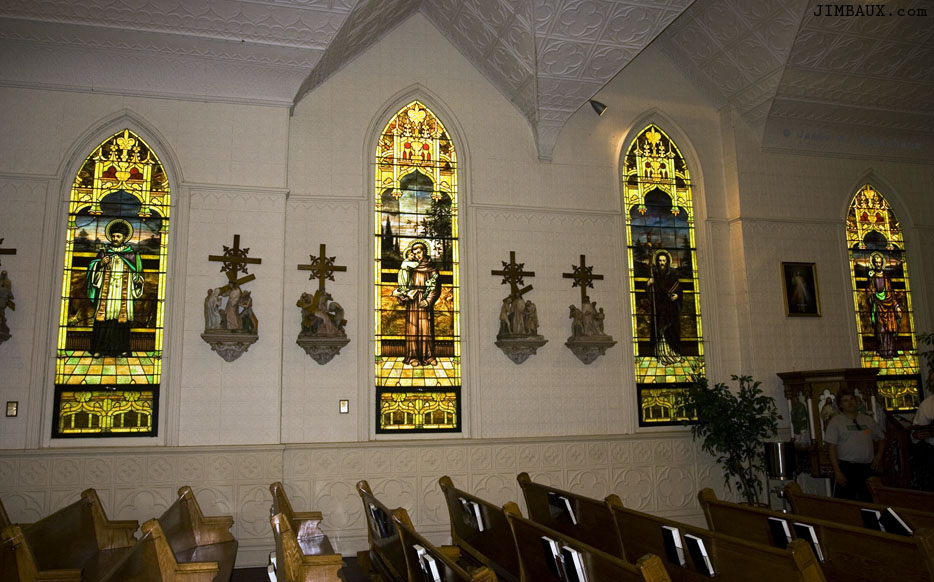 The details of the art in this small church are fascinating.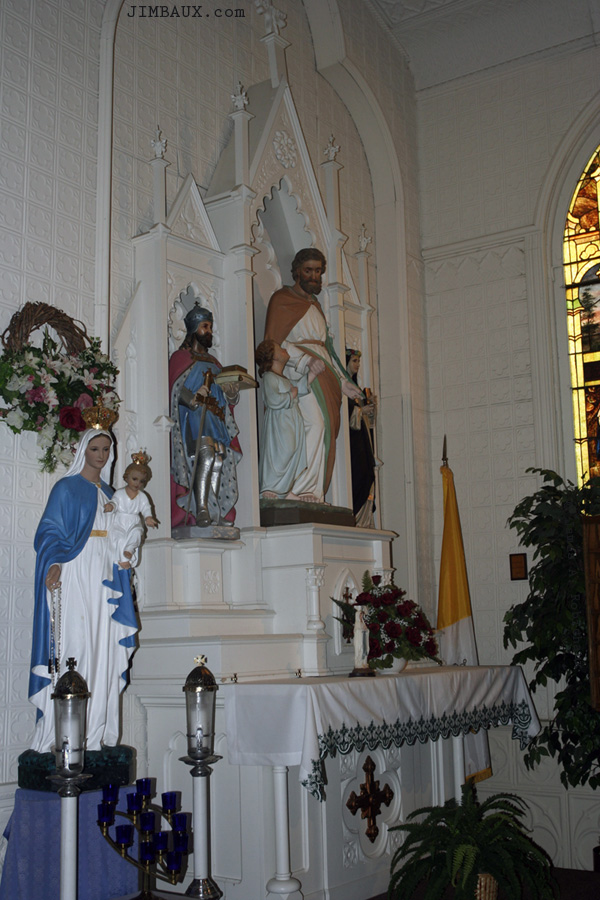 Here is the view from the choir loft.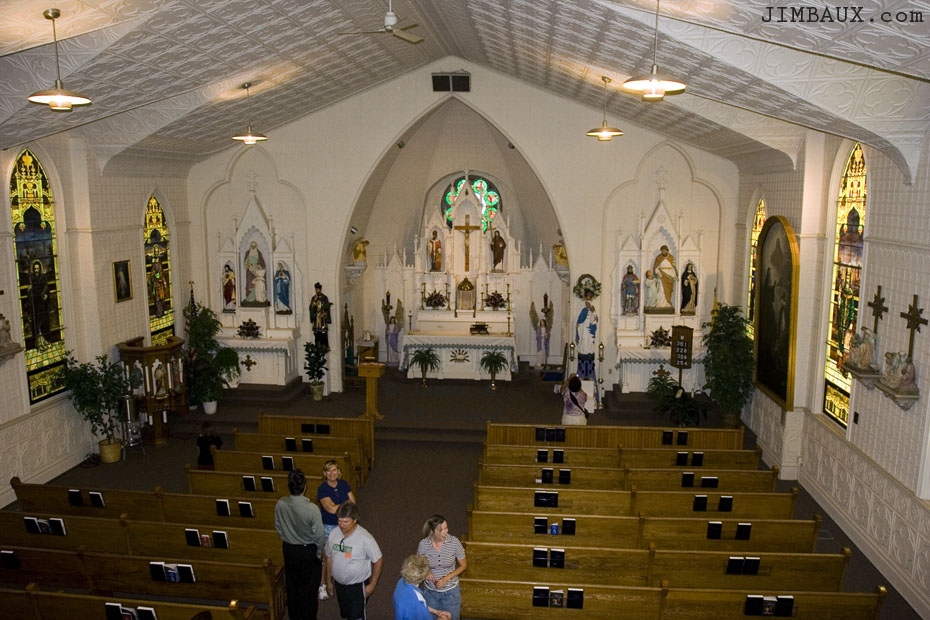 The cemetery was not only full of Czech names but also had some ironwork, common in these parts where Eastern Europeans settled.
You might notice a railroad track in the background.  Note the names on the tombstones below.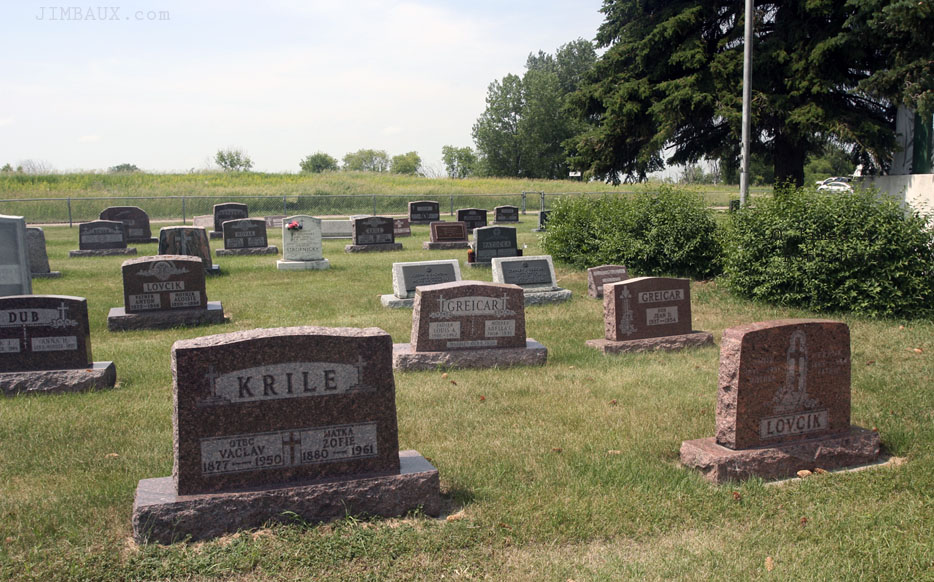 I am not accustomed to these surnames.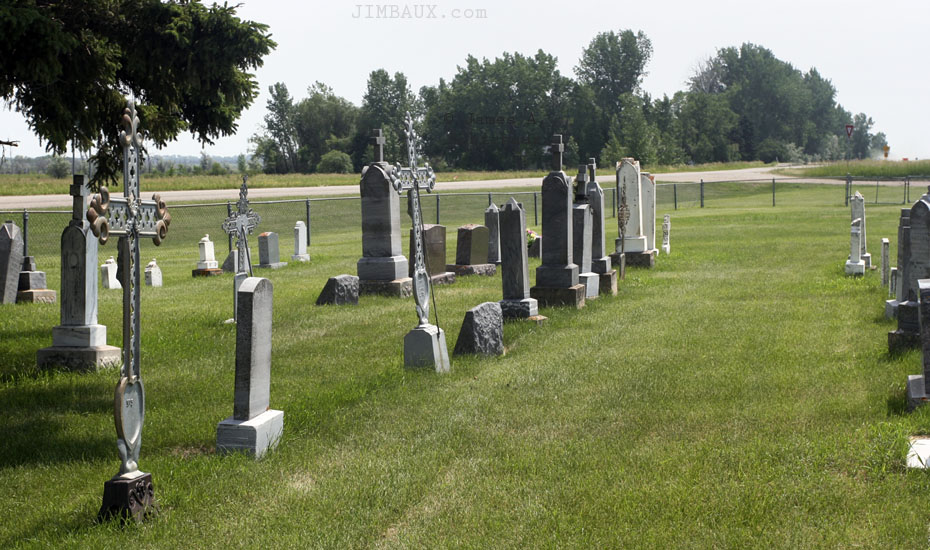 Here is one of the iron crosses.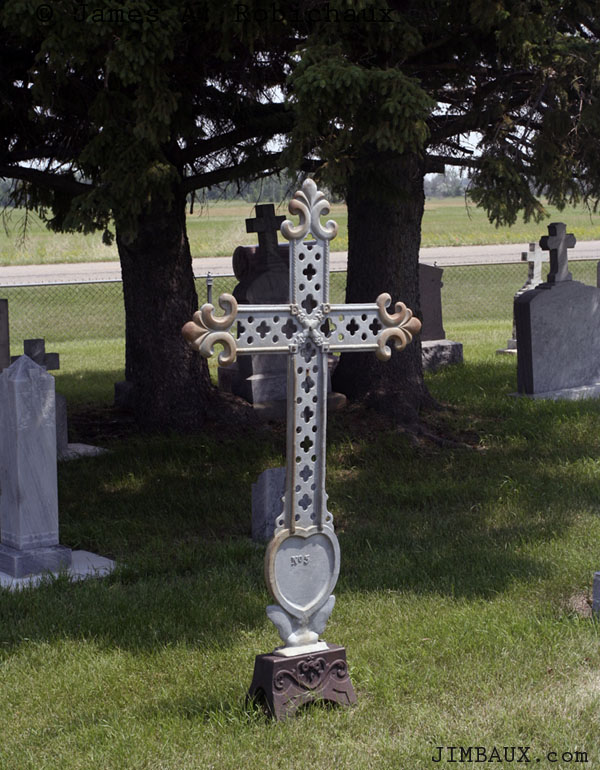 Here is TI by one of the crosses.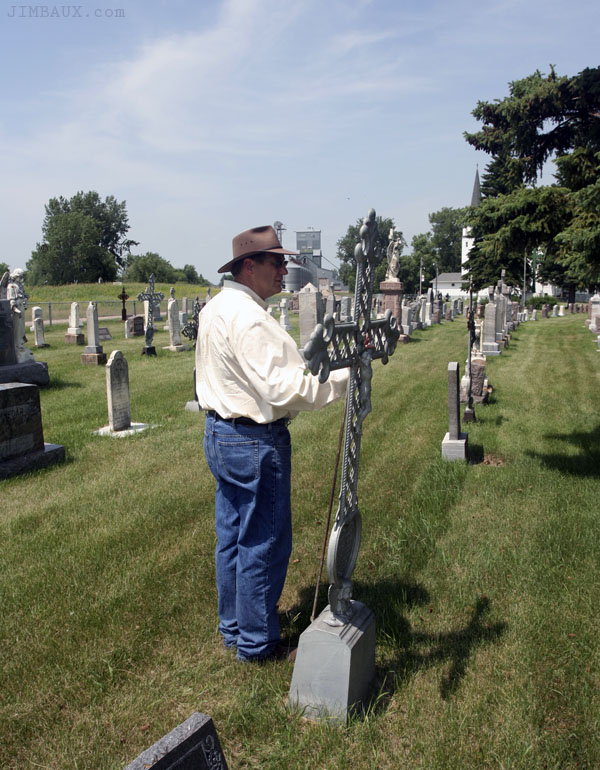 He was a great host.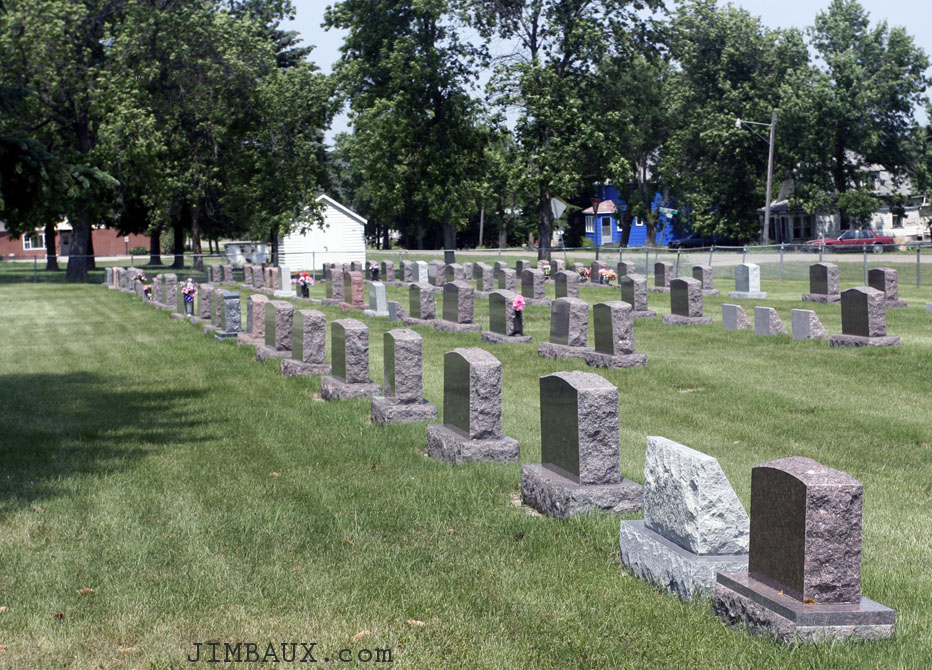 Here is a view of the church from the outside but also showing the grain structures next to the railroad track.
Here lies Daniel Praska.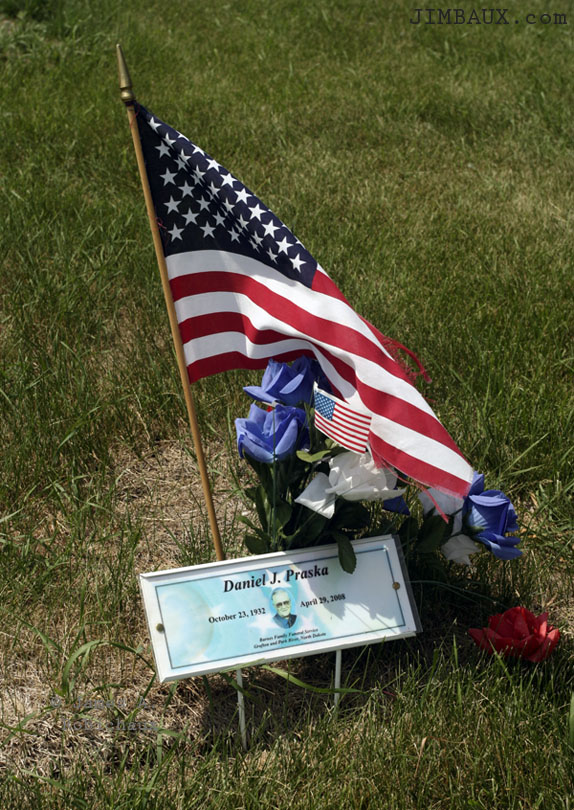 Here is a view of the church from the front.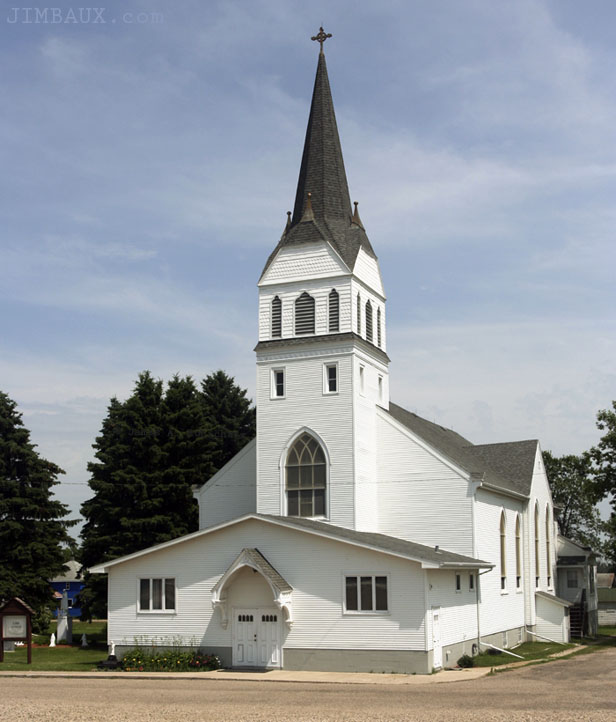 I'm not sure that there is still any industry for the railroad to serve in Pisek, but this is BNSF's Hannah Subdivision, a branchline primarily existing to serve grain elevators.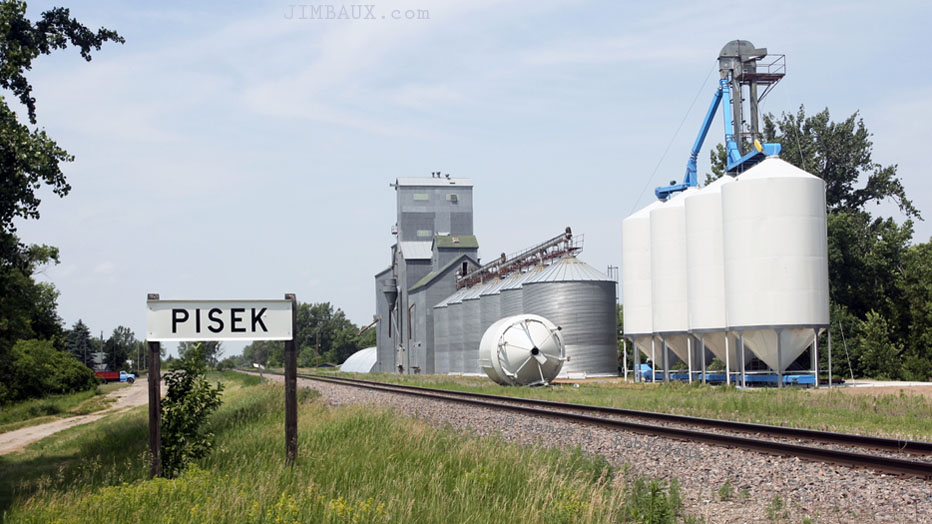 Here is what the post office in a town of about 100 people looks like.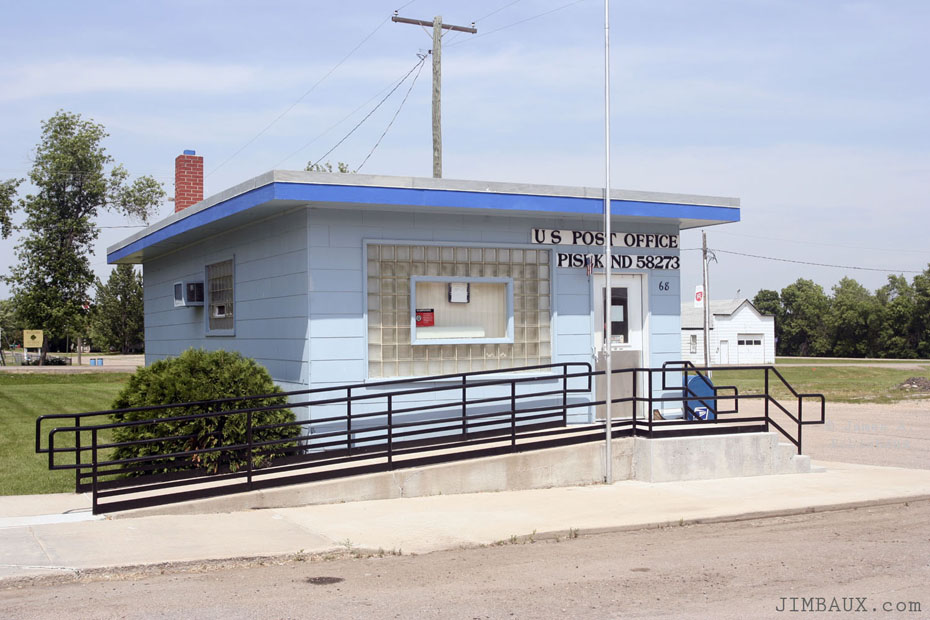 For such a small town, there is an impressive old school structure, but it probably drew students from the countryside nearby.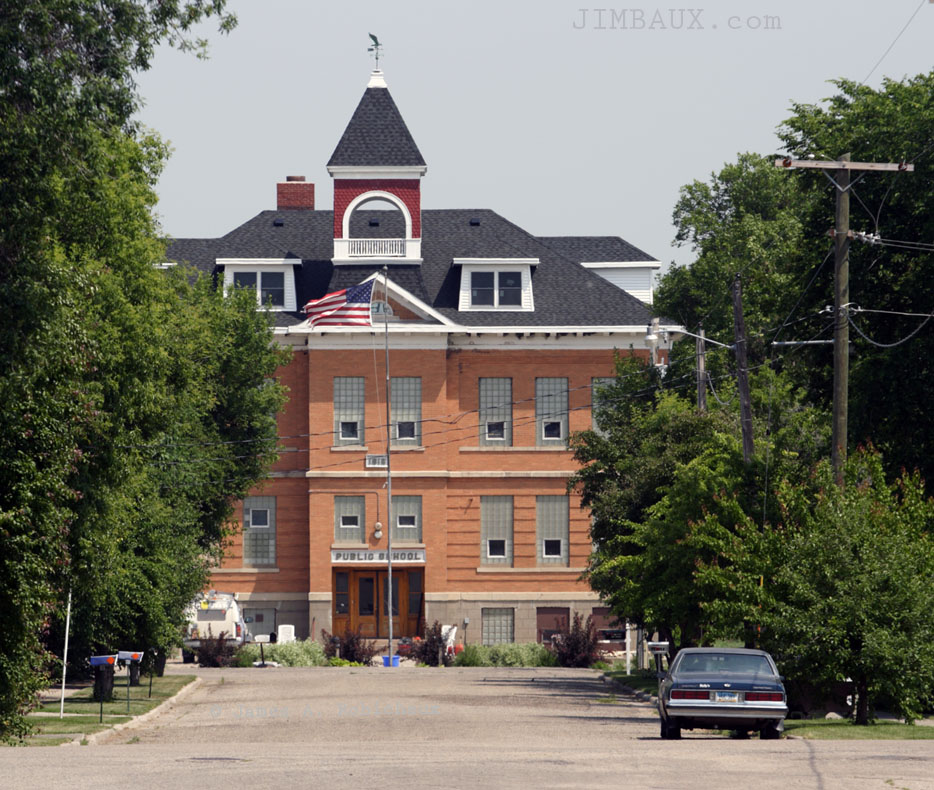 Interesting.
Walhalla
So, we go to the Riverside Park in Walhalla for the Rendezvous Arts & Heritage Festival.  Here are some presumably local children out for the festivities.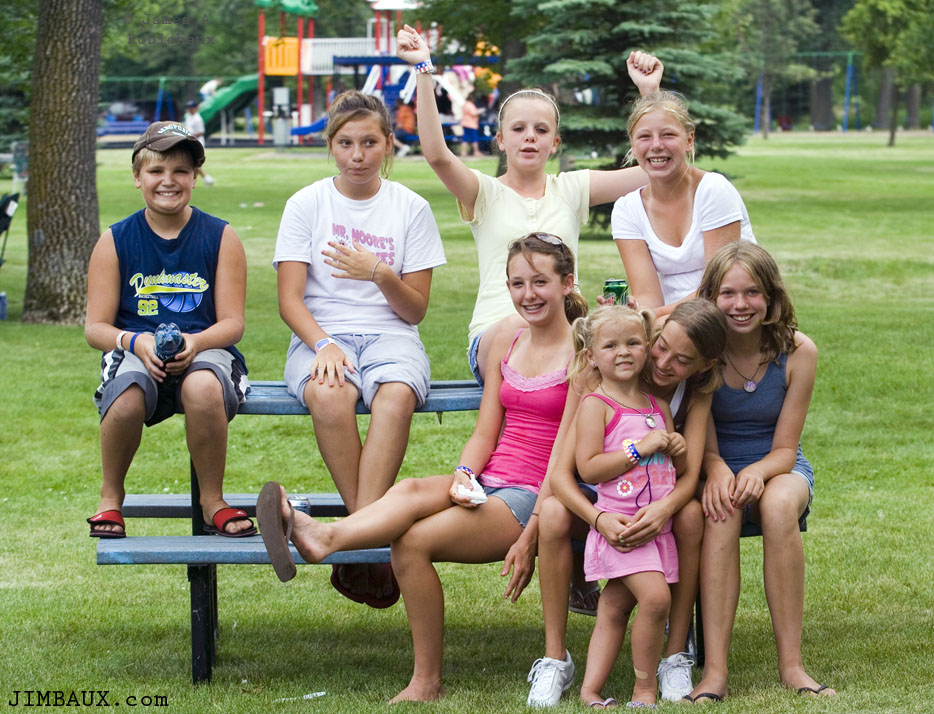 Aren't they cute kiddies?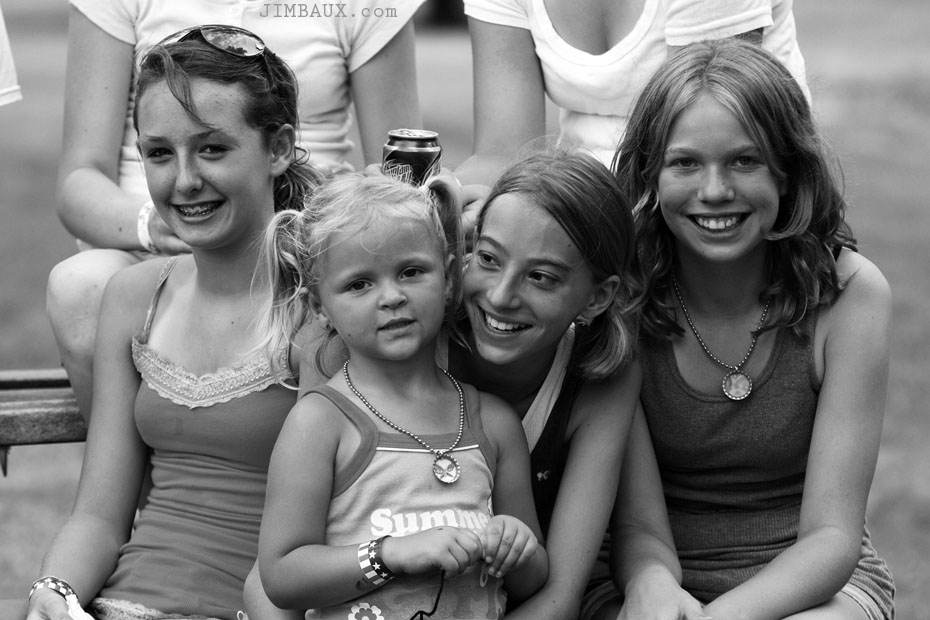 North Dakota people can be cool.
Before TI was to take the stage, there were some metís musicians who performed, this pair of guitar and fiddle.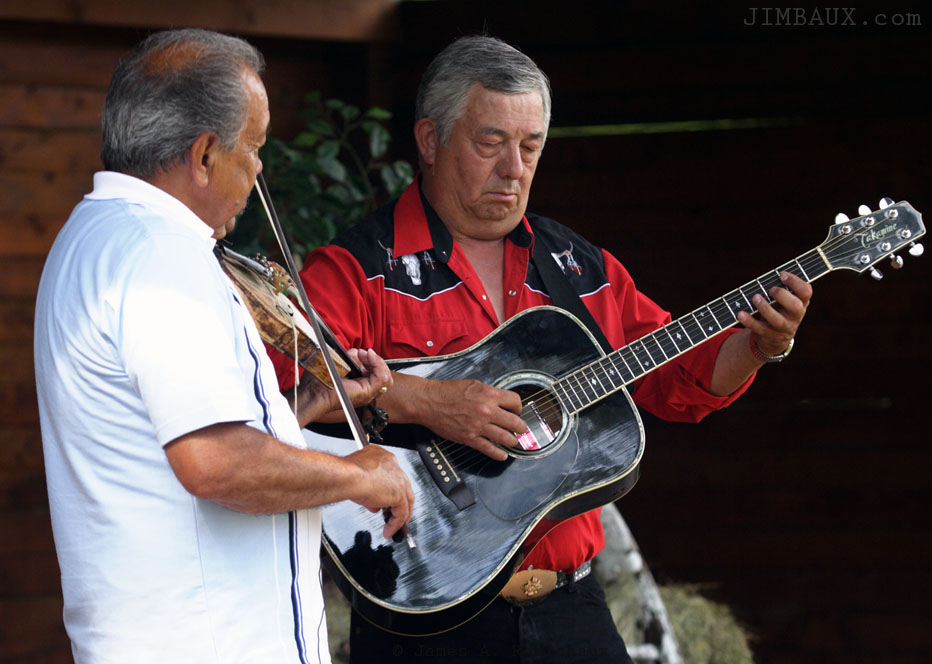 Now it was time for TI to take the stage, and you can see him performing here as his wife Zzannie looks on.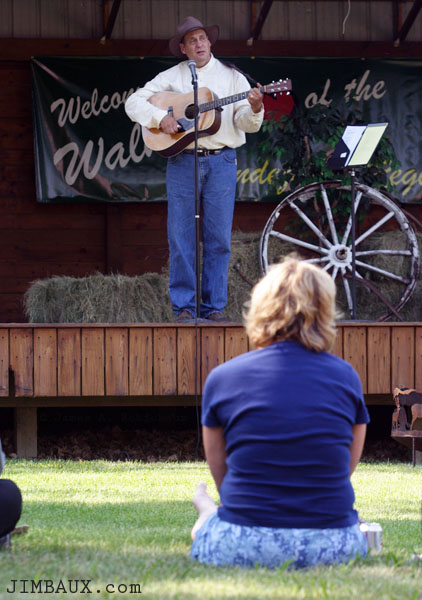 That tiny part of a leg at the very left frame belongs to Bison Bill, who frequently comments on posts on this site.
After that, we left, and since I was driving the vehicle that I was in and since it was mine, I was able to stop and do my own things on the way back, which my three female passengers seemed to not mind at all.  Our first stop was in Walhalla at the grain elevator.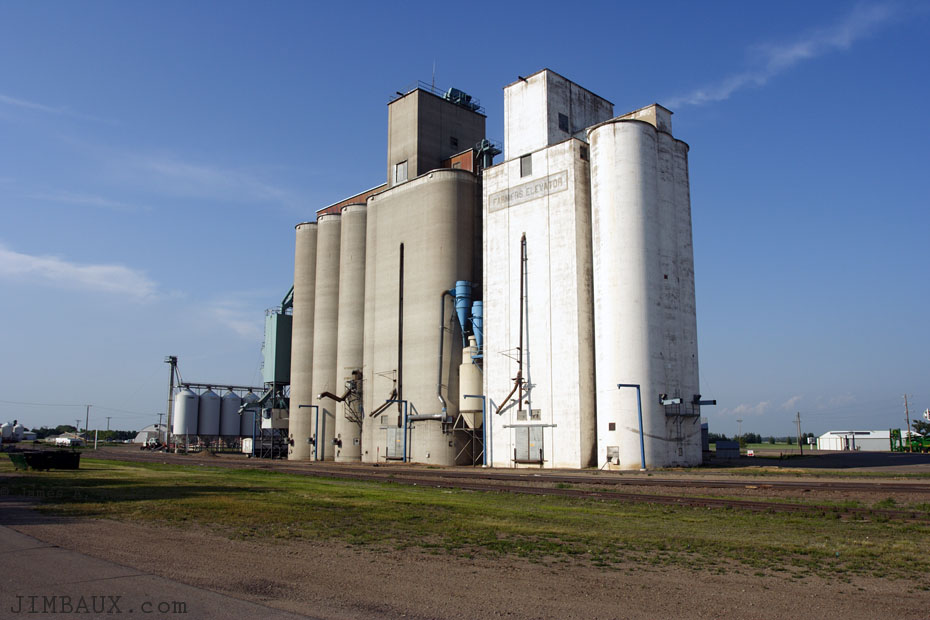 There was some small locomotive nearby, but I could not get a good shot of it.  This turns out to be the Dakota Northern Railway.  The three ladies with me laughed hysterically when I returned to the truck and mimicked a fictitious allegorical encounter with some hickish type man accosting me for taking pictures.
Twilight
Since, as we were now on the way back "home" to Fargo, we did not have a schedule to keep, I used this opportunity to check out some places that were on my list of places to explore in this area.  Actually, I wanted to go into Canada and just explore around for a brief time, and I had my passport with me for this purpose, as Walhalla is only about five miles from the border, but the three ladies with me didn't think of this and neglected to bring theirs, even though we would all need the passports in about a week.  "Sorry," they said.  This was my first time really going north of Fargo.  Well, there are other things to see here.  I really wanted to check out Grand Forks.  So, with my passengers lacking their passports, we set a southward course from Walhalla, and we were greeted with the dramatic Northern Great Plains skies the likes of which you saw in Day 4 of the drive from New Orleans to Fargo.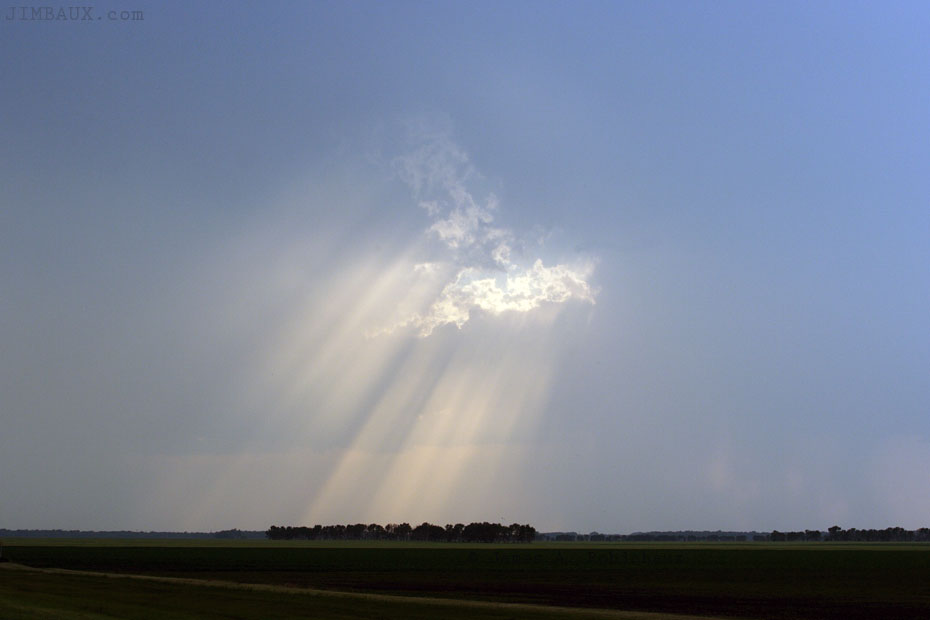 It was lovely indeed.  Yes, I can return there if I'd like but have other obligations and goals where I am now, but a big part of me would love to again be in the Northern Great Plains to regularly witness scenes such as these.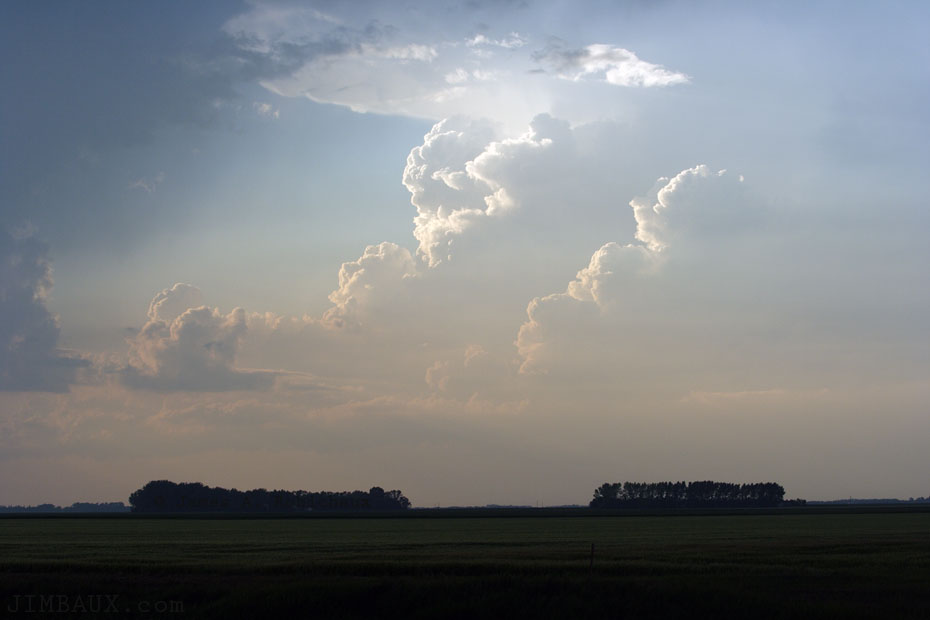 We approached the city of Grafton from the north, and as we rolled into town, I grabbed this shot through the windshield.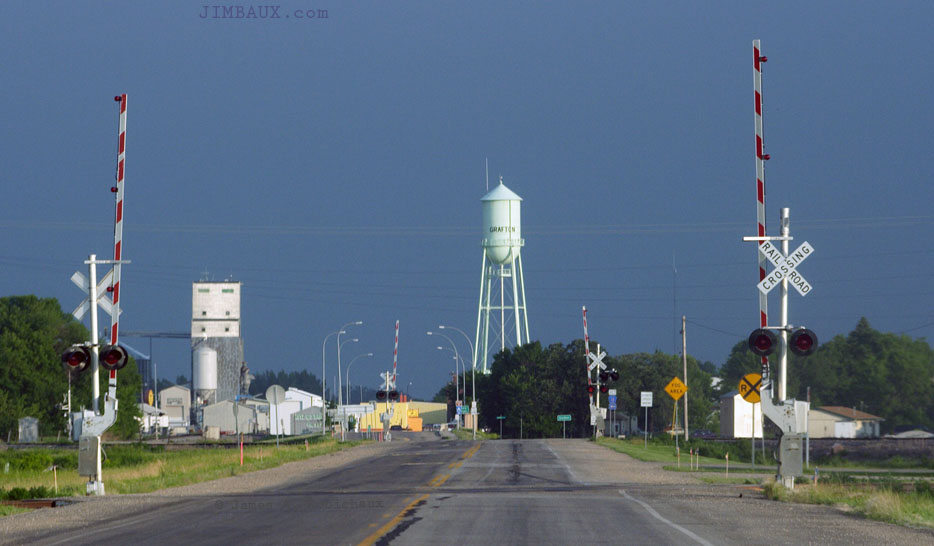 There were some parked hopper cars there.
So, as the sun set, we entered Grand Forks.  You will recall that, although this was a North Dakota day, it photographically started with trains in Minnesota, and now it will end photographically back in Minnesota in the city of East Grand Forks just across the Red River of the North – the northward flowing river that comprises the entirety of the border between North Dakota and Minnesota – from Grand Forks.  In the below image, we are in Minnesota looking southward at the former Great Northern Railway bridge over the Red River; the state border runs along the middle of the river, where the 1997 flood did plenty of damage.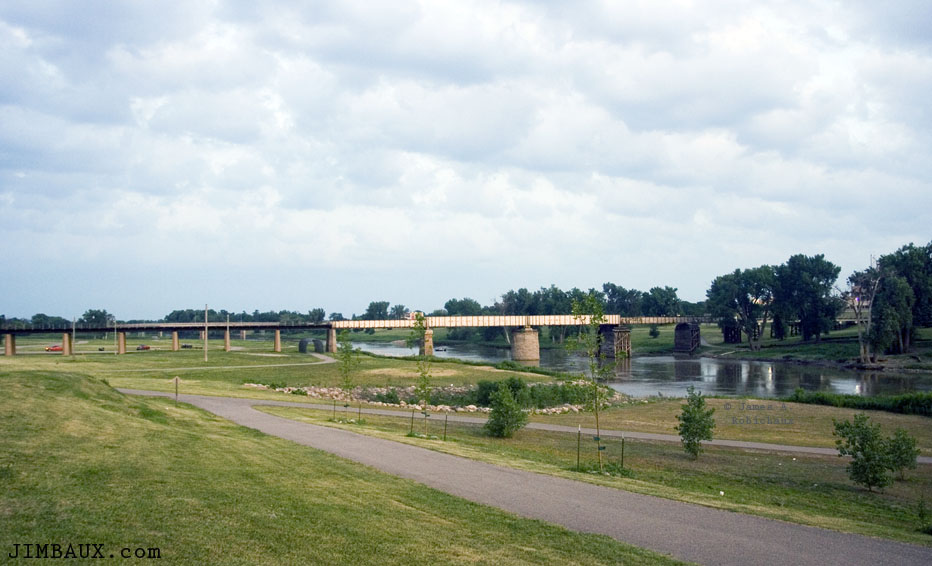 Yes, and as we bridge back to our first picture, this is where our C-DKMCOB from this morning would pass and probably already had passed by the time this picture was taken.
More Than Pictures, But Great Images For The Memory
I can't remember where we ate, but it was in one of those trendy places along the boardwalk north of Business US Highway 2, which, by the way, has a really neat bride over the river!  Supper that night was great, as the four of us had some good, memorable, and fun conversations.  It was quite dark by the time we left, and we went back to North Dakota to get on I-29 to go southward to Fargo.  Somewhere along the way, one of the ladies asked if we could go out in a field and look at stars.  I forget that city people can't see stars very easily.  So, the four of us did, and it was good.  No, I don't have any pictures of that; I have only memories.
So ended a fun, educational, and productive day in the valley of the Red River of the North.  I hope that you enjoyed it.
Merci,
Jimbaux