[Jimbaux knows that it's not too late, it's never too late.]
Yes, "Never Too Late" – a brilliant song indeed – and the rest of the Three Days Grace album One-X was new at the time of the Great Northward Pilgrimage of the summer of 2008, and it played plenty in my truck on that trip.  Why it is appropriate to Day 2 (even though I don't recall playing it any more that day than any other day) will be revealed, albeit very subtly, in the writing below that I wrote to accompany the pictures while in North Dakota.
So that the continuity of the 2008 writing below doesn't get disrupted, I'll mention right now to note when looking at the pictures of the Pittsburg roundhouse (the last two pictures) that this would be the last time that I would lay eyes on that great historic structure; my writing below suggests that the roundhouse's existence is threatened, but I'll mention here instead of then that the roundhouse was demolished some time in 2010, and I got visual verification when I returned to these locations for the first time in nearly four years in my March 2012 visit to this area.
As I said last time on Day 1, the positive feedback that I received from readers, especially in-person discussions from seminar participants that I would meet in North Dakota for the first time three days after these pictures were taken, of those e-mail photo essays would lead to the creation of Jimbaux's Journal.  Please enjoy this step back in time, and remember that what is written below was mostly written in North Dakota shortly after these pictures were taken and have only been slightly modified for content and context.
Jimbaux No Longer Needed To Throw Caution To The Wind
Day 2 of Jimbaux's Great Northward Pilgrimage started out very ingloriously, especially when one considers that the starting point of Heavener, Oklahoma, has often been the base from which to get some spectacular shots.  Of course, when that has happened, we've also left the hotel at or before dawn.  And, therein lies the problem.
Due undoubtedly to the stress of the big undertaking on which I was about to embark and all of the sacrifices that I was making to do this, I had gotten hardly any sleep at all on the night before my departure from New Orleans.  Consequently, I was dead tired by the time I got to Heavener and had no trouble getting to sleep.
I can't remember if I set my alarm clock or not, but what I do remember is this: at some point, I emerged from slumber in the near-complete darkness of the hotel room.   All that my eyes could see were a few faint filtered streaks of weak light coming from the window.  I surmised that it was around dawn but that the sun wasn't fully out. I then reached for the clock and saw 08:59 on the display!  WTF?  I walked to the window, pulled the curtain away from it, and was blinded by blaring sunlight!
Actually, I wasn't totally surprised.  The Green Country Inn is the only decent hotel in Heavener, and such a hotel wouldn't even be in as small a town as Heavener were it not for the fact that it is also a railroad terminal on the Kansas City Southern Railway.  It's where the out-of-town crews from Pittsburg, Kansas, and Shreveport, Louisiana, stay before they hop on trains to take them to their respective home terminals.  Consequently, men sleep in the rooms at all hours of the day, and that's apparently why the dark thick curtains are securely velcroed to the walls.
I was upset and getting up late, but at least I caught up on sleep, and the most difficult parts of the journey were now behind me.   I was rested and my stress level was much lower.  I was relaxed.  Throwing caution to the wind was not a concern.  That had now been done.  I was now as free as a bird.  More specifically, I was as free as some young punk with his truck pointed north, but you get the idea.
I finally left the hotel at 09:37.  Yeah, my photography home boys will note that I got out just as high sun was arriving.  Worse, it was sunny, which is what one usually does not want in high-sun time.  That, plus the fact that I was now running behind schedule, meant that I no longer expected to get any decent shots this morning.  Dammit, Beavis!
Tradition dictates that breakfast in Heavener is eaten at the Downtown Café, and that's where I went but not after I made a check to see what was happening at the yard.   After all, high sun was upon us, and I wanted at least a chance and getting a decent, sun-lit shot of a train around here, a chance that would be essentially gone (or, at least, more far gone) by the time breakfast was done.   It was then that we got our first picture of the morning of KCS train H-SHKC parked at the Cemetery Crossover at Heavener Yard.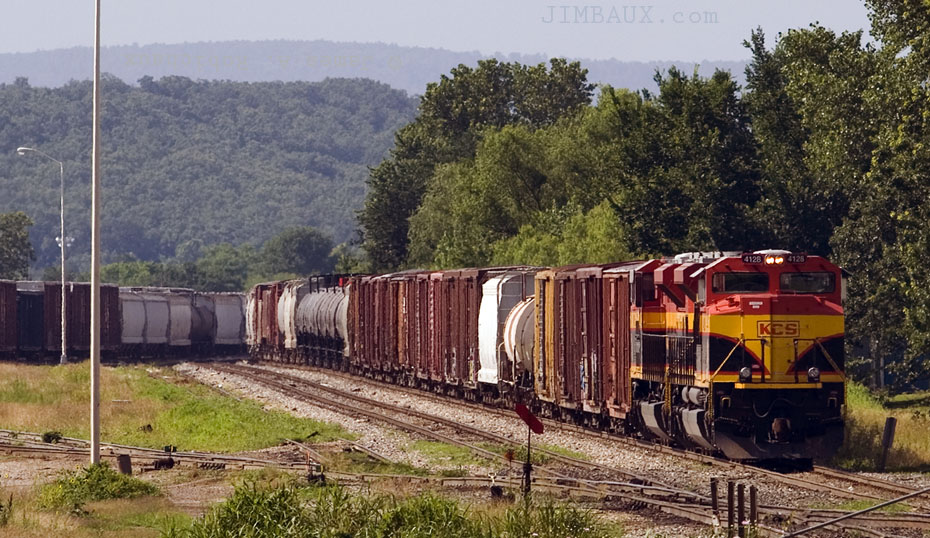 This is the northbound "H-train" from Shreveport to Kansas City.  It carries all of the set-outs and makes all of the pick-ups for the dodgers and shortlines between those two terminals.   So, essentially, it's a long-distance super-local.
This train is facing almost due north, which means this shot would have been really sweet had I taken it two hours earlier, but such was not the case, so you'll just have to live with the crappy results that you see here.   Those of you who have a copy of KCS's 2007 company calendar might remember my picture of a coal train at this very location a few years ago, though, unfortunately, with the vertical format of that year's calendar, my image was cropped, reducing its quality greatly in my opinion.  Well, at least this year's calendar is much better!
To all the KCS faithful, pay close attention to what appears to be a train at the left of the picture. Now, it was time for breakfast.
This next picture will probably interest only the train nerds in the audience; the rest of you might want to skip to the next picture.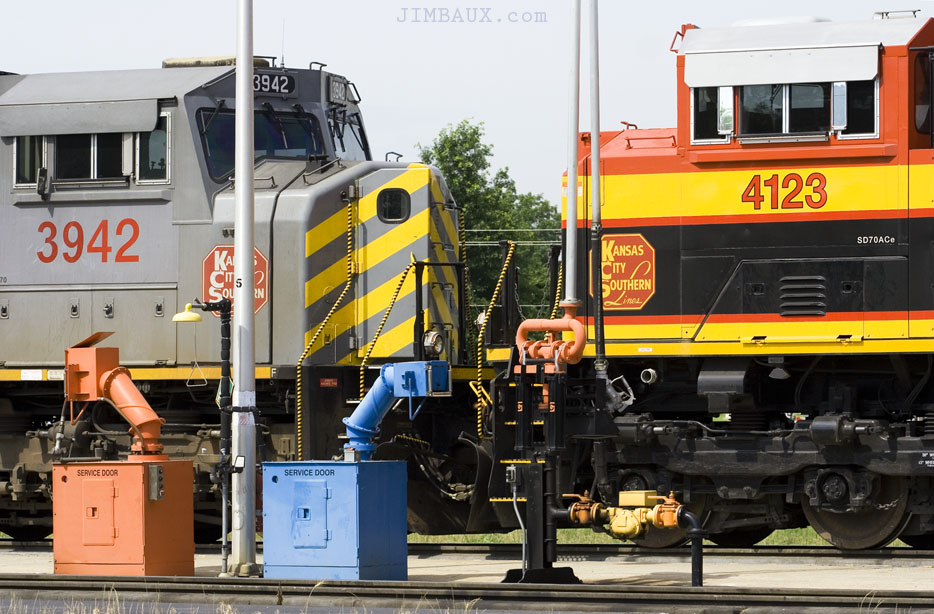 Notice the KCS-style chevrons on this ex-TFM SD70MAC!  They look like the SD70ACes now.  Remember the TFM had thinner and fewer chevrons at a weaker angle?
Since I was apparently done with trains for the morning, and since I hadn't been there in awhile, I decided to take the scenic but time-consuming drive along the crest of Rich Mountain.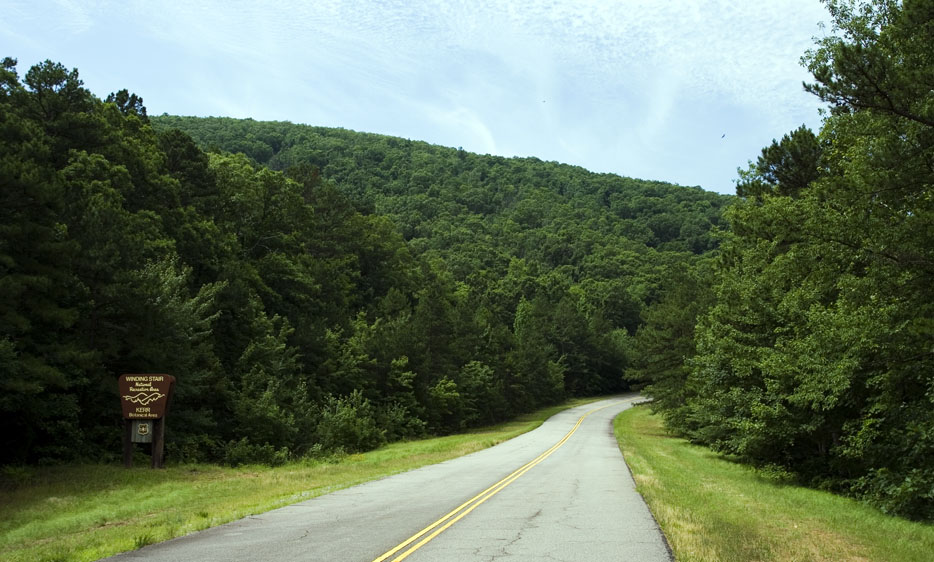 This road is closed in foggy conditions, and that National Forest Service has a large presence in the area.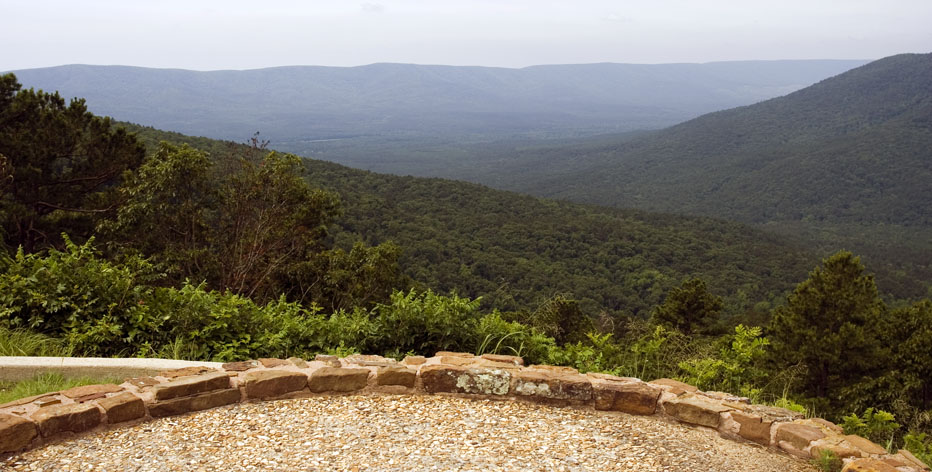 As you can tell from the filenames of these three pictures, this drive would take me back into Arkansas, and I wouldn't reenter Oklahoma again.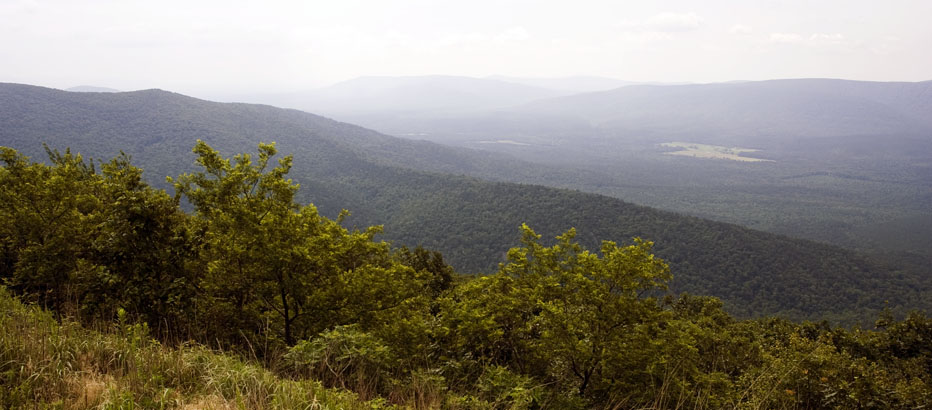 At the Queen Wilhelmina lodge, I took Arkansas Highway 272 down from the top of Rich Mountain to the village of Rich Mountain.  Warning: This drive is not for the inattentive driver.   I think that my truck stayed in 2nd and 1st gears for the entire descent of the mountain.  The accelerator was almost unnecessary.  The picture here doesn't do justice to the road's winding quality.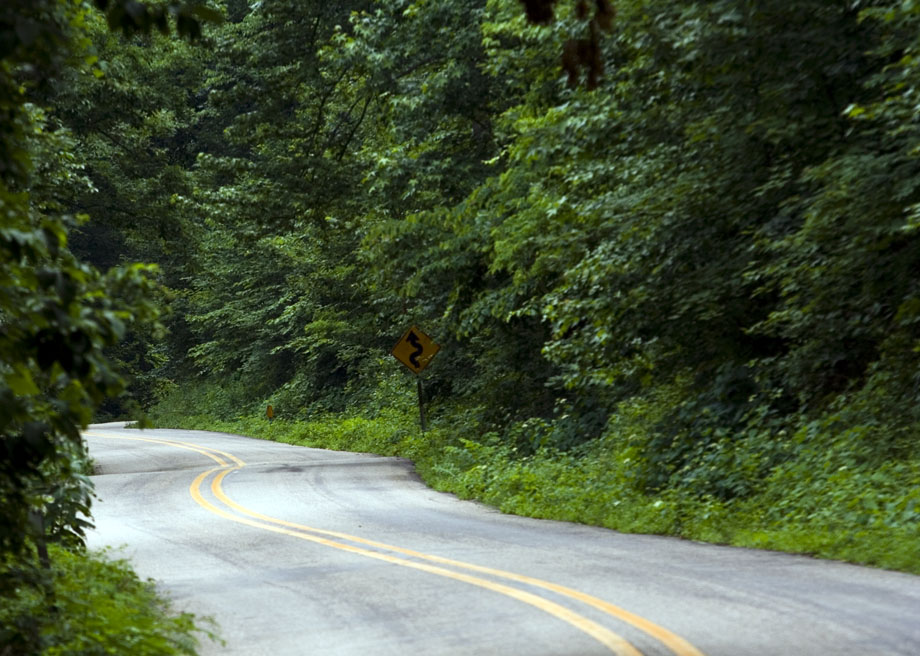 At the end of that road, per tradition, I stopped at the Rich Mountain Country Store for munchies, but the dog was nowhere to be found!  Oh, well.
No matter, because now it's time to heard north and put the Ouachitas behind me.
I stopped briefly at Mansfield, Arkansas, to scope out the roadbed of the old Rock Island Railway.   The Arkansas Kid had told me about it some years back, and he also told me about how the highway through town essentially passes through a cemetery.  No, I didn't get any shots of it, dammit, and that's an unfortunate theme of any trip: the awesome pictures that one doesn't take.   Anyway, this picture shows the piers of an old CRI&P bridge along with a highway that now sits on the old railroad roadbed.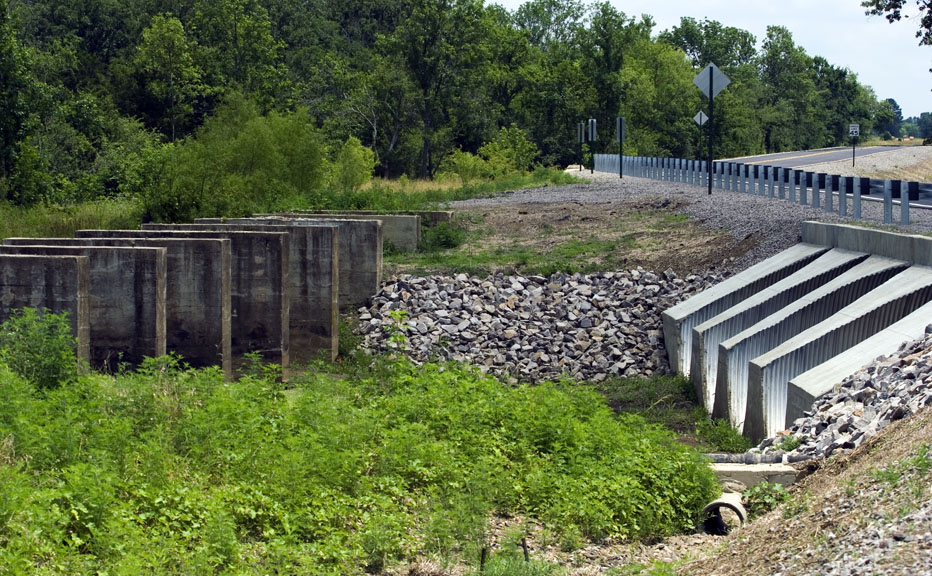 Do you see how the highway uses the old railroad roadbed on the other side of the bridge?
Now it's time to move northward at a good clip.  The destination was Pittsburg, Kansas, the location of KCS's next terminal north of Heavener (and first south of Kansas City.)   I wanted to get there early enough to not only shoot some pictures but also to meet with El Jardinero before he went to his night class.  As it turns out, that didn't happen, and he suggested that we meet after his class sometime after 21:00 at my hotel.  Fine.  I went check into the hotel, checked e-mail on the computer there, and went out and tried to get some shots.  All that I got were the last two pictures here.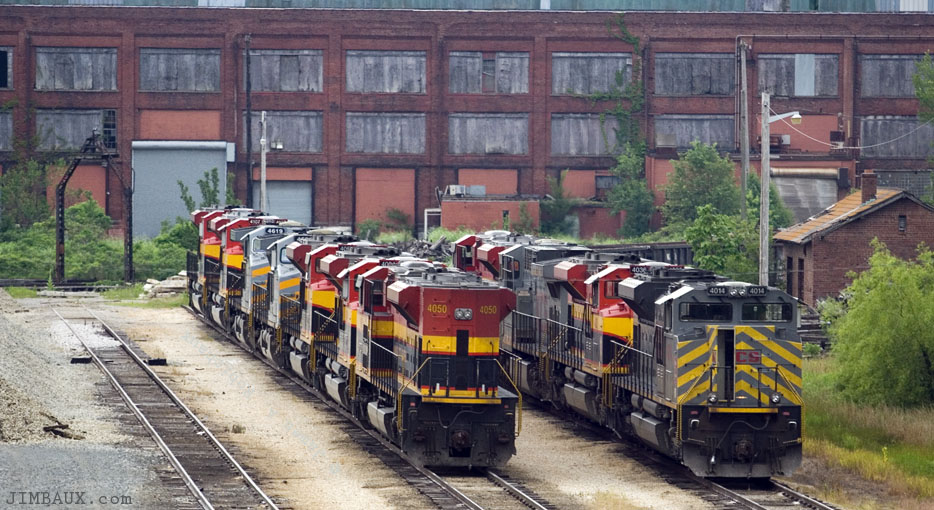 Here we see locomotives parked at the old KCS roundhouse in Pittsburg.   There was a rumor last summer that much of the copper had been stripped from the roundhouse and that this might mean that it was coming down, but as the pictures show, it's still there!  Anyway, those big, powerful locomotives are there because Pittsburg is where many of them are put onto southbound loaded coal and grain trains that need additional power for the steep grades south of here.  That's the most I've seen parked there at once.
Do you see the turntable?  After all of this foolishness, I needed some food and needed it badly.  I seem to remember that there was a Braum's in the southern part of town, and I was damn happy when I found it.   Yes, after two consecutive nights of eating the 2/3 pound bacon double cheeseburger from Braum's, I was indeed sick of it (although I could eat one now!)
I went back to the room, showered, eyed a few honies at the hotel, and read some of The Great Plains for awhile.  Soon after 21:00, there was no sign of El Jardinero.  I guessed he had bailed.   It was getting close to 22:00, and I went to put the television on to watch The Daily Show, when there was a knock at the door.  It was El Jardinero!  So good to see you, homie!   I hadn't seen him since a bunch of us were in town almost exactly a year before.  We got caught up on things; he told me how the kids were, the wife, the job, school, etc.  Some time after 23:00, I told him I had the munchies (yes, again.)   So did he, and we went in a search for food.
The only places near us that were open at that hour where McDumbass and Taco Hell, and only the drive-throughs.  We got some grub from the Taco Hell, and went back to the room and chowed it down.   It was getting late, and I was enjoying his company, but I was tired.  I didn't want to have another night of minimal sleep; so, at 00:07, I told El Jardinero that I had to crash, and we said our goodbyes.   Dude, if I come back south this way (tentative plan has me going through St. Louis and Memphis), I'll holler at you.
And so ends Day 2 of the northward foray.  I told you that the pictures for today sucked.  What, you didn't believe me?  They're not going to be all that great tomorrow, but Days 4 and 5 will be rewarding!
Oh, thanks everyone for the replies to the Day One messages.  I'd like to acknowledge the few dozen replies that I got as well as several other e-mails that need answering.  (Yes, I have a backlog again.)
All for now……
Jimbaux