[Jimbaux knows that there is a house in New Orleans called the Superdome.]
Living Like Birds In The Magnolia Trees
The song, performed five years ago today, still makes me cry, gives me so many goose bumps.  It's hard for people not from southeastern Louisiana to understand the emotional charge that song on that night meant, five years ago tonight.
If you're plenty like Jimbaux (and thank your lucky stars if you aren't), you're not really a big sports fan, and you might not know that the Saints beat the Texans today in the Superdome on the five-year anniversary of that historic game on that historic night, the night that the Saints had their first home game in nearly two years, the first home game since Hurricane Katrina, and the Superdome's first event after it was so damaged by the storm.
Not being a big sports fan myself, I didn't have really any plans to watch the game until that afternoon.  I decided to watch the game at one of my favorite New Orleans bars, Cooter Brown's, right by the New Orleans Public Belt Railway trackage.  Just before going inside for the game, I saw this: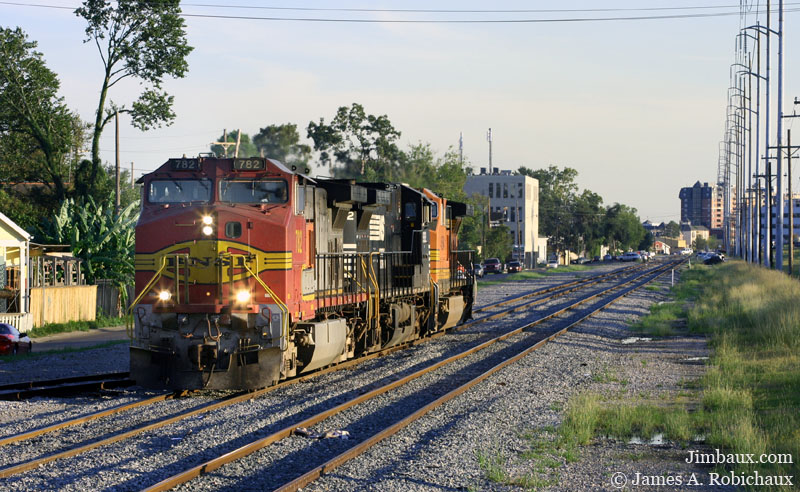 I'm not sure what BNSF light power was doing moving on the NOPB like this, but I suspect it was going across the river to pick up an intermodal train in Bridge City.
For Every Reason . . . Turn . . Turn . . Turn
Cooter Brown's was packed that night.  As ESPN's pregame show was on, it kept showing pictures of flooded neighborhoods in New Orleans, and everytime it did this, collective groans were heard as people momentarily turned away from the TVs until ESPN started talking about football again.  I did the same.  I didn't want to look at any of that stuff and think about any of it, and nor did any of those other people.  This was our night, dammit!
There Is A Gleason . . . Turn . . Turn . . Turn
I vividly remember the place absolutely erupting when Steve Gleason, who recently revealed that he is suffering from ALS, blocked the punt that led to a touchdown on the same place.  I thought the roof was going to explode off the top of the bar.  It was a night, five years ago tonight, that few in New Orleans will ever forget.
Foam
I stepped outside before the game ended (the bed was calling my name, especially as I had been up early that morning, needed to be up early the next morning, and had drank a few pints of Guinness at Cooter Brown's) to get some pictures that show why this is my favorite bar in the city.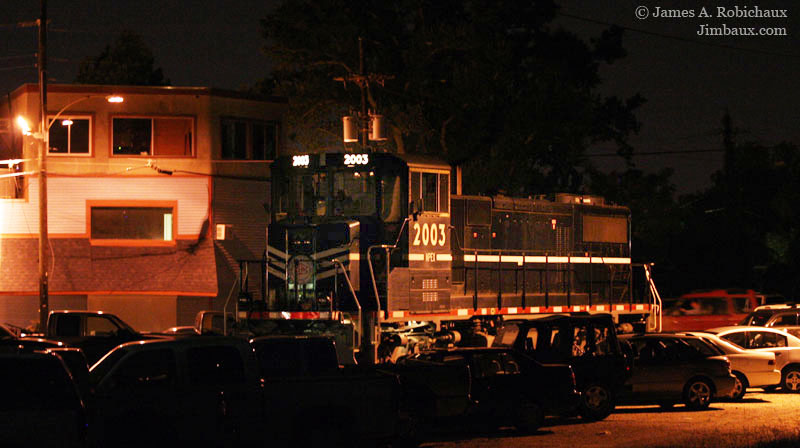 The bar is just to the left of that building on the left, and there are some tables outside that are good places to eat, drink, and watch trains (but not television.)
I'm not sure why this NOPB light power job stopped here; he must have been on his way back from delivering a cut of maritime containers from the Port Of New Orleans to the Canadian National Railway at Mays Yard, but I really don't know.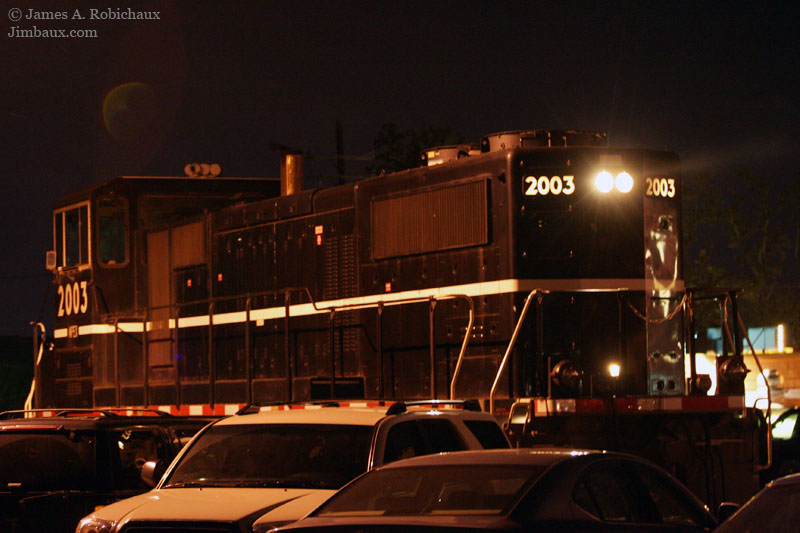 It's a safe bet the the owners of 90% of the automobiles seen in these two pictures were inside Cooter Brown's watching that historic game.
Well, I hope that you enjoyed this brief, unique look into New Orleans life, railroad life, and my life, on this historic day – five years ago today.  That's all the pictures for now.
Beans-N-Frank
Not long after I published "Write It Down" – my parody of "Wipe Me Down" by Lil Boosie – in May, a friend alerted me to the educational rap duo of Beans-N-Frank.  Check out the duo's work at its website, join the Facebook fan page, and tell 'em that Jimbaux sent you!
Bomani
While I'm plugging DC-Baltimore-area musical acts, here's the latest from my pal Bomani Armah.  Check it out.
Saints And The Future
I actually had thought seriously about getting out to the Superdome today and photographing and interviewing some of the tailgaters to put on the NOLA Post, a publication that is begging for me to breathe some life back into it, but I elected to use the time to do other stuff instead, including, partly, to watch the game, take a walk (which is easy to do when the streets and sidewalks are quiet because most people are either in front of the TV or at the Superdome), and do some chores.  Still, it may be something I'll do in the future, and I am thinking about starting to cover high-school football on the NOLA Post.  Sounds like a plan?  Time will tell.
Speaking of Facebook fan pages, if you're not on the fan page for Jimbaux's Journal, please click the below badge and then click like once you are on the page!:
In the meantime, as I've been writing plenty lately, I'm tired of all of this and will be happy when my 9/11 project ends.  (You've seen Part 1 and Part 2 already, haven't you?)  It makes me think of another song that was performed that fateful night five years ago tonight at the Superdome: Wake Me Up When September Ends.
All for now . . .
Jimbaux