[Jimbaux recorded that 9/11 was a beautiful day.]
Fighting The Oppressors
The cool, calm pre-dawn darkness of September 11 met him with an onerous sense of purpose.  He left early in the morning to embark on his mission, a mission he knew was far greater than himself.  While others slept and relaxed on this calm late summer morning, he knew that he'd be making a sacrifice on this day.  His efforts would be recorded for history as well, as he was not alone in his cause, for he had followers as well.  Furthermore, his cause was misunderstood by many, but the cause only existed because of threats to his way of life.
He knew that he had to do something, for to do nothing would be a defeat, a shameful submission to the forces of evil, the implementers of fear and intolerance, all disguised in benign guises.
Who Was He?
He was Mohammad Atta.  He was just as much Jimbaux exactly 10 years latter.  The eerie comparison to the former literally made the latter sick, and that's no stretch of the truth.  I, Jimbaux, was honestly terrified, and I had slept very little the night before, being kept awake haunted by visions of myself being carted off to jail by the American Gestapo for taking pictures, and I would learn later that morning that such a fate came closer to befalling me in 2008 than I had then realized, but we'll get to that, especially at the beginning of Part 2.
Ten years ago on this day, Mohammad Atta checked out of his hotel room in the predawn darkness to embark on his mission.  Exactly 10 years later, Jimbaux was on the road before dawn to embark on his own mission.  Like I said, especially with only two or three hours of sleep behind me, the comparison made me sick, but I knew logically that I was fighting back, fighting a good and noble fight, not just against the likes of Atta, but a more insidious enemy of fear and paranoia inside my own countrymen, those who seek to subvert our rights and freedoms.  In the discussions since my call to action for all photographers, someone said that it's only a matter of time before some photographer gets shot and killed by police here in the United States, and I had been thinking the same thing myself.
Abortion Temptation
I must be honest and say that due to my lack of sleep, I was highly tempted to abort my mission and just sleep late that morning, but I had not only said publicly that I would be out taking pictures this morning, but I had called on others to do the same.  I really had no choice in the matter.  I was honor-bound and duty-bound to follow through with my plan, and that's what I did.  What you see here today is Part 1 of the pictures from that day of duty and patriotism, a form of patriotism far deeper than wearing or waving a flag (which, one could argue, is not patriotic at all.)
An Appropriate First Target
"Target," as Saint Jude told me later that day, might not be the best word to use when trying to show the harmlessness of railroad photography, but that's what it is to me, and, when taking pictures of trains starting at dawn in New Orleans, there's usually no better first target than Amtrak's Crescent, and it was an especially appropriate target – maybe I should say "assignment" – this morning, as it is a passenger train bound for Washington, DC, and New York.
I really wanted to shoot the Crescent at the Wisner Boulevard overpass, a shot you've seen nailed by me last fall in "Back In The Saddle Saturday" in what seems like an eon ago, but the problem this morning was that that shot was jacked due to a train being parked on the southbound mainline, forcing me to look farther east for an opening shot.  There weren't many options, so, as the train passed L&N Junction just before passing through the shadow of I-10, we begin our photographic adventures this morning unceremoniously at Franklin Avenue thus: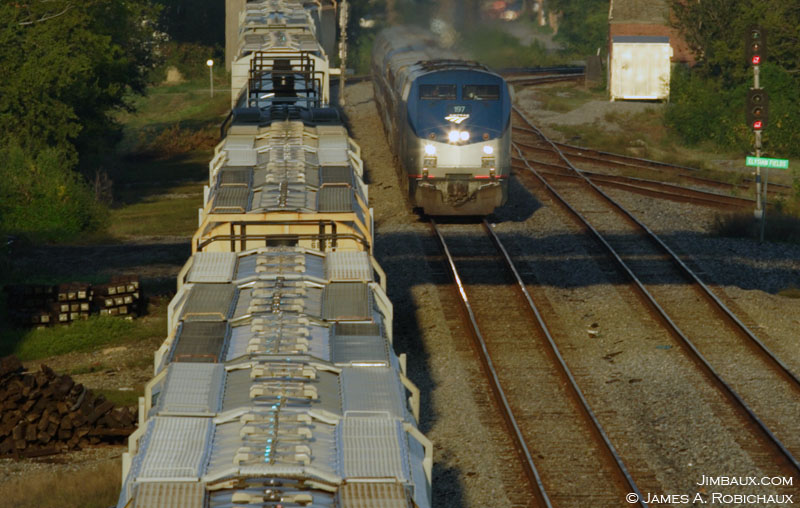 Yeah, I really should have just gone to Wisner anyway, since this shot also had a similar problem.  Oh, well.  Anyway, do you see the tracks coming from the right, merging with the NS tracks?  That, my friends, is the southwestern tip of the CSX Railway's vast railroad empire.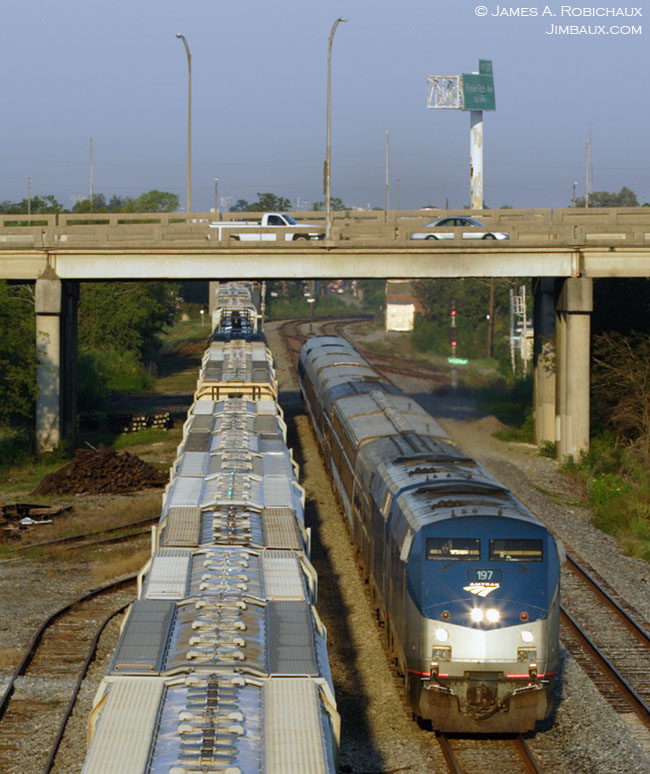 Don't forget that caption information for each of these shots can be found in the filename, which can be found by holding your mouse over the picture.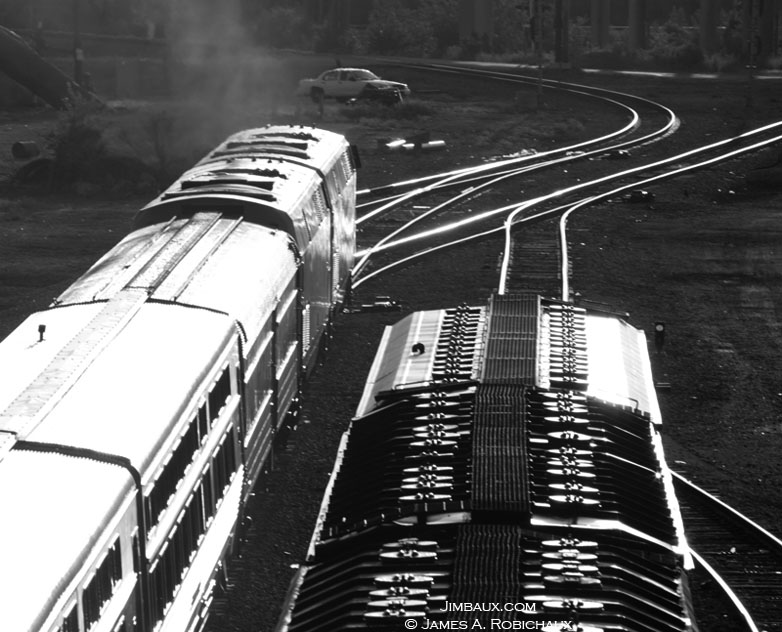 There were actually several New Orleans Police Department officers working the southern foot of the Franklin Avenue overpass due to early-morning services at the Franklin Avenue Baptist Church, and some of the officers can be seen in the distance in the below picture in the neutral ground.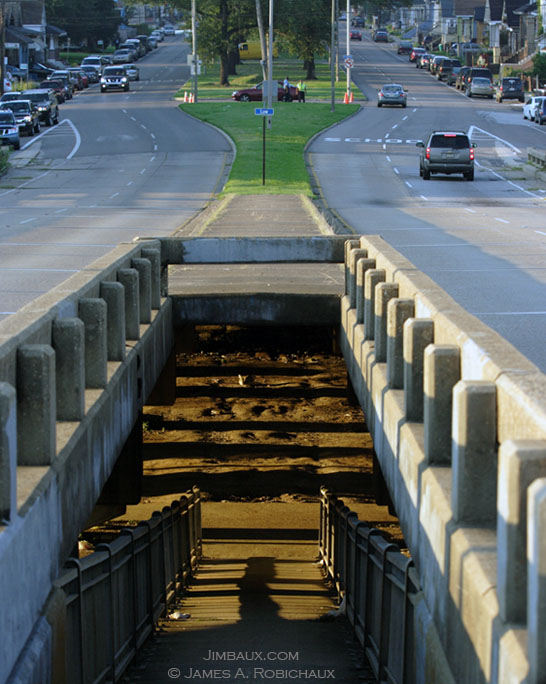 The officers saw this white boy in his blue-and-white striped shirt (the same one I wore on the day that my rights were violated by the NOPD in 2008) climb the bridge with a big lens and did not overreact.  Anyway, the large Baptist Church is just to the left of the frame in the above picture.
Now What?
There were essentially two shots at Lake Ponchartrain that I could get of the Crescent, the first being the broadside from the Southshore that I last did nearly a year earlier.  The other choice is to go across the lake and shoot him from North Shore as he moved over the trestle, which is what I did.  This would make it much easier for me to drive into Slidell and do the depot shot there, but I hadn't done either of these since the spring of 2010, and almost every one of these involves my tradition of stopping at the Starbucks in Slidell by the track after letting go of the train.  However, this was something I was scared to do for reasons we don't need to discuss here.
Face All Of Your Fears, Jimbaux
I decided that I needed to man-up and just face all of my fears and just go back to the place that tradition was once mine to go.  Of course, first, there is the matter of photographing the train coming over the lake.  Oh, wait, let's shoot the signal.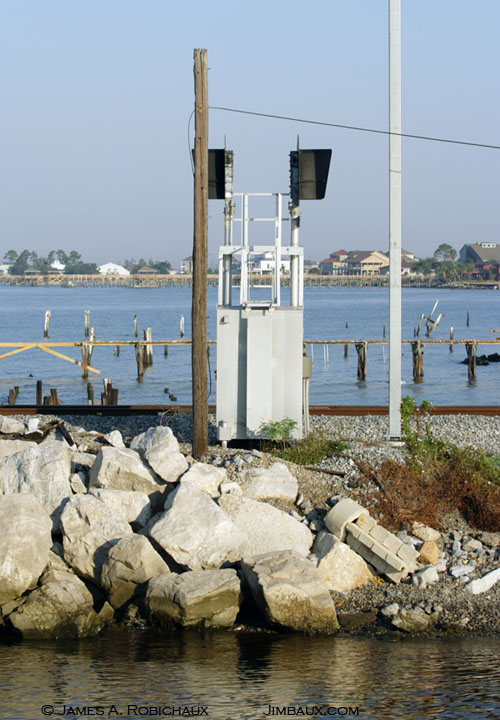 Okay, now, below, we begin shooting him coming through the drawbridge.  I think he had to stop and wait on a signal here.  You can see the US 11 bridge at left.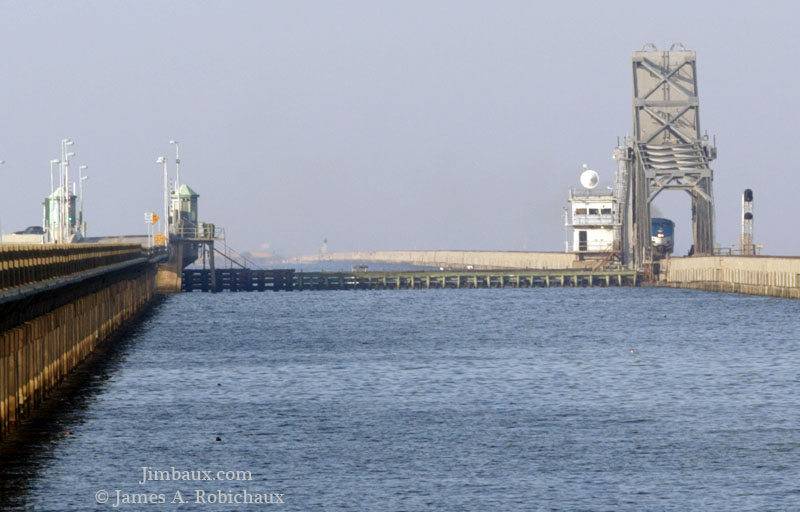 Now, lately, as many of you know, we've had some bad marsh fires in and around New Orleans.  What that means for the below picture is that you can barely see the skyline of downtown New Orleans at right, whereas it is normally more clearly visible.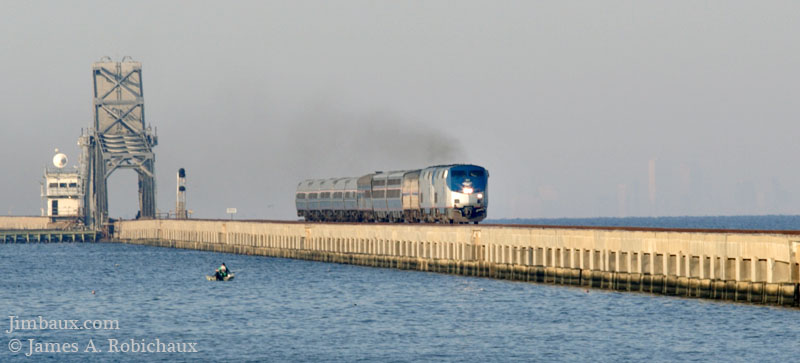 Yeah, air pollution really sucks.  Anyway, here's a view that's a bit wider.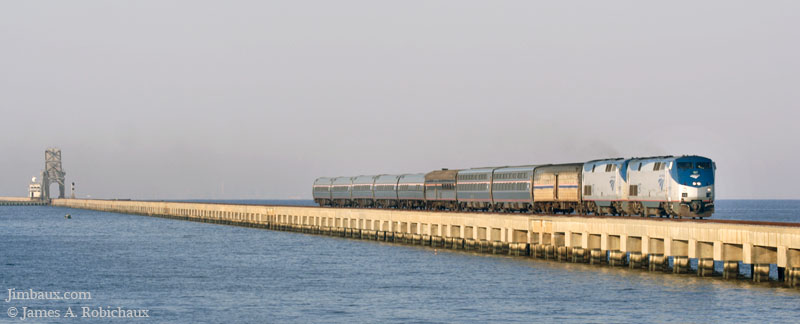 Above is the first of only two times on this whole day that I climbed atop the truck for a picture.
A New Shot
I've seen view several times as I've chased the train from here to Slidell, but I've never stopped to do this shot.  Well, I did now, and here it is.

How do you like it?  It's different, isn't it?
Slidell
Slidell is the first station stop for the northbound Crescent.  It's also the last station stop in Louisiana.  I got there just in the nick of time to get this shot.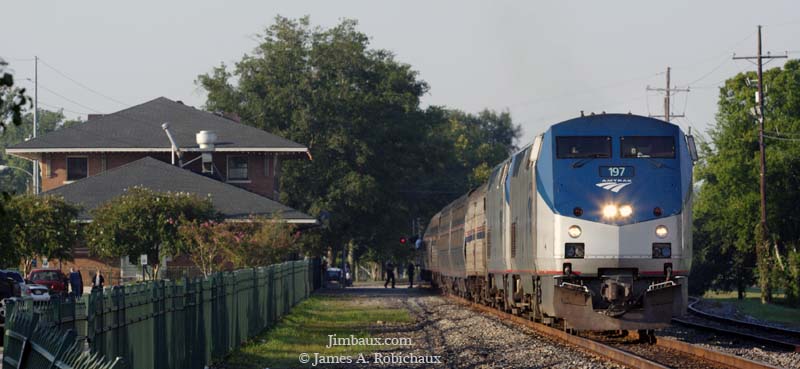 I've never chased the Crescent past Slidell, even though I have shot it north of here when I was already by Slidell by this time of day.  Anyway, I saw the conductor hanging out of the starboard side of the train, and I snapped this shot of him.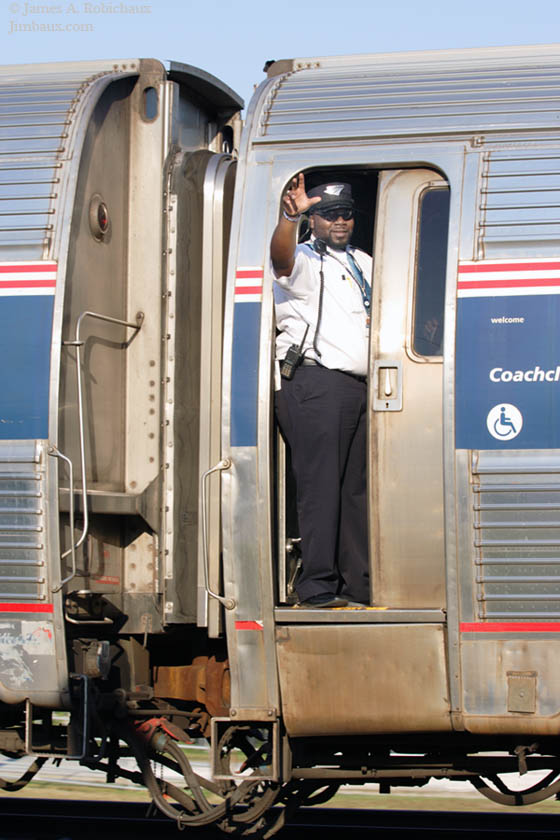 Neat, eh?  It's always good to get smiles from crewmen like this.
The Encounter With Federal Agents
As I'm walking away, I see a white a Ford Explorer (or Expedition) approaching the crossing with two uniformed men in the front.  Not wanting to even acknowledge that there might be a reason for me to interrupt the safe, harmless, and legal activity that I'm already doing myself, I merely continue walking to my truck.  I get inside my truck, and they pull up behind me, blocking me in.
Two federal agents were there to question me about why I was taking pictures of this train.  They were Amtrak police, and they were utmost professional.  Agent Bell merely asked me to show my ID, asked me if I liked trains, and asked me if I ever have had any pictures published (which allowed me to tell him about Jimbaux's Journal.)  I told him about why I was out on this day.  He seemed to have no problem with this.  He merely told me that there were Amtrak and Norfolk Southern special agents all up and down the track on this day, and that I was therefore likely to encounter more badges.
The conversation wasn't very extensive, and there was not the remotest bit of unprofessionalism in Agent Bell's actions.  I actually told him that I felt reassured that he and his associate were out on duty on this day.
He bid me farewell, and he went back to his truck to leave.  I went back to mine too.  That "should" have been the end of the conversation, but I turned around and went back to his vehicle in an effort to avoid a confrontation later in the day, and giving him a professional courtesy.  He saw me approaching him, and he got back out of his vehicle.  I said, "hey, if you get a call later on about someone shooting pictures off of the broad street overpass," that it would likely be yours truly.  I figured that telling him that would make both his day and my day easier.  In all honesty, though, I told him this with some hesitation, because I'm not obligated to let anyone know what I was doing.  However, as you can see, he had earned my trust.  As it turns out, when I heard his response to my statement that triggered his memeory, it was the beginning of realizing that I owed him far more trust than I had realized.
A Blast From The Past, And New Information About The 2008 Incident
"Oh, you were the guy I rescued from the NOPD a few years ago," weren't the exact words out of his mouth, but it was something to that effect.
What?
As it eventuated, the conversation that ensued was far more revealing and lengthy than the conversation that preceded it.  As it turns out, Agent Bell was involved in the 2008 Broad Street incident, and, as we will learn next time when I discuss our conversation, he was something of a savior to me then, and his use of the word "rescue" is really revealing.  I am simultaneously bothered and reassured by it.  Why?  We'll learn more next time, now that I have learned another side of the 2008 incident.
Stay tuned.
Jimbaux