Hey, there.  I have a few pictures for you of local Class I railroad action in NOLA on 15 December 2007.  We'll start on the Kansas City Southern Railway where we will once again see one of the patched ex-UP Geeps that we saw 13 days before, and the same one at that, KCS 917, seen below working the southern throat of KCS's West Yard next to the now-demolished yard tower, office, and warehouse.  Don't you love the windsock?  I do.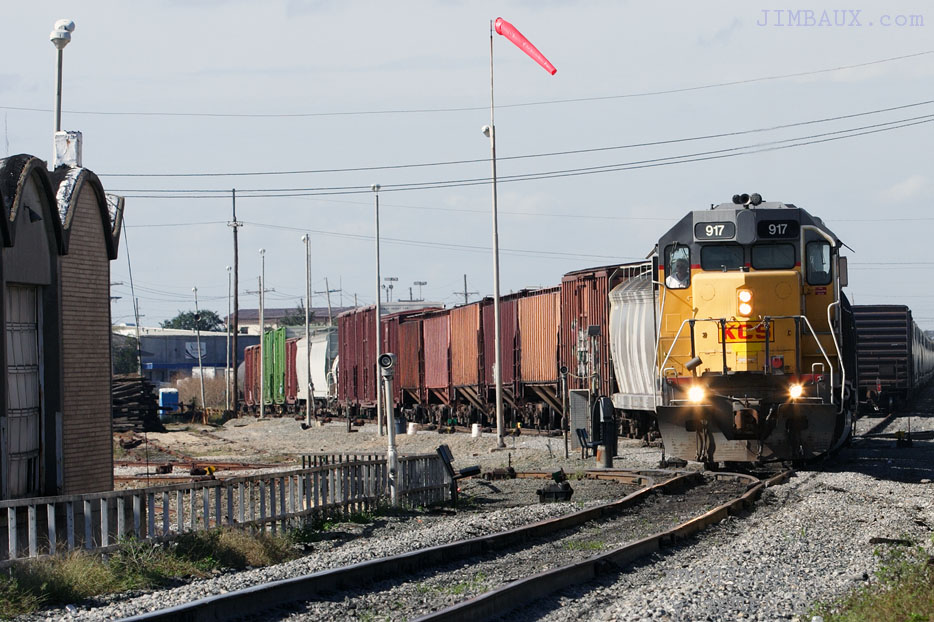 That's a view that you haven't seen before here on Jimbaux's Journal and are also not likely to see again.
The Bridge To Almost Nowhere
Here are a couple of views of the train on the bridge over L&A Road – named after KCS predecessor the Louisiana & Arkansas Railway – at the southern (but, really, eastern) end of the yard.  First, we see a view that's really just a detailed view of the locomotive, meant to really just be a profile view that more clearly shows the crossed out "UNION PACIFIC" on the side of the long hood.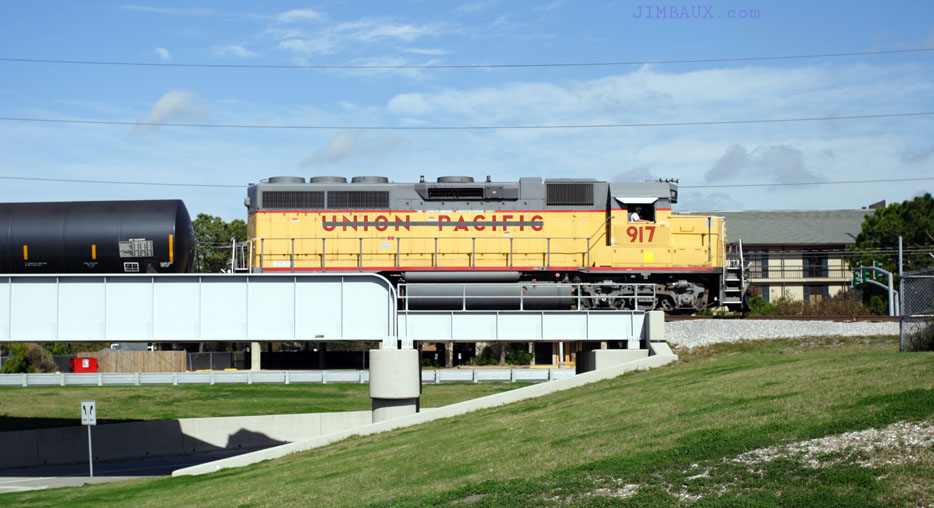 The track atop this bridge is really just a switch lead meant to serve the southern end of the yard, as the switch to the New Orleans Union Passenger Terminal track – and former KCS trackage downtown – was severed about five years before this image was taken.  The only movements, therefore, on this bridge are switching movements.
Now, if the "Middle Belt" project were ever made a reality, you might see more variety across the bridge, as it would allow direct transfers between KCS and Norfolk Southern without any kinds of reverse moves.  I'll say, too, that I actually support the idea of the Middle Belt, but not as a replacement to Old Metairie trackage! The world's population is only increasing, and the same will happen to fuel prices.  So, we need all the trackage that we can get, and the railroads could implement a directional running arrangement with westbound going through Old Metairie and eastbounds going across the Middle Belt.  Either that, or any traffic that NS and CSX send to CN (and maybe long unit trains to KCS that don't need to go into KCS's yard) could go via the Old Metairie route with all trains going from the CSX and NS to the Huey P. Long Bridge going via the Middle Belt route.
Bernadotte!
Speaking of the NS Back Belt, here are a few shots of action on the Bernadotte Line, which now only has one remaining customer, Masonry Products.  This line, though, once went all the way to Southern's passenger station on Basin Street, meaning that until NOUPT opened in 1954, the Southern Crescent and the GM&O Rebel passed on what is now weed-choked, seldom-used track.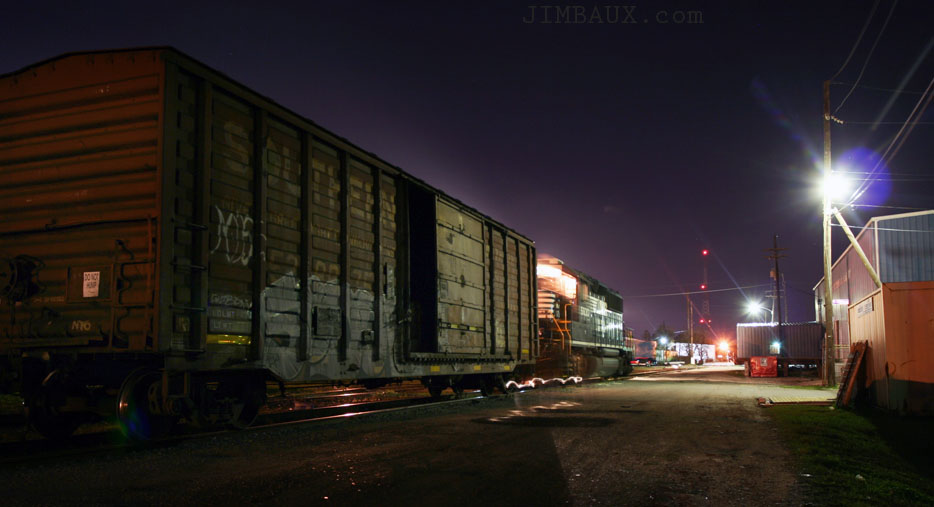 Note in the above image the light from the conductor's lamp as he moves toward the locomotive.
There was a job based here with daily service on the line as late as or later than the late 1970s.  Here in the picture immediately above and the picture immediately below, the NS 5830 has run around its one boxcar of brick that it is delivering tonight.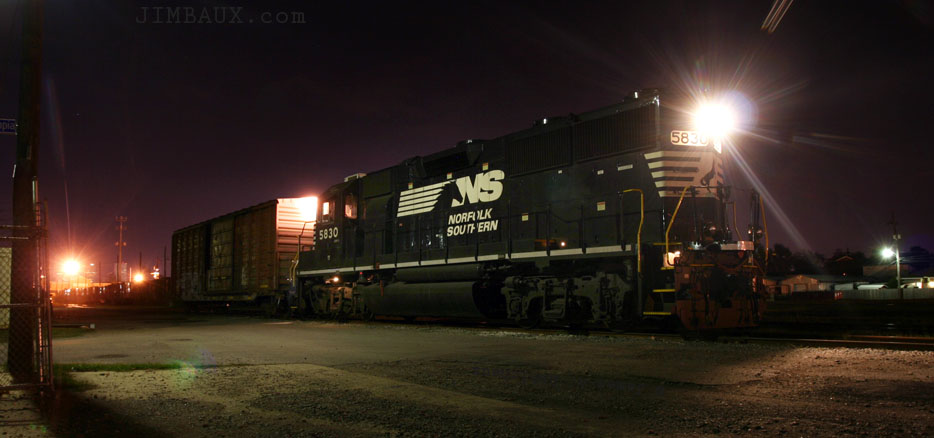 This is a really neat little operation, and, fortunately, subsequent to the taking of the images that you see here, I have been able to take far better images of this operation than those that you see here, including much better ones of the brickyard itself being served with the New Orleans skyline behind it than the out-of-focus one that you see here.

Anyway, maybe I'll publish those better and subsequent photos some other time, like maybe on the five-year anniversary date.  Speaking of which . . . .
Photographic Development and The Passage Of Time
What's With The "Five Years Ago Today" Meme?
A few of you have been asking me that, and it's a good question.  First, I'll ask, what do you think of the whole "five years ago today" thing?  Keep in mind that I didn't have a photo blog back then.  Keep in mind how much things change in just five years, as you've seen from some of the images, even something as simple as Chip not wearing a reflective vest since those things weren't required back then, and, of course, the post a week ago about the last ever railroad delivery to Valentine Paper, something that has plenty of meaning for me and is a good clue as to who I am and why I am how I am.
Also, I'm no longer putting "five years ago today" in the titles of the posts; I only put that in the postings on the Facebook fan page and in the e-mails that I send out.  I'd like to continue to be able to post these articles on the Facebook page a year later – like "six years ago today" – without causing confusion with the way that the articles are worded.  For example, I'll soon be reposting on the Facebook page all of the 2006-2007 Mexico trip postings, an epic journey indeed.
Another issue (in addition to the factors listed above) is that this is an as-time-permits labor-of-love website, and it's simply easier (i.e., less time consuming) to post shots that not only have I already taken but in many cases have already processed (mostly) a long time ago than it is to process and post new stuff.  It's a really laborious process.  The five-years-ago images still require processing, but usually just not as much as new stuff.
In the next month, I'll have plenty of good "five years ago today" stuff to post, and much of it is of subject matter other than trains!  Are you interested in seeing that?
Five Years To The Day Before The Above Pictures Were Taken
So, yes, this is being typed in December 2012, though you may be coming to this post in subsequent years.  So, the above photos were taken five years before I typed this, but five years to the day before they were taken – and 10 years to the day before I type this – we step way back into Jimbaux's photo archive, back into film days, with this image of eastbound BNSF train H-GATNWO at Schriever, Louisiana, on a Sunday morning, one of my early Sunday Sermons.
From That, Another Reason, Accepting The Quality of One's Past Work
If you look at that aforelinked 2002 picture and compare it to what I've recently been posting from late 2007, maybe we can start to see another idea of this five years ago today stuff.  It seems to me that 2006-2007-2008 was when I really developed into the photographer who I am today.  There are a couple of contrary ways that we can interpret this.  You could say that I was "good" at doing this back then, but you could also say that maybe I haven't developed much since then.  That might be allowing the perfect to be the enemy of the good, though.  I guess that I've developed a little bit since that time, but a few years ago, I'd often say that any artist should look back at his work from years before and say that what he thought of his own work was good back then was now sub-par.  I can't really say that about most of my images from that time.  Perhaps, though, the reason has more to do with science than it does with art, or that my art was as good as the science would allow it.  Basically, I did the best I could have possibly done under the circumstances.  Really, I have to tell myself that my work from late 2007 is just fine, and I should not criticize myself for not thinking otherwise and for the fact that I don't think that the work that I do in late 2012 is much better, even though I thought that the last of the three shots I did at Live Oak (the shot of the Luling Local) in late November 2012 (less than a month before I type this) was one of the best shots I've done in a long time, better than anything I've done at that location with a train in that direction in years past.  I also think that I'm more recently getting better with cloudy-day photography, as so much of my "five years ago today" stuff is mostly-sunny stuff.  Still, much of what I have from 2007 is quite good.
After all, would you expect that James Hetfield and his pals at Metallica to look back on "Fade To Black" and "Master Of Puppets" and even "Nothing Else Matters" and think that two and three decades later those songs were not good?  They are classics, like perhaps old photographs are.  You probably have old photographs that are classics too.  Don't they mean even more to you than they did back then?
Merci,
Jimbaux