[Jimbaux is going home, knowing that on this day Earth shall ring.]
Well, It's A Nice Story, At Least
Yes, kiddies, it's the feast of Saturnalia, as the winter solstice is upon us, or as some ultra-modern and hip people like to call it, Christmas.  It's a nice story, and it has helped to inspire some phenomenal artwork, like today's song; what, you haven't clicked on the above link to hear the song??  Please do!  Whatever it takes to get you through life, so long as you don't harm or make unreasonable expectations of others, just do it.  So it was on 23 December 2007 as Jimbaux awoke in Woadieville, got a few pictures, and went home to bayouland for the annual feast of the winter solstice and cold weather and huddling together with loved ones, the real "reason for the season," my friends.
Probably The Last Time I Ever Did This Shot
We'll start with what is a typical early morning train on the NS Back Belt in New Orleans, the NS's morningly transfer to-and-from the Canadian National Railway yard at Mays Yard, numerous times photographed by Jimbaux over the years as it makes its return trip back to NS Oliver Yard with the CN interchange traffic.  Anyway, as best as I can tell, this is the second and last time that I ever did the curve shot from St. Bernard Avenue.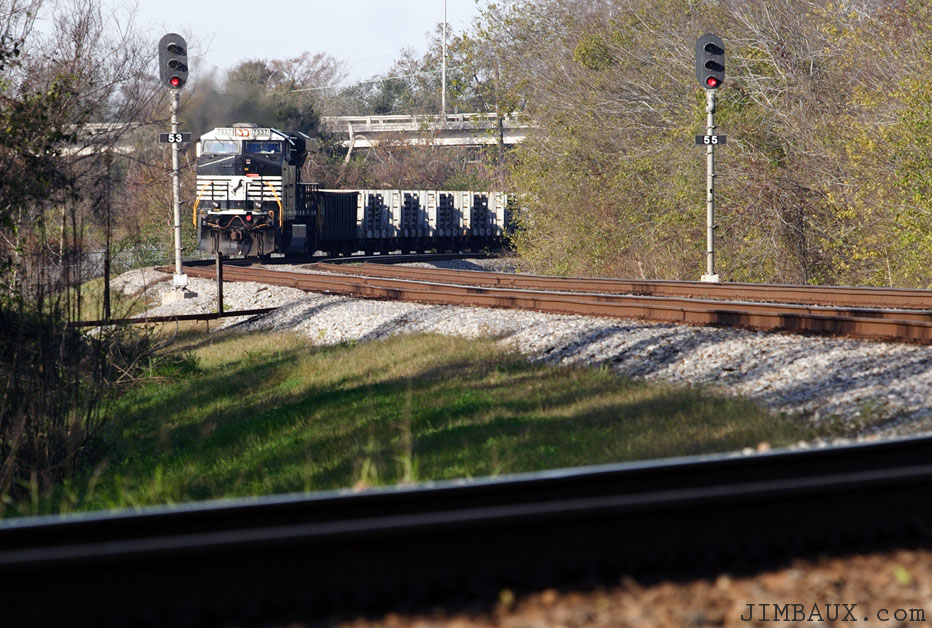 Check out those steel bar cars, long a mainstay of this train, but, five years later, absent from this train; they came from Bayou Steel on the old IC "Valley Line" between New Orleans and Baton Rouge.
Ignorance Can Lead To Unwarranted Accusations
Oh, yes, and we've surely been down that road too many times, haven't we?  The only reason why I mention that now, though, is that these two shots are examples of how people who simply don't understand optics can look at these two telephoto pictures and accuse one of standing too close to the track or being on the track.  I've had that happen with these shots.  Hello!!  Can you even see the ballast between the rails in the first picture??
Well, that's enough of that.  It's time to get out of here and pack to go to Bayouland.  First, though, we need a foul diversion.
Bird Foaming
Here are some of the geese that hang out at Bayou St. John.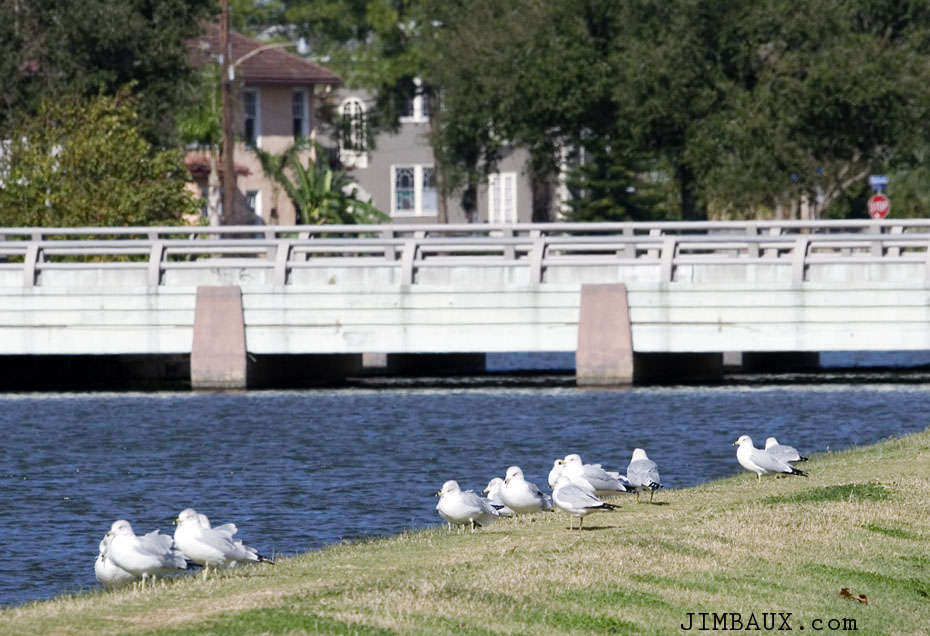 This is a neat part of New Orleans, and the geese often visit.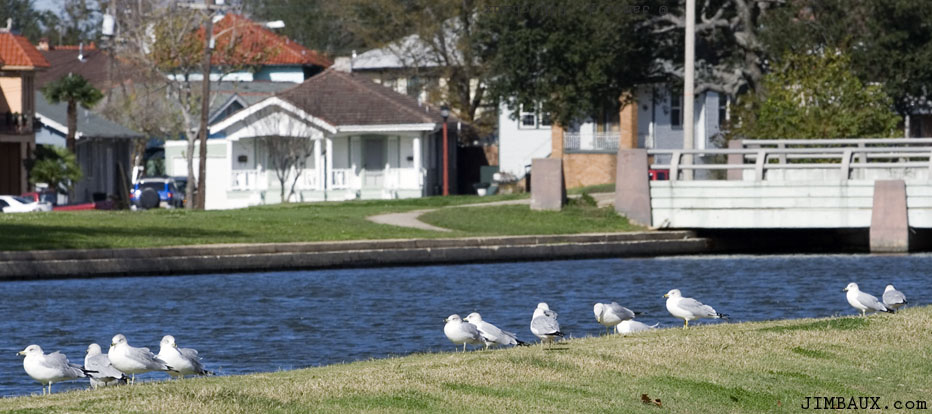 I couldn't quite figure out what they were saying, though, because I didn't have their frequency programmed into my scanner.

Well, that's enough of that.
An Odd Yellow Bird
Let's swing by the KCS really quick to see what's happening: nothing.  However, that won't stop us from shooting the KCS 917 there, and, yes, you've already seen this odd yellow bird a few times here recently.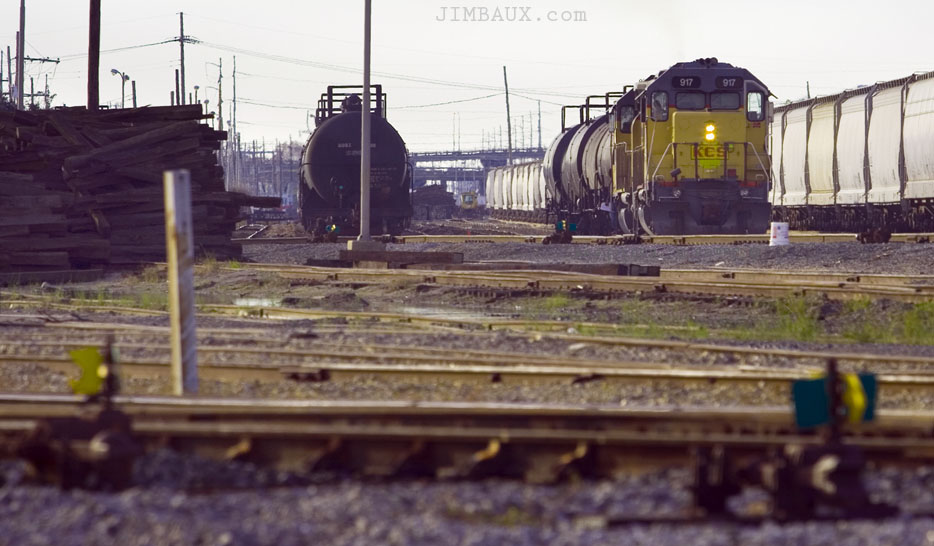 How about a closer look?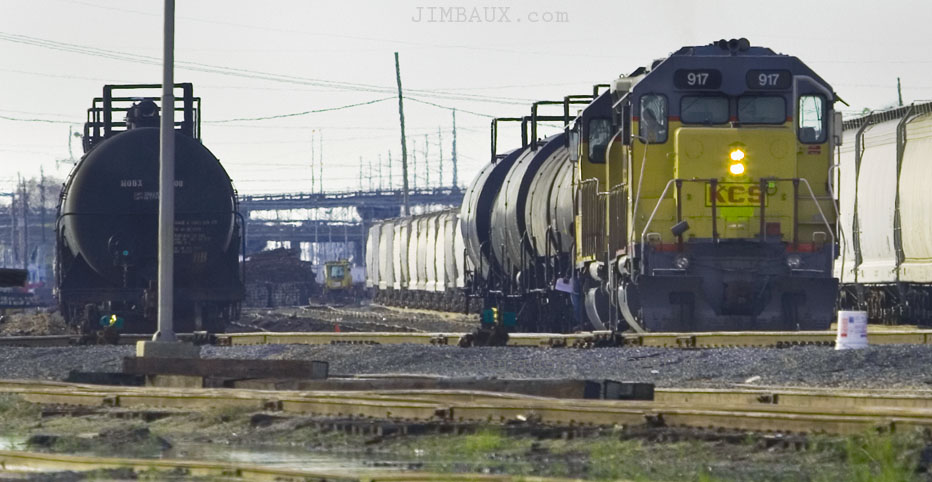 I guess I ever-so-slightly miss the ex-UP yellow locomotives on the KCS from that time period.  Do you?
The Classic Huey P. Long Bridge
It's such a fascinating structure, and being on the span offers some neat views, but it's hard to photograph it, especially from a moving automobile.  Here are the results of my efforts.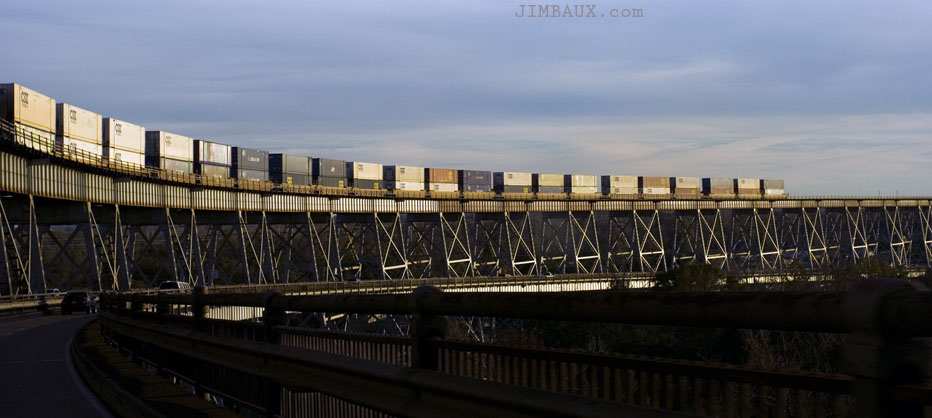 Yes, that's the KCIAT, the predecessor to today's Z-train, back when it originated in City of Industry, California.
Home!
The Statue Of Liberty Of Raceland
That's what my recently-deceased grandmother called Raceland Raw Sugars, particularly the high exhaust stack.  Men coming home from war on the train or on the Old Spanish Trail – the former US Hwy. 90 seen here, now as La. 182 – could see the exhaust stack from miles away and knew that they were close to home.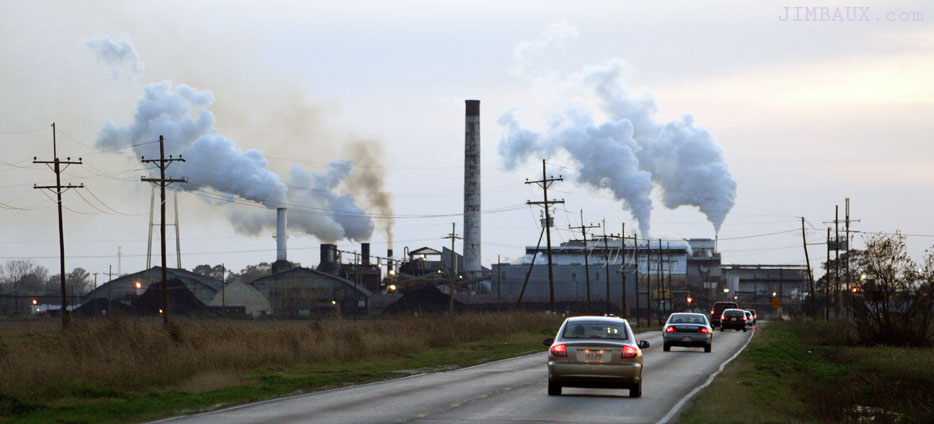 You can't read it in this picture, but the writing on the stack says "RACELAND 1892".  You saw the other side of the mill, also backlit, 15 days ago when you saw the last-ever railroad delivery to Valentine Paper, an epic post here if there ever was one.
Five years to the day later, this sight is likely what will greet me as I pass this location, unless I don't get there until after dark, which is entirely possible.
Y'all have a Merry Christmas, okay?
¡Feliz Navidad!
Merci,
Jimbaux