[Jimbaux knows that all that he can do is write about it.]
You might have noted (or seen on the Facebook fan page) that Tuesday was the one-year anniversary of Rie's abrupt death.  Well, it was a year ago tonight – Wednesday 26 October 2011 – that I broke down crying when I read her death notice, when it really, finally hit me.
There Just Ain't No Place Like Home
Today's song was picked for several reasons, and it was picked nearly a year ago shortly after I took these pictures and decided to make this post at some point.  Obviously, real life has kept me too busy to blog as much as I would like.  Generally, I don't like using the title of the song as the title of the blog post itself (since it seems unoriginal), but it is highly appropriate in this case.  You've probably already figured out some of the reasons for the song's selection for this post, but you'll see more later.  That particular line from the song in the above subheadline is particularly relevant, and I'll explain it if I ever get around to writing about the day she was laid to rest (two days after these pictures were taken) along with all of the pictures that I took that day.
I Can See The Trains Slowly Creepin'
For now, let's see a few pictures of trains that I took on this afternoon.  We'll start with three shots of a work train near the beginning the Norfolk Southern Railway's "Back Belt" line in Metairie.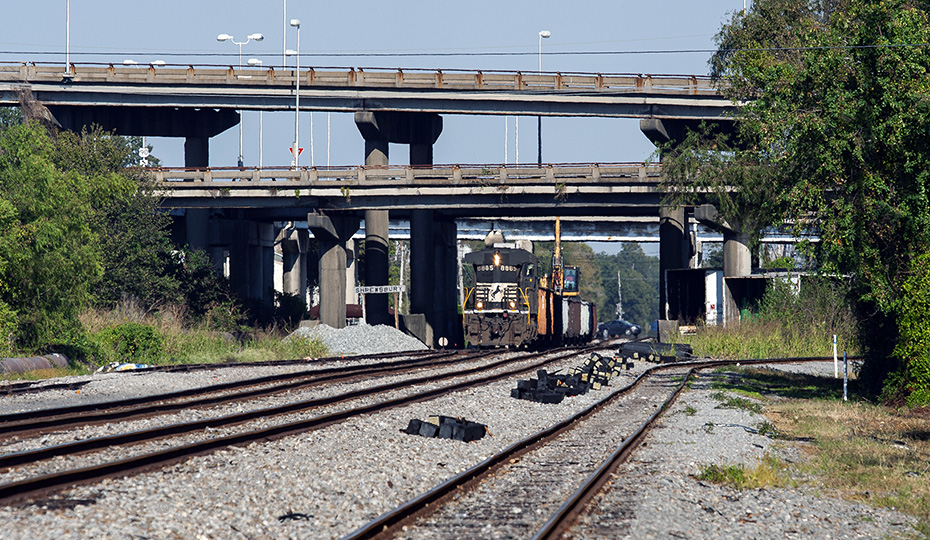 We're at Shrewsbury here, the fuzzy photo above was chosen because the train is far back enough that it doesn't block the "Shrewsbury" sign, and you saw the spot where I'm standing from a different view a few days earlier on the day that Rie died; it's the first picture from that day.
Did You Ever Stop And Think About The Air You're Breathing?
The track at the right is Kansas City Southern Railway track going into the KCS yard.  Until about 30 years ago, it crossed the NS Back Belt at a diamond here before that part of its mainline was removed.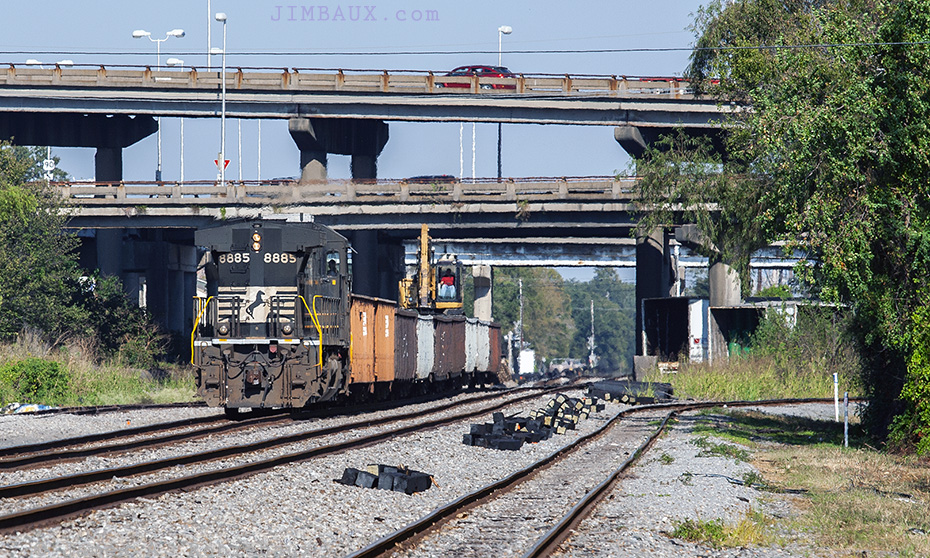 That's Causeway Boulevard and its circular intersection with Airline Highway in the near background, and in the far background you can see the crossing gates at LaBarre Road.
Lord, I Can't Make Any Changes . . . Or Can I?
NS was apparently doing a tie-replacement project here, and before the weather warmed up (and work crews migrated back northward), BNSF and the New Orleans & Gulf Coast Railway would do their own tie replacement projects in the area.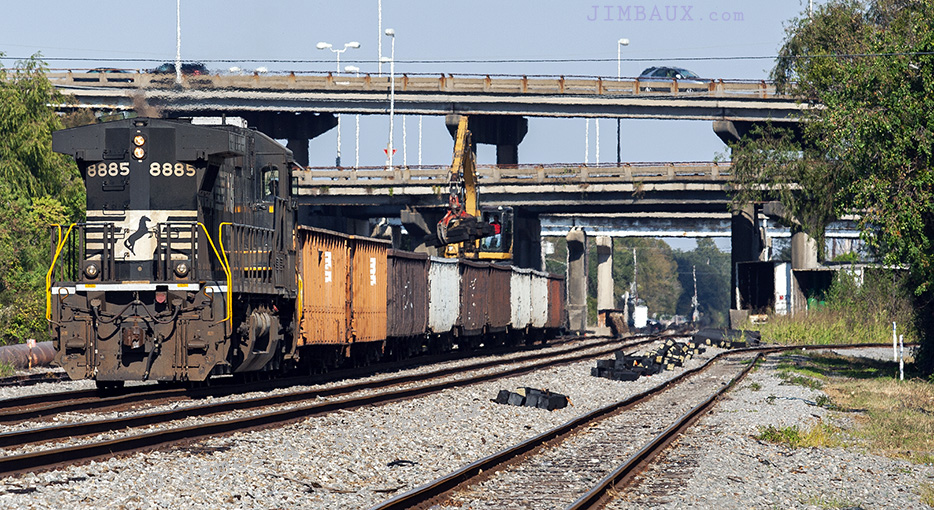 Do you see the machine unloading the ties onto the ballast to be installed later?
A Memorable Encounter
It was shortly after I took these pictures that I went to visit a senior railroader who was on duty at his desk somewhere in town.  For 'security' reasons, of course, (and for political reasons too), I won't say who or for which railroad he works, but what sticks out in my mind the most from that conversation, even more than our conversation about Rie, was a quick seven-word sentence that emerged from his mouth.
I Wish I Could Write Like You
That's what he told me.  I knew that he liked my photography (he had asked me to do some photo work for him a few years before) and that he checked out my websites, but I thought that he was like many people, just scrolling through and looking at the pictures because they don't have the time or the inclination to read.  I asked, and he said that he reads every word on here (even though he never comments or writes to me to offer feedback.)
I was struck by that, and given that a person who was a big part of my formative years of student journalism had just abruptly died, and how her death made me think so much about what that experience had meant to me and for me, it was more meaningful than had it come a week earlier.  I took that with me and have kept it and think about it occasionally, and now you probably see the real reason for the selection of today's song.  (Isn't it a good one?)  I'm a person who believes not only that each of us has our own unique set of skills, but that we are so too obligated to some degree to use them.
But, for now, with this event, what can I do?
All I Can Do Is Write It In A Song . . . Or Blog Post . . . Or Picture
And so it was, and so it will be; there was one more shot to get after my visit to my railroader friend.  Here's a westbound NS train (probably the 345, which becomes Union Pacific's MNSLI) on the Back Belt at Marconi.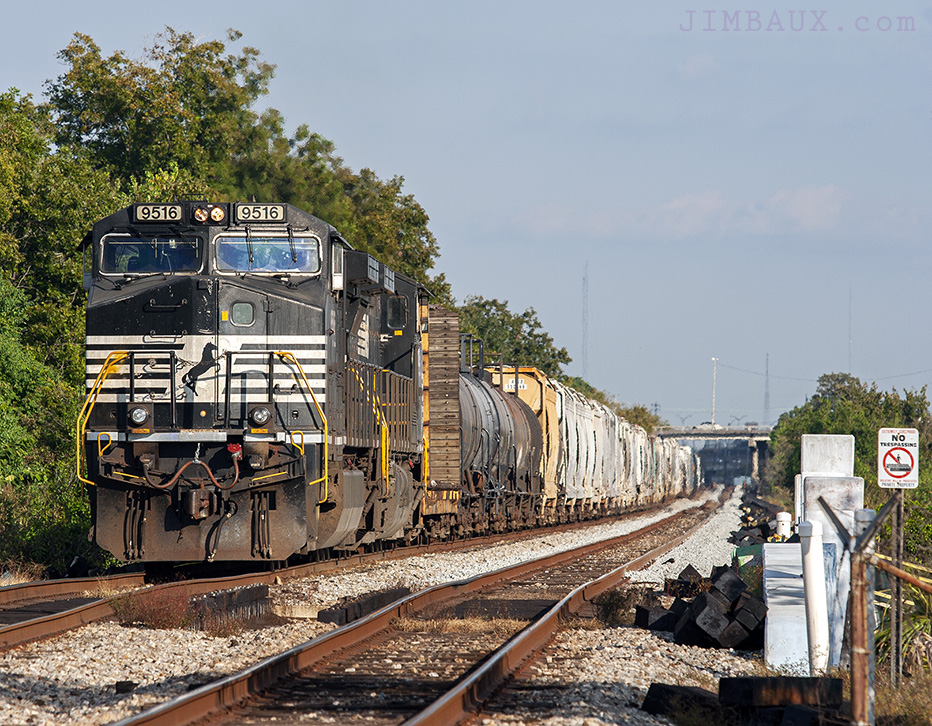 Now, it was time to head north to campus.
The Moment When It Hit Me
After taking these pictures, I was sitting in the computer lab at UNO when I saw that Rie's death notice was finally published online.  When I opened it and saw her picture, that's when, three days after learning of her death, I finally lost it.  I just buried my head in my arms and cried while trying to not be noticed (there weren't many people there.)
Given the difficulty of that episode, I could only wonder about how difficult her funeral Friday – two days later – would be.
If I Could Only Write About It
I took some pictures the day that Rie was laid to rest.  I processed them within a few weeks, and I've intended all along to post them along with a big post about the fabulous lessons that I've learned from her death.  Maybe I can do it for the one year anniversary, but as busy and as sick-of-typing as I have been, that might be difficult.  Still, maybe I'll get some inspiration to write, which would be appropriate, since Rie's life and death gave me so much inspiration about so much else.
All for now . . .
Merci,
Jimbaux