[Jimbaux would like for you to do as he did and experience the warmth before you go.]
The Essence, The Genesis, The Soul
Tuesday 23 December 2003 was one of the most memorable days of my photographic and railroad enthusiast life; back then, I was still shooting on this ancient medium known as film, and much of the article that you are about to read comes from an essay that I wrote the day after and shared with local railroad enthusiasts without sharing the pictures to go along with it, pictures that you will now see.  This will be one of my most memorable postings, and much of it comes from the inspiration felt on those days; it may help to explain the unexplainable fascination with trains.  This is personal, getting to the heart of my love of trains, and I am one of a small handful of people who have photographed the now-dormant Lockport Branch in the 21st Century – or at all, ever.
Good Things Come To Those Who Wait
That was the original title of this essay when I wrote it on Wednesday 24 December 2003, but I have since come to really dislike that idea, since I have learned since then that if you want something, you have to get out there and make it happen, which, ironically, is actually what I did on this day in 2003; luck, however, also played a role in what you are about to see.  This is a photo essay of a chase of a train on the Lockport Branch, a branchline railroad extending southward from Raceland on the eastern bank of Bayou Lafourche, a former Southern Pacific Railway branchline that has been dormant since the spring of 2009 due to the closure of Valentine Paper in December 2007.  Therefore, the scenes that you see in these pictures are no longer replicable, as trains no longer pass on this line, and you might get the sense from reading what I wrote back then that I knew that this line, like other nearby branchlines, would not survive much longer, even though there was no specific threat to its existence at the time; any branchline that has only one major customer is vulnerable, as that customer's closure could – and, in this case, eventually did – doom the line.
So, starting with the next subheadline and until I state otherwise, what is presented here was written the day after these pictures were taken and is modified in places for ease of understanding and for flow.  For example, I am removing a few instances of me stating that I wish that I could present the pictures with the essay; now, thanks to slide scanning and blogs, I now can!  So, here we go, back to 2003.
An Essay On The Perils On Railroad Photography
The hobby of railroad photography is a real test of patience.  Many people see the expenditure of countless hours, expensive film and equipment, and gallons of gasoline, as a gross waste of time.  Anyone (like me) who would do such a thing must be a fool; perhaps those who say such things are right.
The subject of this essay is one of persistence, and how that persistence can yield glorious memories for us even as adults, a time when many people (or, at least, railroad enthusiasts) feel the best moments are in the past.  This essay is an account of my day on the Lockport Branch, along with the lessons I learned from it.
I'm a big fan of rural branchline railroading, having spent a part of my childhood on the now-abandoned SP Napoleonville Branch.  My fondest memories of trains have always been (and will probably always be) those of high-nosed GP9s pulling a few old airslide hoppers right by my house.  The  friendly wave from the conductor on the caboose was a nice touch too.
Now, the Napoleonville Branch and the Houma Branch are just distant memories, long-gone symbols of a more personal way of railroading.  I like to see the big through trains on the mainline, but they just don't have the idyllic simplicity that branchline trains do.  All that remains in the area is the Lockport Branch, beginning in Raceland and extending southward along the east bank of Bayou Lafourche about 12 miles to a paper finishing plant in Valentine, a village just south of Lockport.
Until today, I had not had a chance to see (much less photograph) a train on my favorite existing stretch of railroad since July.  Why?  The branch is usually served on Mondays, Wednesdays, and Fridays, during the day – which is the same time I'm at work.  I surely would love it if the branch would be served on weekends, but beggars can't be choosers.
Naturally, one of my train-watching targets for my time off for the holidays was the Lockport Branch.  Monday (22 December) was almost a cloud-free day, and it would have been perfect for a Lockport Branch chase.  When the L&D crew went on duty Monday morning, there were no cars in Schriever for the branch or for any of the industries in Raceland.  The only cars to bring were for Morgan City, which is usually served Tuesday-Thursday-Saturday.  So, the crew headed west instead.  (Later that day, though, I did photograph the westbound Sunset Limited passing sugar-cane fields.)
I Could See The Writing On The Wall
Somehow, I had the sick feeling that the opportunity would pass me.  No cars for Lockport?  The branch must be on hard times, all the more reason to photograph it while it is still here.  And a perfectly sunny day was wasted by the train headed west instead of going on the branch, or at least that is how my selfish self characterized the situation.
I've Got A Bad Feeling About This
Even as early as Monday morning, I had the fear that the day the branch finally would be served would be an ugly day.  Here I was with a day off from work on a gorgeous day, and the branch wasn't being served.  What have I done to deserve this?
Monday night, the UP local came and dropped off three cars for the paper plant (among other cars for Raceland.)  Good!  The branch will be served tomorrow (Tuesday), I thought.
However, as I got home and checked the weather forecast for Tuesday, many words came out of my mouth which are not repeatable here.
I awoke before dawn and took a look at the sky, but I saw not one star.  I guess the forecasts had been correct.
At about 09:00, I left to go have a look at what was happening, knowing full well I wouldn't take the camera out (which, in retrospect, is really silly.)  I wanted to at least see what was going on.  I observed the L&D Schriever job heading eastbound on the Lafourche Crossing bridge with 26 cars, including the three for Valentine.
I went home, still a bit disgusted.  The clouds showed no signs of parting.  I then decided to get back out again because I had some things to do at work.  I figured that in the unlikely event that the clouds would break up, I would be near enough to the action to get there and get some pictures before the clouds made their return.
Am I Tempting Death?
I headed toward the track, and, as the time progressed, the rain intensified.  The downpour got worse, and the windshield wipers were on at full speed.  Visibility decreased, and I began to fear for my safety.  It's times like this that the only people who should be out on the road are the ones who need to be.  Naturally, I began to wonder if I really "needed" to be on this expedition.  I would later learn of several wrecks near various places I had been.  What return do I expect to receive by subjecting myself to such brutal weather?
When I got to work, the rain was still falling hard, and the wind was swift.  I took care of a few things in the classroom and in the faculty workroom.  (I was at the time and until 2005 a teacher at the local high school.)  I was the only human being in the school building; so, I was quite surprised when my cell phone went off not long before I left.  It was The Railgoat calling from New Iberia.  Among other things, he told me that there were some breaks in the clouds where he had been, suggesting that I might have the fortune of golden rays if I persisted in my efforts.  His prophecy surely gave me some hope.  I got in my truck and turned the scanner on.  I could hear the L&D crewmen talking to each other.  This told me that they were still in Raceland, even though it was nearly 11:00.  I tried to look at the bright side.  The later this train leaves, the later it will get back, which gives more time for the clouds to break up, I surmised.
Here Is The Train, Getting Onto The Branch
I got to Raceland just in time to see the crew lining the switch to head to Lockport.  At 10:52, despite the pouring rain, I photographed the train making the turn southward, a photograph that at the time I thought was not presentable, yet presented here nonetheless.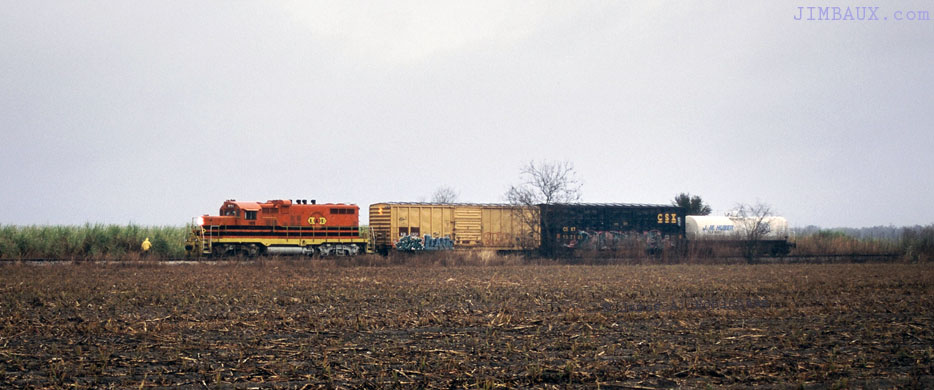 Today's train consisted of two boxcars and one tank car full of clay slurry.  Valentine Paper was not a traditional paper mill with woodchips or pulpwood entering and boxcars loaded with spools exiting.  It was more of a "paper finishing plant" that made specialty paper using paper that had been rejected by other mills.  So, all inbound cars were loaded, and all of the outbound cars – except for very rare shipments by rail – were empty.
I paced it southward in the pouring rain, taking another worthless photograph at 11:50 in Myrtle Drive in Lockport.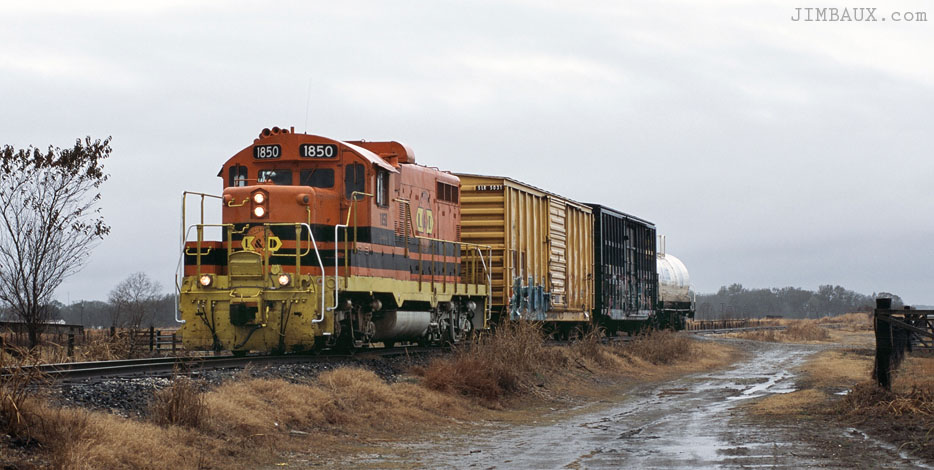 The entirety of this paragraph is written in 2013; I now find my own characterization of this photograph as "worthless" to be repugnant!  It is a great picture!  It is especially great when one considers that it can no longer be done, and the fact that I knew that it was possible that I was photographing something that was not long for this world and still called the picture "worthless" makes my 2003 characterization even more ridiculous.  I now see the "worthless" comment as, among other things, part of the excessive self-criticism that I would take a long time to overcome!
Anyway, frequently, I gazed upon the western sky only to find more walls of water headed my way.
I began to despair about my misfortune.  It's not fair, I thought.  Yes, I was getting to at least see the train, but somehow it didn't seem just.
God Must Hate Me
Why else would this happen?  Surely, this must have been some sort of punishment, for what sin(s) I didn't know.  Perhaps I was being too greedy, trying to photograph such a train in good lighting.  Wait!  I'm not even sure I believe in God, or that if I do, that he doesn't intervene in the affairs of individual people.  So, why I am I thinking that the Almighty has it out for me?
Many times over the last few months, I had been at work on days when the branch has been served, looking out the window to see a gorgeous day, wishing I could be checking out the action on the branch.
Now, here I was in position to make great photos, and I was being cursed with dismal, dank, and depressing skies.  How could this happen?  It's not fair!  I almost went home, rather than continuing to toil in my misadventure.
Chillin'
I spent some time in Valentine, and was mildly entertained by watching the train switch the plant and hearing the crew over the radio.  I hadn't witnessed this in a long time.  In times past, it took a long time to switch this plant, but with the decrease in business, it takes less time.
Although the skies were still gray, watching the switching was a bit relaxing.  Maybe I shouldn't be complaining like some spoiled kid.  Perhaps I should reflect on how fortunate I am to be able to see this, I thought.  These and other thoughts turned over in my mind.  One thought was that I should have stayed home for the morning.  After all, I still haven't wrapped my Christmas presents, and I have a host of other chores to do.  Why was I wasting a ugly day by being outside?
Still at Valentine, at around 13:00, I again looked to the west.  This time, the clouds weren't as dark.  Could sunlight be on the way?  If sunlight is on the way, it would be about 45 minutes before it showed up, I thought.  This should give me time to appease my growling stomach, while the crew wraps up its switching chores.
Food
Due to picky tastebuds, I high-tailed it to Mathews to grab a chicken strip po-boy at Popeye's, which took longer than it should have.
Just as I got back on the highway, things suddenly got brighter – literally!  Although some high cirrus clouds were preventing full sunlight, definite shadows had been formed!  I raced southward with glee.  There was an abrupt end to radio chatter, which must have meant the crew was done switching and was headed back to Raceland.  I had to find the train quickly.  Still, I had time, because the first good northbound shots are a few miles up from Valentine.
Train
At 13:50, I made landfall on a muddy headland near Karen Drive in Lockport.  The lighting was still poor, but I took some shots anyway, hoping the sun would finally break free of the cirrus.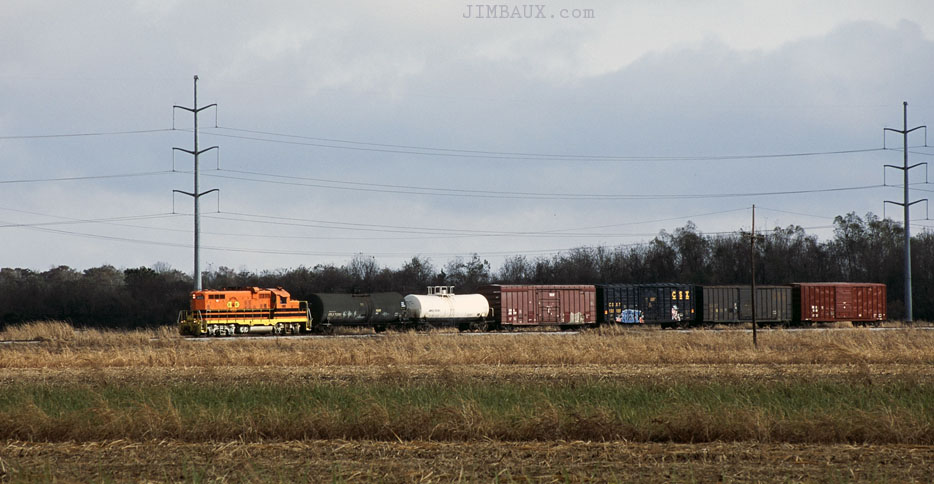 This paragraph is written in 2013; the "lighting was still poor," I said back than?  I don't know about that!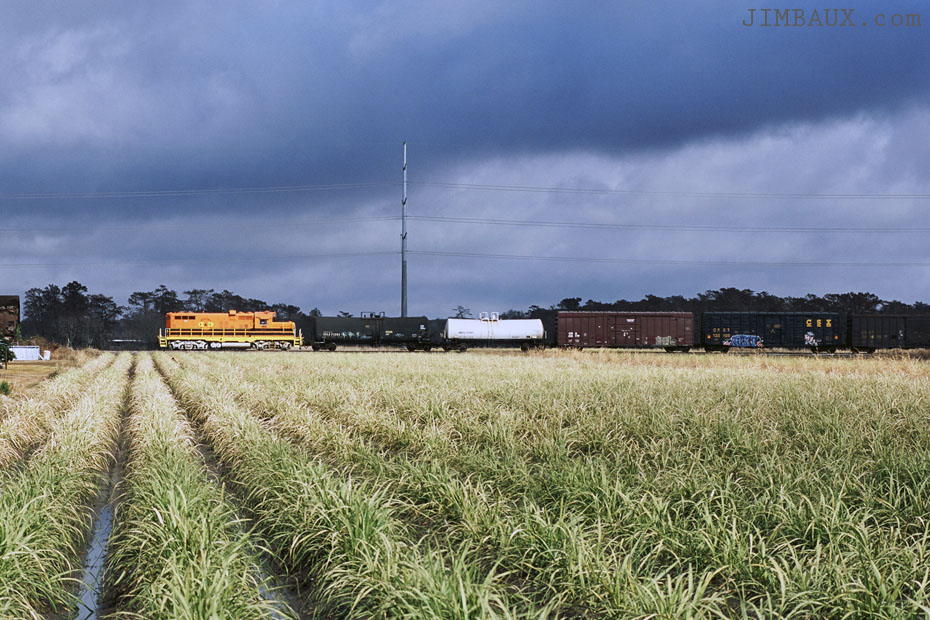 I got stuck in the mud here and had to do a little bit of maneuvering before I could escape without calling for help.
I paced the 1850 and her six cars up the bayou, but the clouds made a comeback, to my great disappointment.  This would not last long, though.  Soon after, there was an enormous breakup of the clouds, and an abundance of sunlight came down on the landscape before me!
Success!
All of the waiting earlier in the day had paid off.  For a brief half-hour, from about 14:10 to about 14:40, I photographed this train in various locations in a stretch of a few miles.  Redemption had arrived.  Here is the train at Vizard, approaching Clotilda Plantation.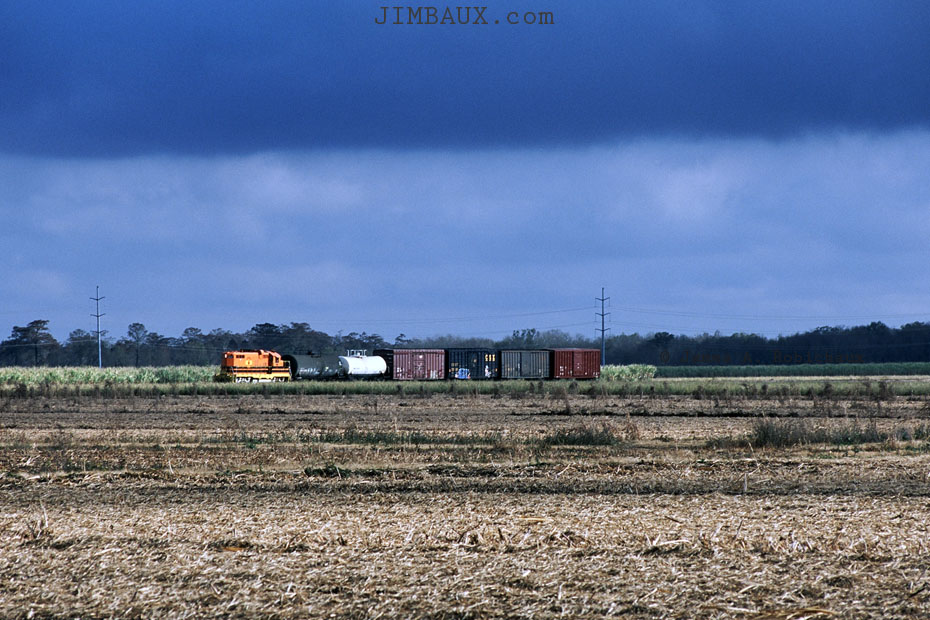 That's kind of an expansive view; let's see a cropped version of that image.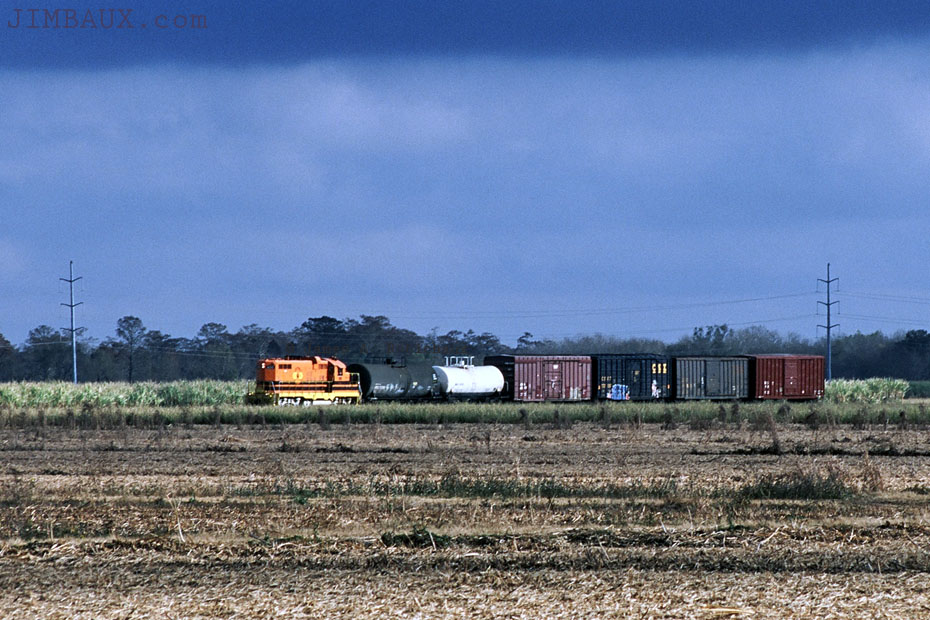 Few things could be finer than an old Geep toting a few cars on jointed rail at 10mph.  Of course, it would be nice if the locomotive would have been a high-nosed red-and-gray GP9E, but beggars can't be choosers.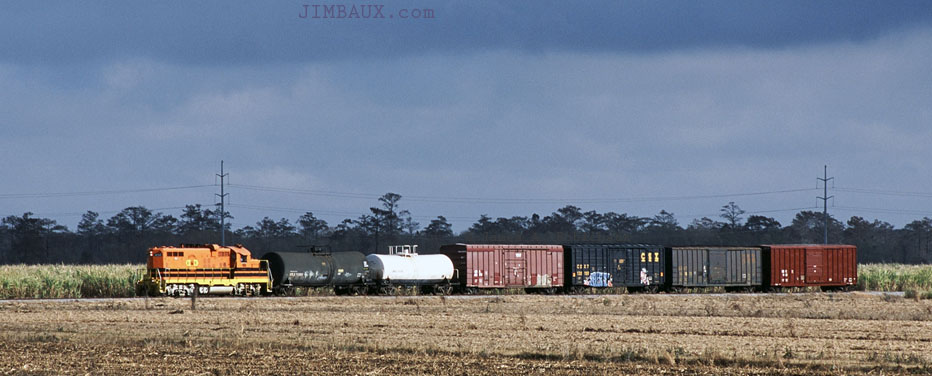 We are now getting close to Gheens Road.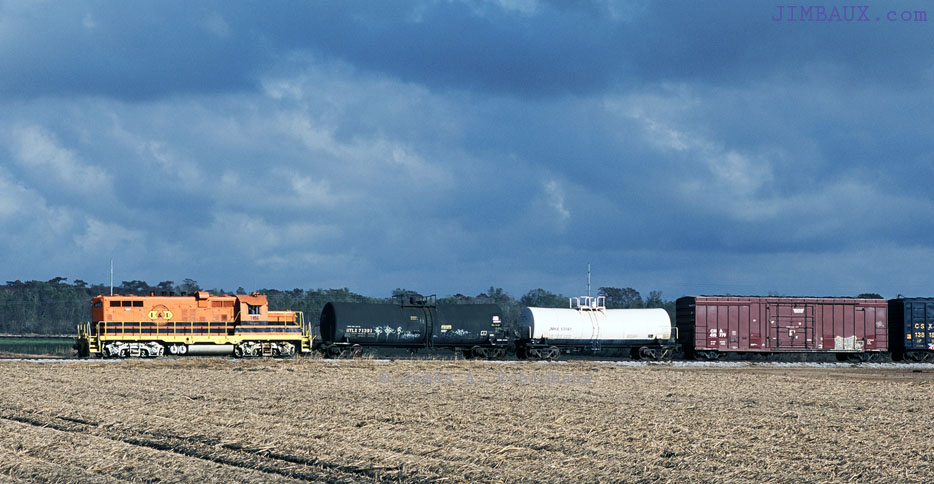 How about those silver trucks and fuel tanks?  I wish that L&D still painted its locomotives that way instead of that nasty black.  Yes, this paragraph is obviously written in 2013 also!
Now, we are north of Gheens Road.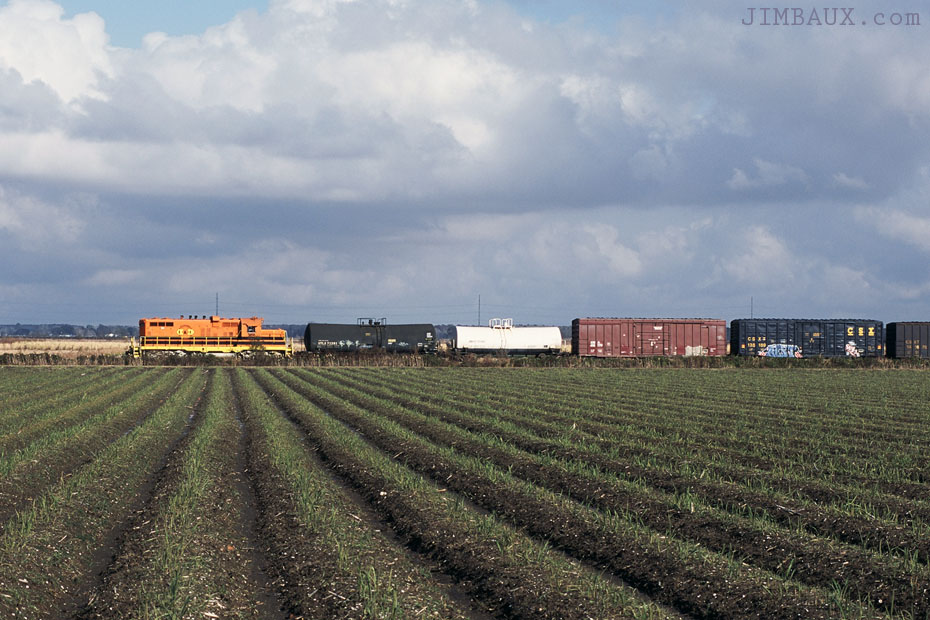 Right here, I nearly got my truck stuck again, this time in sloping gravel on the side of the highway.  (There is no shoulder on La. Hwy. 308.)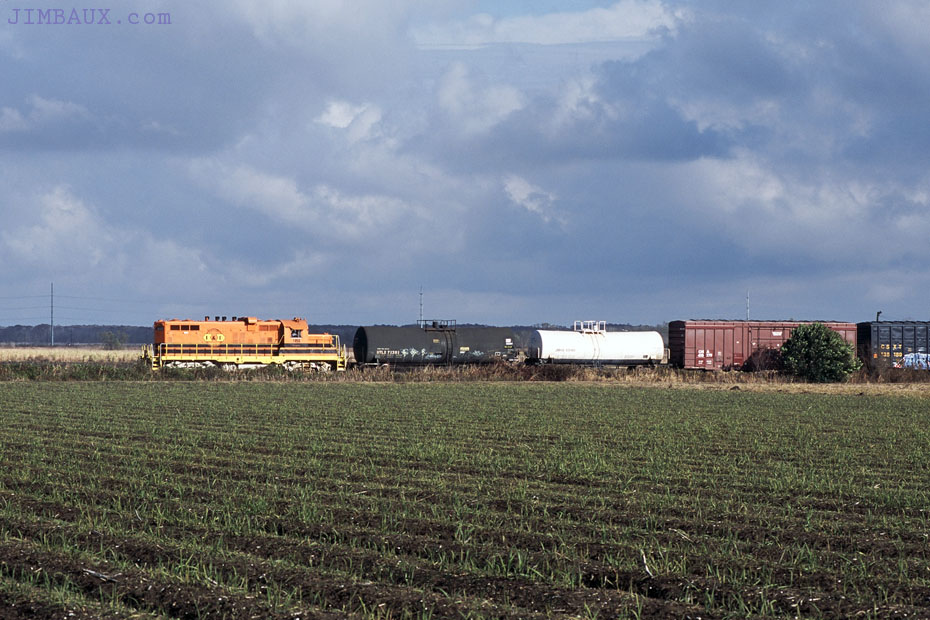 Next, we see one of my favorite places in Earth, Farm To Market Road.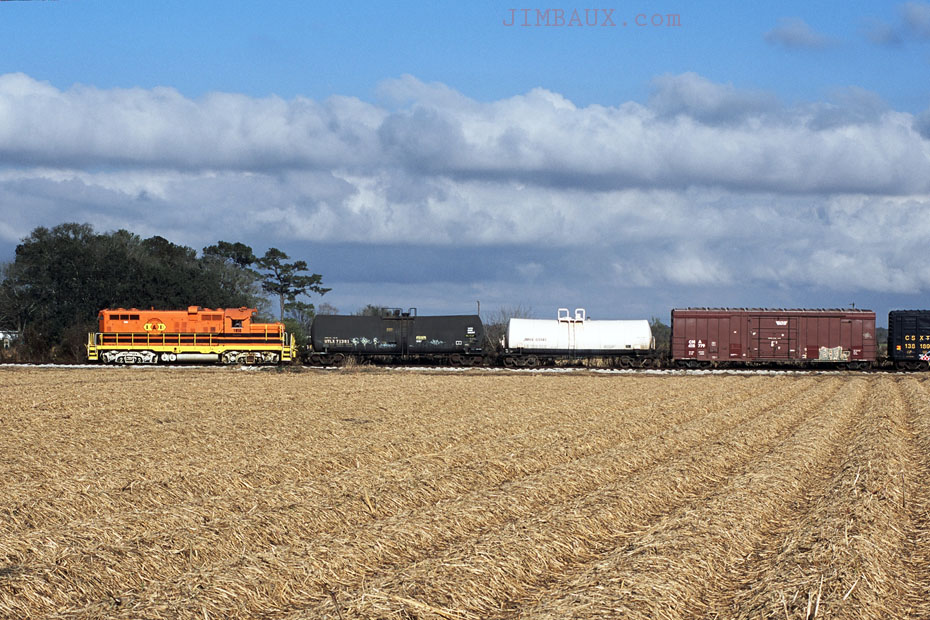 It wouldn't be a bad place to spend eternity.
The Grand Finale
I once again made landfall on a muddy headland, and I once again almost got myself stuck.  I think that getting this picture was worth the risk.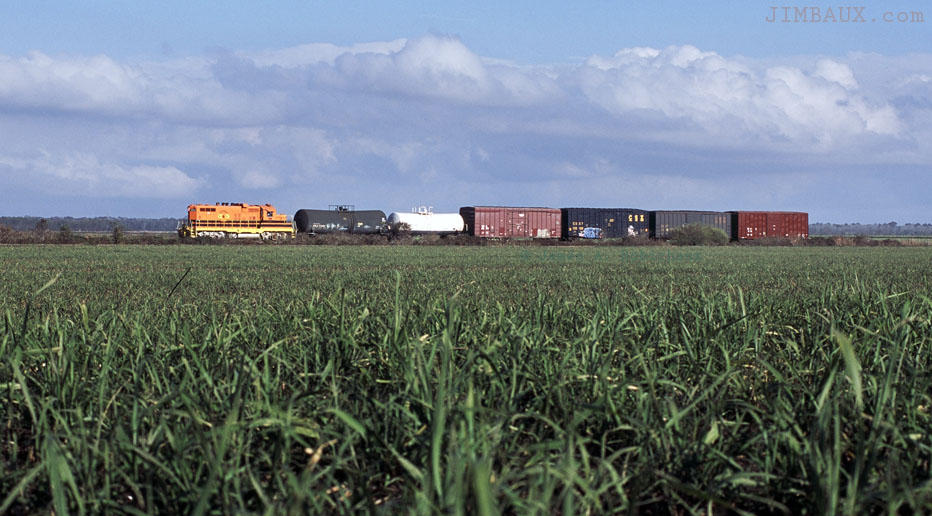 That, my friends, with the sugar-cane in the foreground, is branchline railroading in extreme southern Louisiana, a dying way of life, and something that I deeply love, having grown up seeing scenes like this, scenes that are now a part of the past.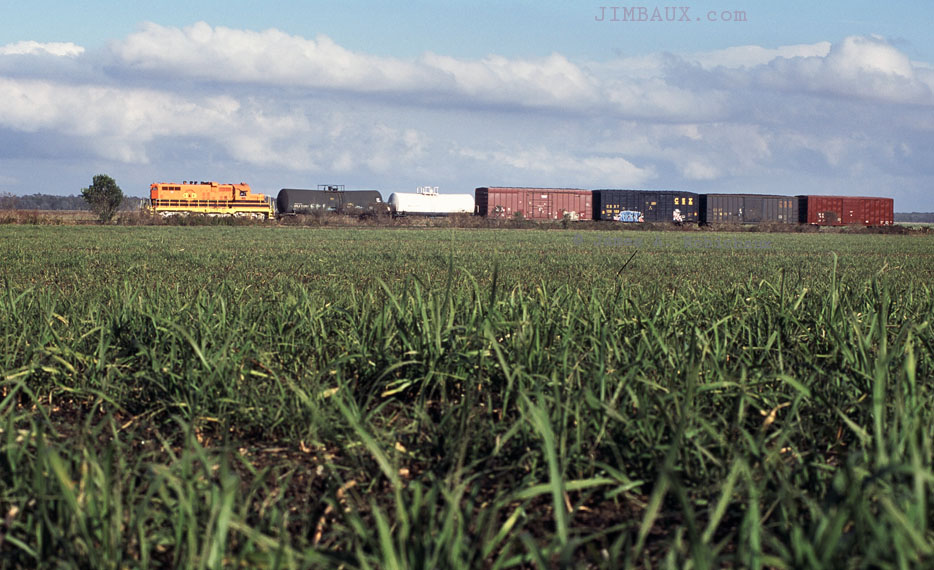 This fleeting glimpse into the past was already a fleeting glimpse into the past even before the picture was taken, as we are – and already were at the time – looking at a bygone era.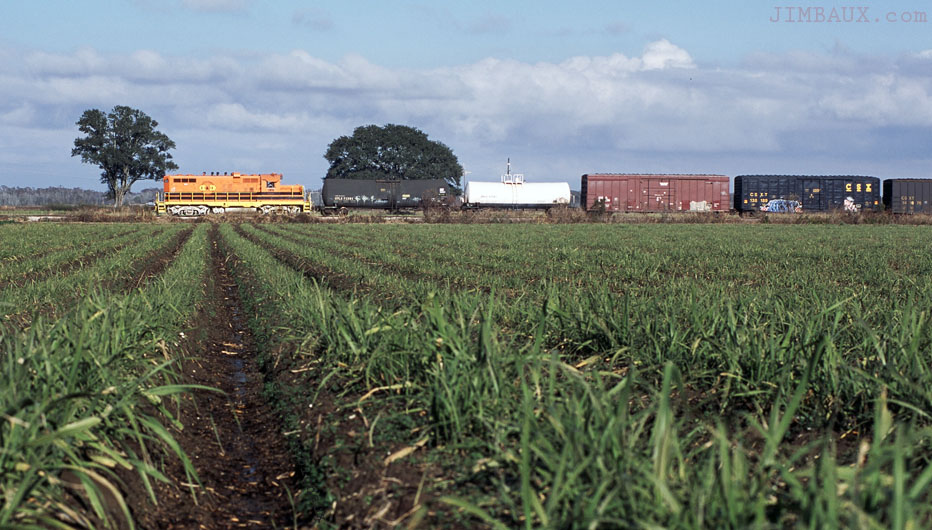 That was a good way to end it.
Passion And Devotion, Perhaps Maddeningly
By the time that the half-hour of glory had ended, I had nearly gotten my truck stuck three times, twice in mud and once in sloping gravel.  My camera had gotten muddy, and so had the roof of my truck.  At some point during all of this, I don't remember when, the detector at milepost 36.1 gave a reading, indicating a train passing.  I laughed!  Under normal circumstances, this calls for a quick trip to the mainline to see what's running.  However, under normal circumstances, there isn't a train running on the branch under golden sunlight.
Never had I cared less about what was happening on the mainline.  I was photographing an elusive rural branchline train; why break off to see what kind of run-of-the-mill drag is running on the mainline?
When it all ended and the dust – or, rather, mud – had settled, I had finished two-and-a-half rolls of film.  The truck needed (and still needs) a serious bath, and so did I at the time.  I thought about pulling off one more time before he got back to Raceland, but I didn't want to risk being stuck in a muddy cane field like had almost happened twice before.
On December 23, fortune favored the persistent and the patient.  What started as an exercise in futility had ended as a successful, satisfying expedition.
Earlier in the day, I had lamented about how unfair and unfortunate the situation was.  As I drove home, I had a complete change of mindset.  I realized how truly fortunate I had been, even if I hadn't gotten the sunlight when I did.
I had a memorable afternoon, and, hopefully, the images I created will be memorable as well.  I've realized that I was fortunate to have experienced the beautiful show of light, color, and sound that I had just witnessed.  Sometimes, I wish that some of you reading this could be there too.
I've given it some thought, and I've concluded that despite my disparaging feelings from the morning, I am more fortunate than many who are reading this.  Many who are reading this would have probably loved to have been there, but don't live close enough to a branchline or shortline.  Others don't have the freedom of mobility that I am fortunate enough to have, whether it be due to financial reasons, health reasons, family commitments, or work commitments – like the type that has kept me from experiencing this since July.
Enjoy what you have while you have it.  That's what I've learned.  I have realized how fortunate I am, and it has helped to make the holidays all the merrier.  I don't know why I'm so expressive with this event.  I guess it could be a combination of several factors: the beautiful show I saw and heard, the Incubus CD I was listening to while chasing the trains, the holidays, the gift the student left me, the winter solstice, the weather, etc.
Lamenting the passage of old railroads is not productive or useful; I've learned that when I get out there and find what's still surviving, it makes me realize how fortunate we are, and that has been one of the best gifts this holiday season.
Now, I need to go wrap those presents.  Happy holidays.
======
Welcome Back
Okay, our time travel concluded, I hope that you enjoyed the pictures and words from 2003, the whole experience.  I have a few topics from the photo essay that I would like to discuss.
#1 – The Lockport Branch
As regular readers of this site might know, the Lockport Branch is now dormant due to the closure of Valentine Paper in December 2007, and I photographed the last-ever railroad delivery to Valentine Paper, yet another epic posting that explains better than anything else this unexplainable fascination with trains.  If you have not read that piece, I encourage you to do so.  As I stated in the essay, I knew at the time that what I was photographing might not be around forever because, afterall, I had seen two other branchlines of my youth disappear.
#2 – Dr. Diesel's Shoreline District Pictures
Dr. Diesel said that my essay reminded him of his own doing of similar things in similar situations when he was younger, and he specifically cited his documentation of the ICG Shoreline District, a branchline in St. Tammany Parish that was removed in the early 1990s.  He documented action on the line in the early 1980s thinking that it would not be around forever.  Well, now, like with me putting my old Lockport Branch pictures here, he has put many of his Shoreline District pictures online too!  Check them out, as they are really neat.
#3 – Changes In Photographic Taste and Technique, and Changes in Personality!
Wow, I was surprised to read how self-critical I was back then and also how badly I was infected with the mentality that the only lighting condition worthy of photography is full sun!  I am so glad that I no longer think and feel that way!  However, the advent of digital photography – to which I switched 18 months after these pictures were taken – really helped me develop into a better photographer of subjects under cloudy skies.
#4 – Digital Photography Has Diminished the Allure and Mysteriousness of Photography
The world, civilization, and society have undergone drastic changes since these pictures were taken, and digital photography and social media have been drivers of that change.  Today, almost anyone in the industrialized world can take a picture of almost anything and publicize it for the whole world to see.  This was not even true back when these pictures were taken in late 2003 – or at least not nearly as true as it is now.  This has huge legal and ethical ripple effects.  In the not-so-long-ago film days, if a picture obviously taken on railroad property made its way into Trains magazine or some similar publication, few would have a problem with such an "unauthorized" picture being published; I am beginning to suspect that that has plenty to do with the amount of effort that it took to not only get such a picture but to get it publicized for the world to see, an enormously sharp contrast to the ease of doing such today.
Therefore, it seems to me, if a person could get inside of railroad property – like getting invited into a locomotive cab by a crew – and then get a picture, spend the time and money to process the film, then spend the effort to get the picture published, and have the picture be good enough to be published (the lack of which would make the previous factors irrelevant), that process itself conveyed legitimacy on the picture and of its publication, and it itself conveyed credentials onto the photographer that he or she might have otherwise lacked.
Now, with digital cameras, the internet, and social media, access is limited, and people are tense, since anyone can go anywhere, take any picture, and publish it anywhere.  What we have seen here is the collective and society-wide degradation of both what it means to be a photographer and how society thinks of photographers.  Effort and mystery are so rare in photography these days, and those undeniable facts cause undeniable frustration for those of us who put more into photography and story-telling than the average person, since the "average person" now has the same theoretical power as the rest of us.
I am not sure that I have clearly articulated what I am trying to say, but I would like to hear your thoughts on this matter and other matters too.
#5 – Incubus
Yes, I was listening to Incubus's Make Yourself album while I was taking these pictures, and I now forever associate that album – and especially the song "The Warmth" – with the Lockport Branch.  I had previously associated the Credence Clearwater Revival song "Green River" with the Lockport Branch!  I now find it ironic that the title "Make Yourself" – a song on the album in addition to the album's name – is the antithesis of the "Good Things Come To Those Who Wait" title that I originally had for this essay.
Thank You, And You Are Welcome
As I said already, this post is of a subject matter that is relatively personal to me; as I said in that last delivery to Valentine Paper post, it is like you are seeing me without clothes on here.  By looking through my lens to the Lockport Branch, you really see me now!
I welcome any and all commentary about any of the various and disparate topics from today's post, and I thank you for participating.  As always, I hope that you have been both educated and entertained by what you have voluntarily taken the time to read and view here.
Merci,
Jimbaux