Greetings, and welcome to the October 2011 Sampler essay.
October 2011 was, like the four months that preceded it, especially memorable for me. I took many pictures.
Saturday, The 1st
The passage of time has a way of getting you to reassess events. When I took this picture of Canadian National Railway train A419 crossing the Bonnet Carré Spillway downriverbound, nobody really knew what "Trumpism" was, and I didn't appreciate the nature of the forces that comprised it. Let's just say that, due to my social situation on this particular day and at this particular spot, I can't really look at this picture without thinking about how, in 2020, almost twice as many black men voted for Trump as did black women.

I like the CN noodle on the first cars in the train that is mostly lease hopper cars and tank cars from this chemical-plant-rich area.
I think about how Democrats have contributed to this problem with their embrace of taxpayerism. The well-to-do leaders of the Democratic Party don't care to emancipate the masses; they care about maintaining their class positions. That's why they employ the disgusting reactionary bigoted classist "taxpayer" tropes.
Monday, The 3rd
I was taking a calculus class at UNO on Monday night and Wednesday night. The professor wasn't a good teacher, but I had difficulty keeping up with the class with a full-time job, driving more than 100 miles per day, and my fixation on this website. Waiting for class on this Monday afternoon, and after getting some shots of a New Orleans & Gulf Coast Railway train doing street-running in Gretna that morning, I got this shot of a Norfolk Southern Railway work train near UNO.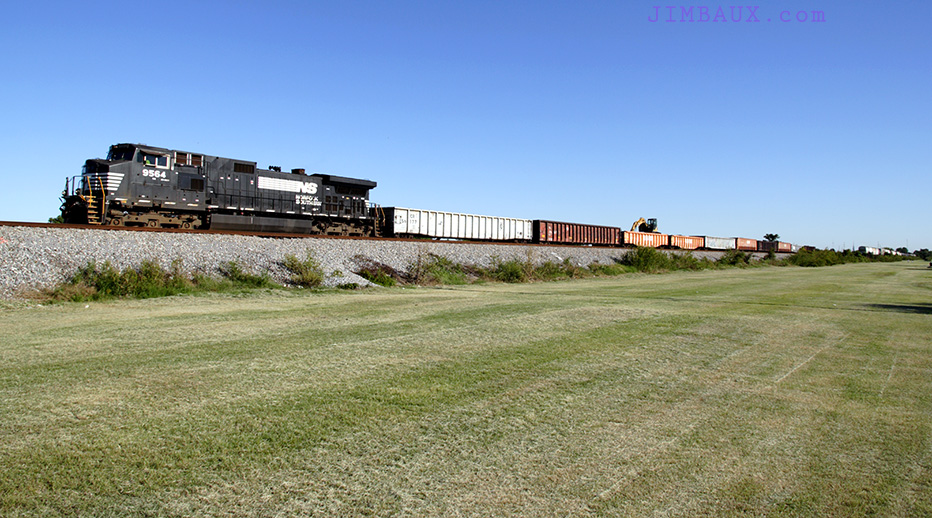 I took the class again the next semester, no longer having to drive so much every day, but I had to quit going to class when I was forced to quit my job near the Mississippi River – which I sometimes think was a mistake, even if I was "forced" by changing circumstances there to resign – and take one next to the Atchafalaya River, which was a great experience. I then gave up on the dream of getting an engineering degree.
Tuesday, The 4th
Here is some more action on the NOGC in Gretna.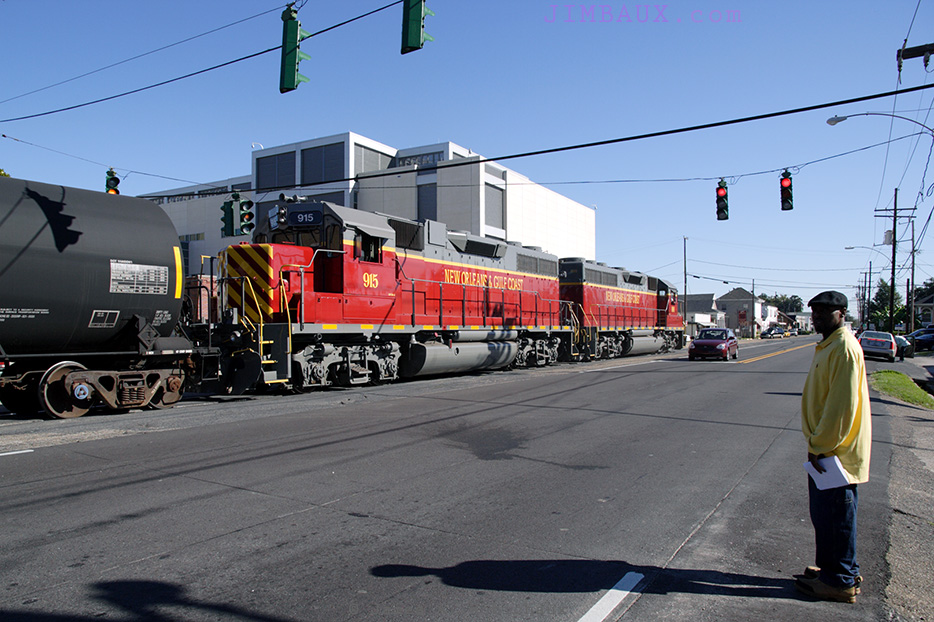 I love the street running.
Wednesday, The 5th
Here we are on Florida Avenue in New Orleans, just north of the Norfolk Southern Railway yard.

This is the job from Arabi parked, waiting to enter the yard from the Chalmette Branch.
Thursday, The 6th
On this day, I watched the SP 745 move via the New Orleans Public Belt Railroad, the Union Pacific Railroad, and New Orleans & Gulf Coast Railway to the annual Gretna Heritage Festival. When, almost a decade later, I reprocessed the images from that day to update a post that I did at the time, I tried to use my new knowledge of my new version of Adobe Photoshop to rescue a badly-lit shot that looked too bad to include in the original post, and here is the result.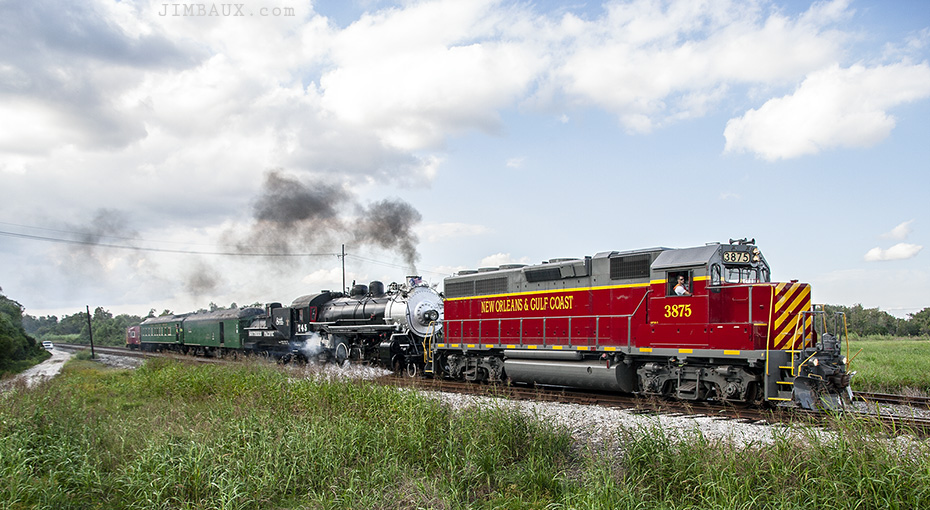 Wow! It's amazing that this new version of the program could rescue this shot that looked terrible, a typical bright sky with a dark subject in the foreground, enough that I included it and a few others in the old post.
The 7th and the 8th
On the 7th and on the 8th, I photographed football games; for "personality segregation" reasons, they are not shown here.
Monday, The 10th
This was one of the last times that I photographed any of the NOGC GP7s in action, but that's not what I remember most from this day, especially because I didn't realize at the time that the GP7s would very soon be taken out of service.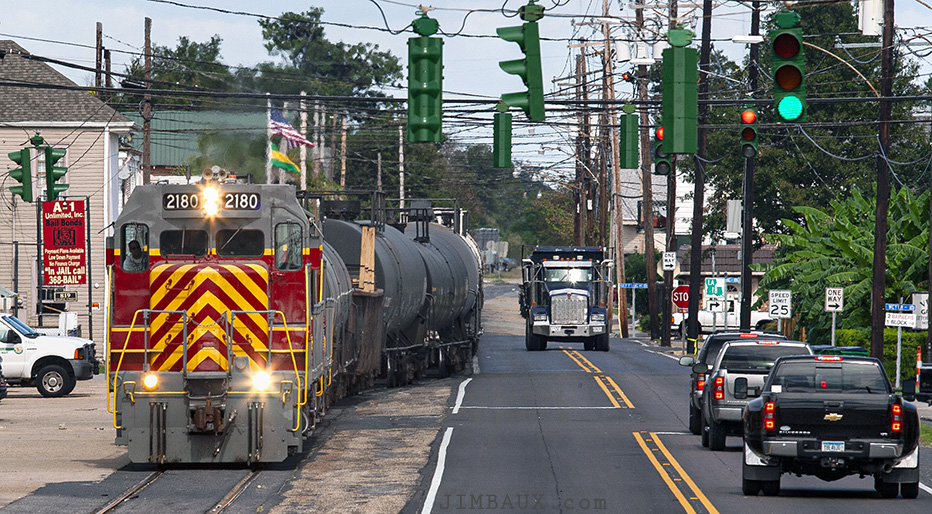 What I remember most about this day was that, after I hopped off of the top of the truck, "are you Jimbaux?" was a questioned asked of me by someone who happened to be a reader of my site visiting from out of town.
Friday, The 14th
There are plenty of memories associated with this picture, not just for me but also for others, and most of them are bad. Most of the bad memories were due to how I reacted to something that I was told by someone in this locomotive as it passed me.
In one respect, the way that I reacted – the long-ago unpublished angry essay that I wrote and published here – precipitated what I thought was a really needed conversation about the topic of rights, which was the whole point. In another respect, though, I regret how I handled it. However, as I said at the time, I needed some way of not only expressing my indignation but also do so in a way that would get the attention of the offending parties.
The offending party, however, was really young at the time, and, as best as I can tell, he is, even to this day, just a swell dude. The nature of public shaming in the internet era is that it often continues long after the offending party has gotten the needed message, and it increases acrimony.
So, how do I reconcile not regretting the conversation about rights started by how I handled the incident and my regret about how I handled the incident? I guess that I don't, except to say that if it were to happen today, a decade later, I would handle it differently; I believe that "differently" in this context means "much-less dramatically."
How is that?
Friday, The 21st
I was sick on the 21st, and I got out and went foaming, which may or may not have helped with my sickness.
At Raceland, I got this image of the Louisiana & Delta Railroad's Schriever Job moving westbound.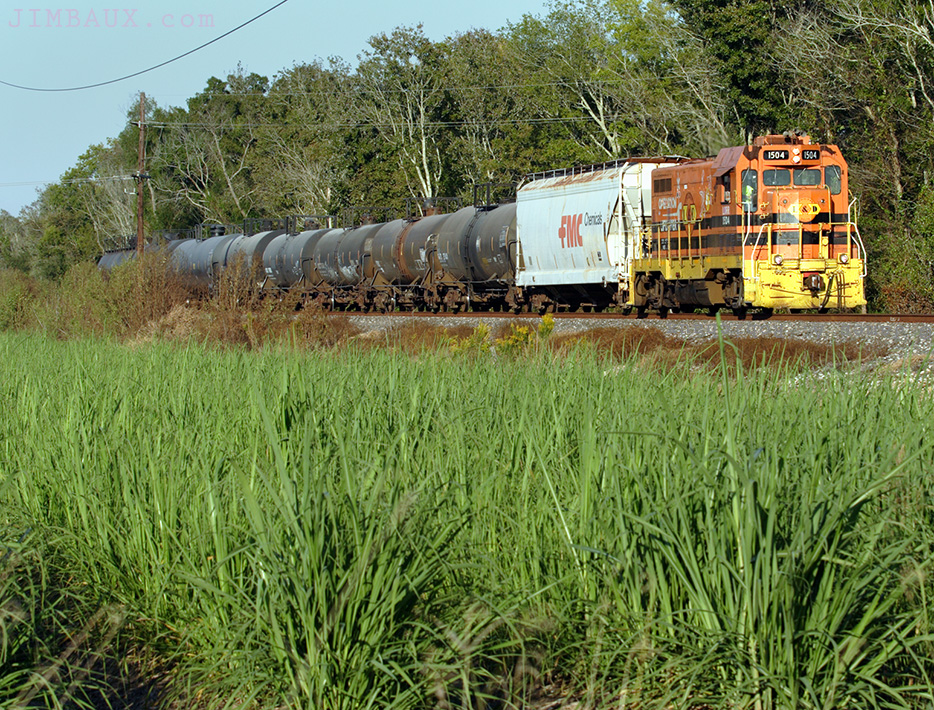 This was one of the last times that a CF7 was assigned to the Schriever Job, and this may be the last time that I photographed a CF7 working the Schriever Job.
Sunday, The 23rd
Yes, this was the day that Rie died, and, not yet knowing that she had died, near where I had photographed this train earlier in the day on a line on which her father had worked, I grabbed this picture of Canadian National Railway train A419 with a British Columbia Railway locomotive leading crossing Bayou Manchac northbound.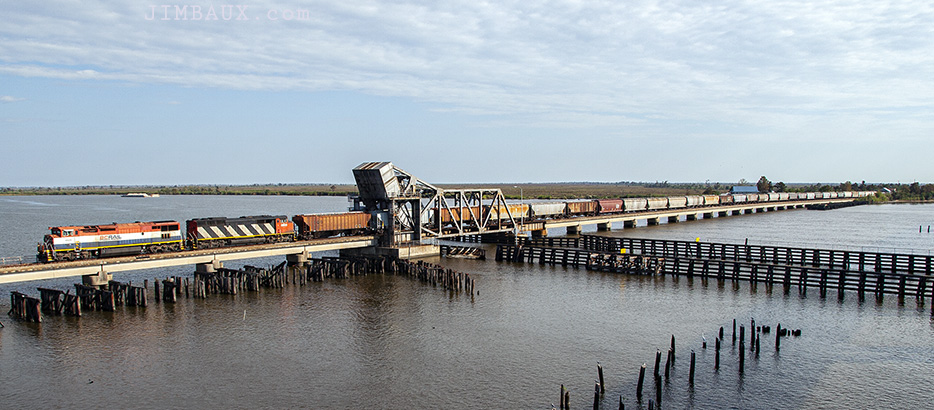 This is another picture that I recently (almost a decade after it was taken) reprocessed using what I have more recently learned about photo editing from my newer version of Adobe Photoshop.
Monday, The 24th
The next afternoon after work, I was moping about the sudden death of my old friend as I was out foaming on the NOGC.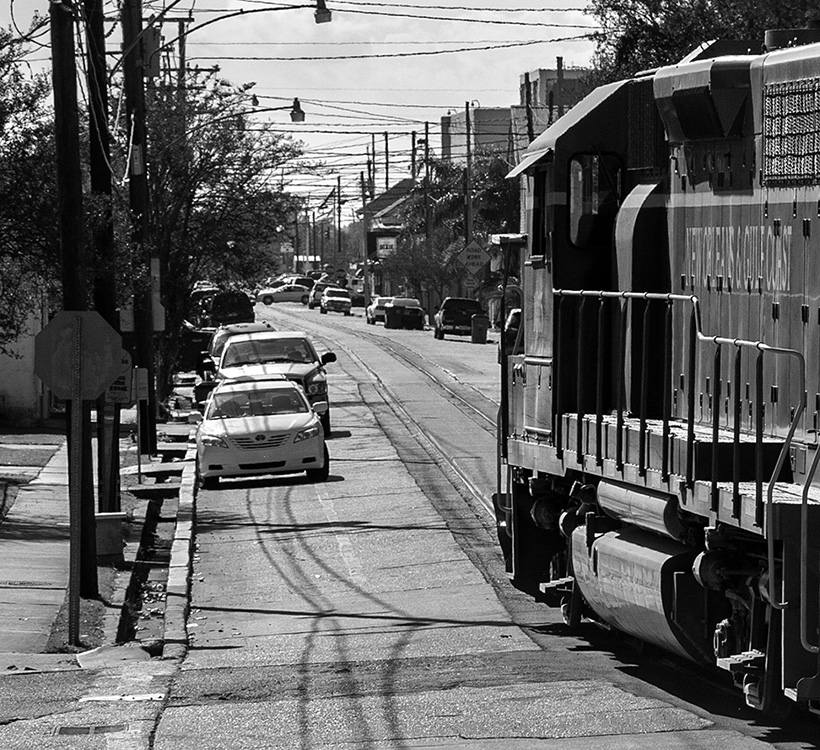 No GP7s were on the train that I saw on that day.
Wednesday, The 26th
I got this NS work train at Shrewsbury on this day.
That's the Kansas City Southern Railway line at right.
Friday, The 28th
This was the day of Rie's funeral and burial. I have never written a blog article about this memorable day even though I had always intended to do so. I felt something big and profound from that day, like there was some big insight or lesson to share, and I wanted to write about it, but perhaps I was just overwhelmed with the emotion of that day.
Maybe there was nothing really super insightful about this day, but two factors made it memorable.
The first was what Rie's father, who had worked for the Illinois Central Railroad, told me on two occasions that day. I told him that at about the moment that she died, I was coincidentally in the Bonnet Carré Spillway taking a picture of a train with a BC Rail locomotive moving on track on which he had worked. He said "unbelievable."
The more memorable and heartfelt thing that he said was later at the burial in Destrehan, after all of us had crossed over Destrehan Yard on I-310 and as that day's CN train A419 was crossing the spillway at the same time as the funeral procession was crossing the spillway.
"I'm riding in my daughter's funeral procession," he said, "and I'm looking over to see what is in Destrehan Yard."
It was a moving thing for him to share with me, a relative stranger to him whom he had nonetheless met years before because I was his daughter's train-obsessed coworker. I thought that it was super profound at the time, but, in retrospect, I see that it really was just a neat way for him to connect with me by sharing how meaningful having been a railroader was for him, even if it was only brief for him, as he later worked at a local refinery for, I think, 30 years.
I don't know if there is a big lesson there, though I invite you to attempt to infer one! I think that I found it so significant both due to the sad weightiness of the day and that it momentarily made me feel important and appreciated.
After the funeral and burial ended and the people whom I knew from the newspaper went home, I went into the spillway, where I had been five days before probably not long after Rie died, and that is about when the second memorable factor happened, and, no, I don't mean a train or a picture.
So, as I had photographed, by just pointing the camera out of the passenger-side window as I was driving, the A419 crossing the spillway when I was crossing the spillway in the same direction in the funeral procession earlier in the afternoon, I returned to the spillway after the services were completed and immediately found the L516, with two black IC SD70s as power.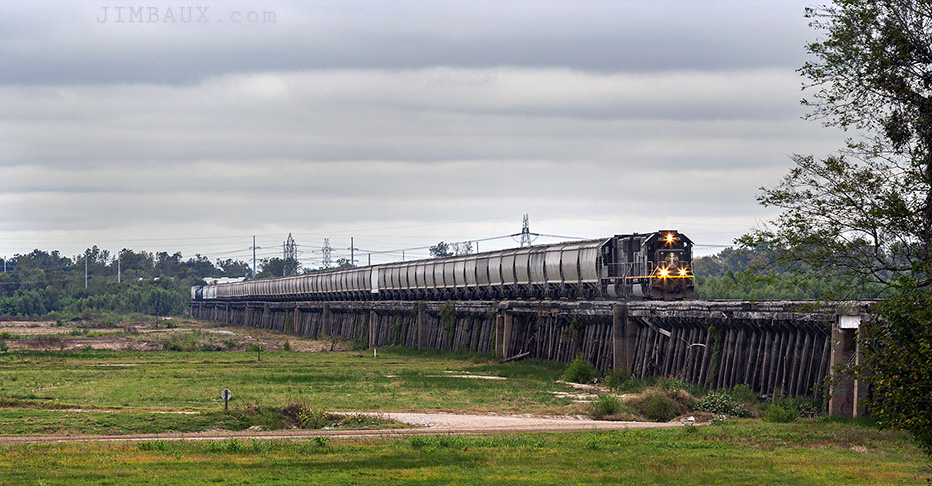 It was a good view of a cool train, with some increasingly rare pre-merger spartan-cab power, and with clouds in a way that I had rarely if ever had here before.
The clouds were part of the second memorable factor of this day.
As I was standing there in my long-sleeved shirt and my tie, my funeral clothes, photographing this train, the temperature really dropped. It was as if I felt the cold front arrive as it arrived.
Normally, I love cold weather, and the temperature drop here didn't really bother me, but something about the sadness of what I had just experienced combined with the desolate emptiness of the spillway made me feel powerfully lonely while also powerfully alive. It was as if I, a person who is more heat sensitive than anyone he knows, was finally, for the first time in my life, experiencing cold in the alienating and threatening way that literature and popular culture had always told me to think of cold, even though I have experienced much colder temperatures in and near Washington, DC.
Saturday, The 29th
While I took a picture of LDRR 1504, the CF7 seen earlier in this post, parked at Schriever on this day, the image that I choose to share here is of some of the oranges on our orange tree, a tree that I miss very much.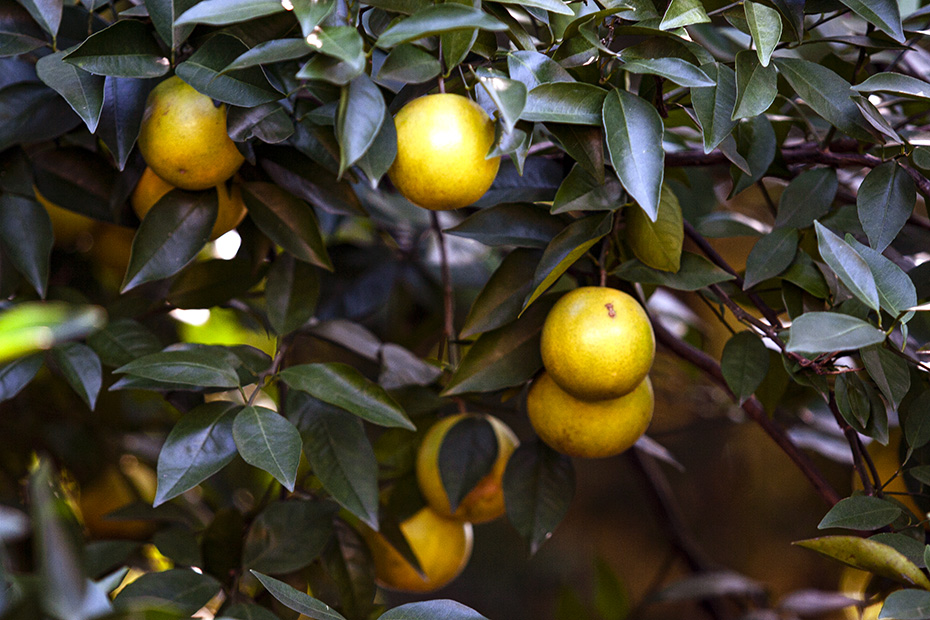 I just want to go home.
Sunday, The 30th
I went to a free Gin Blossoms concert in front of Nicholls State University! N and her husband and at least one of their daughters were there, and I took some bad pictures of them; it was weird seeing them there after I had just seen them at Rie's funeral two days before. Gin Blossoms was the main band, and there may have been another band playing. I don't recall the reason for the event or how I learned of it, but I probably learned of it via Facebook.
I remember 'Cuda was there, as was Jay, son of Lea, and both of them talked to me about my recent rap video. Both of them got my attention. I remember the hope that I felt at the time.
I have not been able to replicate it, sadly.
The pictures from the October 30 event just weren't worth taking! I was trying too hard, like I was with so many other things.
Anyway, that's all.
Epilogue
If you like what you see here, please consider becoming, for as little as $1 per month, a patron on Jimbaux's Journal on Patreon.
Stay tuned for the sampler essays for November and December of 2011, which, too, will be as interesting as this one was, if not moreso.
Merci.
Jim