[Jimbaux is reminded – and is reminding you – that all things must pass.]
I texted Mae as I was eating lunch on Monday 24 October, the day that the below pictures were taken, the day after Rie died and I took pictures a few miles from her home on the railroad where her father worked, a simple five words: "I still can't believe it."
"I can't stop thinking about it," was her quick reply to me.
Evidence suggests that she soon enough did stop thinking about it, and that's not a bad thing at all, as the same happened for me, but part of the purpose of me writing this more than two months later is not to keep the memories of Rie's passing fresh but, rather, to keep myself (and anyone else who can benefit from it) constantly aware of the beautiful lessons we've learned from her death, including the lesson that George Harrison is trying to tell us in today's song.  (You're not listening to it?)
Mae was the editor of The Nicholls Worth when I was there, my superior, as I was the managing editor, meaning that she got to know Rie just as well as I did if not moreso.
Passion, Apathy, And Significance . . . . And The NOGC
I'm analytical to a fault, and from the cadre of journalists from which I came at The Nicholls Worth, maybe I'm not alone.  We struggle for an explanation of why or how this could happen so quickly to someone who seemed to be in great health at the age of 29, and I was beginning on this Monday to realize that maybe, just like the issue of "significance junkies" explored in the post the day she died, maybe trying to find reason or explanation or meaning is utterly futile.  Again, that's another lesson of today's song.
It's just totally insignificant, just like us.  The pictures below are the first pictures I took on the New Orleans & Gulf Coast Railway since being told 10 days before by one of its employees that taking pictures of trains is illegal, an incident to which I attached enormous significance due to its broader global implications of erosion of rights, and how it is its own form of terrorism.  Really, that employee was, as some others have noted, trying (among other things) to be significant (and maybe I helped him with that), but, really, my response to what he said was as much of an effort to be significant as it was anything else.  So, he and I were very much alike in how we handled it, both thinking that we were doing the right thing.
Back On The Scene at "The Crossover"
Given what had happened near here 10 days before, never had photographing an NOGC train had more significance, but, really?  Who decided that this was significant?
I knew that there was a grain train coming.  So, I set up for a shot I had never done before.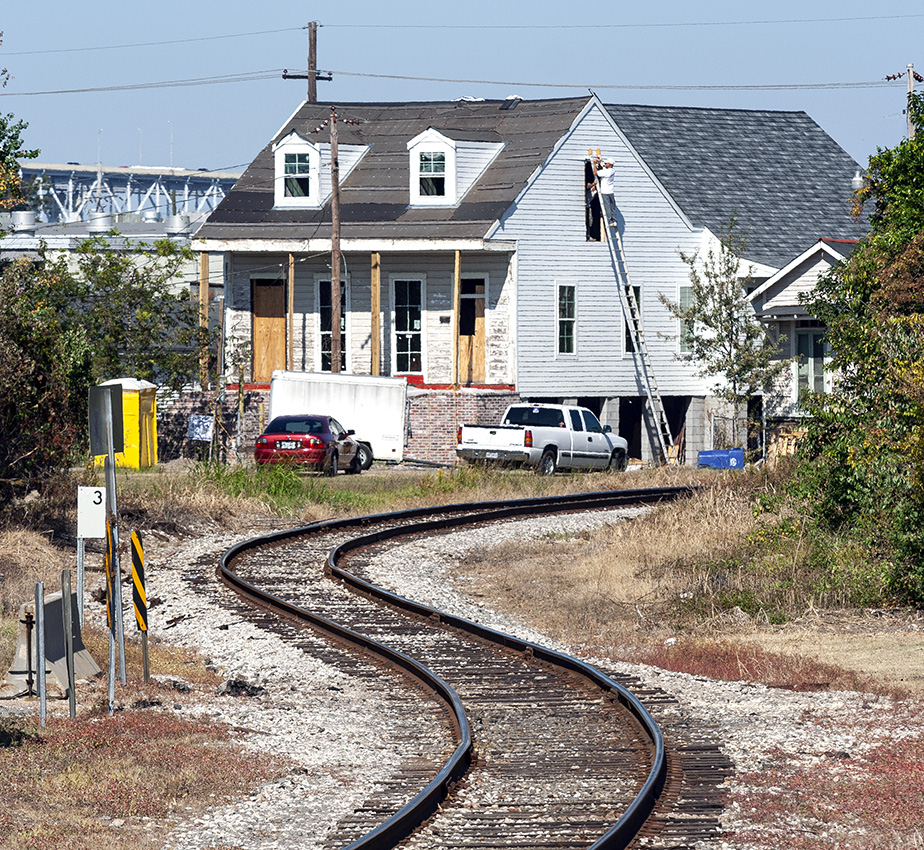 This is the little S-curve, the end of which is at the beginning of the street-running on the ex-SP trackage on 4th Street.  I call this S-curve "The Crossover" because even though there are no switches in this crossover, it takes the track from the old Texas & Pacific mainline, which went down 3rd Street in Gretna, to the former Southern Pacific mainline on 4th Street, the only surviving SP trackage (unless you count the Peters Road spur, which has been dormant for nearly a decade) east of Bridge City.
All Things Must Pass . . . . Including This Grain Train!
(You're not listening to today's song?)  Here comes the empty grain train, coming from the elevator at Myrtle Grove in Plaquemines Parish, not only the end of track for the NOGC but also the last grain elevator on the Mississippi River.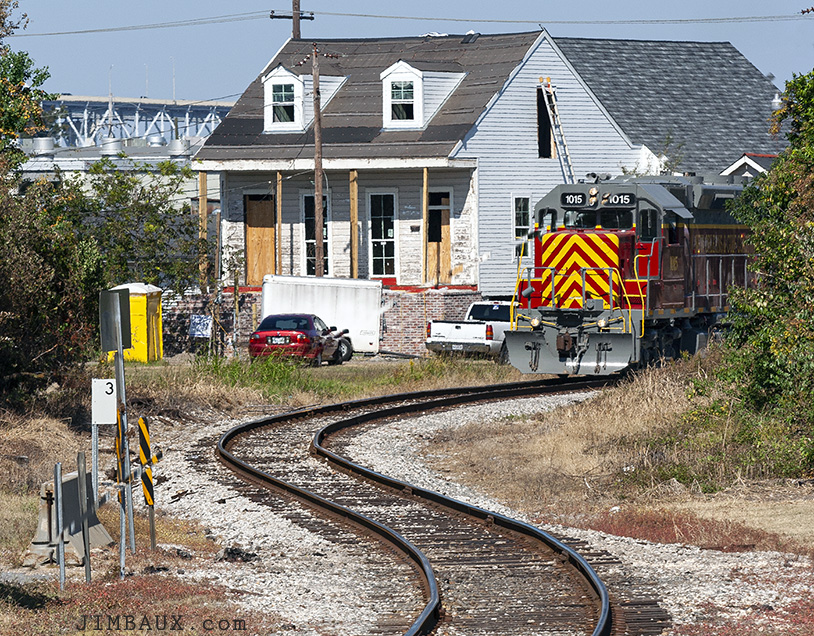 The grain trains that pass through here, and these are the sporadic mile-and-a-half long trains that really irk motorists the most in Gretna, mostly originate in Kansas or Nebraska and carry wheat for export.
Well, look, I think that the engineer looks familiar!  🙂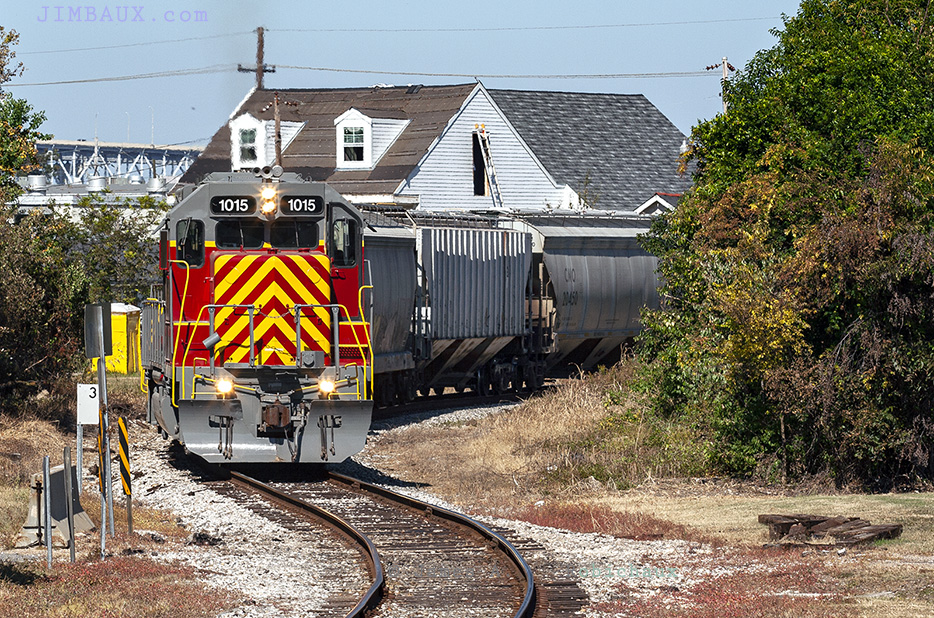 The NOGC will deliver this empty grain train to the Union Pacific at Westwego.
Regret And Rie?
Tom Becket left a great comment on the post about Marie's death and the pictures that day (see his second and third paragraphs.) It really makes sense, and I will write about it more when I write about the day that Rie was laid to rest and what I had learned in that week.  I just had this feeling of regret that I never told her that I appreciated her, that she meant plenty to me, that I was grateful to have had her in my life even if we had lost touch.
Regret And Christine?
Similarly, Christine contends that I should not have called the conductor a "terrorist" even if he should not have told me that what I was doing was "illegal." Maybe she's right.  However, do I regret  doing it?  I don't think that I'll ever do that again, but do I regret doing it?  How would he or any of his people communicated with me here had I not done what I did?  It would have remained impersonal in this impersonal world of terrorism in which we're all scared of each other and don't communicate with each other?  That was the point of what I posted, and we couldn't have come to this level of understanding had I not done that.  A railroader friend wrote to me:
I guess, in a way, you got what you wanted out of this – much discussion and attention to an issue you feel strongly about.
Yes, indeed (and my own negative experiences with others over the years have led me to feel passionately about this issue.)  Similarly, as I'll write soon, Rie's death, as tragic as it was, was about the only thing that could have opened my eyes and pacified my soul the way that it did, and for that I am eternally grateful.
That somewhat brings us to the paradoxical title of today's article, though I'm unable at this time to fully explain the mix of passion and apathy caused by realizing that things are not as significant as we make them.  Can anyone explain (comments section, if you're so inclined) what (you think) I'm trying to say?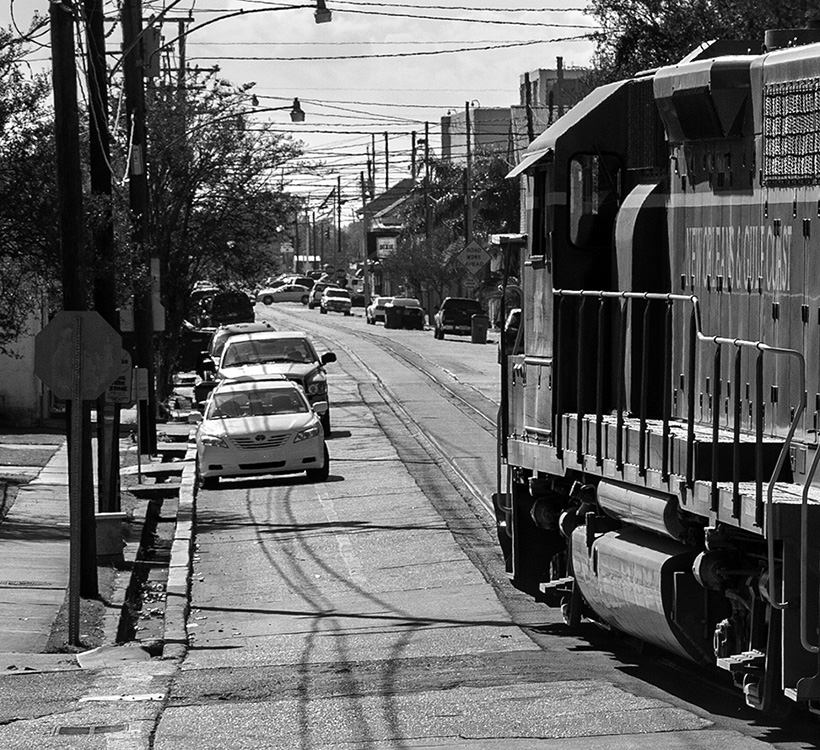 Humorous is the expression to me by some commenters in the controversial "NOGC Terrorism" post that I may have been hurt due to my proximity to the track and such.  Look at the cars parked close to the track – like they do every day – in the above and below pictures!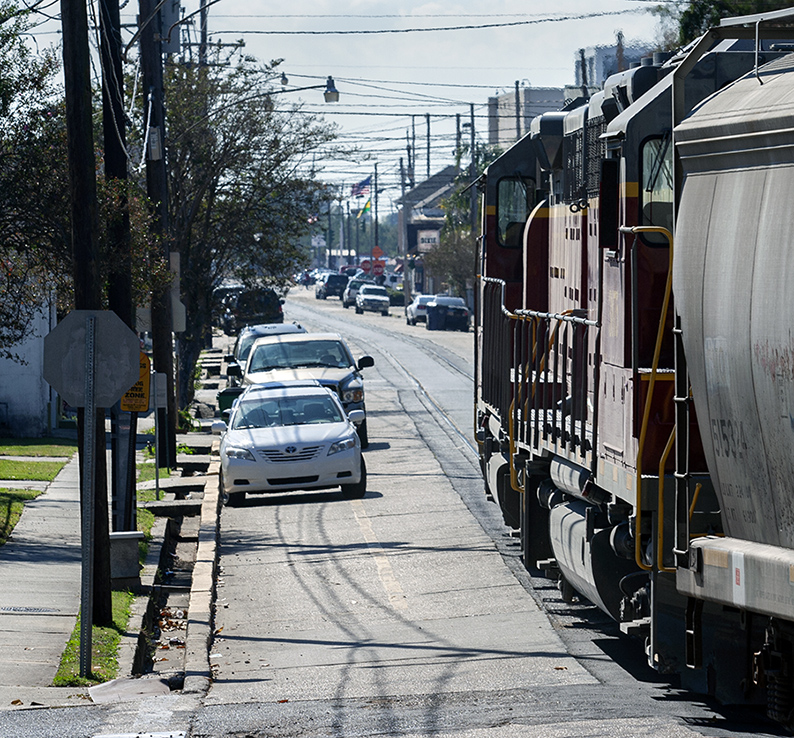 By the way, you can tell that I'm top of my truck here, my first time doing that since not only being sick but also since my last time shooting the NOGC on 4th Street two weeks to the day before.
Speaking of Tom
A death in the family prevented Tom Becket from commenting on the "NOGC Terrorism" article in due time, but he's posted a few comments recently, and you should check out both of them!  Everything that he said in there is great, but I think that even he focuses (initially, at least) too much on whether or not photography of trains and ships is illegal instead of what I think is the much more important question of whether or not it should be illegal.  When we focus too much on the former and not enough on the latter, we get too much into the mindset of thinking that just because something is illegal that it should be illegal.  That is equally dangerous!  We're supposed to question what we are told from law enforcement, but we're supposed to question our lawmakers too!
NOGC, Mexico, And Terrorism
Now it's time to go and swing by Gouldsboro Yard before I hop across the river.  I was intrigued by the Mexican tank cars that I saw.
As I type this two months later, two days after Christmas, I've just aborted a trip to Mexico that would have started in the next day or so and would have ended around January 4.  I was there two years ago, and I really want to return, but the drug war situation has gotten bad, and the only places safe in Monterrey are inside the city itself.
Nooooooo, No Lo Hagas
That's what a friend in Monterrey told me the other night via internet chat when I raised the possibility of me driving there again like I did two years ago and like I did in 2004.  Enough said!  I looked into the prices for flying there, but I'd still need a rental car, and I wouldn't be able to leave the city without fear of being abducted and murdered anyway.  It's just not worth it; so, I'm staying put in Louisiana for the New Year's holiday.  (Besides, I have some upcoming travel plans anyway in the next few months.)  That, by definition, makes me a victim of the terrorism in Mexico, and for those of you who lose out by not seeing the pictures – with all of the information in the pictures – that you'd otherwise see by tuning into this site as you do, you yourselves are victims of the Mexican terrorism.  As I wrote in June when I showed some of my 2004 pictures on the TFM, perhaps a rethink of national policies is in order.
The terrorism situation in Mexico is really terrible, and we can be grateful that whatever terrorism takes place here is not nearly as bad as the situation there.  Some would say, then, that I was way over the line in calling some situations here as terrorism.  The fact that they have come from corporations and law enforcement makes it little different.  Eric (Fotaugrafee) made some comments on the matter of misunderstood terrorism and patriotism, and I really agree with what he says there.  I'm definitely not anti-military at all, and I was even honored and humbled to greet a friend returning from Afghanistan the night after Thanksgiving, but when we say that our military is "fighting for our freedom," while that might in a few regards be true (they're really protecting our security far more than our freedom), we seem to forget that the Bill of Rights exists to protect us from government, and what are the enforcers of government other than police and military?  It is from this misunderstanding that too many Americans fall into the pernicious trap of thinking that allegiance to military and police constitutes patriotism, when, sadly, in some cases, it constitutes submission to terrorism and becoming a terrorist oneself, the seemingly innocuous opposite of true patriotism!
As this relates to the situation in Mexico, while there may indeed be deadly terrorism, the worst of it is not coming from the government.  I've taken pictures in cities, small towns, deserts, and canyons in Mexico, and I've been questioned thrice by authorities there, once by Federale police, once by local security, and once by the Ejercito (Mexican Army) itself.  Neither of the three times constituted abuse or lies!
Journalists are big targets for the drug cartels in Mexico for reasons that I should not need to explain, but notice the Freedom Of The Press issues we have in this country with photographers being told that it's illegal to photograph trains, chemical plants, ports, ships, etc.  It's just that in Mexico, the threats come from organizations other than the legitimate government.  Anyway, as a photographer, I no longer feel safe pointing telephoto lenses at things in the deserts there.
So, some of my critics reading this may think that because of the terrorism in Mexico, that I'm somehow wrong for referring to recent situations here as "terrorism," but, if anything, it should show you how silly and foolish and stupid it is to try to do things like limit photography here.  We are our own terrorists.  We're not scared of getting abducted and murdered for pointing a lens at something – even though I'm not the only photographer to think that it's only a matter of time before something like that happens here in the USA – but we are scared because it may be illegal and we may be seen as troublemakers.  So, it's still terrorism, and unlike the Mexican drug cartels, it's coming from government and (legal) businesses.
Furthermore, I've invited some of my Mexican ferroaficionado friends here to take pictures of trains in Louisiana, and, given the situation in their home country, I'd be quite embarrassed if they came here to my home and then got accosted by law enforcement for engaging in a safe, legal, and harmless activity, something that is entirely possible, unfortunately.  Yeah, welcome to the USA!  Land of the Free, Home of the Brave?  More like land of the uptight, home of the hypersensitive!
Whatever!  Is any of this significant?  Do I care?  Should I feel passion, or should I really be apathetic?  Does any of it at all matter?  Do I write what I write only in the  hopes of feeling significant?  Aren't we all striving for significance?  Rie died, and she died very suddenly.  This makes everything, including everything that I've ever written here, seem so insignificant, but, as I'll write later, it's actually an affirmation to live!  All things must pass, and so will we.
Thanks for reading here, and thanks to those of you who commented on my Christmas card!
All for now . . .
Jimbaux