[Jimbaux wishes you comfort and joy.]
Merry Christmas from Jimbaux, and thanks to everyone who read, commented, and wrote to me privately about the post with pictures the day that Rie died.  I'll post the pictures of the day she was laid to rest later, a beautiful day indeed, and good remembrance for this time of year.
Merry Christmas
For now, here's our 2011 Christmas card.  This is Union Pacific train IAVLB (Intermodal – Avondale, La., to Long Beach, Ca.) rolling some mostly empty maritime containers, which probably had just unloaded plenty of Christmas goods for our consumption-happy materialistic society, out of the New Orleans market and back toward ship loading in California for forwarding to the Far East.  My gift to you is not anything I purchased out of what was delivered in the containers, but, rather, a picture of how it gets to you (or actually in reverse.)  I bet you don't get anything like that under the tree, and, with $3/gallon gasoline, it cost me just as much!  So, please enjoy . . .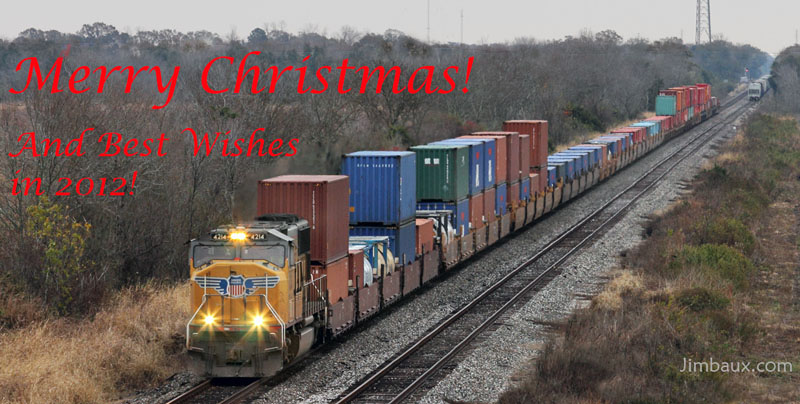 The picture was taken at Bayou Sale, Louisiana, 90 miles west of New Orleans, yesterday.
Thanks, everyone.  It's been a heck of year.  Thanks for your readership and participation in this site over the year.  I appreciate all of you, and I wish all of you the most marvelous of holiday seasons and the most prosperous future.
Merci,
Jimbaux