[Jimbaux has learned that each day's a gift and not a given right.]
On Sunday 23 October 2011, someone very special suddenly left us at the age of 29.  By a bizarre coincidence, I was not far from her home taking some train pictures on a railroad where her father once worked.
If Today Was Your Last Day . . .
I'm really not much of a fan of Nickelback (though I don't hate the group like so many seem to do), but today's song is a really appropriate one for the photos that you are about to see and the day that they were taken.  I hope that you click on the link above and listen to it (once the advertisements finish playing.)
And Tomorrow Was Too Late . . .
My whoadie Will had expressed an interest earlier in the second-to-last week of October about going foaming that weekend.  (He's not a foamer, but enjoys the educationally entertaining – or entertainingly educational – aspect of it, as well as spending time with a friend.)  We had initially planned on going on Saturday (22 October), but something else arose in his schedule, and we decided to go on Sunday (23 October), even though I wasn't totally sure I'd be able to do it due to, as you might recall, my sickness, during which I managed to get out and take a few pics two days before.
It's Only Significant If You Decide That It Is
As we were planning this, I realized that Sunday would be October 23, which just happened to be, as I remembered, the same date that, a year before, he and I went foaming all morning in an event to which I attached plenty – too much – significance for reasons that are no longer significant enough to even mention.  In fact, I made a concerted effort to not attach significance to this coincidental fact, and I even waited awhile to tell Will, who was really surprised when I finally told him.
"Significance Junkies"
As I later told Will (as we were out foaming on October 23), I had heard a radio interview earlier that week that included a brief component that had a strong impact on me.  Terry Gross of NPR fame was interviewing Seth MacFarlane, and I caught the end of it as I was coming out of class and on my way to grab sushi before heading over to Saint Jude's bachelor pad.  The particular part of the interview that struck me was toward the end when Gross asked MacFarlane how the fact that he was supposed to be on one of the crashed airplanes on 9/11 (but missed the flight) has impacted him.
Gross asked MacFarlane if he thinks of the rest of his life as a gift because of this, and MacFarlane's response really struck me:
One of my favorite quotes by Carl Sagan is that we are, as a species and as a culture, we are "significance junkies." We love attaching significance to everything, even when there is really no significance and something is just a coincidence. And this is a perfect example to me of something – you know, I really, in all honesty, you know, not to sound cold but, you know, I don't think of it that way.
I think of it as, you know, I'm living the same way in 2011 as I was in 1999. And the reason for that is that, you know, I had missed a lot of flights for being late. I'm a perpetually late person. You know, every flight that takes off, you've got to figure somebody's missing the flight or somebody is late. And on top of that, you know, who knows how many times a day we have similar close calls as the one that I had. You know, I mean this morning crossing the street; if I had crossed five minutes later I would have been hit by a car. Who knows?
So in my case, you know, obviously the day itself was a tragedy and a disaster, but if we're just talking about my case, it doesn't strike me as something that I am attaching an unbelievable amount of significance to because of those reasons. Because, you know, I've missed a bunch of flights.
I am so grateful to have heard that interview.  At first, I found the glibness of his response to be a bit bothersome, but the gears in my head started spinning really fast, and I quickly realized that not only is refusing to add so much significance to various events, things, and places, a key to happiness and the ability to truly feel gratitude (and not merely express it), but that my habit of attaching significance to so many things, people, and places was a habit that I at least needed to examine.
The fact that Will and I were going foaming on the same day that we went foaming a year earlier?  The meaning of that day a year ago?  The fact that we'd see a locomotive in a rare and increasingly rarer paint scheme leading the main train that we'd see that day?  The fact that we were going to the Bonnet Carré Spillway to shoot pictures where the Illinois Central Railroad passes and that I'd learn later that day that a close colleague who is the daughter of a man who worked on this very stretch of railroad suddenly died?  That this day was indeed, as the song says, her last day?  The fact that I had been told nine days before by a crewman on a railroad where I photograph so many trains that taking pictures of his train was illegal?  The fact that he chose to tell me that?
All of those things are only as significant as I choose to make them (and, yes, I chose to make the latter quite significant, because I think that it is, but that's not the point.)
So, for me, hearing that MacFarlane interview was, well, a bit significant, eh?
Let's Just Shut Up And Go Foaming, Dammit!
So we did, and Will and I met late morning after both of us suffered delays.
Out-Of-Focus At Shrewsbury
We were on our way out of Whoadieville to the Spillway, when comint revealed that something was coming off of the NS Back Belt.  It was this BNSF job with the shuttle crew going to "drag-and-drop" this thing to Salix.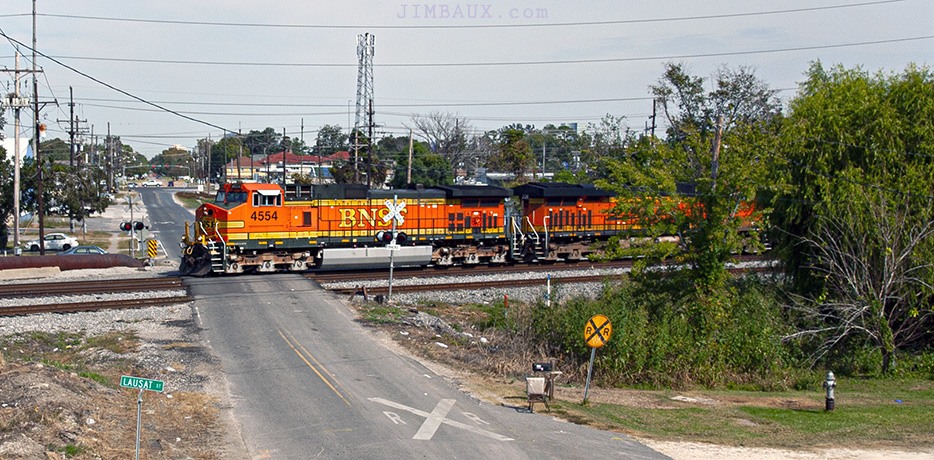 Yeah, I can't remember why – which is a good thing, since it's not significant at all – but the above shot is indeed out-of-focus.  Anyway, that's Airline Highway (US 61) in the background.  The track in the foreground is actually the lead into the Kansas City Southern Railway's yard.
We Are Insignificant
Below are seen two insignificant young guys struggling to find significance in the world.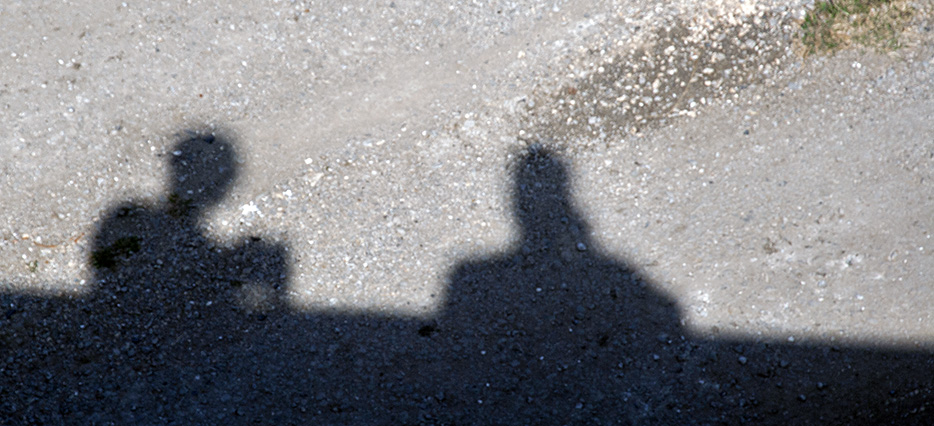 Well, gee, that's just great.
The Bonnet Carré Spillway!
Will had never been to the spillway before, and he had wanted to check it out; I was happy to show him.  You, my dearest readers, might recall that Jimbaux himself was out here for the first time in more than a year (significant?) on the first day of this month and got some shots of a KCS Railway train on the KCS bridge across the Spillway and shots of the spillway structure itself as well as some shots of a Canadian National Railway train on the ex-IC bridge with his pal Moose.
BC Rail At The BC Spillway?  Sweet!
So, I showed Will the control structure, and he spent some time looking around it and photographing it, but then we saw a headlight in the distance and scurried into position.  Wait!  What's this on the front of this train?  That doesn't look like a CN locomotive or an IC locomotive.  Is that a Wisconsin Central locomotive?  Nope.  It surely isn't.

Wow!  A British Columbia Railway locomotive!  I've only seen a few of those things, even when I was in western Canada two years before, because even back then, the BC Railway was already starting to disappear into the Canadian National Railway (which bought BC Rail in 2004.)
And what's up with the daily A419 train only having 14 cars?  I later learned that, as I had begun to suspect, A419 is typically short on Sundays.
Here's a shot that doesn't suffer from as much of that dreaded heat distortion as the above shot does.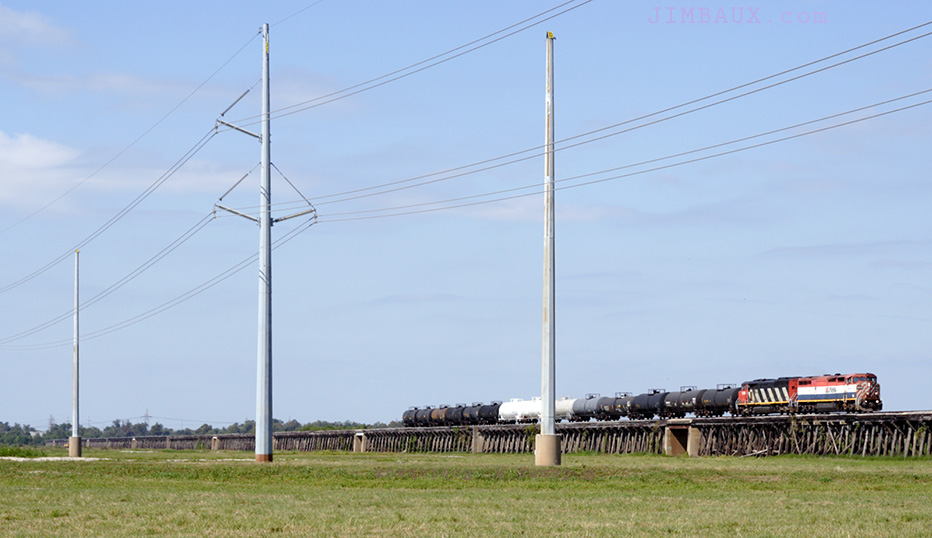 Yeah, that's a little better.
Distant Voices Calling
I am reminded, as I am in the Spillway, of Mr. Ernie Ory who worked as an engineer for the Illinois Central Railway decades ago.  I met him through his daughter Rie, who was a colleague during a very intense and formative time of both of our lives when we worked together in student media at Nicholls State University.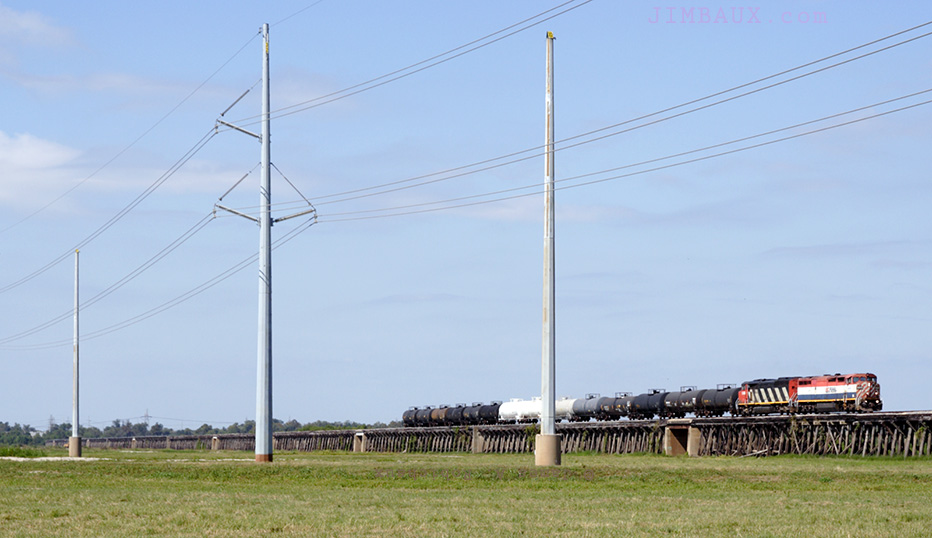 She and I worked together in that crucible known as The Nicholls Worth.  I was the managing editor, and she was our senior staff writer and came to work there when I was still a staff writer myself.
If Today Was Your Last Day . . . . Would You Call Up Friends You Never See?
Excessive pride (perhaps partly due to the fact that I was her superior at the newspaper, and partly due to just generally excessive pride) and excessive ignorance prevented me, at the time that I took these pictures on that fateful day, from acknowledging – or even realizing – what a positive impact that she had on me, or that I was at least grateful to have known her.  That sounds like something I should tell her, right?  Six hours later – six hours after I took these very pictures on the railroad where her father once worked – I would learn that even at the moment that I took these pictures, it was already too late.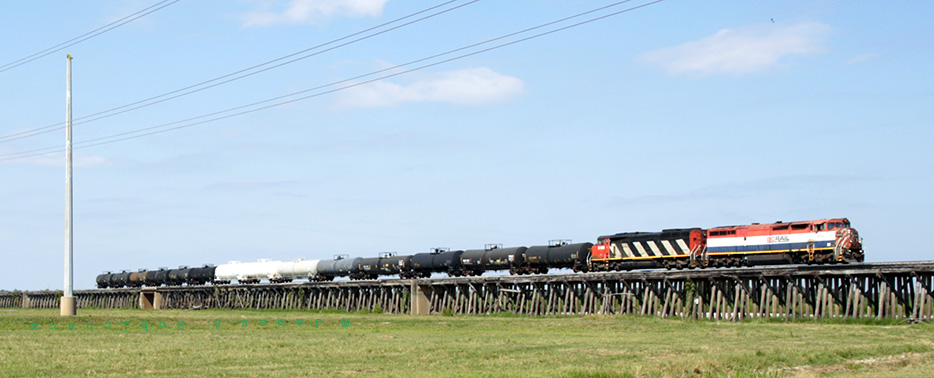 Whatever had happened had already happened – and, mercifully, happened very quickly – at her home about 10 miles away a few hours before I took these pictures on the railroad where her father once ran trains.  I remember that one time, Mr. Ernie came to the newspaper office to show me an album full of old photos from his days on the railroad.  Rie had told her father that she worked with a guy who loves trains!  I'll never forget that visit, him, or her.  I guess they were significant.

The A419 stops every day in Destrehan, just a couple of miles past this spot, to pick up cars from local industries, and today was no exception.  Mr. Ernie ran trains in Destrehan Yard, though, at the time I took these pictures, I wasn't thinking much of that.

The A419 originates in Geismar and terminates in Memphis, though much of the traffic in the train is reconstituted into other northbound trains in Memphis.  Much of the traffic on this train is bound for the Great Lakes region.

Today's A419 was told that he had about 35 or 36 cars to pick up in Destrehan.
Whoadie Back To Whoadieville
Will needed to get back to Whoadieville to do a zillion chores, and I had plenty of stuff to do too.  I really had plenty of things to do that day other than be out taking pictures of trains or whatever.
As something of an architecture nerd (but not quite like railroads), I decided on the way back to Whoadieville to show Will the former Kenner High School building.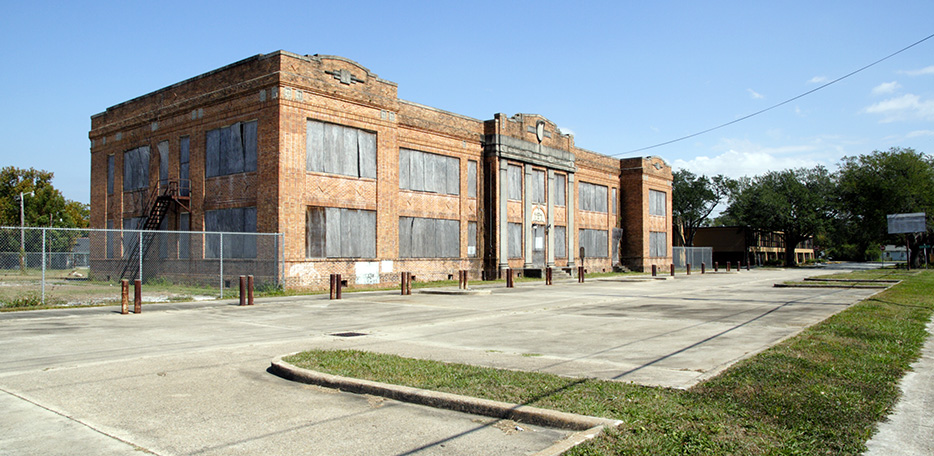 Neat, eh?
Now What?
It's really time for me to call it a day and go do plenty of other chores other than photography too, but, man, that A419 with the BC Rail leader (the BCOL 4609, in case anyone cares, in case anyone finds significance in what particular BC Rail locomotive this is) is really tempting, especially since I know where it is!
I caught him in Saint Rose.  This is a new shot, one I've never done before and, judging by the quality of it, one I'm not likely to do much again.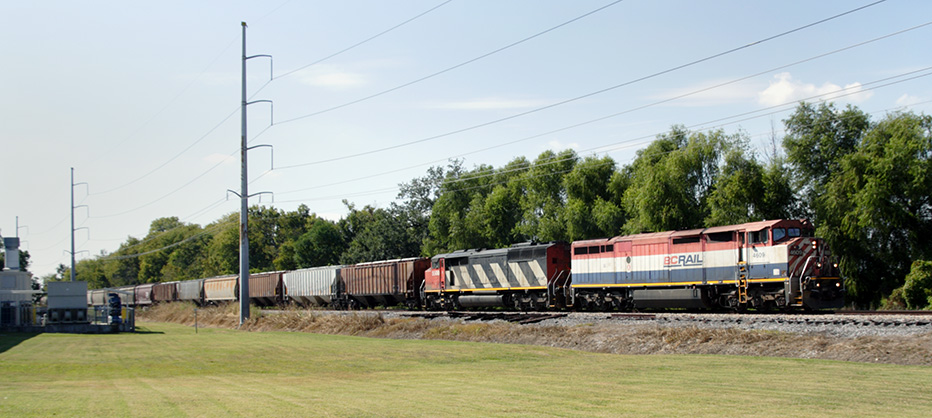 It looks like the entire 30-something car pickup in Destrehan was empty grain hoppers.  I don't think that CN runs many empty grain trains anymore.  As a way of not having to pay crews for road trips, CN just breaks up empty grain trains and takes them back north in a few cuts.
Chase This Thing North?
Right about now, especially as the grain hoppers upped the "cool" factor on this already cool train, I was being tempted with the idea of chasing this thing northward, particularly to a place I may have only shot once in my film (pre-July-2005) days.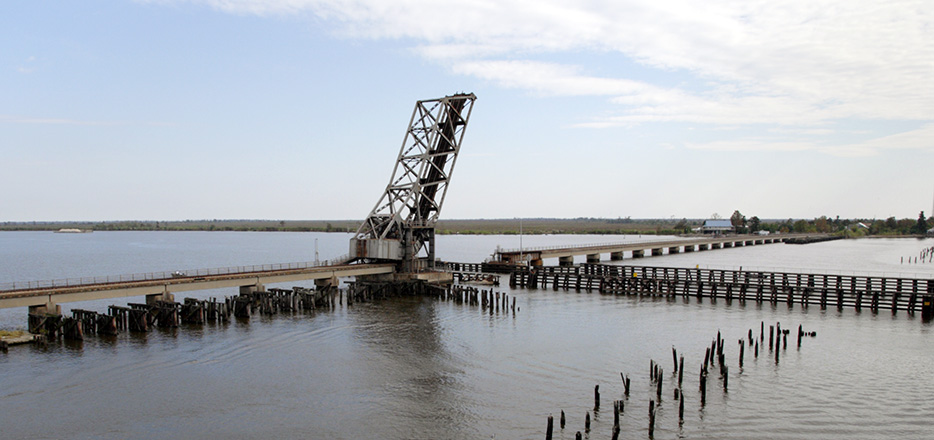 Well, look at this foolishness!  I'm at Bayou Manchac?  I'm really far from home now, and it's going to take me that much longer to get back too.  Not only that, but, looking at the above picture, it's cloudy!  Dammit.  Why did I even bother with wasting all this time and fuel?  I'm such a fool.  Maybe I should go visit some people in my life – like Rie – while they are still here.  However, I'm already here, so should I just wait for the train since I'm already here?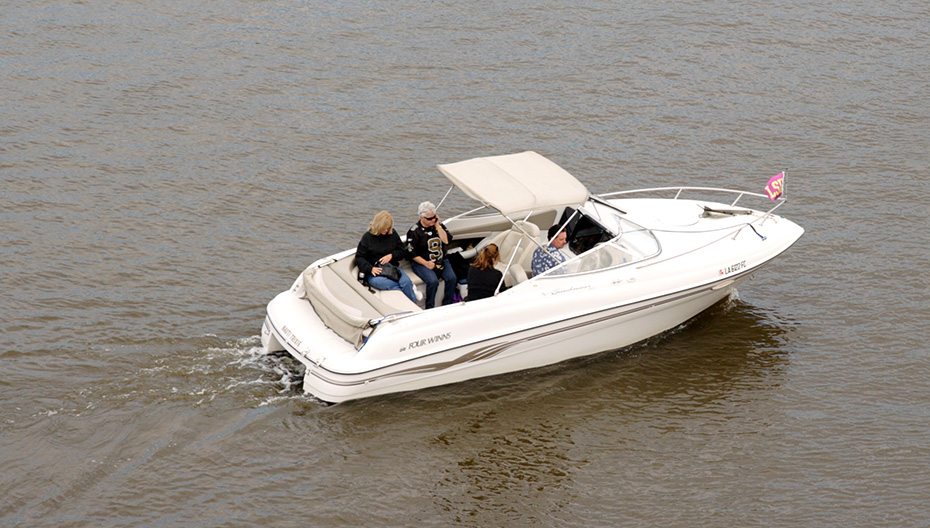 This is starting to get really unbearable.  I'm a complete idiot.  Here I am, wasting away time and my life as well as gasoline, worrying about photographing some damned train to which I have, through my own free will, decided to attach some 'significance.'  Where is Seth MacFarlane when I really need him to come slap me across the head?  Where is Rie when I really need her to tell me to lighten up?
Oh, God, please awaken me from this madness!  Is this what you really wanted me to do?
Wait!  What's this?  It's still cloudy above me, and it's still therefore dark on the bridge, but I see nothing but blue skies to the west where the sun is now setting!  Could it be that pretty soon . . . .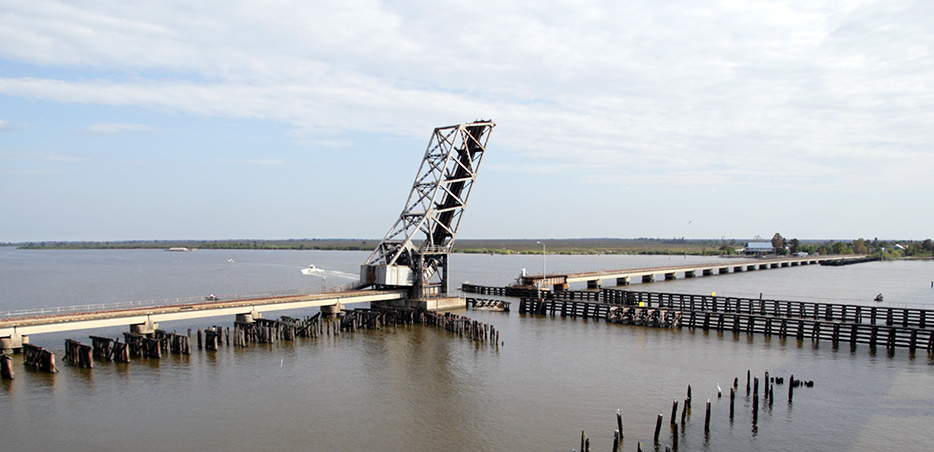 Ah, so what?  So what if it's sunny?  I'm still far from home losing time and not doing the things that I need to do!
Bah.  Here's Middendorf's.  I've only eaten there a few times, and they were all with foamers.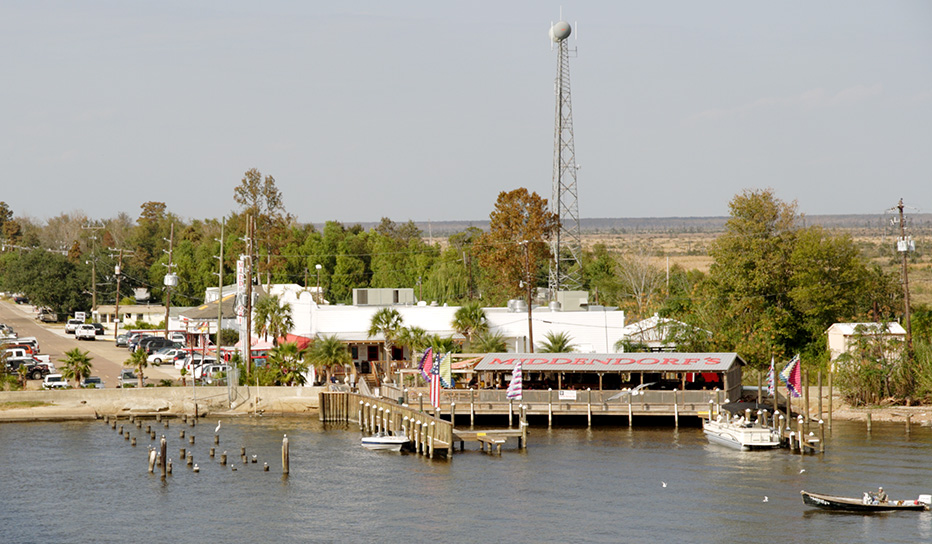 Why do I do this?  Why do I put myself through this?  Why do I set myself out in these obscure places to take pictures of stuff for which few people bother to care?  But, wait!  Why do I care if they care or if they don't care?
We're looking essentially due east in the below picture toward Lake Pontchartrain.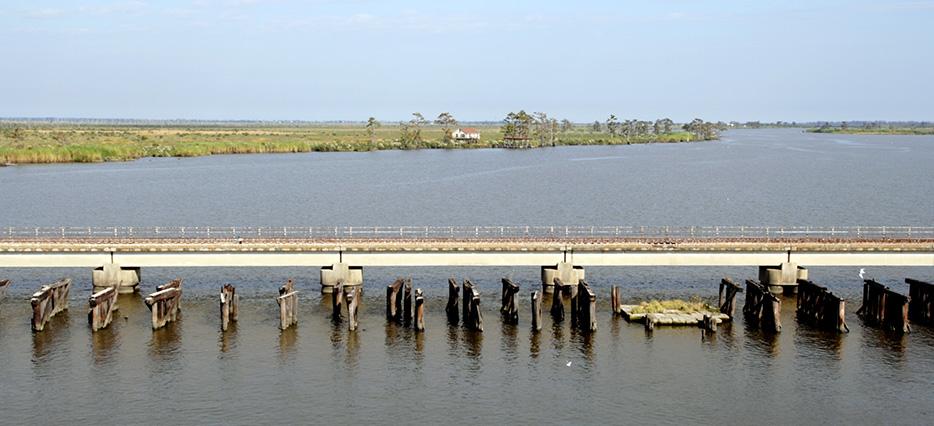 It was at this time, finally, that the gears started slowly cranking on the bridge span, and it slowly started to lower.  I've never seen a bridge, particularly one this small, take so long to lower.  It seemed to take almost five minutes, but a lowered railroad bridge when you're waiting on a train to show is a good sign.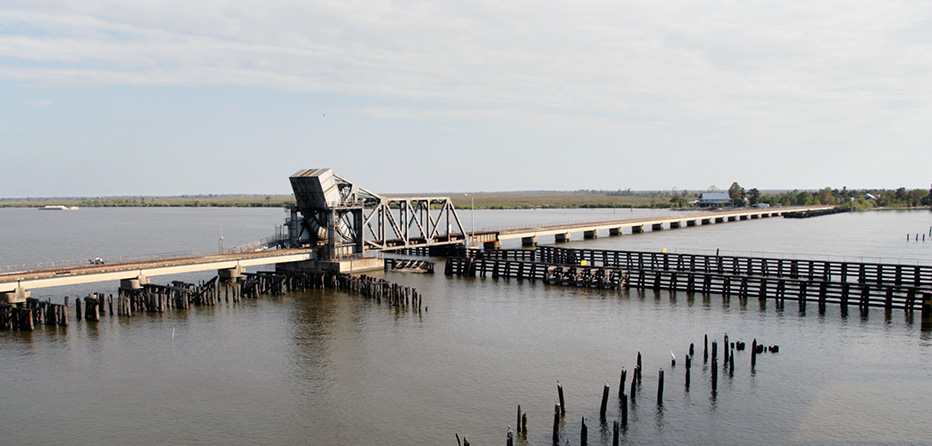 I really ought to get the heck out of here and go do something else besides this foolishness, but there is a train – one with a BC Rail locomotive on the point – on the way.  Here he is!

Do you see the pilings for the old bridge?  Both of these shots took some work with the lasso tool around the train, leaving the sky and water much as the camera recorded them.
Every Second Counts 'Cause There's No Second Try
(You're not listening to today's song?)  Maybe I 'should' indeed be doing something else, but right now, whether I should or should not be, I am indeed doing this, and that's that.  Let's all take what we can from it.

Nice!  Maybe this was worth the wait, right?  What do you think?  I hope that you enjoy looking at these shots as much as I enjoyed taking them.  Photography is ultimately an exercise of the mind, a means of seeing and perceiving.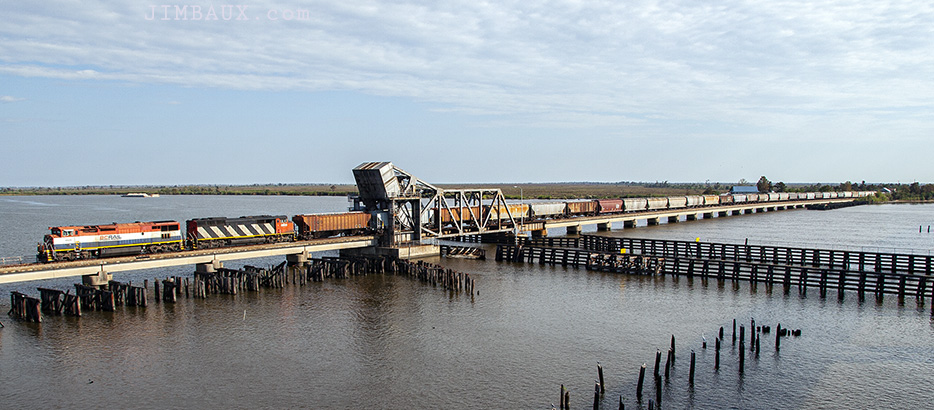 I guess the above shot is my shot of the day.  Here's a broadside showing both ICG hoppers as well as pilings for the old bridge.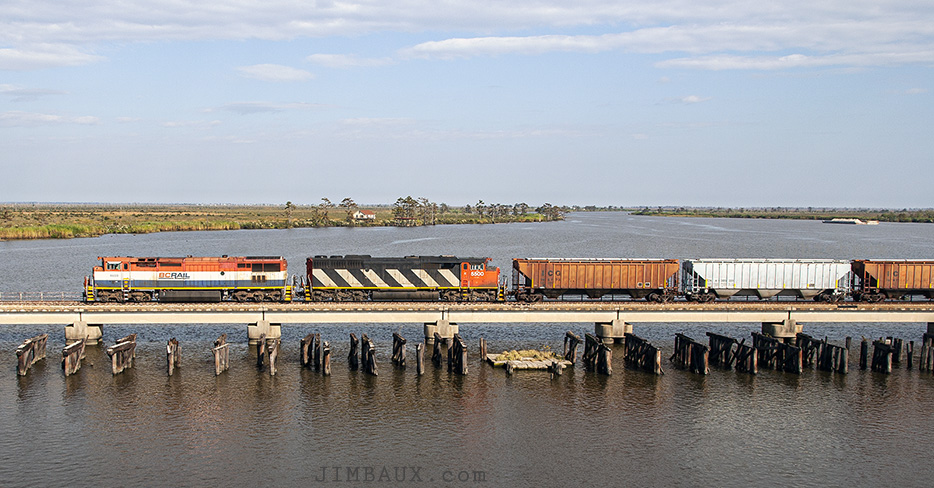 Oh, and some CN hoppers . . . .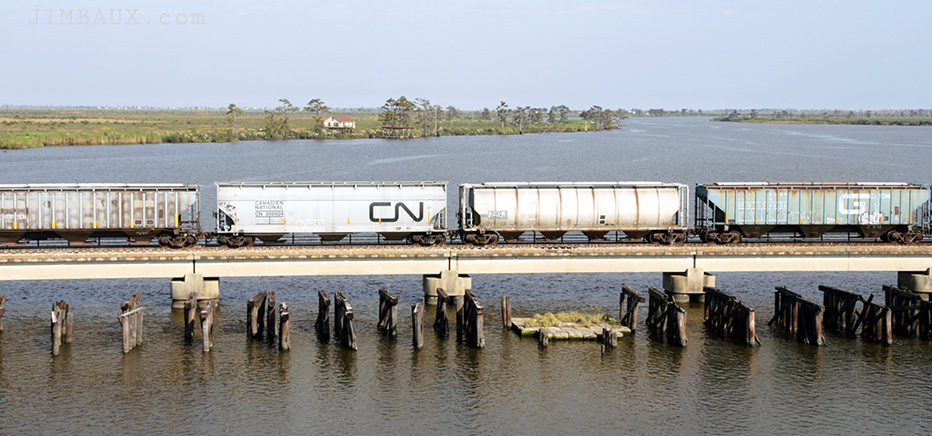 And, while we're at it, some tank cars that were on the train when it left Geismar and when we saw it on the spillway.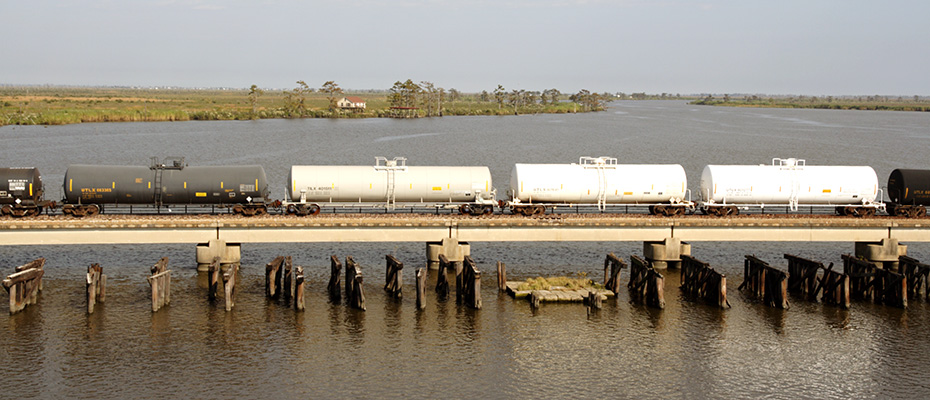 Well, that certainly is enough.  I guess it's time to call it a day and get back to other chores, right?
When You're In A Hole, Keep Digging
I'm not totally sure what it was that compelled me to chase this thing even farther to the north, even farther from home, but I seemed to have some desire to visit Hammond for the first time in a long time as well as visit with some of the foamers who hang out there for the first time in a long time.  I got to the depot in Hammond, and two things became immediately obvious to me.  1.) There were no foamers anywhere around (meaning that they missed this neat BC Rail leader.)  2.) The A420, the southbound counterpart to the A419, was blasting through town!
Homeward Bound
Here was my chance to do the right thing: go the heck home and forget about this crap.  My visit to Hammond consisted of arriving at the depot, seeing the A420, and then turning around and heading back south.
Encore!
I could chase the A420 south, hoping to get a shot of it, and then really call it a day, especially since I had been to Hammond and not seen foamers.  I got to Manchac just in time to do this: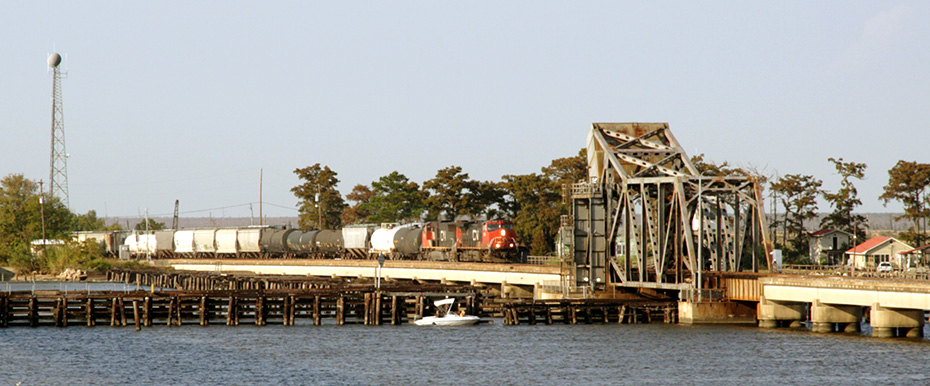 That's not terrible, but what I really want is this:

How's that for an encore?  Not as cool as the A419, but still cool, right?  Here's one more shot.

Okay, I've really had enough, and I'm sure that you have had enough of this too.  Afterall, all good things must come to an end, but I'd soon learn how very true that was.
Shock And Sadness – And Significance?
Not only did I not like the news that I received, but I did not like how I received it.  Facebook has become a necessary evil (and since I use it to promote this site, I'm a perpetrator as much as I am a victim), and that's how I learned of Rie's sudden, unexplained death.
I really did not believe it at first.  It didn't seem to make sense.
I'll have plenty more to say about Rie's death and the profound impact that it had on me and some of our colleagues from those days in upcoming posts, but Nicki did ask me to post the pictures I took at the reunion we had back in June 2010.
Significance?  No, Coincidence
Again, that Seth MacFarlane interview snippet about the overrated nature of significance was, paradoxically, significant for me.  It didn't take me long to draw some weird parallels between the fact that Rie died on this day and the fact that between the time it happened and the time I learned of it, I was having a glorious time in the Bonnet Carré Spillway on the railroad where her father worked.  Still, maybe it's not significant at all; it's just how it happened, but I'll report later what Mr. Ernie himself said in response to this coincidence when we talked at the funeral.
I remember at the reunion the summer before when Rie told me that her father still looks in the KCS company calendar every year for any of my pictures (I haven't had any published there since 2009, I think.)  She said that Mr. Jeff Pennebaker brought him the calendar, and she mentioned Jeff Pennebaker as if I knew who he was.  Actually, I do know who he is, but only through meeting him on my own through some railroaders I've gotten to know myself.  I'll mention Pennebaker later too.
Stay Tuned
There are a few more posts on this topic, including some more CN shots and other shots on the day that Rie was laid to rest, that I hope to crank out soon.  There are probably a few CN guys reading this, and if you'd like to keep up with the posts here and you have an account at the all-important Facebook (yeah, I'm being facetious), the best way to be alerted to updates is to join the fan page here.
Actually, I'll be posting some train pictures I took in Mexico five years ago very soon.  Speaking of Mexico, I'm toying with the idea of going there after Christmas and returning shortly after New Year's.
Gosh, I have once again written plenty here, proving once again that ink, not blood, runs through my veins.
Again, Rie's death had a profound impact on me, and that will be a theme in upcoming posts.  Stay tuned, my friends.  Thanks so much.  I am tremendously grateful and fortunate to have had someone like Marie in my life, but I'm also grateful for your readership and for the participation in the site that commenters (even the critical ones) give here.
Thanks again.
Jimbaux