[Jimbaux is a sick puppy, but he's not going down.]
What's up, dudes?  My ability to process pictures and blog (and address the backlog) continues to be helped by my sickness, as it's a beautiful fall Saturday afternoon, and I'm still convalescing.  I hope that you've seen Part 1 of this Saturday (1 October) at the Bonnet Carré Spillway and the Mississippi River with pictures of a Kansas City Southern Railway train crossing the spillway as well as several shots of the spillway control structure itself.  Here in Part 2, we've got more pictures of the spillway and of the community of Reserve, along the Canadian National Railway's former Illinois Central Railway line along the Mississippi River.
Recall, too, that I was on my way to see my old pal Moose whom I had not seen in more than eight years, just before he moved away from the area.  Like I said, some of us are 'smart' enough to go away and stay away, and some of us are not!  I went to meet Moose in Reserve, where he was watching his cousin play football.  Before that game ended, though, I still had a little more time to kill, and I found some action on the CN near the Reserve yard office.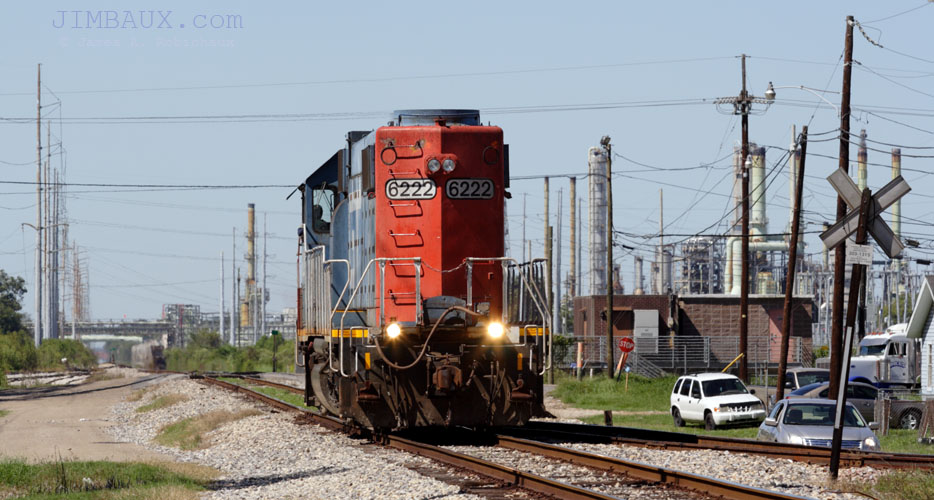 This job was coming in from the west.  It stopped at the yard office where the conductor went inside briefly.

Below is a really wide-angle shot showing the entirety of the radio tower, and you can see the barrel distortion here!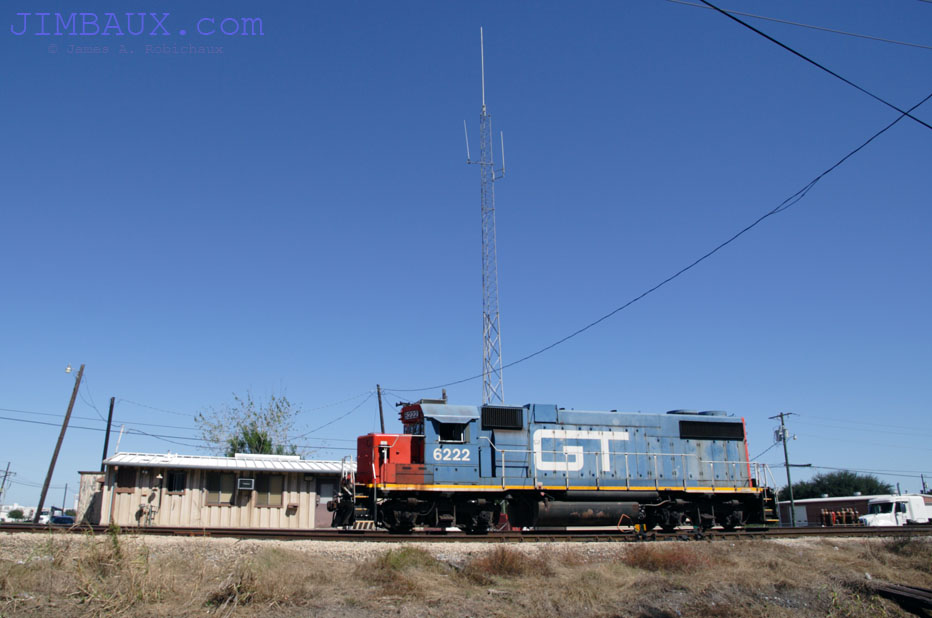 I moved about 100′ to the east to get a different view.  I like the old water tower here.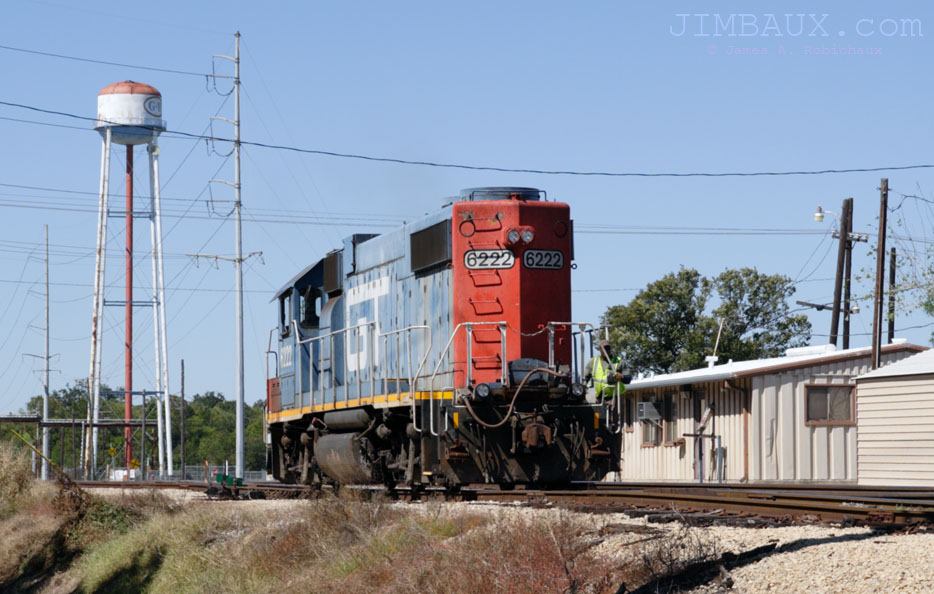 Wow, look below!  Another wide-angle shot, this one with the optical axis shooting up into the sky and outer space!  It's very un-Jimbaux-like, isn't it?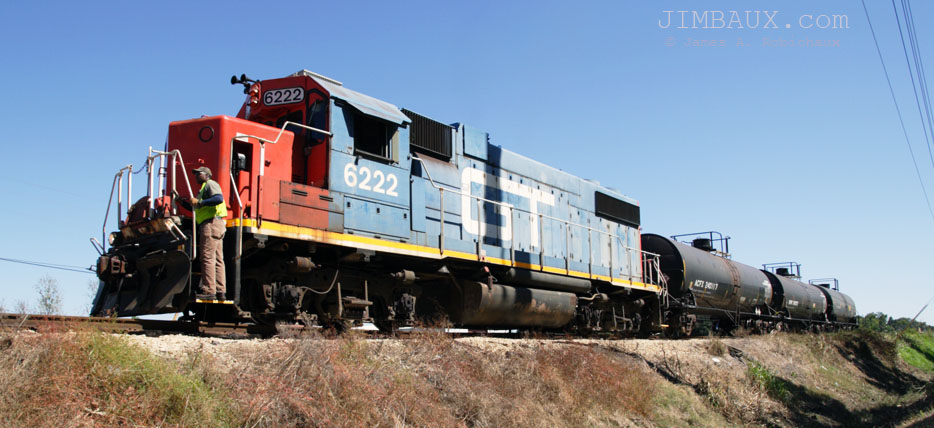 These guys were pulling  three tank cars out of the yard track to go to serve the DuPont plant east of town.

There's nothing like a good, jolly railroad conductor who is proud of his work.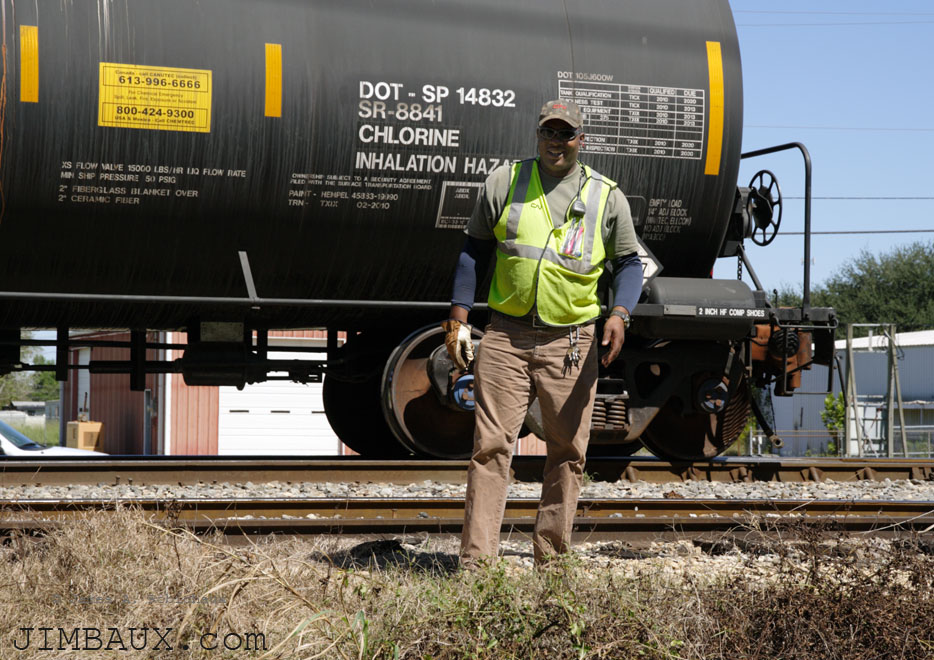 I like to get the human side of railroading from time to time in my photographic work.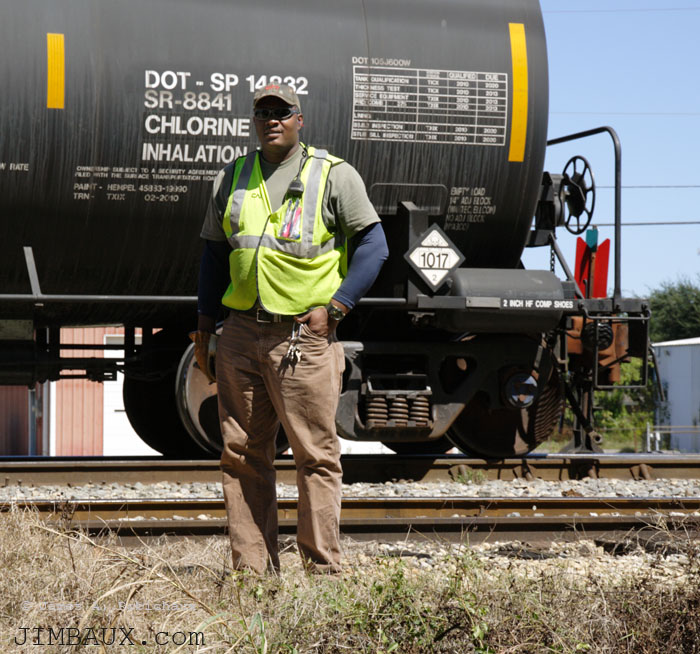 Do you see the CN 'noodle' logo on his yellow vest?  Cool, eh?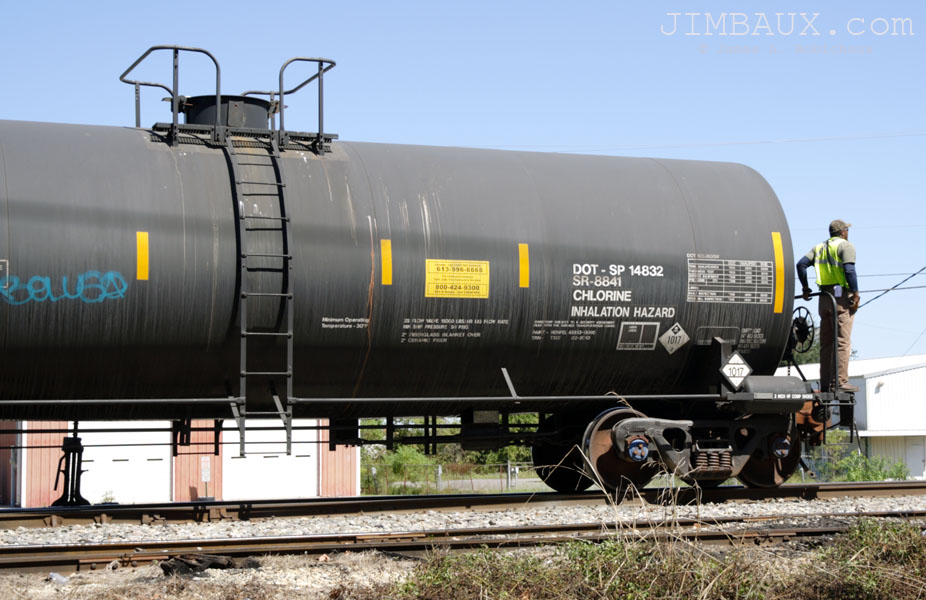 After that, they took off to go east and serve DuPont, and it was almost time for my long-awaited reunion with Moose, a reunion that happened almost by accident.
Moose!
A few minutes later, Moose and I had our long-awaited reunion in the parking lot of Riverside High School just on the other side of the track.  A few days before, I had accidentally sent him an e-mail intended for someone who has an e-mail address similar to his, and that got a conversation started about how he'd be in town in a few days.  Wow!  How's that for serendipity?  We decided to get together.
I remember the summer of 2003 well.  In many ways, it was a big waste of time in my life, but I did get some things done including visiting Moose in LaPlace as he was preparing to move away.  I was doing some freelance writing for a newspaper in bayouland that summer.
We went over to his (mother's) house to bring her car back to her, and then the two of us proceeded to go out to the Bonnet Carré Spillway where I had been earlier that day.  CN train A419 was coming, which is a different train on a different railroad on a different bridge than I had photographed earlier in the morning.
The A419, which originates daily in Geismar, La., with traffic from the chemical plants around there and making a pickup in Destrehan, and terminating somewhere around Tolono, Illinois, was the M319 until recently.  The last time that I photographed a train in the spillway was nearly three years before with another friend.  When you look at the shots below, you can see that in the 2008 shots, I got as far away from the bridge as I could without getting those poles in the shots.  This time, I decided to not care, and I decided to get further away from the bridge even if it meant getting the poles in the shots.

It was great to be out there again with a friend I had not seen in so long as we caught up on old times all of the numerous and drastic changes in our lives since we last saw each other.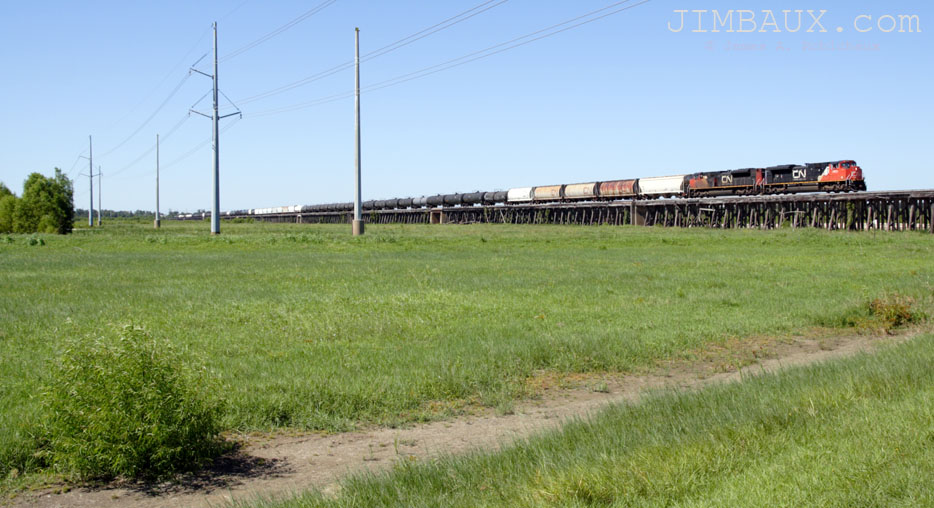 He wanted to know the background information by some of the more intriguing things he had read over the year here on Jimbaux's Journal.
Some of you have probably already seen it, but you can see a larger version of the below shot on the professional Facebook fan page of the photographer behind Jimbaux's Journal.  Don't forget to "Like" the page!
You'll likely note the lack of diagonal bracing on the bridge; trains here are limited to speeds of 10 miles-per-hour.
CN Cylindrical Hoppers
The cars in this block of CN cylindrical hoppers were the only railroad-owned cars on the train.

I tried to get a shot of my pal watching the train, but he started turning back toward me right when I took the picture!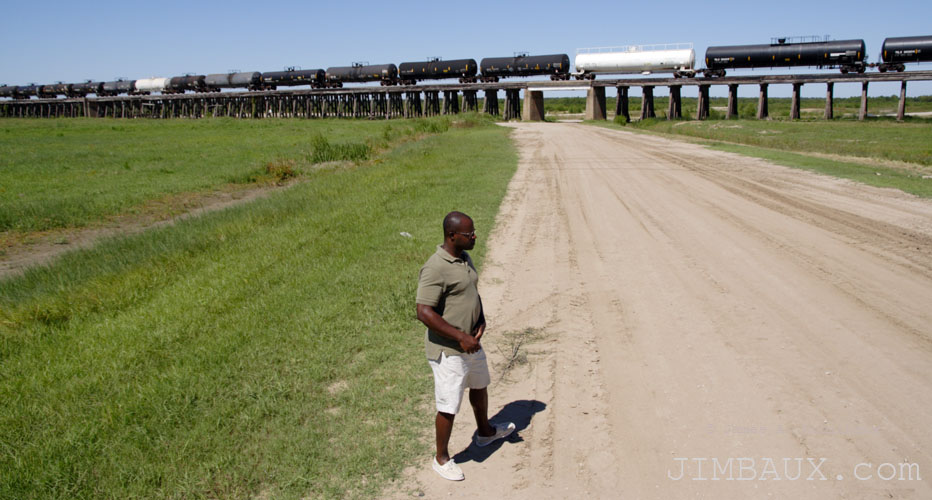 Yes, I got his permission before I posted this picture!
Back To Reserve And The L516
Now it was time for Moose and I to go have some food and some beer, but before we did that, it was back to Reserve to find the L516.  The L516, like the A419, originates in Geismar and makes a pickup in Destrehan, but as its "L" prefix suggests, it's a local train; actually, it's a super-local.  It serves no customers, but it brings traffic from all of the locals on the river to Mays Yard (just outside of New Orleans), swaps out for another cut at Mays Yard, and returns, making a setout in Destrehan, and finishing the day at Geismar with the same crew (usually.)
Nearly all of L516's cars get interchanged to other railroads in New Orleans, mostly Norfolk Southern and CSX, but also some to BNSF and maybe even a few to Union Pacific as well.
We arrived on the scene just in time to see L516's power breaking away from the train to make a pickup.

Looking through the viewfinder, it took me a few seconds to realize what was happening, and I had been initially wondering in amazement at how fast the train was accelerating from a dead stop!
Here's the going-away shot to the pickup, I believe of the DuPont cars that the earlier road switcher (seen above) had picked up.
Heck, it even has an unmolested Illinois Central SD70 as the second locomotive!  Those things were delivered shortly before the CN bought the IC.  I guess I didn't do the best job at removing the yellow reflective tape.  Yes, let the hate mail begin.
The Train
Moving away from the track, here's a shot at the first few cars of the train, including some neat rolls of coiled steel.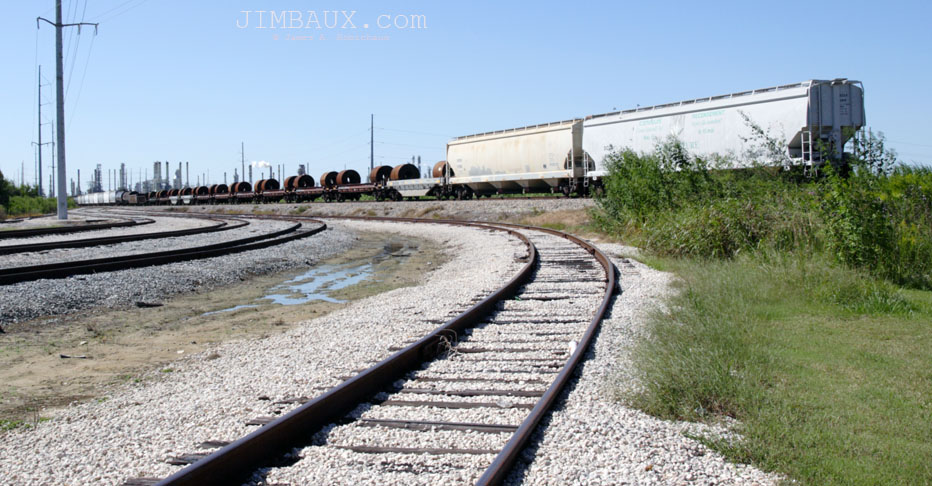 The tracks in the foreground lead to the grain elevator.  The river is not far behind me.  Many solid trains of export grain come here.
Shoving Back
Here's the pickup coming back to the train, and it even includes the GT 6222 locomotive seen in the earlier pictures.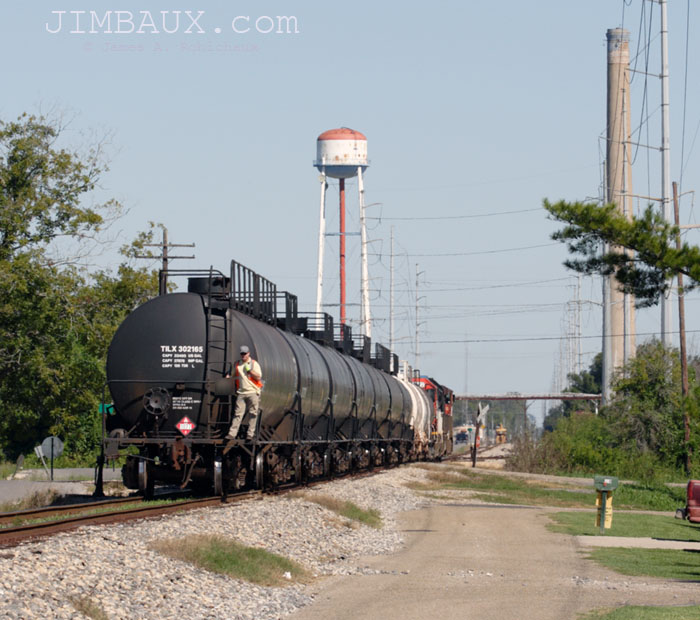 I guess the 6222 was on its way to Mays Yard for servicing and refueling.  Here's the conductor returning to the head end.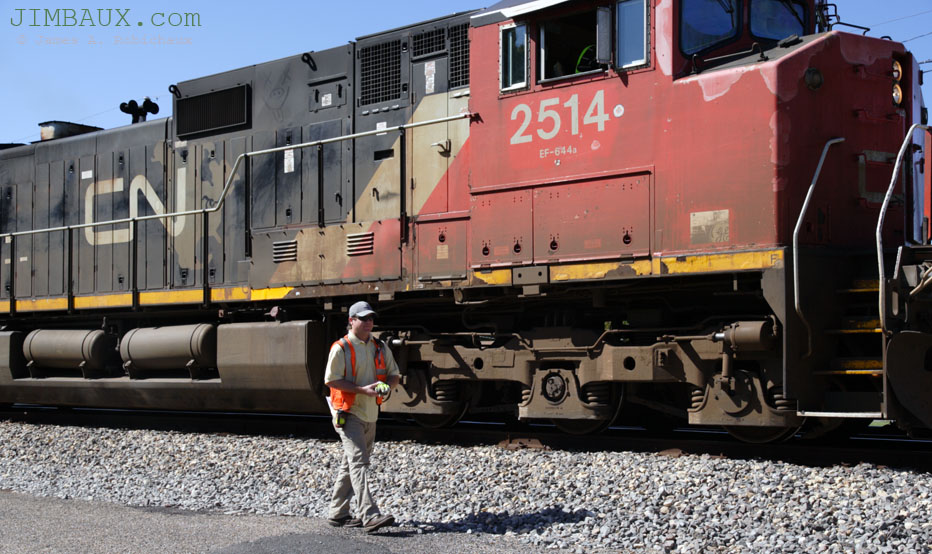 It looks like one of those older GEs, doesn't it?  Those of you out there who know more about locomotives than I do can tell me.
Food, Foam, Froth, Friend
We waited a little while to see what was going to happen next, and we wanted to cross the crossing right there to Airline Highway, but the train was blocking it.  I was hoping he'd pull because I wanted to see the rest of the train, and all that we could get was this.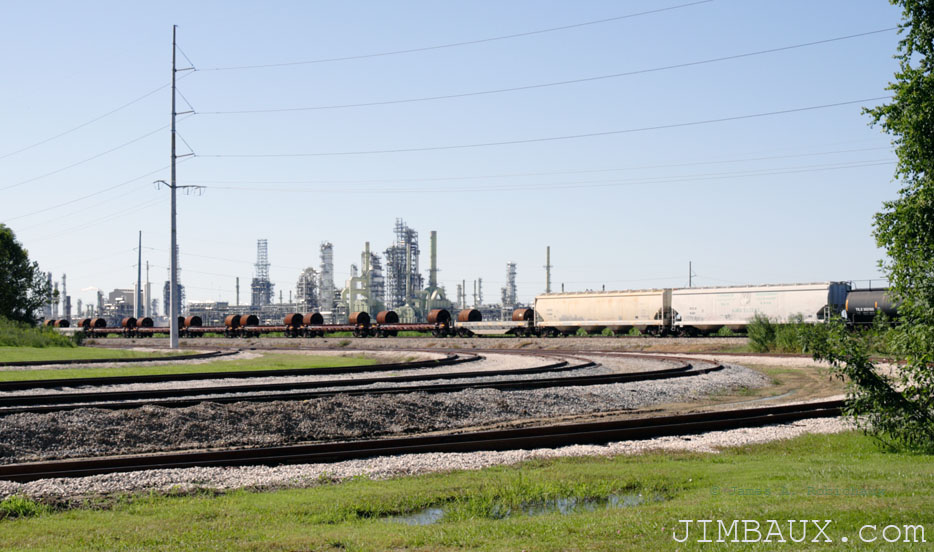 Maybe he was merely charging the air, but we were getting impatient, as food and beer and shade were calling our names.
It was a good time indeed.  Moose and I caught up on all kinds of stuff of life — work, women, family, hopes and fears, etc.  We even had reinterpretations of past events, past conversations that we shared, like how I now agreed with some cultural-political-ideological issue with which I once disagreed with him.
I hope that you've liked the pictures in this post and the previous one, but remember that they would not exist had I not been going to meet a friend, but friends are more important, and the fact that I got some pictures out of this is merely icing on a good cake.  Heck, even Moose's former girlfriend is now a Jimbaux's Journal reader thanks to the meeting that Moose and I had!
In what is a very odd coincidence, I'll be returning to the spillway (for the first time since October 1 when these pictures were taken) tomorrow at the request of a friend who wants to visit the place and take pictures there.  So, look for more spillway pictures in the future, though I'm afraid that at the time that we are going, we won't see any trains.  Still, what drives me to go out there is mainly an opportunity to spend some time with a friend, just like I was fortunate enough to do with Moose.  Isn't that more important than pictures?
To The CN Fans
Because this is the first substantial reporting of CN action I ever do on Jimbaux's Journal, I suspect this post will reach some new readers in CN land.  For those of you who want to keep up with action here on Jimbaux's Journal, please remember to join the Facebook fan page by clicking the below badge and then clicking "Like" once you're on the page.
I post mostly train pictures here, but I post some other stuff too from time to time.  If you have any friends who might like the site, please suggest they join too!  Thanks.
Wow, I'm actually done?  Unlike last time, I started writing a post and finished writing a post not only in the same day but in a matter of a couple of hours!  I guess I should drink some more water, take some more medicine, and go back to sleep.
Which picture here is your favorite, and why?
Merci,
Jimbaux