[Jimbaux has passed another day in this carnival of souls.]
The Memories Are Shadows
What's good, my friends?  Here are some Saturday 3 March 2012 pictures for your viewing pleasure.
A week later, and, believe it or not, I'm still somewhat sick, though I really seem to be getting better.  This hasn't been really fun, but I'll survive, and I may eventually even prosper!  In the meantime, getting cabin fever once again yet still too sick to spend time with friends, I got out and did something on Saturday.  Care to guess what I did?  Would you be shocked if I told you it involved taking pictures?  No?  Well, then, would you be shocked to know that the subject matter of all of the images involved flanged wheels and steel rails and transportation?
For the first time since November, and only then when I published a picture of him switching, I present to you some images of the Chip Local and its namesake conductor today, bracketed by other subject matter, though I have photographed the Chip Local several times since Thanksgiving.  I just haven't had time to process the pictures, much less post them to the internet.  I also still hope to publish the pictures from the day that Rie was laid to rest, but I'm just horribly busy.  I have plenty of stuff to post, but I just have so little time to process the many pictures, write the stories, and post them.
The Luling Local
We'll start our day with what is the closest thing to an equivalent of The Chip Local, which serves the Lafayette Subdivision, on the Livonia Subdivision.  (The Lafayette Sub is former Southern Pacific Railway trackage now owned by the BNSF Railway with Union Pacific having trackage rights, and the Livonia Subdivision is former Missouri Pacific Railway and Texas & Pacific Railway trackage going up the western bank of the Mississippi River.)  This day, as you will see, was totally cloudy, and before I left the crib, I posted a picture which was significant in my development as a photographer of photography cloudy-day subjects.
A Shot I Haven't Done In A Half-Decade
Yes, it really has been awhile since I've done this shot, which seems to be a damned shame, isn't it?  I mean, it's not a stellar shot, but it's not terrible either.
Anyway, here's the LLS56, after it got permission to pass the crossover signals at CTC Live Oak in Waggaman once Avondale was ready to take it.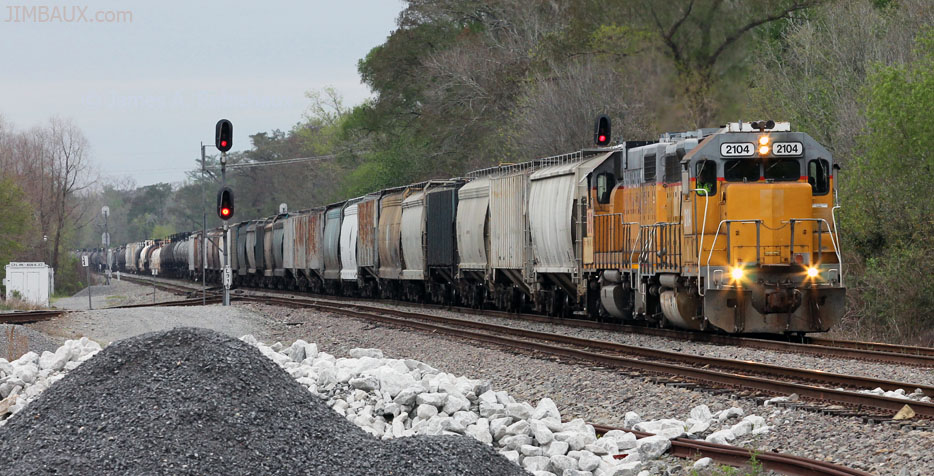 In all of my years of taking railroad pictures in southeastern Louisiana, I have so very few pictures of the Livonia Subdivision past this point.  Kudos to Donovan for doing a good job lately of documenting the line around Addis and Plaquemine.
A Meet Of Sorts
I already knew that BNSF train M-CSXLAL had gotten permission to depart westbound out of Avondale.  So, I knew that when I took the above picture of the Luling Local that I'd be stuck between the two different subdivision mainlines (even as my truck was parked on the river side of both railroads.)  Here's a picture showing the seconds preceding my first time ever being between two moving trains on both subdivisions in this area where they are in such close proximity.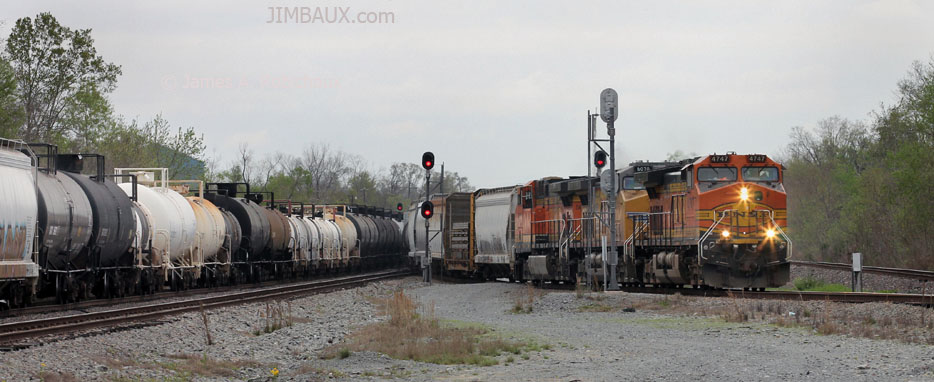 Can you see the so-called Avondale Subdivision to the right?  That's the former SP mainline, but east of Live Oak, it's the Avondale Subdivision.  A December 2010 article in the NOLA Post (shortly before Jimbaux's Journal was launched, allowing me to put stuff like that here instead) shows this too, and the comment from former UP trainmaster David Blazejewski explains the arrangement of ownership of track at this junction.
Bring On The Condescending And Fear-Mongering Remarks
See, y'all remember that post I made about a week ago with the pictures that I took of the CSX-to-KCS military train in New Orleans?  Well, all was well until Thursday when three people on a local railroad enthusiast internet forum, all of whom I've met in person, chided me for photographing and posting information about that train, with one stating that he never posts information about the military trains that he sees, and them saying that maybe I shouldn't do that because of what could happen to me!  Apparently, they are not at all familiar with how very familiar I am with fighting this battle, and I'll state firmly that military trains should be no different.
It's so silly, because tens of thousands of people just in the New Orleans area alone could see that military train slowly creeping through the city at restricted speed (the entire New Orleans Public Belt Railway operates within "yard limits.")  That military train passed through the French Quarter!  Nobody hangs out over there, right?  At least on that forum, my woadie Bill Hamblin chimed in with some sense and sanity about the silliness of the concerns expressed.
Given that crazy discussion, I was discussing it with a friend on Friday, and he said that next time I see a military train, even though I don't particularly care for military trains, I ought to take several pictures of it and not only post it to the internet, but also to go right home and process the shots right away right after taking them, and then "Hawkins the shots" by getting them posted to the internet before the train makes it to its destination!
Anyway, you can imagine the grin that came across my face as I was watching the M-CSXLAL go through the Live Oak crossover and saw this:

Like I wrote back in December (under the sixth picture, the third paragraph), we too often forget, especially when we talk about the military "fighting for our freedoms" (and I'm not necessarily saying that it is not doing that), that the Bill of Rights exists to protect us from the military and the police!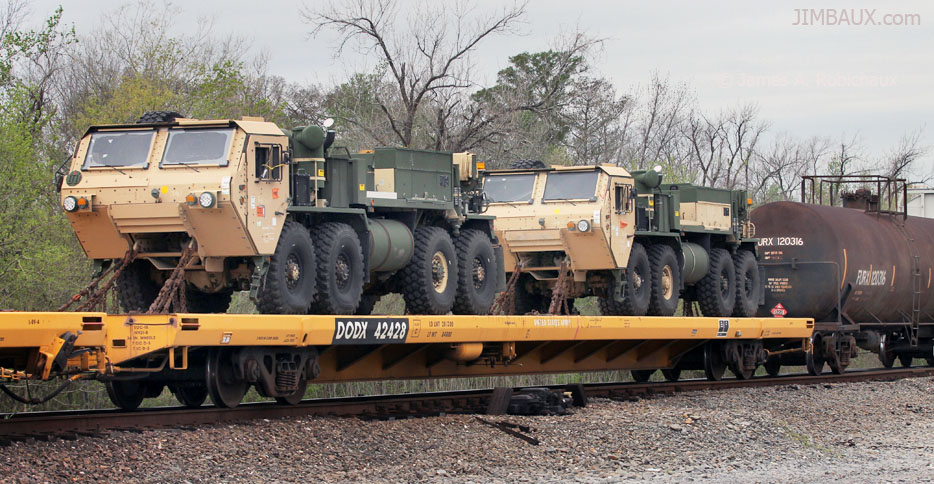 There!  Does anyone have a problem with that being posted?  If you do, can you go tell all of the motorists at all of the grade crossings across the country to cover their eyes as a train like this passes them?  You'd be telling them to turn a blind eye to what their government is doing!  If you still have a problem with this, use the comments section on this post.
A Jimbaux Original
World Premier Shot
In all of my years of Lafayette Sub foaming, and in all of my driving between Bayouland and Woadieville (which usually counts as passive foaming), I had never until this day taken a picture at the Barton Avenue crossing in Boutte (actually, I've taken almost no pictures anywhere else in Boutte either), and what better train to break in this new shot than the Chip Local?  Here's Chip on his way back to Avondale with four empty hoppers from MTI in Raceland.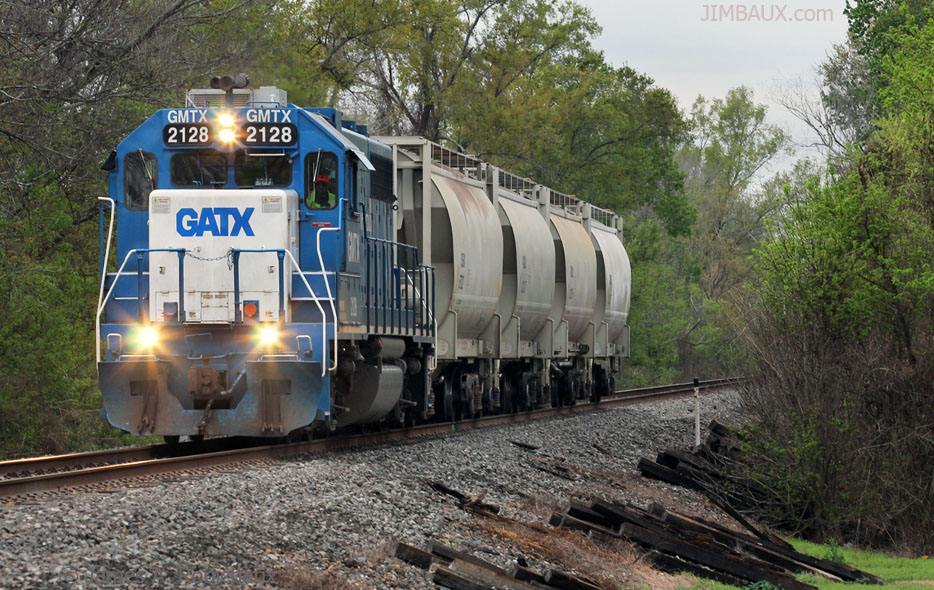 I rather like this 'new' shot!  Don't you?
That's not Chip that you see in the cab.  I think that's a trainee, but Chip is sitting behind him and gave me his usual wave and smile.
Another New Shot?
I can only think of one other time, on a sunny morning way back in the fall of 2005, that I photographed an eastbound train coming off the Lafayette Sub, and since I had yet to have my cloudy-picture epiphany that I've already mentioned, I took that picture from the southern side of the track, but, here, on this Saturday, for the first time ever, I did it from the north side of the track.  Here is the result: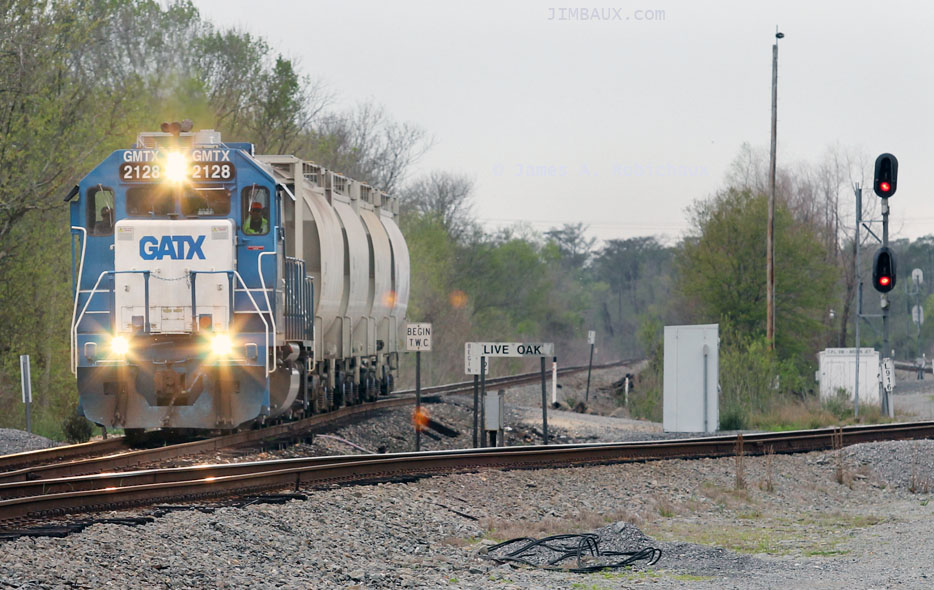 How do you like that?  How about the headlights being reflected off of the rails in the crossover track?  There's plenty to see here in this picture, and while the area just to the left of that very tall pole would have been a great place to put the right frame of the picture, I wanted you to get the full sense of it being Live Oak, meaning that I left a small view of the parallel Livonia Subdivision at the far right of the picture.  It's just a few miles past this point that the railroads split apart from each other.
Look, it's Chip!  Look at how happy the man is!  He's always like that!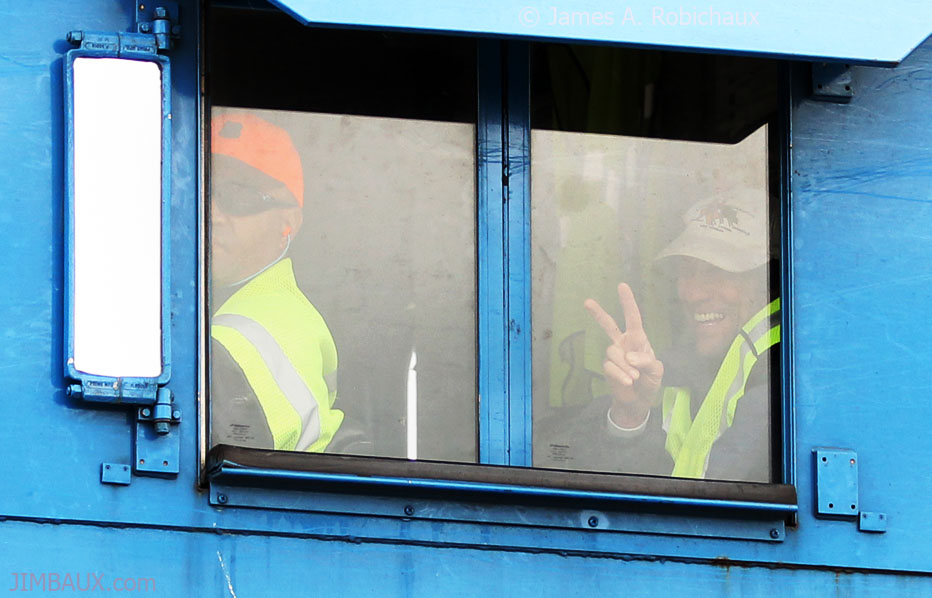 I'm going to miss him whenever he retires.  He started his railroad career with the Southern Pacific in 1968, meaning that retirement can't be terribly far away.  I hope to get as many pictures of this southern Louisiana railroad celebrity in action as I can before he retires.
I Guess This Next Shot Is New Too
There is plenty that I like about this going-away view of this short Chip Local going through the crossover onto the old T&P.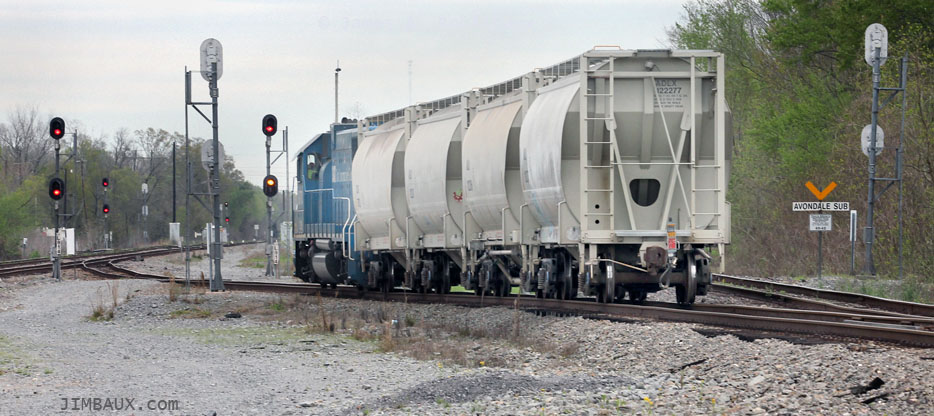 Do you see the "Avondale Sub" sign at the right?  What I have yet to tell you is that when this picture was taken, and even when the first picture in this post was taken, the QLINSL was parked just ahead at Willswood, where we will get a quick view of him now that a new crew has boarded.  An hour-and-a-half earlier, Avondale told the road crew as the train was parked there that that's as far as it would get.
Willswood
Here's Chip at Willswood on the mainline.  I really like that blue-and-white GATX locomotive!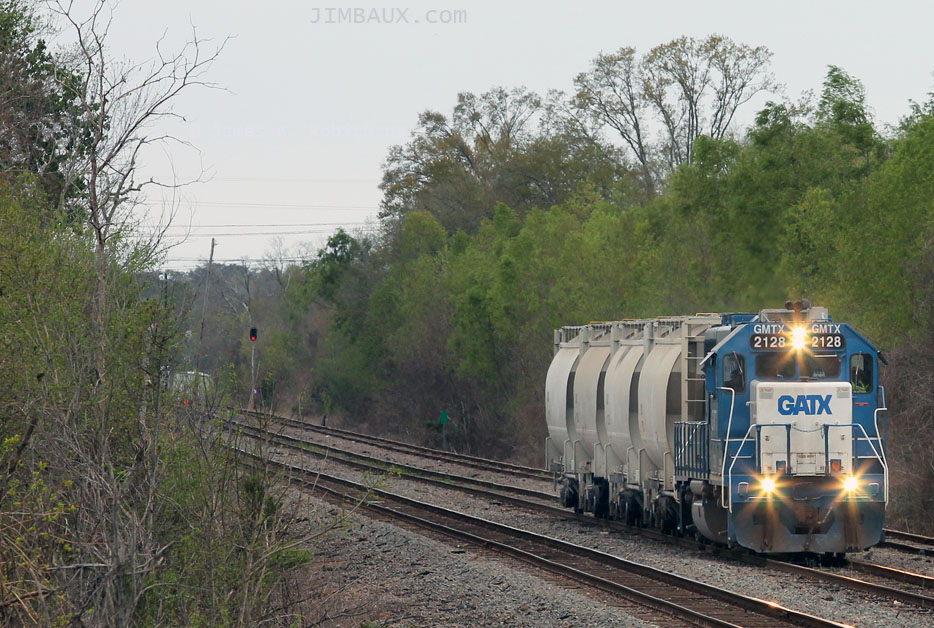 Back in August, I showed you some pictures of Chip at this same location under different atmospheric conditions with a different locomotive and a different engineer too!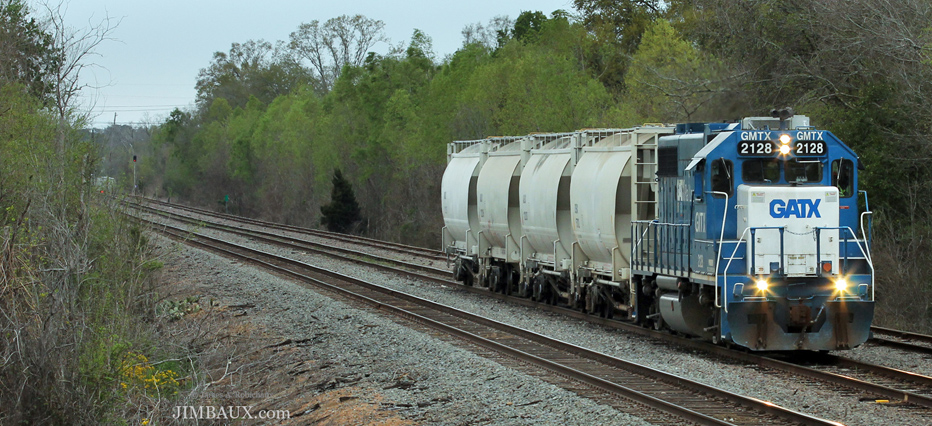 Isn't that so cool?  Isn't it true that you really don't need to go far to find beauty?  to see how fortunate you really are?  Isn't life only as good as you make it?
Here's the QLINSL on the Avondale Sub as a relief yard crew prepares to get it moving again.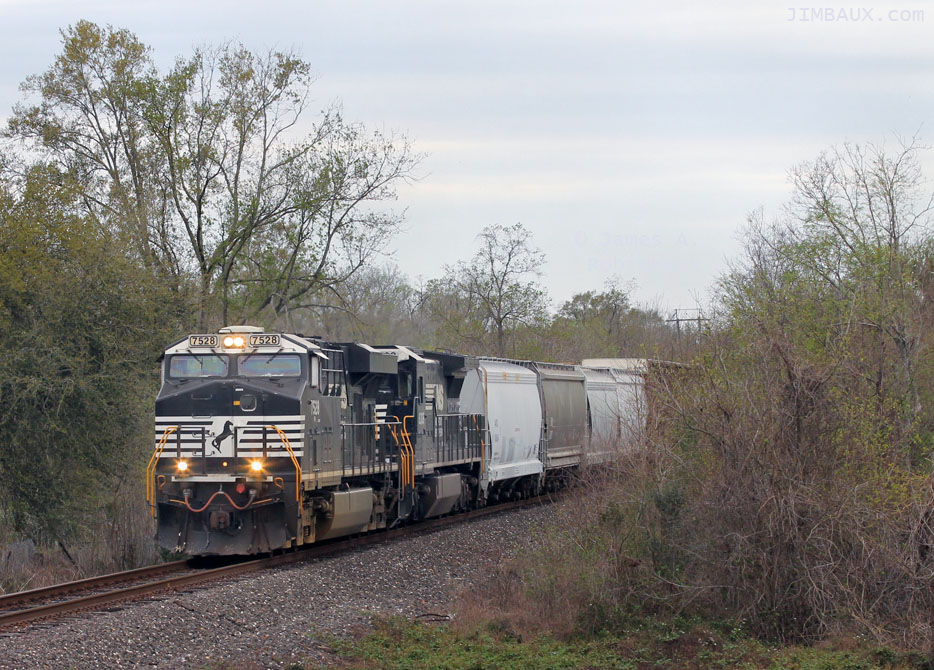 The QLINSL, as the "LI" station code for its origin indicates, is built at Livonia Yard and is bound for interchange with the Norfolk Southern Railway in New Orleans with a block for Linwood, North Carolina, hence the "L" suffix.
I Guess These Shots At Avondale Are New Too
Yes, I don't think that I've ever stood at Avondale Garden Road and shot an eastbound train entering the yard.  After all these years of photographing trains around here, there are still new shots to do!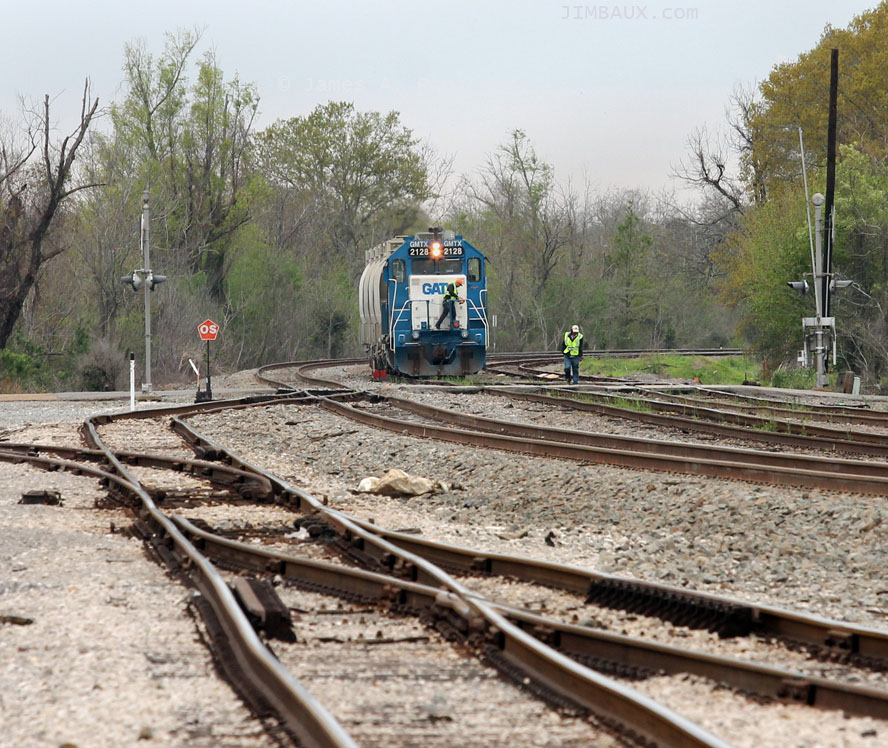 Here, Chip is stopped to line the crossover switches at George Street so that he can move into the Drill Extension track at the far right.  These four empty cement hoppers pulled from Raceland would next find themselves on the MAVAX (Avondale to Alexandria) on their way to Oklahoma.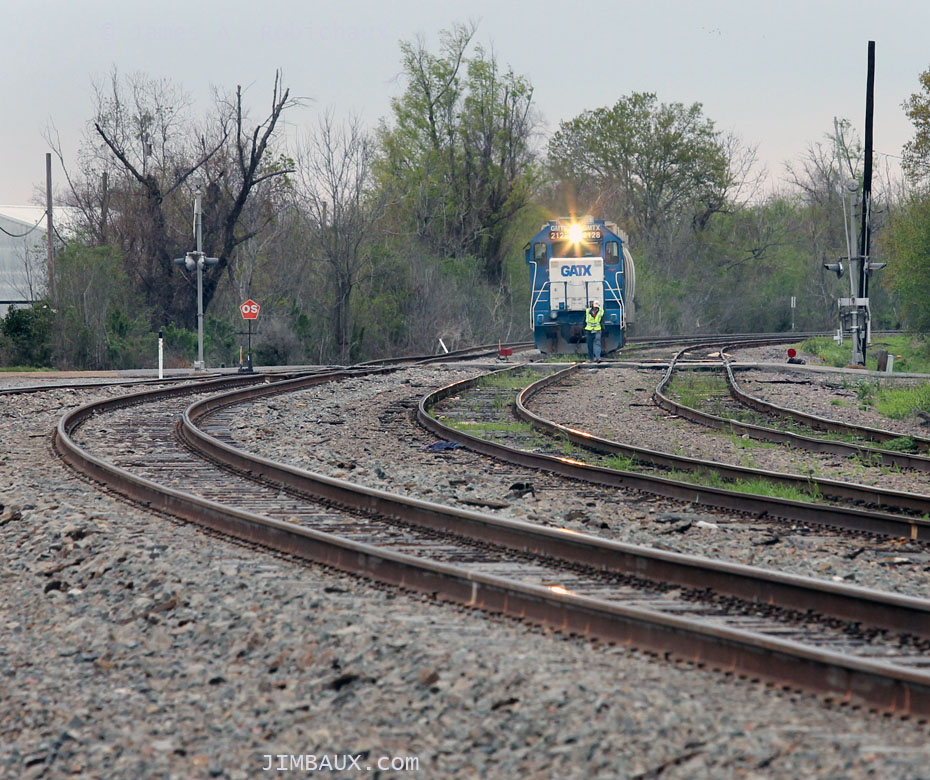 From these views, it's nearly impossible to see the crossover, but the below photo should remove any doubt that it exists that you might have!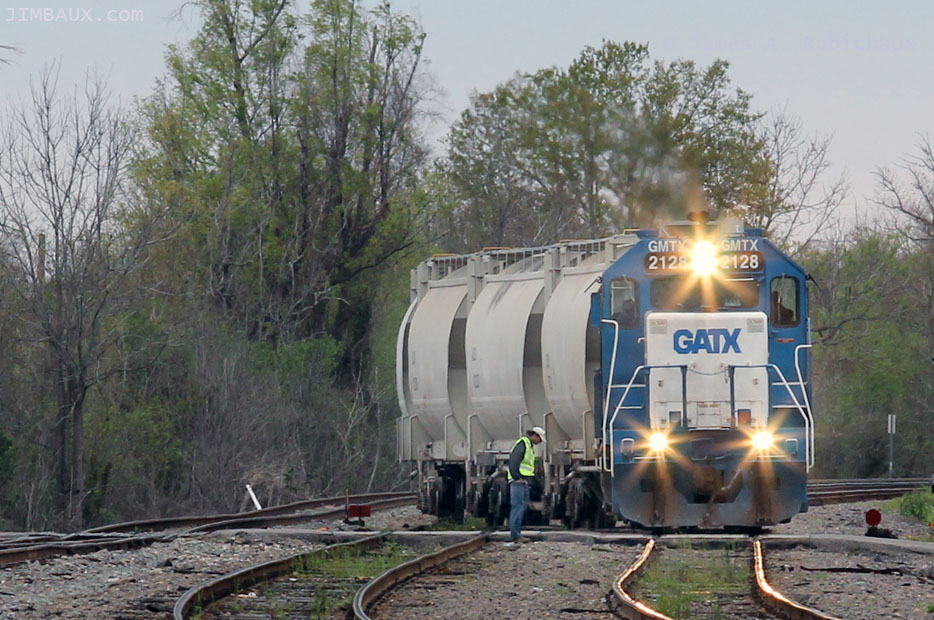 Chip is almost home now.  His father and grandfather both worked for Southern Pacific too.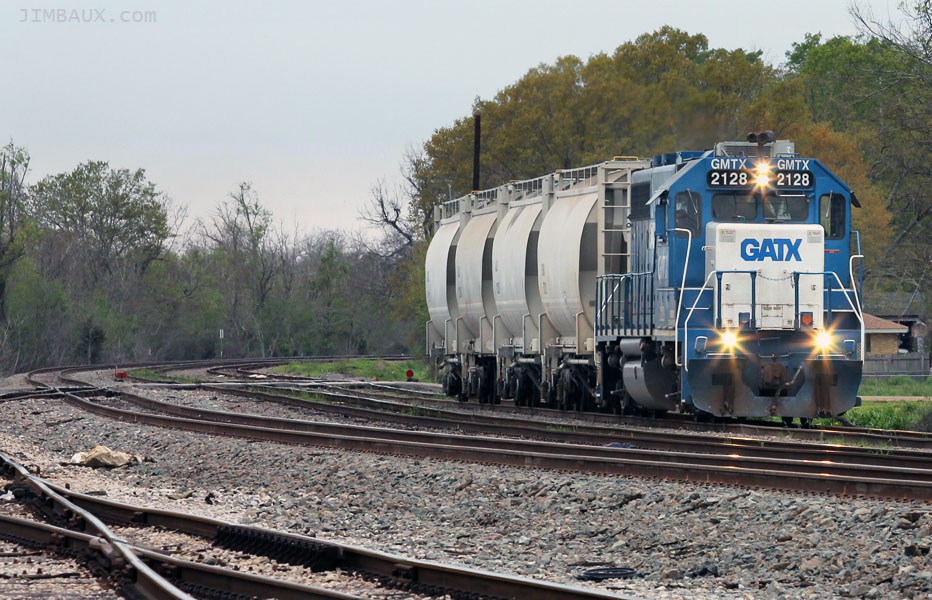 I mean, look at all of the ridiculous celebrities we have in pop culture!  So many celebrities don't have the genuineness of someone like Chip, and my treating of Chip like he's a celebrity (and in small ways, he is a celebrity) has as much to do with a mock of celebrity culture as it has to do with praise of Chip.  By his work, Chip serves the customers and adds value to the enormous corporation for which he works, and in doing all of that – and smiling and laughing – he also entertains us.  Also, somewhat irrelevant to the point that I think I'm trying to make, but, apparently, seeing me by the tracks, climbing on top of my truck, getting stuck in ditches, is a form of entertainment for Chip!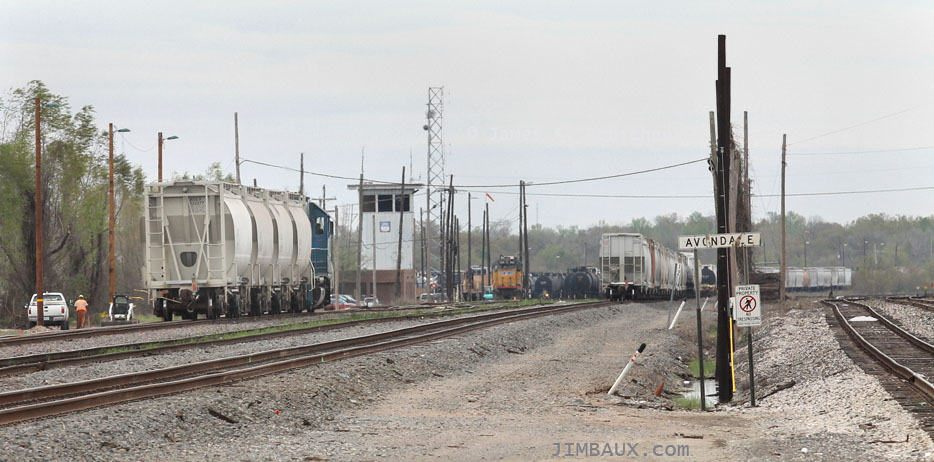 That's it for today's version of the Chip Local!  I hope that you've enjoyed it.
Miscellany
The Shadow Warrior's Shot Of The Hammond District Local
The Canadian National Railway east of Baton Rouge is, as far as I know, seldom photographed, but Shawn recently took a great shot of the local train that works the line.  I love the IC GP40 and the loaded lumber cars!  Thanks, Shawn.
A Sober Take On A Social Issue
Through political discourse of late here in USA, there has been plenty of nastiness that makes one wonder what century it is, but today I read an article that really put a major issue into perspective.
Facebook Rule
Here's a little "rule" I want all of you Facebook users to understand.  If you post something on your profile that is of a politically charged nature, please don't then be surprised or even upset when people comment it on it reputing it with facts.  I'm not sure why people get mad at comments made on what they post when they chose to post the stuff in the first place.
Boxcars And Rocks
I guess this photo wasn't taken in Louisiana!  Interesting, isn't it?
Favorites?
What was your favorite picture from this episode, and why?
Merci,
Jimbaux