[Even when Jimbaux loses, he knows how to win.]
Some stupid sickness has overcome me, a sickness that I strongly suspect that I caught at a certain disease incubator that if I had any courage I'd never enter again, but, oh, well.
About midday today, I couldn't take the isolation anymore.  So, I liberated myself from my self-quarantining and got out for a little bit of foaming.
I heard Gentilly Yard give a yard job permission to cross the canal and enter New Orleans Public Belt Railway trackage and enter NOPB France Yard.  I figured that this was the daily KCS-bound manifest train, the MCXSH, but it turned out to be something else, seen here approaching the floodgate.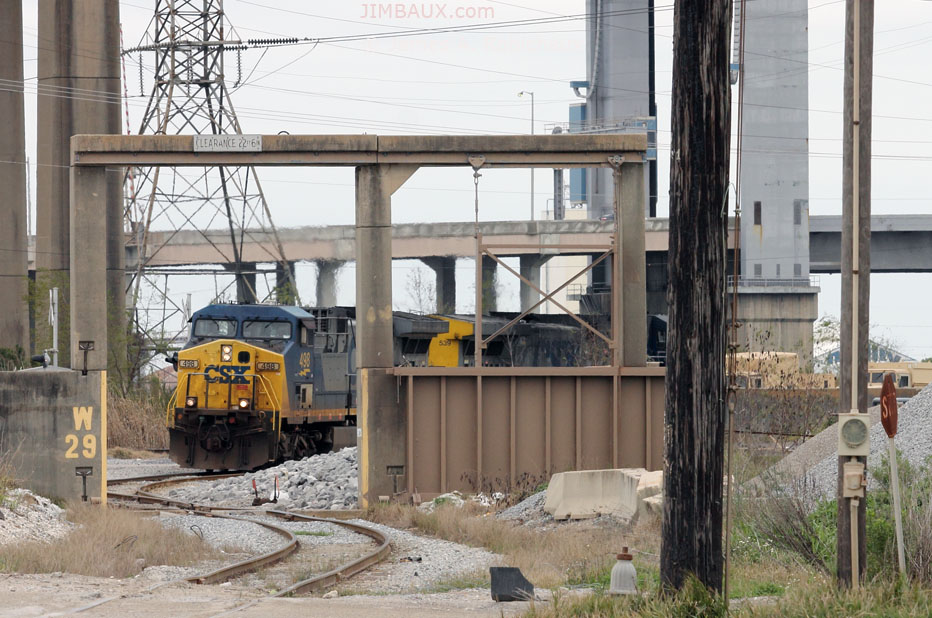 There was a police car that passed where this train was passing.  Do you see what this train is carrying?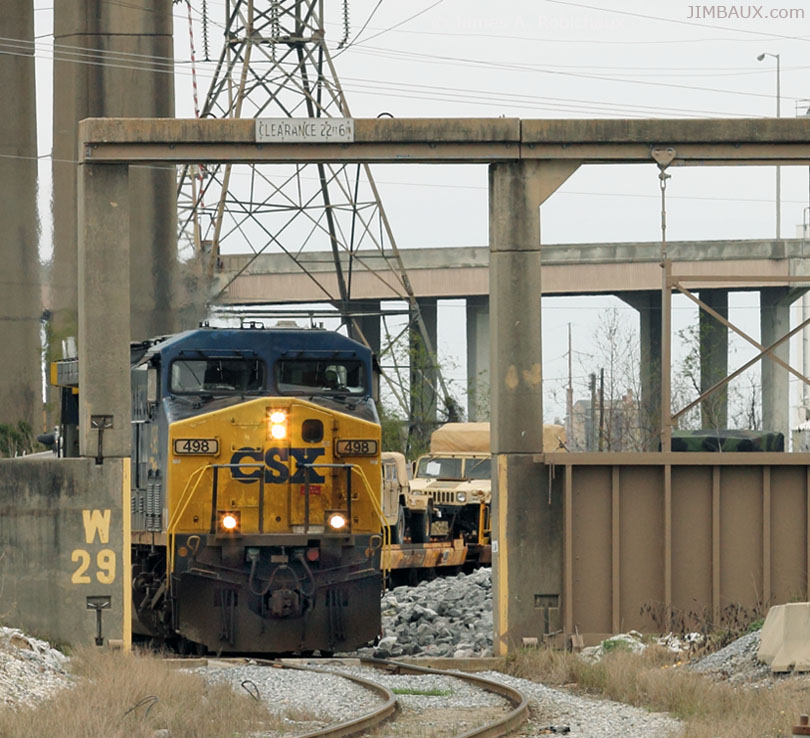 Oh, boy!  This must mean I'm about to have the harbor police jump all over me 'for photographing a military train.'  Nope, dudes, that's not it; I'm photographing it because it's a train.  That's that.  I was suddenly reminded of that run-in that I had with a Union Pacific special agent back in March 2003 and the fact that he asked me "how do I know this isn't a bunch of bulls**t?" about the foamer notes I had written down on a clipboard, and why I was out there taking pictures on the eve of the invasion of Iraq.  My straight-laced, bowing-to-authority self of the time struggled to find a way to answer to this question, whereas today the answer would be some thing like, "I don't know.  That's not my problem anyway."
Right.  Writing stuff down on a pad is not a crime, nor is it evidence of a crime, but the fact that someone can't rule that out is not my problem.  I was prepared to have to answer something similar about the fact that I was somehow interested in this military train, especially since I was set up to photograph whatever was coming through the floodgate, not even knowing that it was a military train.
Whatever.  Nothing happened.
Shot Of The Day
Here's my shot of the day, and you can see the Danziger Bridge (US Highway 90) in the background with the I-10 highrise looming above it as you saw in the Ash Wednesday posting.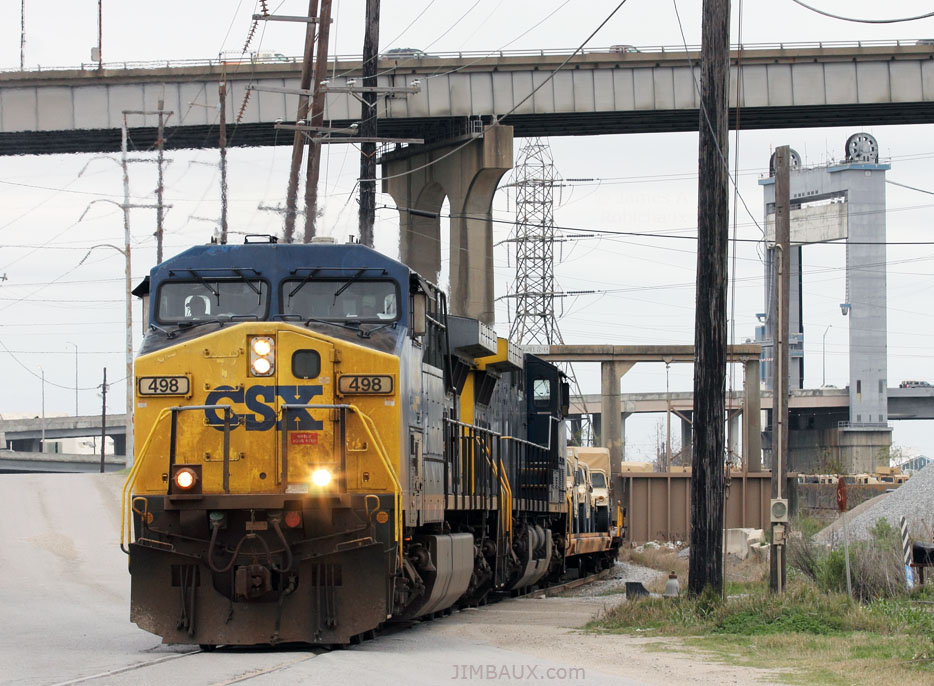 Actually, some of you will likely like one of the below pictures better than this one.  Myself, I'm generally not a fan of train pictures taken this close to the train on the outside of the curve at this sharp of an angle at ground level, but the I-10 highrise over the Inner-Harbor Navigational Canal makes this shot for me.
France Yard
Here the train is seen stopping for its crew change at the yard office, where the CSX crew will detrain and allow the waiting NOPB crew to board.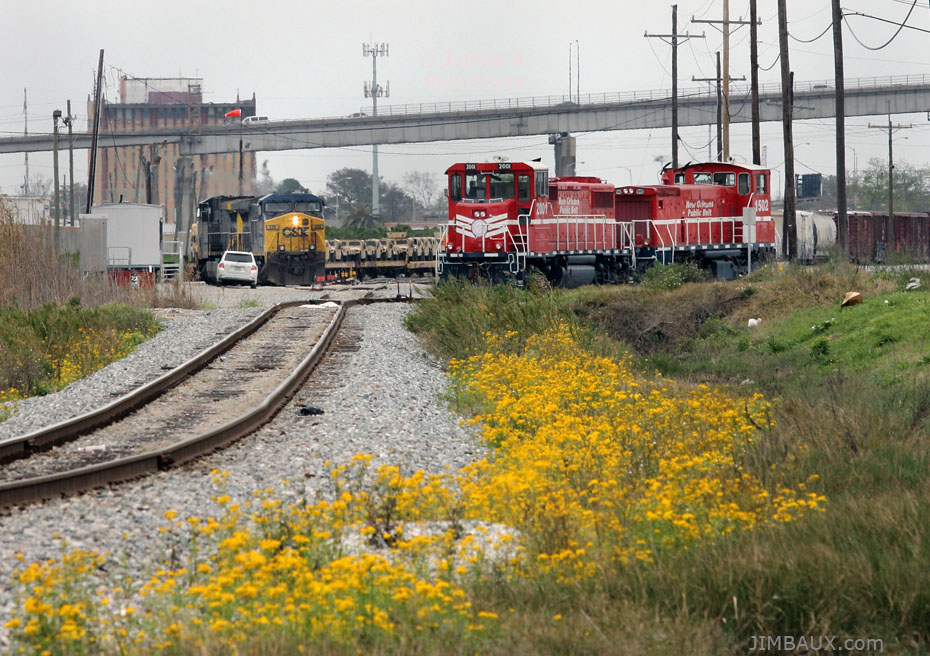 Many of you will probably like the presence of the NOPB switchers in the above picture, something I wish I could feature more here.
Here's a better shot to close out this post.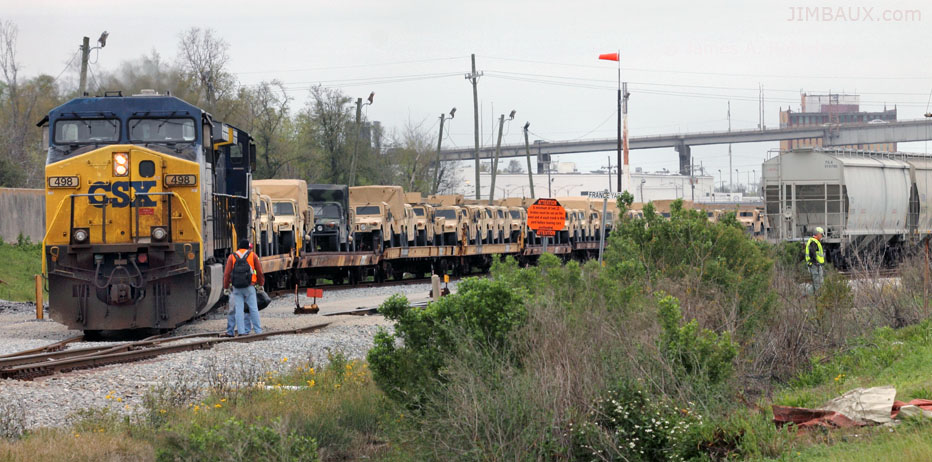 How did I do with the colors here?  After this, I needed hydration and to be horizontal again.  That was really all that I could take.  Damn you, sickness!
Comint later confirmed that this train was indeed headed to the KCS, meaning that it's almost surely going to Fort Polk.  I wonder from where this equipment is coming.
Oh, well, if this post doesn't make the feds think I'm a useless terrorist, maybe paying for coffee with cash will.  What do you think of that?  To get you in a perhaps better mood, check out these soulful scenes from Oklahoma.
Jimbaux