[Jimbaux never thought you'd slip away . . . ]
We're looking at pictures taken three weeks ago today; these pictures were taken Tuesday 4 October.
Foaming On Tuesday
This is 4th Street in Gretna, Louisiana, just before a train of the New Orleans & Gulf Coast Railway shows up.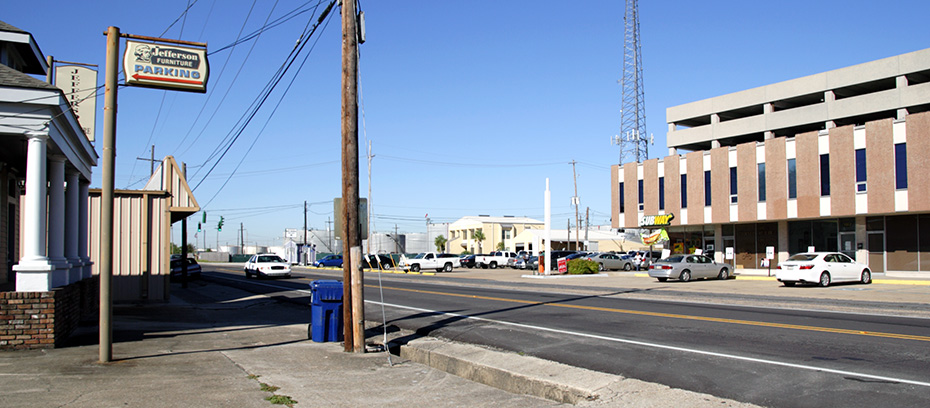 My ol' woadie Blaze, who seems to be having plenty of success since he moved to the great Northern Frontier, responded to reading my prior post by telling me "Thanks for the shots and so sorry about the loss of your friend.  I understand how you feel and getting out trackside shooting can be cathartic even when your heart isn't in it….."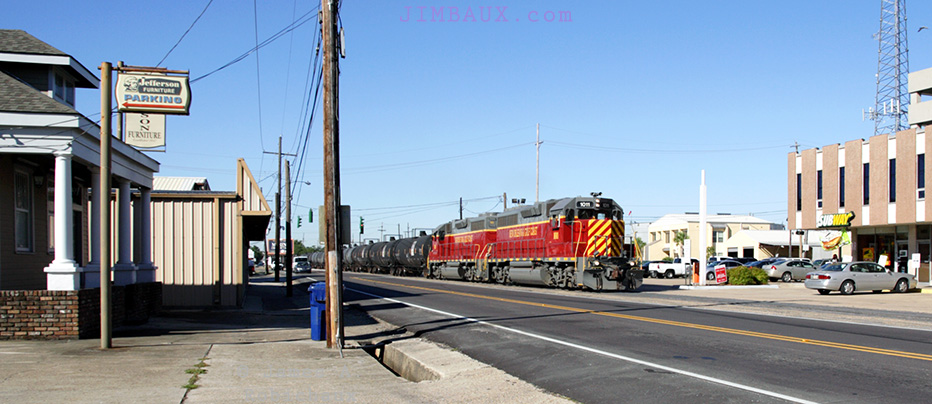 He's right.  Truth be told, I actually did get some shots yesterday, 24 October, with minimal effort.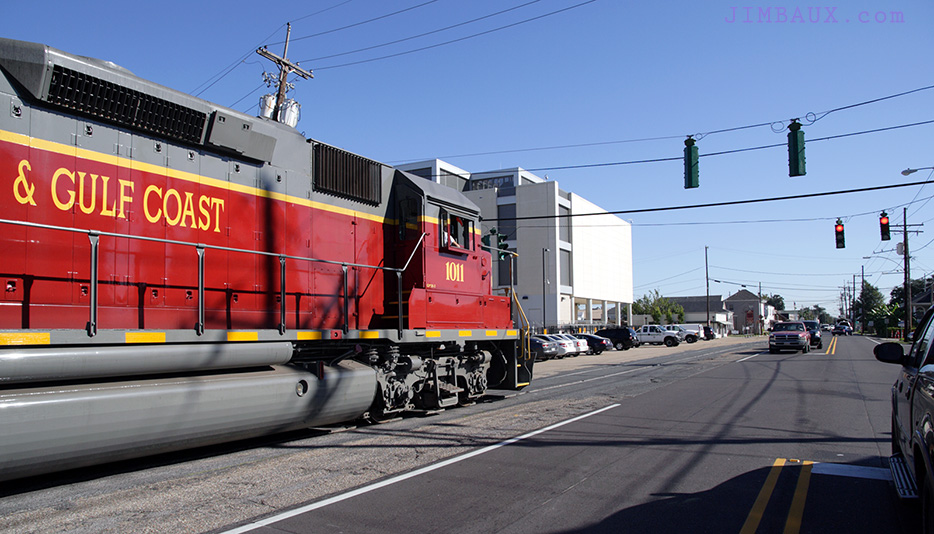 The truth is that most of the train pictures I've gotten lately, including the ones taken three weeks ago that you see in this post and including the ones I took yesterday, are made with minimal effort, slight diversions when I'm already in my truck on some mission unrelated to the making of photographic images.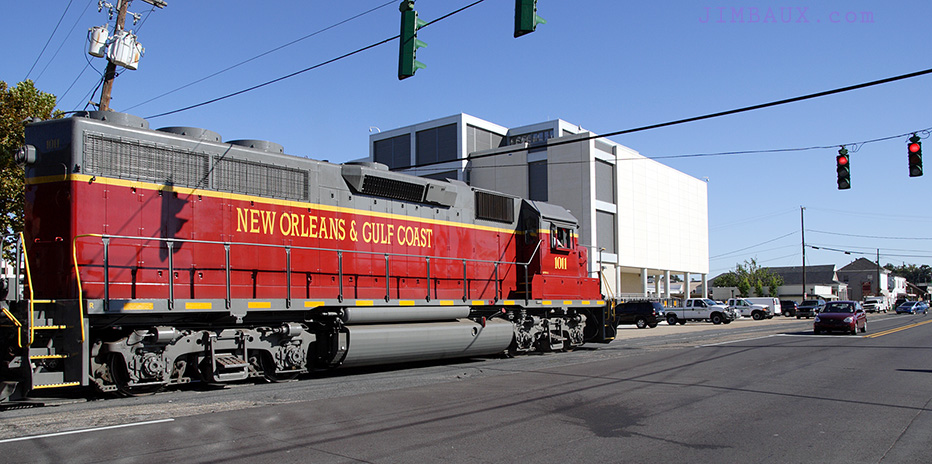 In the case of these pictures that you see here, I was on a brief mission of edible supply procurement (i.e., I was hungry and grabbing a bite to eat.)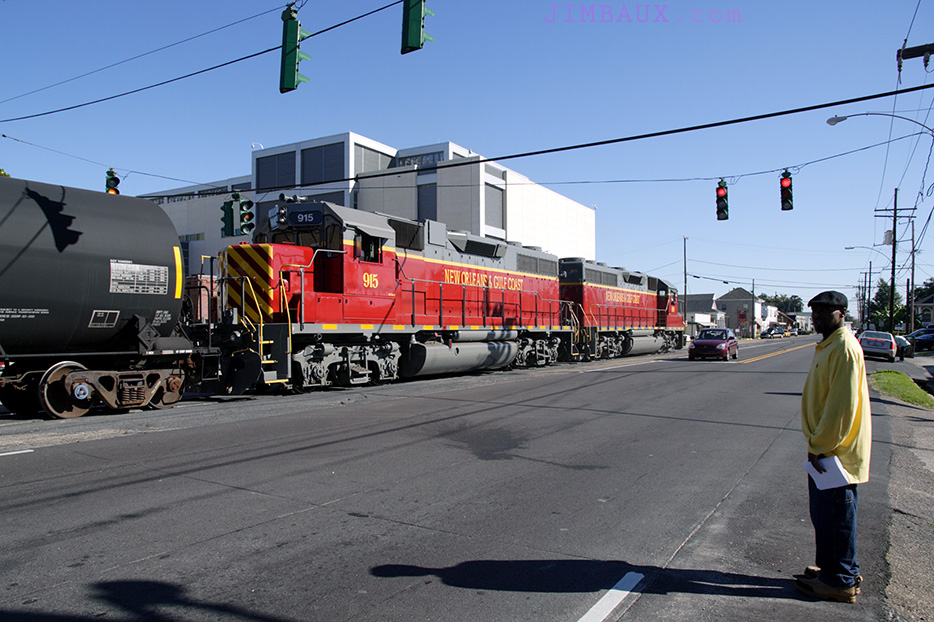 This train stopped in the middle of 4th Street for a reason that wasn't apparent to me, but likely because there was some obstruction – like an illegally parked automobile – ahead.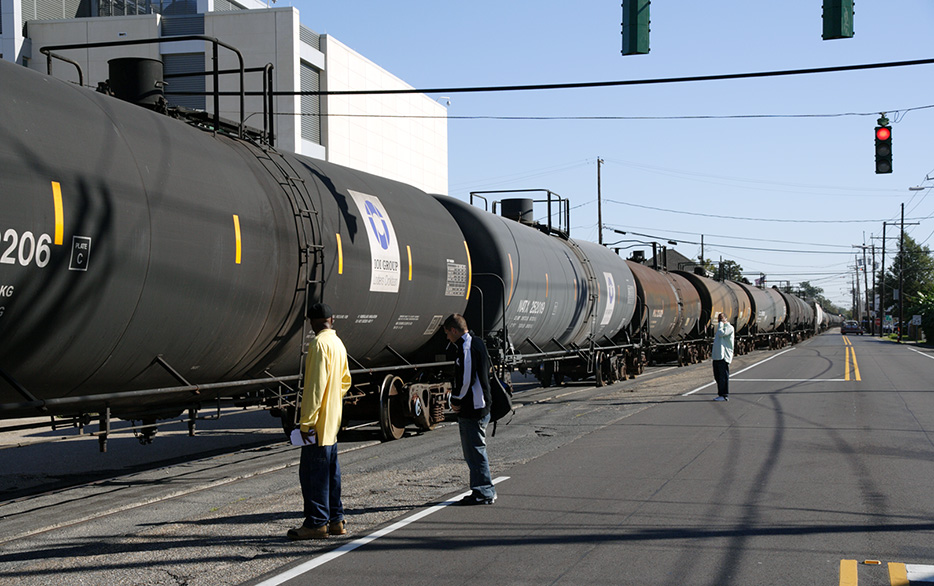 These guys were waiting to cross the street-and-track, obviously.
A Community Grieves
The saying "the light that burns twice as bright burns half as long" seems to apply here.  We were coworkers in college, working in the intense crucible of student media, butting heads often, but leaving with a respectable amount of respect for each other, and then not seeing each other for nearly a decade.  That's what happens when you "graduate" from places and institutions.
I'm so glad that I got to see her last summer.  It was like we were working together again, sharing stories, having fun.  Now, her employer and her alma mater, one-in-the-same, grieves.  I miss her, and I'm grateful to have known her.
You, too, may often but heads with the people to whom you're grateful, but you never know when they'll go, and this was totally unexpected.  I want you to take the time between now and the time you visit Jimbaux's Journal again to let those who are important to you know how grateful you are to them.
That's all.
Jimbaux