[There Jimbaux is, up on the stage (and truck, too.)]
Yes, Aaron Lewis really does that song justice, doesn't he?
The Same, But Different
What's up, my dearest Jimbauxlings?  How are y'all doing?  I've got a trio of pictures from a vantage I've never shown here before of street-running on the New Orleans & Gulf Coast Railway on 4th Street, a frequent subject here on Jimbaux's Journal.
She Was Barney
Yeah, the old New Orleans & Lower Coast Railway 2180 recently got painted out of its "Barney" purple paint – which faded almost to pink – into NOGC corporate colors, like nearly all of the rest of the roster.  Here it is a few weeks ago leading the daily local train down 4th Street in Gretna with cars bound for local industries in Harvey and Marrero.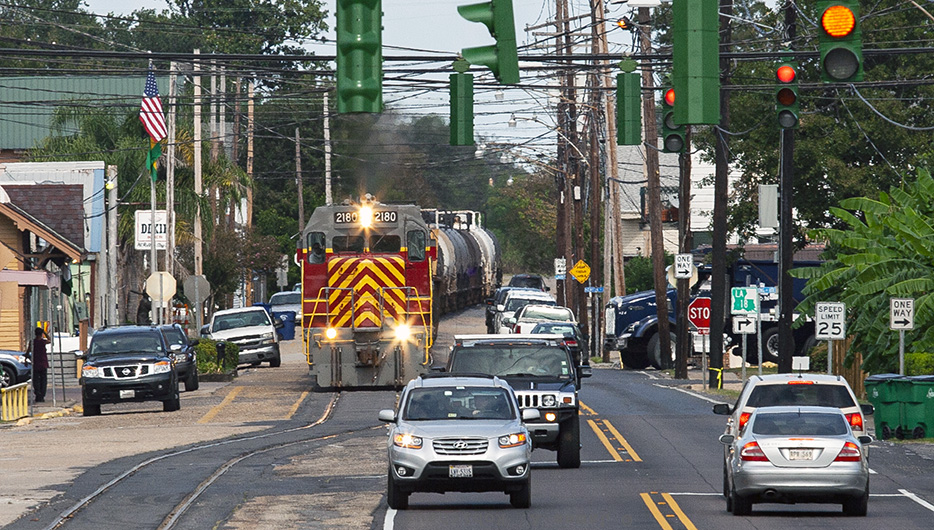 Unbeknown to be at the time, another foamer, this one an out-of-town foamer I had not heretofore met, had already snapped a picture of this thing going through the "crossover" track (where it is leaving ex-T&P rails and moving to ex-SP rails) where the street-running begins.
Yes, that's the NOGC 504 behind the 2180.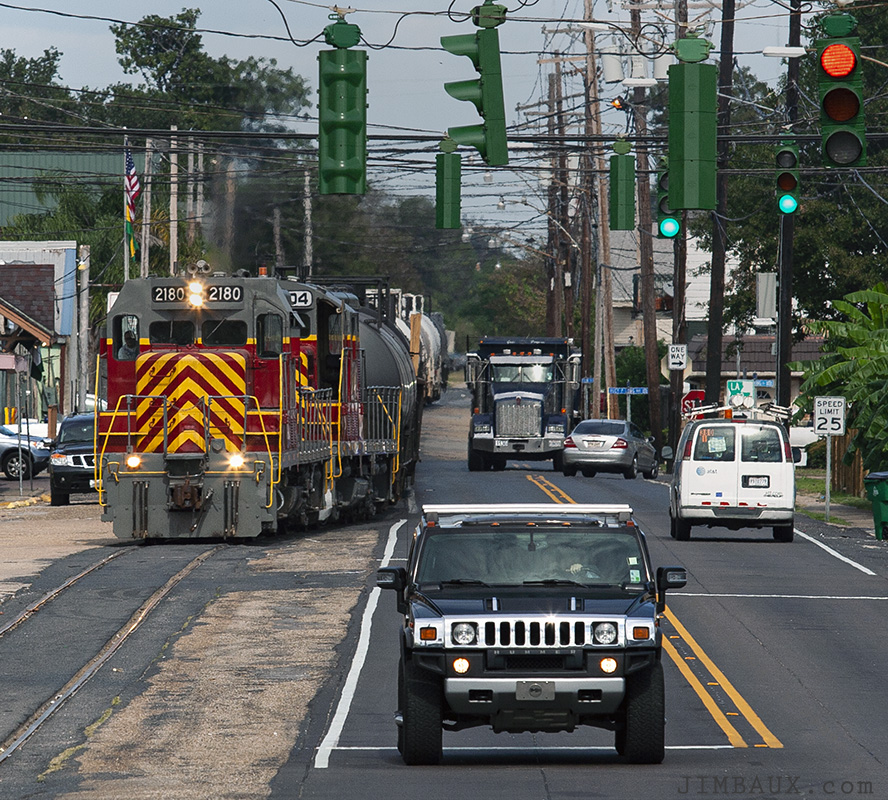 This was one of those cases – like many that result in pictures on the NOGC by Jimbaux – where I just happened upon the scene and had to leave quickly.  Here's the last shot I got.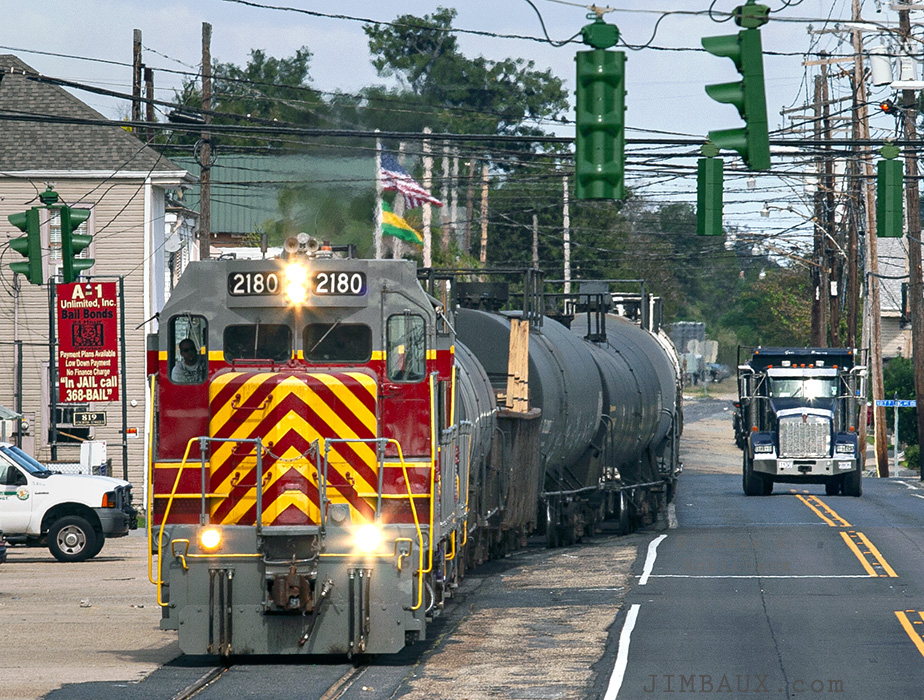 Well, that's enough entertainment for one day, but, wait, there's somebody pulling up next to my truck as I hop down back onto the Earth.
"Are You Jimbaux?"
That was the question posed to me by the foamer with Virginia license plates.  Well, yes, man, I am indeed Jimbaux.  See, actually, this guy, who got another shot of this train before pulling up next to me, had e-mailed me a few weeks earlier after reading my site, inquiring about NOGC operations after seeing so much coverage of this neat little railroad here on Jimbaux's Journal; so, I halfway expected that it was possible that I'd run into him at some point.
He said that he used the information provided here on Jimbaux's Journal as his guide.  Well, I'm glad that some people are finding this stuff useful beyond mere entertainment.  He was happy to have met the "infamous Jimbaux."  Infamous, dude?  Really?  Well, okay.  Now you know the reason behind the choice of today's song.
I tell you, I do frequently ponder the philosophical dilemma as to whether the content of Jimbaux's Journal constitutes education or entertainment.  Certainly, achieving both goals simultaneously is itself a goal, but I do succeed in that enough?
Anyway, I helped our visitor by explaining to him a few things about the railroad in the area (that I hadn't already told him in an e-mail or with what I write on this site), things that can better be told in person while pointing at things, and then I departed the scene and went on about my business.
Thanks for visiting.
Jimbaux