Jimbaux knows that 
Life is a waterfall,
We drink from the river,
Then we turn around and put up our walls.
Today is Saturday 11 September 2021, and you know what 20-year anniversary today is, but it's also a 10-year anniversary of a large set of pictures that I made on a big picture outing that I won't link here, because it's just weird.
Two decades later, I still really cannot think about the tragic events of that day and that general time without thinking of System Of A Down, particularly the "Chop Suey" song, and I can't think of System Of A Down, especially the "Chop Suey" song, without thinking of those tragic events.
Because I didn't want to reuse that song, here, and because Aerials is such a great song that I got to know not long after the attacks, I have made it today's song.
Yesterday, 10 years to the day after I did the "Chop Suey" post (well, the first one), the weather was really nice and cool, especially for this early in September (it's actually still summer!) I hoped to get some pictures when I was out and about yesterday, having to thrice drive back and forth between the homestead and the medical neighborhood of Lafayette, but that did not happen.
I passed a nice-looking house with a Trump flag in front of it. That is what we have become. I'm trying to imagine my 2001 self imagining the Trump Phenomenon. Man, I didn't see this coming, but, in so many ways, I did.
I feel so old now, with a formative experience of my youth – not my childhood – being 20 years ago.
So, with more time today, and being up earlier, I got out by the track, in New Iberia.

At 08:29 CDT, an eastbound BNSF Railway manifest train came through.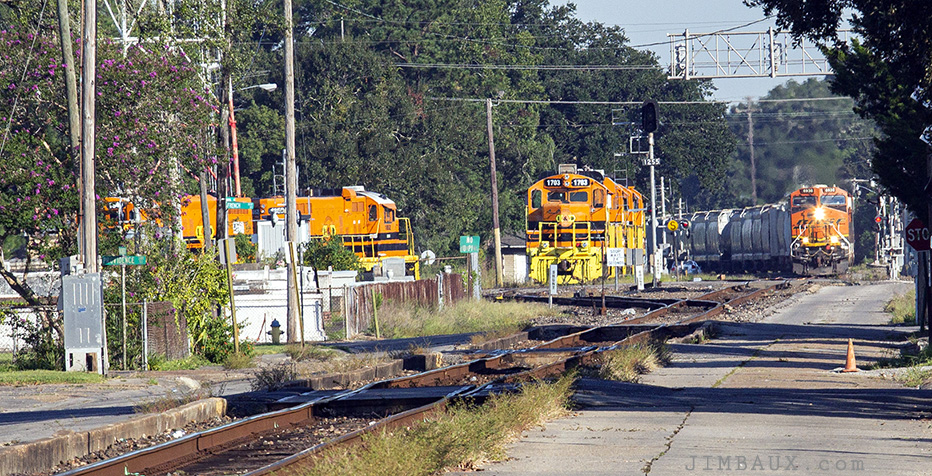 This train was the H-BWWCSX, a train that runs apparently about once per week from Brownsville, Texas, to the CSX in New Orleans.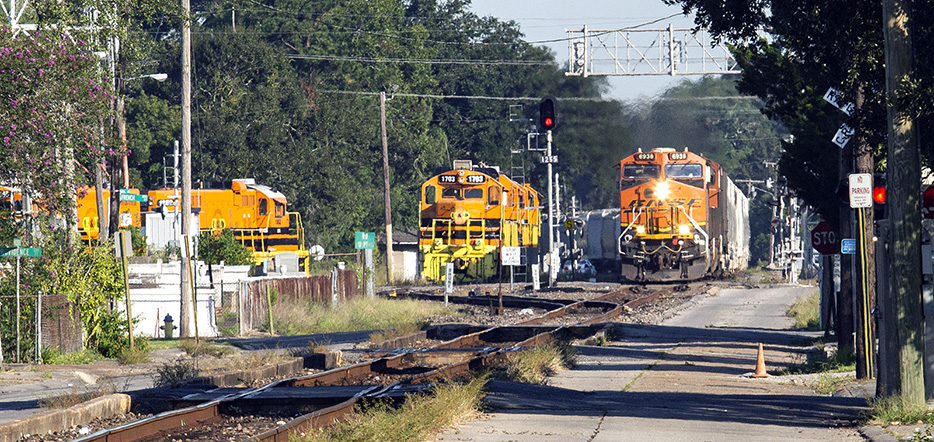 I realized that this may be the first time that I ever photograph an eastbound train on this street-trough section.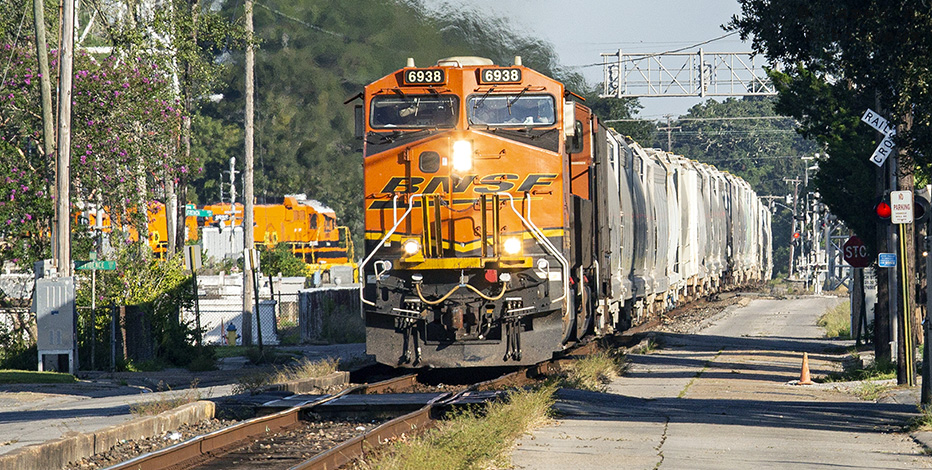 I am at Julia Street here.
A head emerged from the window of the lead locomotive and yelled "Jiiiiimmmmbaaaaaaaaauuuuxx." I gues that I still am that guy, even if I don't feel like him anymore.
Wow, this train has some rear-end DPU!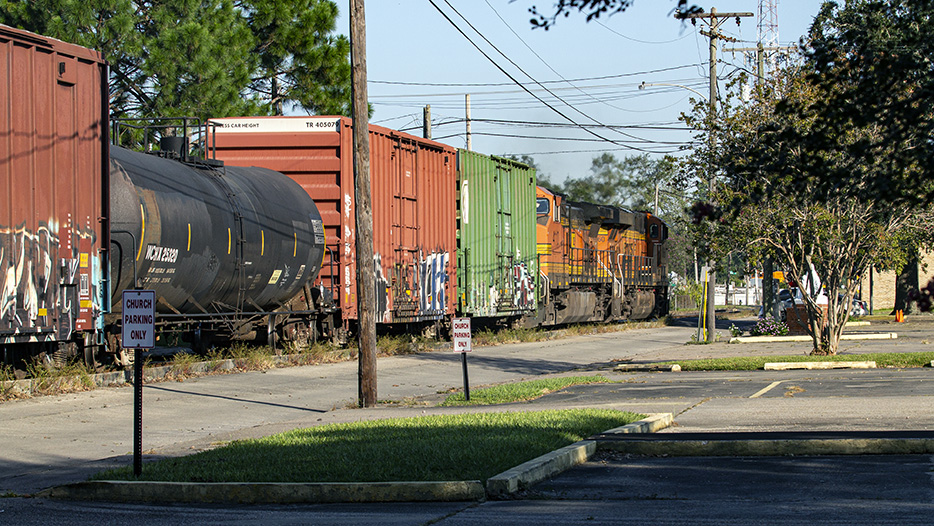 That's unusual.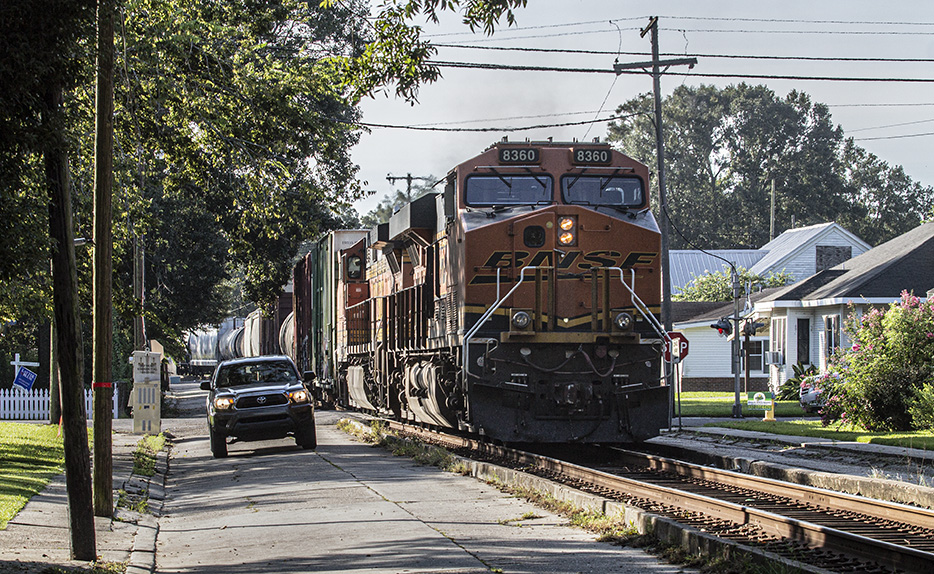 Here are a couple of cell-phone snaps of this area.
I wouldn't want to live there, no.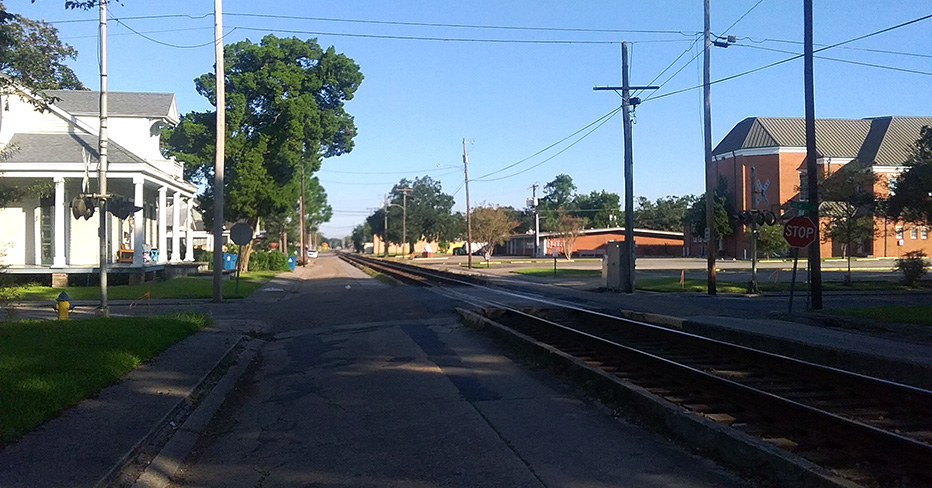 Here is a tablet-computer picture.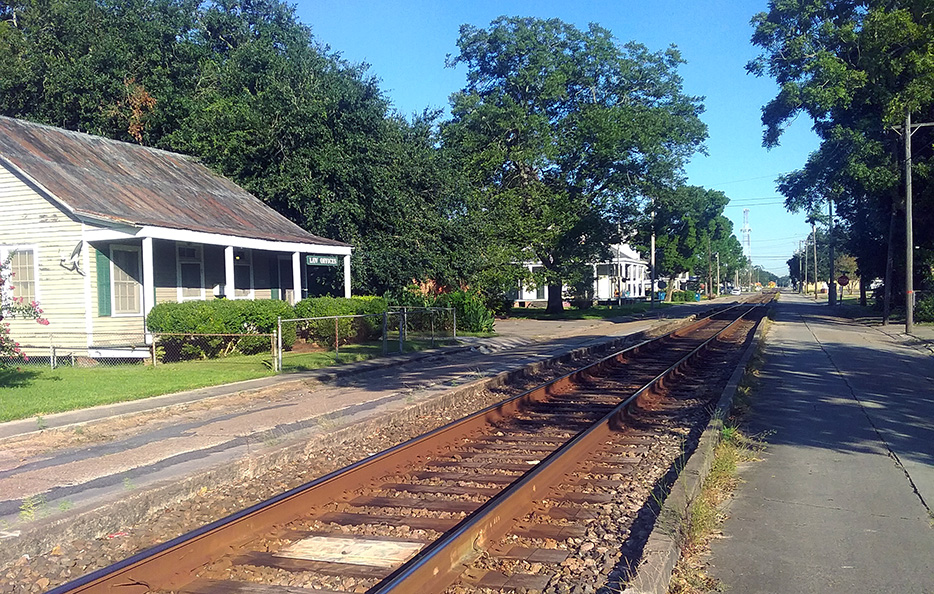 Here is a northward view along Julia Street on the DSLR camera.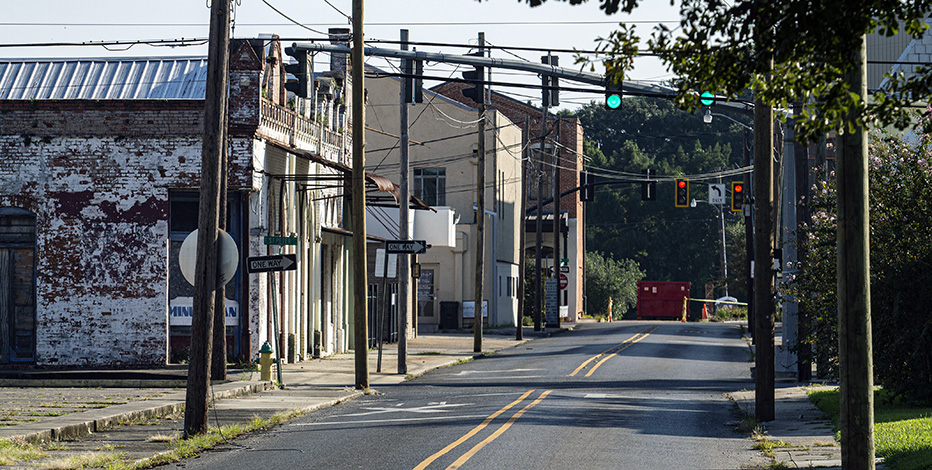 Now, it's time to go closer to the depot and photograph some locomotives and other things there.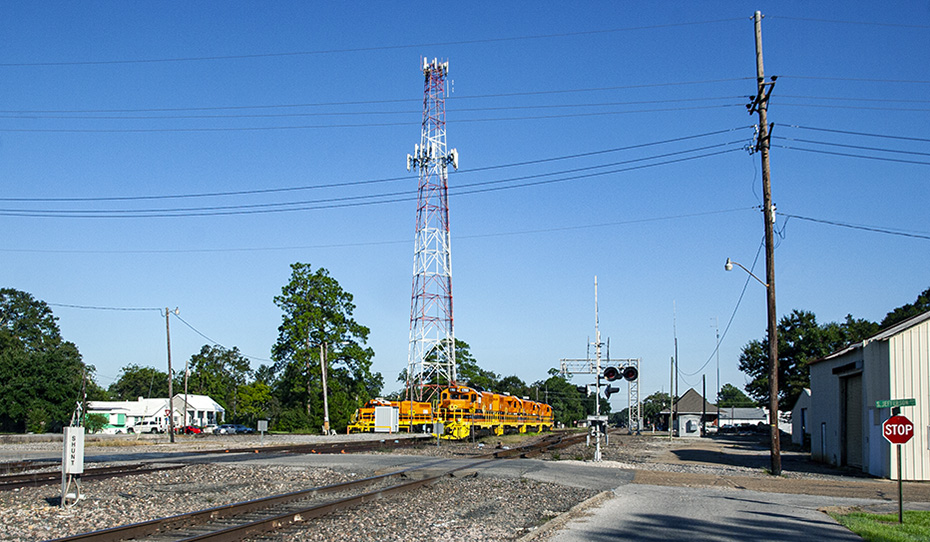 The L&D locomotive fleet has recently become quite homogenous and, as such, boring.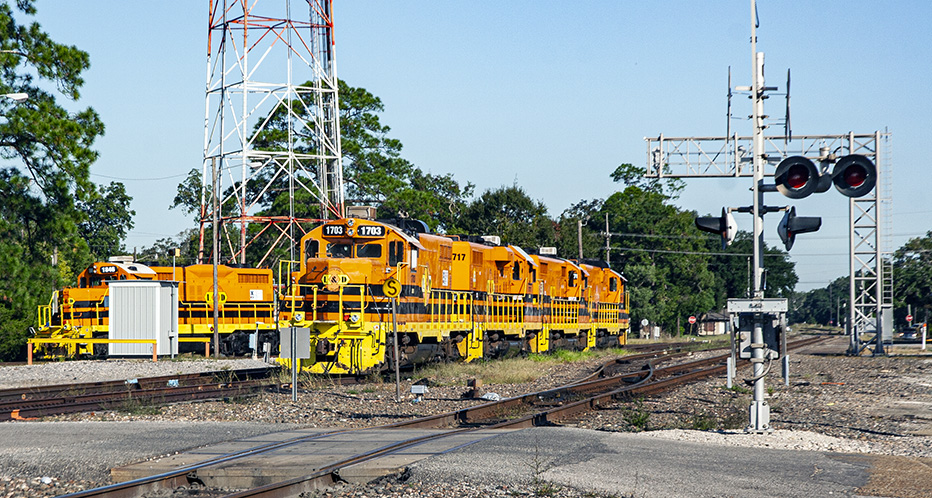 Here is South Jefferson Street.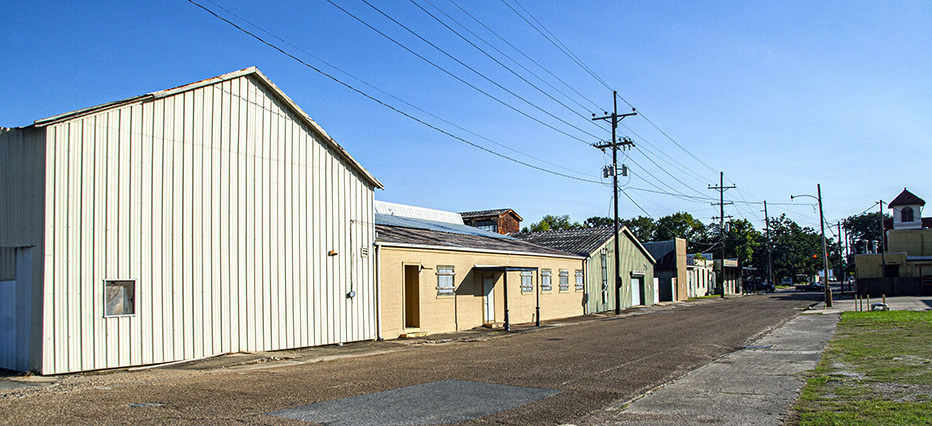 If Genesee & Wyoming would bring back that silver or grey paint for the running gear and fuel tanks, that would be so much better.

This is New Iberia.
The LDRR 1717 may now be my favorite active locomotive on the L&D roster, and it's not a coincidence that it's the locomotive on the active L&D roster that most resembles a CF7.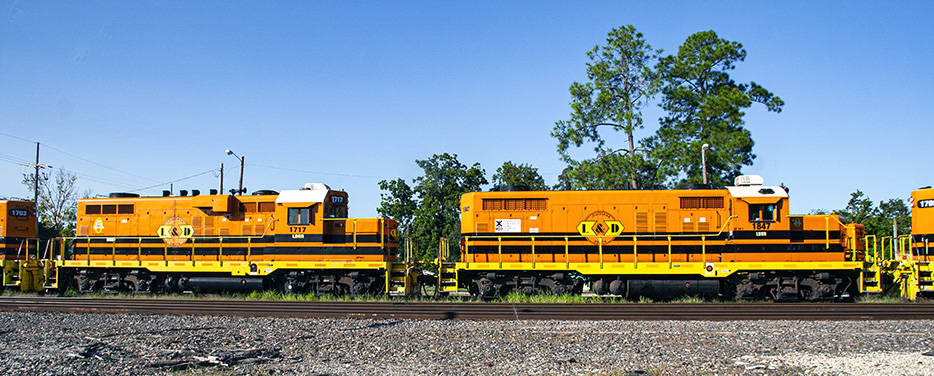 There is this lumber car, UP 273111, and I am wondering what it is doing here, if its presence here is a mistake, if it's supposed to go to Schriever.

I got to the hospital in Lafayette by about 09:30, and I saw no locomotives at Elks.
Back at the house, it was time for the midday lull, and I needed a break.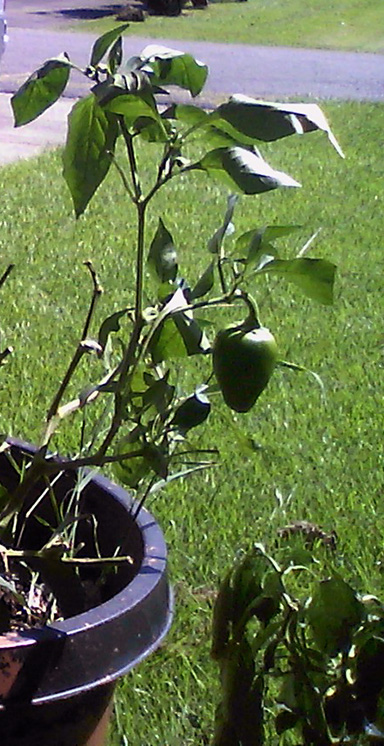 I made a mistake by returning to the track.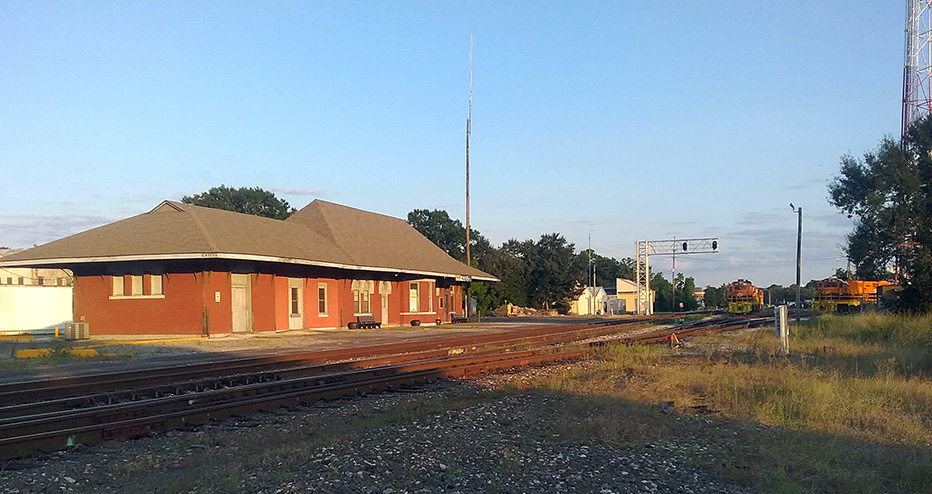 The mistake was due to there being no trains, and the weather getting a little too warm.

I didn't see the UP local train.
That's all for pictures for today.
The house wasn't demolished today, and The Duke wasn't let out of the hospital today. So, the only thing significant about today was the 9/11 anniversary and the train pictures.
Had I known I would not see a train this afternoon, I would not have made that trip at all. It really was a waste of time I would have preferred to have used to watch 9/11 documentaries.
I have noticed two things wrong with my truck today. One is easily fixable, which is that the left, the driver side, headlight is out. The bigger problem is that it seems to be doing that thing again with the temperature gauge needle rising and the AC shutting off and me getting hot, but I don't know what the cause of that is. It's disturbing, though, given the efforts we have already made in fixing this problem.
Get the vaccine, dammit, people, seriously; people are suffering with the hospitals being clogged.
I guess that that's all for now.
Peace, and I'll see you soon when the weather cools off.
Jim