Greetings, and welcome to the July 2009 Sampler. Like the June 2009 Sampler article, this one is comprised almost entirely of scenes outside of my home of Louisiana, but, completely unlike the June 2009 Sampler article, all but one of the non-Louisiana scenes are from outside – and far outside of the Deep South.
The images that you will see here were made on 17 dates in the month of July 2009. As I wrote before in the May 2009 Sampler article, I was, at the time of these images being made, at the height of my career as a school teacher. I am also a person very sensitive to head and humidity. I am also a person who is passionately curious about all of the world, including the world far from home.
Passports And Cameras – Planes, Trains, And Automobiles
As you know if you read the June 2009 Sampler essay, I spent much of the month of June 2009 in the Magnolia State, participating in a teacher workshop based at Mississippi State University, and that is where I started the month of July 2009, but I wouldn't be there for long! My passport (and, probably, my camera) would get more use in the month of July 2009 than it ever got!
The weeks-long teacher workshop in which I was participated ended on the first day of July, a Wednesday. On that day, after the conclusion of the activities, which included a visit to the High Voltage Lab at Mississippi State University, and after I visited Tommy Thurmond and maybe bought a Michael Jackson CD, I left Starkville and made my way south, back to New Orleans.
Coming south out of Meridian, I picked up the Norfolk Southern Railway mainline from Birmingham to New Orleans, and, soon, I intercepted NS train 860, a local train, heading north.

The photographic record from that day indicates no other trains, and I stopped in Hattiesburg and met with Tucker for a meal at the Spicy Pickle and some good conversation.
I have no memory about what I did for the remainder of the week. According to my journal, I spent the night of the 1st at my New Orleans apartment, then spent the nights of the 2nd and 3rd back with the family in bayouland, and then returned to New Orleans on the 4th, but I have no recollection of how I spent that time.
The following Monday, the 6th, I continued my summer of education by starting a week-long internship at Avondale Shipyard. Other than the fact that I would have otherwise had no business being on the property, this part of my summer of 2009 experiences did not include elements of travel that all of my other summer 2009 experiences would.
It was an interesting experience, I learned plenty, and, a few years later, the shipyard closed.
On Saturday the 11th, , the morning after the internship ended, I went to the French quarter to watch the and photograph the running of the NOLA Bulls.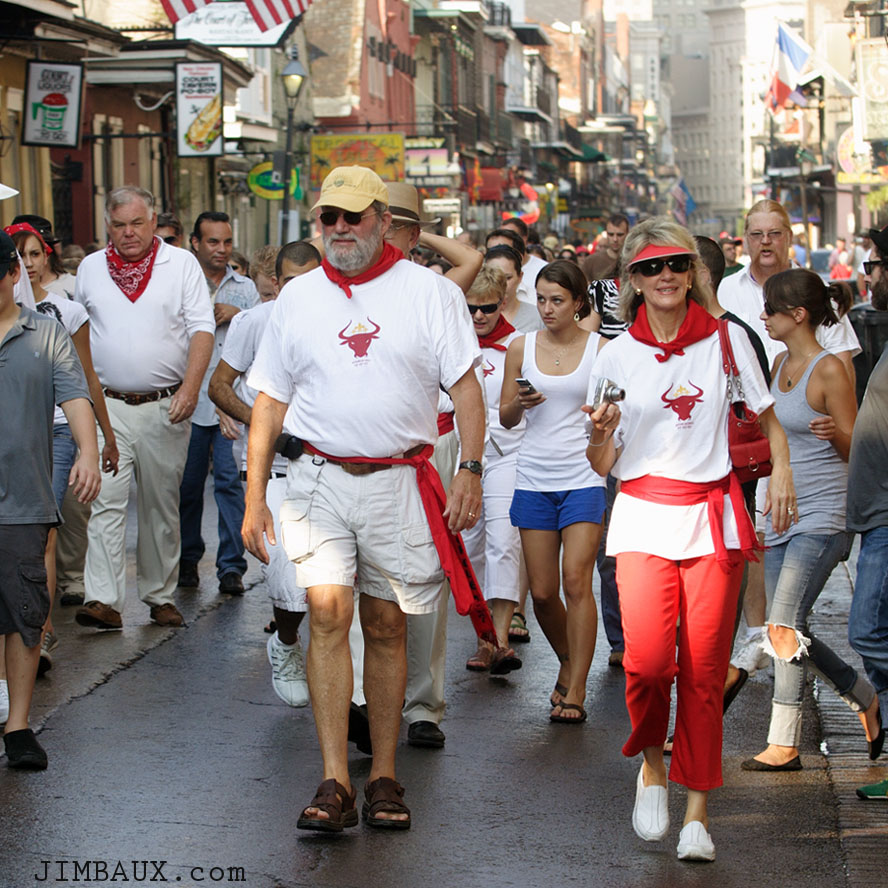 It's kind of a silly activity, really. I guess that some people really do want to demonstrate that they are herd followers.
Anyway, after that, I had to get prepared for a TransAtlantic voyage!
On Monday the 13th, after riding the Tube, going to the British Museum, and walking right past 10 Downing Street, I made this image.
That is the Palace of Westminster, the meeting place for the House Of Commons, in London, England.
The next day, the 14th, five years to the day after I visited El Obispado in Monterrey, we visited Westminster Abbey, and then spent some time around St. Paul's Cathedral, seen below behind (or in front of) a more modern red double-decker bus, a place that has some family history for me in addition to its more well-known history.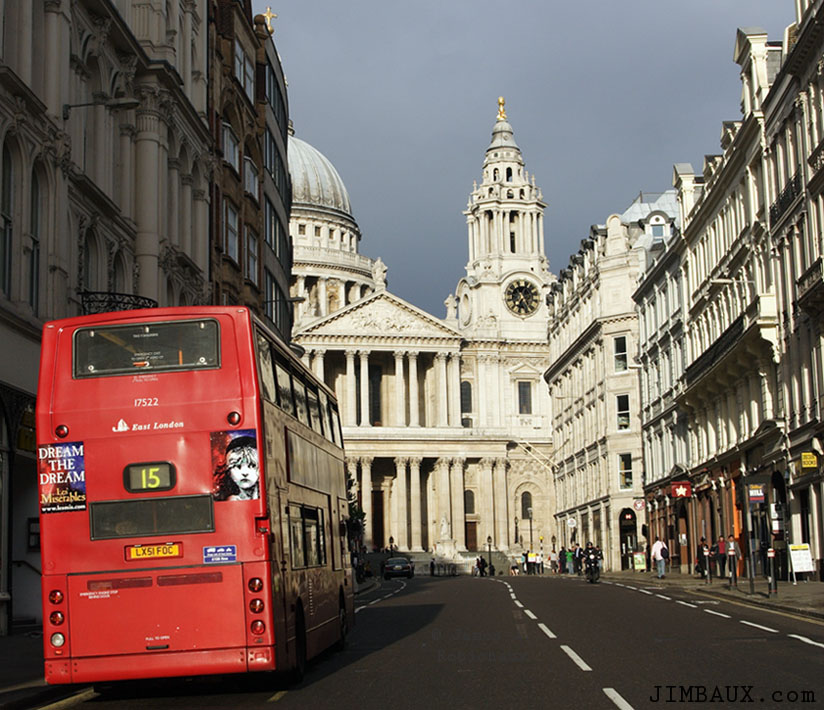 In the summer of 1944, my grandfather was stationed in Norwich, England, as part of the US Eight Air Force. He arrived there no later than June and did some training for bombing missions over German-occupied territory.
On the 3rd of July, he and some of his fellow crew were in London on a day pass, after completing their fourth bombing mission, and a German V1 rocket was approaching the part of the city where he was, landing nearby and killing at least 75 persons.
He took cover in St. Paul's Cathedral.
Two days later, he was back at Norwich and went on his fifth bombing mission.
The next day, he went on his sixth bombing mission.
The next day, on the 7th, he went on his seventh bombing mission. For all that we know, when he left England that morning, he left England permanently, for his B24 Liberator was shot down over enemy territory. Of his 10-man crew, he was one of five to make it to the ground alive (or surviving making it to the ground.) He would spend the next 10 months in and between various German Prisoner-Of-War camps, and, as best as we can tell, he did not set foot in England on his return to the United States.
Anyway, back to July 2009, the next day, the 15th, five years to the day after I visited Cañón Huasteca, we took a train out to Salisbury to visit Stonehenge and then visit the famous Salisbury Cathedral.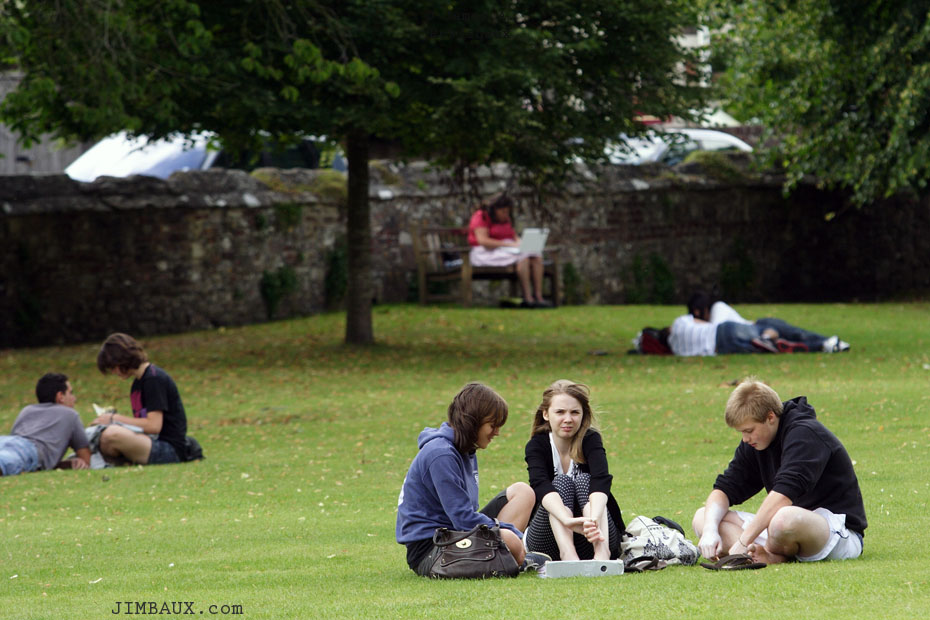 So, yes, instead of seeing a picture of the Cathedral, which you could look up yourself (even though mine, too, are good), I show you a picture of people hanging out in the grass on the cathedral grounds!
The next day, the 16th, five years to the day after my last full day in Monterrey from my summer there, we walked the length of the Tower Bridge over the Thames River, and I got this picture of the Tower Of London, with the skyline of modern London dwarfing it in the rear.
Imagine that the structure in the foreground was once the tallest and, by design, most imposing structure in London!
The next morning, the 17th, we went into the Chunnel. We then, five years to the day after I crossed a different international border after the very memorable final day of my very memorable summer in Mexico, arrived in Paris.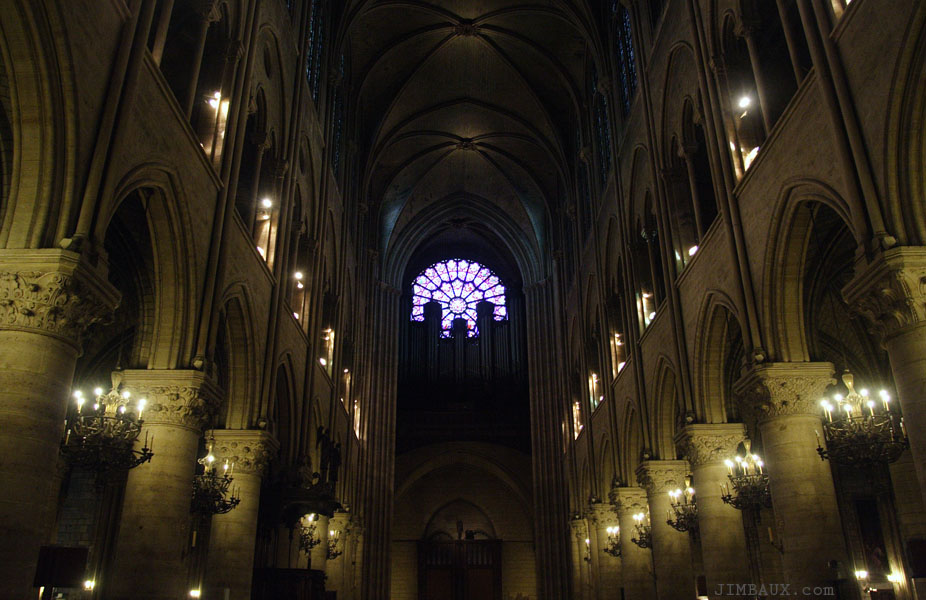 That is the famous Notre Dame cathedral.
The next day, the 18th, five years to the day after I made my way across southern Texas back to Louisiana after having been in Mexico for two months, we took the train northward to Bayeaux. We then took another ride to the coast, to a place that, since 1944 (that year seems to be a theme here), has been known to the world as Omaha Beach.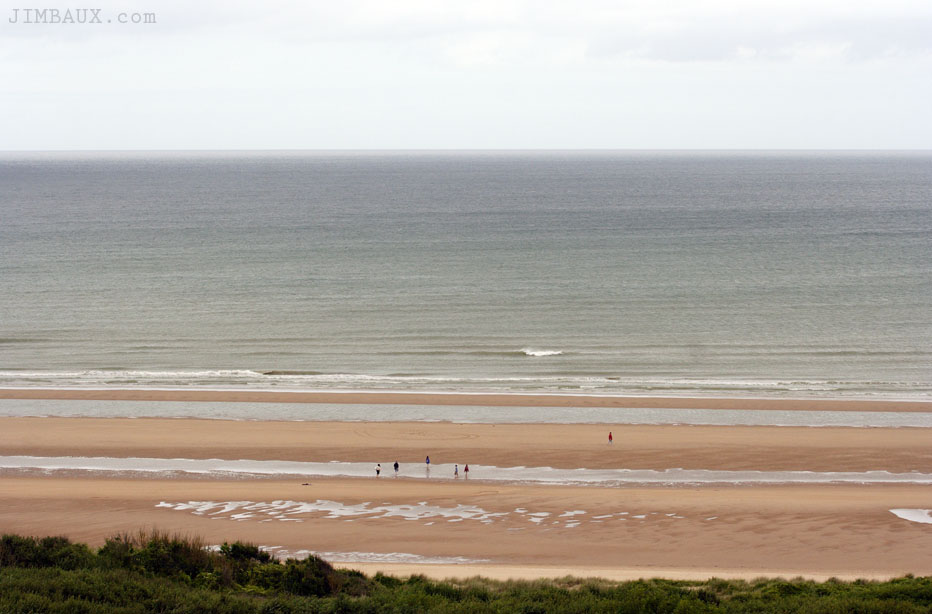 That morning, I had been feeling rather cranky, my legs so tired from all of the walking that we had been doing on this trip. I had started complaining, and I was feeling rather grumpy.
The visit to Omaha Beach and the American Cemetery nearby changed that. I walked down to the shore that you see in the picture, to the English Channel, or, as the French call it La Manche.
That means that I also walked back up, with my camera equipment and other items. That means that I hauled things uphill on a hike on a trail up a cliff or bluff on my achy legs.
However, as I thought about what had transpired on this same beach and these same cliffs on that oh-so-fateful morning in June 1944 and how I, despite my troubles, had it so very easy (and maybe that is part of the problem), how men of my country and of other western nations were hauling more equipment than I was and under enemy fire, many of them being injured or killed in the process, and thinking about the military sacrifices of my grandfathers, their siblings, my father, and my uncle, I stopped feeling the pain my legs; it just didn't matter that much anymore.
We enjoyed our visit to Normandy, and we returned to Paris that evening.
This is a good time to pause the narrative for a reminder that I started the month in Starkville, Mississippi, returned to New Orleans, spent a week there at an internship, and then flew to England, with me now being in France. This reminder might be helpful for what is to come!
For now, though, we are still in France, and, the next day, the 19th, I visited the Basilique St. Clothilde.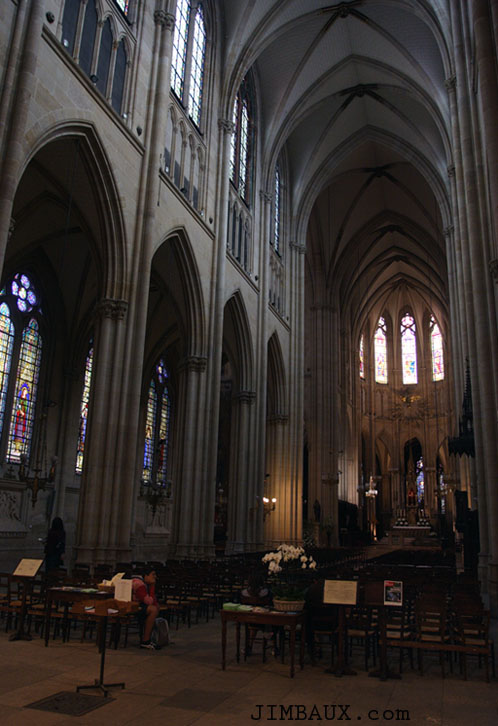 The next day, the 20th, 20 years to the day after I fell out of a tree and broke my little arm, we are at La Défense in Paris.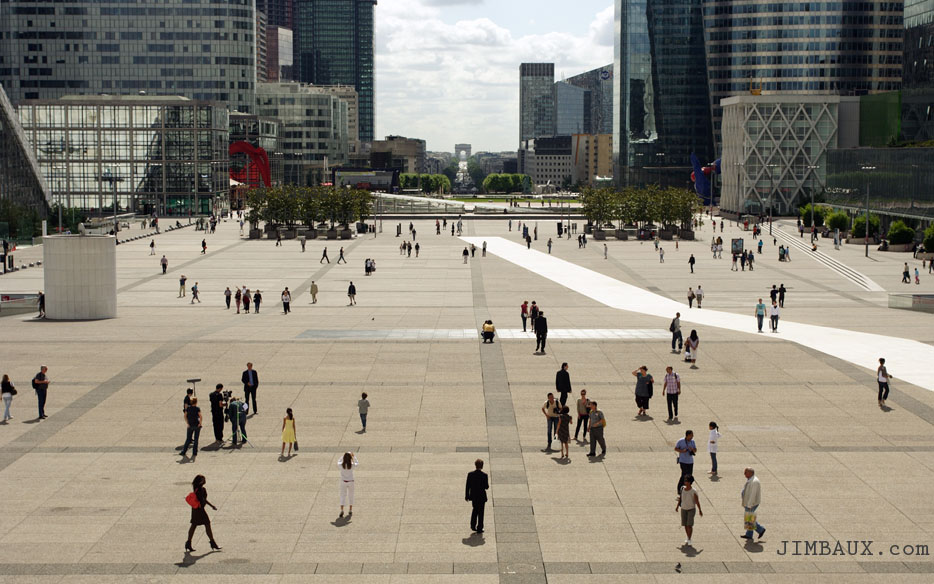 That is a view down the Champs Elysses toward the Arc de Triomphe.
So, we left Paris and returned to London for the night. The next day, we got on a plane at Heathrow and flew to Cleveland and then flew from Cleveland to New Orleans.
I would soon start my next big journey, which would be on the continent of North America but one about which I was more excited than I was for the Europe trip, even though I knew that I needed the Europe trip more.
I guess that, even though this big North America trip would be just as physicially arduous (or maybe not) as the Europe trip, it would be less stressful. I seem to be more comfortable even in Mexico than I am in England, even though I do really like England!
Being a lower-middle-class guy, finding the legal tokens necessary for traveling has always been difficult, but being a passionately curious person brought up in a home that was full of education and art, that sense of powerlessness has always been really demoralizing.
So, when opportunities for travel present themselves in manners that cost less than they normally would, I often took them, and that is what happened in late July and early August of 2009, as you shall soon see. Furthermore, I added opportunities to this opportunity in the same manner that I took this opportunity; by that, I mean that I stopped for a few days somewhere else relatively nearby on the way to the main destination, and I did the same on the return, though you will not see that until the August 2009 Sampler article.
So, relatively late on the morning of Friday 24 July, I boarded a flight in New Orleans. I landed at MSP.
A woman I had dated in New Orleans a few years before who was from Wisconsin was now studying at the University of Minnesota, and she had been asking when I would pay her a visit; so, since Minnesota was somewhat on my way to my perhaps-more-interesting destination, I figured that this was a good time to do it!
We hung out. It was fun. I took no pictures on the 24th.
Since she had plenty to do during the day over the weekend, she let me borrow her sedan, and I made frequent visits to BNSF Railway's massive Northtown Yard, as I did on the 25th!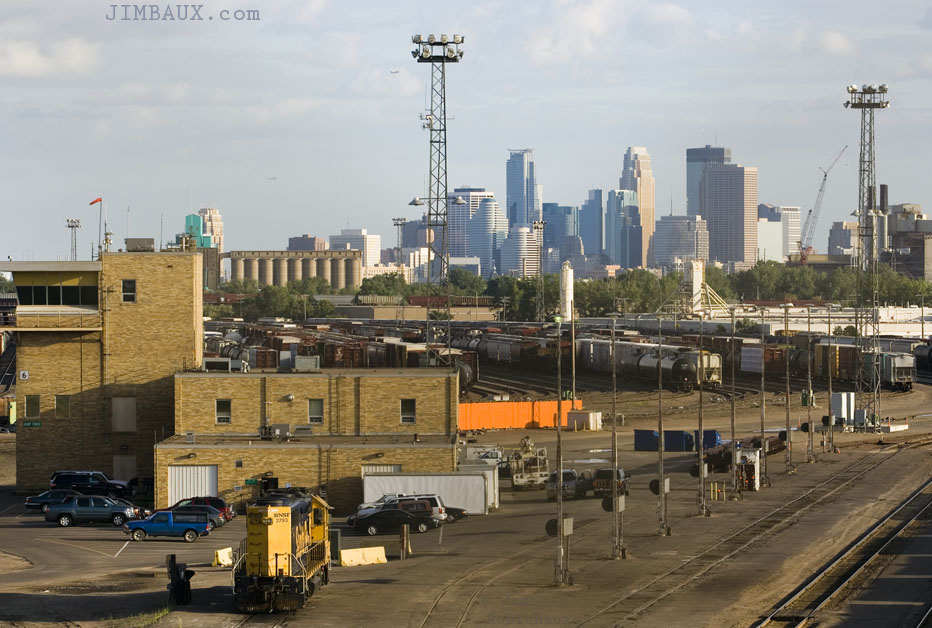 That is a southward view, made on Saturday the 25th, of the hump (this is a hump yard) toward downtown Minneapolis, from the town of Fridley, Minnesota.
The next day, the 26th, I came back here, and I photographed, among many other things, these neat Wisconsin Central Railway two-bay covered hopper cars, which I guess got interchanged here from the Canadian National Railway, on a hump job before getting put into train H-NTWLIN9-27 (Northtown to Lincoln, Nebraska) on their way to Denver (presumably on the LINDEN) to Owens Corning.

She showed me around Minneapolis and introduced me to some of her friends, and she told me about some problems she was having. It was an interesting visit, and I wish that it could have lasted longer, but, the next morning, and very early the next morning, I had to board a plane.
In the wee hours of Monday the 27th, I flew to Chicago for my connecting flight back in the other direction, which, yes, makes my idea of stopping in Minneapolis on the way to places that direction from Louisiana rather bunk, but work with me here.
I slept for most of the flight to Chicago and was awakened by the landing, as I had hardly slept the night before. I would surely need sleep for where I was going!
Two time zones to the west, Bob picked me up at the airport after dropping his wife off late morning local time, we went, inland up the mountain, a drive on which I think I did more sleeping, until this happened at 16:00 PDT.
Yeah, so, we are in North Bend, British Columbia, looking at a northbound – or eastbound – empty Canadian Pacific Railway coal train, looking across the Fraser River at Boston Bar, British Columbia.
Now that I have ended the suspense, I can give you the background information here. Some time months before this trip, my pal Bob, who had foamed with me on the previous December 6 and December 7 when he had come to New Orleans for a conference with his profession, learned that a cousin of his was getting married of Vancouver Island.
He thought that this would be a good opportunity for him to do some railroad photography in the Canadian Rockies, especially the Thompson River Canyon, and he generated the idea of using vacation time around then, dropping his wife off at the airport after the wedding and then staying in western Canada for another week.
He floated the idea of me coming along with him, but money was an issue for me, of course, even though we would be splitting cost.
I really wanted to do this, because this is a fascinating part of the world, and I might not ever have had a chance to do this with someone who was already familiar with the area, plus the splitting of costs. This was a once-in-a-lifetime opportunity.
Still, with an even half-and-half split of costs, I just couldn't do it. So, I had to generate some ideas.
One idea that I generated was to offer to just pay Bob a flat amount of cash that was significantly less than half of what the estimated – and unknowable in advance – cost of the trip would be. (It was unknowable in advance because there would be no hotel reservations, because we would have to go where it wasn't cloudy.) I would pay for my own meals, and I would have to pay 100% of the costs of getting myself to and from Vancouver to rendezvous with him, of course, but the total hotel and automotive costs would be the same whether Bob was alone or with another person; so, me offering to pay an amount even less than half of my share still meant that he would come out ahead anyway (because all hotel rooms have two beds anyway, and the automotive cost is the same whether one person or two persons are in the automobile.)
So, I offered to pay him a flat $500 (if I remember correctly), which meant that he was still picking up the majority of the cost but also that he'd spend $500 less than he would have if he would have gone there alone, and it also meant that he wouldn't be all by himself for a week!
The other idea that I had was to try to get people familiar with my photography work to buy prints in advance, prints of images that I hadn't even made yet!
This turned out to be a good idea in theory, as I had some people offer to buy such prints, but then some of them changed their minds after the trip.
There is plenty that I want to say about that and what it means in general for me and this site, but I want to save that for later.
The next day, Tuesday the 28th, we are working our way of the Fraser River, and we catch this Canadian Pacific Railway vehicle-intermodal train at Spuzzum, British Columbia.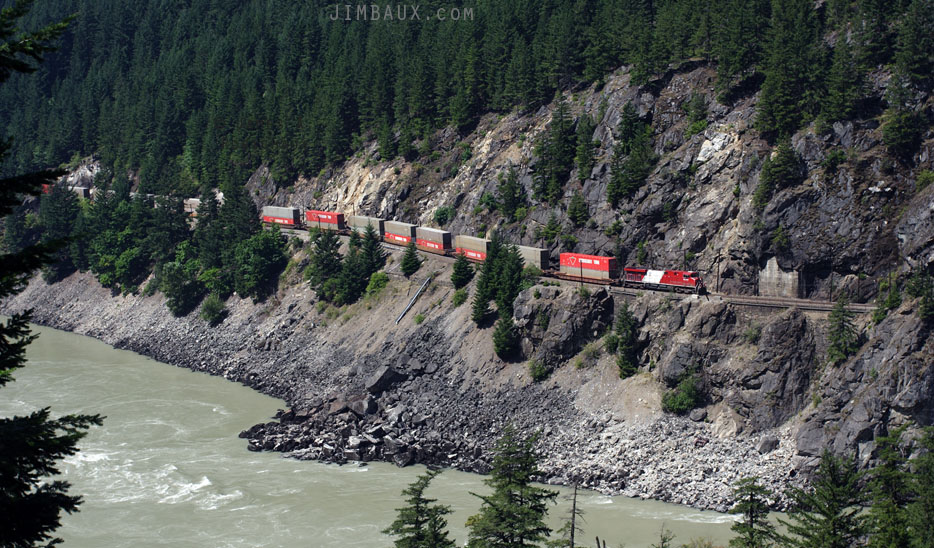 This trip was my first time in British Columbia, and the flight into Vancouver was far from the first time that I crossed the US-Canada border (and the return trip wouldn't be the last) , but it was the first time that I crossed that border by air. We had arranged it so that my flight into Vancouver would arrive at about the time that his wife's outbound flight was leaving; so, he went to the airport, dropped off his wife, and then waited a little while for me to arrive.
Sticking to this plan became especially important once it became his trip with me tagging along and not paying full-half costs; so, I got the earliest flight possible out of Minneapolis that morning, which is why I was so dead and drained that day, Monday.
Anyway, on Wednesday, we are north of Kamloops, a town that I wish that I could explore more, on the Canadian National Railway mainline, where I photographed this neat westbound manifest train – the 417, from Edmonton to Vancouver – coming through Vinsulla, British Columbia.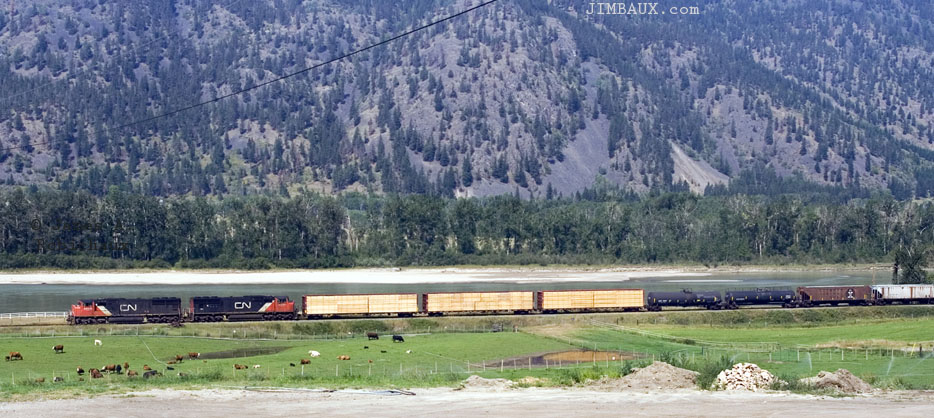 That night, we stayed in Valemount, the first of at least two nights there.
One thing that I really hated about this trip so far that frustrated me greatly was that here I, a heat-sensitive Louisiana boy, was far away from home, in the Canadian Rockies, and the time that I finally came to this really neat place was when it was experiencing a record heat wave. The temperature in the valleys in these mountains during the middle of the day was often 100ºF.
It was difficult.
The next day, the 30th, we crossed into Alberta. We got some shots on Yellowhead pass, made some images in Jasper itself, and went east a little ways, through the park, and then got this shot of a meet of two CN trains at the Henry House siding.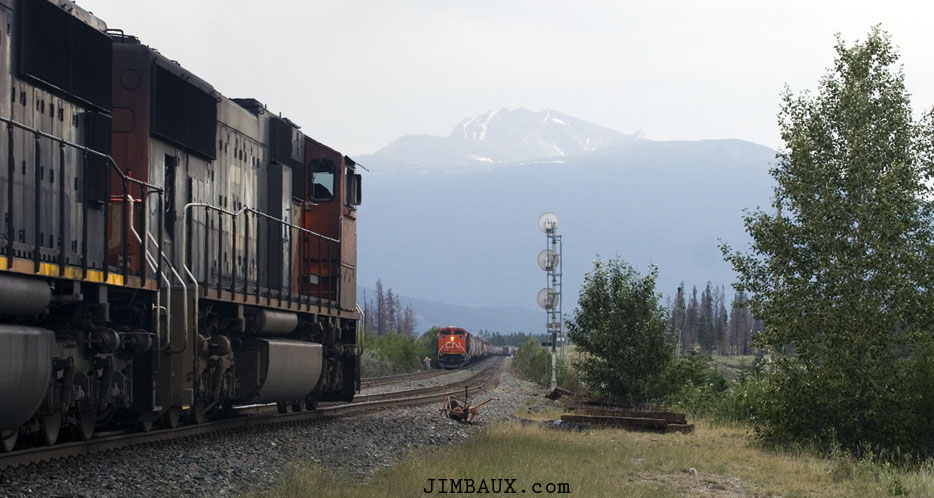 That was a memorable day. We photographed some mountain sheep in the park that day. We chased the westbound loaded coal train seen above – either the 779 or the 799 – across the pass and into British Columbia.
It was back to Valemount for the night.
The next day, the last day of the month, we again shot some trains at Yellowhead Pass, including CN train 106 – Roberts Bank, BC, to Montréal, PQ – descending the pass at Decoigne, Alberta.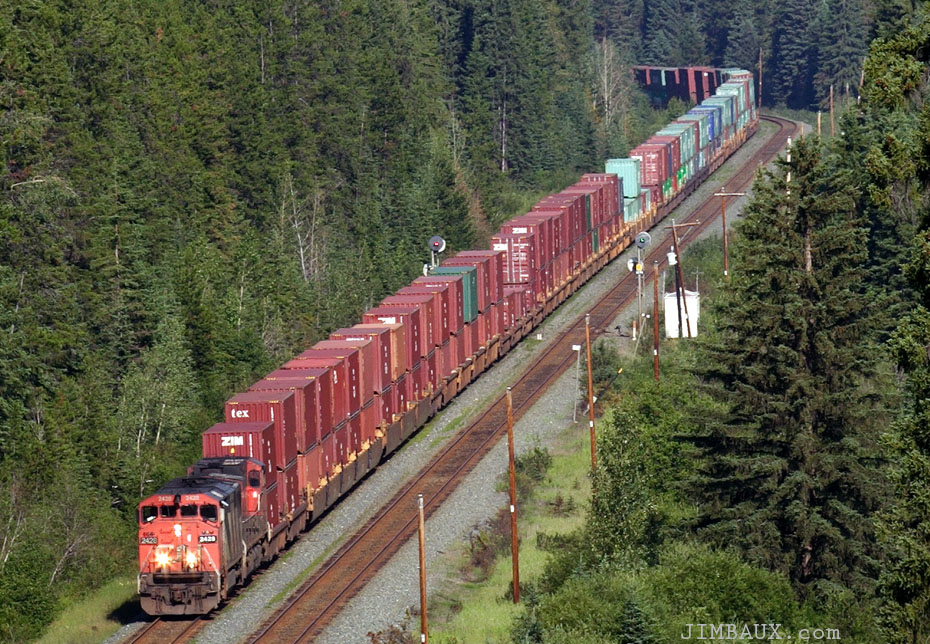 That is a heavily cropped version of the original image. Here is the broader scene.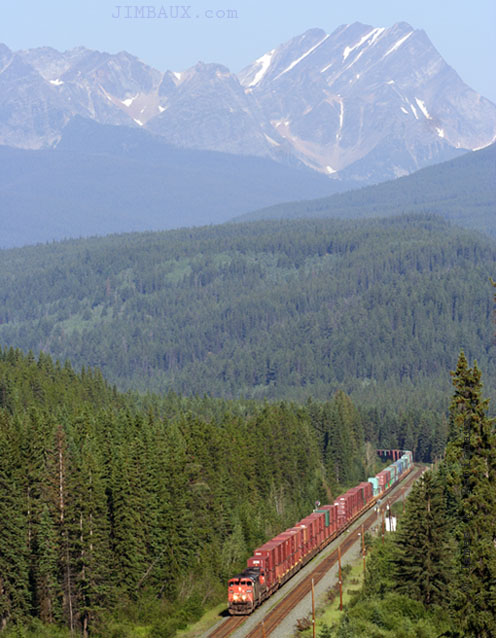 That is Yellowhead Pass!
And that is all for the month of July 2009, surely, an intense month, a month in which both my passport and my camera got record amounts of use, a month that I started in Mississippi, spent less than half of the month in Louisiana, then went to England, then to France (and then back to England), and then back to New Orleans for a few days, then to Minnesota, and then to British Columbia and Alberta, ending it in British Columbia, which is where the August 2009 Sampler will start.
Actually, right as I was writing that last paragraph, I recalled that I made final arrangements for this trip while at that Mississippi teacher workshop, and I remember talking to other workshop participants about it and buying the tickets in the hotel, probably the one in Starkville.
Travel helps a person have a more creative brain, especially the immersive kind like I did in Mexico five years before, when I lived with a Mexican host family and went to school locally, and I think that it has done so for me, but the cost of all of these travels means that, years later, I am now very limited in how I can use my creativity, and this dynamic is a huge and jarring source of existential angst for me.
Anyway, I really want to talk more about this, and I will in the August 2009 Sampler, but, for now, I will leave you with a reminder about the best way to keep up with this site.
Keeping Up With The Content
If you have not already done so, please consider a different (and, perhaps, better) way of receiving Jimbaux's Journal content: the e-mail newsletter!
By signing up for the newsletter, you will get an e-mail message only when new pieces of content are posted, which will rarely be more than twice or thrice weekly. Lately, it's been only one or two messages per month!
To sign up for e-mail updates, send a blank message to jimbauxsjournal-subscribe@yahoogroups.com and check your inbox and your spam folder (the latter being the more likely to receive the message) for a confirmation message. Follow the instructions in the message, and you'll be a member! (It's basically a closed e-mail group where only the moderator can post.) Once you are subscribed, if you decide that you no longer want to get updates, you can send an e-mail to jimbauxsjournal-unsubscribe@yahoogroups.com to stop receiving messages.
That's it! That's a good way to keep up with content here if the Facebook page or this Patreon page should suddenly disappear for some reason.
Also, while on the subject, please, again, consider supporting Jimbaux's Journal on Patreon.
The quality of content here is directly proportional to the amount of patronage, as more patronage means less fear of punishment from gatekeepers for being real.
And there is no way that a man can survive off of fewer than $200/month anyway.
Anyway, thanks for at least considering it.
Merci beaucoup.
Work And Time
There is one more thing that I would like to say before I end this essay. Even though you are seeing only one image from each of the days of July 2009 that I made images, putting just this one essay together, including the processing of the pictures, took a colossal amount of work and time; I started the totality of that work (not including, of course, the work in making the images), at the beginning of June 2019, and I am completing it on July 1!)
Imagine if I had tried to make photo essays of all of the presentable images that I took on each of these days! That is my actual goal, but that would be even more than a full-time job, which is why I make these "sampler" essays.
I hope to one day publish all of these pictures, as I would hate to take, and the world be less well of if I took, the unpublished pictures to me grave.
That is exactly why I need patronage, so that I can be freed from obligations to those who currently stand between me and food and shelter on a planet that no person created. With your support, for as little as $1 per month, I can be freed in order to do my best work (of course, I would need the total patronage amount from all patrons to be high enough that I could live off of it, and it is nowhere close to that amount now), including but hardly limited to the processing and publishing of the vast amount of unpublished publicationworthy images that I made just in the month of July 2009.
Because I am not free to do my best work, because I am not free to use, for myself or for society, that creativity and education that was gained through these travels, you get to see and benefit from only a very small sample of what I can do, and that is why these "sampler" essays are called what they are.
Merci.
Jim