Goodbye, Monterrey
It was time to go home. A life-changing, mind-stretching, formative experience was now coming to an end. It was an emotional day, as I would leave one world and re-enter another world, forever changed by my experience of being away from it.
Saturday 17 July 2004 started just as the previous day ended: saying goodbye to my railroad local enthusiast friends Arnulfo and Victor and friends. Yes, friends. Yes, as Victor said, "when you think of Mexico . . . you will think of friends."
Yes.
Yes!
This Ending Is A New Beginning
I did not want to leave, not yet, but duty beckoned, and I was essentially out of money anyway; as I have said before, the consequences of my summer in Mexico and at ITESM – both good consequences and bad consequences (i.e., costs) – were, are, and will continue to be far-reaching. I can only hope that through these blog articles about my experiences I can educate, edify, and entertain others based on my own experiences; that way, my decision to spend precious resources to spend a summer in Mexico is and continues to be a good investment, and not just for myself.
Seriously, anyone who has the opportunity and the means to have such an international experience – and mine was only for one summer term for less than two months and fewer than a 300 miles from the US border – owes it to himself or herself to do so. Partially because I doubt that very many teenagers and traditional-aged college students read Jimbaux's Journal in the first place (and I don't think that children should read this site), now is probably too late for most of you to follow my advice for yourselves, but if you have children or grandchildren or nieces or nephews or students who still have a chance to do so something like this, please help make it happen. The progress and quality of life of the world could depend on it. However, please make sure that they go into the experience with the right frame of mind, as opposed to the rather shallow mindset shown my many of my paisanos in the Zacatecas trip; we don't need more of that in the world. As I have mentioned several times before, including at great length in my preview of this 2004 Mexico series, though, the book Confucius Lives Next Door expresses a really good foundation about what living in a foreign land can teach you about your own homeland and about yourself. I was now on my way back to the United States of America, a place at which I would never look the same again.
Leaving
I can't really remember what I did that day before I left Monterrey. My journal has a two-page entry from 14:52 from my cuarto in which I state that I had just taken a shower, that most of my stuff was in the truck, and that I had just said goodbye to my host family a half-hour before. I don't specifically remember it, but it's a safe bet that I had one last meal with them. 'Twas indeed emotional; I had just said goodbye to my roommate Michael a mere two weeks before, a two week period that seemed simultaneously to pass both slowly and quickly, and now it was my turn to leave.
I also remember bringing Kelly – whom you saw in yesterday's entry – to the airport for her flight home. It was a good reason for me to both spend time with her – the last fellow ITESM international student whom I would see – and check out the Monterrey airport, which I would use when returning in late 2006; driving to and from the airport on this day helped prepare me for driving a rental car from the airport into town on 28 December 2006.
Probably at around the time that I made that journal entry, I photographed my truck in the street across from the house one last time.
My idea of how people lived and what people consider valuable had been shaken.  My idea of living a comfortable life, strongly influenced by the rural and small-town upbringing that I had, had people living in houses set back from the road or street enough to have a sizable front yard.  Apparently, in Mexico (and in much of the rest of the world), even for the people for whom owning such property is possible, it is not necessarily desirable.
Certainly, for all of the reasons that I have to whine and gripe, I am spoiled to the relative spaciousness of life in middle-class United States of America.
That comparison, however, was fairly easy, as it was mostly superficial, even if there are some underlying cultural and spiritual differences.
Yes, spiritual.  There was something deeper, something ethereal about the whole thing, as I looked to the sky above Monterrey before I left.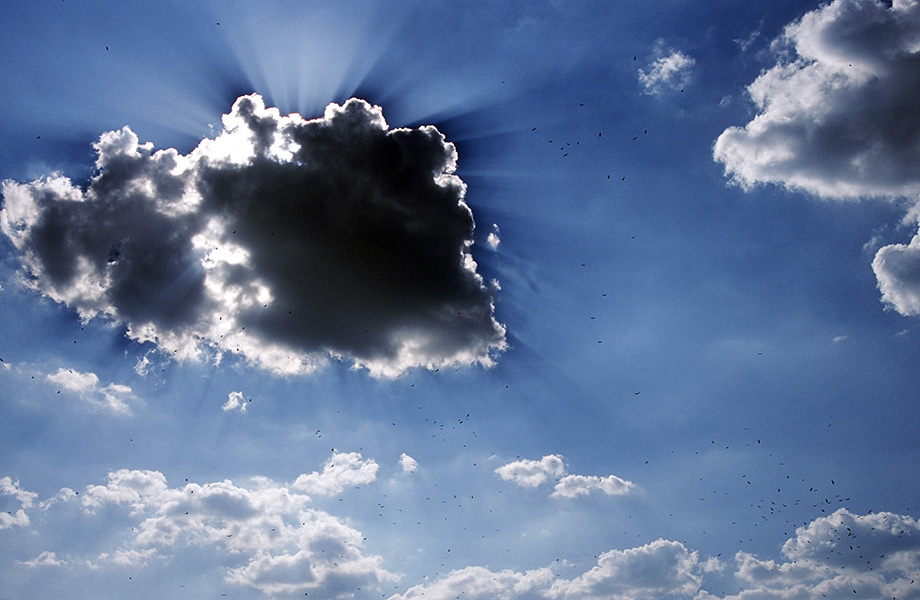 Oh, heavens! Oh, if there is an almighty supreme God, must it have shined its light upon me today, before today, and even after today! Look at the birds in flight between the clouds and me! The light shines upon me as I begin the journey that ends this bigger journey that is part of an even greater journey known as life.
I got in my truck and left the home of my host family for the last time. For being there for only less than two months, leaving and not knowing if I would ever return was emotionally wrenching, but I felt even then a sense of gratitude that I am reviving now just by typing this.
I may have stopped on campus to use the internet before I left town. (I had to pass by there anyway to get out of town.)
The Semi-Arid North, and Some Trains!
What is important to note is that I took a completely different route out of Monterrey on this date than I took when I arrived in town on June 01. When I entered Mexico on June 1, it was, other than getting my vehicle registration and visa stuff at the border in Nuevo Laredo the night before, my first time in Mexico, and here I was not only driving an automobile in Mexico but driving my automobile in Mexico. Given that fact plus the fact that I needed to get to ITESM by a certain time, I took the Auto Pista, which is the toll highway and both far more nearly direct and fast than any other route to Monterrey from the United States.
Now that I was more familiar with driving in Mexico and much more familiar with the language, and since I had nothing more than my own self-imposed deadline of crossing the border and getting to a hotel in Laredo before midnight, I took the time to take Nuevo León State Highway 1, which closely followed the TFM mainline between Monterrey and Nuevo Laredo, meaning that it went northward – actually, slightly northwestward – for a long time and then turn northeastward at about a 75° angle for more than 100 kilometers before reaching Nuevo Laredo, unlike the more nearly-direct Auto Pista. Many of my more recent photographs were taken at the southern end of this highway at Salinas-Victoria and the northern reaches of General Escobedo.
So, unlike the quick Auto Pista route between the international border and Monterrey, which is a two-hour drive (maybe slightly more), I gave myself the entire time period of good lower-than-45° sunlight – roughly four hours – to be on NL1, and, of course, when chasing and photographing trains, there is often plenty of stopping and waiting for awhile and even backtracking.
I have no memory of what transpired between the time that I left Monterrey (and possibly used the computer lab at ITESM) and the time that I arrived in Alamo and took this picture at 17:53 at Alamo Sur.
This area between Monterrey and the US border is really neat.  At 18:07, a train led by one of those TFM SD70MACs that so eluded me during my time here showed up, but all that I could do was this broadside shot.
That shot isn't super cool, but its simplicity pleases me.
I then came upon the interesting town of Villaldama, which I would visit again in December 2006.  There was a meet between a northbound train and a southbound train about to take place.  The northbound train was in the siding.
These two pictures were taken, according to my photography log book, at about 18:20, which suggests that that earlier train at Alamo had also met this northbound train at Villaldama.
Here at 18:22 is the southbound train, with a solid set of narrow-nose GEs leading!
Yes, I really was tempted to chase this train further to the south, but that would put at great risk my desire to repatriate and get into a hotel room before midnight; I knew that I'd need to give myself about an hour between repatriation and a bed.
I guess that is the conductor on the ground giving a roll-by.  Isn't this neat?  Wouldn't it be cool to foam this line more often?  Wouldn't it have been cooler to have done it more before the KCS circus wagons showed up? back when the TFM was still the TFM?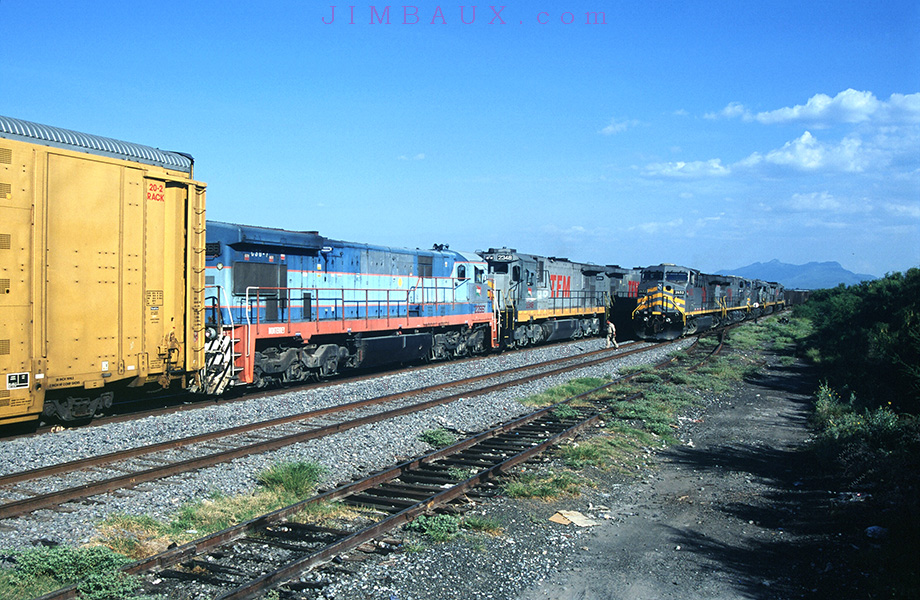 Continuing northward and resisting the temptation to chase that neat southbound train, we arrive at Estación Bustamante.  The town of Bustamante is to the west of here; so, this little location is known as Estación Bustamante.  While waiting for the northbound train to arrive, I photographed the interesting crossties.
Note the older Nacionales de México crosstie at the left and the obviously-newer (obvious because TFM was created in the 1990s upon the end of Ferrocarriles Nacionales de México, which succeeded NdeM) TFM crossties to the right.
It appeared that our northbound train was doing some switching at Villaldama.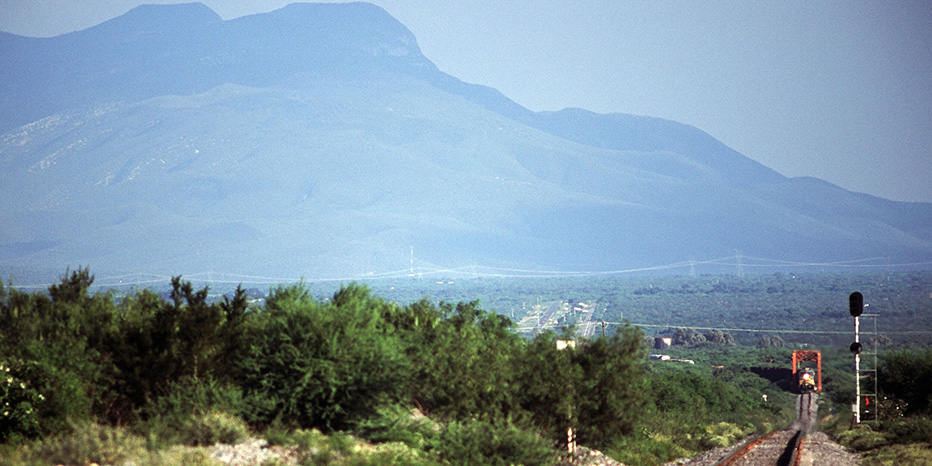 So, I positioned the truck at just the right spot and climbed atop the truck to wait for the train. That is when I noticed a strange phenomenon, and, on this, my last day in Mexico, and on my way out of the country and long after I had left Monterrey and the academic institution that was my official reason for being in the country, I would witness activity that showed yet another great cultural difference between the USA and Mexico.
Of all of the times – not that many, really – that I had yet stopped somewhere to wait to photograph a train, this was the first one that met all three of the following criteria: I was atop my truck, the road was a simple two-lane road, and it had an appreciable amount of traffic. There is a well-known cave at Bustamante, and this was a Saturday afternoon; so, apparently, several local people, many of them families, were going to the caves, I guess, or maybe just to town. I don't know.
What I do know is that as I was sitting on top of my truck waiting for the train to come, several times, pretty young women in the automobiles that were passing by my position would smile and wave at me. WTF? Why in the heck don't American women do that when they see me on top of my truck? I had to come all the way to Mexico for this to happen? I can imagine that my life and my lifestyle would be very different if smiling and waving was the normal American female reaction to seeing me on top of my truck. Whatever. Usually, when American women see me atop the truck, they display, at the very best, a perplexed facial expression. It's often more like "oh my god, look at that freak" kind of look.
However, issues of personal interaction and my own frustrations aside, what does that difference in reaction to being atop the truck say about American culture?
The train shows up.
That is interesting.  Here is a going-away shot, also seen from atop the truck.
You can see the old estación on the other side of the train; I can't remember if it was still there when I returned in 2009-2010.
This would be the last train that I would photograph in my 2004 Mexico experience.  I don't recall any attempts to get additional pictures of it.  Before I left Estación Bustamante, I got one more picture.
That's it, at least for pictures.
Twilight
Darkness would soon fall, which, more than anything, ended the picture taking, as the mountains to the west cause sunset in this area to be a little earlier than it technically is (when the line between the sun and the surface of the Earth at this point is no longer tangent to the surface of the Earth at this point), and I needed to get to the border and into the USA before too late. My parents were expecting a telephone call from me, and I did not want to do it too late. I was still less than halfway between Monterrey and the United States of America. I did see one more train, and I pulled over to at least watch it, but I otherwise kept moving.
El Ejercito
Somewhere around Anahuac, I encountered the military checkpoint. I recall there still being a little bit of daylight left. There was a sign on the highway with what looked like an army captain's hat. At this spot, some soldier in the Mexican army inspected my vehicle. He dug through my stuff, including my suitcase. I was worried about my radio scanner. You will recall from my aforelinked July 3 article about my experiences with the local railroad enthusiast club that I had been told by the local railroad enthusiasts that scanners were illegal in Mexico. I forgot to mention in that article that I subsequently went into a Radio Shack when I was at a shopping mall just to see if there were any scanners, and there were none there!
The solider dug through my stuff, and I had buried the scanner deep under some clothes, but he gave up before he found the scanner. Whew! I remember him talking to me, apparently joking about the beer that I was bringing home. He had dark skin, indicating an ethnicity more indigenous, and he spoke in a very slurred way that was very difficult for me to understand, suggesting that he might not have even been from northern Mexico. Norteños have some of the best, most clearly spoken Spanish in the world, even of Spain (much like how the English spoken by white Canadians from Ontario is more understandable than just about all other English), but that probably is true only of the educated. In the United States of America, military service is generally considered by society to be highly honorable, but, for much of the rest of the world, most or all of Latin America included, that does not seem to be the case.
Of Bugs and Bridges
The only thing that I really remember in Mexico after that was the large quantity of bugs that met my windshield once I began to really descend into the valley of the Rio Bravo (what Americans call the Rio Grande.) By the time that I arrived at the border, the remains of many dead bugs were on my windshield.
This time, I did not go through Nuevo Laredo. As I mentioned in my May 31 and June 01 pieces on my entry into Mexico, that place can be harrowing to a newcomer. I was more experienced this time, but I just did not care to deal with all of that madness, and avoiding that mess would allow me to have my last memories of people in Mexico to be good memories.
At the suggestion of a friend, I crossed the border at the next bridge up from Laredo: the Puente Solidaridad at Colombia. This made my route of NL1 make slightly more sense too, and once I crossed the border into the United States there, I would just have to drive about 10 miles (maybe less) downriver (southeast) into Laredo.
USA, Yes, Good
Arriving at the US border after being outside of the USA for nearly two months was, as expected, a surreal experience. Regular readers of my site and my works will know that I often teach about the dangers of symbolism, how emotional investments in symbolism lead to otherwise unnecessary strife and destruction. If you become indignant and angry over the site of someone burning a US flag, a crucifix, a Bible, a Koran, a picture of the President of the United States, etc., then you have already lost. The person burning the symbol – a harmless activity – was most likely trying to make you mad, and you willingly complied. In almost every such case, you were not required to pay any attention to the activity in the first place. (FYI, you are not required to watch television, and if you do watch television, you'd probably be better off quitting.) If everyone would ignore such activities when they happen, then those activities would not happen! The media regularly propagate images of such activities because such images make people angry; angry people buy stuff, which helps the media's advertisers, which is generally the point of television. The media play you like a fiddle, all because you let them play you. Television "programming" indeed.
So, the point of mentioning all of that was to reiterate that I generally do not succumb to the besieging of emotions that symbols – and, especially, their creators and promoters – are designed to do; that doesn't mean that I am totally immune to emotional effects from them, which is the point of mentioning this here. Although I had yet to develop into the iconoclast that I became a decade later, I still was not much for idolatry.
Never before had the sight of a US flag been so significant for me as it did when I saw a large US flag as I approached the bridge at Colombia and saw the US customs station. Despite my general disdain for such, after being outside of the United States for two months, after experiencing all that I had experienced in that time, after spending half of the day driving through a semi-desert, seeing the stars and stripes on that July night inspired both awe and, more importantly, gratitude inside of me. Words fail me; I can't really describe what I mean here. I was proud, not to be an American, since my citizenship was not an accomplishment since I am a citizen of the place where I was born, but of what I had just done for the last two months.
I had, despite the criticisms (many of them nasty) and warnings from the naysayers back home, succeeded; going to Mexico alone (even though there would be plenty of people from my country at ITESM) in my own automobile and spending time there and doing things there did not seem to be as much of an accomplishment until I finally came home. Only then did the experience truly become real. What I had done, unlike my US citizenship that I gained at birth, was an accomplishment. Relationships between the United States and Mexico are all too often marked by misunderstandings and tensions arising from those misunderstandings. I hope that I represented my country well. I think that I did, but I can not be totally sure, as, surely, there were instances when my behavior could have been better. Likewise, I hope to have represented Mexico, or at least its parts that I saw, and its people, or at least those whom I met, well to the rest of the world, to everyone whom I have since met, and to all of you reading this in the seemingly infinite reaches of cyberspace. Indeed, such is the purpose of Jimbaux's Journal; I am always to educate while entertaining.
I have, as many of you know, tried to do the same thing for US-Canada relations. Coincidentally, four years to the day later, I would enter the United States of America from the north after visiting Winnipeg after being in Canada for three days as part of a National Endowment for the Humanities seminar at North Dakota State University for which I had first applied in 2004; not getting a position in the seminar then led me to consider going to school in Mexico. Also coincidentally, five years to the day after these pictures were taken and I crossed the USA-Mexico border, through the Channel Tunnel, I crossed the border between the United Kingdom and France! So, the 17th of July has been a border-crossing day for me, if only thrice.
A Stronger Taste of Home Than I Expected
At 22:33 Central Daylight Time, I drove my truck the length of Puente Solidaridad and entered the United States of America and the state of Texas. I was greeted with an interesting surprise, a stronger (in a good way) taste of home than I expected. The US Customs agent – the first person to whom I speak in the United States in nearly two months, the first stranger who, upon seeing me, assumes that I speak English – asks me, "are you from around Houma?" What the heck? I'm not sure from where this man was, but he said that he had lived in Metairie for awhile, and my Cajun accent was very quickly distinguishable to him!
We chatted for awhile. It was refreshing to talk to strangers in English! I had not done it in so long. After leaving the customs station, I felt a sense of relief, partly because of what I wrote in the above section but also more specifically because I was home in the United States and that the most difficult part of the journey was done.
Settling In To Laredo And Connecting With Home
Laredo now looked different. It only seemed alien now because it did not seem as alien as it had seemed before.
As I recall, I ate at Whataburger (again. I can't go to Texas and not eat at Whataburger.) I was proud of myself for learning as much Spanish as I had learned, but it was nice to be able to order fast food in English.
As I recall, it was from Whataburger at around 23:00 or 23:30 that I made a telephone call to my parents. My mother was glad to hear my voice, and hearing it confirmed for her that I was okay and that I had survived my summer in Mexico. (My father was out-of-town at the time.) The conversation ended abruptly, though. Apparently, not having used my telephone since June 01, I had not made sure to charge the battery. The important part, though, was that the folks back home had unmistakable confirmation that I was back in the USA and was okay.
I settled in to the hotel to get some sleep, gearing up for a drive home tomorrow. There will be some pictures from that. Don't expect anything outstanding, as the pictures that I'd get tomorrow in southern Texas are not nearly as good as the pictures that I got today in northern Nuevo León, but I will have a few thoughts to go along with them to close this series.
Saludos,
Jimbaux