[All Jimbaux wants is to feel this way, to be this close, to feel the same.]
Et Cetera
And It Won't Matter Now
Hello.  How are you doing?  We're going to do something very different this time.  I will show some more scanned slides from 2001-2003 interspersed with cellular telephone pictures from late 2013 and early 2014.  I will have some things to say about some of the images (mostly the slides) and almost nothing to say about the other images (mostly the cellular telephone pictures), which is a reminder that caption information can be found in the filenames of pictures, which can be read by holding the mouse arrow over the pictures; both sets – slides and telephone pictures – are presented in chronological order but interspersed with each other, meaning one slide (from 2001-2003) followed by one telephone picture (from 2013-2014) followed by another slide followed by another telephone picture, etcetera.
Nothing Sold Out
We will start in the summer of 2001, when I first started shooting color slide film while in college (the first time), and the last time that I have been to the great state of New Mexico, where I worked at one of the work sessions with the Friends of the Cumbres & Toltec Scenic Railway.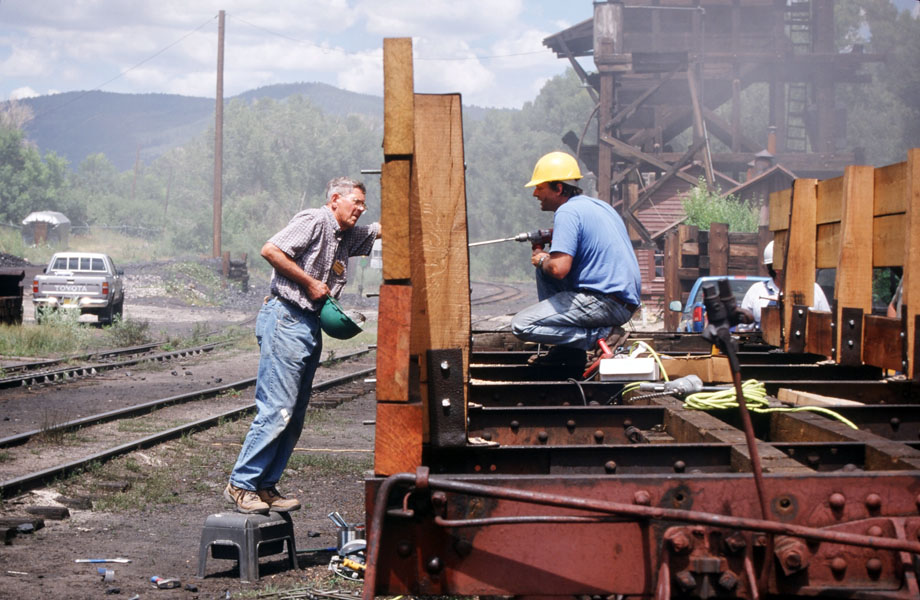 For those of you who would love to learn more about this fascinating operation, I recommend you to the immortal work of the great John West.  Helping out in work sessions was one of the most awesome things that I have ever done, and it was my first work in historic preservation.  I worked on rebuilding a boxcar; I did some carpentry and some climbing atop the boxcar to install a new roofwalk.
This was just slightly more than two months after I got my first SLR camera, a Nikon N80, the only film SLR that I ever owned, though I used my father's 1960s Pentax before that.  So, all of these old film pictures were taken with the N80 that finally broke in 2005, prompting me to finally go digital.
Here is "The Samurai" of Alexis & the Samurai recording in the studio.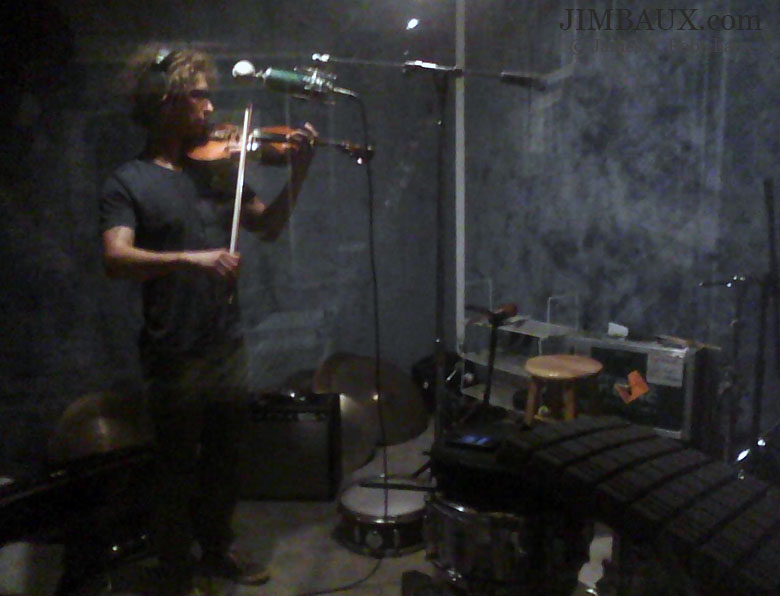 One day, my father and I (I was not driving on this trip, at least not my own vehicle) chased the train from Chama up the mountain.  My favorite part of this experience was that the train was a double-header, meaning that once it reached the top of the 4% grade, the helper locomotive would come off and would return to Chama on its own.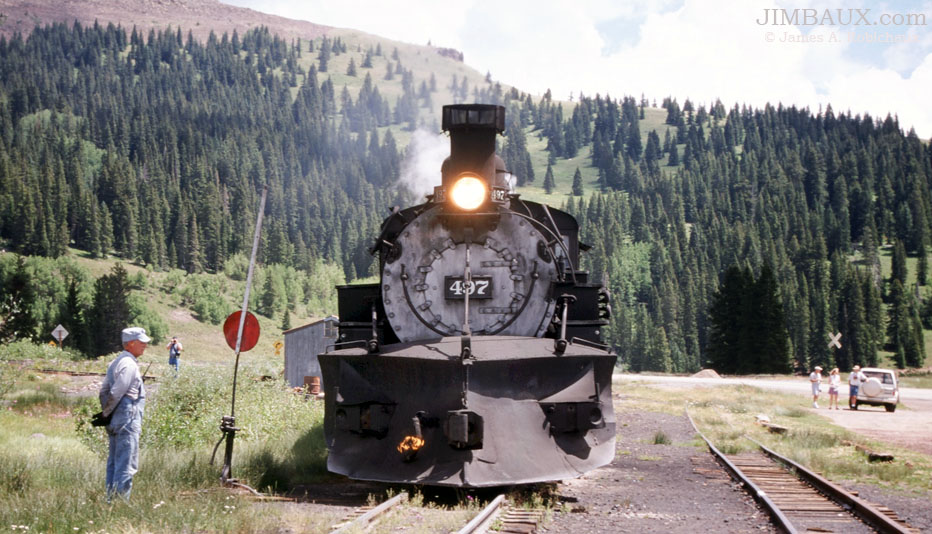 That fact that the helper locomotive, seen above after turning on the wye at Cumbres Pass in Colorado, was the 'famous' 497 made it all the sweeter.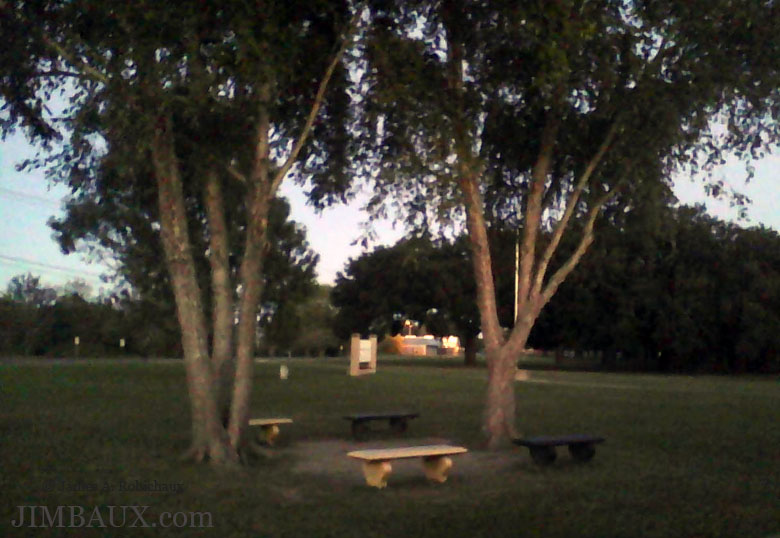 Now, a few minutes later, we are at the border between New Mexico and Colorado at Coxo, where I am lying down in grass on the side of a hill to get the 497 rolling alone down the mountain.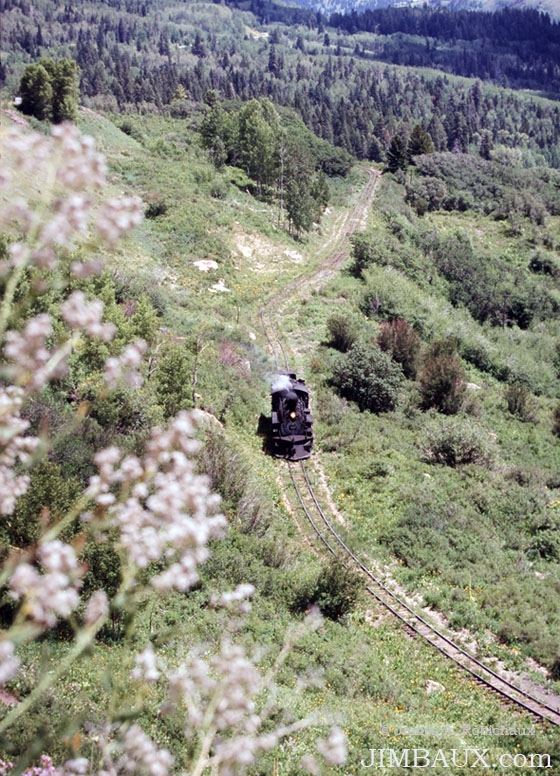 I just love how the three-foot-gauge track has weeds growing on it and has the contours of the mountainside on it, very different from modern mainlines.  The existing remnants of the former Colorado narrow gauge system have such an earthy, quaint, authentic, down-home quality, especially the Cumbres & Toltec.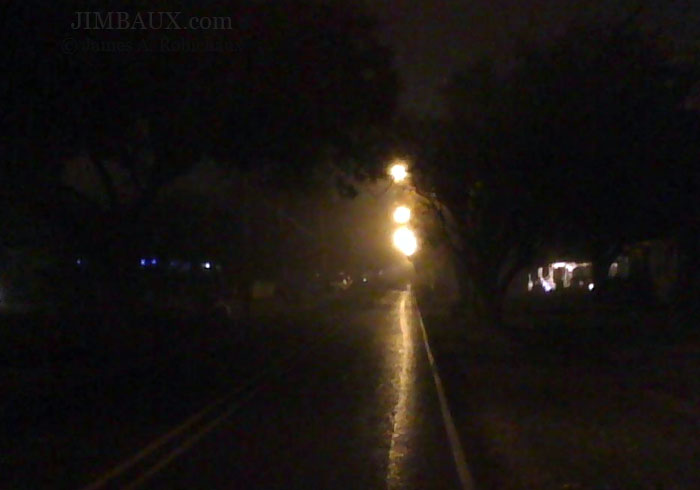 Sometime after that July-August 2001 trip, I acquired a hand-me-down old fully-manual Spiratone 600mm lens from someone in my family, and I took many shots with it until acquiring a Nikkor 70-200mm/f2.8 lens in April 2003 and still used it some until I went digital in mid-2005.  I think that the below shot on the Lockport Branch was taken with this lens, but my handwritten notes on the slide say "400mm."  I never owned such a lens; perhaps I had borrowed one, but I don't know.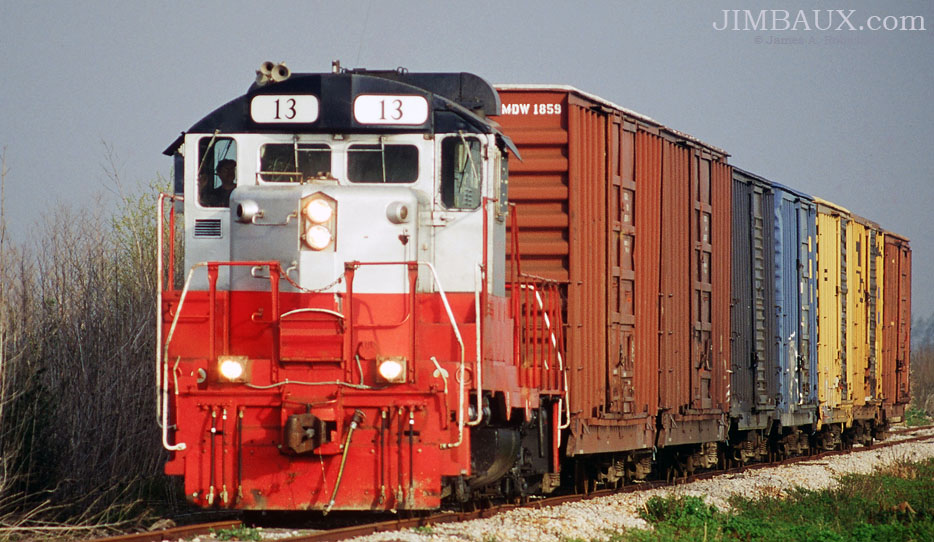 This was one of my first telephoto views on the Lockport Branch, the first being taken earlier that same month.  When this picture was taken in March 2002, the branch still had regular thrice-weekly service because the Valentine Paper plant was receiving enough shipments (of inbound paper spools rejected by other mills for their own use or sale) to warrant thrice-weekly service and because the Louisiana & Delta Railroad had yet to pick up BNSF's local mainline business, which it would two months later when BNSF's Schriever Local was abolished.  The branch was still as active in December 2003.  A few months later, traffic levels were lower.  They did rise again for awhile enough to usually maintain the thrice-weekly practice.  The plant closed in late 2005 and reopened under a new owner who closed the plant for good at the end of 2007.  As seen in a posting that better explains more than anything this obsession with trains and railroads, on Saturday 8 December 2007, I photographed the last-ever railroad delivery to Valentine Paper.  The branch remained active for about another year-and-a-half to serve one customer who did not ship enough to keep the branch open.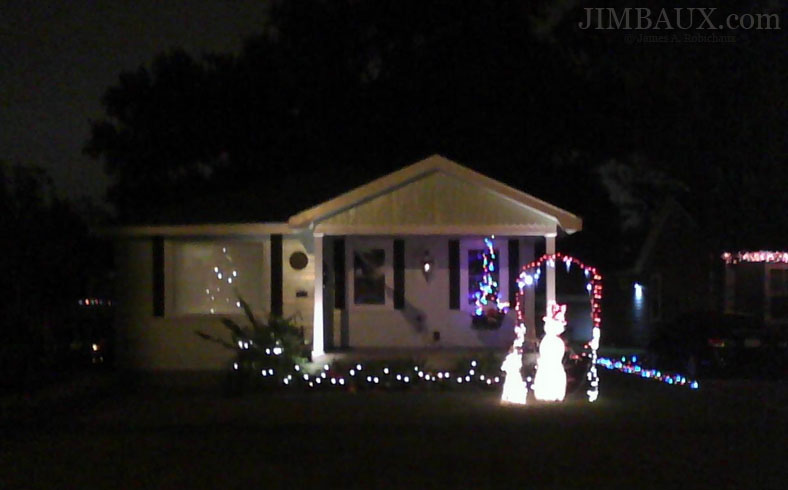 Merry Christmas.
On the day after I first met other southeastern Louisiana railroad enthusiasts, a meet is going down at Schriever between an eastbound BNSF manifest train taking the siding and Union Pacific's QLUCB on the mainline.  Engineer V. D. Sterling, a veteran railroader from the Missouri Pacific Railroad in Avondale, watches as the eastbound train rolls by.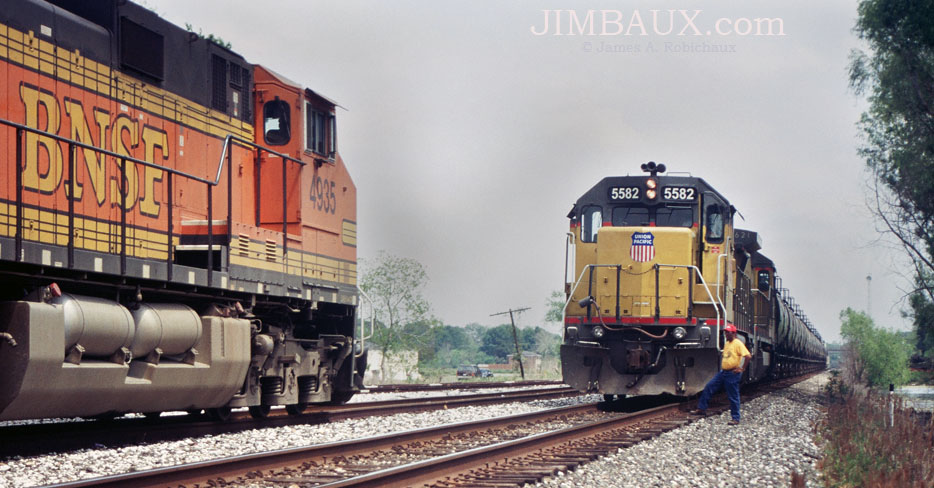 The QLUCB was an occasional – usually on Sundays – dedicated special for Monsanto, operating between the Luling plant (hence the "LU" station code) and Chocolate Bayou, Texas.  It was later replaced by a QAVCB, but I haven't heard of such a train in a long time.  The train would usually run with more advanced four-axle power – like this now-rare GP50 – because of the tight turns in the plant.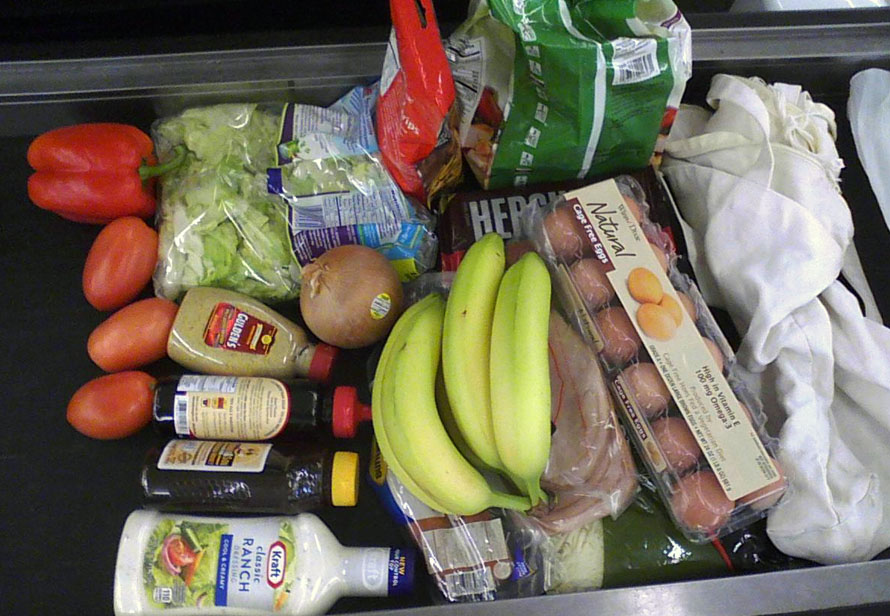 Next, two-and-a-half months later, I am in Baton Rouge for the wedding of one of my favorite cousins.  The day before the wedding, I was on the Illinois Central Railroad – yes, by this time, it was the Canadian National Railway, but the merger having been fresh, it still looked very much like the IC – hanging out by North Baton Rouge Yard.  I caught up with the Hammond District Local – the L584 – as it left the yard and got some pictures of it in action.  The train served some industries and then cleared the mainline somewhere.  Not yet having a scanner, I did not know how to properly interpret this, but, fortunately, even though I took this as a sign to go home (back to my brother's place) and started to leave, the reason soon became clear, as CN train M319 came on through, as seen in this 600mm view.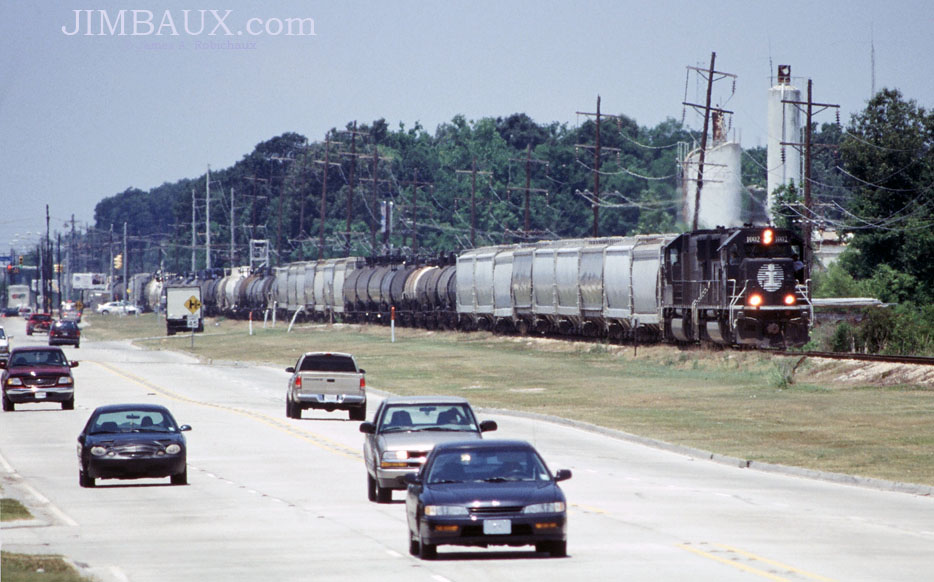 At the time, apparently due to track work on either or both of the Baton Rouge District and the McComb District south of Hammond, M319, the predecessor of today's A419, was regularly going through Baton Rouge.  The train – both the M319 back then and the A419 of today- originates(ed) in Geismar with most of its traffic bound for points north of Memphis.   I wish that I knew more about this interesting line.  The Hammond District is in the process of being transformed from a line with generally only one pair of road trains (M301/M302) per day into a conduit for unit coal trains and unit crude oil trains; this will, on multiple levels, vex motorists and residents in Baton Rouge.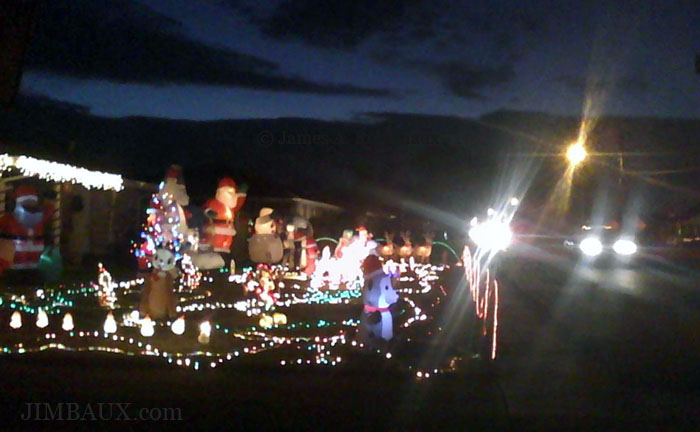 Merry Christmas.
On 25 July 2002, I was in Plaquemine, Louisiana, in the hopes of photographing a Union Pacific Railroad officers special led by a Centennial locomotive, presumably the UP 6936; I had not ever and still have not ever seen such a locomotive.  I spent six hours in and around Plaquemine waiting for this thing to show up, which it never did.  This being the day before being able to check e-mail on a telephone, I did not see a message on a forum that this train that had left Little Rock that morning arrived into Livonia three hours late with air-conditioner problems and decided to terminate there.  However, for me, there was a real victory in this defeat, as I learned many things about the UP's Livonia Subdivision and saw six trains, including this northbound at 16:35 CDT.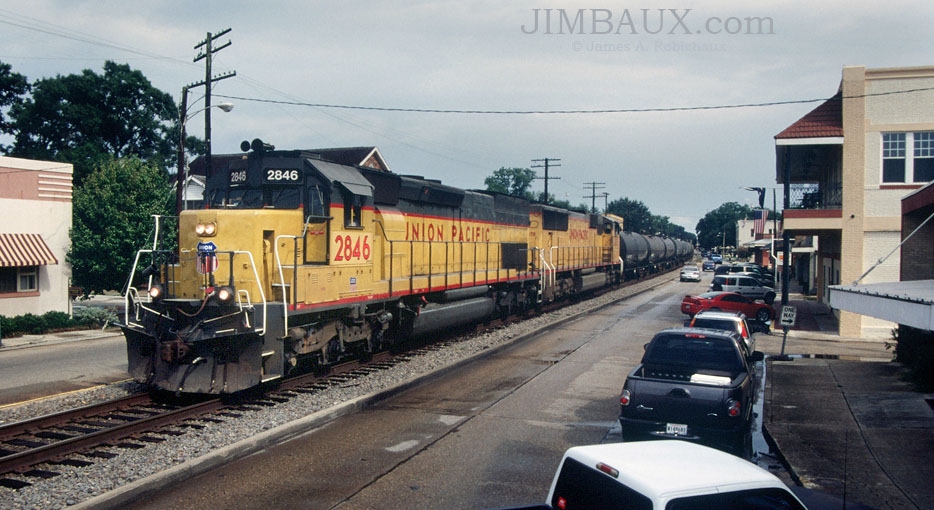 That picture is neat, especially considering that I had never photographed there before, and I am on top of my truck, as you probably guessed, but it is not anywhere neat as Donovan's shot of the Katy heritage locomotive leading an empty unit molten sulfur train through right about the very same spot in March of 2014.  Donovan has some impressive work!  Here is a very recent view that he did looking in the other direction from a block down the track of my 2002 picture, showing the location from which it was photographed; it is a "dark side" picture that I probably would not have taken for that reason, but it works oh-so-well with the shadows of the containers – and the lit spaces between them (meaning that the sun rays were about perpendicular to the train) – showing up on the street!
I probably saw more trains on the Livonia Subdivision that day than I have seen in my entire lifetime prior to that day.  I discovered some good photo locations.  As I was was driving between Donaldsonville and Plaquemine, I stopped near almost every grade crossing to look for good photo locations; this information would be put to use over the next year or so.
The Livonia Subdivision is the former Missouri Pacific Railroad former Texas & Pacific Railway line up the western bank of the Mississippi River between New Orleans and the area west of Baton Rouge.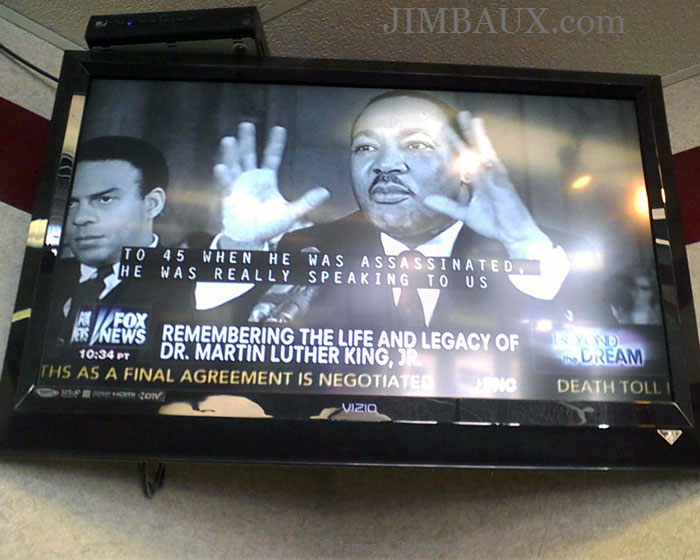 Next, it is January 2003, and with our big long 600mm lens, we can really pull scenes in the distance as we stand at Horseshoe Road from where we see a BNSF work train with SD40-2s in the North Track with SP 7128 and one boxcar as the Chip Local passing westbound on the mainline.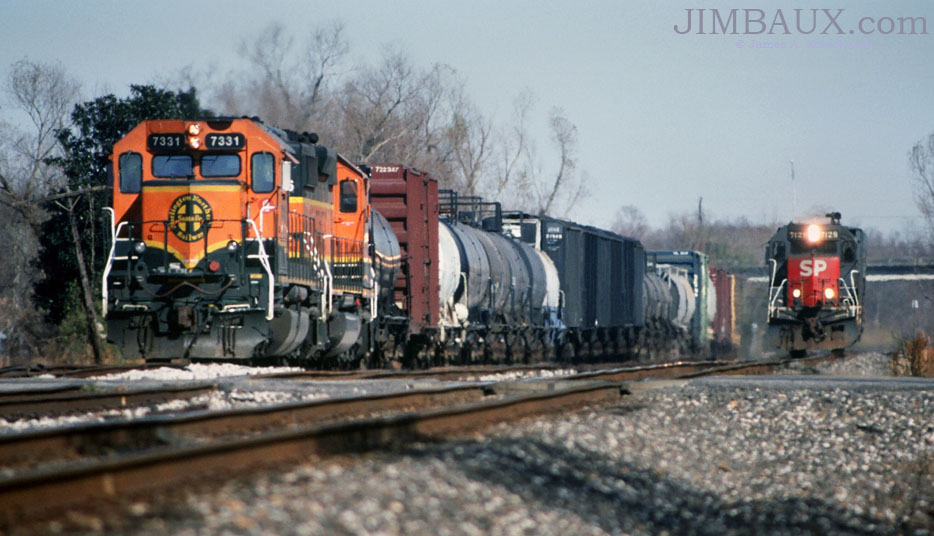 I miss those old locomotives, and I miss Chip too.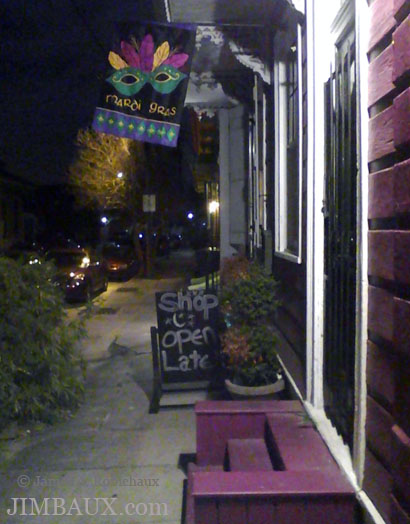 Next, it is late February 2003, and I am with Shawn Levy on my first of many trips to Rich Mountain.  Shawn died in March 2013 – slightly more than 10 years after the below picture of him was taken – of pancreatic cancer, and I am forever grateful to him for introducing me to Rich Mountain and, thereby, much of the greater Kansas City Southern Railway.  Here we are, with the steel blue Jeep Liberty that he loved so much, hanging out by the siding at Page.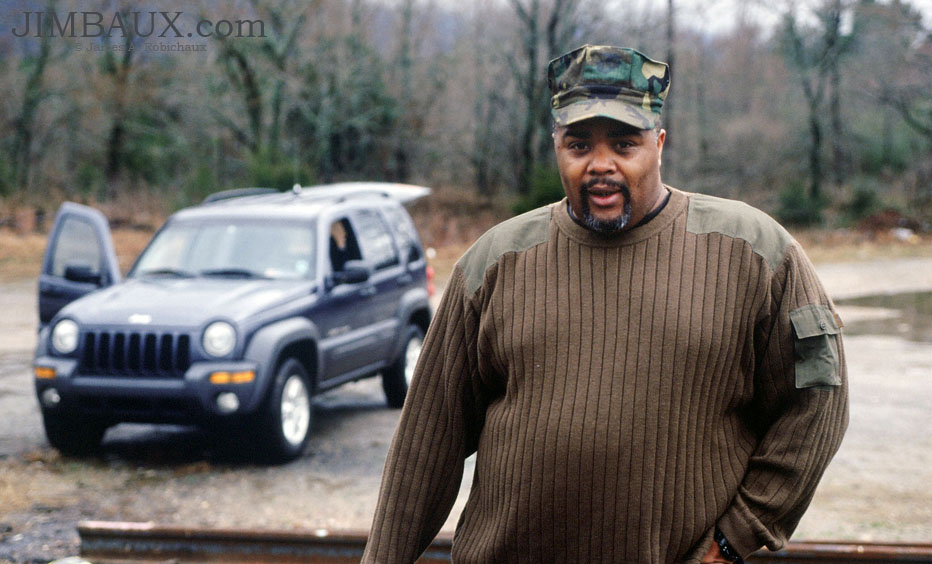 I owe plenty of who I am now – who many of you know me to be – to Shawn; I wrote about this, how his life affected me and many other people, and how some of his personal stories are so inspiring, in greater depth a few weeks after his death.
Speaking of reminders of the fragility of life and the way that we live it . . .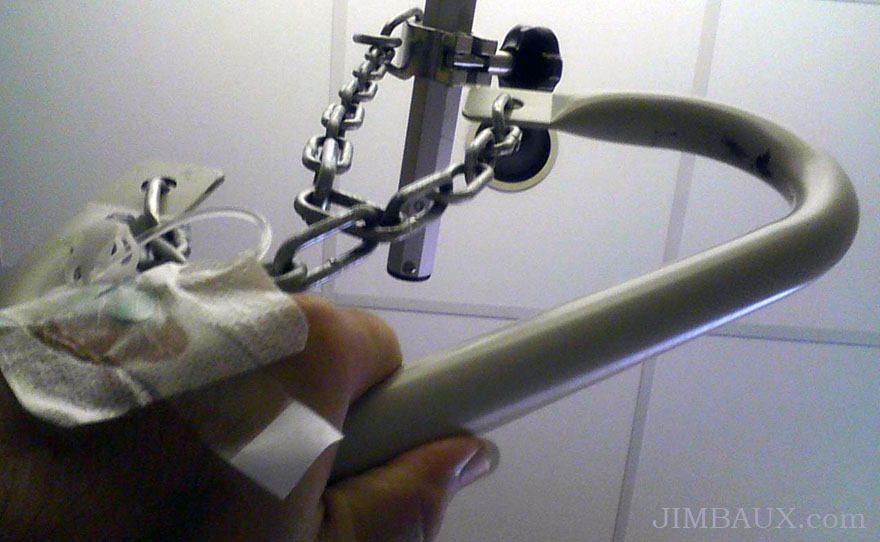 For our last two slides, we will see my return to Arkansas and my trip to Missouri because of the trip to Arkansas.  My experience on Rich Mountain in February 2003 both introduced me to the Kansas City Southern Historical Society and made me far more curious about the area and its railroads.  I joined the society and went to the convention in Siloam Springs, after which I ventured further north after checking out more of the then-still-all-ALCo Arkansas & Missouri Railway.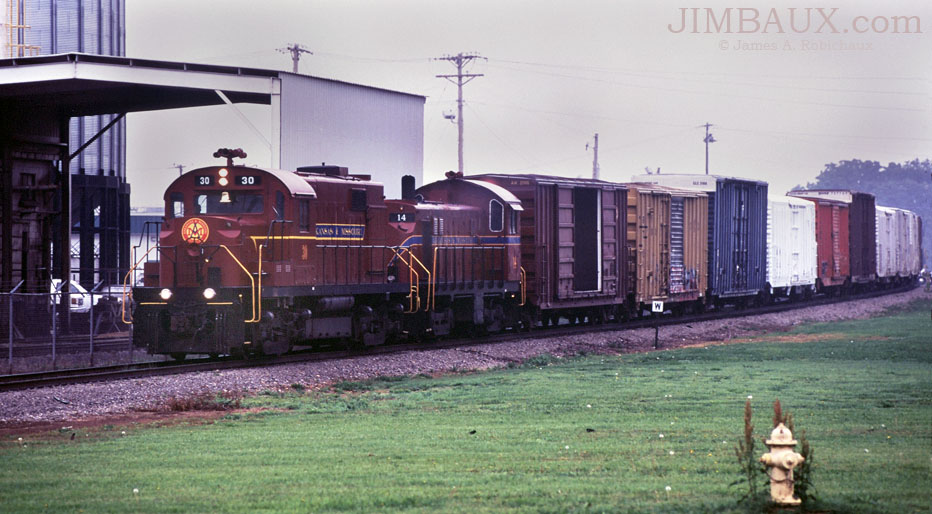 I then continued northward.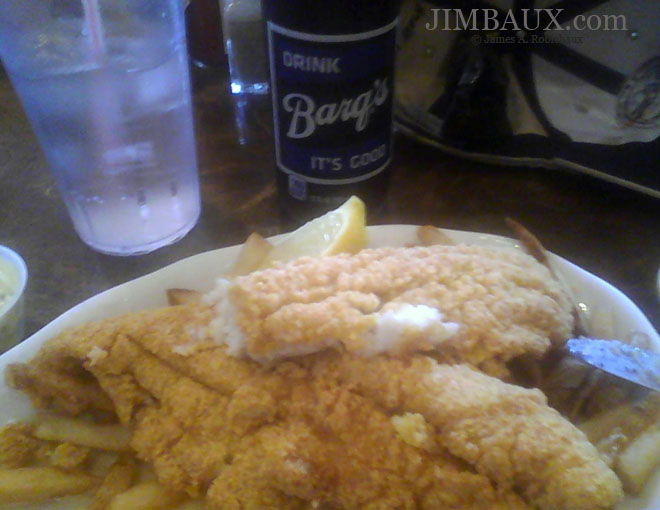 For our last image, we are in the southwestern corner of the state of Missouri, where we see at dusk on 08 June 2003 a southbound KCS train stopped in McElhany to do some work of some sort.

I certainly miss those tunnel motors.  This is apparently the southbound H-train.  There is a pulpwood yard right here, as you can see to the right, and you might barely be able to see the pulpwood cars toward the back of the train.
This was an interesting trip for me because I went to Missouri for the first time, and that was significant for me because it was – and, therefore, remains – the first state to which I went totally on my own and not ever on a family or school trip.  I was young, recently out of college, and this was my first-ever real solo road trip of any significant distance.  I also ventured into the southwestern corner of Kansas on this same trip, but like with Arkansas, Oklahoma, and Texas (the three other states that this trip involved), I had been there before on family trips.  Over the next decade, many US states – and Mexican states and Canadian provinces – would follow Missouri in the I've-been-here-only-because-of-my-own-decision department (as if that is somehow important, but I've mentioned it.)
I hope that you have enjoyed this trip into the past and its level of variety.
Perspective
I have a few miscellaneous topics to discuss, the first being specific and site-related.
2004 Mexico Experience and Automated E-mail List
As I have mentioned on the Facebook page, in a few days, I will commence decennial retrospective blogging of my experience in northeastern Mexico in the summer of 2004.  'Twas 10 years ago this summer (and late spring, technically), starting in a little bit more than a week from now, that I was a student at ITESM – Tec de Monterrey – across the border in northern Mexico, a most fascinating – and life-changing – experience indeed, as you will see and read.  Most of the nearly 200 pictures that you will see from that experience have never been seen before, as they are on film that I have recently shelled out money to have digitized.  There will be many railroad scenes from the set of pictures that you'll see spread out over two months, but most of the pictures that you will see are non-railroad scenes taken of various places and scenes in three northern Mexican states, urban and rural, historic and industrial, natural and cultural.  That means that those non-railroad-related blog posts will not be posted to any railroad-related internet forum, meaning that if you want to be alerted when those non-railroad-related photographic blog posts are made, you need to be on the automated e-mail list.
Both because of the upcoming two months of 2004 Mexico content and because Facebook has become such an unreliable way of reaching readers, the Jimbaux's Journal e-mail list, which was created two years ago only to be hardly used, is being revived.  This is a way of being alerted to new content without having to interact with Jimbaux himself!  Isn't that great?  🙂
This is a Yahoo Group, but only the moderator can post, and it therefore exists only to alert readers to new content, about once or twice per week. Your e-mail address will be automatically subscribed to the list if you send an e-mail to jimbauxsjournal-subscribe@yahoogroups.com, and you can unsubscribe at any time by sending an e-mail to jimbauxsjournal-unsubscribe@yahoogroups.com; note, please, that both actions are automated and involve no action or involvement from yours truly.
You can see all of this information by visiting the group home page here, and you can click on "Conversations" to view the few posts that have been already made.
https://groups.yahoo.com/neo/groups/jimbauxsjournal/info
As you might have read in my long and explanatory "New Orleans Introduces To The World – 17 April 2004" piece, the book Confucius Lives Next Door, which I recommend you read, greatly influenced my perception of my two-month Mexico experience and has influenced my world view since then, and all of this was tied to my decision to move to New Orleans; I have recently reread the book, 10 years after I first read it, and I will offer some analysis here shortly.  Before that essay, though, I have another topic to discuss that isn't closely related to all of this.
Privilege?  What Do You – Or Can You – Do About It?
So, some calculating misogynistic teenager in California goes on a killing spree because some girls rejected him – meaning that he really went on that killing spree due to deep personal problems and issues of self-worth, which fueled his entitlement complex – and now people are talking about privilege, both the white kind and the male kind.
Over on Twitter, a white male was expressing frustrations about what "my gender" was doing.  I merely told him that he was not responsible for the worst of the worst behavior of people who happened to be the same gender and ethnicity that he was.  Then some white girl jumped in and said, among other things, that I refused to or did not want to acknowledge white male privilege.  What's funny – in a stupid way – is that she had zero evidence that I denied the existence of "white privilege" or "male privilege."  One huge problem in modern discourse is that so many people think that if you don't come out and publicly declare X that you must disbelieve or be against X.  So, because I told this guy that he was responsible for his own actions and that the awful actions of a misogynist and murderous teenager were not a reflection on him, I must somehow be in denial of the existence of white male privilege.  WTF?  This kind of thinking seems to be more of a problem on the, dare I use such a label (which you know I hate doing), political left than it is on the political right.  So many of them seem to think that you if you don't come out and publicly express "support" – whatever that means – for gay people that you must therefore somehow be "against" them; these people need to realize that that is a shallow Dubyaesque "you're either with us or with the terrorists" mindset.  Apparently, according to some people, being completely indifferent about another person's sexual orientation is little or no different than being against it.  The political right is not immune to this, and the best example of which I can think now comes in expressions of patriotism – which is often nationalism in disguise; if you don't wave the flag or express "support [for] our troops," you must therefore be anti-American or not a good American or ungrateful to those who have sacrificed for us.
Now, here's the funny thing about this Tweep's unwarranted allegation: I generally agree that white privilege exists!  This girl just assumed that I don't think it exists because I did not mention it – or because I told the male who asked the question that he was responsible only for his own actions.  Yes, white privilege does indeed seem like a very plausible theory to me, although a big problem with it is that because it is completely intangible, it is essentially impossible to identify.  So, I'm not going to – I am not one to – outright deny the idea of or the existence of a white privilege, or even that I have benefited from it; however, I have two problems with the concept, one about the concept itself and one about the debate surrounding it.
First, the folly of the white privilege idea is that it ignores both the struggles that people of all races must overcome and also various levels of privilege that exist among different people of the same race!  In my younger days, I was often resentful of how my peers (of the same ethnicity as myself) seemed to be able to land opportunities to which I didn't have access, usually because of who their parents were (or how much money their parents had), which is an immutable characteristic as is race.  So, it's only natural that an average (or below average) white person feels resentful when he or she is made to feel guilt over his or her "privilege."  I know plenty of people of my ethnicity who went off to college with poor grades and had apartments paid for with daddy's money and got multiple DUI charges and fights which were absolved with daddy's help whereas I would have gone far away to college too if someone would have paid all of my housing, and yet people are going to lecture me about my white privilege?  Yes, my whiteness almost certainly has indeed given me some privilege in some situations that can't be proven, but how do you know that I was as privileged as those guys whose privilege I already resented?  You don't.  You just saw the color of my skin and made a judgment based on that; there is a word for that.  All that you've done is resuscitated my resentment (that I had gotten over) and attracted it to a different target.  Furthermore, assuming each white person benefited from white privilege, each person benefited from it to a different degree.
Second, and this reason is based on the first (hence the order in which I am presenting them), even if you as a white person acknowledge, as I do, the existence of white privilege, what, exactly, are you supposed to do about it?  The only thing that I can imagine that I can really "do" about my white privilege is simply be mindful of it in any decisions of racial consequence that I might happen to be in a position to make, but being mindful is not doing something.   Of course, as I mentioned earlier, many people – the likes of which are the most likely to point out to someone that he has benefited from privilege – seem to think that if you don't come out and say that you believe in or recognize something that you must be against it or in denial of it; even if it would be practical for me to walk around in public or in my daily interactions with an "I'm aware of my white male privilege" sign around my neck, I should not need to do that.  You can't just assume that I am not aware of it.  So, to build on what I said at the end of the previous paragraph, you've resuscitated resentment (that I had gotten over) and attracted it to a different target ("you," the accuser) by guilt-tripping me about something about which I can do nothing!  That is probably the real reason for the resentment and the defensiveness that people have when you point out that they have benefited from such privilege: that there is not, as far as I know, anything that I can do about it.  So, I ask again what do I do about my white privilege, but I build on that as I now ask what can I do about it?
Confucius Lives Next Door Review, and Why Values Have Faltered In the USA
In Confucius Lives Next Door, T. R. Reid describes what he learned – and what we all can learn – not only from his time living in Japan (as the Tokyo bureau chief for The Washington Post) but also from his newfound view of his home country and its ways upon returning to the United States; in ways that I still have trouble describing, I looked at and still look at the United States of America differently after living for no more than two months in Mexico.
An overriding theme of the book is Asian values, or Confucian values, and how they lead to those countries having remarkably low, at least compared to Western countries, rates of crime, especially property crime.  Reid talks about his initial indignation about his 10-year-old daughter's desire to take a trip with her school friend across the sprawling metropolis of Tokyo to go to the zoo, a trip that would have two 10-year-old girls moving through a subway and railroad system on their own in a city of 27 million people; the mother of the Japanese friend could not figure out why Reid was so concerned about this!  In Japan, there is an assumption that essentially every public place is safe, even for girls traveling alone.
Reid tells a story about a sign at a park that he saw that would, in the United States, say something simple and curt like "no dogs, no alcohol, no dumping."  Yet, this sign, to get that point across, had five bullet points, like, "in order to achieve this, let's not have this; in order to achieve this, let's not do this."  Japanese and other Eastern Asians are apparently able to get people to follow rules and be respectful by showing them why the rules exist in the first place.  Reid also tells a story of his neighbor having trouble with people parking in front of his driveway; instead of merely putting up a sign saying "no parking," the neighbor puts up a sign that says that he is having trouble being able to access his own driveway, and the sign is effective!  East Asian society relies on people's basic human decency to live up to expectations without the need for reprimand or punishment, the way that Confucius saw it.  Reid says that the United States has 100 times as many lawyers per capita as Japan does.  Japan's attitude to fighting crime is far different – and, seemingly, far more effective – than that of the United States; Reid says that in the United States, increased crime rates are met with a "war on crime" with more police and more jail, whereas Japanese think that that approach is problematic and just plain backwards, that if you need more police and more jails, you have already lost.  The idea is to create a society in which arrest and litigation are extremely rare.
Reid writes:
In Western societies, the job of transmitting moral norms is left largely to churches, families, educational organizations, and the like.  In Asian societies, moral values are considered too important to be left to the private sector; the whole community, public and private, takes part in teaching values, and the teaching never stops.
That all seems good except for one small thing.  I question his claim that in Western societies values are even left to educational institutions.  There are exceptions, but, from my personal experience as a professional public school teacher, about the only values that schools overall really teach are in reactive-proactive ways.  Schools actually seem scared to teach values for a reason that you might suspect and that I will explain shortly.  First, at the end of the book, Reid says that he still doesn't understand why it should be different from Western to Eastern societies, since many Confucian values are the same Judeo-Christian values that he learned as a boy.  Probably without realizing, though, Reid stumbles upon the reason for the difference:
Confucius offered ethical principles for individuals and governments, but he was a teacher, not a preacher.  There is no religion, there are no deities or sacred mysteries in Confucian teachings, and there are no missionaries of a Confucian faith.  But the ideas that Confucius and his successors taught were spread by missionaries.  These were Buddhist priests, who carried the teachings with them.
Reid did not seem to have a larger purpose in pointing out this difference, and he may have even been suggesting that the lack of a religious element made it all the more amazing that Confucian teachings have such staying power, but I think that that is partly exactly why Confucian values remain so strong!
Remember what I said earlier about schools being afraid to teach values and how you might already suspect why I say that schools are afraid to teach values.  One of the things mentioned in the book that struck me once again, this time differently, was that Japanese schools stress values over academics, that stressing values first takes care of academics.  Note that Japan has a very high rate of academic success.  The idea is that if you stress values enough, academics will take care of themselves.
The problem is that in the Western World, when people talk about "values," people who hear them say this, as you might expect, generally think of religion.  In Japan and much of East Asia, values are not necessarily tied to religion; so, teaching values in school does not mean religious indoctrination.  In the United States, though, when people talk about values, it often comes across as preachy; this is apparently due to our relatively unfortunate practice of basing values or religion.
This lack of values frustrated the heck out of me when I was teaching, especially once I moved to New Orleans and taught in urban schools (I had yet to work in an urban public school when I read the book more than 10 years ago), where I felt like I was the almost only teacher teaching values to the kids.  Schools are scared to teach values because of our habit of associating values with religion; to teach "values" at school, therefore, is tantamount to religious indoctrination.  It's not like that in Japan or much of East Asia.
Instead of just putting up a "No Parking" sign, Japanese have some explanation of why to not park here before – or in lieu of – saying to not park here.  Where this gets back to me and my teaching is that when I would lay out the class rules to the kids, I'd explain why the rules existed, and I would also, any time I had to address a student about breaking the rules, (re)explain why the rules existed.  I think that this was one of the reasons why, when I was in my prime as a schoolteacher (before I got burned out and quit), I was able to run such a harmonious classroom (and was noted for such by my peers and administrators.  I would occasionally have kids put in my classroom because other teachers could not handle them, and that was a big source of pride for me.)  I was able to convince the kids that they had a stake in everyone following the rules.
I was not just a "these are the rules, you follow them, and there are consequences if you break them" kind of teacher, and that is why I, in my best years, was more effective than teachers who used such fear tactics (even though I was told several times that kids were scared of me; the point, though, was that those who were scared of me usually also respected and even liked me.)  With the only exceptions being some exceptionally problematic kids, I was able to convince each student that he or she had a stake in himself or herself and everyone else following the rules, for the sake of maintaining a harmony that I was able to get them to value.
We don't do a good job (or, at least, not as good as Eastern Asian societies) in the Western world of teaching values in a way that is self-sustaining.  That seems to be the difference, the answer to Reid's question at the end of the book.  Values in East Asian societies are not tied to religion.  As the West has become much more secularized, the basis for many of the values has eroded and in many cases completely gone away, which has had the very unfortunate effect of having many of the values themselves go away.  Many Christians claim that we need to "put God back in schools" or something like that; although I share their frustration with there being less values in schools today, they unfortunately think that the only way to teach values is to bring their God into it, which will never work – and will only cause even more resentment – with non-believers, whose numbers have irrevocably increased.  This is evidenced by the fact that many Christians (and Muslims) wonder how a non-believer can have any values or morals at all and just assume that non-religious people are dangerous, and the famous atheist-libertarian Penn Jillette has a brilliant retort to this:
The question I get asked by religious people all the time is, without God, what's to stop me from raping all I want?  And my answer is: I do rape all I want.  And the amount I want is zero.  And I do murder all I want, and the amount I want is zero.  The fact that these people think that if they didn't have this person watching over them that they would go on killing, raping rampages is the most self-damning thing I can imagine.  I don't want to do that.  Right now, without any god, I don't want to jump across this table and strangle you.  I have no desire to strangle you.  I have no desire to flip you over and rape you.  You know what I mean?
Perhaps Jillette is, without realizing it, a very good Confucian; he considers how such actions harm others and disrupt harmony and is not interested in how he would be punished by some supreme being.  The dearth of values in American schools – and in Western society at large – today seems to be a result of the centuries-old habit of relying on fear tactics and religion (which are in some cases the same thing) to teach values instead of having the values sustain themselves.
It seems, though, from Reid's description that Confucian values are self-sustaining; they therefore do not need to be tied to religion or threats of punishment, and those who teach values therefore don't get accused of attempting to religiously indoctrinate people.
So, then, the challenge for you, dear reader, is to come to an understanding of why you value your values so much.
Seriously, you should read that book!  There is plenty more that I could write about this topic, but this post is already very much long enough.
Harmony
So, thanks for reading all of this, please stay tuned for the upcoming 2004 Mexico series for the next two months, and remember to do what you can to maintain harmony, as Confucius taught us to do.
Jimbaux