[Jimbaux will not fade out like a photograph, and neither will Chip, at least not yet.]
Well, I'm glad that, judging by the feedback in the comments section and in e-mails that I received, that many of you are in general agreement with the arguments I made in the previous "Put Your Lights On" post, despite the possible preachy nature of it, but I'm also very glad that that's done now!
So, Tell Me A Story
For the first time since I caught him at the same location in March, I caught Chip last week at Boeuf.  I heard Chip's voice on the radio, and I figured he was at North Boeuf.  So, I stopped there, saw that he was deep in the plant trackage, and parked by the mainline to wait for him.  In the meantime, how about this?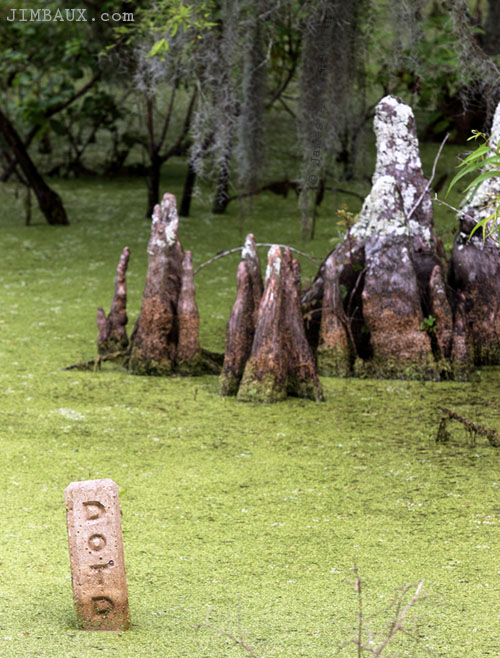 Cypress knees, swampy water, and a concrete DOTD marker; ain't southern Louisiana – particularly the lower Atchafalaya – grand?  I generally think so, but in the last week or so, we've entered the really hot season, and it's vexing me more than I thought it would.
Peek-A-Boo
Hey, look at what's emerging from the foliated spur!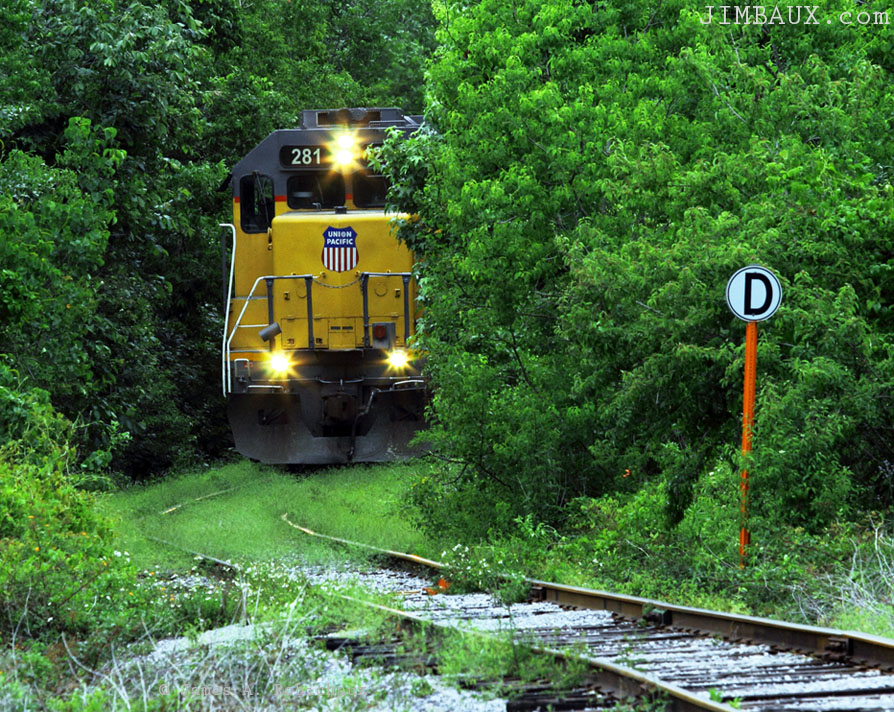 The storyline for all of the remaining pictures in this post is pretty straightforward.  All of the remaining pictures except the very last one were taken of this train – or this part of it – simply emerging from the North Boeuf spur and then shoving back to recouple with the remainder of its train on the mainline, and there are plenty of pictures of Chip himself, but for now, we just see Engineer Boudreaux in the below picture, as Chip is riding the rear car so that he can roll the derail.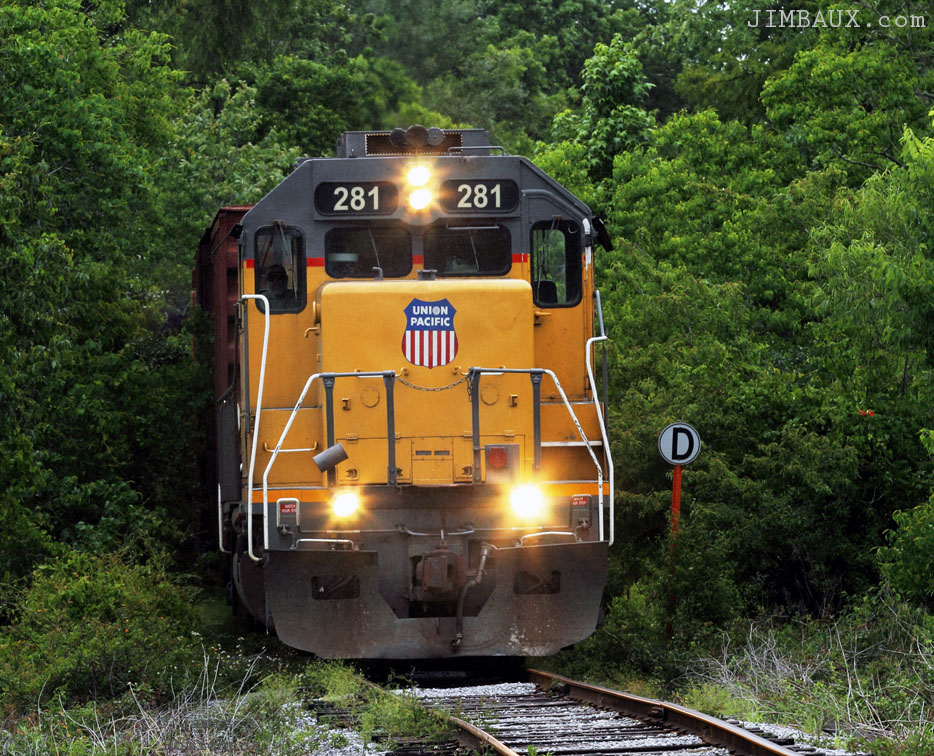 Yeah, like I said, just a few days before April ended, we entered the season of misery here in southern Louisiana, with the heat and humidity now not all that far from triple digits.  I hate it, I tell you; I really do.  Were it not for the fact that I'm from here and have many familial and friendly connections around here, I wouldn't live here.  I'd just have to move to Oregon or something, where at least I could still watch the UP operate on former Southern Pacific Railway trackage.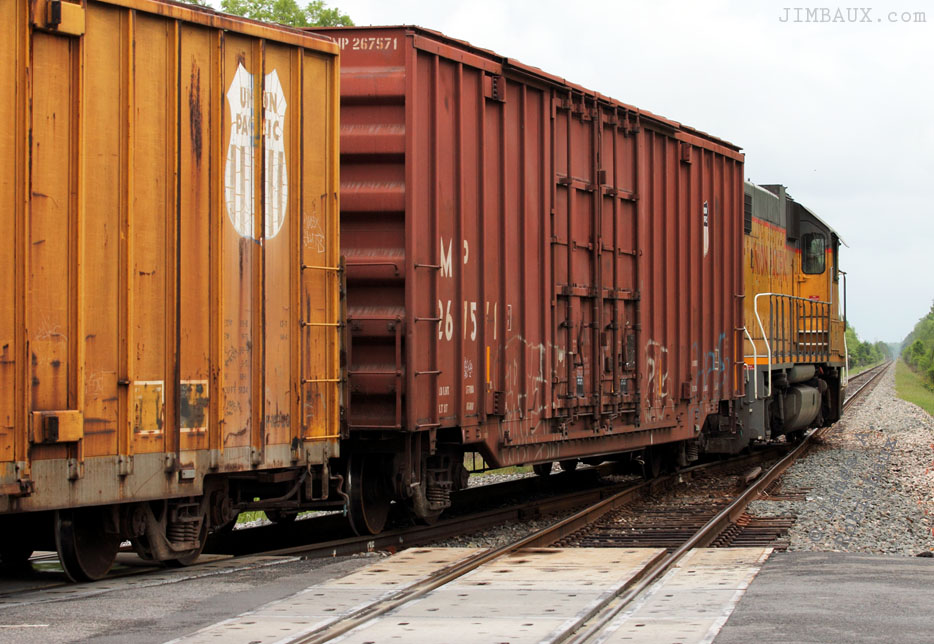 For those of you who have not kept up with the prior Chip coverage here on Jimbaux's Journal, first, I welcome you to this site, and I hope that our regular readers and commenters welcome you as well.  We're looking at Union Pacific Railroad train LLS51, a.k.a. The Morgan City Local (since it works out of Avondale toward Morgan City), a.k.a. The Chip Local.
Meet Chip
Many readers to this site already met Chip when I introduced them to him back in August at this very same location.  Chip is always smiling!  He's a legend in southern Louisiana railroading, having gone to work for the Southern Pacific in 1968!  Yes, his railroad career spans 44 years with a break of about 18 months for service in the Vietnam War, and his father was a railroader before him, also for the SP.
I just wish that I had taken the below picture about one second earlier, as that was when Chip noticed me and smiled at me and waved; what you see below is the wave pulling back to him and him looking ahead again.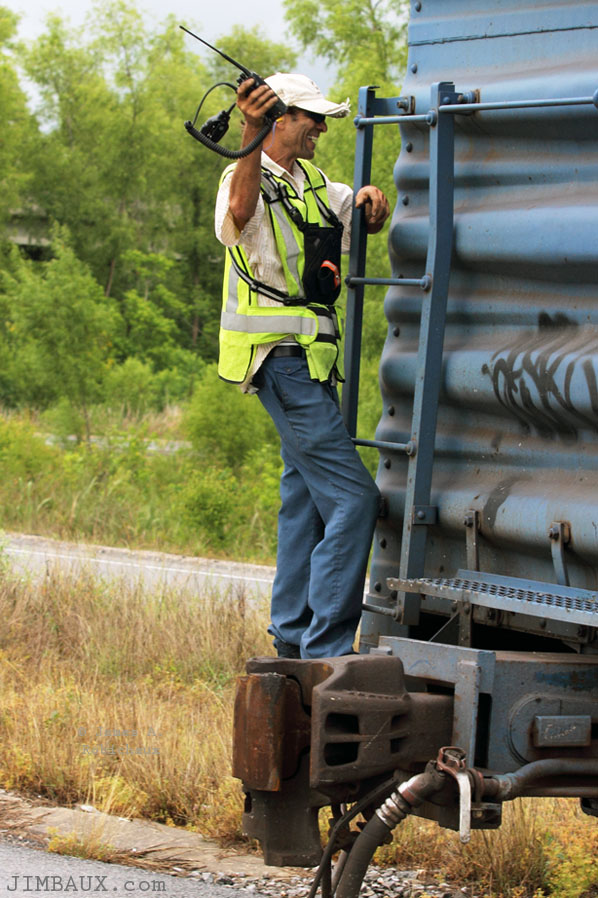 On Saturday, I had yet another physical setback in a year that has not been good for them.  I was on a photo assignment, and it was damned hot.  I got off around 11:00, and I was quite useless for the rest of the day, breathing heavily, short of breath.  I guess I suffered from heat exhaustion, as it felt like my lungs were at half capacity.  This is not good, and for the second consecutive weekend, I got far less accomplished than I had hoped and planned because I was so incapacitated, severely limiting my productivity.
So, I guess I'll just tell you partly what that sickness was the weekend before, the kind I had never experienced before, the kind that left me in excruciating pain, but first, I need to give some background information, after we see another Chip picture.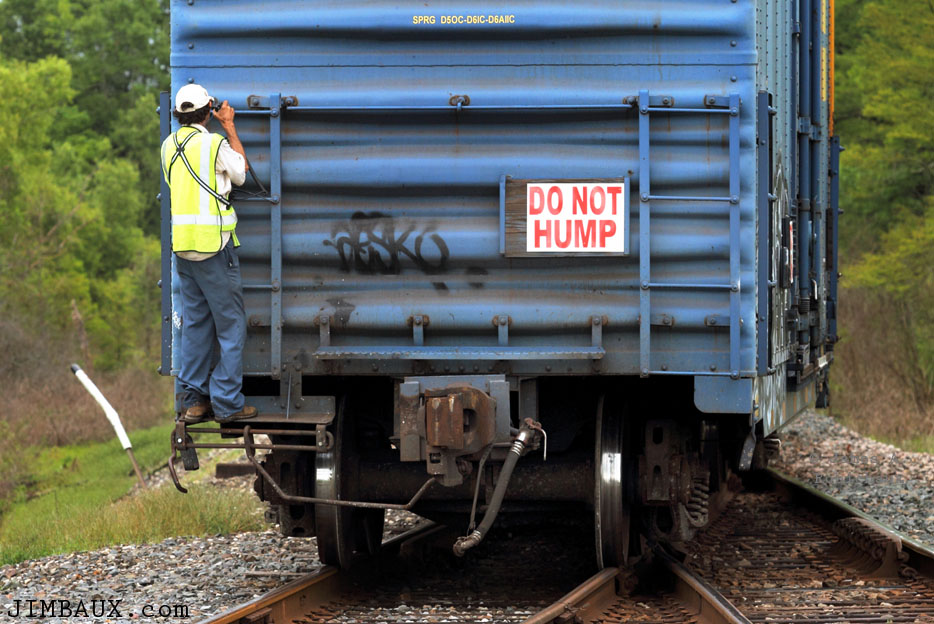 For much of the last two years, both my diet and my exercise regimen have greatly suffered, with my diet being probably almost as bad as it had ever been, culminating in the recent Great Plains trip that I took in which I ate plenty of bacon cheeseburgers from Culver's and Braum's.  Hey, I was traveling!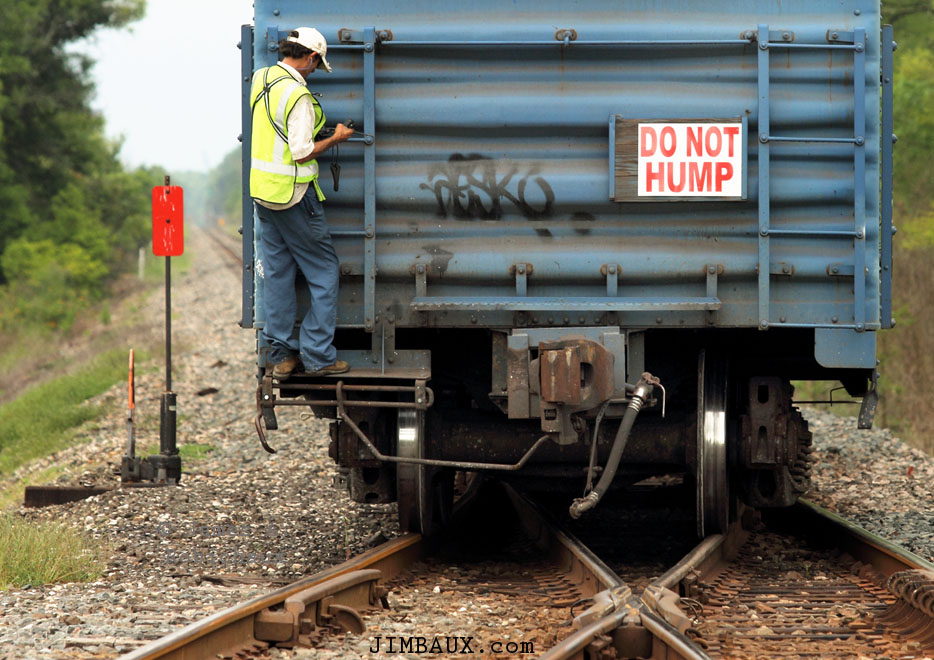 However, as I had planned all along, as soon as I returned back home, I began a new diet.  However, not only did I change what I ate, I also changed how I ate.  In the two-and-a-half weeks after I returned from the travels, my diet was as good as or better than it had been at any time in my adulthood!  However, the "how" of it is that I began a "graze" diet in which I really didn't eat meals but, rather, munched on fruits, vegetables, and nuts all day.  Aside from having to work a late meeting or attending the Godsmack concert, my fast-food consumption went down to zero, and breakfast (turkey sausage omelette) and occasional chicken were the only time I had grease in my diet.  I was never really hungry and never really full – i.e., bloated.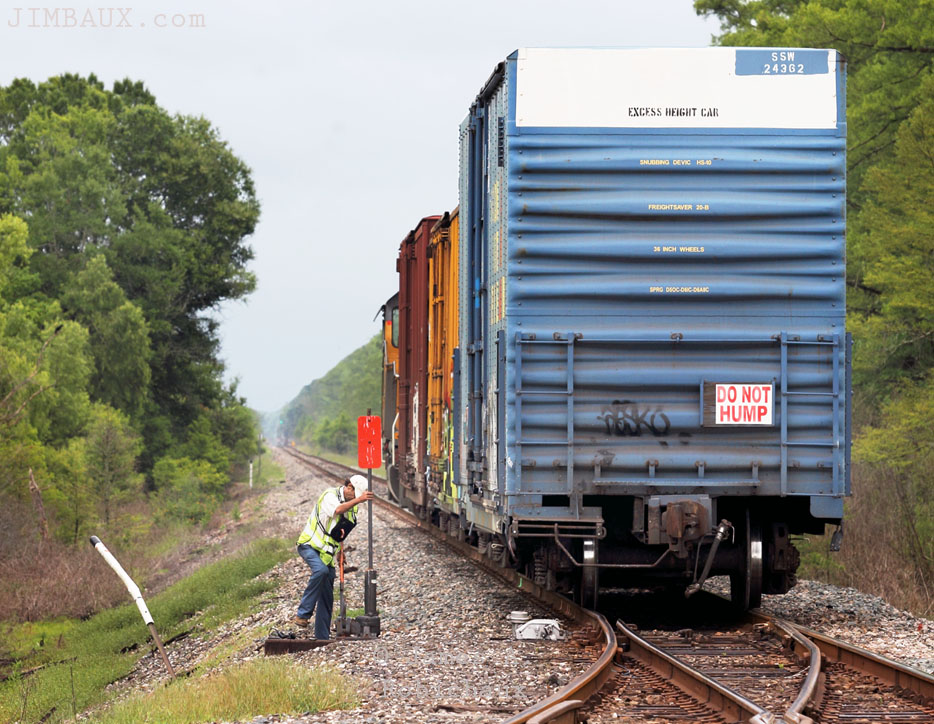 Two-and-a-half weeks into this, on the evening of the last Thursday in April, my digestive tract basically shut down, and I was in excruciating pain, the type of which I had never experienced before.  I could not understand why, as I had eaten so healthy for the two-and-a-half weeks preceding this.  I could only hypothesize that the influx of good food into my system constituted a shock that the system could not handle.  When I finally got to a physician on the following Monday, he said that that's probably exactly what happened, that he's seen the problem before.  He said I'd have been wiser to ease into the new diet; isn't that ironic that I'd have been better off eating more cheeseburgers in that time?
Two weeks after the problem started, it seems to have completely gone away, be completely out of my system, and I'm really relieved about that!  Now, I'm on to tackling other problems and challenges.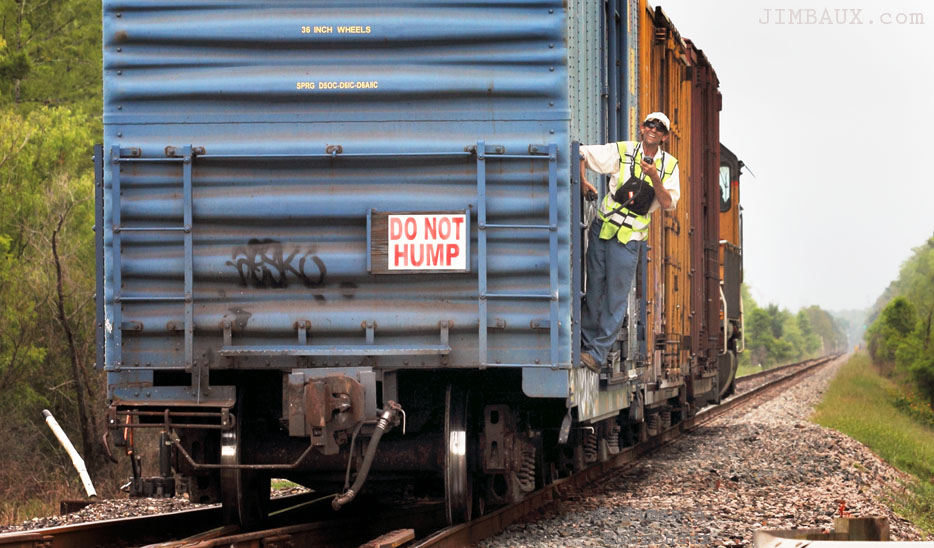 Look at Chip smiling!  That man loves his work!  He is truly a rich man!  The below picture is merely a cropped version of the above picture.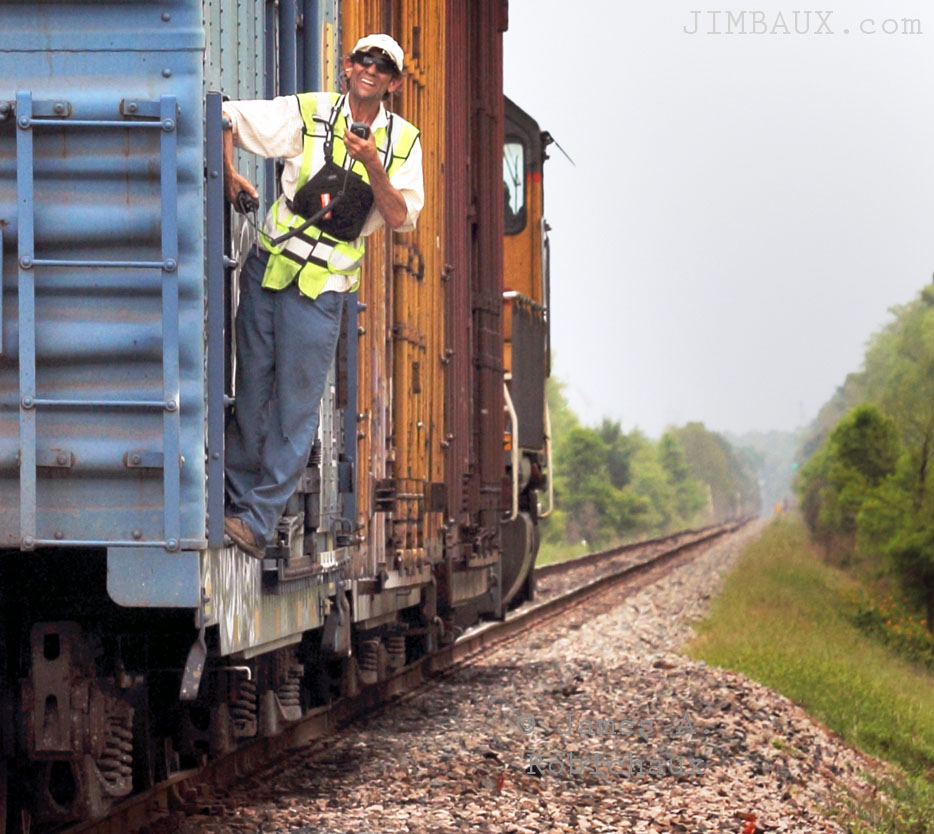 He's radioing back to Engineer Boudreaux, whom you can barely see in the cab of the locomotive in the back, about shoving back to the rest of the train as he keeps his eye on traffic at the highway crossing.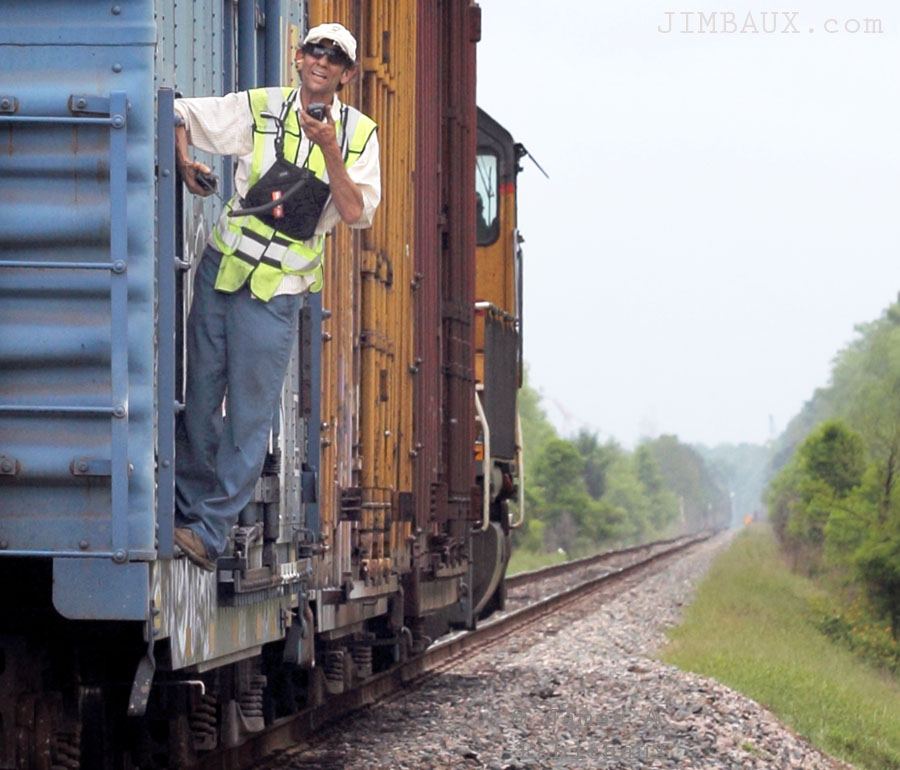 Below, Chip sees me and says, "how you doin', James?"  (No, he doesn't call me Jimbaux.)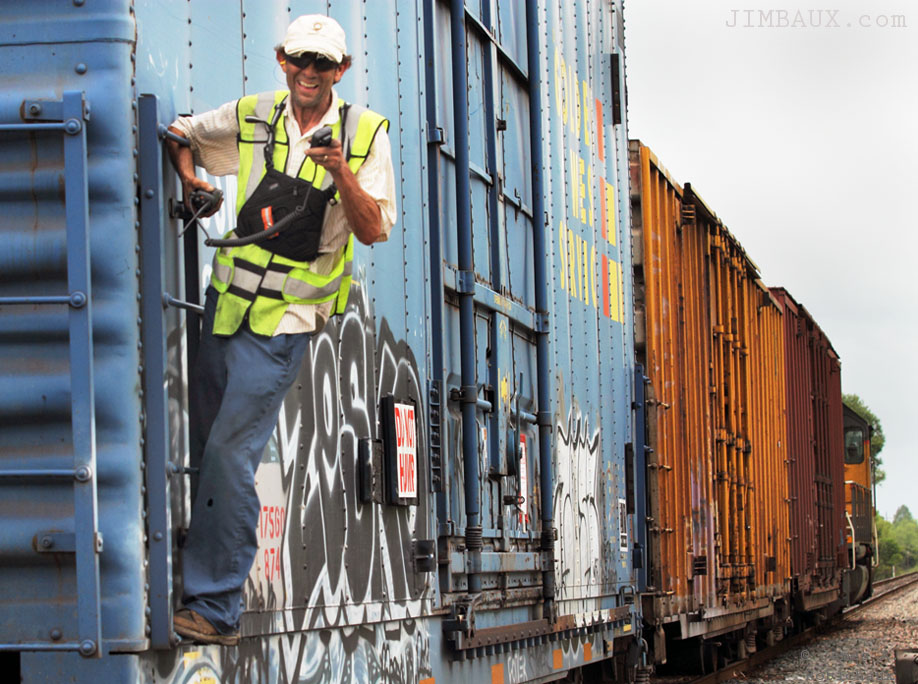 That was the only talking that we really had a chance to do this time.  I couldn't stick around much longer.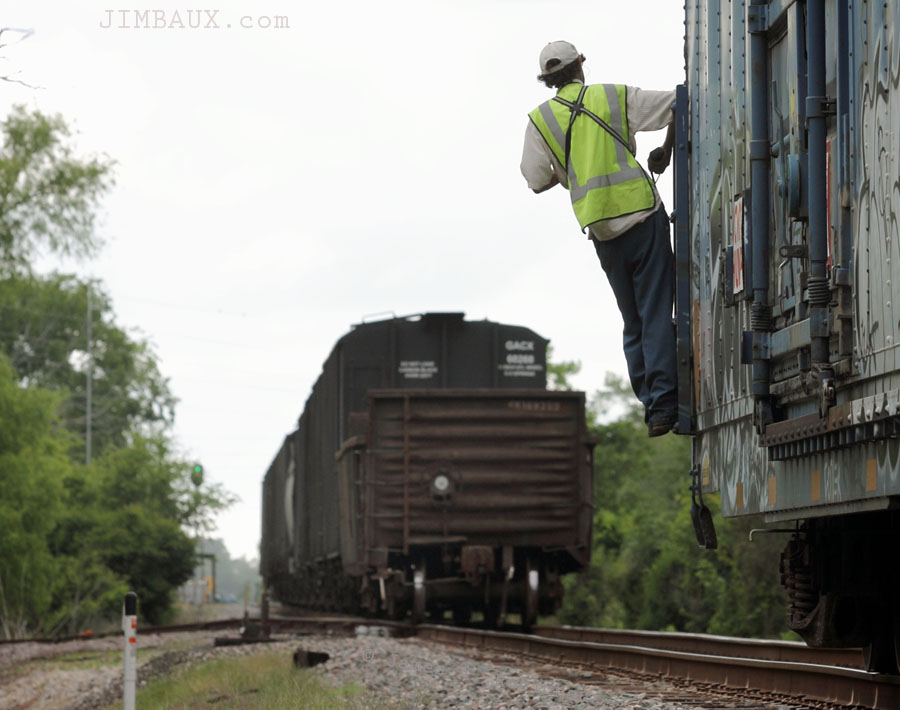 Now you can see the rest of his train, as he has about 10 loaded carbon black hoppers and one empty gondola.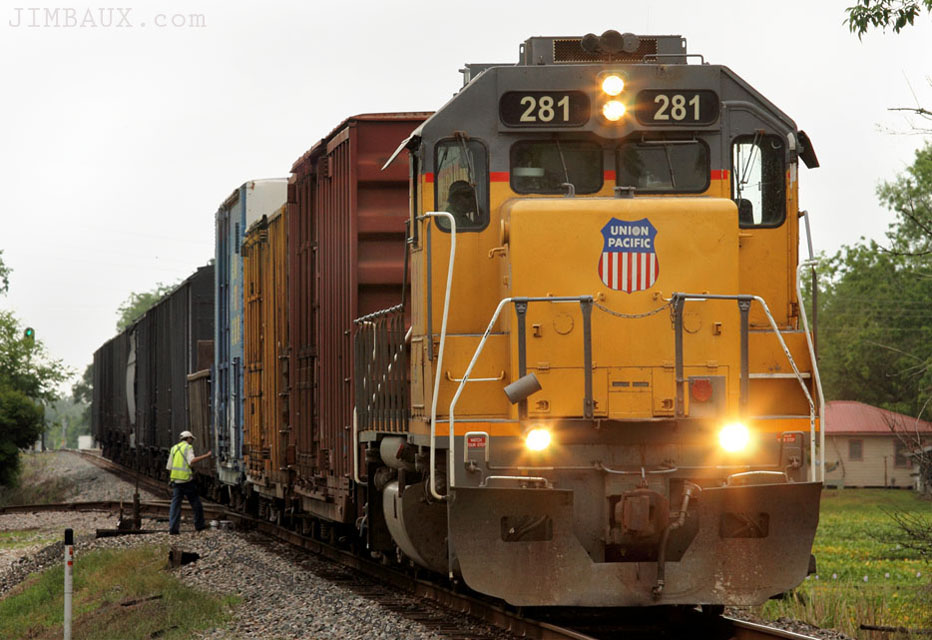 Apparently, there was nothing else running anywhere near here, as Chip had been allowed to leave the rest of his train on the mainline during all that time of switching at North Boeuf.
A New Variation On An Old Theme
There was time and place for one more shot before the sun set.  I've shot eastbound trains at Horseshoe several times over the last decade, but none of them look quite like this.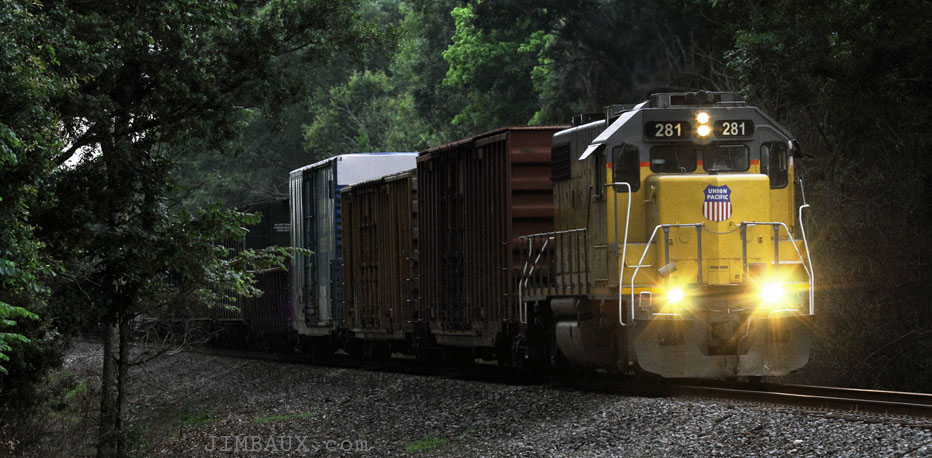 Well, that's a little bit different, and you can see how dark it is by how grainy the image is.  Oh, well.  I guess all really is well that ends well, right?
Isn't paying attention to Chip far better than watching that useless television?  I think so.
Merci,
Jimbaux