[Jimbaux knows that the highway song is as lonely as the road he's on.]
On And On . . .
The Time Is Drawing Near, Oh, Baby, I Wish You Were Here
Hey, everybody!  I have some bayou pictures and sugarcane field pictures for you, and some Chip pictures, all taken during the Friday afternoon drive from Bayouland back to Woadietown on June 29.  While I often lament the fact that my life has been 'reduced to' having to make this weekly drive, I learn to make the best of it, and the images that I take along the way, such as are presented here, are my way of my expressing the gratitude that I have for my life, in spite of whatever I might not like about it.
The Chip Local
We'll start our afternoon in, appropriately, Schriever with, appropriately, the Chip Local.  I mentioned recently the last time that I showed you this train that I had made a misleading statement when I wrote back in early May that my images then of Chip were likely the last I'd ever get because of his apparent retirement.  Well, a few weeks later, again on a Friday afternoon, I catch Chip coming into Schriever like so: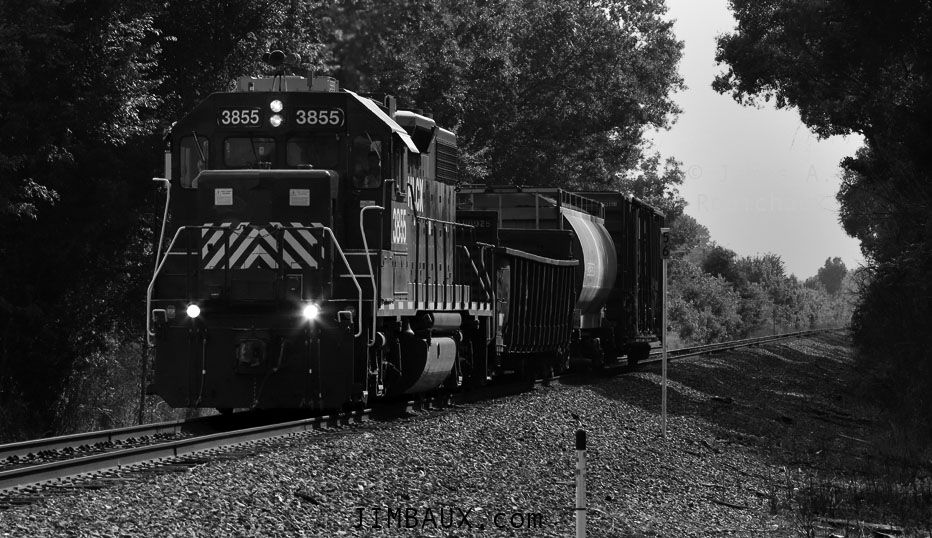 Yeah, the lighting is poor, and the composition is not that great, but work with me here, since things will get better – perhaps much better – before too long, okay?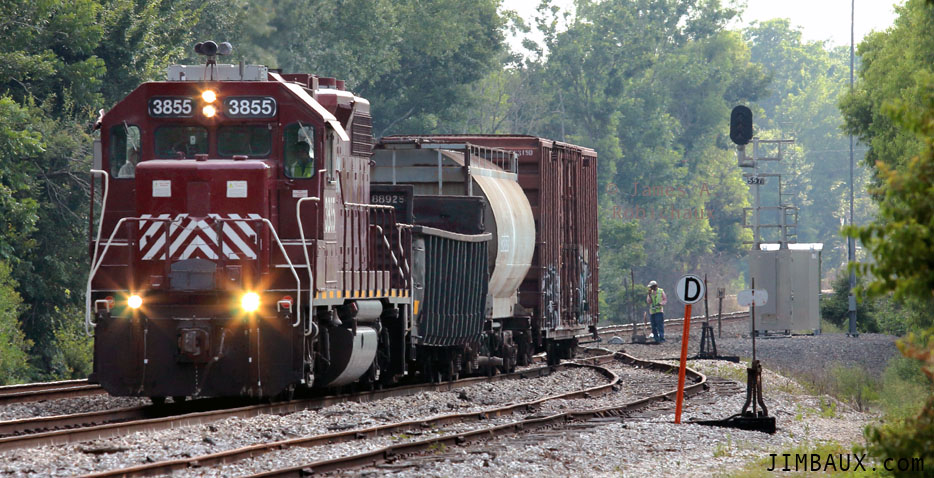 Do you see Chip in the above picture?  He's on the ground as his short train goes into the siding for a westbound BNSF train, and he will "restore to normal position" the west siding switch for the mainline once his train is in the siding.  Below, now that the train is in the siding and Chip is back in the cab, it slowly rolls eastward.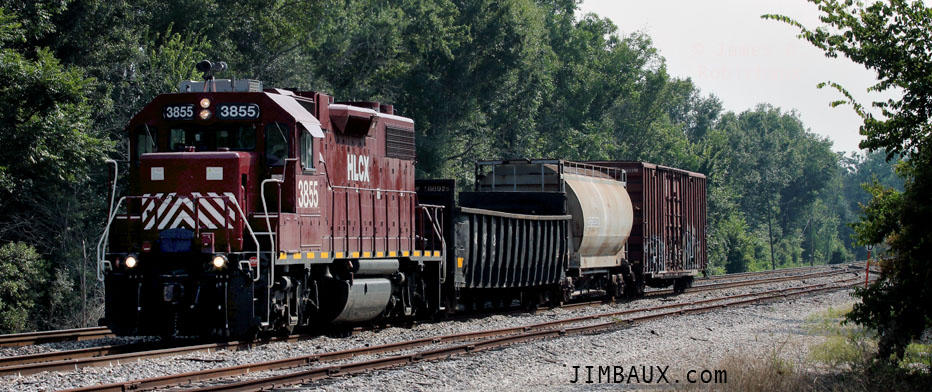 The dispatcher had asked Chip to stop on the siding at Schriever next to the Louisiana & Delta Railway's small office to see if the water hose from that office was long enough to extend out to the mainline.  That seemed odd, but the reason for that was that the MAVBT train (a westbound Union Pacific train that I'll describe more later) that had just left Avondale was having some big mechanical problems.  One of its locomotives was out of water, and another had a battery that wouldn't work, meaning with three locomotives, it only had one engine running and was hoping to take on water at Schriever.  (What, is this a steam locomotive?)
Look, It's Chip!
Here's Chip, a 42-year-railroader, emerging from the HLCX 3855.
I hope that Chip never retires.  The MudBug Sub would not be the same without him.  I'd also like to thank the Lovin' Louisiana page for spreading the word about this unheralded railroad celebrity, and for bringing a few new readers to Jimbaux's Journal in the process.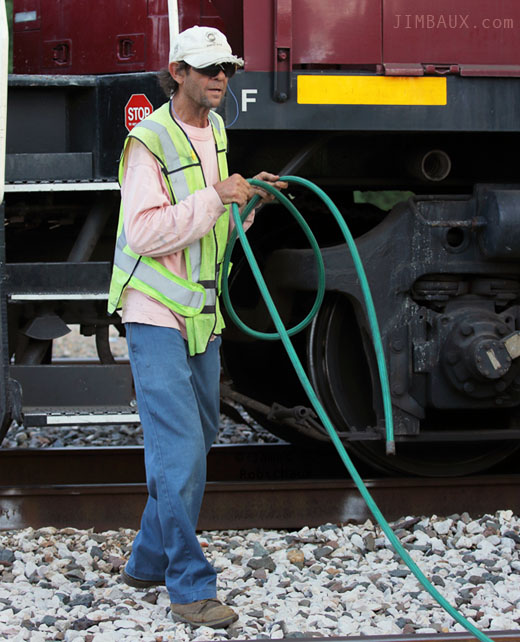 While this happened, the westbound BNSF train on which Chip was waiting passed.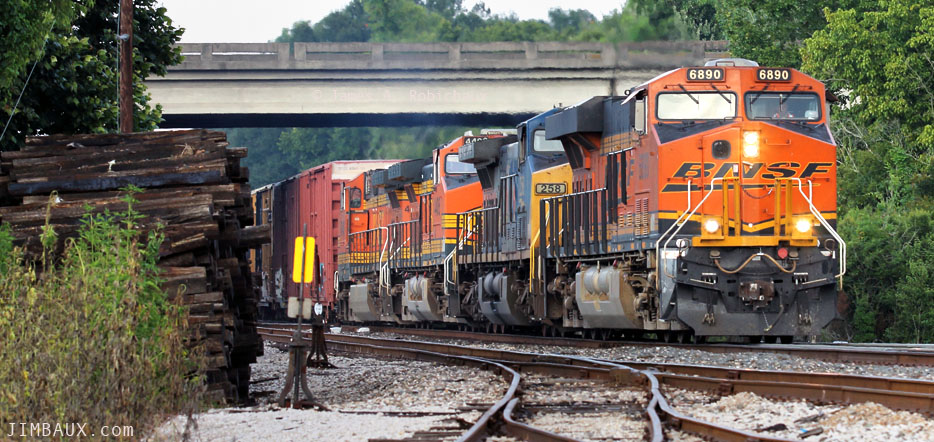 (I'm having great difficulty telling the M-CSXLAL apart from the M-NWOLAL lately.)
Friday Afternoon Happy Hour At Raceland
That's right, kiddies!  It's Friday afternoon, and you know what that means!  Stop at Raceland, park your truck, and you'll get two trains for the price of one!  It's our sometimes-weekly Friday afternoon happy hour special here on Jimbaux's Journal.
Before we get our first drink, though, an officer-of-the-law has to come and make sure that we are not underage.  More specifically and more literally, a deputy of the Lafourche Parish Sheriff's Office stopped to talk to me.  This is the second time that this has happened here.  I was acting like I didn't see him because I didn't want to draw his attention.  He just stopped, rolled down his window, and asked me if I was okay.  I said, yes, raised my camera so that he could see it, and he went on his way, perhaps not even seeing my camera.
As my opening remarks stated, despite whatever troubles there are, I'm grateful for a great many things in this world, and I'm also grateful that despite the fact that there are a few bad apples out there, some with whom I hope I've helped you to learn how to address, there are many, many good and noble officers of the law, and I'm grateful that this sheriff's deputy stopped to ask if I was okay.  Thanks, LPSO.
Anyway, where were we?  Oh, yes, Friday Afternoon Happy Hour At Raceland!
First, I'll pour you an MAVBT to get you going, but unfortunately, and maybe our taps aren't working, or something, this MAVBT is not as strong as most are, for reasons I've already told you.  Once you gulp down this MAVBT, though, just let me know, since I'll pour you a Chip Local right from the siding a mile west of here.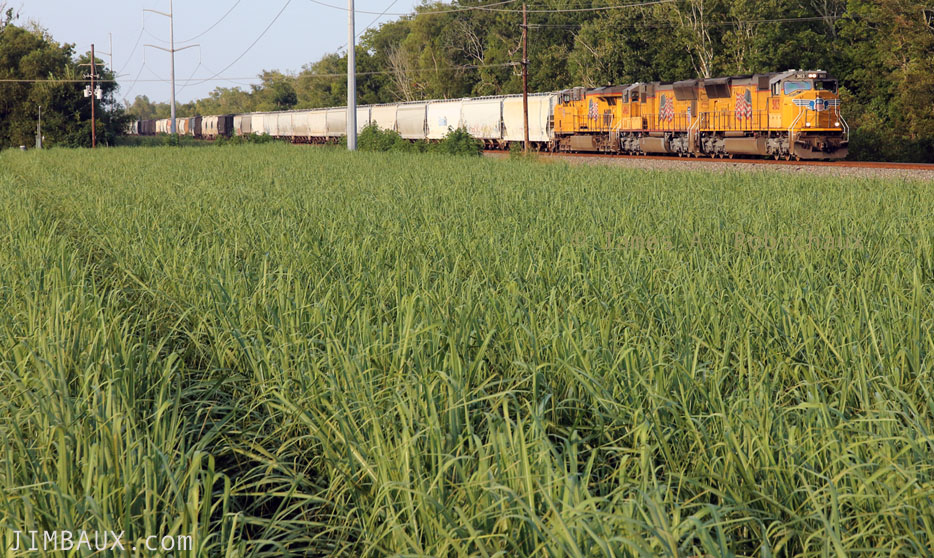 The MAVBT is a manifest train from Avondale, La., to Beaumont, Texas, but it is essentially UP's "super local" on the Lafayette Subdivision providing UP's only other local service (besides Chip's LLS51 train) between Lafayette and Avondale.  A major portion of the entire train (as it leaves Avondale) consists of one big setout for New Iberia (where it also makes a pickup) for interchange with the Louisiana & Delta Railway.  The MAVBT also has a Beaumont block and an Englewood block.
For the last few years, the MAVBT has been a thrice-weekly train, but a decade ago, it was daily train (or maybe six days per week.)  There are essentially two reasons for the halving of the frequency of the MAVBT, the first being the fact that the BNSF Railway, which actually owns the line, has won plenty of the local carload business away from Union Pacific, and the second being the Great Recession of 2008ish.
While I like the compression in the above image showing less of a wedge-like perspective on the train, the below image has the advantage of showing not only the edge of the sugarcane rows but also the inclusion of row lines at the far left to give the vanishing-point perspective that the above image lacks.  Think about that as you take another big gulp of the MAVBT, and then let me know what you think.

Are you buzzing yet?  I hope so.
A Trademark Protection Car
Well, perhaps to compensate for the fact that this MAVBT emerged from Avondale's tap weaker than usual, it was spiked with a Cotton Belt trademark protection car, this one being bound for the rice mill in Abbeville to be forwarded there by the Louisiana & Delta Railway.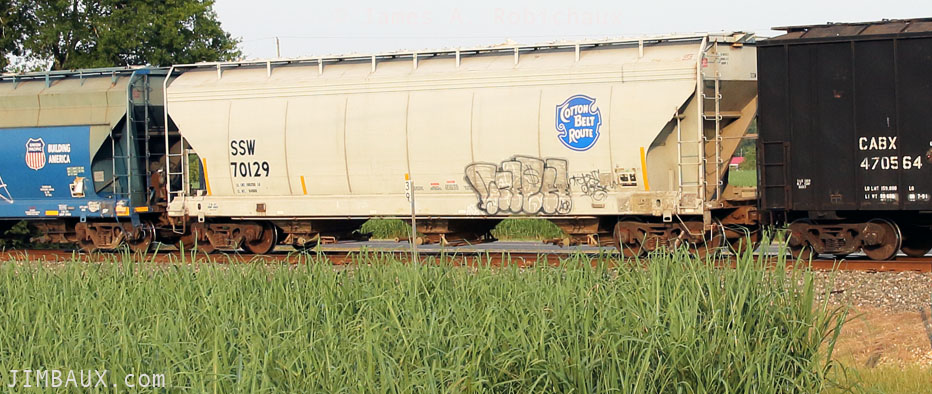 That carbon black car on the right is empty and bound for one of the carbon black plants in St. Mary Parish.
Can anyone tells us more about UP's practice of using the logos of predecessor railroads on a select-few of its cars?  Do y'all remember that almost exactly five weeks before these pictures were taken that I caught that nearly-extinct Cotton Belt GP60 in Avondale?
Drink # 2, Chip Style
Here's your next round, but you need to swivel around on your bar stool and orient your body in the other direction for it.  I did an unusually large amount of mixing this cocktail in Photoshop before I served it to you, but I still don't quite like how it tastes.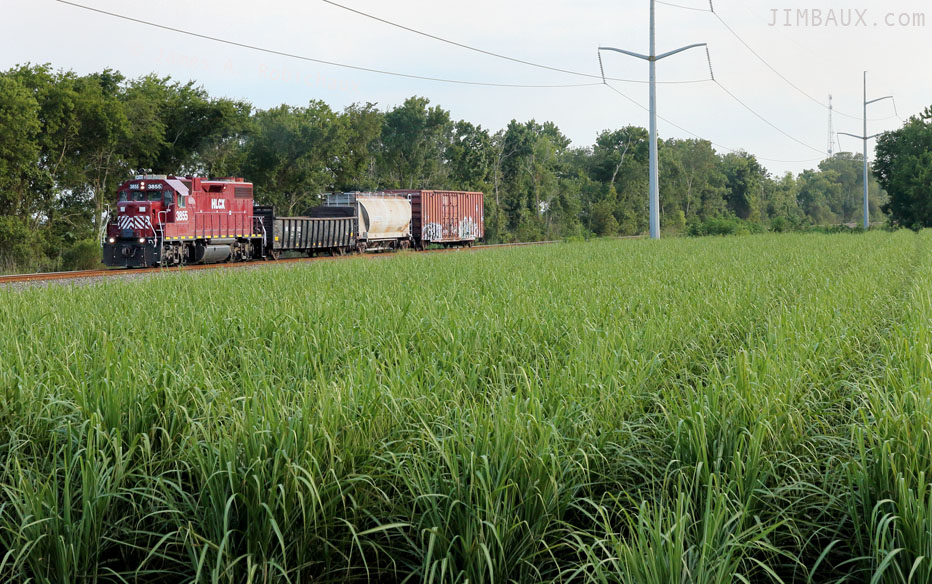 Yeah, that's what I thought, but, in this case, I don't think that you have the option of sending it back.  Hey, now that you've sucked some of it down, I might be able to try to add some better-leveled ingredients to make this glass of the Chip Local at Raceland a bit more palatable.  Is this better?

That fiber-optic marker of a toothpick is part of a drink.  You'll just have to remove it yourself if you want to avoid swallowing it.
Well, at least these kinds of drinks don't leave you unable to safely or legally drive afterward.  Since Chip and I are going in the same direction, let's see what else we can do with him.
Bayou Des Allemands
This is essentially a new shot.  I've done this shot once before, but it was lame (due to it being more dark than the shots below), and I didn't publish it.  Also, this shot does not work well when there is more than one locomotive on a train.  Below is just a broader preview as Chip has to stop and flag the bridge for some reason, hence the headlights of the train being off.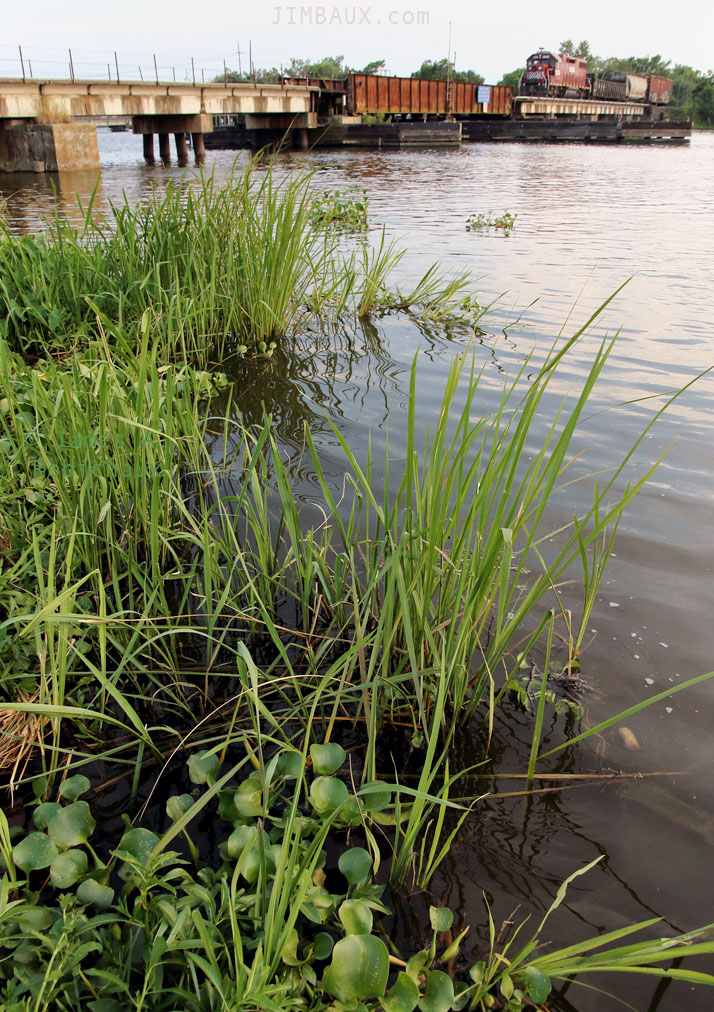 Des Allemands is an interesting place.  As some of you already know or have already ascertained, the community's name is the French term for "the Germans," and a check of the telephone book there even today reveals why.  Although some Cajun names can be found east of here in St. Charles Parish and into Jefferson Parish and into New Orleans, I consider this bayou – draining Lac des Allemands – to be something of an eastern boundary of Cajun country, though my lower Atchafalaya and St. Mary Parish associates probably would not agree.  (Some don't.)
Do you see Chip standing on the bridge in the below picture?  He's getting back onto the locomotive.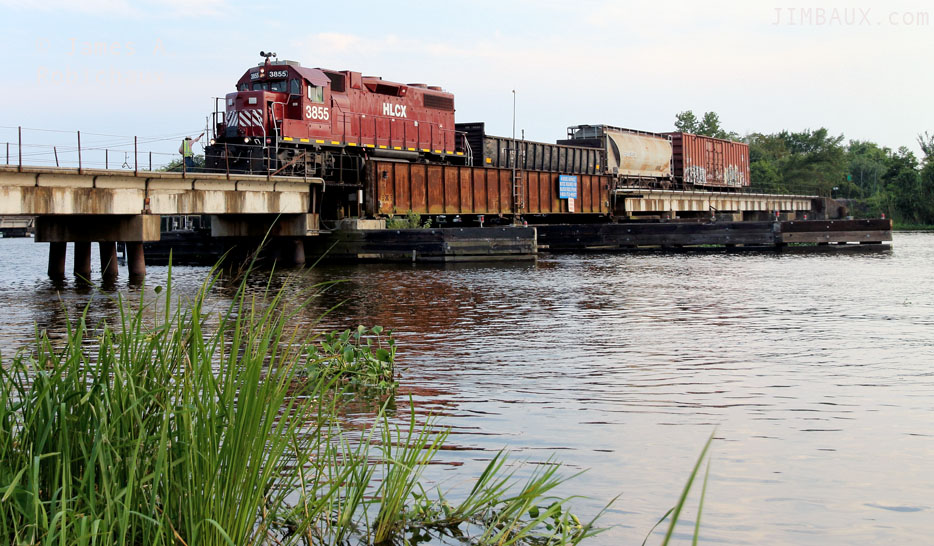 I'm actually barely standing in the bayou to take these pictures, and I would soon pay more than I had hoped to pay for this decision.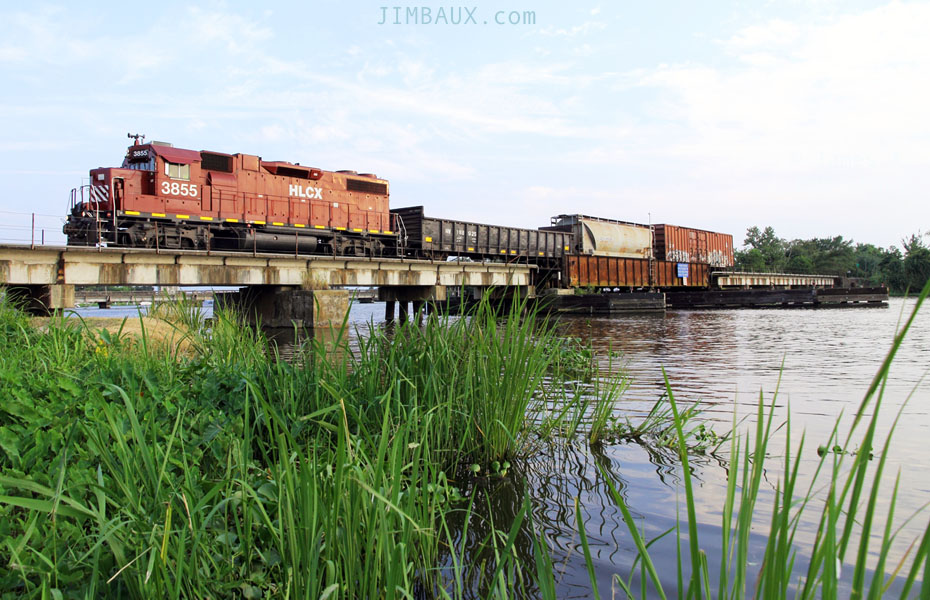 What do you think of these shots at Des Allemands?  It's a neat place, but this might be the first time that I've had any success photographing from this side of the bridge.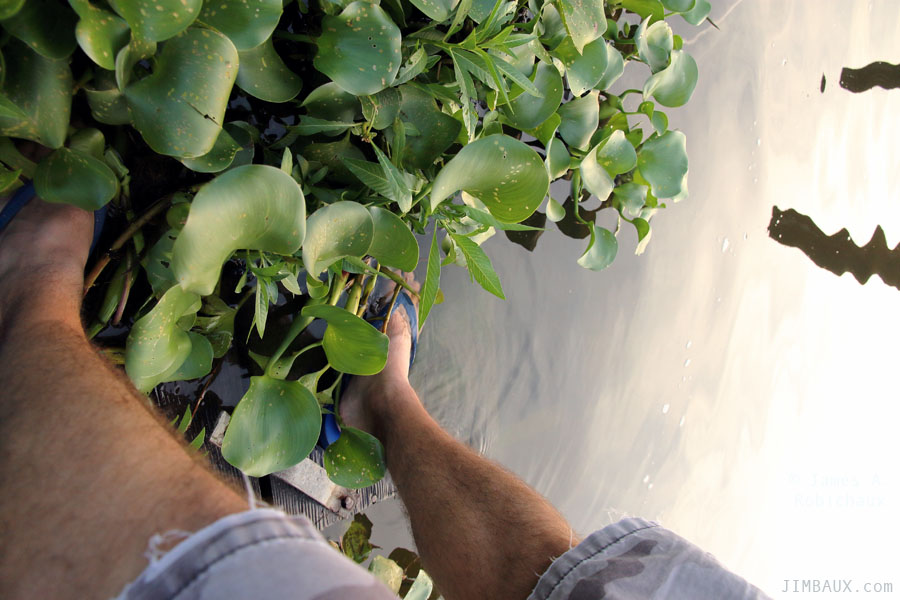 It was after realigning my own body back to normal position from taking that picture that the process of doing so apparently caused me to slip with my rear end falling right into the bayou.  Yes, I properly cradled the camera, and it surely survived for me to get up and shoot this parting shot of of the sun setting over Bayou Des Allemands.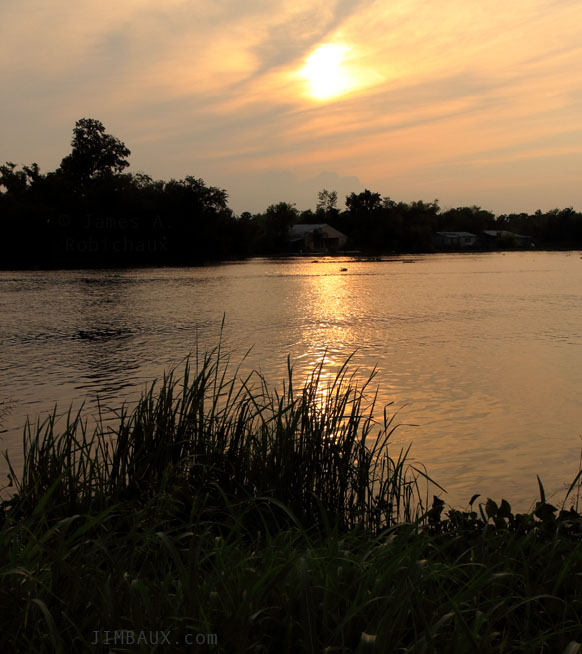 I set some towels on the seat and got back into the truck laughing at myself for what I had just done.  At least a shower had been in my near future anyway.  Ah, the things that some of us do to get pictures!  Don't laugh too hard, or, if you do, not in a ridiculing way, if you still enjoy the pictures!  That's what it takes to get them some time, harassment, threats, and normal earthly physical dangers.  Try walking in the photographer's shoes, or, in this case, flip-flops.
An Anti-Climactic Encore
That sunset shot should have been the end of it all, but since, again, I was still going in the same direction as Chip, I pulled over on the old highway in Paradís to get one last shot of him from my front window.  Had I had more time, I'd have gotten him a little further back from this locatin with the telephoto lens, but this is what I got.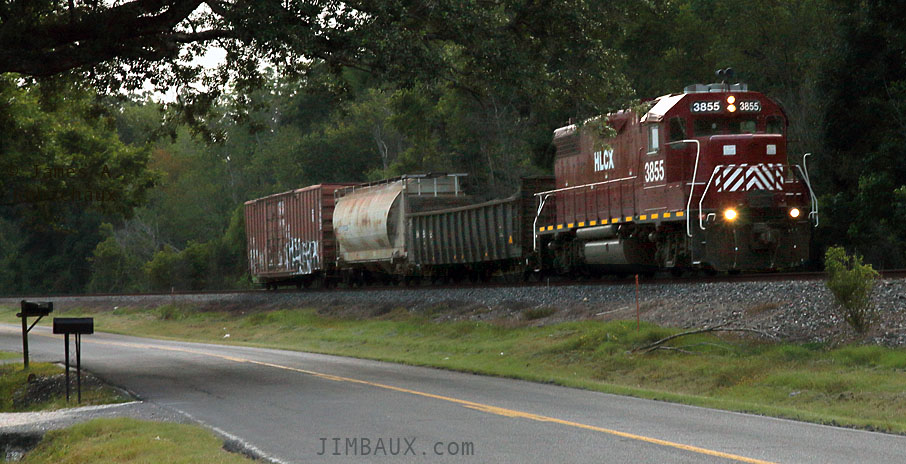 That, my podnuhs, is really all there is to it.  What you have seen here are the results of one man making the best of his life situation and expressing his gratitude both for it and despite it.  Don't focus too much where you are on your path.  Just remember that wherever you are and in whatever moment you are, bring fascination and curiosity to yourself, and pay it forward.