[Jimbaux blames you.]
Whiskey Tango
Friday

Foxtrot

You know it.  It's Friday afternoon, and, once again, we have the usual drill of Jimbaux popping of shots on his way from swampland and bayouland back to Woadieville, and, as usual, popping off shots on the Lafayette Sub, ya hurd may?  Those of you seeking photographic truth (whatever that is) might want to check back on the prior episode or wait for a Sunday Sermon of Biblical (?) proportions to come out soon; these pictures are not that great, though we do have an aged gem of a subject toward the end.
Shifting Through The Ashes
I was hauling tail on the freeway when, just before the Chacahoula exit, I look to the east down the track and see a headlight.  Now, the light sucks to holy hell as it's right around 13:00, right at high noon, the worst of high sun, but I figured I'd stop to check out what was happening.  I got a shot and couldn't decide whether or not I should go grey with it, as is often the remedy for sunny high-sun shots.  I decided on a compromise, one of which I know many of the "proper" folk among you will not approve.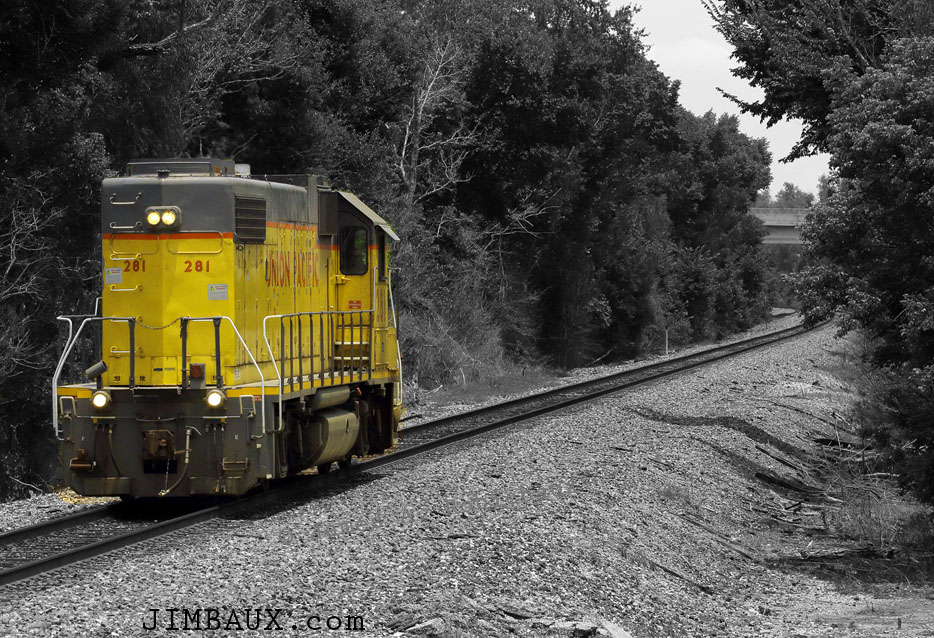 How's that?  Best of both worlds?  Worst of everything?  The lasso tool is indeed my friend, my friends; indeed.
Yes, that is the Chip Local, but I'm very sad to report to all of you, my dear Jimbauxlings, that it seems that good ol' Chip has indeed retired.  Wow.  Apparently, that time I photographed him at the beginning of the month at Boeuf is the last time I ever photograph him in action.  Wow.
I really will miss Chip.  I'm serious.  The easternmost 70 miles of the Lafayette Subdivision just will not be the same without him.  I'm grateful that I was able to record him and his smile in his final years on the line.  I'm also grateful that many of you have come to appreciate the coverage of him seen here.
So Sayeth Mike . . .
Now, I really do appreciate the great comments left by Mike Matalis in the recent discussion on sensors and the stupid "megapixel craze," but, coincidentally, he left a comment on my dawn haze Chacahoula post from a few days ago jokingly asking if something just bit him.  Why is that a coincidence?  Well, have a look at the below picture, which I took before I jumped back down from the top of the truck.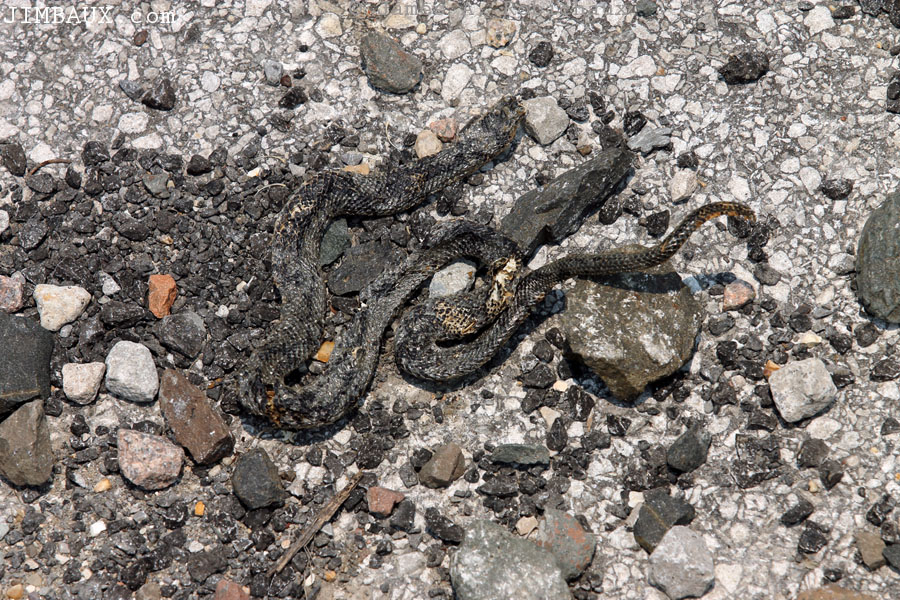 Ah, swampy southern Louisiana.  A few days before, I saw some vultures pulling apart the remains of a young alligator.
Nothing In Between?
When making the drive from bayouland to Woadieville, y'all probably know that I try to get the good shots, like the good locations of Raceland and Paradís.  However, there just weren't any trains at those places when I needed them on this afternoon (and I wasn't sticking around to wait until sunset.)  So, I guess getting shots there just wasn't in the cards for this afternoon — or, as many of you Muslims, Christians, and Jews might prefer to say, it just wasn't "part of God's plan," or something like that.  Whatever.  Anyway, what does that leave us?  I guess there's nothing left to do but to check and see what's happening at Avondale.
Recrewing
Check this out.  Here we see, at right, BNSF train M-CSXLAL getting a crew so  he can depart town.  BNSF doesn't have any road crews based in New Orleans (or Avondale, but it has shuttle crews in Avondale.)  So, this is a Lafayette crew on its way home.  At left, we see some job that will eventually become the Union Pacific train MAVAX (Avondale to Alexandria) to leave the next day.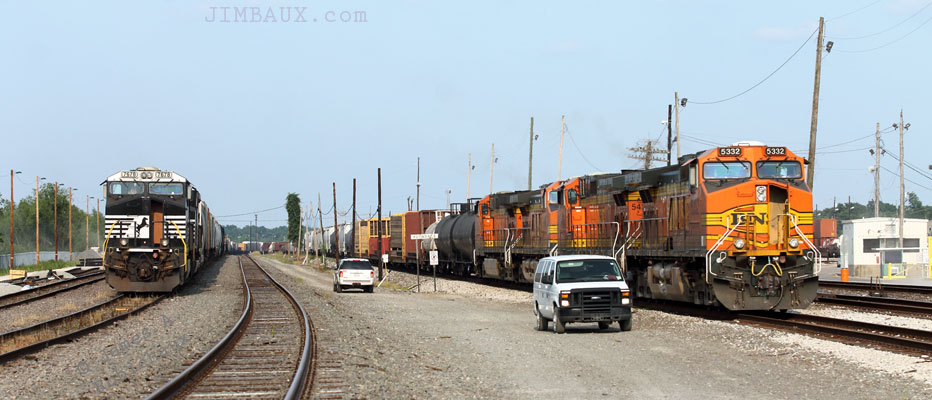 The set of tracks on the left is the former Texas & Pacific and Missouri Pacific and becomes the Livonia Subdivision, and the set of tracks on the right is former Southern Pacific and go to Lafayette.
In the below picture, some UP locomotives can be seen at the far right.  These are probably the power for the next IAVLB (Intermodal – Avondale, La., to Long Beach, Ca.) to leave.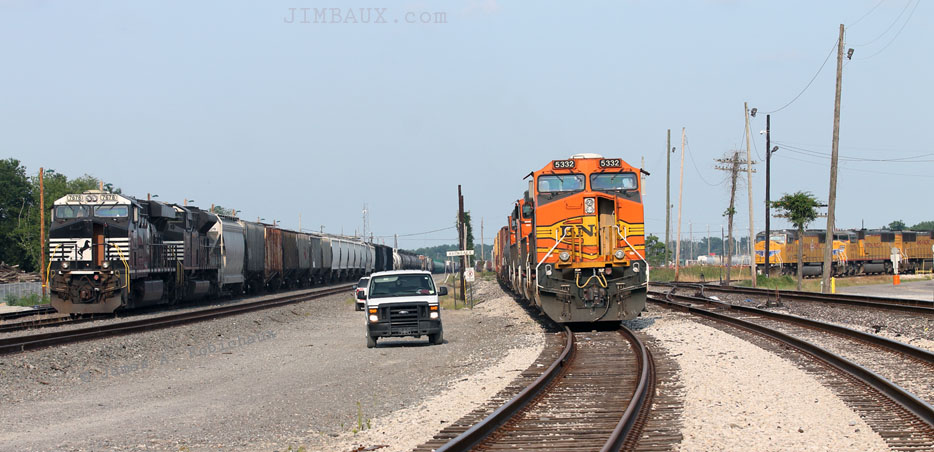 Do you see the Avondale station sign just behind the crew van?
Speaking of the SP!!!
Well, what do we have here?!?!?!  Check this out!  Or, as one of my aunts would say, look-a-dis.
This is a real blast from the past, though you can see how horribly faded it is.  More than 15 years after the SP merger, it was great to see this gem, this Cotton Belt GP60.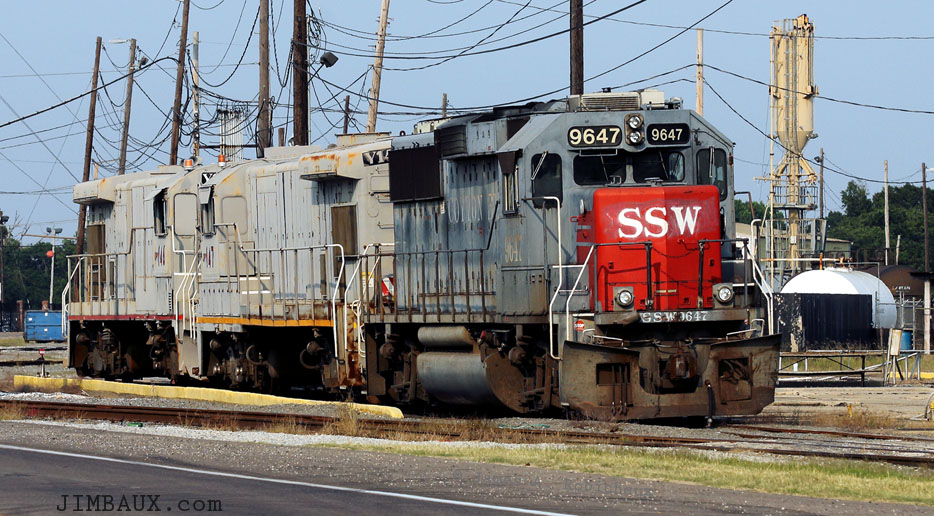 Yes, that's the sand-tower in the background.
I really do miss the SP, the railroad of my youth, and the railroad of Chip's youth and even of Chip's father.  By extension, I miss the SSW too.
Let's get one last look at this thing before we call it a night.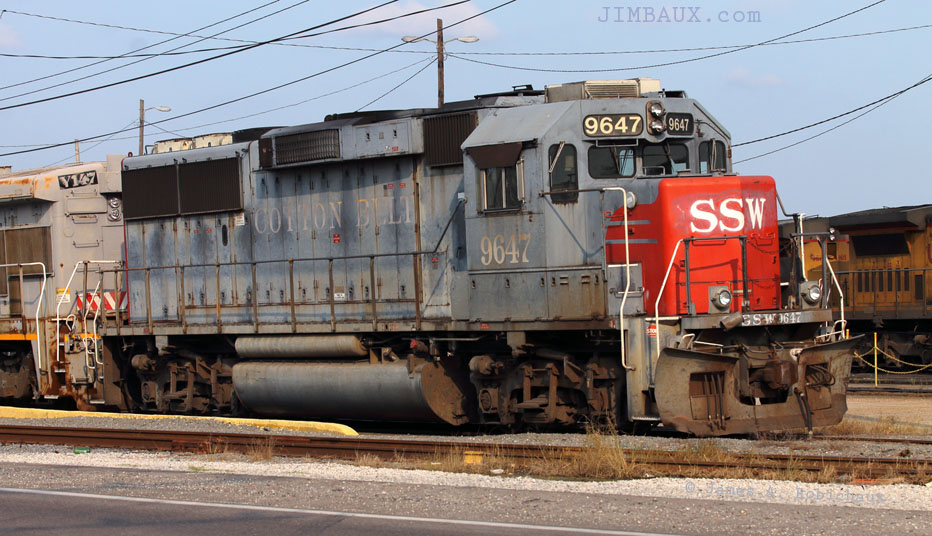 Yes, all glory is indeed fleeting.
Pleasant Dreams?
That night, I had a dream.  You see, about a decade ago, when I was a punk-ass 19-20-something college kid, there was this girl I really, really liked.  Things didn't work out between us, but I learned plenty in the process.  Well, a few weeks ago, I ran into her for the first time since then, purely by accident.  Then, a few hours after I took these pictures, as I slept that night, I had a dream that I was at her wedding.  I was the photographer there.  WTF?
What does it all mean?  Things, I now very clearly see, would not have worked between us because they should not have worked between us.  We're both better off without each other, and it's partly because of how I'm becoming more and more of a non-conformist the older that I get.  There's no way that either of us would be able to put up with each other today.  Even though I generally avoid doing wedding photography, I interpret my role as the photographer at her wedding (and, yes, she really is married in real life now) in that dream as a sign that this photography thing is really what I do, and that it's therefore who I am.  Does that make sense?  It's very much in the spirit of the Nietzschean idea of master morality, but it goes far beyond that too.
I think that at this point that I should remind you that photography is not about taking pictures or how to take pictures.  Photography is about how to see.  People often talk about my "camera skills," but the reality, and many of you probably already know this, is that by the time I bring the camera to my face and put the viewfinder to my eye, most of the skill that goes into making good images – the creativity, the composition – has already been exercised.  The rest is just technical details.
Unfortunately, the pictures in this post really don't reflect nearly the best of what my imagination can offer, but just wait until the Sunday Sermon with pictures taken two days after these.  You'll see how touched I truly am (as if you have doubts.)  Until then, I wish you the sweetest of dreams.
All for now . . .
Jimbaux