I'm sure that many of the audience of Southerners out there will appreciate both the subject of the photos as well as today's song.
Did y'all participate in your corporate-dictated and society-dictated appreciation of your mother on the particular Sunday of the year that you had no choice in choosing?  No?  Wait, you mean you actually show appreciation for your mother on all other days of the year and didn't feel the need to spend money to make some card manufacturer rich just because the corporations and corporate-controlled mass-media tell you to do it on that particular date?  Well, good for you, and I applaud you for standing up to mob-society, just like I applaud you for genuinely loving your mother on any day that you choose (and all of them.)
Lame Or Different?
In our diluted and differently executed and not very convoluted Sunday Sermon for this week, we have some views, not very inspiring, not heretofore featured here on Jimbaux's Journal.  Perhaps you'll at least appreciate the variety, but I have no control of how you will receive these, nor do I ever have such.  Then again, maybe you don't either; do we even have any control at all over what we like?   I don't really think that I chose to like trains just like a baseball fan really doesn't have much control over his liking of baseball.  I mean, none of us choose to like food and sex, but we just do; yeah, I know it's not quite the same, since my survival and my ability to leave a mark on this world after I'm gone don't depend on occasionally watching and photographing trains, or do they?
Bah, whatever; we're losing our focus here.   There will be plenty of time for philosophy later (or maybe not.)  Let's get back to the lame Sunday morning pictures.   I heard what sounded like the QLINSB get permission from Oliver Tower to land, and I went out hoping to get a shot of it at Wisner, even though I keep telling myself that I'm never doing that shot again.
Infinite Human Stupidity
There's a two-fold problem with my little "plan," if we want to even call it that.   Thinking that the shot at Wisner was the only thing that I wanted to do, and not realizing the obviousness of the possibility of the shot being jacked by the presence of a parked westbound train on the mainline, I left the crib, after downing my turkey sausage omelette, with only the big lens.
Well, I'm sure that you know what happened.   Now what?   I just kept going east, but there was nothing happening on the CSX west of Gentilly Yard (the only place in Louisiana that I care to see what's happening on the CSX.)  What in the hell is a guy to do? Go to the NOPB's France Yard.  There's just one problem with this. That's not a place for big glass, at least not for northbound movements, and what do we have here?

Wait, Jimbaux! I thought that you said that you only had the big lens on you.  WTF?   Well, as it happened, there's a little 18-55mm kit lens sitting in the toolbox in the back of my steed.  Yes, yes, I know that being mixed in a metal box with wrenches, a tape measure, screwdrivers, a speedsquare, and channel locks in the back of my truck isn't the best place for a lens, but it's a kit lens, for heck's sake, and one that I essentially never use. Well, aren't you glad that it's there? I am!
I'll have more to say about this and Canon's marketing shortly, but let's get some information on the subject matter out of the way first before we get on that topic.
This is the Kansas City Southern Railway's daily interchange train to the CSX Railway in New Orleans, but that's not really true. We're on trackage of the New Orleans Public Belt Railway here with an NOPB crew.  The train is passing just outside the floodwall and is preparing to enter France Yard.  The locomotives that you see pulling this train are just shuttle power that work the few miles back-and-forth between NOPB's Cotton Warehouse Yard and CSX's Gentilly Yard.  The KCS power is serviced and turned at Cotton Warehouse Yard, where NOPB tacks onto the train anything that it has bound for the CSX.
So, here's the problem, and there's a problem behind this problem.  As you can see from the above picture, I can hardly fit much of the second locomotive in the shot.  It seems to me that had I had my 15-85mm lens with me, this would not have been a problem.  Does 3mm really make that big of a difference?  Perhaps I should do some experiments to tell.  However, I really don't think that I should have to do that, which brings us to the next problem.
Canon? Or Can Not?
Now it's time to delve into a topic I've avoided discussing for a long time, a marketing phenomenon (or so it seems to my prejudiced and limited perceptions) responsible for the sub-par quality of these pictures, specifically my inability to get the wider views that I wanted.  Part of the reason why I've avoided discussing this all along is that while I love talking about photography, I am rarely interested in talking about cameras; unfortunately, many so-called "photographers" don't really know the difference between the two.
Those of us who are of the starving-artist type (even if we do, like Jimbaux, have a "real job" too) who are monetarily impoverished are unable to shell out the big cash for anything more than the cheapest "prosumer" DSLR cameras available of our chosen systems, in my case Canon, meaning, in my case, a "Rebel" variety.  However, there really is only one reason why I would want a better camera: larger sensor, hopefully, full-frame.  If I had been shooting with a 5D2 for these pictures instead of a Rebel, I probably would not have had this "wide angle" problem.  (It's possible that I would have still had the problem due to the limitations in quality of the kit lens the farther away from the optical axis one gets, therefore rendering those parts of the image useless anyway.)  The Canon 5D2 is the cheapest Canon DSLR camera with a full-frame 35mm sensor.  The 7D has a smaller one, but it's bigger than that of the Rebels.
Really, the only reason why I really want a 5D2 is the full-frame sensor, but with a price tag four or five times that of a Rebel, I don't see how I'll ever land one.  Therein lies the problem, and therein lies the question.  Is the price difference between a smaller sensor and the full frame sensor really that much?  I cannot imagine why it would be.  If there's a legitimate reason that has to do with production, please, someone explain it to me.
I have a suspicion to the reason for the price difference, and it has nothing to do with production cost.  I suspect that Canon has to keep the 7D sensor smaller than full-frame and the Rebel sensor smaller than the 7D simply so that enough people will fork out the big cash for its pricey, high-end, full-frame stuff.  Does that make sense?  I mean, if the Rebel had a full-frame sensor, even with a corresponding increase in price just for the actual production cost of that full-frame sensor (which, again, I suspect is not all that huge), wouldn't the number of purchases of 5D2s drop significantly?  And wouldn't that hurt Canon's revenues?  What are your thoughts on this?
Of course, if I did have a 5D2, I'd probably also need a new, better wide-angle lens, since that crappy 15-85mm lens I bought last year in DC just won't cut it on the edges of the shot, though I'm not totally sure.
Back To This . . .
Now, in this going-away shot that I've never done before, you can see the classic EMD profile, which I really love, and it was a fleeting moment of glory to get out in the morning.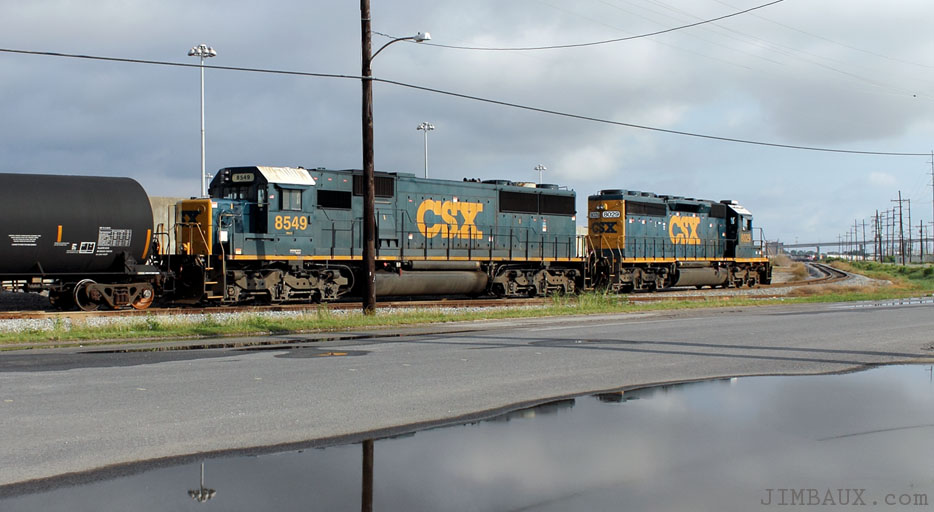 You can see how atmospheric conditions were really working in our favor here.  Not only that, but it had cooled off a bit that weekend, and these fleeting minutes alone by the track on a Sunday morning not long after sunrise are something that I really need.
Y'all might remember how a few years ago, I really was the international man of mystery, especially from mid-2009 until mid-2010, even though I was in western Canada in mid-2008 and was in Mexico in late 2006 and early 2007.  Yes, in June 2009, I spent a few days in Texas followed by most of the rest of the month in northern Mississippi and a little bit of Alabama and Tennessee.  Then in mid-July 2009, I was in England for a few days, then in France for a few days.  After two days back in New Orleans, I was in Minnesota for a few days, followed by more than a week in western Canada where I was when July ended, then followed by a few days in Oregon.  Then, when 2009 ended, I was in northern Mexico.  (Yes, I do plan on eventually posting some of my Europe shots.)  I was in eastern Canada in July 2010, and I have not left the USA since then and don't know when I ever will again.  Those days seem gone, partly because they even existed in the first place (specifically, the cost of them), and I can just be glad that I did them.  I guess I need to repay that gratitude by slowly publishing pictures from those travels here.
'Twas a great fortune for me to be able to make that trek to Minnesota and South Dakota and so many cool places between here and there last month, but that's not going to happen again for a long time again either.  That's actually good in plenty of ways, since it will force me to focus on numerous other things, not the least of which is processing and publishing shots from that trip.
This spring, though, sudden professional changes mean that I've now become more of an inter-parish man of mystery than I ever have been, and while it has its benefits, it surely can be grueling, as evidenced by, if nothing else, my apparent inability to make timely postings here.  There's also the matter of the size of my waistline, the largest it has ever been.  How it got to be that way in the last two years is another matter, but it's almost irrelevant, as I need to figure out what to do about it.  I'm actually doing some things about it, but I'm either not getting results or not getting them as quick as I want to go get them, which means it's now time for the next plan, which actually should probably work.
Anyway, the point of all of this is that throughout all of the struggles, struggles that have delayed me getting these pictures out by a week, I'm glad to have these fleeting moments of foamy glory on Sunday mornings, as it's the only "active foaming" I'm doing now and will be doing for awhile (at least until the weather cools off in the fall), save for some circuitous detours to Bayouland via River Country.
The Only Telephoto Shot Of The Day
Something is wrong here.  Yes, perhaps my deuteranomaly is at work in the below shot, but not only did it cloud up on me right as the train crept to this position, but I was actually a bit drunk when I did the process of all of the shots in this post.  I'm sorry.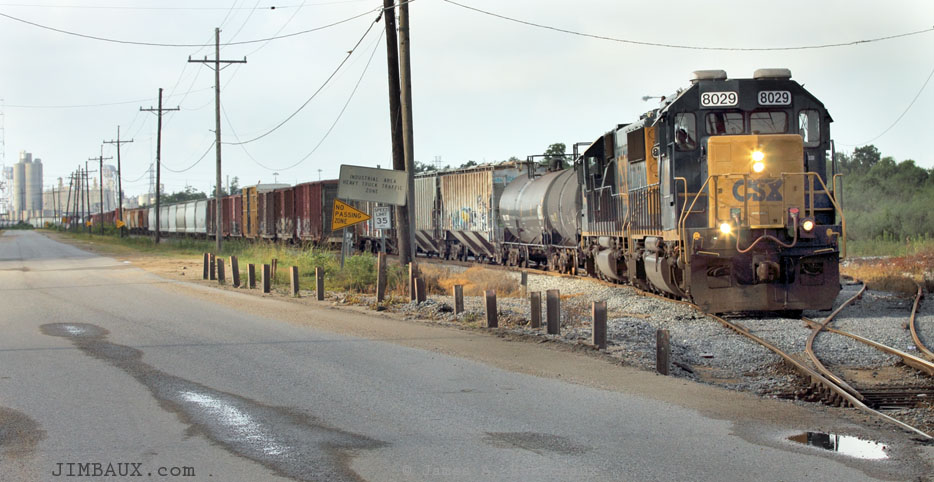 I was drinking some Yellow Tail as I did the raw conversions in DPP on Sunday night and again on Monday night when I did final jpeg processing in Photoshop.  Did I render at least the above shot horribly?  Maybe I should go black-and-white anytime I'm shooting CSX.
Something New
I've been wondering how to show this new crossing control box for a long time, but I finally did this today.

That was once a ground-level box, but I guess a certain flood event here slightly more than a half-decade ago made the NOPB think about raising it.  Now, this is interesting, because on my recent travels last month, I saw plenty of new elevated control boxes on BNSF's St. Joe line in northwestern Missouri.  In case you can't figure this out from my earlier-linked Facebook post (or you just don't already know it), that's the line that suffered plenty of flooding last year.
That's all for Sunday 13 May in terms of pictures.
Friday, While I Have You Here
The picture-and-a-half from Friday 11 May aren't enough to warrant an individual post; so, I'm putting them here.  Jimbaux, being, again, more of an inter-parish man-of-mystery than he has ever been, was on his way from Bayouland back to Woadieville on Friday afternoon, when a stop was made at Raceland to check out the action there.
I'm wondering if Chip has already retired.  The LLS51 was at Raceland sans Chip.  Weirdly, to me, the westbound Z-train took the siding, possibly just for the local, which seemed to blast through.  The conductor of the westbound Z-train lined the siding switch behind his train, which struck me as bizarre.  I mean, in the old days, this was due to the #2's impending arrival, and maybe it still is, but I'm too lazy to even look at the new Sunset Limited schedule, at least not yet, since, afterall, it's not like I can catch any trains other than the ones that happen to be on the track when I happen to be by the track.  Well, I do know that at least one Houston photographer is now taking advantage of the fact that the Sunset Limited now passes through that metropolis in daylight.
Anyway, here's the LLS51 – I don't feel like calling it "The Chip Local" if Chip's not on it – passing the east switch at Raceland, with the tail end of the westbound Z-train and its conductor seen in the siding.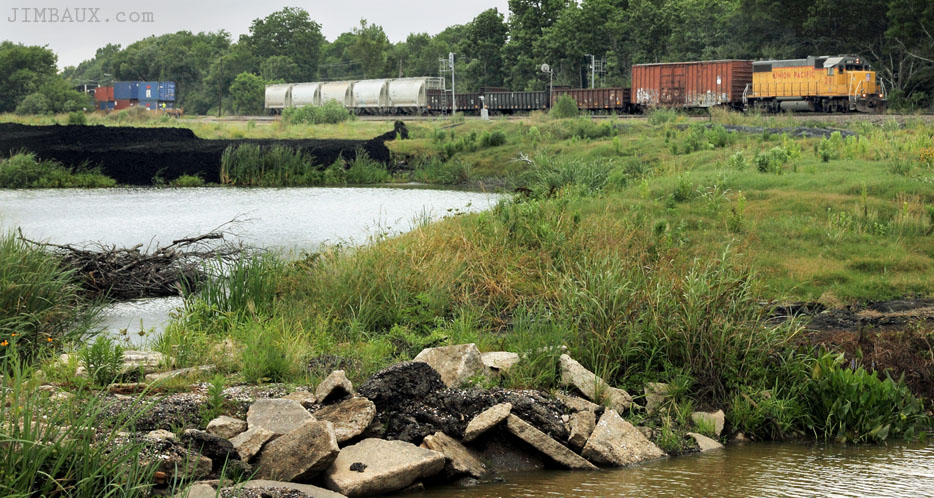 The old railroad water tank pond is now almost completely filled-in.  The foreground of this view was dominated by water until just a few years ago, but the sugar mill has found a good place to put its stuff, I guess.
Food
A couple of hours later, I took the below picture for a project on which I'm working for a piece here on Jimbaux's Journal, but that might take awhile, and just for the heck of it, I'm showing it here now since it was taken on the same day.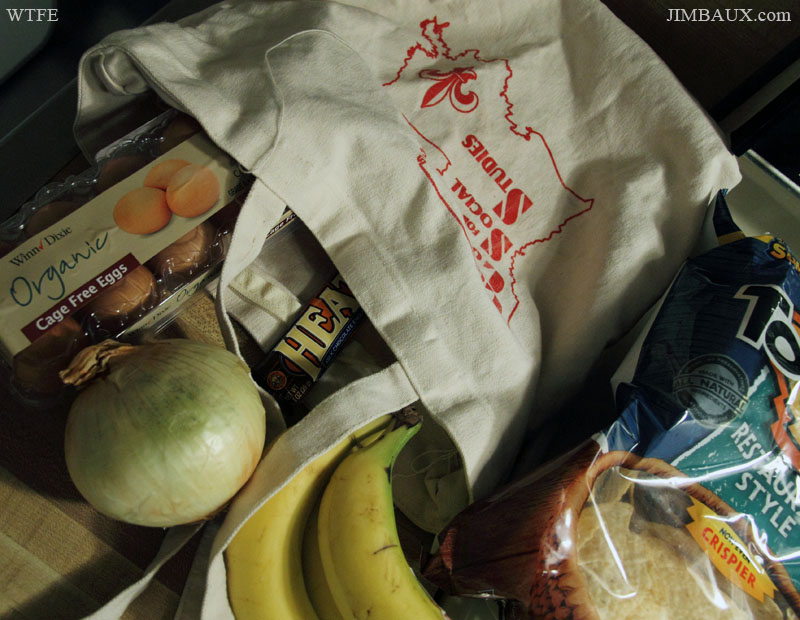 The onion was already at the crib before I made said grocery run and is just placed here for effect, as I would have gotten one had I not already had one, but everything else there was bought on Friday afternoon.  Normally, also, there are some tomatoes and lettuce in that mix too, but not this time.  To give a little hint, though, of why I took the picture, look not at the food items but of the vessel in which they rode.
Environmental Activism And Coal Trains
What do y'all think of whatever plan happened a few weeks ago with the environmental activists wanting to block some BNSF coal trains?  I'm not even sure whatever became of that.  Does anyone know?
Topic For Discussion Groups
After some stupidity earlier this week on one of the internet discussion groups, I feel the need to point something out to those of you who arrive at Jimbaux's Journal postings via one of those groups.  I post links to these posts there because the pictures in whatever postings are on the subjects of whichever particular groups to which they are posted, but much of what I write here in between the pictures is not on the topics of said groups.  I don't think that this is a problem on its own, especially as I am of the opinion that anyone who chooses to read anything here is an adult and-or can choose if he or she agrees with it.  The problem, though, comes when someone responds to something written here not on the topic of the groups by replying to that very group!  That's why there's a comment section here on the page, people!  For the things on any of this post that are on the topic of whatever group from which you learned of this post, then, yes, replying to the discussion group is appropriate.  However, I can't be held responsible if the topics here (sometimes "controversial") generate off-topic discussions when I only alerted people to the pictures that are on the topic of the groups.  Thoughts?  You know where to post them!
Oh, and if you're one of the people who finds these posts on a group dedicated to a particular railroad and want to be alerted to all updates, even those that don't involve that specific railroad, you can join the distribution-only list dedicated to it.
All For Now . . .
It's Sunday morning as I'm finishing the typing of this post, and, yes, I did get a few lame shots this morning.  It's getting hot here again, and I don't like it at all, though yesterday (Saturday 19 May) was an emotionally charged day; not only did I attend a high-school graduation for some kiddies I had taught as freshmen, but shortly before that, I was at a memorial service for someone who committed suicide, the only sibling of one of my best friends.  I needed a break and a few minutes by the track this morning.  Maybe you do too?
All for now . . .
Jimbaux