[Jimbaux is a traveler of both time and space, to be where he has been.]
Sunday Sermon
All Will Be Revealed
Listen up, dear parishoners!  Y'all hurry up and take your seats with the elders of the gentle race for today's sermon, which will be brief, and please make sure you don't fart during our Sunday services today.
Oh, Let The Sun Beat Down Upon My Face
. . . and stars fill my dreams?  Anyway, being the devout foamer that I am, I was trackside on Sunday morning for that purpose, practicing my faith even when conditions – like heat and high-sun, conditions that won't go away for months – test my faith.
Comint along with my eyes revealed that, as usually happens around this time of the morning, Norfolk Southern's transfer to-and-from the Canadian National Railway yard at Mays Yard was on its way back to Oliver Yard.  I went to Wisner to get the shot, but the train got sent through the passing track in Metairie (for reasons I do not know), significantly delaying its time, meaning the sun was getting more and more head-on at this shot, meaning the shot quality was constantly reducing.
Warning: This is Far From My Best Work
These shots are barely presentable and don't reveal much in the way of imagination from the photographer, but they are presented here nonetheless for whatever they are worth.
Well, Since I'm Already Here . . .
In all this time of jacking around, the 345 shows up on the southbound mainline.  Great!  This will just jack this shot for sure, but then maybe that will be a good excuse to deep-six this increasingly foolish idea.  That's not what happened, though, since the 345 (which becomes Union Pacific train MNSLI as soon as a Union Pacific crew boards it) ground to a halt for an apparent crew change at Bayou Saint John.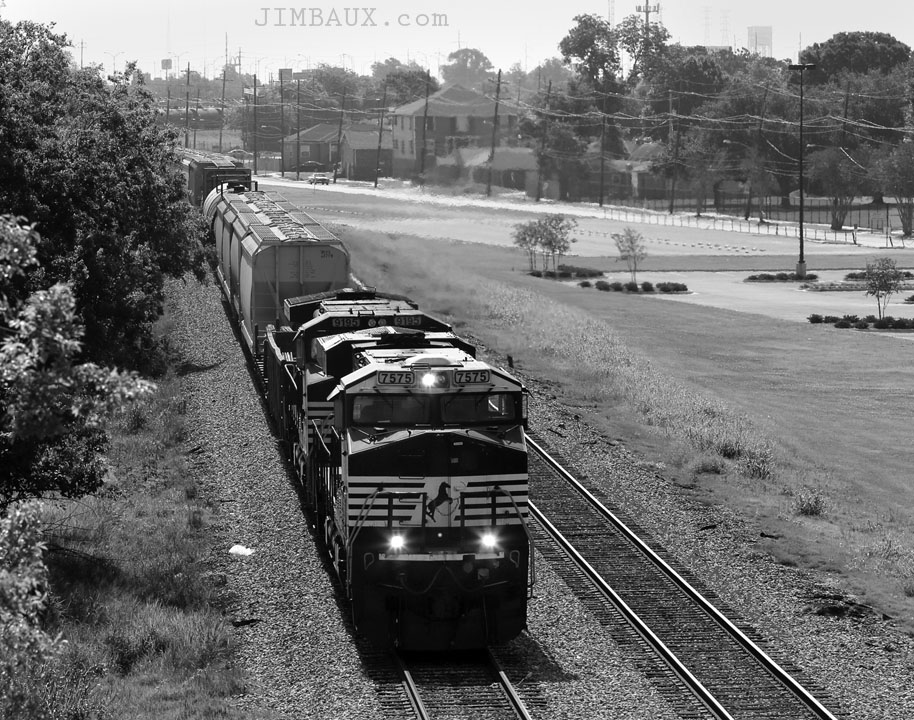 Yeah, I know, those gondolas make it look like a 393 to me, but the crew identified itself as the 345, and that train usually makes it through here around dawn; so, who am I to say otherwise?
Well, Since I'm Still Here . . .
The transfer job from the CN finally shows up, and I guess the light isn't terrible, now is it?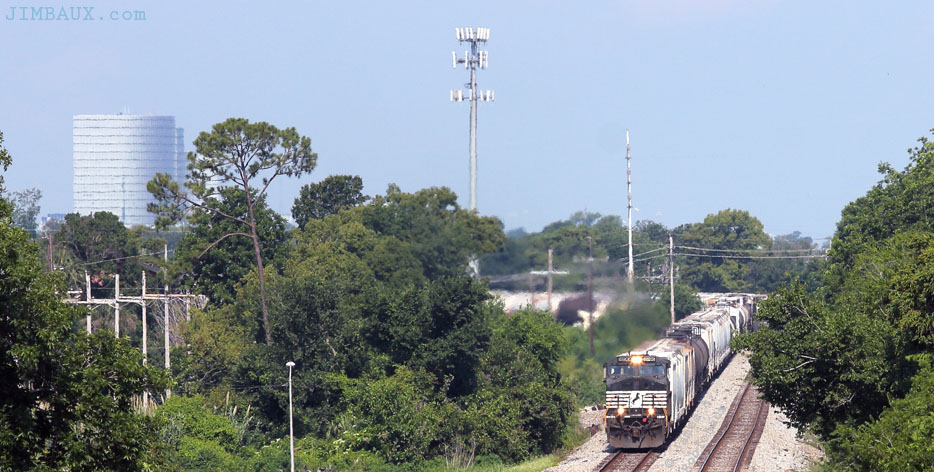 That's the Galeria Building in Metairie in the background.  The train, as the caption information (which can be found in the filename, which can be found by holding your mouse over the picture) indicates, is passing through City Park.
More Than Meets The Eye
Yes, something has been transformed here, but I'll leave it to the astute reader to figure it out based on a few more hints that I'll give.  The reasons for the transformation and the reasons for the secrecy are the same: to protect crews from any draconian punishment and to protect myself from any future grief from crews who might think that I might have bad intentions with a camera.  Those of you with a very astute understanding of railroad operational practices will understand when I tell you that the crew of this train was trying to do a common courtesy to the crew of the 345 (seen first in this post) which had just arrived ahead of it pointed in the opposite direction.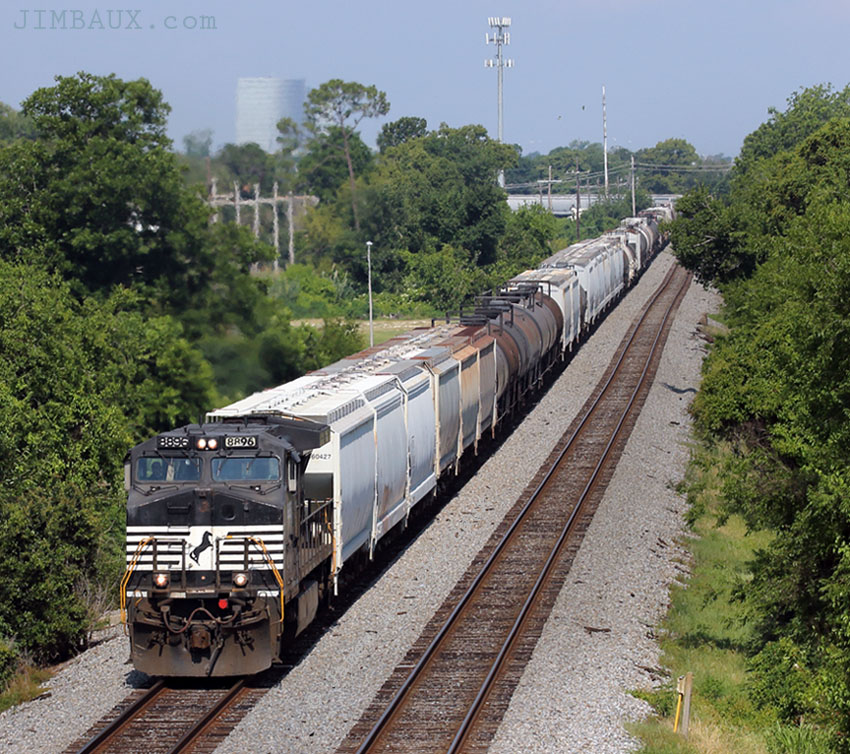 If there is any other piece of evidence, it's that I'm not the best when it comes to using Photoshop.  I did the best that I could, even though I don't much care to learn more about this.
Let that be all there is to it.  While I really love feedback in the comments section, please keep quiet about it here if you know the answer, and if you missed the 'question,' then put it out of your mind!
Well, Since I'm Already Driving Around
The sun is already too high, it's getting hot, and I have stuff to do, but let's check out what's happening on the NO&NE before I head back to the crib.  Here's a switch job pulling some auto racks back into the yard from the Auto Lot.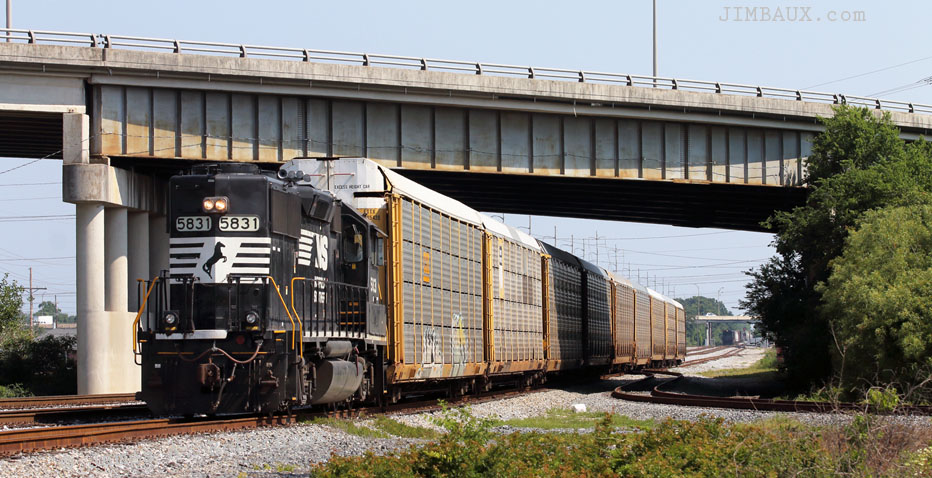 That's all she wrote for the morning.  Yes, I know, it's not much, but it's a sign that I went outside on Sunday morning and engaged in my faith, used my skills, recorded history, and created content.  What did you do on Sunday morning?
To Feel Is To Live
These pictures were taken amidst an intensely emotional weekend, with most of the drama preceding the pictures.  Saturday morning, I attended a memorial service for someone who took her own life, the only sister of one of my best friends.  It was difficult enough, but the venue also was weird for me for other reasons.  Then, a couple of hours later, I attended and photographed a high school graduation for some students I knew really well, having taught many of them as freshmen.  It was great to see them, interact with them, and be reminded of how much I was appreciated, and I did appreciate that.  Afterward, I declined an offer from some former colleagues to head out on the town, as I was both tired and hot.
That wasn't all, though, but it was the height of it.  After doing some chores at the crib, I hit the Bayou Boogaloo in Mid-City and then ate at my old Subway (no, I lacked the patience to eat at the Boogaloo), which was weirder than I thought that it would be.  Then, I went to the Pig Pen at The Han to visit with The Cajun Porkchop, which brought back some memories too, as the whole day – the whole weekend – seemed to be about reconnecting with the past.  That's neither good nor bad, I guess.
Whatever.
Oh, by the way, Porkchop is now camera'd again, and he has recently entered the world of SLR photography!  Y'all please hound him to get more shots and post'em to the 'net, a'ight??
It was the visit to the Pig Pen, however, that was the result of being in the area for some other reasons, which leads us to our Sunday Sermon encore.
Second Section
You Probably Weren't Expecting This
I wasn't either, but I'm not surprised by it, since I was there in expectation of something better.  Anyway, the CN is an underphotographed railroad, at least by Jimbaux.  Here's a small amendment to that deficit.

Do you recognize the GTW 6222 from a previous Jimbaux's Journal posting?  I did, having recalled that it was featured here in October with some pictures taken October 1 when my pal Moose was back in town, which is an exceptionally bizarre coincidence, since the typing of this very sentence was interrupted by a telephone call from him, as he is back in town for Memorial Day weekend (I'm typing this six days after these pictures were taken), and we're trying to get together.
There was a loaded coal train coming (the hopes of catching it being the reason that I was there), but it would have been after dark, and I had other things to do by then (like visit 'Chop, eat, and sleep.)
That concludes our Sunday sermon, my dear podnuhs.
Commentary . . .
I Sense You Know About Sensors
If you have not already done so, you photographers need to check out that great discussion in the previous post, particularly in the comments section (generated from some comments I made between the second and third pictures in the post) about the whole stupid 'megapixel craze' and how it seems to cause more harm than good.  I especially want to thank Mike Matalis for his especially good contributions to the discussion, as he seems to understand that those of who understand photography must unnecessarily suffer for the stupidity of others.
What are your thoughts on this?
How Does One Be True To One's Art?
That's something which I'm struggling more than I ever have been.  I was e-chatting with Grace the other night, and we were discussing this problem.  She recently quit her professional job and took a part-time, lower-paying unskilled service job so that she could focus more on her art.  I admire that, and I guess I wonder if I should do the same, since I never seem to have enough time to even process and post the few shots that I get, and I haven't at all advanced in my goals of getting more rap songs out.  Can you believe it's now over a year since "Write It Down" came out? and that I've been unable to put out any more such things?  Even the Super Hero Supreme, whose camera I still have in my possession, asked me the other day when we were putting out another "edutainment" song, though I think I'd have to fly to DC if I wanted to still work with him.  Heck, maybe I should?  Damn.  Such decisions, and there are three (at least) rap songs in my head right now that I just need to get on paper but never seem to have time for it.
What in the hell is a guy to do?  I've got some ideas of what to do about this problem, but that's really it right now.
Speaking Of DC, and Speaking Of Changing Perceptions Of Things . . .
Here's something that might interest you.  Some of you may have already seen the series from which this picture came, but please read the accompanying caption – yes, it's long – that goes along with this picture taken on a snowy day outside the Egyptian embassy in DC in January 2011.  Thoughts?
The End
Hopefully, there will be some better pictures on the next Sunday Sermon.
Until next time, peace be with you . . .
Jimbaux