[Jimbaux suspects that this will be the last time . . . that he photographs the NOGC GP7s.]
Greetings and kindest wishes to all of you, be you gentle friend or enemy, for we have a few images on this lovely cloudy February Saturday for you.
Farewell, Longtime Old Friends
The GP7s of the New Orleans & Gulf Coast Railway have finally left the property, apparently for good, and they haven't been active for about a year anyway.  On Lundi Gras, Mike Murray of Railspot fame was in town and just so happened to catch their move out of Belle Chase Yard, which surprised me, since I didn't even know that they were still on the property!  Today, I saw them sitting in Union Pacific's Avondale Yard, just a few miles from the tracks where they had worked for a decade.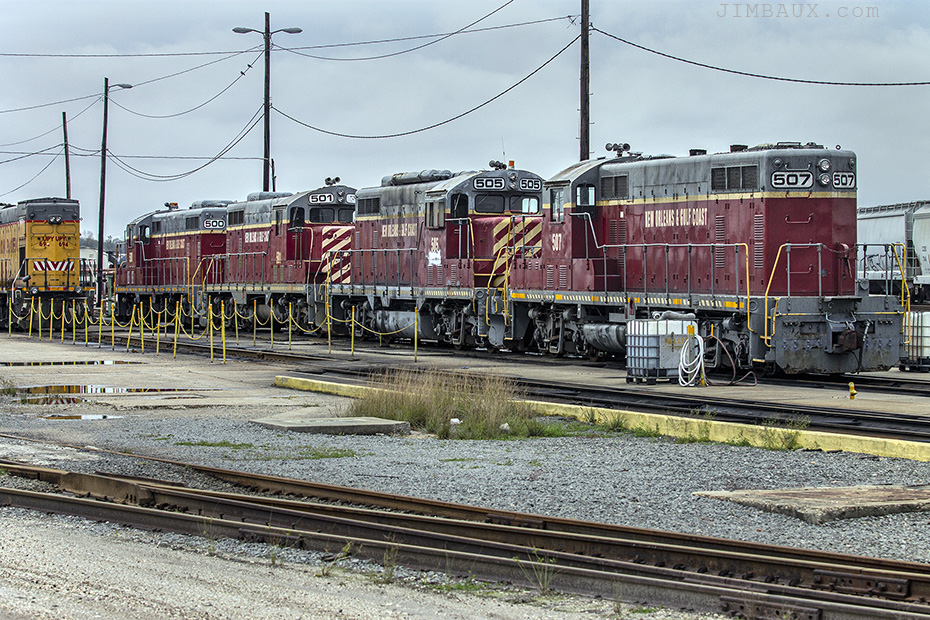 I will certainly miss them.  They provided me plenty of happy memories of trainwatching (and one unhappy one, but we won't revisit that topic), like this scene of a traffic jam in August 2007, the unique "Barney" leading a grain train down Fourth Street in Gretna in December 2007, and other such things that I have yet to publish from deep in the backlog.
Moving On . . .
Let's see what else is happening at Avondale Yard.  Here we see BNSF's elusive stack train out of New Orleans, not so elusive anymore now that it's actually running twice-weekly instead of once-weekly.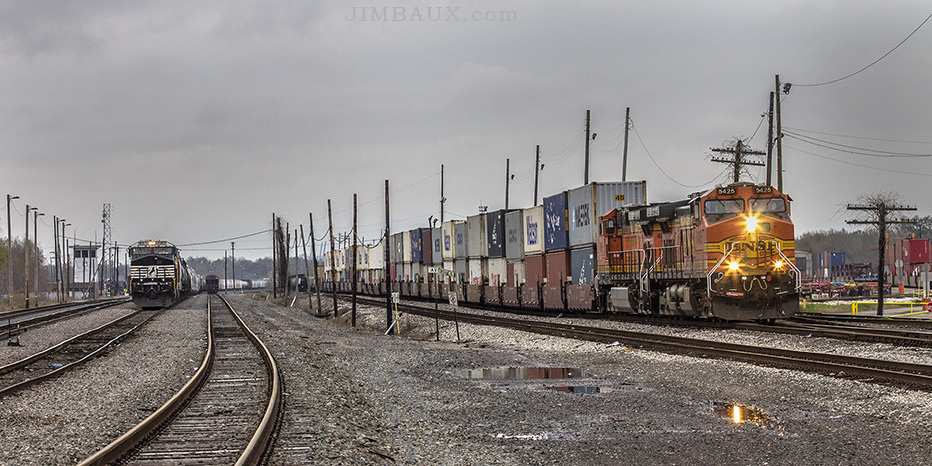 Prior to Hurricane Katrina, BNSF ran about three intermodal trains per week into the metropolitan area.  At the far right of the above picture, the same place that I showed you in May, you can see UP's intermodal facility, but BNSF's is a few miles to the east in Bridge City.  The tracks at the left above are the former Texas & Pacific and later Missouri Pacific, and the tracks at right are the former Southern Pacific.
Anyway, looking in the other direction, we see what appears to be the Luling Local returning to the yard next to a parked road train.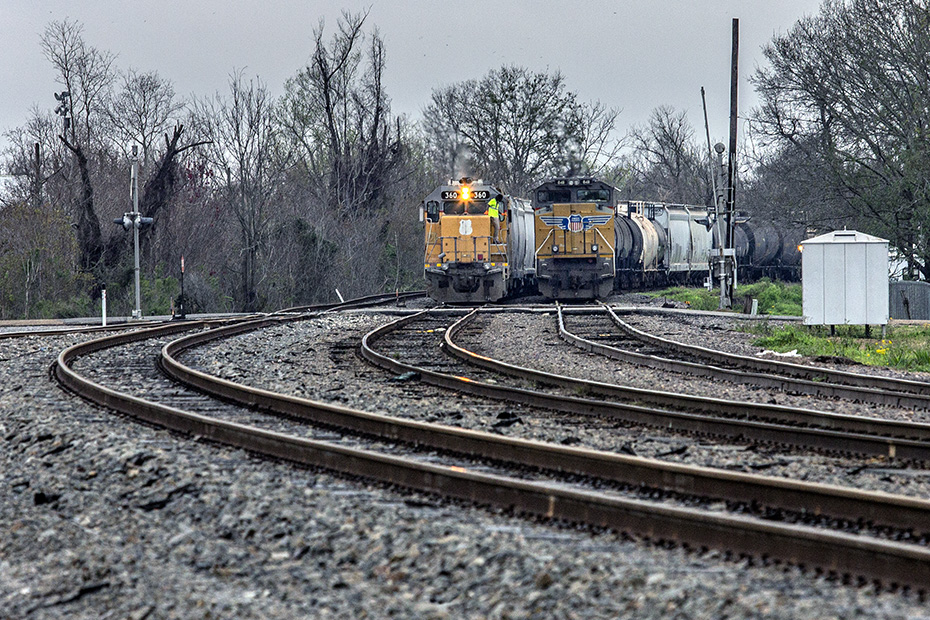 The Morgan City Local apparently hadn't left yet, and later recon suggested that it came back to Avondale with only one empty hopper from Raceland.
Speaking of Raceland, while on my way back from seeing the great CJMR and family, we see a freshly-crewed eastbound BNSF manifest train – probably the M-DYTCSX – emerging from the siding in Raceland.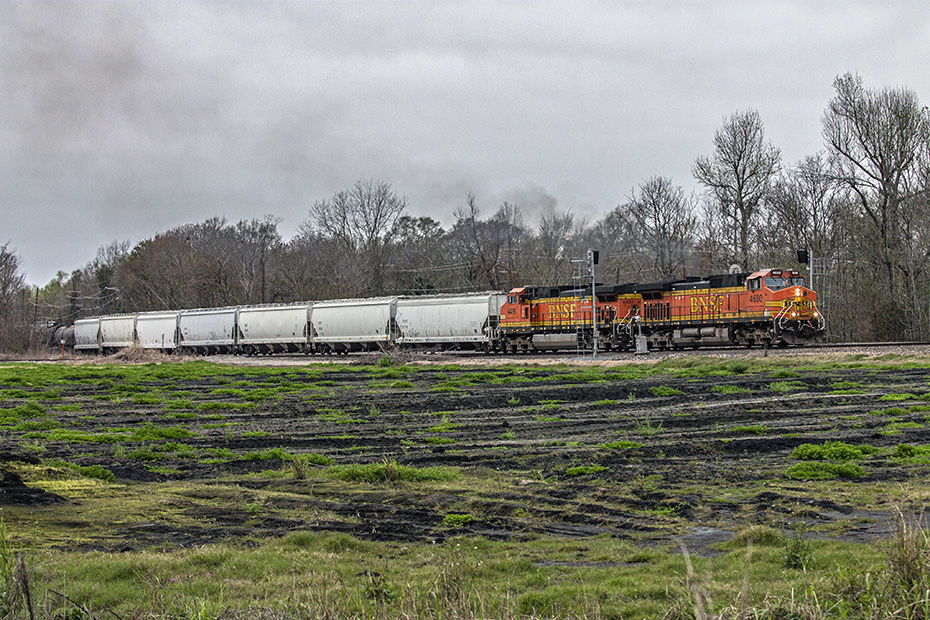 I'll credit myself with doing a good job with the lasso tool on that one, as I did with the shot of the NOGC GP7s.  Oh, and that is the former water pit dug by the New Orleans, Opelousas & Great Western Railroad as early as the 1850s.
It's Too Dark . . .
. . . But that apparently isn't stopping me from taking some lame pictures at Kraemer Road.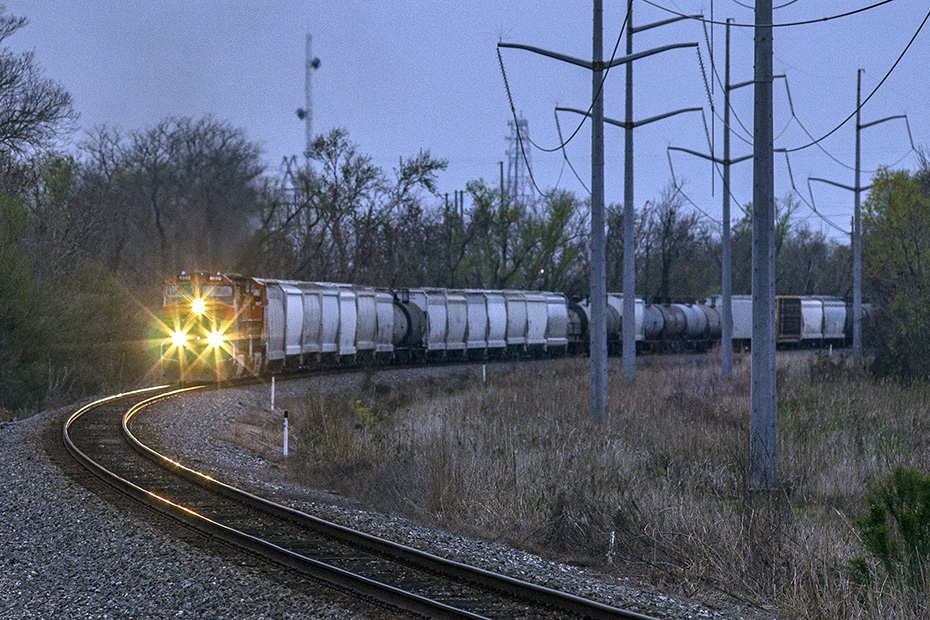 No, that's not good, and neither is the below shot either.  At least I've done slightly better here.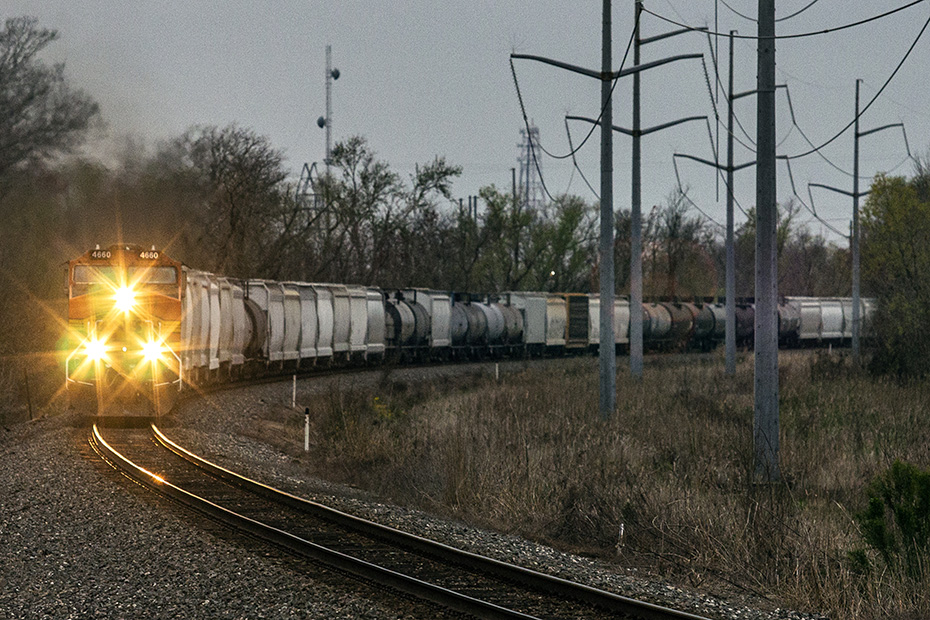 Why am I doing this anyway?  I thought that I said last time that I needed to quit this foaming stupidity?
When All Else Fails . . .
. . . Pull something artsy.  It was entirely too dark for anything else.  So, here's a different view near the gas plant in Paradís.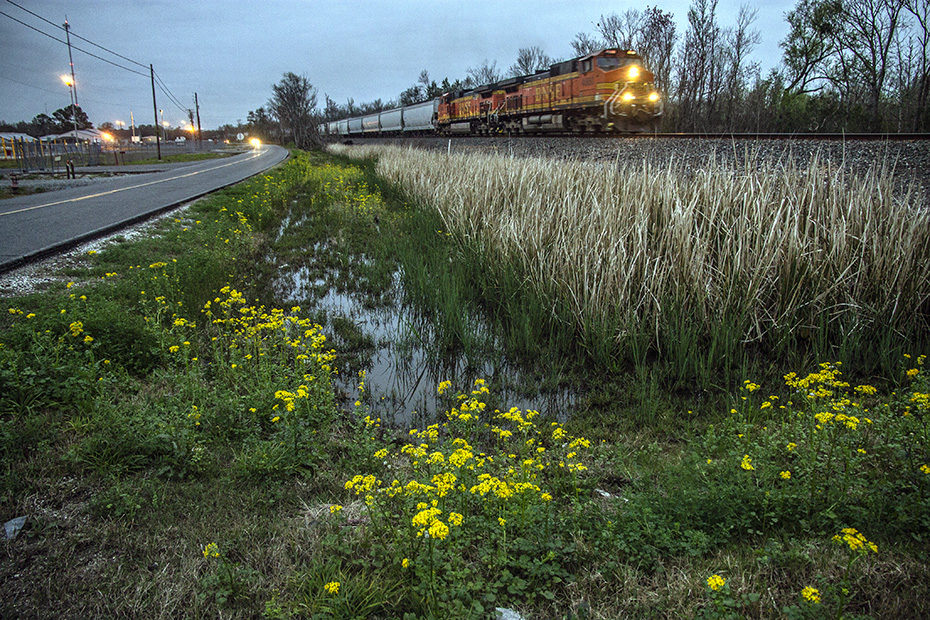 How's that?  We used to call those things "pee pee flowers" when we were kids, but I can't really remember why.
That, amigos, is the sum total of my pictures for the day, and thankfully there are no more.  If you're looking for further commentary or discussion, try the "random 10 questions" over on the Facebook page.  Otherwise, although I have plenty to say, I'm entirely too lethargic to say it now.  You're welcome.
Merci,
Jimbaux