[Girl, you say you just want Jimbaux to take you for a drive.]
With You, I Can See A Traffic Jam . . . Straight Up Ahead
Ah, classic Jimi Hendrix!  What do you think of Hendrix?  What do you think of tomatoes?  What do you think of cats?  What do you think of Senatobia, Mississippi?  What's your official policy on fractional reserve lending?  What's your official position on Canadian wheat exports?  What's your official position on nillas?  What's your policy on onions?  What's your official position on positive train control?  What's your official position on street-running?
I've Got Better Things On The Other Side Of Town
Ah, yes, where were we?  Oh, yes, speaking of street-running, Tuesday 28 August 2007 on Fourth Street in Gretna, Louisiana, along the New Orleans & Gulf Coast Railway, actually, the Union Pacific, but it's leased to the NOGC.
We have a traffic jam here on the street-running on what is about milepost three or four of the Sunset Route of the former Southern Pacific Railway.  Apparently, the woman in the older Ford F150 pickup truck at left – and it's a long truck in the first place – was parked too close to the track and was having engine problems too.  There is a newer F150 parked next to it, and one of the men in reflective vests is the conductor.  On most of the NOGC, the conductors actually don't ride the trains; they precede the train in a pickup truck to watch out for obstructions such as these especially on the street running, throw switches, and lower the spans of the moveable span bridges (two of them) ahead of the train.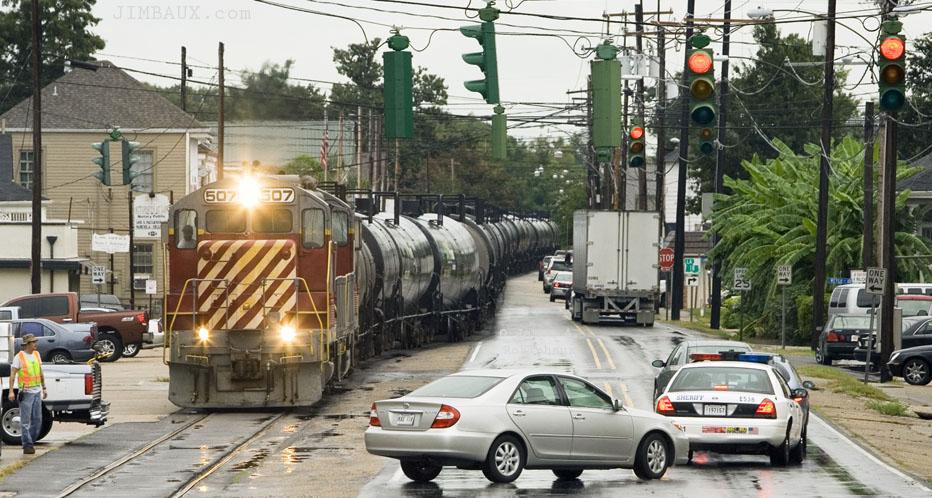 You can tell that it has been raining here, as these two men on the ground figure out how they will help this woman as the train is stopped, blocking cars moving through the various city streets in the oldest part of town.  The Mississippi River is four blocks to the left, and the Texas & Pacific rain down 3rd Street – one street over to the left – until the at least the 1980s.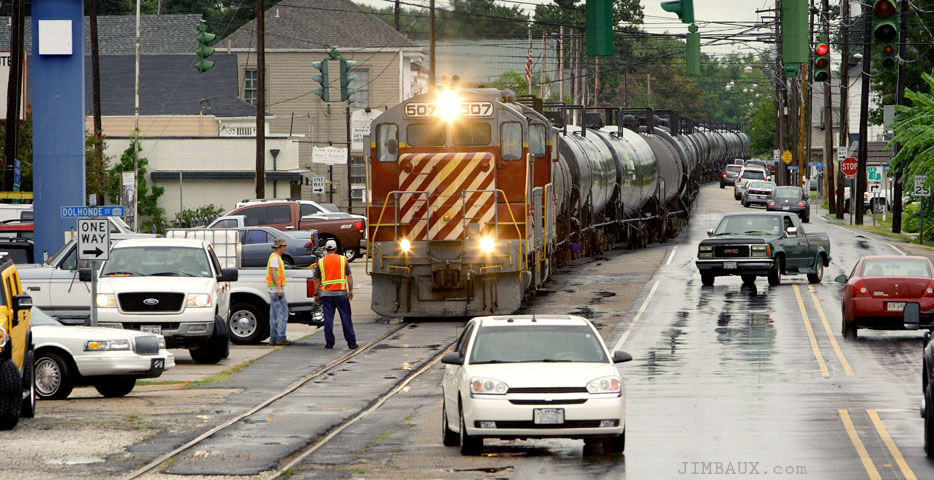 Most of the tank cars in this train that originated in Gouldsboro Yard a few miles from here are bound for the Kinder-Morgan tank farm in Harvey.
A Bad Example
Yes, a police patrol car, of all cars, is moving around on this wet and overcast day without its headlights on.  Shame, shame.  Y'all know (except for you new readers in the last three months) that I've already preached to all of you the need to always have your headlights on while driving.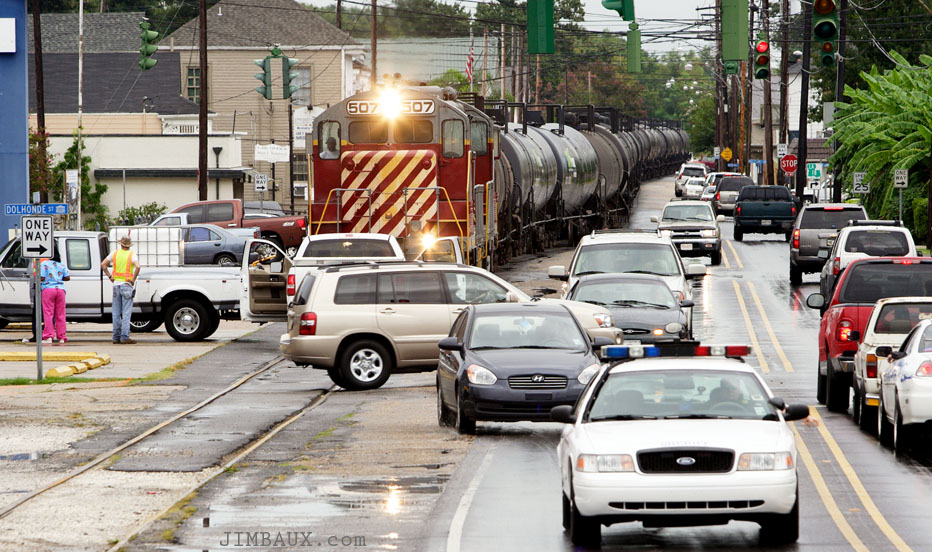 Well, at least it's a white car, and therefore fairly well visible even without its lights on, though having the lights on would certainly be better, and regardless of the atmospheric conditions.  Furthermore, the deputy apparently didn't find a reason to stop to check out the man with the telephoto lens standing atop his truck between a state highway and a railroad track, but I wonder how that would have been different had I not been wearing a pullover shirt and slacks and had maybe been wearing a different color of skin too.
Shallow-Minded Assuming Fools, Identify Yourselves, Please
Experience shows that there are probably a few people who will read this and who will interpret my prior remarks – and other stuff I've written here in the past – as a sign that I am "anti-police," and one former reader whose name I'm resisting saying really comes to mind here too!
Problem Solved, Back Under Way
With the truck now moved up by about two or three feet (and, today, that parking lot has been reconfigured to have the bumper near the track instead of away from it), the train is now moving again, and, look, as contrasted with the officer of the law whose patrol car you just saw, the railroaders driving their work truck now back on Fourth Street preceding the train are safety-conscious enough to have their headlights on while driving an automobile!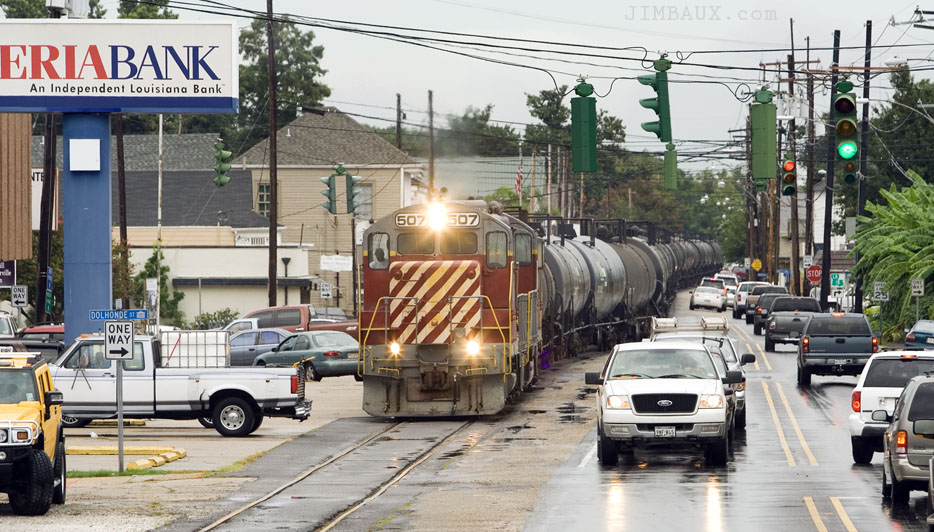 No, they know that they can see the road ahead of them even without the lights on, but they also know that that's not the point, and they know to wear their reflective vests too, which you can see in our parting image below, as the engine of the old GP7 throttles up in the background.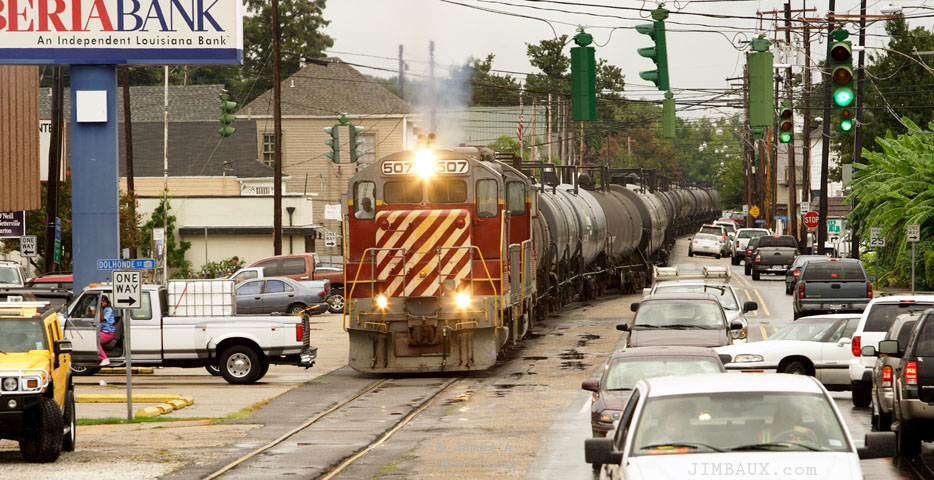 Can you also see from these images continued reason that your humble correspondent so often climbs atop the cab of his truck to get pictures?  Can you imagine how much less cool these shots would look had I been merely standing on the ground?  Seriously, can you?  Yes, I'm requesting the posting of answers to that question – along with whatever explanation you can give to support your answer – in the comments section below.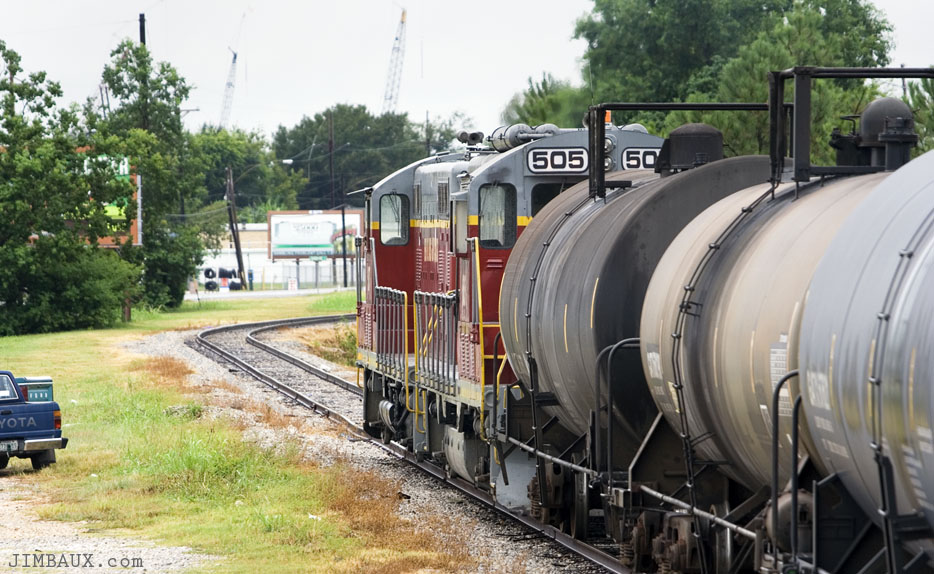 Well, I hope that you enjoyed this look back into August of 2007.  My, how things change, as the GP7s are no longer active on the NOGC.
What has changed in your world in the last five years?  Do you have pictures?  Can you show them to me?
Merci,
Jimbaux