[Jimbaux must be sleeping.]
Recently, I've been showing some pictures that indicate that changes were coming to the Kansas City Southern Railway in New Orleans in the later summer 2007.  Well, here are some images of Railworks employees at work at KCS New Orleans Yard – still called "West Yard" by crews – on Saturday 8 September 2007.  My wardie Kurt apparently does not seem to like pictures of human beings and seems to prefer trains.  So, he'll largely be out of luck here, but there are indeed a few train pictures here too, and we'll start the morning with Amtrak's northbound Crescent passing through City Park.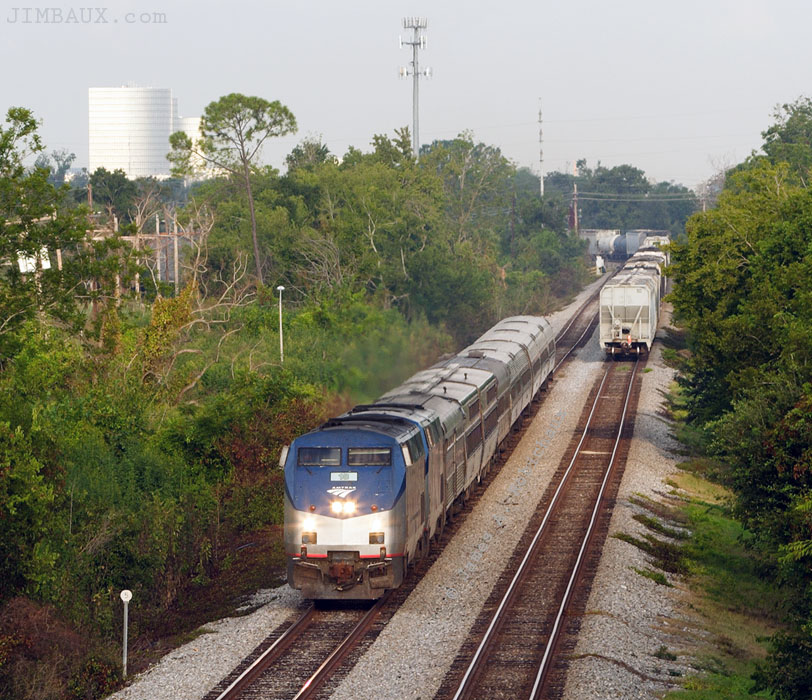 Well, that was certainly entertaining.  I'm sure that you almost wet yourself with that one.  Oh, on a more seriously factual note, that is the Galleria building in Metairie in the far distance at left in the above image.
KCS
Now (well, more than three hours later, actually), it's time to head over to the KCS yard to see the interesting changes taking place there.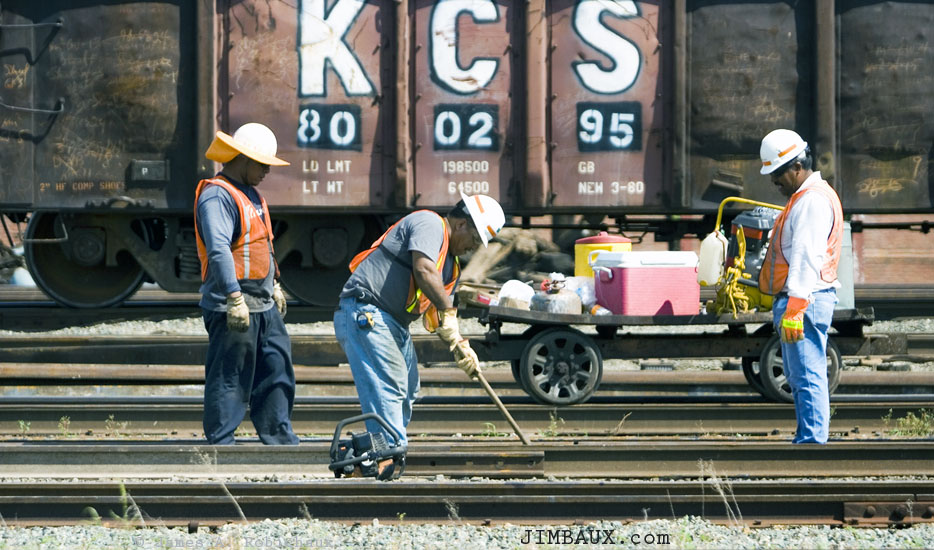 Plenty of work was being done in the yard at this time, seven days per week. After being almost dormant in the two years after Hurricane Katrina, the yard was a bustle of activity as much of it would soon be used as a storage yard to store loads from Exxon and as the CSX bridge traffic that had been going across the Meridian Speedway in the prior two years since that watershed event returns to the New Orleans Subdivision.
Most of the people shown in these pictures are employees of Railworks, the company contracted to do much of the upgrading in the yard.  Most of them appeared to be Hispanic and sounded like they were speaking Spanish.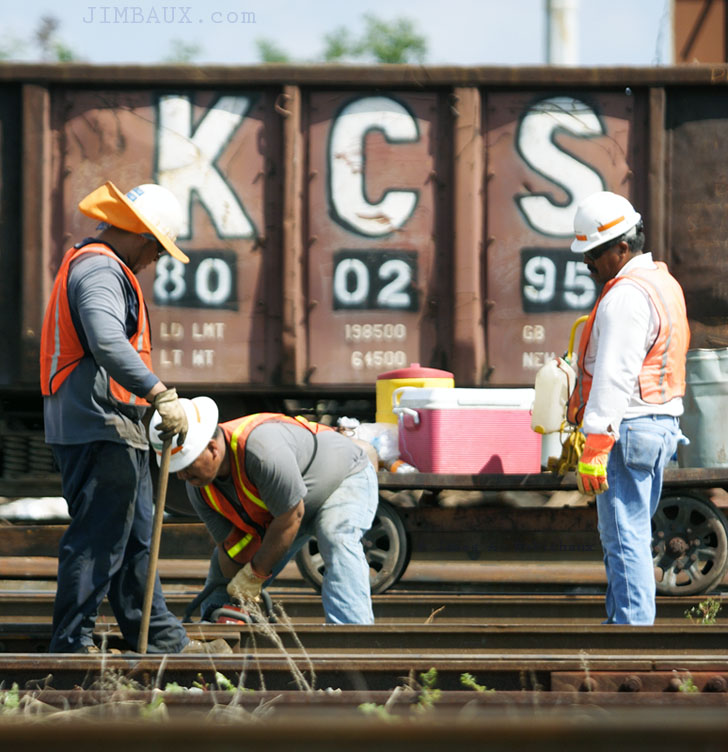 The yard had had much water for Hurricane Katrina, and as I have reported plenty recently, the KCS in New Orleans for two years after Katrina was a shell of its former self.  That was changing, of course, as these pictures were being taken.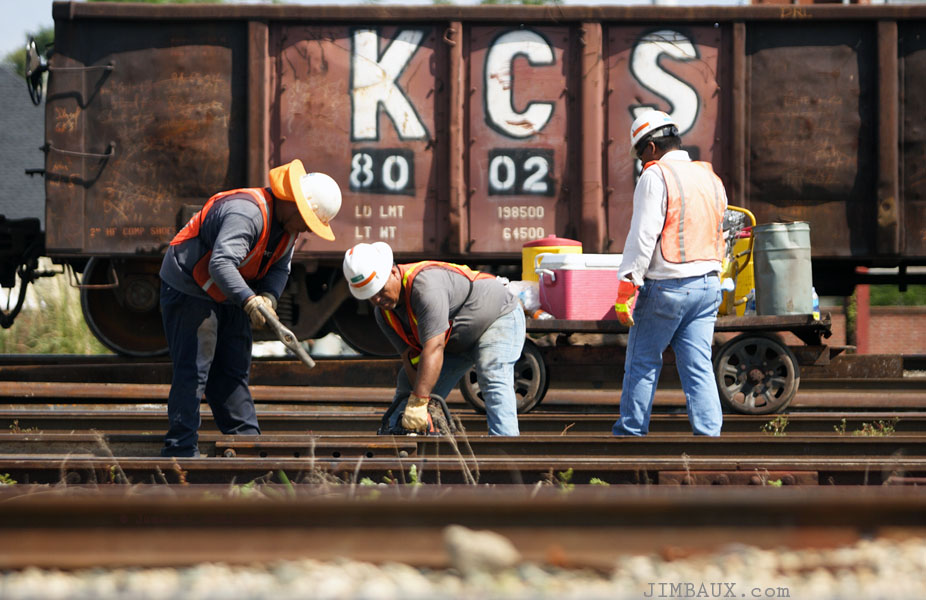 About the only thing different now for the KCS New Orleans Yard is the lack of intermodal activity and the presence of the storage loads, now not only for Exxon but also for Dow and perhaps others too.  KCS has since built another SIT (storage-in-transit) yard for Exxon north of Baton Rouge, but Exxon loads bound for eventual interchange with other railroads at New Orleans come here.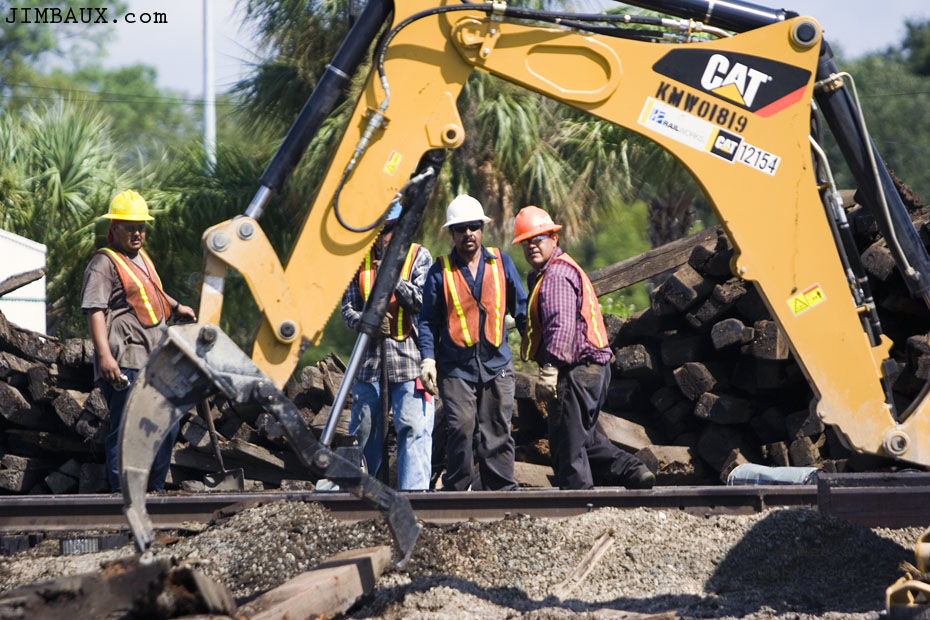 Perhaps the men shown above had just become aware of the photographer's presence and activities.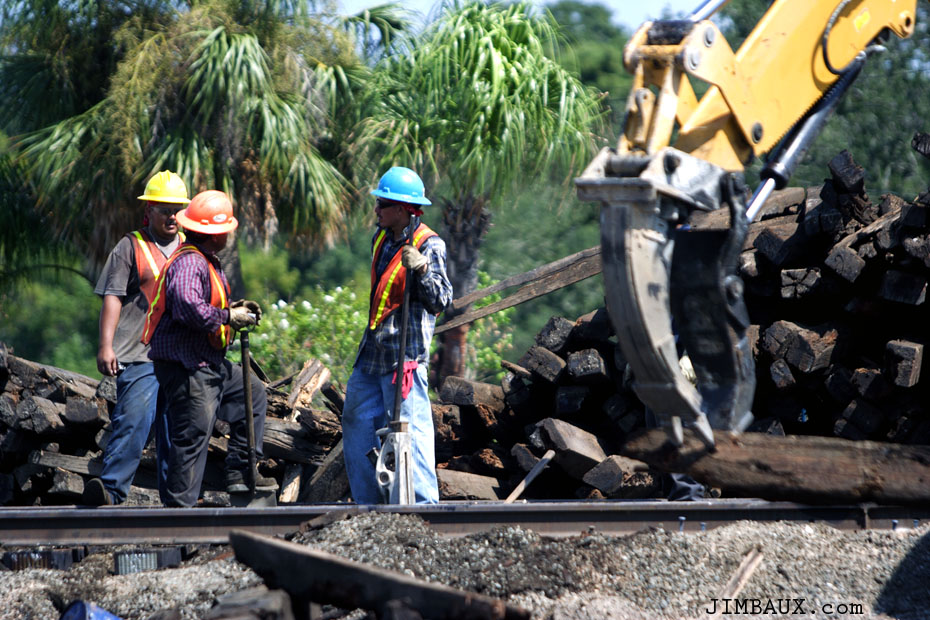 Another change being made was that there would be a yardmaster at the yard again, and that he would be housed in the old locomotive shop, instead of the tower that would be demolished in 2010.  The part of the shop where the yardmaster works is at the far right of the below image, right behind the white yard car that you have already seen in other images recently.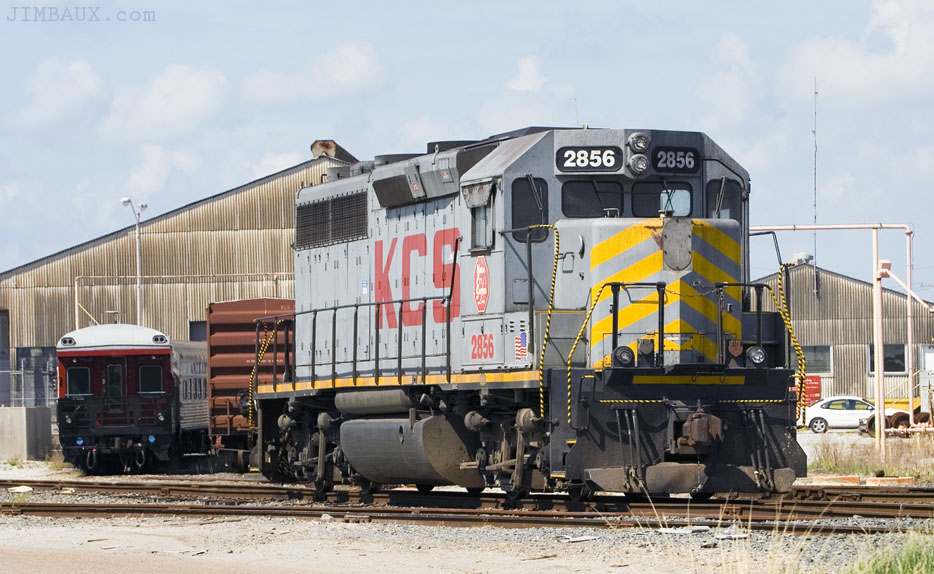 There are plenty of old, spent crossties to remove.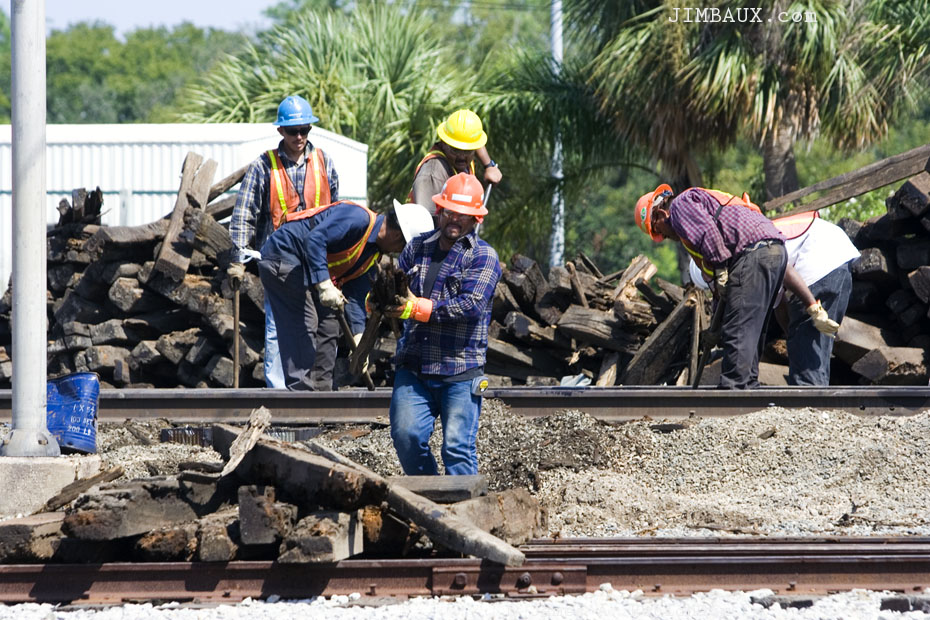 Below, a rail is lifted.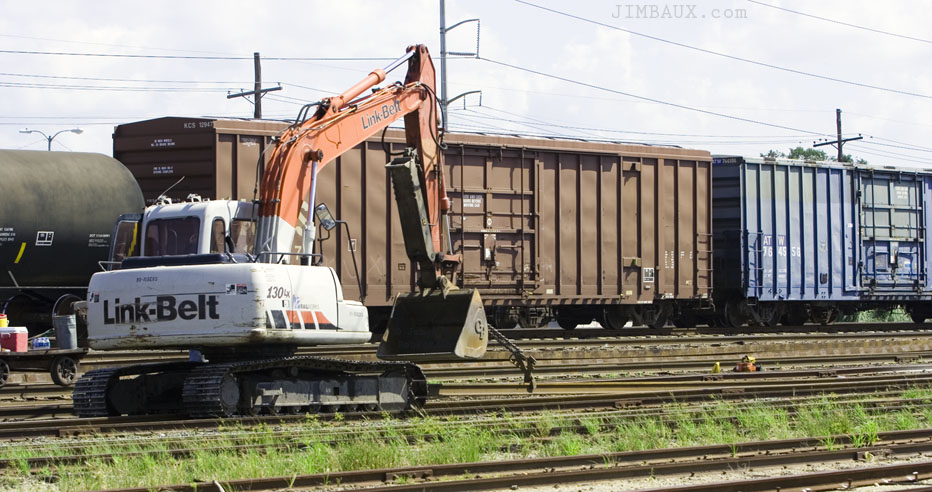 Soon, this yard would look almost new.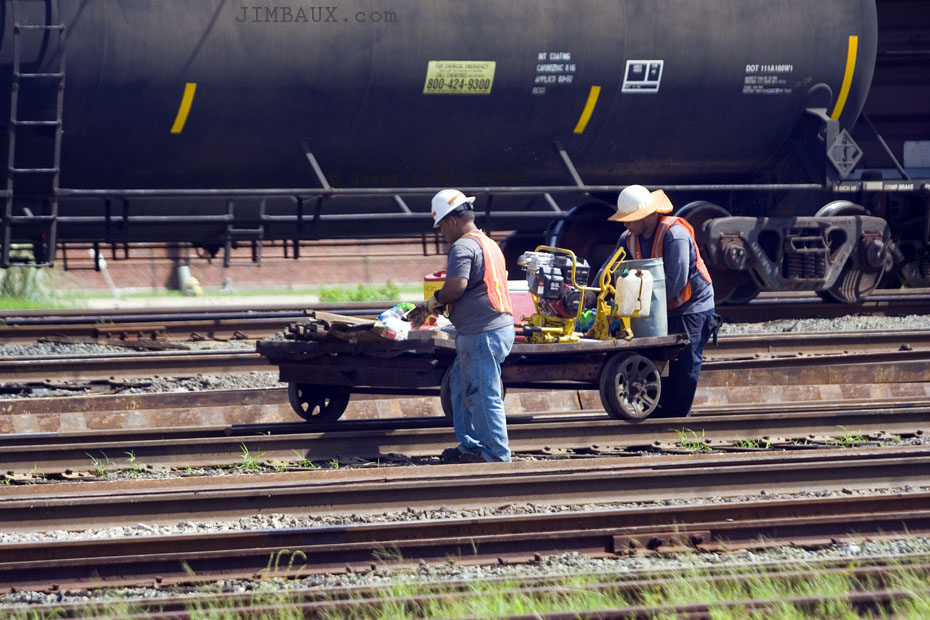 For now, though, it still seemed weedy and rusty.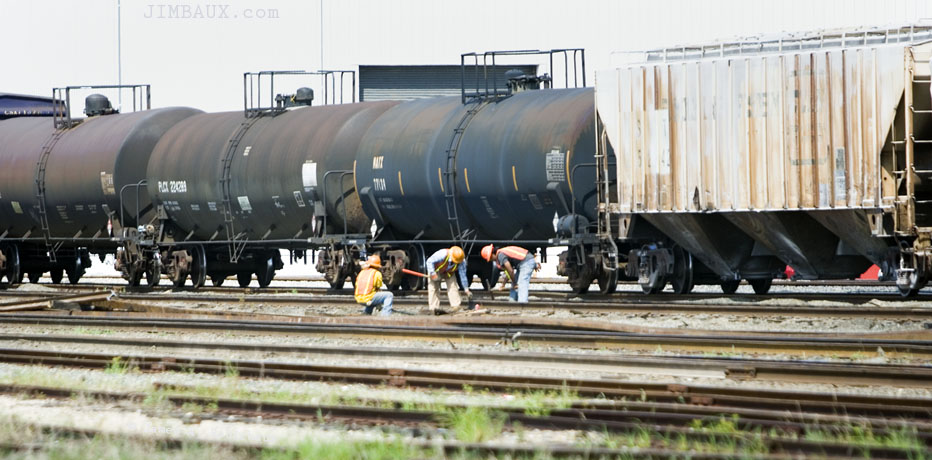 Workers knock joints off of the jointed rail.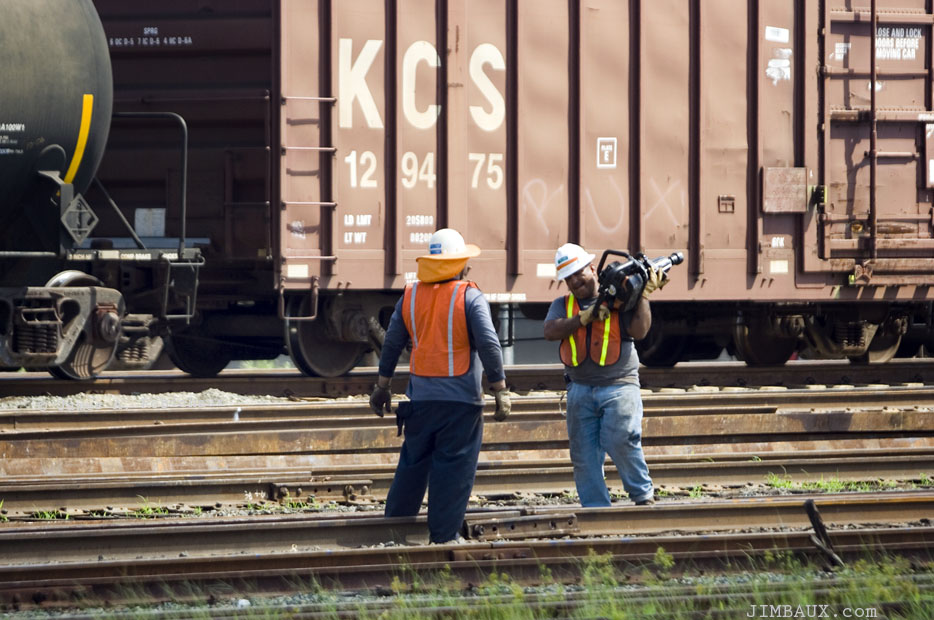 At least one more time, you will see images of workers in the rebuilding of the KCS yard.
Extra West Is Outed
Like as if he wasn't already.  Anyway, the day ended with the New Orleans Public Belt Railway's rolling party, the officer car special that much of the general public suddenly, three years after this image was taken, found lavish and excessive.  Here it is descending the westbound mainline of the Huey P. Long Bridge as the Tropicana refrigerator cars on the rear end of parked Union Pacific train KCIAT (today's ZLCAT) are seen at left in front of Copeland's on Clearview Parkway.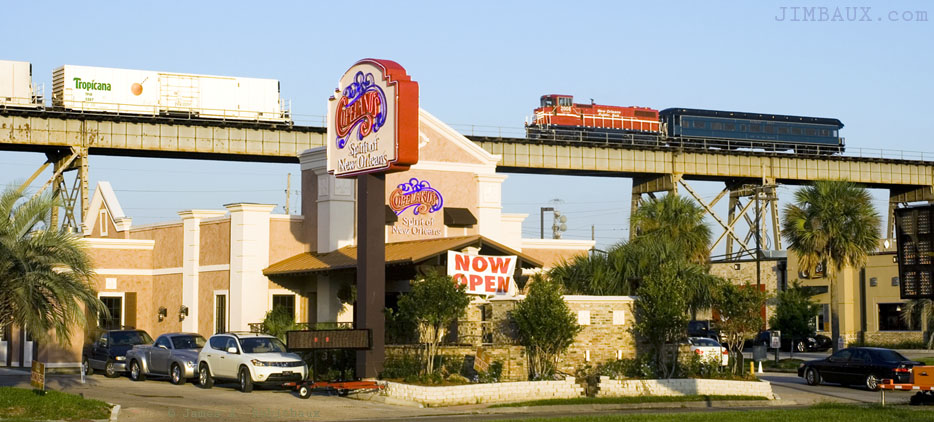 When I was a really young fella, my parents would take me to Copeland's when I was "good", and I'd be treated to views of trains on the bridge as I ate. The restaurant has recently completed a renovation, as evidenced by the "NOW OPEN" sign. Not long after the NOPB train passed East Bridge Junction, the KCIAT was given permission to proceed over the Norfolk Southern's "Back Belt" line to CSX's Gentilly Yard in New Orleans.
That's all for now.  Y'all be good.
Jimbaux