[Jimbaux wants you to think about it, think about it.]
Were You There When They Crucified My Lord?
I apologize for the fact that the inverted text (white text on black background) makes reading long posts here difficult on your retinas.  Jimbaux's Journal exists foremost for the presentation of my photographs, hence the black background, and the writing here only serves to support or accompany the images.  I do not know how to change that only for specific posts that are so text-heavy without changing the entire site to that way, and I don't want to compromise the presentation of the photos.  I wish that there were a way that I could present large blocks of text in a normal (black text on white background) in those longer posts.  Someone just wrote to me about the idea of making long sections of text into images, and I've thought of doing this for a long time, but I've never done it for reasons that are mostly too cumbersome to explain, one of them being the difficulty of getting text to "justify" in Photoshop, another being that additional jpeg files that aren't even pictures would just increase any bandwidth problems, and a third being the increased difficulty of correcting one of my own mistakes in my writing (and I almost always discover some mistakes after publishing a piece.)
I recommend those of you who wish to read what I write but are naturally repulsed by the inverted text – especially in large amounts – do what one reader told me he does and just highlight the text to read it in a more normal fashion.  This is not an ideal solution, but it might be better than just reading it as it is naturally presented.
Actually, about three years ago when I was in the process of preparing to establish blogs, I 'hired' three (two-and-a-half, really) mentors who all told me to not use the inverted text because it repulses readers for the retinal reasons I describe.  So, the inverted text that you see here exists despite their advice, but, as I said, this is foremost a site to show my photographs; the accompanying writing is merely ancillary.  Remember that the word "photography" means "to draw with light," and the best way to show images is on a background with the complete (or nearly complete) absence of light.  Having a white background surrounding images (like the way is done via Facebook) distracts the process of viewing the pictures by flooding the eye with a periphery of light that is brighter than the image that the photographer intends to present.
The Sunday Sermon
Ah, yes, the Sunday Sermon, a tradition that started in my late teen years a tad more than decade ago when I was creating the illusion that I was going to a traditional house of worship before familial acceptance that I didn't want to do that, that it wasn't for me, and that I had my own religion to practice (all while, as I type this, I'm listening to some nice choral Christmas music, yes, in July, and other "Christian" music. "London Philharmonic Orchestra" is right after "Linkin Park" on my Media Player, both very good stuff.)  At least the modern version of the Sunday Sermon that you so frequently see here doesn't require me to be wearing slacks, dark socks, a belt, nice shoes, and a shirt tucked into the pants in the summer heat and humidity.
Here, briefly, we return to one of our favorite Sunday morning perches: Alvar Street on the CSX in New Orleans.  Here we see Union Pacific train QLIWX (Livonia, La., to Waycross, Ga.) creeping up to the crossover switches before slowly rolling into CSX's Gentilly Yard, where the UP crew, a yard crew, in this case, will detrain.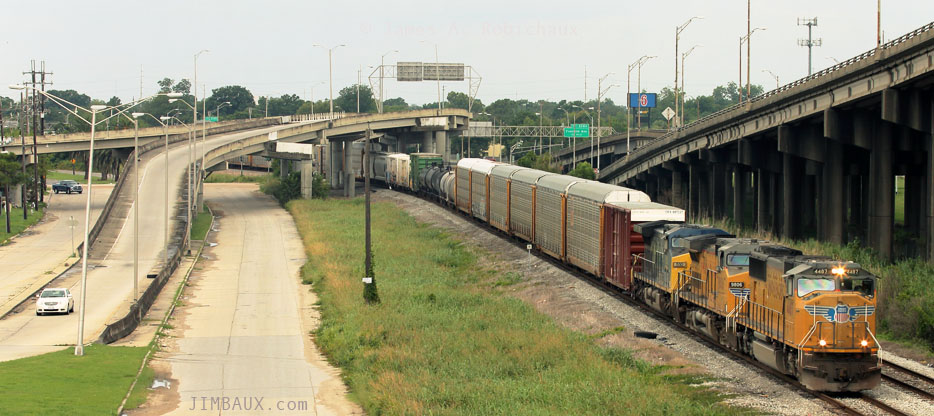 Photography is a metaphor for life, a way of seeing things, and not "how to take pictures" as many think.  Just like in life, in photography, moving a bit to change your perspective can allow you to see things, see objects, see truths, that you prior perspective did not allow you to see, essentially forcing a different interpretation, such as we see here.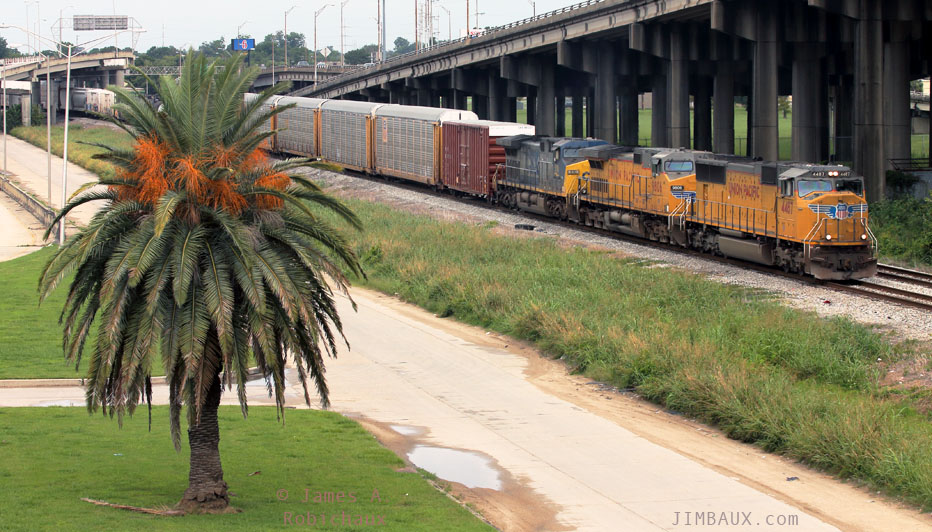 Well, wasn't that revealing?
I'd like to thank everyone who took part in recent discussions, some of them intense, in recent postings here on Jimbaux's Journal.  I learned plenty, for which I am grateful, and I hope that you did too.
Peace,
Jimbaux