The Mid-City Marine and his wife JMS were in town at the beginning of August 2012, and my woadie and I got together for an entire Sunday, beginning the day with a Sunday Sermon of yet-to-be published photographs (but that may be published by the time some of you are reading this), then a trip to my crib so that I could shower and so that we could get a break from the rain, and then an afternoon of chasing trains up the river until we got to JMS's grandmother's place near Donaldsonville.  The day was not without a snag, though, as we had a little "terrorism" incident that left bad tastes in our mouths.
Our plan for the afternoon was to follow the CN Valley Line up the river in the hopes of catching something moving, particularly something moving northbound – which is really more westbound here – that we could chase and shoot in multiple locations as we went to Donaldsonville.  Part of the problem with this strategy is that the two regular trains that come that way in that direction – the A420 and the L516 – are often in the late afternoon, and we didn't want to hang out for too long, but we didn't want too much high sun either.  I was really hoping for a loaded coal train, as I really want to shoot one of those things on the Bonnet Carré Spillway.
The Han
With The Cajun Porkchop nowhere to be found, in Destrehan, we checked out the CN yard there and noticed something that might be useful.

Well, that's neat, and it looks like a loaded grain train, but with only one unit on the front, surely there must be a pusher.  Maybe it is just a yard movement.  That's what we figured when we got a little further west and saw the train park here at the end of the yard.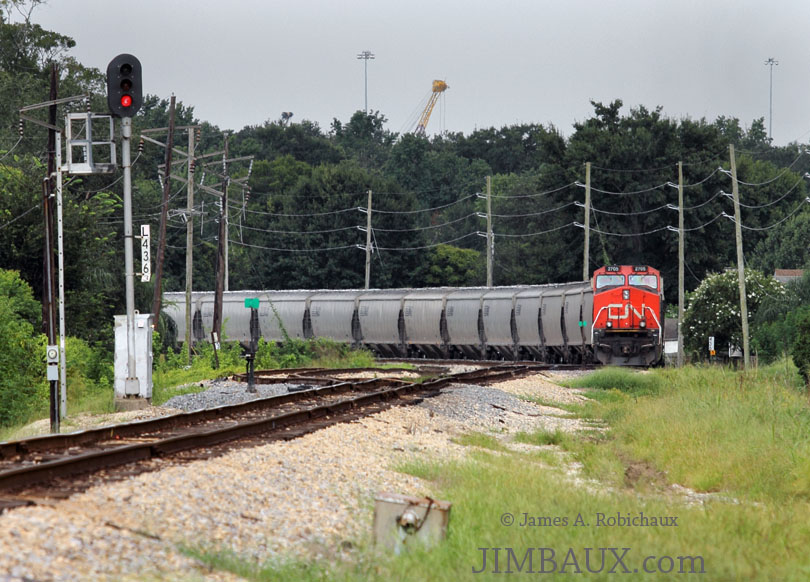 You can see that those are NS hoppers, and the Iron Horse 1 confirmed to me that this train had been interchanged from the Norfolk Southern at New Orleans.
There were two trains coming into the yard from the north.  So, whatever this grain movement was doing, it would have to wait.  Because of this, and because there is an 80-minute duration until the next DSLR photo, this must have been when we went to LaPlace to satisfy our growling stomachs at the Raising Cane's, a choice made partly because of the absence of such franchises in The Mid-City Marine's post-Katrina home in Georgia.
Cane's
What kind of freak takes his scanner into the bathroom with him?
Yeah, I was kind of fat back then, but I shed about 20lbs from November to January.  Anyway, I guess I'm no better than those useless punks who take pics of themselves in the bathroom and post them as profile pictures; well, maybe I'm not that bad, but let's see some of the food, okay?  Here is The Mid-City Marine hiding behind a Cane's cup.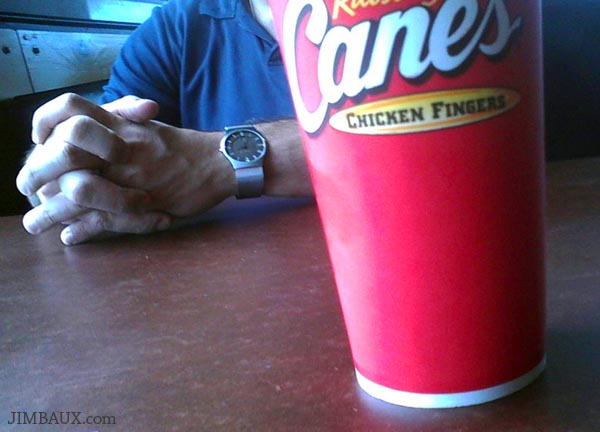 The chicken at Raising Cane's isn't extraordinary, but that special sauce is what is good and what keeps people coming!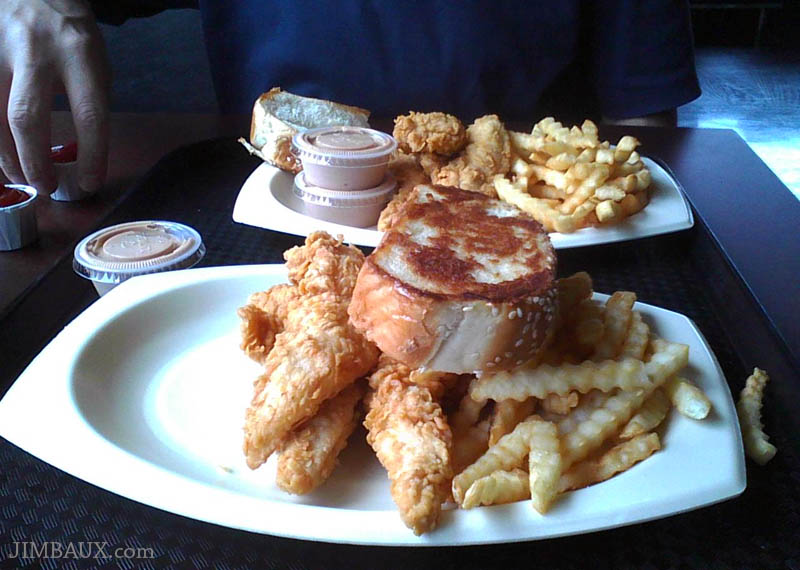 Okay, with our hunger satisfied, we could now concentrate on other things.
The Bonnet Carré Spillway
We went back toward Destrehan, and I don't remember if we went to check to see if the train was still there, but we made it to the spillway, where we photographed ships in the Mississippi River instead of trains.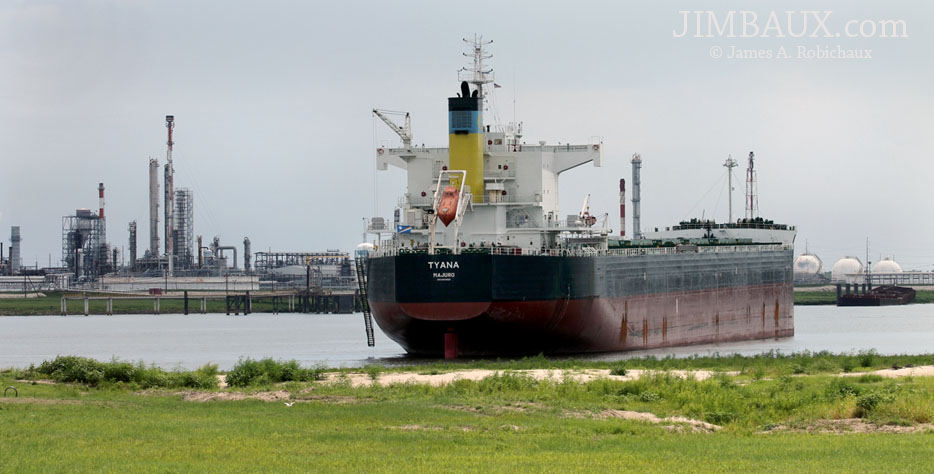 I'm not really sure what is happening here, but that's okay.  I have taken many pictures at the spillway before, and it was "significant" when I happened to be here on the day that a young colleague suddenly dropped dead nearby.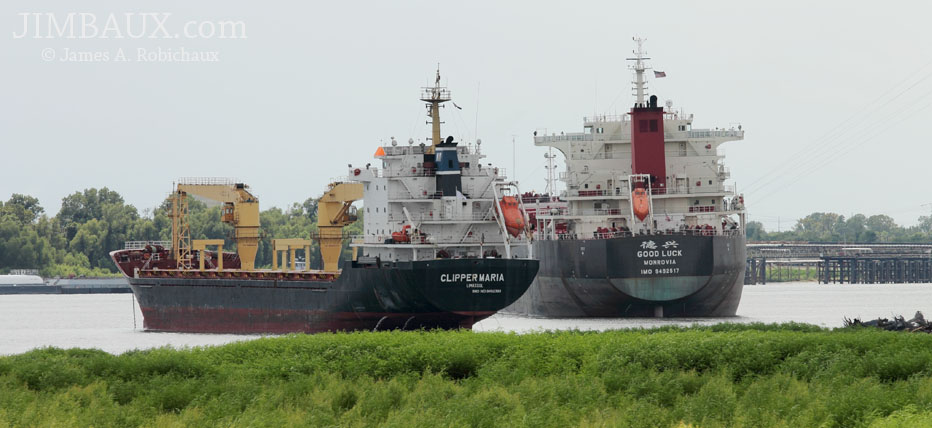 Let's get a shot of the US Army Corps of Engineers flag before departing for points west.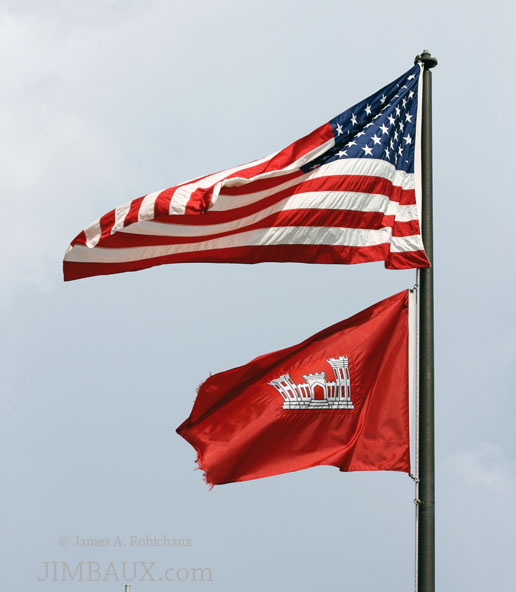 Okay, that's enough of that.
Returning To The Scene of a Crime
I showed The Mid-City Marine the scene of my "terror" incident seven months before with the bullying of sugar-cane farmer Reed St. Pierre, and I photographed the scene from where VT-JaWo and I were parked to show you how non-private the view of what St. Pierre and his helper were doing.

As you can see, we have a fairly busy four-lane highway.  Plenty of people could see what he was doing.  VT-James and I just happened to stop on the opposite side of the road (the same side from which this picture is taken) and walked across the part of the highway that you see in the picture.
Little did we know, though, that The Mid-City Marine and I would ourselves have a "terror" incident today.
Grammercy
We caught up with our underpowered grain train – yes, it just had this one locomotive, no DPU – in Grammercy, seen here in front of Colonial Sugars.
These are new shots for me, my first train pictures in Grammercy.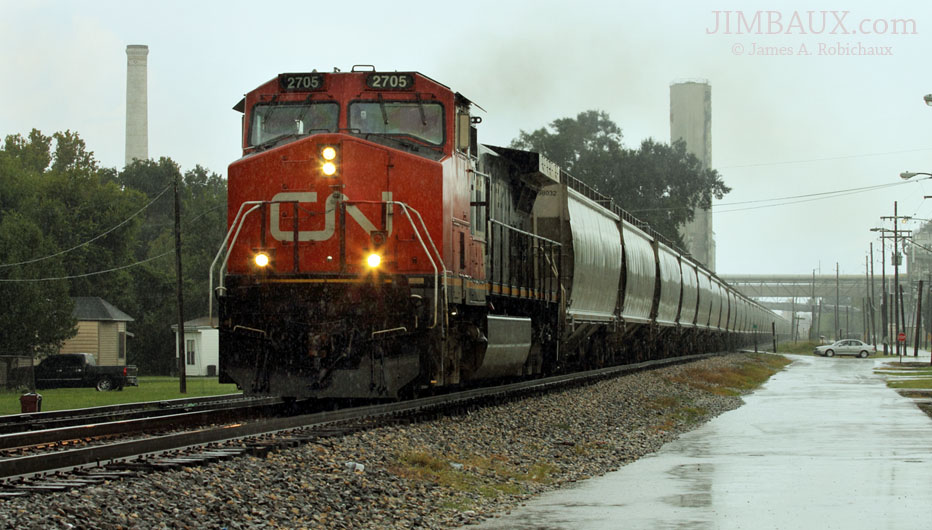 That's okay, I guess.  Yes, it was raining again.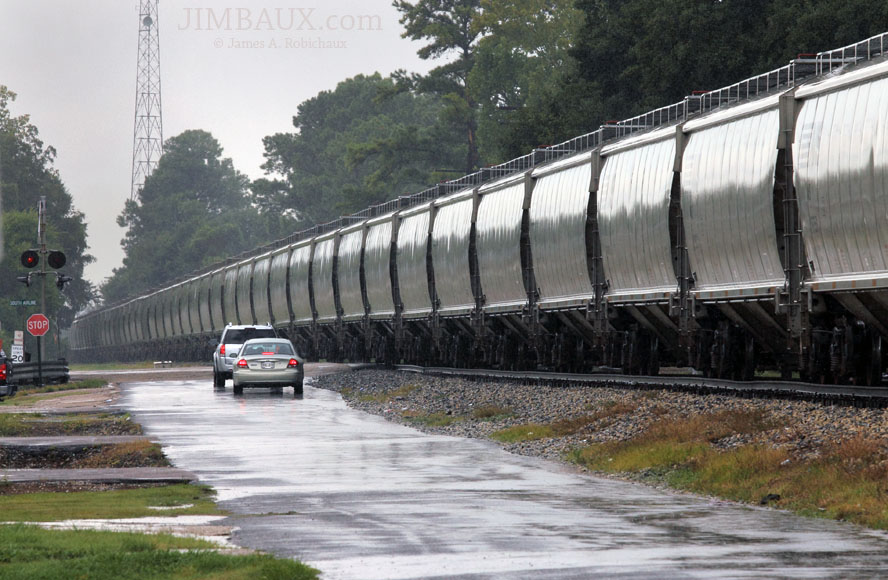 I guess that's a cool effect.  Let's move on.
Hester, Where It Happened
The only time that I had ever shot pictures in Hester before was back in the ancient days of film, also known as my "young and stupid" days, when the Mathews Foamer and I got what was then called the M-319 here one morning in May 2003.  Now, The Mid-City Marine and I prepared to photograph a train coming in the other direction.  We weren't terribly excited about this train, but we were here, and it was going in the same direction that we were going.  However, this is where things took a real negative turn, and partly because I had, due to complacency caused by lack of problems, abandoned an old practiced that reduced the chances of me getting unwanted attention.
Before the train shows up, though, there are some other things to photograph.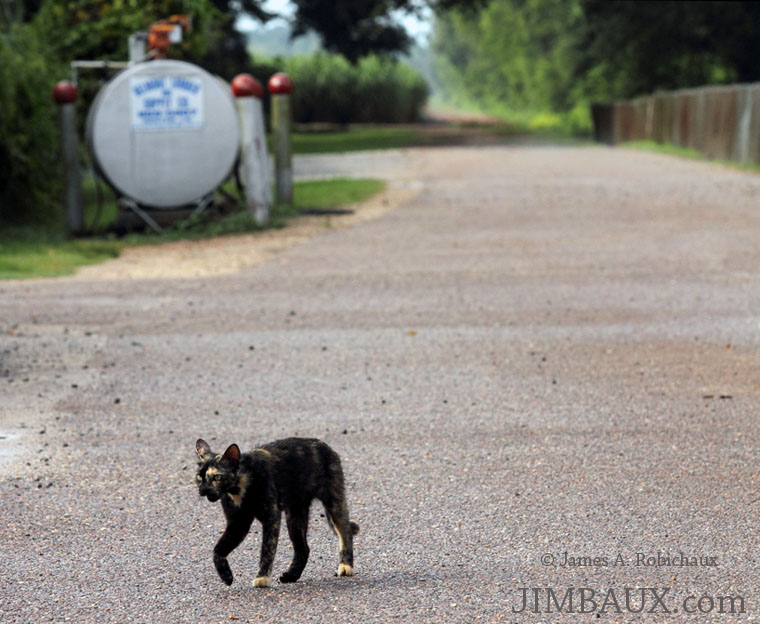 This feline did not appear to be a house cat.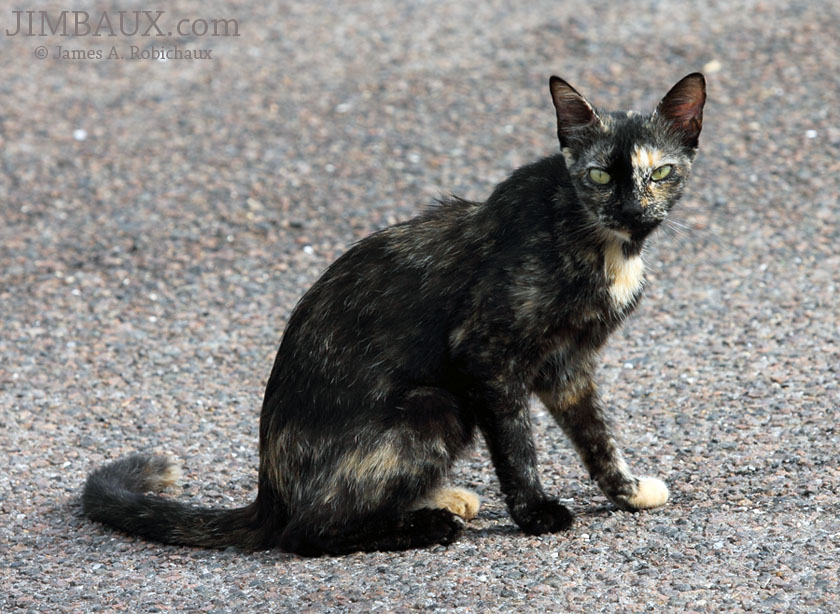 Here is the view across the track, seen in the foreground, to the river levee.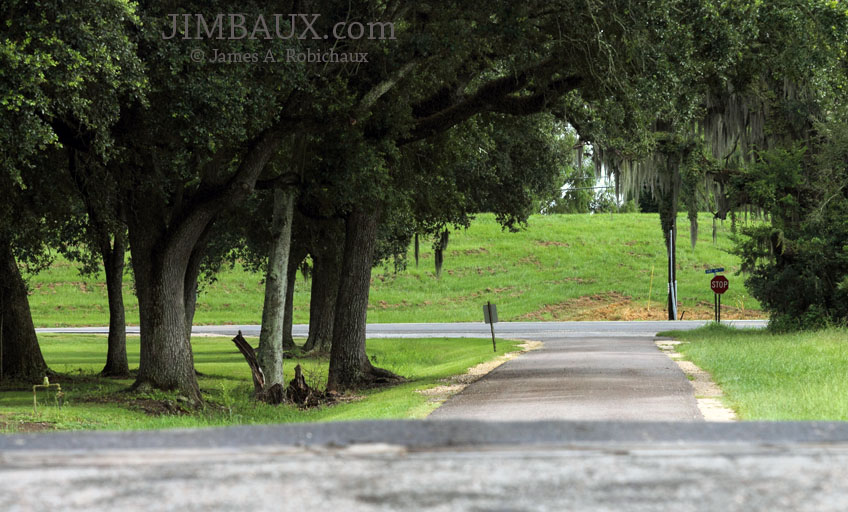 One of the locals – a human being – came out to see what we were doing, and she was very friendly.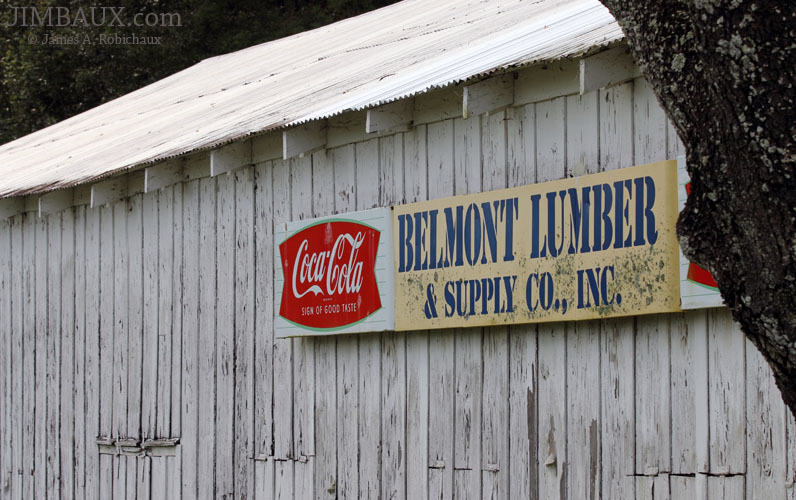 Well, here is our train.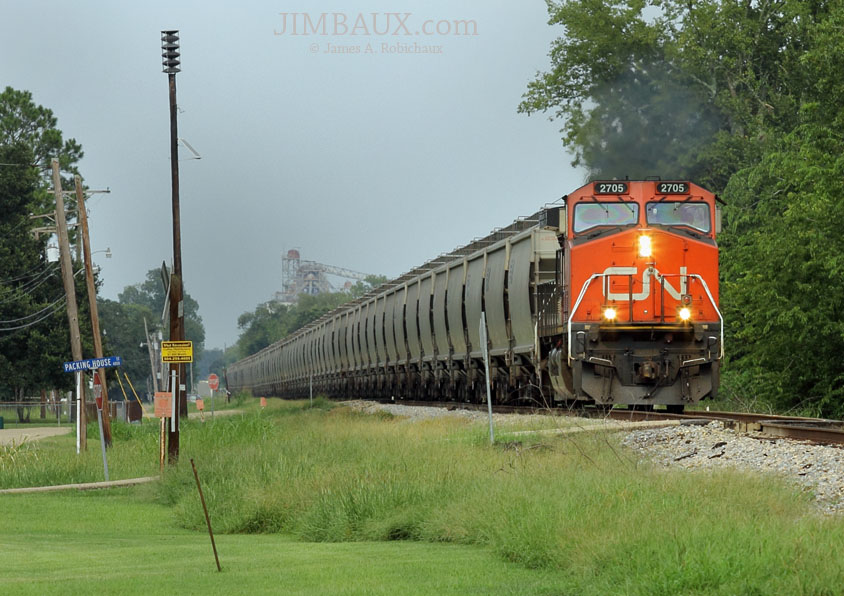 Yeah, whatever.  I'm not particularly impressed, but I then sprinted over toward the house nearby to get a different view as the train approached.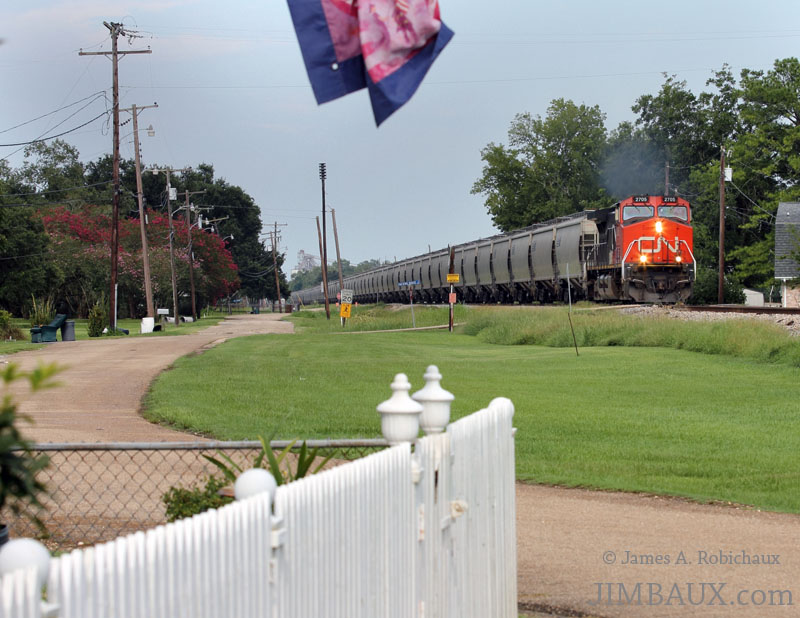 I can accelerate, run fast, and quickly decelerate when necessary (though none of this is really necessary.)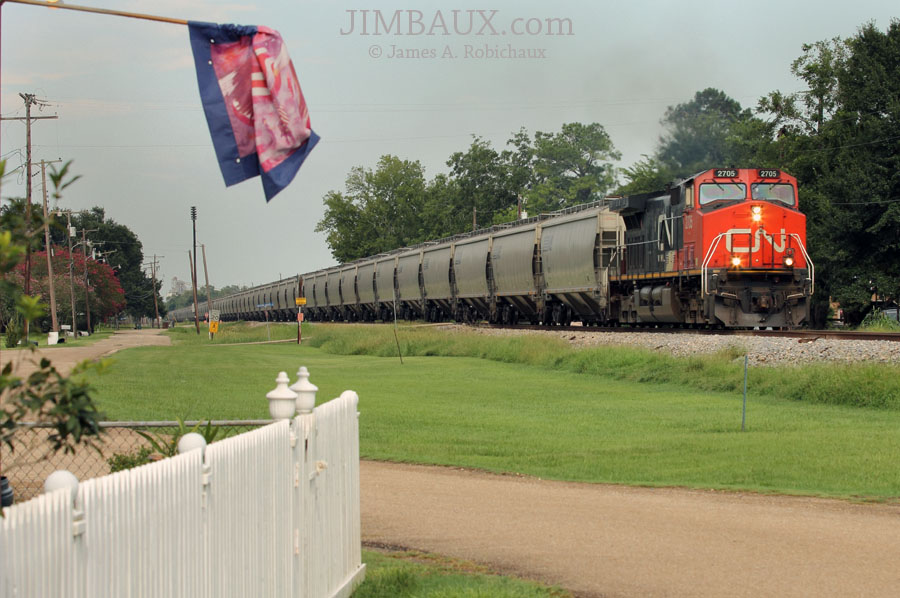 I guess that's okay, but this is far from my best work.  Like I said, this was new territory for both of us.  Things were about to get a bit ugly.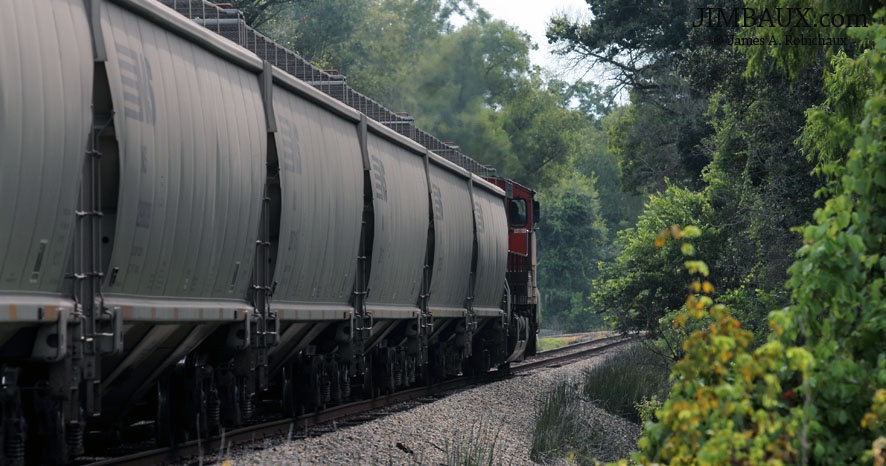 I go back to the truck to grab the radio as is my custom, and that's when I heard it.  My license plate number was being read over the radio!  WTF?  Evidently, this crew had decided to "report" us.  WTF?
Now, yes, I know that we were not doing anything wrong here, and I also know that a crew calling us in does not mean that they think that we are guilty of some crime, but something still bothered me about this, and The Mid-City Marine seemed a bit surprised too.  Part of my frustration about this was that this was the fourth location at which we had shot this train (even though we might have been too far away to be visible at the second location); so, why only now – why only when they could read my license plate – were we being reported?  The bothersome thing to me about having my plate number read was that I didn't have to be on the scene for police to come and find me; with a license plate number, they could come find me at home.  This is why I mentioned an old long-abandoned practice.  A long time ago, I'd intentionally park my truck by the track in a way that my plate was not visible to anyone on a train, and that's fairly easy to do when your vehicle is registered in a state that requires only a rear plate.
What's funny is that we were, as I mentioned, quite sick of that train anyway, but a railroader friend to whom I soon spoke said that the feeling was probably mutual and that that was the reason for us being called in.
All that was, was an attempt to get rid of you.  They got sick of seeing you, so they only way they can get rid of you (hopefully) is to call you in, because presumably you'd hear it happen.
Wow!  They did it because they knew that we'd hear it?  That's disrespectful not only to us but to the dispatcher whose time they were wasting, especially since the dispatcher is required by rules to report it to police, which wastes their time too.  Notice, too, that the above pictures were the first time that we were on the engineer's side of the train; perhaps the conductor did not care, meaning maybe the engineer wasn't "sick of seeing [us]" prior to Hester.  I don't know.
A few messages later, my railroader friend went on to say:
Hell yes I've known many trainmen that despise foamers.  Like I said, the only way they can "get back at you" is to call you in.  And of course they are working under the pretense that they are "reporting suspicious activity" when they good and well know you are just foaming.
Wow.  We were not doing anything to these trainmen; so, they could have just ignored us (like many do, and there is nothing wrong with that at all.)
My friend said in the next message:
At most, the cops came out to where you were reported, didn't find you, reported back that they didn't find you on the scene, and that is that.  It's all C.Y.A.
And that means it's all a farce and a waste of time and resources, and a way of attempting to intimidate photographers.  I even asked my railroader friend (who now works in management) if it might have been a way to incur favor with management.
Scoring points?  Uh no, all that stuff does is annoy the person it was reported to.
Wow.  Thanks, guys; I hope that your superiors at CN read this.
Comeback at Convent
Not to be intimidated, we shot the train one more time, this time a cane-field broadside at Convent.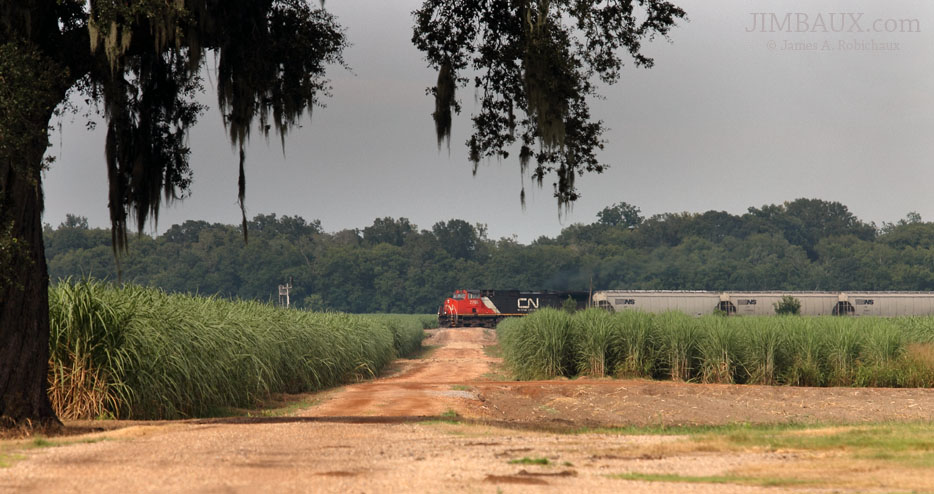 In addition to showing that we are not to be intimidated, this image shows the utter foolishness of the idea that calling us in was in any way helping to address "suspicious activity" or "safety" or "security," since, at this distance, it's a safe bet that the crew did not even know that train was being photographed, and here's a cropped version of the image showing the train better.

I like cane-field broadsides.  Yes, folks, that is sugar-cane in the picture.
My railroader friend suggested that it was the number of times that this crew had seen us – and not merely that we were taking pictures – that caused the crew to call us in, but not only, as I said, was the Hester shot the first time that we were on the engineer's side of the train, this train was very close to its destination at Helvetia, meaning that there weren't many more occasions and maybe no more occasions for us to photograph it anyway.  No matter how much we cared or how hard we tried, this crew was not going to see much more of us.  We were sick of the train too, and we were eager to get across the river.
The Former IC Rail-Marine Terminal
In an act that did indeed allow the now-insulting grain train to get away from us for good, we stopped in Convent at the former Illinois Central Railway Rail-Marine Terminal where we saw a coal train slowly being unloaded, and you're looking at both the front and the end of one train!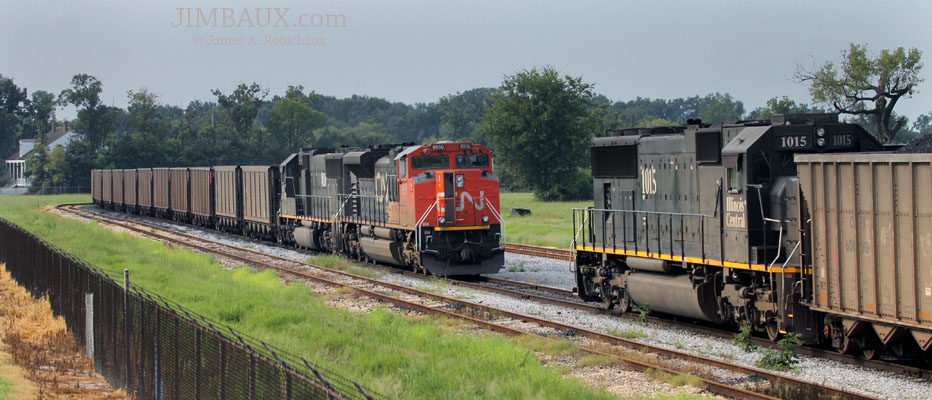 Since I had been hoping for a coal train on the spillway, this was a decent consolation prize.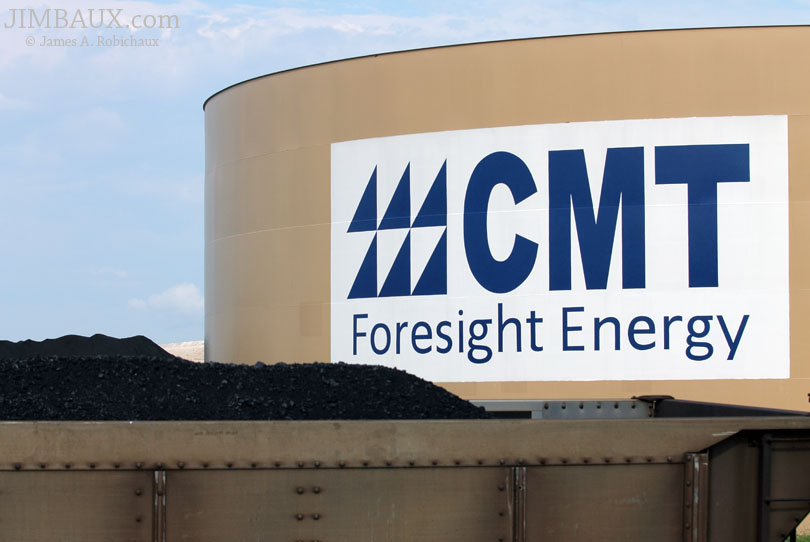 This is what climbing on top of your truck can do for you.
It's better than seeing it through a fence, isn't it?
When Are We Going To Cross The River?
After we take two more pictures, that's when.  Here is the Sunshine Bridge that we were about to cross, and, yes, that is sugar-cane in the foreground.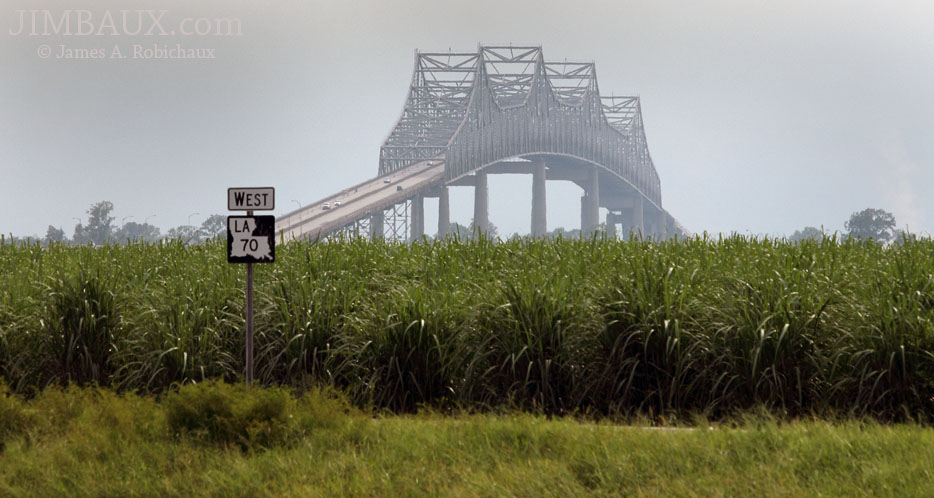 I think that I shot the below picture partly out of frustration about what had just happened and a sense of defiance.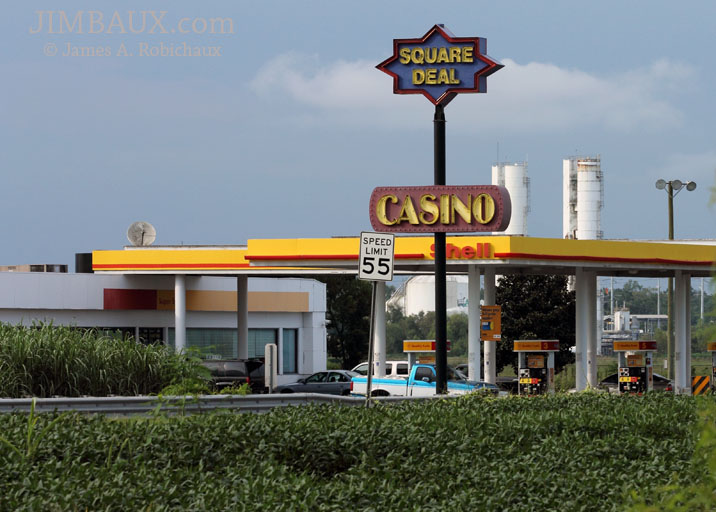 Yeah, that's right.  You're not "supposed to" take pictures of trains, which is why doing it gets you reported; instead, you should do something that you are told to do, like piss away your money at a stupid casino; that is not 'suspicious' activity.
Stupid, human, society.
Donaldsonville, The Western Bank, and the UP Livonia Subdivision
We finally crossed the river.  It did not take us long to find a train on the Union Pacific's former Missouri Pacific former Texas & Pacific line.  Here is the QLINSL at one of Raymond's favorite spots.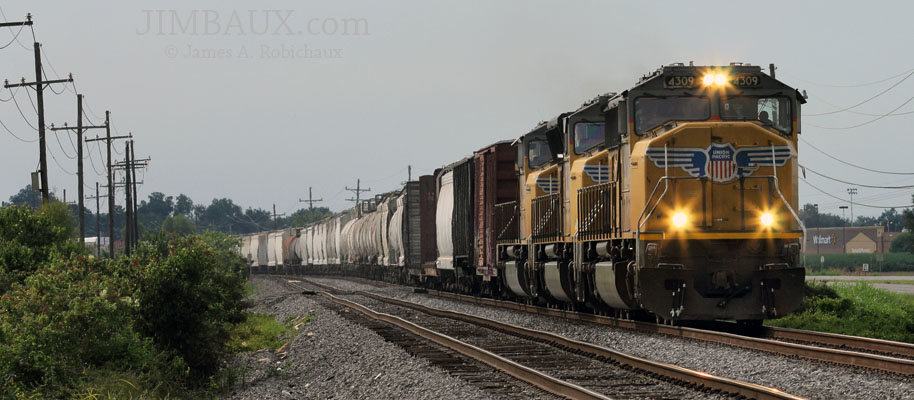 The Livonia Sub has recently become busier with unit crude oil trains, and it was on this day that Jimbaux took his first ever picture of a unit crude oil train.  This is train OSJED-05, from St. James, La., to Dore, North Dakota, very close to the Montana border.  This train is interchanged to BNSF via the Alton & Southern's Gateway Yard at East St. Louis.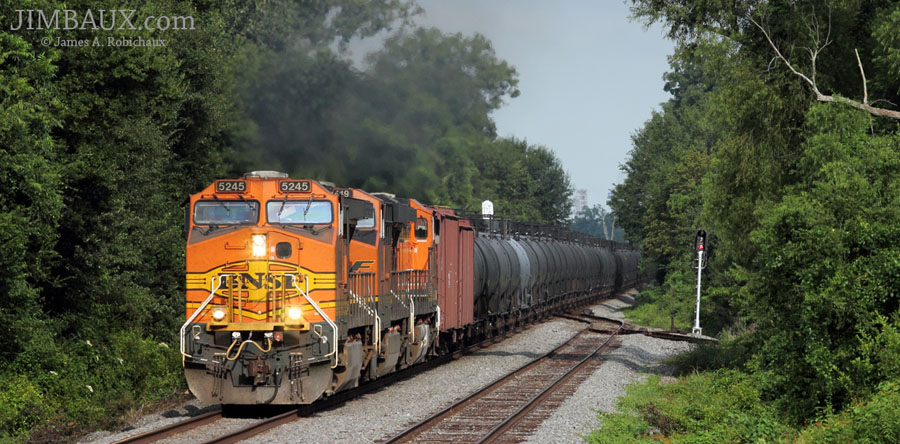 Notice the little track going off to the right.  That track is near to my heart, though not like some old SP branches.  That track now only goes a few hundred feet, and it is all that remains of a branch that went all the way to Thibodaux until 1984.
We're done with trains for the day; so, let's explore Donaldsonville before going to JMS's grandmother's place, visiting the folks there, and saying goodbye to The Mid-City Marine for a long time.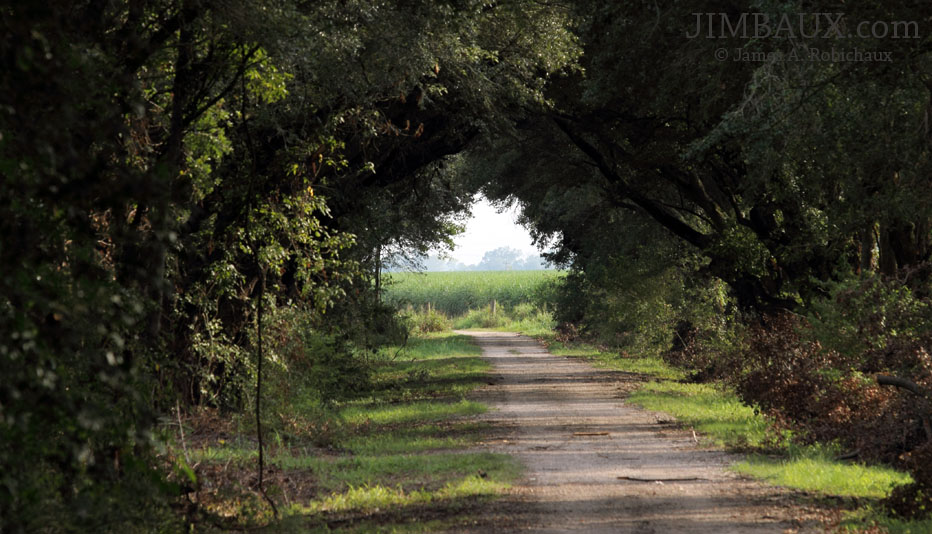 We're still exploring the area where the T&P's branch down the western bank of Bayou Lafourche began.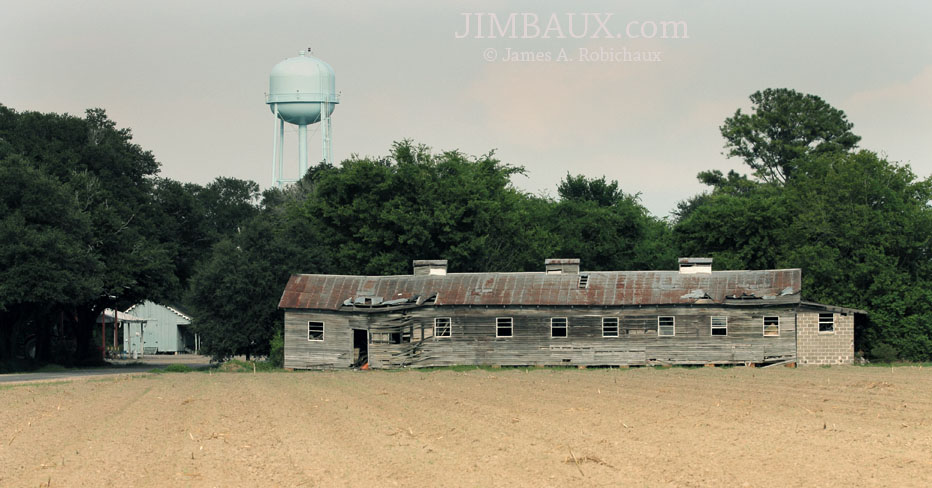 This view below looks across what was the branch on La. Hwy. 994, and it was only a few years ago that the track here was removed once the Lula sugar mill a few miles to the south stopped getting railroad service.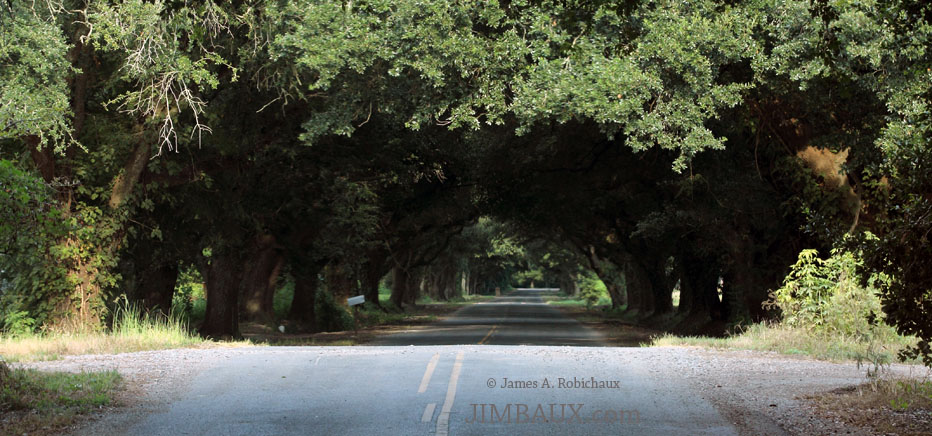 I never photographed action on this line, sadly, but I did photograph a locomotive – an ex-C&NW switch engine – and some tank cars near the mill.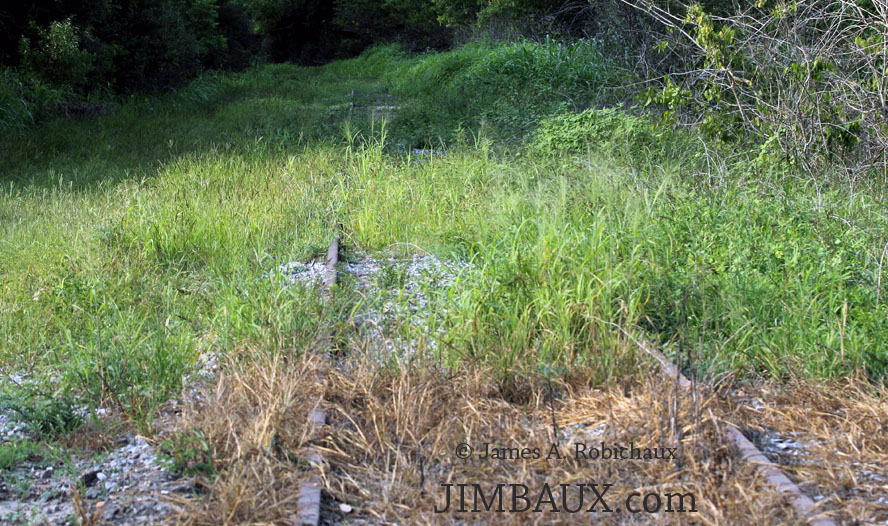 All that I can do now is photograph what remains, but, still, I often wonder why I do this.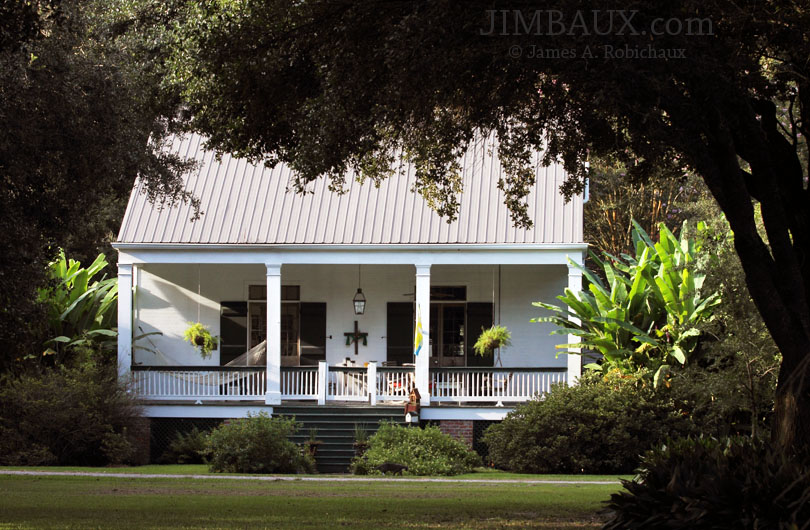 Here are some sugar-cane trucks sitting idly and waiting for another two (at least) months until grinding season.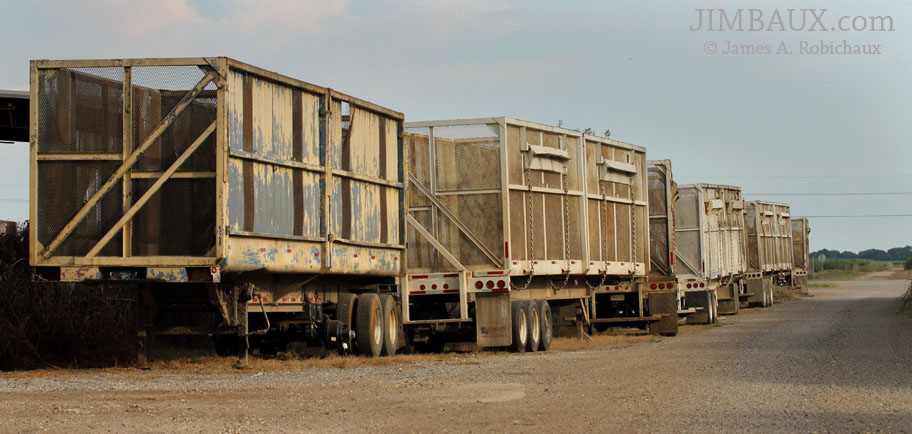 I then took The Mid-City Marine to JMS's grandmother's place where I saw JSM, her grandmother, and met JSM's mother for the first time.  After visiting with the human beings, dogs, and cats there, I bid them farewell and left Donaldsonville.  It would be more than a year before I would see my friend again.
Napoleonville and The Old T&P Bridge Across Bayou Lafourche
As the light was really fading, I stopped in the neat little town of Napoleonville to photograph what I suspect some of you will think is a neat subject, the former T&P bridge across Bayou Lafourche (not to be confused with the mainline bridge across that same distributary in Donaldsonville) that today serves as a pedestrian bridge, specifically for students attending Assumption High School.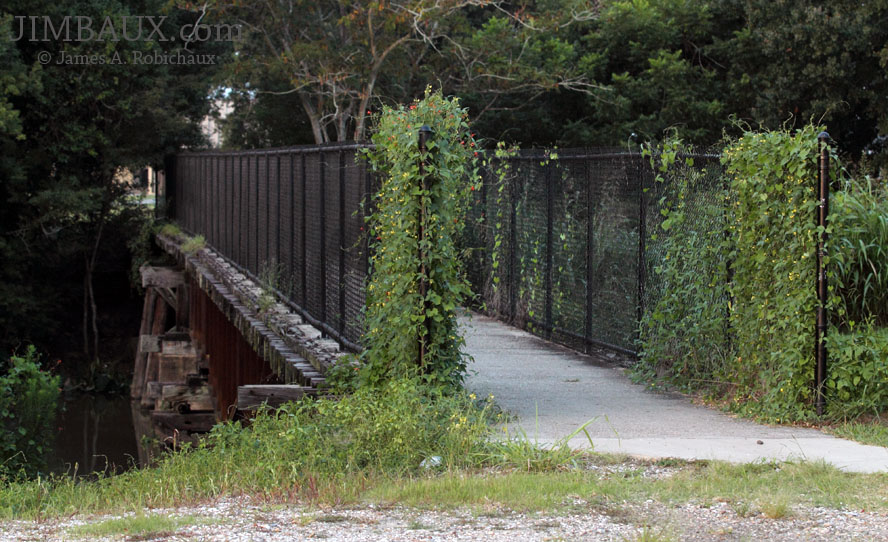 Originally, the Texas & Pacific Railway built branchlines down both banks of Bayou Lafourche from Donaldsonville, the branch on the eastern bank going as far as Thibodaux and the branch on the western bank stopping in Napoleonville (the SP's branch from Schriever via Thibodaux reached Napoleonville from the south on the western bank of the bayou.)  Sometime about the 1930s, the T&P consolidated the two branchlines by building this bridge across the bayou in Napoleonville, connecting the branches, and then abandoning most of the eastern bank track between Donaldsonville and Napoleonville; this meant that two branchlines (or one-and-a-half) became one, a branch extending from Donaldsonville west of Bayou Lafourche at the point shown in the oil can train picture above, then crossing the bayou and reaching Thibodaux in the area of town called "North Thibodaux" on the eastern bank of the bayou.
Here's the view in the other direction away from the bayou where the "new" crossover track once was.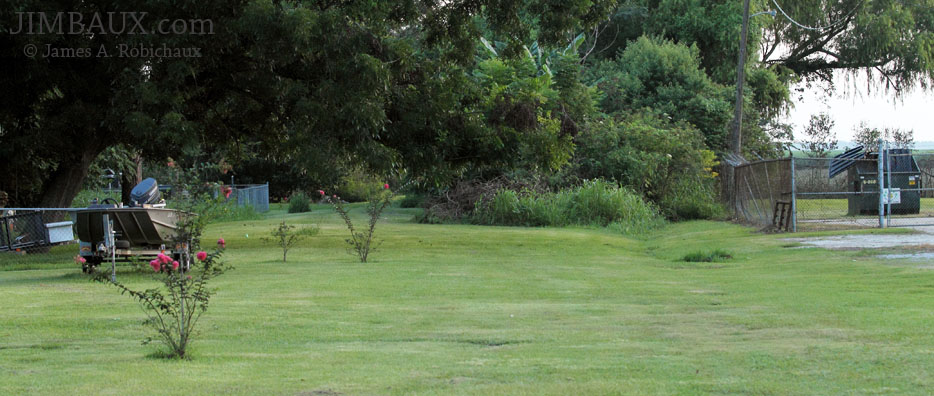 The below picture shows that the bridge was a swing bridge, but there is no longer navigational traffic on the bayou necessitating it being opened.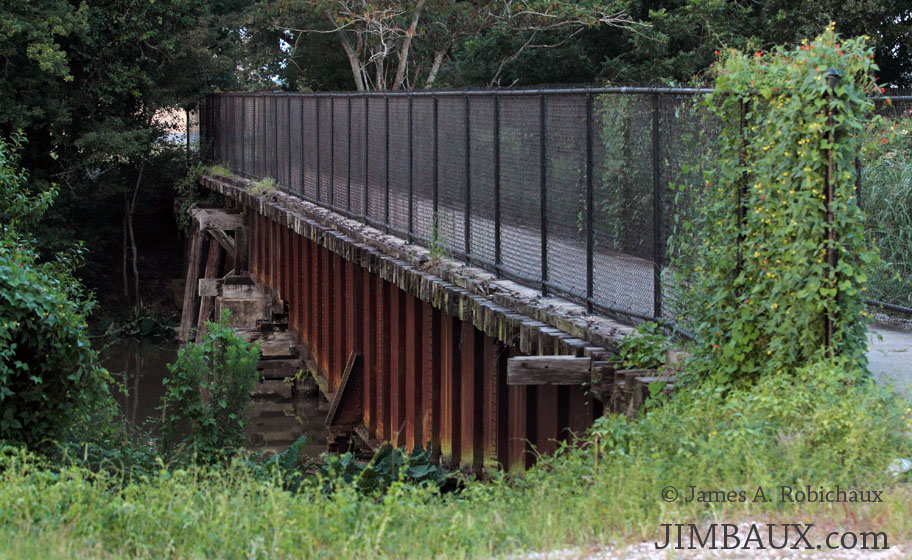 Finally, we have one more view of the bridge, this one down its length, showing Louisiana Highway 1 in the foreground and Assumption High School on the other side.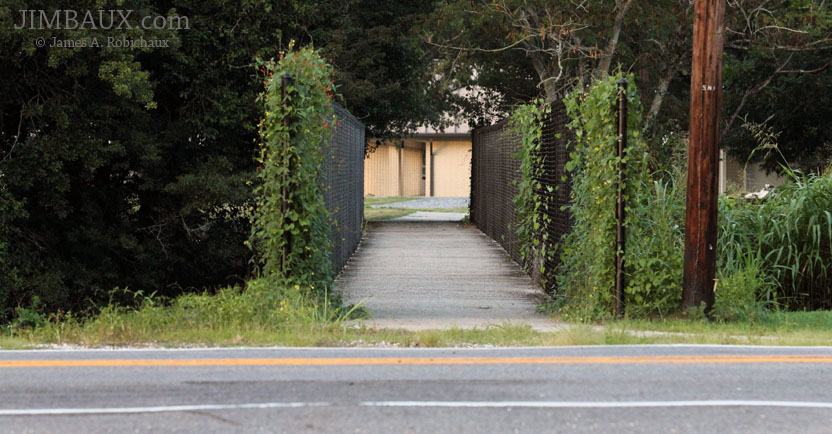 And that, my friends, really is a wrap, and it's about damned time, as ridiculously long as this post was.  One year to the day prior to taking these pictures, I got plenty of pictures of the IAVLB and the Chip Local on the Lafayette Subdivision.
Merci beaucoup,
Jimbaux