[Jimbaux was running blind on 31 May 2004.]
Here it is!  This is the first post of the two-month-long series of pictures from my 2004 experience at and going to and from Instituto Tecnológico y de Estudios Superiores de Monterrey and all of the ancillary things I did while in the Monterrey area.  I had purchased Godsmack's The Other Side a few days before embarking on this great expedition, and that album became my soundtrack for the entire experience; so, songs from that album will be the songs for most of these posts for the next two months, as I forever will associate the experience with those songs.
I left Bayou Lafourche some time shortly after midnight that day, crossed into Texas at 04:33, got gasoline at 05:00 somewhere in Beaumont at $1.919/gallon, ate breakfast at 07:15 at Jack-in-the-box in Rosenberg, and got gasoline again in Beevile at 09:40.  I did not get any pictures on the Texas-Mexican Railway (fully-owned since the mid-1990s by the Kansas City Southern Railway), but I got this shot at 10:55 along the line west of Alice, my first picture in southern Texas and my first picture on this trip, shot at f2.8 at 1/1500 of a second.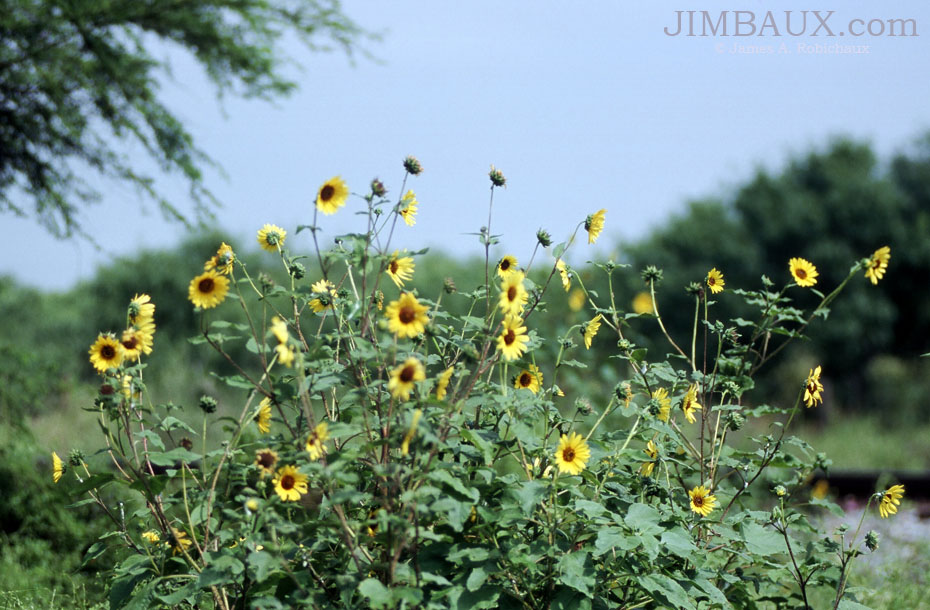 The terrain was fascinating.  I hadn't been in real western or scrub country on my own before, and now I was about to drive my truck into another country!  At 13:00, I arrived in Laredo, where I would spend the night, and ate at Whataburger.  I got there early for several reasons.  I needed to get some pesos, and I needed to cross the border to get all of my vehicle registration and visa stuff done so that I would not have to be bothered with it in the morning, and I also wanted to get some pictures of railroad action in Laredo, which I did.  First, let's look at one of the international automobile bridges in Laredo at 16:50.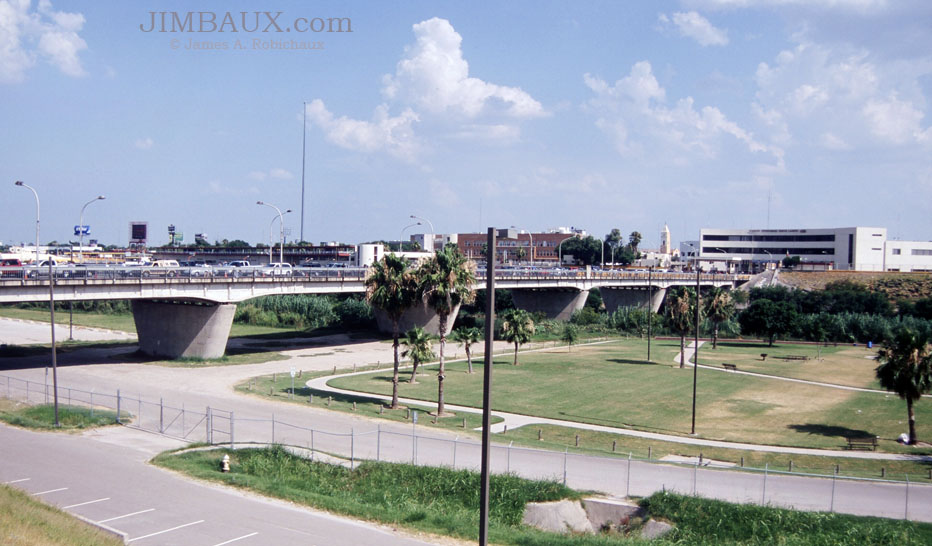 You are in Texas looking across the river to Nuevo Laredo, Tamaulipas.  I don't still remember anymore, and I apparently did not document it, but I may have gotten all of the vehicle stuff, hotel check-in, and other such things done by the time I went out and got some train pictures.  The last thing that my trip information notebook (which was separate from my photography notebook) says for the day is "Burger King."
All of the following pictures were taken on the international bridge or near it in the UP yard, where we see at 17:28 this large old SP boxcar.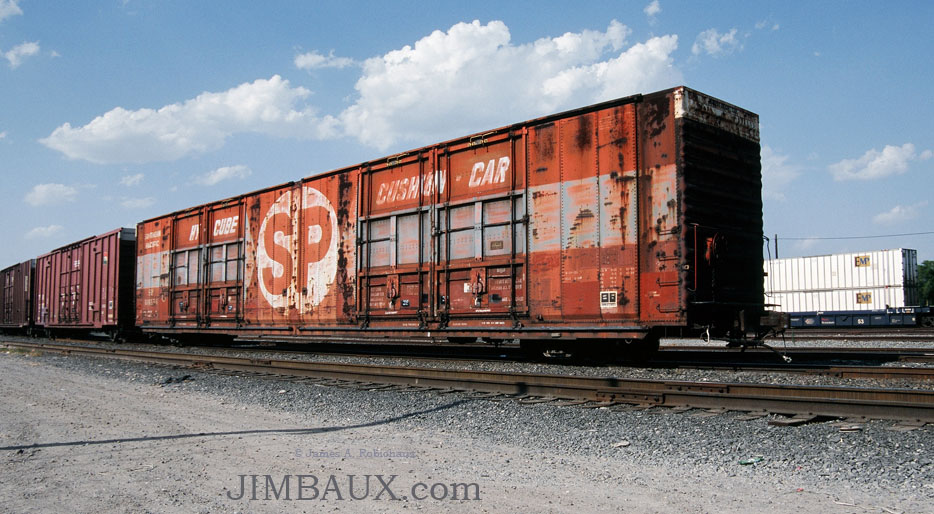 That was neat, and that stack train behind the boxcars was moving southward going across the Rio Grande into Mexico, but the excitement really began shortly thereafter, when at 18:25 I caught some classic KCS power leading a train on the bridge!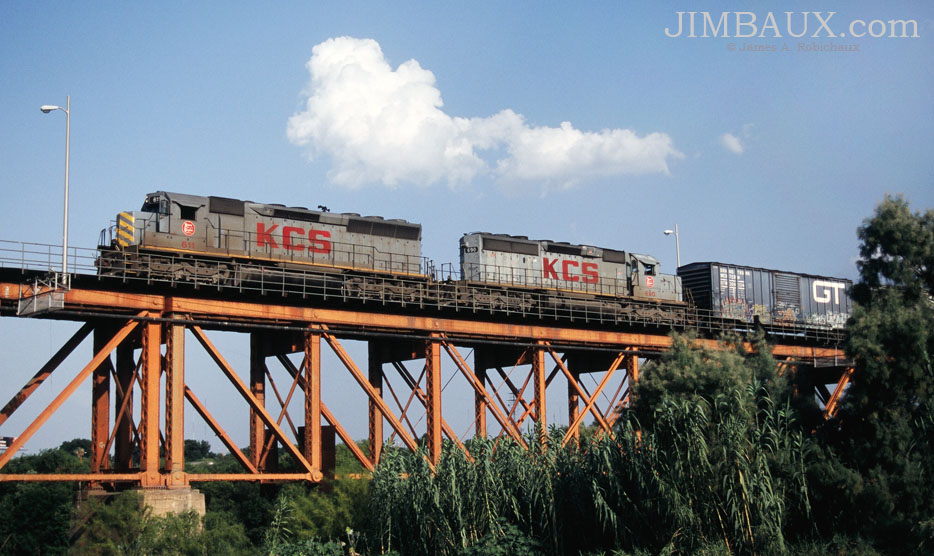 The train was stopped.  I got really surprised when it began to reverse!  I later learned that the train was probably switching in the yard in Nuevo Laredo.  I should mention that at this time, Transportación Ferroviaria Mexicana still existed.  KCS did not buy out the other half of it and turn it into KCSdeMéxico until a year later.  TFM and some other Mexican railroads were created in 1996 upon the privatization of Mexico's railroad system.  TFM was always a joint venture between KCS and Mexican shipping company Transportación Maritima Mexicana, as Mexican law at the time prohibited more than half of the railroad to be foreign-owned.  This changed, and in 2005, KCS, who was obviously more interested than TMM was in running a railroad, purchased the other half of the company and renamed it KCSdeMéxico.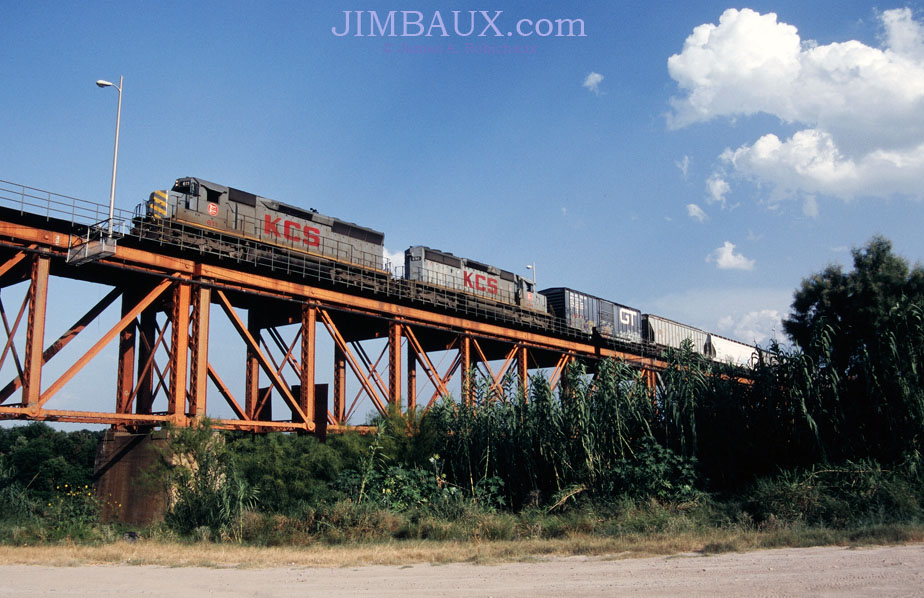 So, the train seen in these pictures was switching TFM's yard right on the other side of the river.  Note both the Grand Trunk Western boxcar and the Canadian National Railway hopper cars in the image below, a "very NAFTA train" with all three countries represented somehow!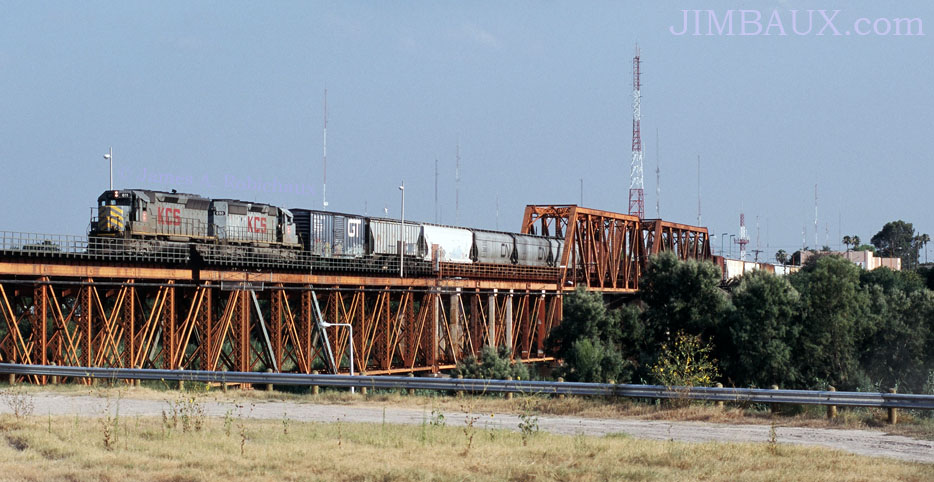 The entire superstructure of the bridge is in Mexico.
The international boundary is right where the handrails change color in the below picture.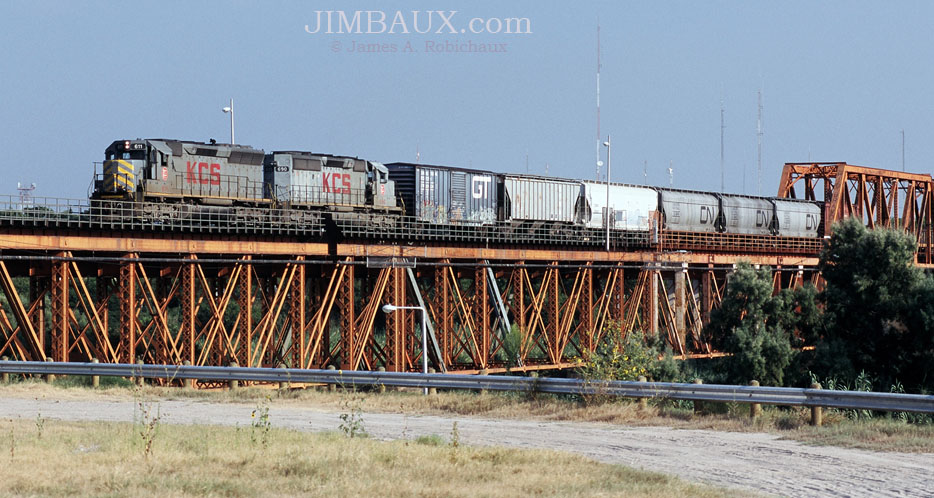 I was somewhat surprised that I did not get a visit here from the Department of Homeland Security – which had a shack just to the left of the frame of the above picture, as seen in the only photograph of the bridge that I can find on railpictures.net – or the Border Patrol, but I guess I'm not the first photographer to hang around here, and the agents of those agencies probably are too busy with other issues to consider a guy with a camera to be worth questioning.
At 19:12, as I now had a new roll of Fujichrome Velvia 100F in my camera, another train entered the United States.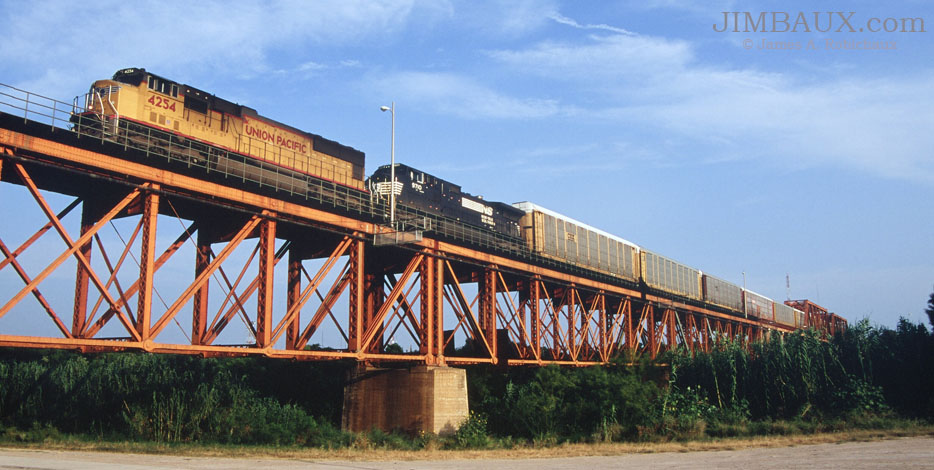 In the below picture, you can see the Rio Grande and the automobile bridge that you saw earlier.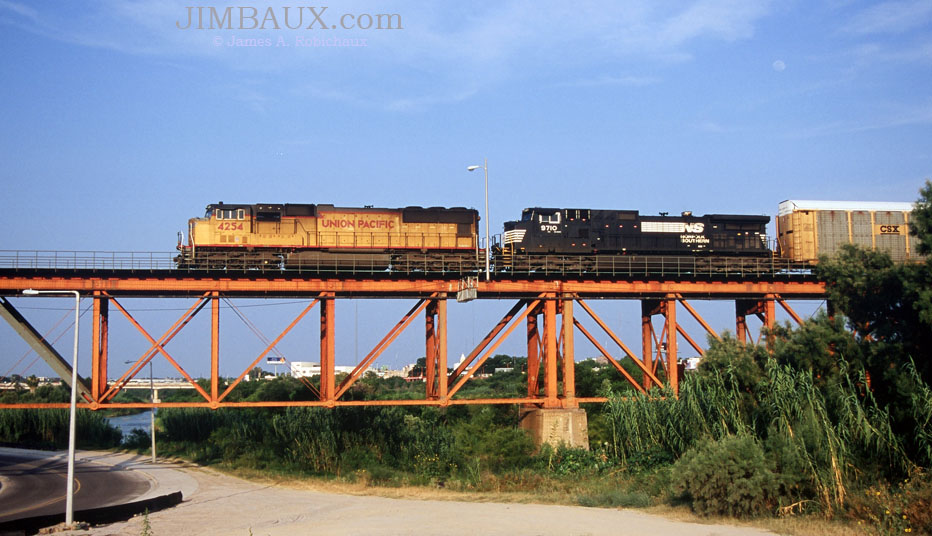 I'm not sure which railroad's crew would be on this train.
The American portion of the bridge is owned by a KCS subsidiary called Mexrail, Inc., a non-carrier subsidiary of KCS over which Union Pacific has trackage rights; the Mexican portion of the bridge is owned by a KCSM subsidiary.  KCSM is a larger interchange partner with UP than it is with its American parent!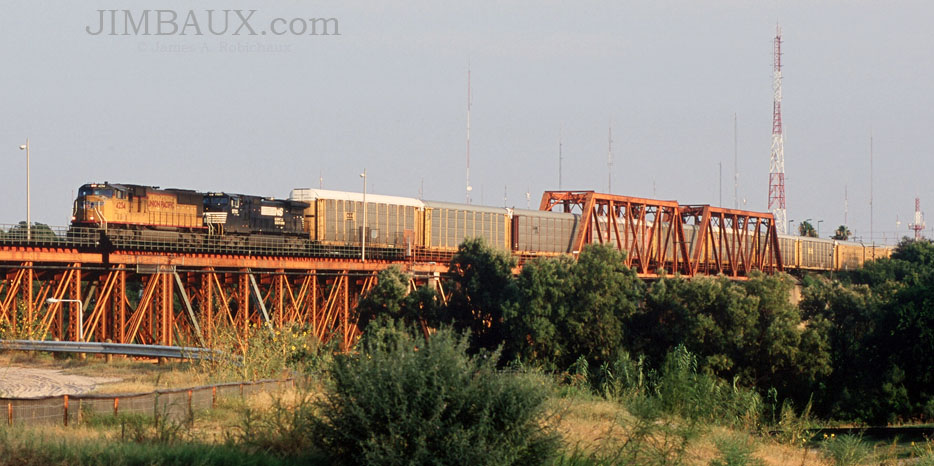 That picture was taken at 19:26.  The next picture was taken at 19:38 as the train was moving again.
Our last picture of the day was taken at 19:47 as I spotted what I thought was an interesting boxcar.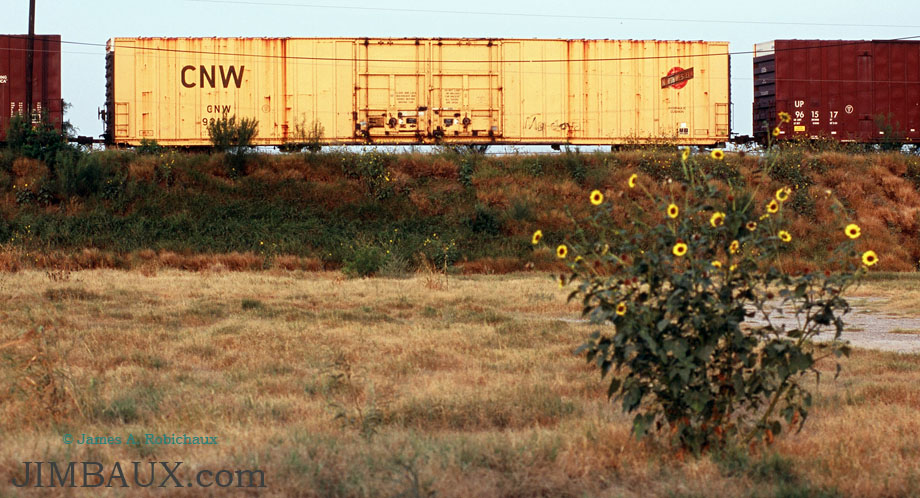 At the end of that summer, when my film came back, I was at giving a presentation at a railroad enthusiast slide show and showing these (or some of these) pictures.  Some jingoistic railroad enthusiast who theoretically should have known better 'joked' that there must have been "200 Mexicans" in that boxcar, which, unfortunately, got plenty of laughs, but The MEXLIST Man's face was expressionless, and The Mid-City Marine did not find it funny either, even though he would later joke about the stupidity of the 'joke.'
I was outraged by this stupidity, and I have basically avoided the person who made the comment since then.  Through my work, I try to talk about people of other cultures and countries as if they are human beings (imagine that) and lead by example.  At times afterward, I thought about the Mexican friends, mostly railroad enthusiasts, that I made in Mexico, and how I would have been highly embarrassed had one of them been at the slide show to hear that comment; of course, the commenter would probably have not said that had a Mexican been there, but that's kind of the point, that a Mexican should not have to be there for people to consider that joke stupid.  I regretted, at first but not anymore, not lashing out at this stupidity, saying to him live and in person at the slide show what I just said in the previous sentence.  All that I did in that moment was say with essentially no facial expression, "uumm, no."  The Mid-City Marine later joked about my response!  Now, I know that I should have just given him a "WTF?" look and said "uuhh, okay?"  Oh, well.
That night (of these pictures on the border, not the Louisiana slide show months later), although very tired from being up since midnight, I went (back) into Nuevo Laredo, back into Mexico.  I saw some disturbing reasons for the stereotype that likely caused the comment made at the slide show months later and countless other stupid comments by countless other Americans.
Having, that evening on the international automobile bridge connecting Laredo with Nuevo Laredo, what appeared to be a father-son pair jump on top of the hood of my truck and wash my windshield without my permission and then demand that I pay them was something for which I was simply not ready and something that made me angry and deeply unsettled, but, in retrospect, I am glad that I experienced it, for I learned – even if very briefly – about the struggles of other people, these people, and it has helped remind me of how grateful I should be for the privileges that I enjoy.  I had been warned that Nuevo Laredo was kind of a nasty place (at least partly because it is a border town) and to not judge the rest of Mexico by it, as so many people do (from experiences with border towns, not necessarily Nuevo Laredo), and I would later learn that many Mexicans had the same opinion of the place.
I was deeply disturbed by the experience – it happened several times, actually, including the next morning – and spoke to nobody of it for a very long time, partly, I guess, because it made me question my own decision-making, but I now see that it had to do with some overall cognitive dissonance about how life just is not fair and how life can indeed be cruel.  Surely, the men who jumped upon the hood of my truck had no right to do so, and I had every right to be angry about it and would have even been totally justified had I got out and tried to pull them off (which I felt unwise, for reasons that should be obvious), but time and distance allows me to consider the reasons for their actions.  As I wrote in the "Privilege" paragraphs at the end of a compilation posting of old slides and cell phone pictures, I'm not one of those people who feels the need to feel guilty about whatever privileges I have, especially since I had no control over having them in the first place, but it helps to simply be aware of and admit them; perhaps that is all anyone can ask of anyone else, as we all have our own struggles, goals, and aspirations.  Even as I went through the unsettling experiences of that night and sulked over them until I fell asleep, I knew that this was a small part of what I had set out to do: get myself far out of my comfort zone.
So, the first day of a summer-long mind-stretching experience was memorable indeed!  At some point, after being awake for more than 20 hours, I went to sleep.  Tomorrow, I would leave the United States of America behind for nearly two months!
Reminder
Oh, by the way, for those of you who arrive here from railroad-related Yahoo Groups who want to keep up with the photo-blogging of the 2004 Mexico experience, it might be best to join the moderator-only Jimbaux's Journal e-mail group, which usually will not have more than two posts per week.  There will be many railroad scenes from the set of pictures that you'll see spread out over two months, but most of the pictures that you will see are non-railroad scenes taken of various places and scenes in three northern Mexican states, urban and rural, historic and industrial, natural and cultural.   That means that those non-railroad-related blog posts will not be posted to any railroad-related internet forum, meaning that if you want to be alerted when those non-railroad-related photographic blog posts are made, you need to be on the automated e-mail list.
Both because of the upcoming two months of 2004 Mexico content and because Facebook has become such an unreliable way of reaching readers, the Jimbaux's Journal e-mail list, which was created in 2012 but hardly ever used, is being revived.  This is a way of being alerted to new content without having to interact with Jimbaux himself!  Isn't that great?

This is a Yahoo Group, but only the moderator can post, and it therefore exists only to alert readers to new content, about once or twice per week. Your e-mail address will be automatically subscribed to the list if you send an e-mail to jimbauxsjournal-subscribe@yahoogroups.com, and you can unsubscribe at any time by sending an e-mail to jimbauxsjournal-unsubscribe@yahoogroups.com; note, please, that both actions are automated and involve no action or involvement from yours truly.
If you are already logged-in to a Yahoo account, you can see all of this information by visiting the group home page here, and you can click on "Conversations" to view the few posts that have been already made.
https://groups.yahoo.com/neo/groups/jimbauxsjournal/info
Tomorrow, Jimbaux gets a few more shots in Laredo and then enters Mexico for two months.
Stay tuned.
Jimbaux