[Jimbaux listens to the rail falling day by day by day.]
Apparently, I took no pictures at all in the two week period between the second day of the Zacatecas trip on Saturday 19 June 2004 and the day that I had to say goodbye to my great roommate on Saturday 3 July 2004, the day that these pictures were taken.  Remember, again, that I was still photographically documenting things using the ancient medium known as film, the cost of which naturally prompted a user to use more discretion than digital photography requires.
From Monterrey, from my cuarto in the house in my neighborhood on the northwestern slope of Cerro de la Silla, I wrote in my journal on Tuesday 29 June 2004 that . . .
I feel as though time is running out here. I can feel the end coming, even though it is two weeks away.
As I expected, I feel as though I haven't maximized the experience enough.  There are so many things that I wanted to do here that I haven't done.  I guess I could consider this past Saturday to have been productive, but I haven't done much since then.
Of course, it's impossible to maximize something "enough"; either something is maximized or it isn't.  Also, "this past Saturday," I went bungee jumping!  However, that same day, I had an equally memorable experience to which my roommate Michael was a witness and even a participant; that will be described later in this article.
Michael was in Monterrey at ITESM only on a brief program less than half the length of my time in Monterrey; he had arrived only three weeks and one day before, and the story of his arrival and my reaction to it was added to the article of pictures from that Saturday, constituting the "The Roommate" section of that article.
In the wee hours of the morning of Friday 02 July 2004 at 02:37, I penned this journal entry.
Thanks to the long nap I took after lunch today (yesterday), I'm not tired enough to sleep right now.
I surely wish that I had been in front of this book with a pen three-to-five hours ago.  There were numerous noteworthy thoughts running through my head.
Michael is asleep now.  Earlier in the evening, when it was still Monday 01 July, he and I went to a shopping mall west of here, went to the computer lab in the CEDES building, and then went eat at Taco Loco.
Michael has much on his mind.  He is trying to decide if he should go home as scheduled on Saturday, or if he should stay here another two weeks.  He asked me for advice about the decision, and we talked for awhile about it before we fell asleep after we came in from Sierra Madre Brewing Co at 01:200 yesterday morning (hence the reason for the long nap after lunch.)
Speaking of last evening's outing, [name withheld] basically stood me up.  I'm not overly bothered by this like I would have been three or so years ago.  I would write more about it, but I actually don't see it as paramount.  Still, I would have loved to have gotten to know her better.
Before I started this entry, I left this room at about 02:00 and went for a little walk.  I walked around the grounds of la iglesia, my first time on the church grounds.
For some reasons, I actually felt relieved and relaxed on my drive to campus this morning, despite my writings in the previous entry.  Perhaps it had something to do with the conversation Michael and I had when we came in earlier.
I remember that middle-of-the-night walk in the neighborhood and on the church grounds.  I would love to do it again.
Michael had a quick decision to make, and he decided to go home that weekend as scheduled.
That Friday night (the same day of my wee hour journal entry above), he and I were invited by our host family to a quinceañera, a very memorable experience for both of us, especially as it was Michael's last night in Monterrey.  The quinceañera was, as I recall, for a niece or grand-niece of Señor Oscar.  Michael would talk about this event in e-mails to me after our Mexico experience.
As I wrote in a Wednesday 07 July 2004 journal entry from which I will also quote in my next blog article . . .
Michael and I slept late Saturday morning, mostly because of the quinceañera we had been to the previous night.  I think we got home at around 01:30.  We skipped breakfast and headed to the computer lab in the CEDES building.  We came back here for lunch and for Michael to pack.
We had lunch with the host family, and, after that, especially since Michael was about to leave, we took some pictures.  Below, Michael is seen with Señor Oscar and Señora Gloria.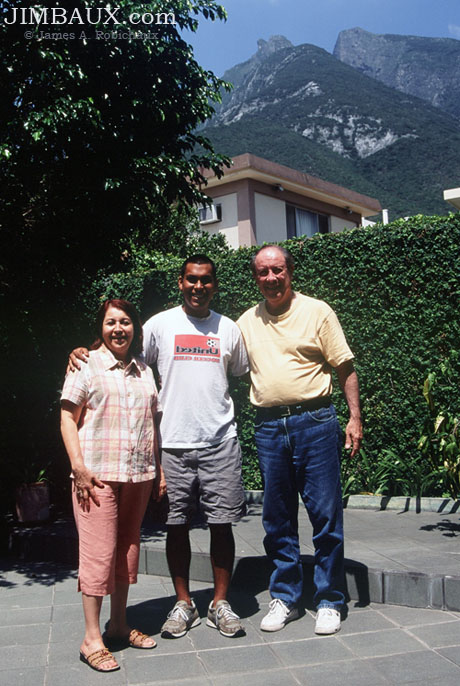 Yes, there are some pictures with me too.  While Michael was packing, I prepared my slide show for that night at a local railroad enthusiast gathering, which I'll mention shortly.
Soon, it was time to say goodbye Michael, perhaps the most unexpected friend that I made in this Mexico experience.  I wrote the following in that same July 07 journal entry.
I brought Michael to Residencias and dropped him off with his group.  We told each other "bye."  It was sad for me to see him go.
Ironic it was.  Before Michael's arrival, I was a bit upset about the prospect of having my privacy threatened and my quiet time threatened by having a roommate, but now his departure made me sad and lonely.  It was an interesting life lesson from which I am still learning years later.  More practically, though, as roommates go, he was just a good roommate to have.
The following two pictures, taken on this same day, Saturday 03 July 2004, after I said goodbye to Michael, require a little bit of background information.
While in Monterrey, I made friends with some of the local railroad enthusiasts.  It was the only network of people outside of ITESM and my host family whom I really got to know in Mexico.  The local group – El Club Amigo de Ferrocarril de Monterrey – had a model railroad layout and some artifacts in a few rooms in one corner of the local transportation museum that occupied a former army base, and it had gatherings every Saturday afternoon.
I should mention, too, that Mexican railroad enthusiasts are, in the aggregate, generally different from American and Canadian railroad enthusiasts in terms of activities, and Blair Kooistra, whose Mexican railroad photographs I had admired before I decided to go to Mexico, told me about this before I went there; specifically, as Blair pointed out and as I definitely learned myself, Mexican railroad enthusiasts generally don't chase trains and get multiple pictures of the same train, generally don't watch or photograph trains anywhere other than a major yard, and, if they do photograph elsewhere, it is of parked equipment and buildings.  Railroad enthusiasm in Mexico is generally manifested only in model railroading and historic preservation.
I don't know why this difference exists, but the relative dearth of railroad action photographs taken in Mexico by Mexicans on, for example, railpictures.net exemplifies an imbalance that simply may be unexplainable.  Asking why Mexican railroad enthusiasts generally do not chase trains makes no more sense than asking why American and Canadian railroad enthusiasts so often do chase trains; being a railroad enthusiast is a bizarrely-irrational obsession in the first place!  The reasons for the difference may be deeply cultural, historic, and anthropologic – and, therefore, intangible – but I can cite two more tangible clues that may be part of the difference, presented in order of importance (which itself is an opinion.)  First, the possession and use of radio scanners in Mexico is, as I was told while there with my Radio Shack scanner, illegal; that definitely makes chasing trains difficult!  Second, the highways in many places are not conducive to hosting train chases.
There were two personal results of this difference that I experienced.  The first was the relative-but-general inability of the local railroad enthusiasts in Monterrey to give this visitor any tips about train-watching, train-chasing, and local railroad operations, like the kinds of tips that railroad enthusiasts from different cities in the United States and Canada can and regularly do exchange with each other when one is visiting a different city or area.  (I frequently field questions about New Orleans area railroads from railroad enthusiasts from other parts on the United States, Canada, and, in one case, The Netherlands, and I have been told a few times by visiting railroad enthusiasts that they used information in Jimbaux's Journal as a guide.)
The second was that they seemed to be far more impressed with my abilities as a photographer than US and Canadian railroad enthusiasts are, I guess simply due to lack of, no pun intended, exposure.  I went there with a few slide carousel trays full of my slides from Louisiana and from the KCS in Arkansas and Oklahoma.
On the night of Saturday June 26, I showed slides, and it went over very well.  I felt like I was being treated like a celebrity (for reasons mentioned in the previous paragraph); it was clear that what I had just done – railroad photography slide show – was rare in Mexico compared to its prevalence among US and Canadian railroad enthusiast circles.  I was invited back to show more slides (which I had with me.)  They were curious about railroad operations in the United States.
What was even better about that June 26 slide show was that Michael – my roommate who had no particular interest in trains – came along!  He liked it!  For him, like for me, it was about the only thing that he did in Mexico that had nothing to do with either the university or our host family; since I, unlike he, had my own wheels there, I got to do this plenty more as you have seen and as you will continue to see, but most of those, unlike this slide show with people, were solitary activities.  Michael seemed to like getting to meet regular Mexicans, though I can't help but note the irony that railroad enthusiasts by their nature are abnormal people!  Then again, maybe that is my American-Canadian prejudice of perceptions of railroad enthusiasts.  Anyway, Michael probably knew that he was witnessing something obscure and rare, and that may be part of why he appreciated it.
In August 2009, Michael and his girlfriend Jen visited New Orleans for the first time.  He called me on the telephone, and we were able to meet for an afternoon.  They were staying in the French Quarter, and I went to get them there and took them across the river on a tour, going to the Gretna riverfront, taking them to the Huey P. Long Bridge, crossing the river there, and coming back down the river in New Orleans.
On this day in 2004, after dropping Michael off and saying goodbye to him, I returned to El Club.  The building occupied by the transportation museum had been the barracks of the 45th Infantry Battalion of the Mexican Army.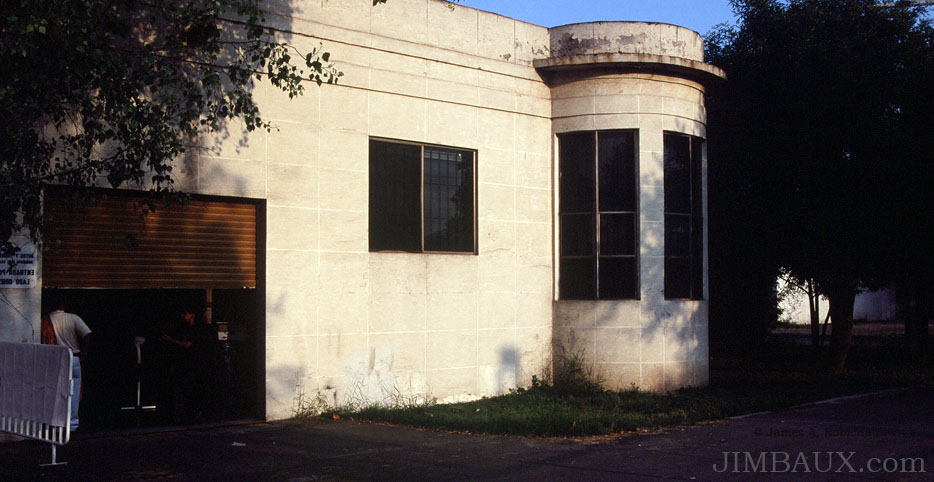 That door at the left was the entrance to el club.  I enjoyed watching the members operate model trains.  That night I gave another slide show.  Here is more from my July 07 journal entry:
Since it was my third time there (second slide show), I was starting to feel at home and accepted by these guys.  Arnulfo even bought some beer for me, and I drank it while giving the slide show!  Now, that is a first!
I was a bit conflicted on this evening because I was 'supposed to' being doing something else with someone else that night.  The night before at the quinceañera, I met an interesting and pretty and smart young woman who seemed to have a similar opinion of me.  That day at the midday family gathering that was Michael's last meal with the family, my host family 'sister' asked me if I was going out with her cousin tonight, in a manner that seemed to suggest that it was somehow expected of me.
Dammit!  Heck, I would love to go out with her!  but I have to go to the foamer club, chit-chat about trains and other things with the foamers, and show slides!  Or do I?  Well, I did do that.  I either didn't think to take la prima with me to the slide show, or I concluded that doing so would be too weird.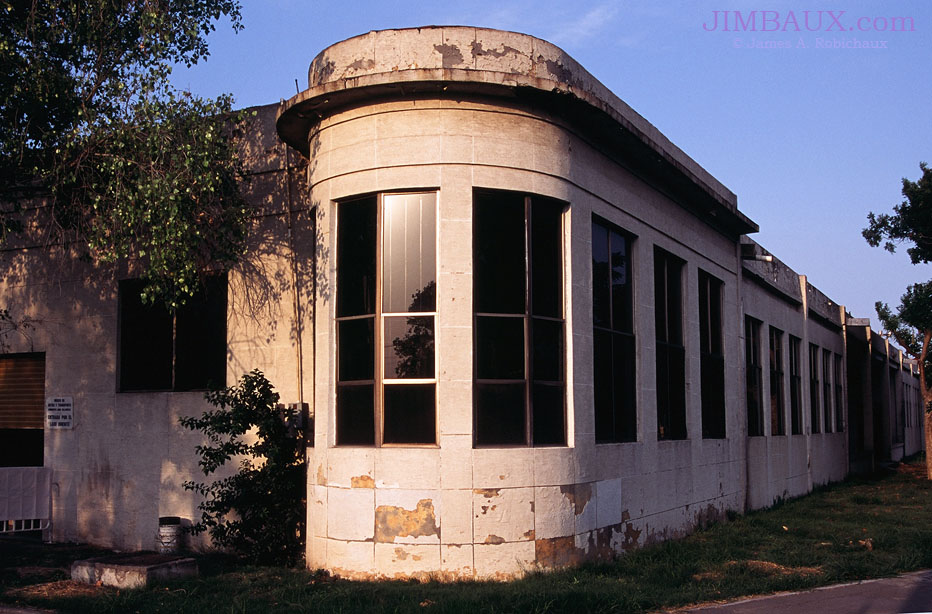 I will always remember the welcoming feeling that the club members extended to me.  Gracias, ferroaficionados.
Stay tuned for our brief 4th-of-July-in-Mexico blog post.
Merci, gracias, thanks.
Jimbaux