[Jimbaux did not want to waste time like it was free.]
The pictures here were taken on Friday 16 July 2004.  Perhaps more important than the pictures, though, is the story after the pictures, the story of my last night in Monterrey, spent with some of the railroad enthusiast friends that I made in the area.
Low-Key Last Day
Not many pictures were made on my last full day in Mexico in 2004, which is okay, since many pictures were made in two days immediately preceding it (as you have seen) and the two days immediately after it (as you will see.)  Still, had I been using a digital camera, especially a point-and-shoot – which would include cellular telephone – camera, I'd probably have many more pictures from this day.
First, we see Señora Gloria providing me with either breakfast or lunch.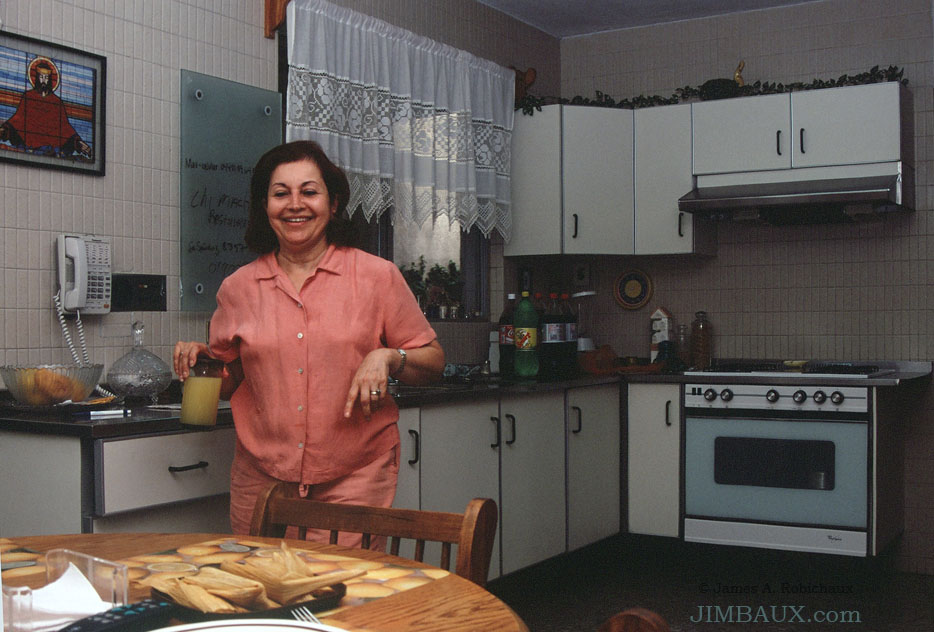 With my departure impending, I wanted to get normal scenes from every day, like that of her serving me my meals, a set of great experiences indeed.
Yeah, okay.  I was probably there to stock up on supplies for the homeward journey the next day.
On my last full day in Monterrey from my 2004 ITESM experience, many of the students in the international program had already left for home.  I took three who had not left on a little adventure.  We went to Centro Cultural Alfa, which is a campus of interactive science and technology facilities and also museums showing pre-Columbian artifacts, the history of science, and physics, and an interesting world-class planetarium, and an IMAX theater. The entire thing was built by the industrial conglomerate Grupo Alfa in the affluent San Pedro Garza García area.  We had fun, but, unfortunately, I don't have any pictures from the visit.
Later, though, since we were in the area, after we left, we went to visit Cañón Huasteca, where, yes, Joel and I had just been yesterday.  Neither he nor I minded going again, and our two other friends liked the visit.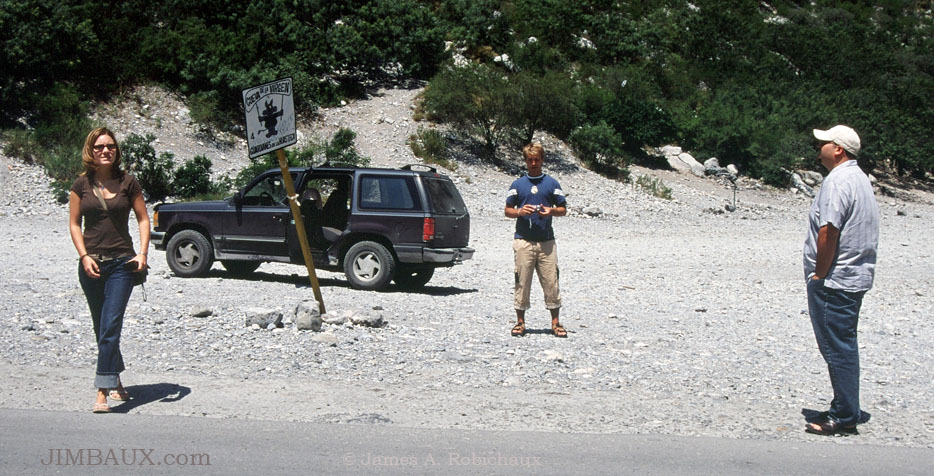 That is Kelly (or Kelley) from the Pittsburg area at left, Jonas from Sweden in the middle, and Joel from both Mexico and Canada (the Toronto area) at right.
Here is a view of some of the fauna that you are likely to find in the canyon.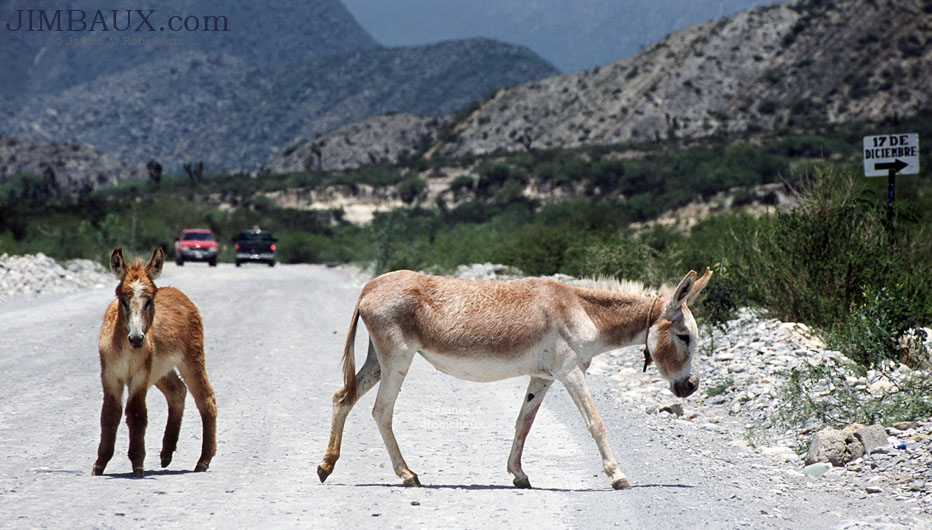 I did not take many more pictures at the canyon this time than those two pictures, since I had gotten so many the day before.  After that, I brought my fellow international students back to campus and possibly brought Joel back to his apartment.
Alone, I did return to the canyon on 5 January 2007.
I guess that this day, while good and even memorable, was somewhat anti-climactic; the night would make up for it, as you will read shortly.  So, too, will the next day.
Four years to the day after these pictures were taken, I was again in another country: Canada.  With some other school teachers from across the USA, I visited Winnipeg; as I have already mentioned, that visit was a part of the Great Plains seminar at North Dakota State University to which I had first applied in 2004.  Not being accepted to the seminar then was what prompted me to go to school in Mexico for the summer, and I am glad that the two experiences happened in the chronological order in which they happened.
Mi Ultima Noche En Monterrey
My last night in Monterrey was a very memorable experience, and quite emotional, since I did not want to leave.  What is written below is mostly taken from something that I wrote that fall; so, if it seems to explain things that have already been explained, that is why.
While in Monterrey, I came to know some of the local railroad enthusiasts.  (Most of you know that I have loved trains all of my life.)  I got to know Arnulfo very well, and since he spoke English fairly well, we could communicate.  He showed me a few train-watching locations in Monterrey, and he introduced me to El Club Amigo del Ferrocarril de Monterrey, basically, a group of railroad enthusiasts.  I went to a few of their Saturday meetings, and I gave slide shows at two of them (as explained in greater detail in the "My Roommate and El Club" article), giving them in Spanish as much as I could, but with the help of Arnulfo's translation.
After living there for almost two months, I left Monterrey for my home in Louisiana on July 17.  The night before was memorable.  Arnulfo and some of his friends were gracious enough to throw me a little good-bye party.  I had told Arnulfo over the phone that I had to leave México soon, and he said that we should get together for "some beers" before I left.
Arnulfo decided that we would meet at Das Bierhaus.  That's German for "the beerhouse."  No, yo no hablo alemán. There are actually a few Das Bierhaus locations in Monterrey, but Arnulfo and his friends agreed to make the trek to my part of town, to the location near campus.  This was good, since it meant I had less driving to do and was much closer to home.  Furthermore, I felt safe driving home after a few beers since I had gotten to know this part of town so well.
We agreed to meet at 21:00.  I wanted to get as early a start as possible since I had a long day ahead of me the next day.  (That's another story, which you will see tomorrow.)  I got there on time, and impatiently waited on my friends to arrive.  While waiting, I perused the menu – in Spanish and German.  I taught myself a few German words, but based only on the Spanish words I knew.
They finally arrived about a half hour late, but I was simply relieved to see them.  Arnulfo brought three people with him, including his brother Chuy.  We had a good time for a few hours.
I was sympathetic to them being late.  Arnulfo's and Chuy's father was in the hospital, very ill with cancer.  But, they seemed to use the night with me and friends as an opportunity to get hardships off of their minds.  We talked about trains, why we like them, how good it is for one train-nut to meet another, school, international relations, women, food, learning a foreign language, stereotypes that Mexicans and Americans have of each other, and other stuff.  They taught me some Spanish curse words too.  I still have all of it written on some napkins I saved from that night.
They also gave me gifts: a Mexican train magazine and a Ferromex hat.
I really felt humbled and flattered simultaneously at the generosity of these guys.  Norteños (northern Mexicans) are really nice.  Sometime after midnight, as the place was thinning out, it was time to go home.  Damn!  And I was having fun.
I had parked my truck at campus and had walked to Das Bierhaus.  Chuy had driven his own vehicle to the pub.  So, we bid fairwell there.  The remaining four of us cramped into the front seat of Arnulfo's pickup truck for the quick ride to campus.  I had parked on Av. Ricardo Covarrubias, the main street through the central part of campus.
When we arrived at my truck, I knew that I would soon be saying goodbye to really good friends I had made and would not see again for a long time if ever.  In exchange for their generosity and the gifts I had received, I gave Arnulfo and Victor photocopies of the Trains magazine article from 2003 about Mexican railroading.  (No, it's not a great gift, and I am not good at traditional gifts, but it was the best that I could do.)
The typical method for adult Mexican males to say goodbye for what will be a long (or permanent) separation is a handshake-hug-handshake trio.  This is precisely what happened.  I was told I would always be welcome in Monterrey.  But what was really memorable came next, and it will be burned into my memory forever.
Knowing that I would be in the United States in 24 hours, Victor said, in the slow voice of someone for whom English is not a primary language, "When you think of México…….. you will think of friends."
Indeed.
I can still hear Victor saying this as if it was yesterday.  I can still picture, standing in the amber glow of the streetlights at the wee hours of the morning, him and Arnulfo looking at me while saying this, I in front of my truck, they in front of theirs.
And then it was over.  I got in my truck and left.  I stopped at the PEMEX station near home and filled up with 300 pesos of gasoline for my homeward journey later that day.  But now it was time for sleep.  I crashed in the bed, but didn't fall asleep immediately, as my mind was still trying to process everything.
On September 10, Arnulfo's father lost his battle with cancer.  I received a brief and somber e-mail from Arnulfo two days later informing me of this.  I sent him my condolences and thanked him once again for being the good friend that he is.  I really do miss Monterrey and the friends I made there.  I intend to return… someday.
And I did.
Tomorrow And The Next Day
The next day, Saturday, saw my departure from Monterrey and several pictures taken north of Monterrey.  The following day, Sunday, shows pictures that I took in Texas on my way back to Louisiana.
Stay tuned.
Jimbaux