[Jimbaux just needed to realign.]
Actually, there were five northbounds at Ramos Arizpe, but due to crappy local batteries I was using, my camera chocked on one of them, but we've got a little ways before we get to those pictures.
Drowning In A Self-Induced Confusion
(You're not listening to today's song?  I mentioned the significance of these songs yesterday.)  Well, after this post, there are only two more days of the Mexico trip from late 2006 and early 2007, and if you are happy about that, you are not alone, as this project (processing the pictures and posting them to the internet) has sapped the life out of me, causing me to postpone other activities and helping me generate a big e-mail backlog.  Each one of these posts represents as many as a few hours of work.
Midnight At The Yard
We start the day again at the yard just after midnight, where I had the tripod and was taking night shots of locomotives and the facilities there.  Here is a quartet of grey switchers.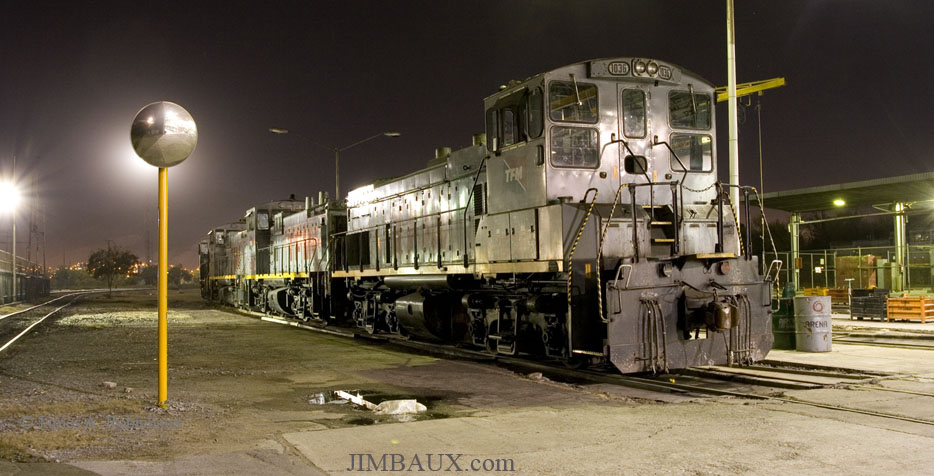 Wow, I suppose it's almost a self-portrait too.
Cañón Huasteca
In the summer of 2004, I took a few fellow international students (an American, a Mexican-Canadian with a Polish mother, and a Swede) to visit Cañón Huasteca, and now I was returning alone.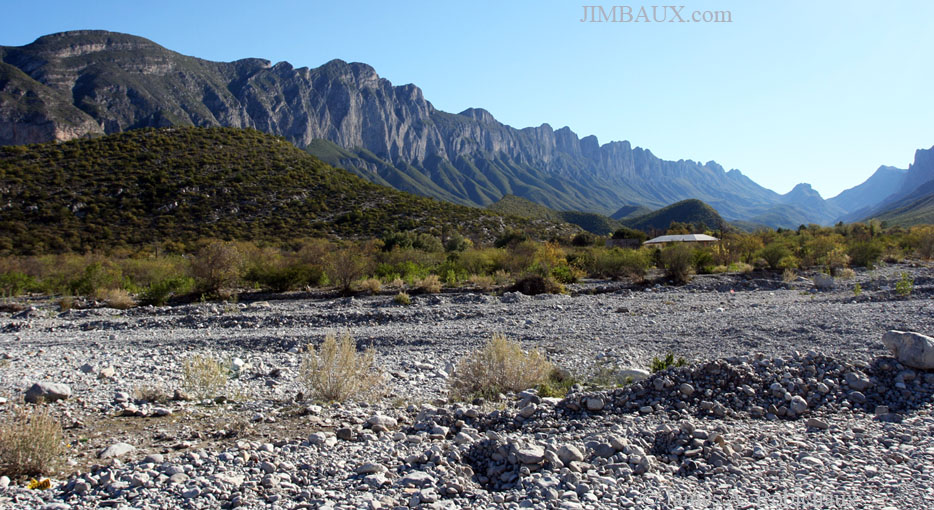 It's a really neat place, and I seemed to be the only person in there on this day other than a few locals (like, as in, local to the canyon itself) and some goats.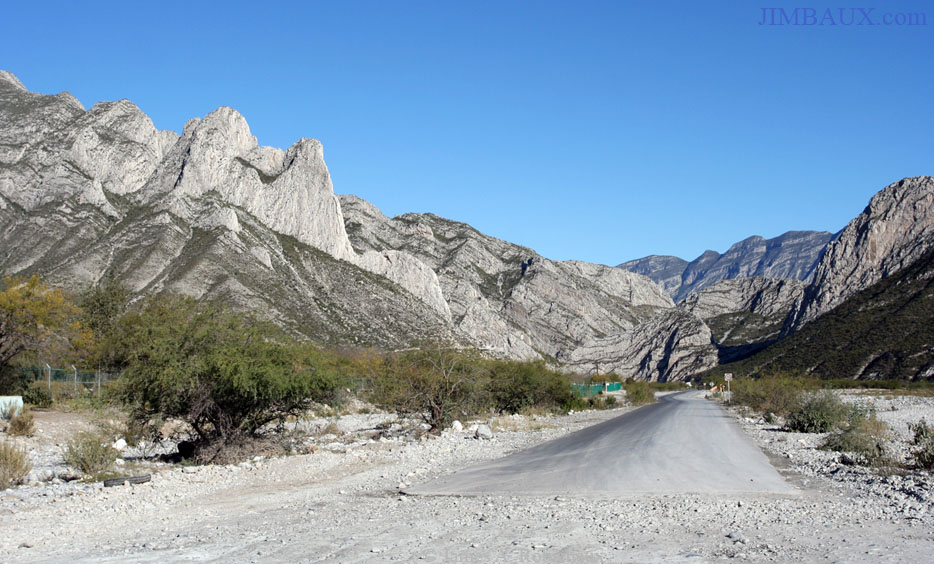 There are rock climbers who do scale the walls.  This is south of Monterrey.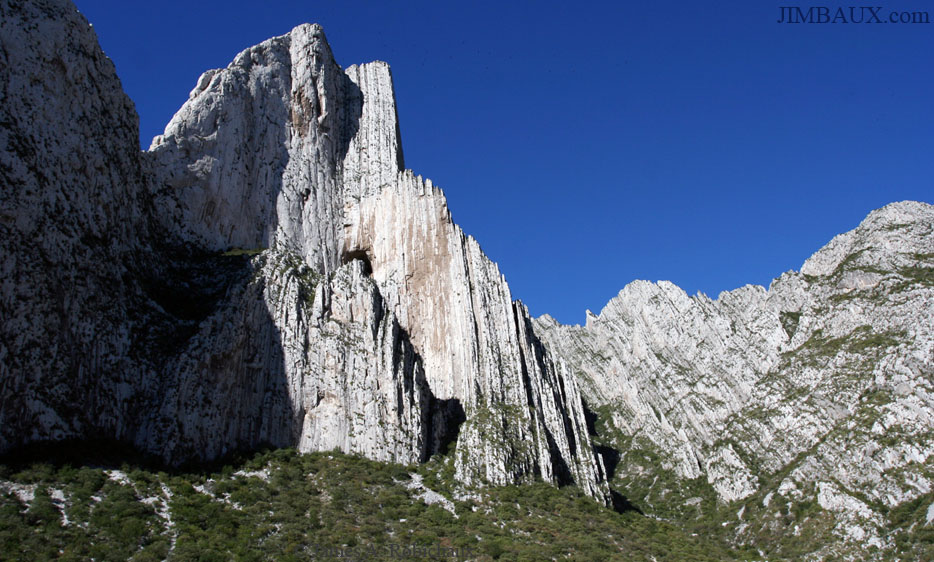 It's another place to which I would love to return.
Go West, Young Man
That's what I did, going west again to García to check out Conexión Sur again, but then to my new-found (yesterday) shot at Ramos Arizpe just across the border in the state of Coahuila.  First, though, we go to García, or maybe even Nacatáz.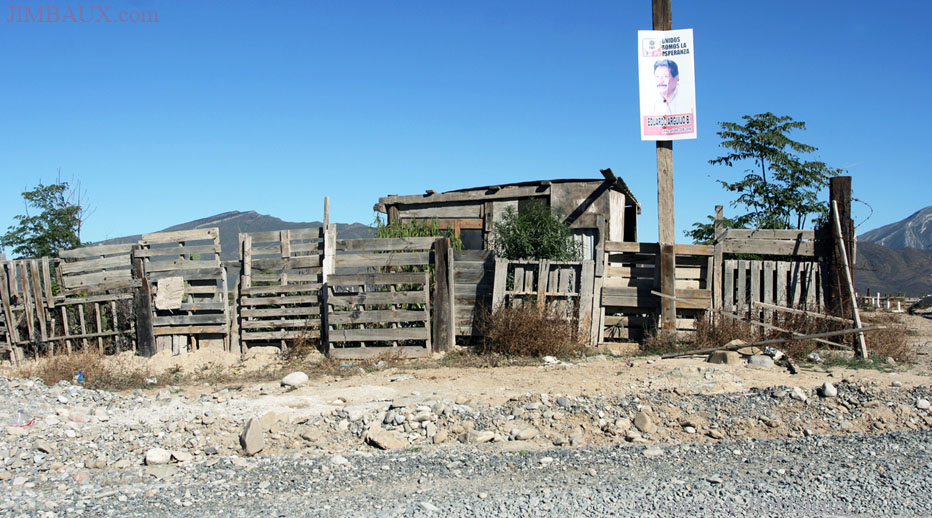 Nacatáz and Conexión Sur are just west of García, a neat little town, the western edge of which is impoverished.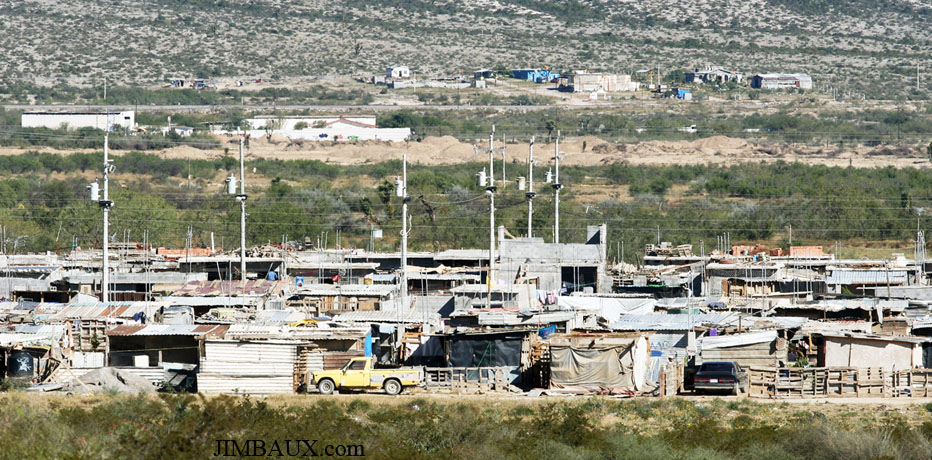 We can be fortunate that for all that is wrong in our lives, that we live better off than many of these people.
Do you see the KCSM Bypass Track In These Two Pictures?
In the two pictures immediately above and below you can see the relatively new bypass track in the backgrounds.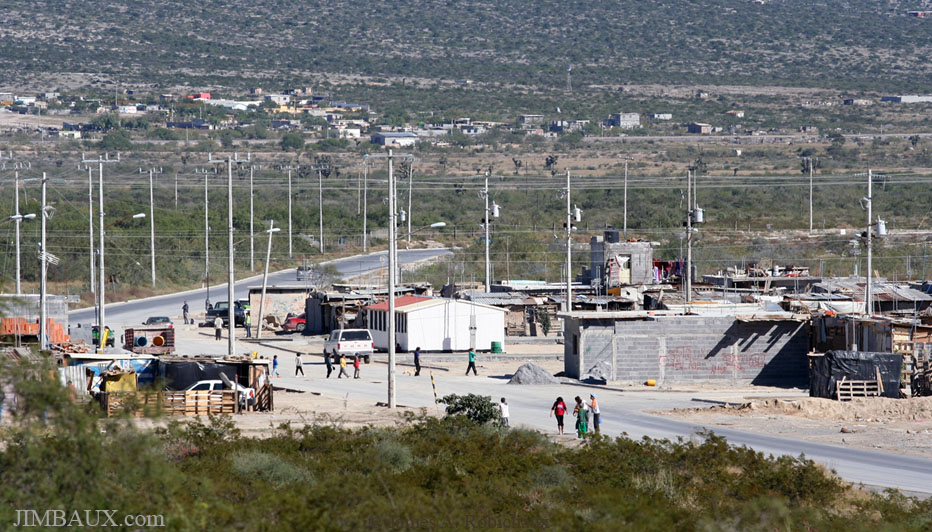 Conexión Sur and Nacatáz are behind me in both pictures.  The original railroad mainline is to the right.
Situation Normal, Total Goat #@%$
Hey, look at this!  We have some visitors!  They don't seen to care about the foreigner taking pictures.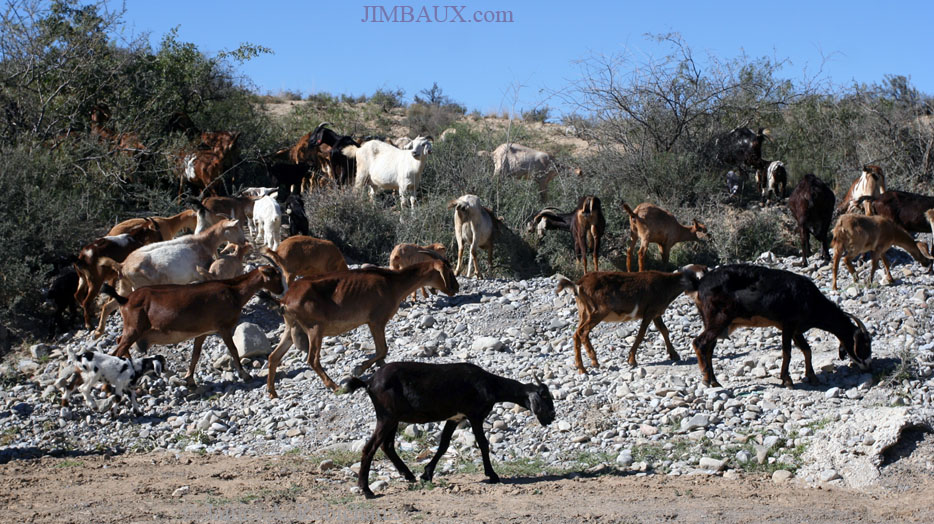 These things are local delicacies.  Don't spend too much time in Monterrey without eating goat!
García Proper
Here is García itself, the middle of town, with a restaurant called Los Primos (The Cousins.)  If you look closely on the menu for cabrito, you'll see that the goats you just saw might not be going very far at all!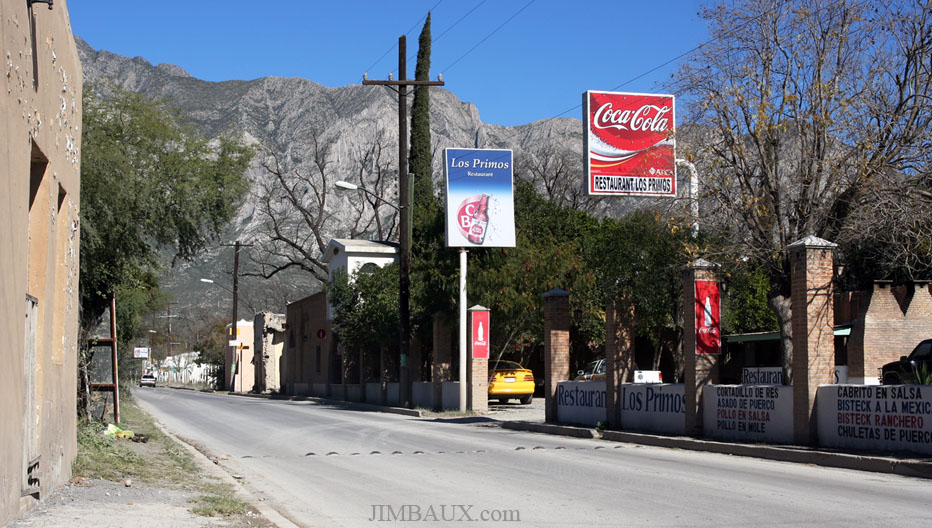 The one local restaurant where I ate in García, and I forget its name, was more of a beef-themed place, which is very common in Mexico.
Farther West To Coahuila, Back To Ramos Arizpe
I must have either determined that nothing would happen around Conexión Sur, that the lighting wouldn't be good anyway (it's great there in the morning), or that I was just flat out bored, but I decided that the shot I discovered the day before at Ramos Arizpe was worth checking out again.  So, that's where I went, and I parked myself atop this bridge.  Little did I know that I'd see five trains before dusk, and little did I know that they'd all be northbounds, the first of which was the A-BZNL-05 (Automotríz – Benjamin Mendez to Nuevo Laredo of the 5th of January) as seen here: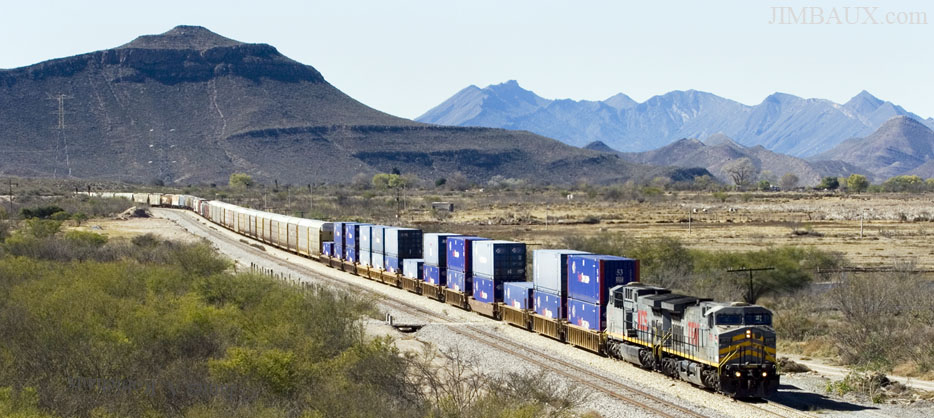 Cool, eh?  The locomotives for this train were the TFM 2615 and the KCSM 4572.  I knew when I wrote that down then that the second locomotive number seemed familiar.  Some quick research (back then) in my photo archives revealed that the KCSM 4572 was the first KCSM locomotive that I ever saw when I saw it in Louisiana on a BNSF train on Labor Day a few months before, and you've seen it yourself here!  Neat, eh?
The Pantaco Train
Our next train was the I-PANL-04 (Intermodal – Pantaco to Nuevo Laredo of the 4th of January), a neat, short little intermodal train, and with classic locomotives.  Now, this is my kind of train, my kind of shot, and therefore my kind of train shot!
¿Te gusta también?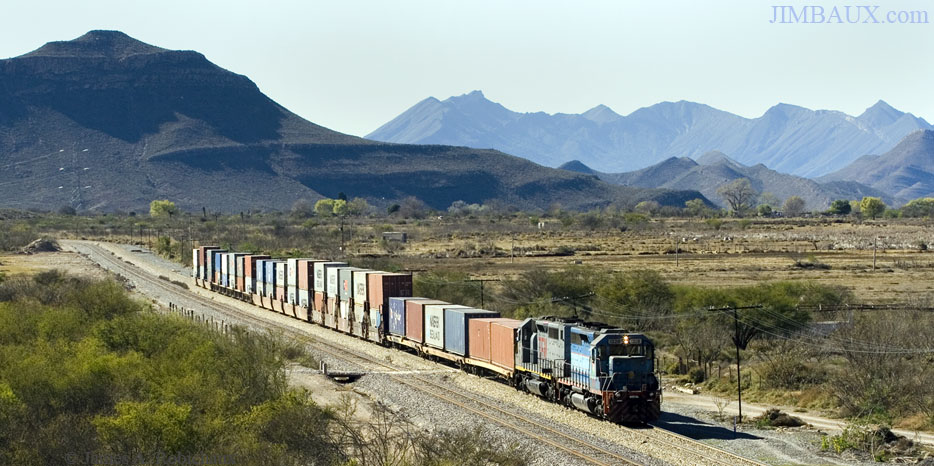 Pantaco is the station name of KCSM's intermodal facility serving Mexico City.
At some point, perhaps after the passing of this train, I gave into my growling stomach and went into Ramos Arizpe to get a quick bite to eat, as quick as I possibly could, since I didn't want to risk missing any trains, and I went to get a sandwich at Subway, one of the few times I have ever eaten at that chain in Mexico.
A Federale Encounter
It was about this time that I had my only ever encounter with one of Mexico's federal police.
¿Necesitas Algo?
That was the question that the officer posed to me.  I lifted my camera and told him simply that I was here taking pictures of trains, and he said, "okay," and took off.  I was grateful for his concern!
Here comes a light power move from Benjamin Mendez to Leal.  (You saw Leal in the last daylight picture on New Year's Eve.)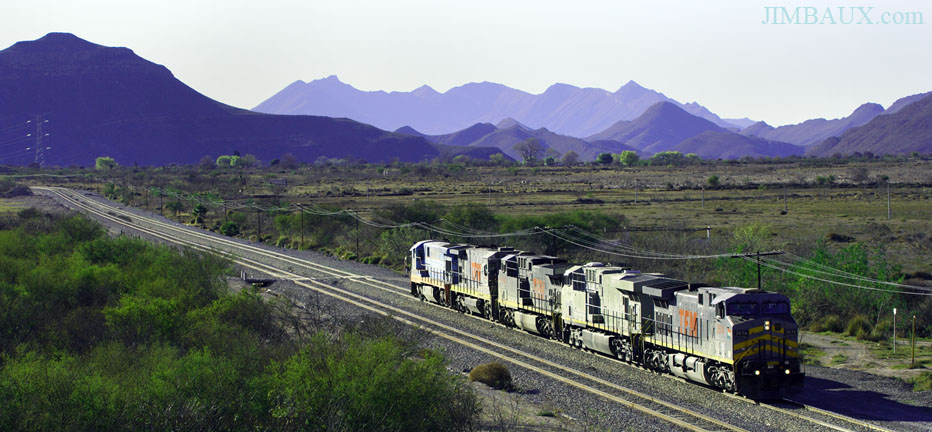 Benjamin Mendez sits at the top of a very long grade, you could say all the way from the US border at the Rio Grande, but the grade gets especially pronounced after the crew change spot of Leal, hence the place to add power.
The Shot That I Actually Came Here To Get
See, here's what I haven't yet told you about this shot at Ramos Arizpe.  In retrospect, I am very grateful to have caught five trains – all northbounds – there that afternoon, but, at the time, I wasn't very happy, since I was set up for the shot in the other direction.  This light power move that you see above gives me a chance to show you what the view looks like in the other direction as we see this light power move fade from view.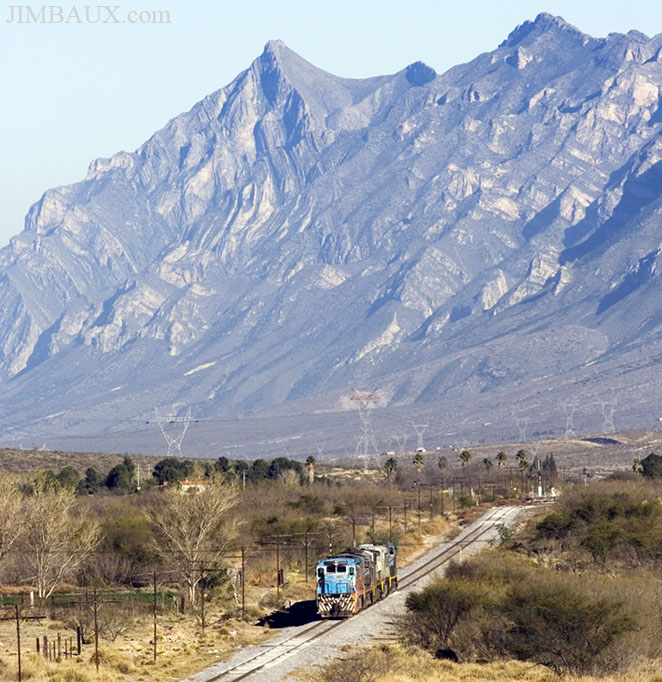 Do you understand now why, at least at first, the other pictures you've seen from Ramos Arizpe were something of a disappointment to me?  Doesn't it show that unexpected discoveries are some of the best kinds?
Satisfaction At Sundown
I'm only going to show the first photo of the A-PANL-03 (Automotríz – Pantaco to Nuevo Laredo) rounding the curve here at Ramos Arizpe.  If you want a real zinger of a shot – a poster-sized shot – taken a few seconds later of this train further along with the mountains in the background (a much better shot than the below picture of the same train), you can purchase it in various sizes (with no more than $10 of profit going to me) at my print website.
Again, it sometimes takes hours for me to process these shots and make these posts (this one has taken at least two hours), and I might – might – make 10 cents of advertising revenue from this post; so, if you've been enjoying these postings and want a poster-sized shot of the train seen below but taken a few seconds later with the jagged mountain peaks in the background, please support the cause of continued quality from Jimbaux's Journal!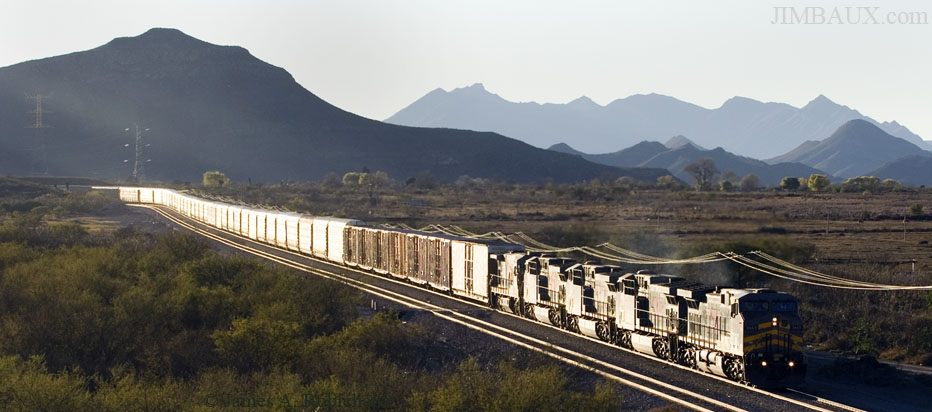 I'm sad to report that when I went to this location again in late 2009, I discovered that this shot is no longer doable due to a new electrical line that has obstructed this view.  Yes, I know that is devastating to so many of you who were packing your bags to make a trip there upon reading this.  🙂  Hey, that's another reason to buy the print, since that shot cannot be done anymore anyway!  🙂
Back To The Yard
After that, it's time to go back to the yard for yet another evening of night photography of locomotives and the surrounding facilities.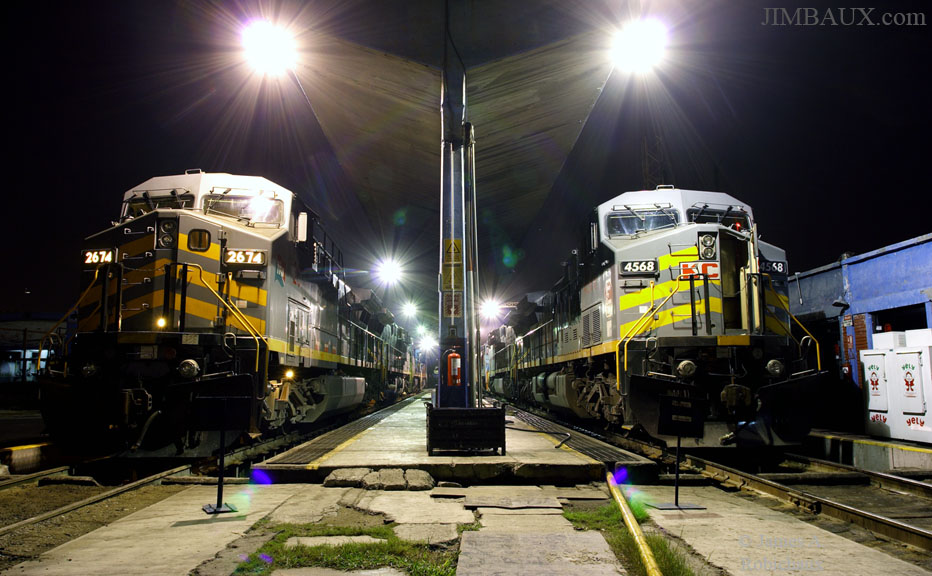 I suppose the 'significance' (if there is a such thing) of the above image is that it shows two AC4400CWs, one of which has been renumbered and relettered into KCSM, and one that has not.
Here's a Super 7.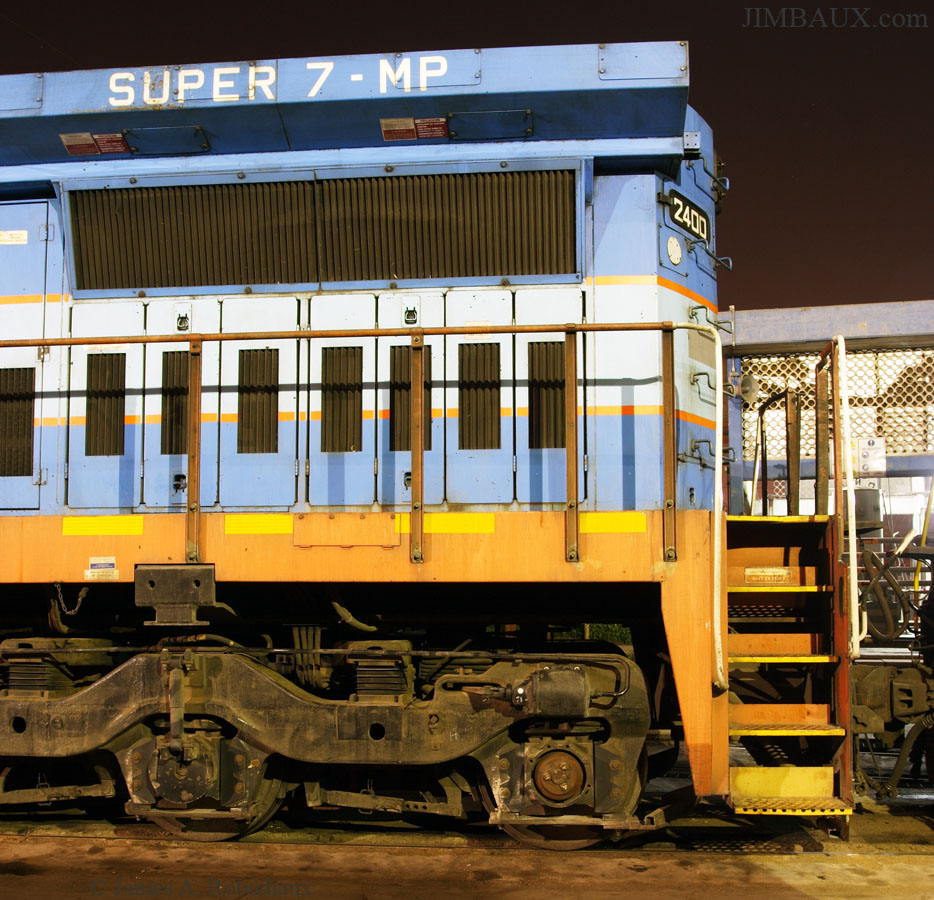 That's enough for one day.  There are only two more to go, and one of them is my departure date, meaning there won't be many photos for that day.
Stay tuned!
Thanks, and please buy a photo or two from the print website!
Jimbaux